One precious kitten's 9 lives are still intact after she was saved by a good Samaritan who discovered her stuck, literally, on a busy road in a puddle of glue. She has now been adopted by her rescuer and lovingly named Sticky the Kitty.
"So I'm driving down the road this morning and the cars in front of me are driving over a black thing in the road," Chuck Hawley wrote on Facebook. "It's going between their tires so I'm guessing it's a box. It's a kitten sitting upright just shaking like a leaf. And some jerk had spread glue on its paws and stuck it to the road. She was wet and freezing and literally glued to the road. And NO ONE STOPPED."
It was still dark Friday morning when Oregon man Chuck Hawley was driving to work in Salem and saw several cars driving over what he first thought was a box in the middle of the road. Turns out, it was actually a shivering, frightened kitten.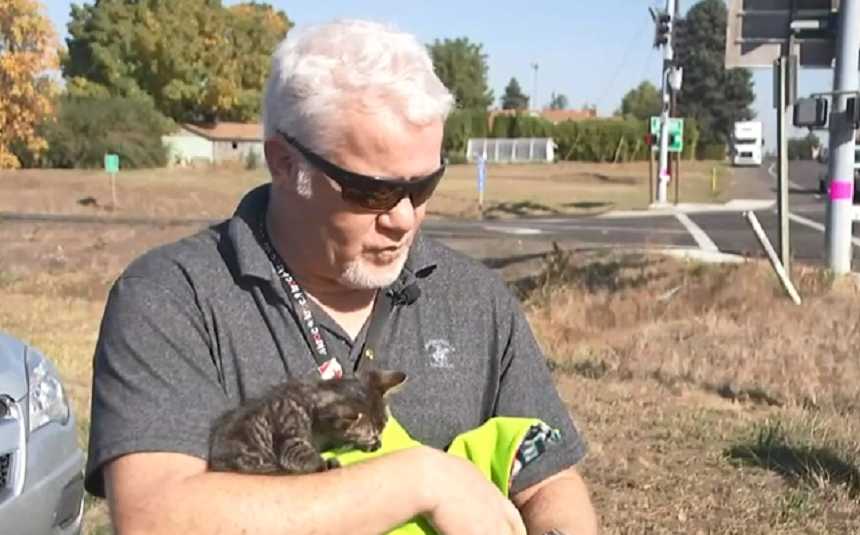 The 5-week-old kitten, covered in rubber cement from her neck to her sides, feet and tail, was basically glued to the road, Hawley told Salem news station KPTV. It was unclear how long she'd been there.
"I slammed on my breaks and stopped all the traffic and put my hazards on and got out and peeled her off the road," he wrote on Facebook. "People were honking and all pissy… really??? It's a kitten glued to the road!!"
"When I went to pick her up, her feet were stuck on the road, and I'm like, 'Uh oh,'" he told the station.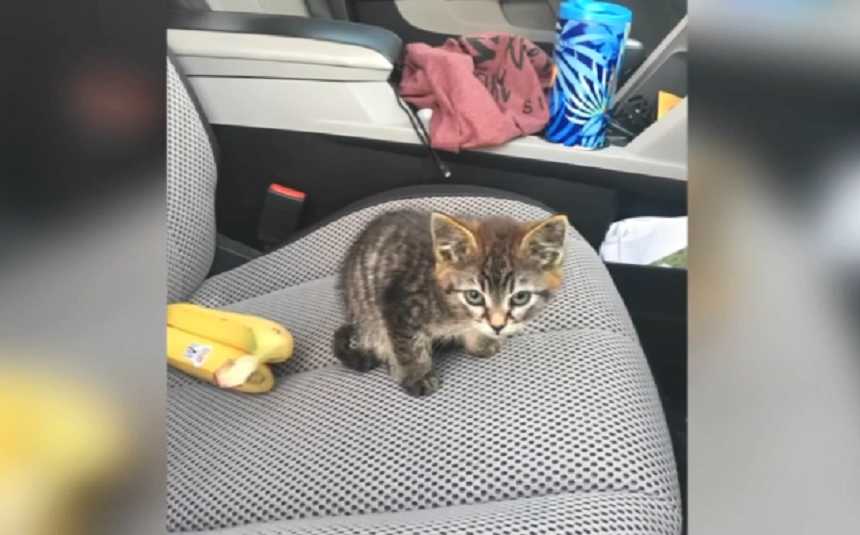 Hawley doesn't think it was an accident that the kitten ended up there, since she was stuck to a "glob of glue" in the middle traffic lane. The good Samaritan filed a report with police to help find the person responsible.
"I think the way she was sitting, someone actually went out and put her there, because there were no glue foot prints around," he said. "…So, it looks like someone just took her and put her in the road."
Hawley was able to gently pluck the injured kitten from her cement prison and took her to a local animal shelter, where staff used mineral oil remove the rubber cement from her fur. Puncture wounds were also found to her neck, veterinarian Dr. Jenny Bate told KPTV.
"Just the fact that she wasn't hit was amazing," he said.
Not only did Hawley save the kitten's life, but he decided to take her home after she makes a full recovery. Hawley's wife named the newest addition to the family Sticky, in commemoration of the fateful way the tiny feline entered their lives, he said.
"The funny thing is, we were just talking about getting a cat a couple of nights ago," Hawley said. "Seems like there's easier ways for the cat to find us, but if that's how we're doing it, OK. I guess that's how we'll do it!"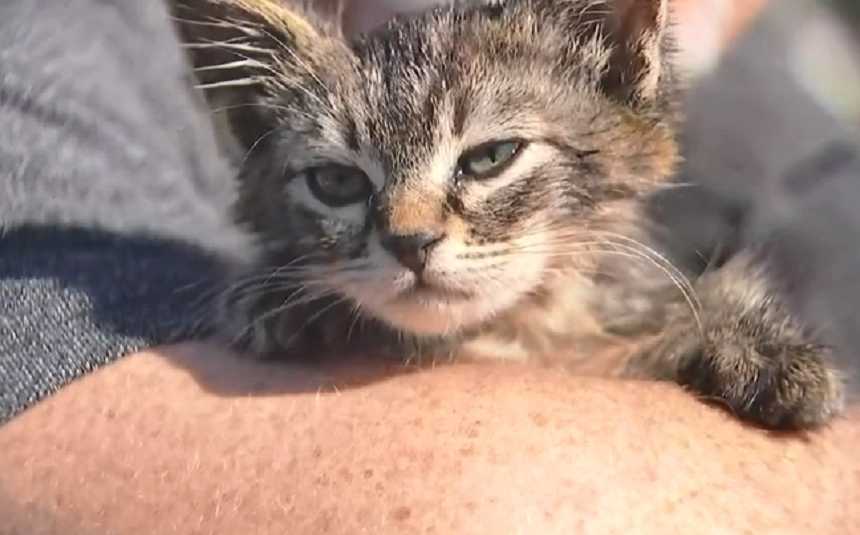 "After a Goo Gone bath and some food and cream, we have a new kitten. Luckiest kitten in the world!," he wrote.
Hawley even created a Facebook page for Sticky, which has amassed more than 17,000 page likes and another 17,000 followers since news of her rescue began circulating.
Photos and video document Sticky's life as she bond with her new family, which includes Hawley, his wife and two dogs.
Turns out, the newest member of the Hawley household has some learning to do.