"When I was pregnant with my fourth son, Kai, I thought I'd have another great, normal pregnancy. However, when went to our normal ultrasound at 20 weeks after already having one at 16 to find out he was a boy, it was clear very quickly this wasn't going to be another normal pregnancy. Several medical professionals came into the room to tell us there was something wrong. It seemed that he had a hole in his heart and they suspected cleft lip and palate as well.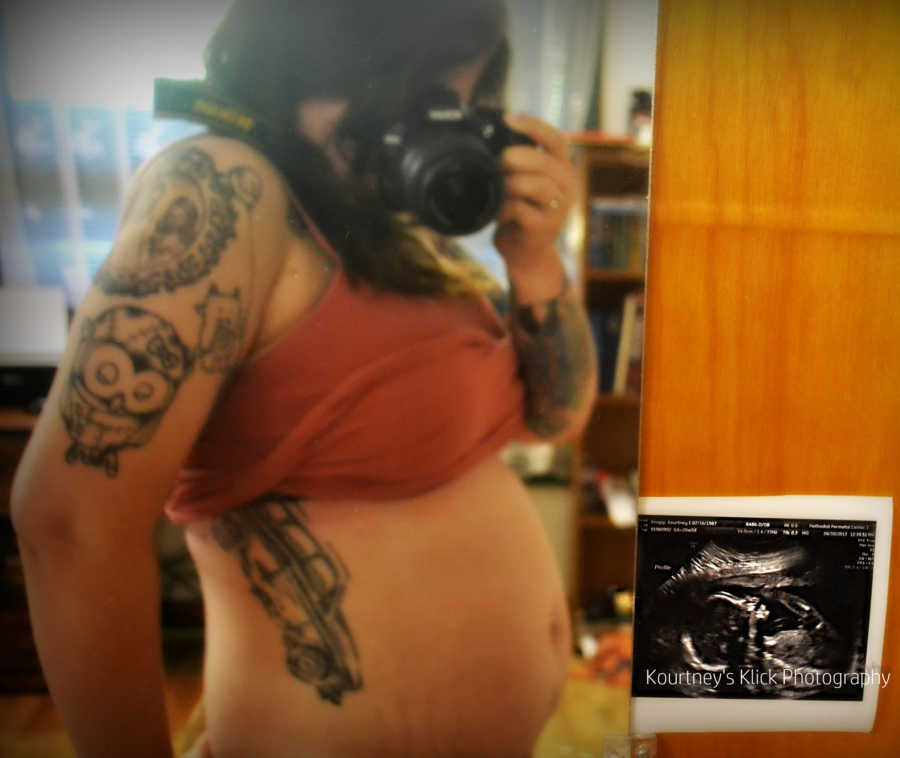 I'm not much of a crier, but I cried that day and for several days later. We ended up doing an amniocentesis to get a better picture of what was going on. A few of the longest weeks went by, then we were told we had to meet with the genetics team. It turned out that what was 'wrong' is that they had detected a chromosome 7 inversion. Obviously at first I had no idea what that was, but we were told 96% of kids with it should be fine, and as a mom, that took a lot of weight off of my shoulders.
As soon as I got home I began researching about cleft lips and palates, so I'd know what to expect: whether or not I would be able to nurse; what he may or may not be able to do and what the next steps were, medically speaking.
My sweet Kai came into the world on October 22, 2013. It seemed he was not too sure about this world. He was a beautiful baby boy and to our surprise, he didn't have a cleft lip or palate at all! Still, when they handed him to me, I knew something was wrong, but I didn't want to admit it right away. He was just a rag doll — he didn't seem to have hardly any muscles or fat on him.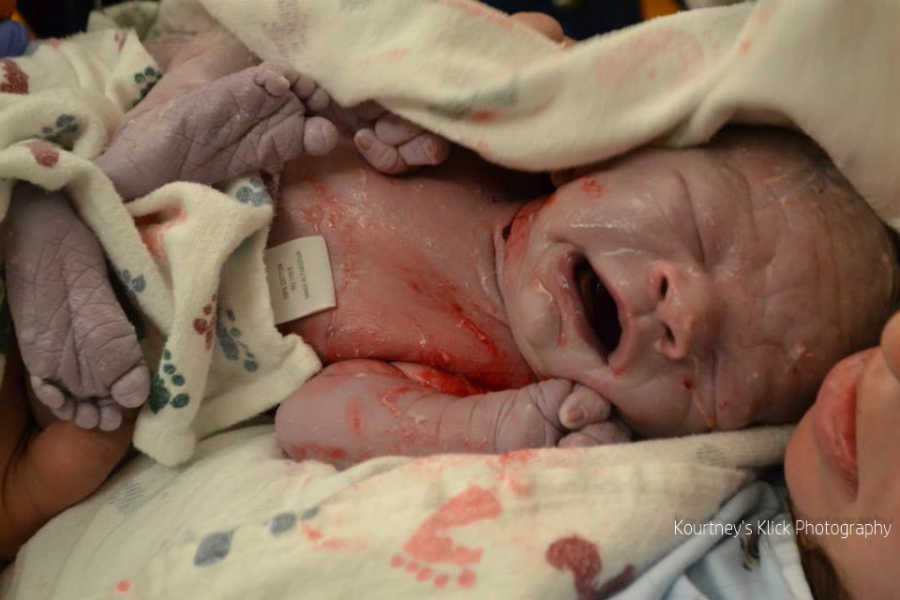 For the next few days, the parade of doctors never ended. They took tests and measurements, but they couldn't figure out anything specifically 'wrong' with him, so we went home.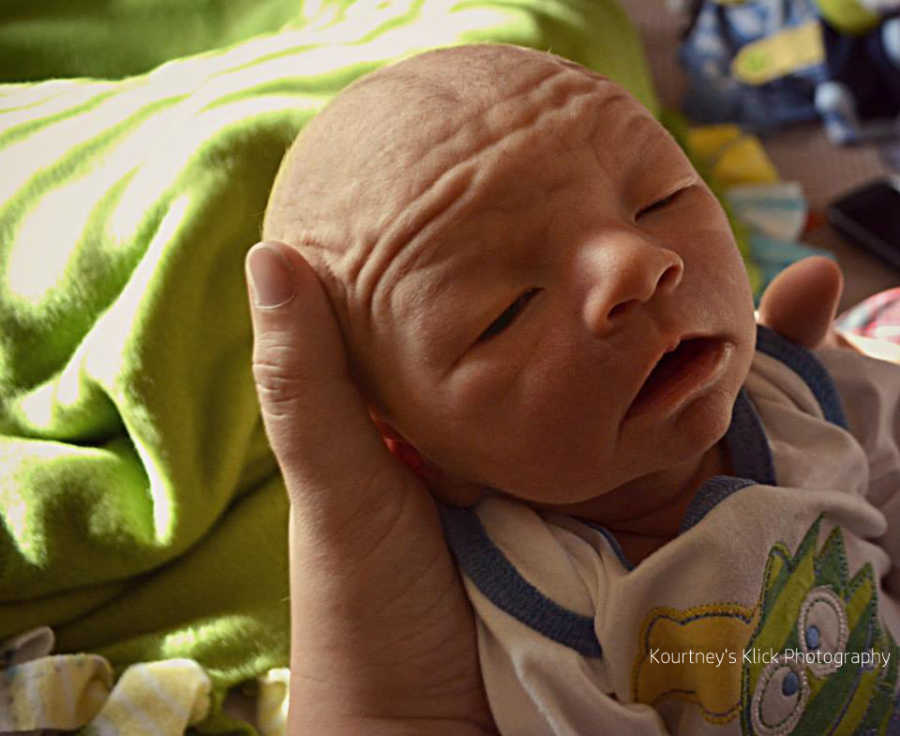 We did genetic testing on Kai when he was a few months old, but they said it was still just a chromosome 7 inversion. Nothing else to it! He was still very floppy, even at a few months old. I still had no idea what was going on. He was having a very hard time gaining weight and ended up being hospitalized a couple of times, because he had failure to thrive. Again, they couldn't figure out why at first. Eventually, while on another trip to the hospital, I was finally told that he had Hypotonia. This means that he has low muscle done, which we would later find out stems from a brain abnormality likely caused by his genetic condition.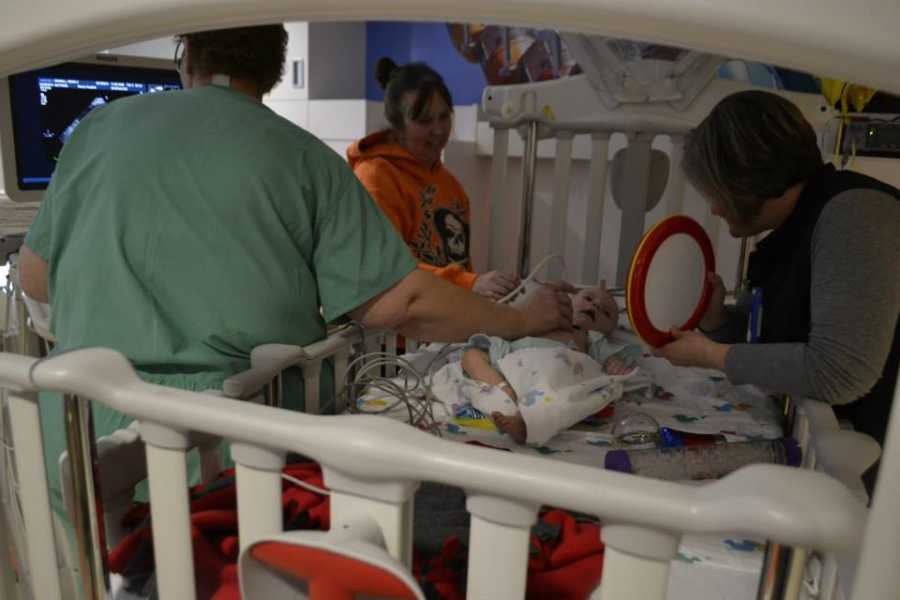 Through all this going on, with three other boys at home, I couldn't help but notice that even though he couldn't do the things babies his age were doing, no matter what, the kid smiled, and he continued to smile! His smile was so infectious that it made everyone in our household smile, even throughout all of the challenges we were facing.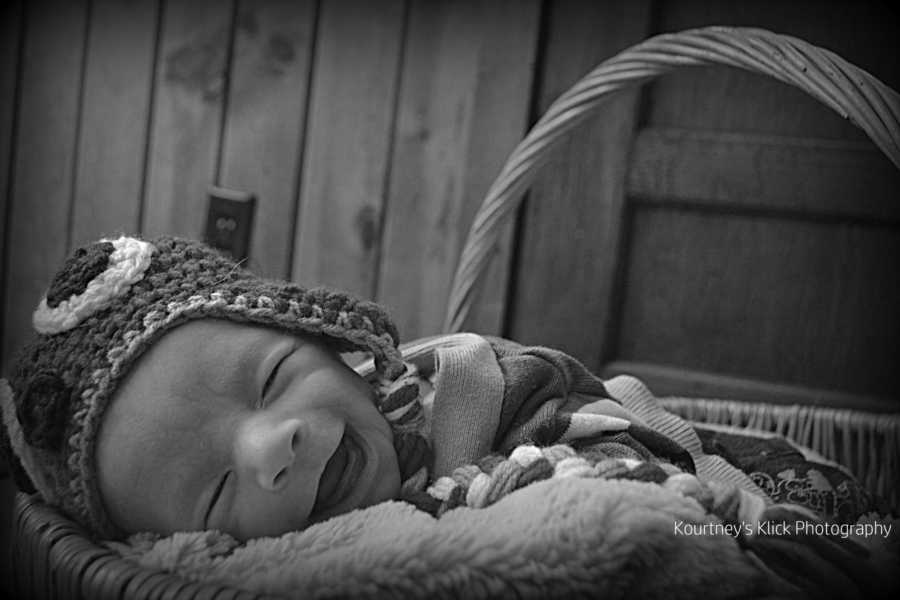 In fact, Kai has never stopped smiling (well, other than when he has a doctor coming his direction with something pointy!) Kai has a magical quality where he can brighten anyone's day with his beautiful, bright smile. Poked and prodded for the last few years, and we still haven't figured out anything about him besides that he has his very own syndrome.
364 days after Kai was born, his best friend (and cousin), Cecilee, was born! She was a perfect dark haired little girl with beautiful big brown eyes. She stole all of our hearts, but Kai's in particular. Since then they've been inseparable. Every year for their birthday we do pictures and birthday parties together. Every time they see each other it's like they haven't seen each other for years. Yelling each other's names and giving each other a huge hug.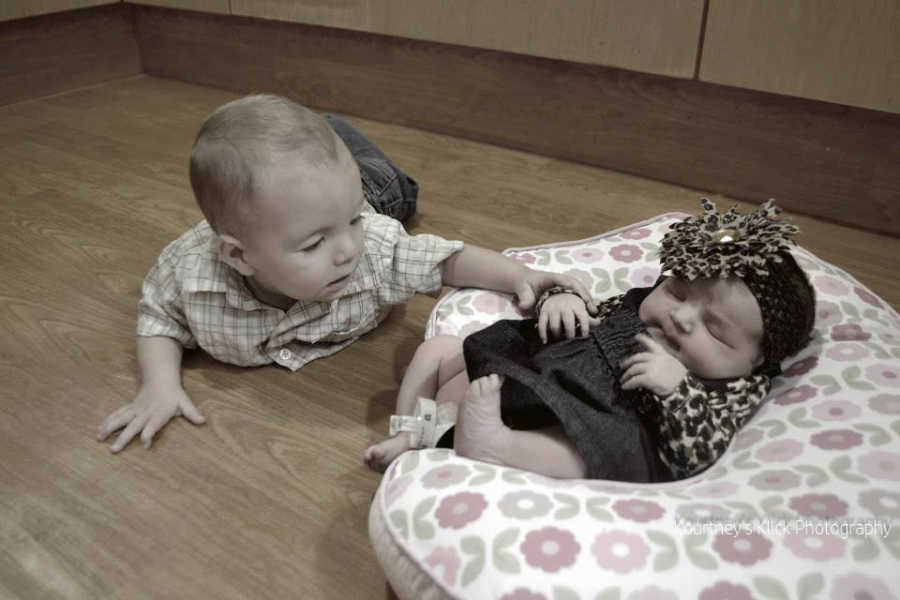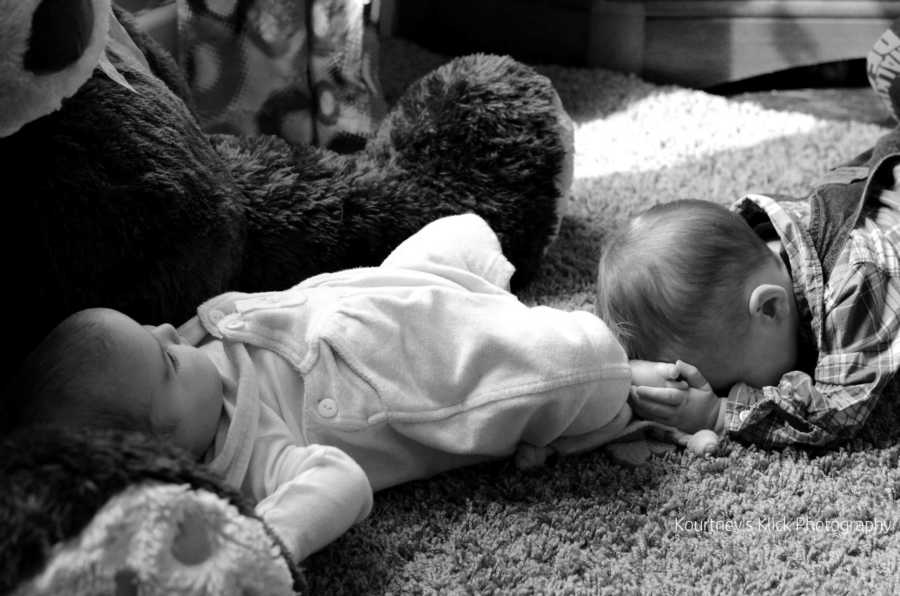 What surprised me was when Cecilee would start crawling at the normal milestone age range, Kai was right there following her. When Cecilee would start walking, Kai was behind her; when Cecilee started running, Kai was telling her to hang on for him. I'm pretty certain if it wasn't for Cecilee, he likely would not have met the milestones when he did. She was his true motivation. She led, and he always followed her.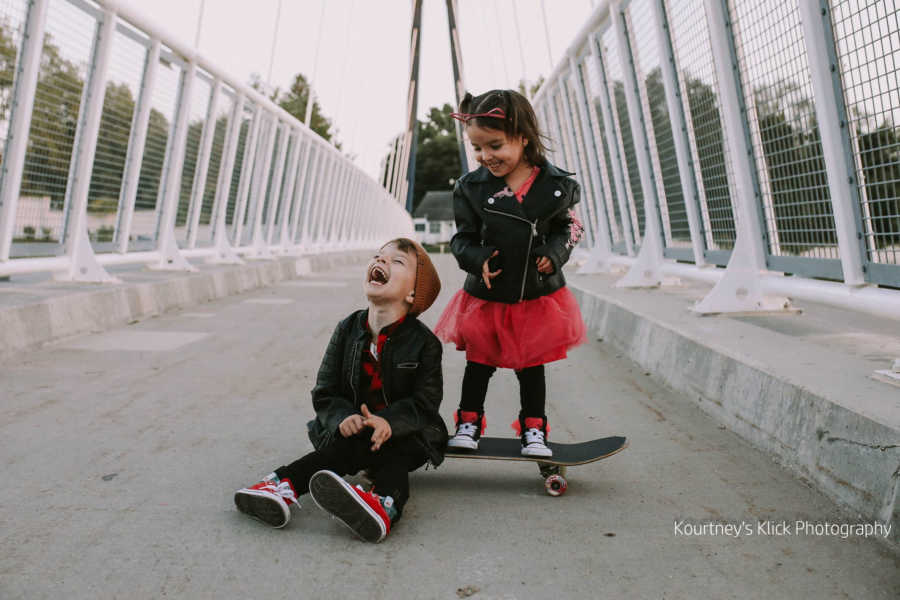 I bought this beautiful painting years and years ago. It was the whole inspiration for our living room. When Cecilee came along I always told my sister I was going recreate this picture. I've loved doing photography, particularly portraits and vignettes, and it's something I loved doing with Kai when he was a little baby and wasn't very mobile. I had kind of lost my way with doing cool photography projects like that, with my photography business and taking care of all of our kids, so when my sister brought it up I kept procrastinating about it. I finally found a field of yellow flowers and I knew I had to make it happen! I was determined to recreate the portrait with Kai and Cecilee!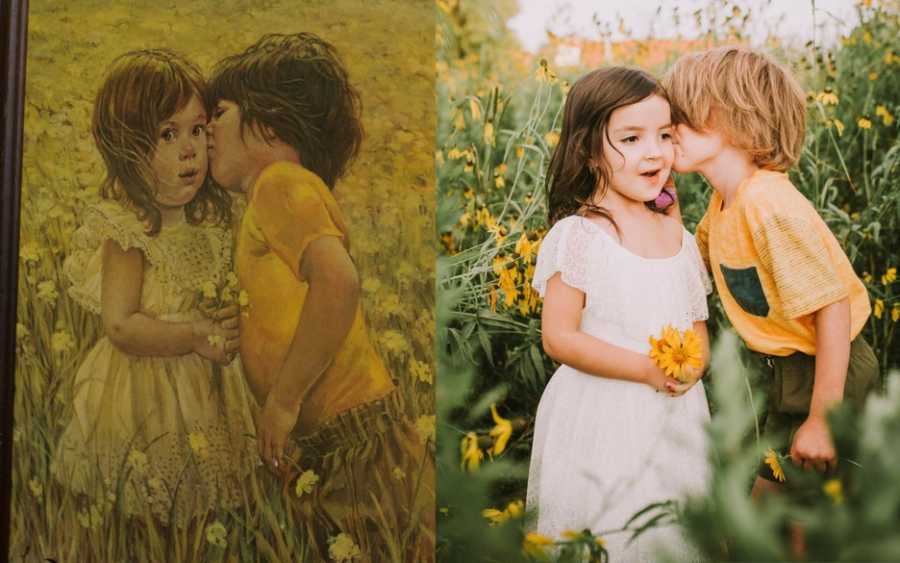 I went on the search for clothes that would match the picture, got the kids ready and headed over to the field. I attempted to recreate the picture, and I came pretty close! However, what I found really came out in the photography is the love these two have for each other! It warms my heart to know that no matter what is happening with his chromosomes, Cecilee will always see Kai for Kai and not that he is different. I hope she is always happy to see Kai and their faces always light up when they see each other like they do in my portrait!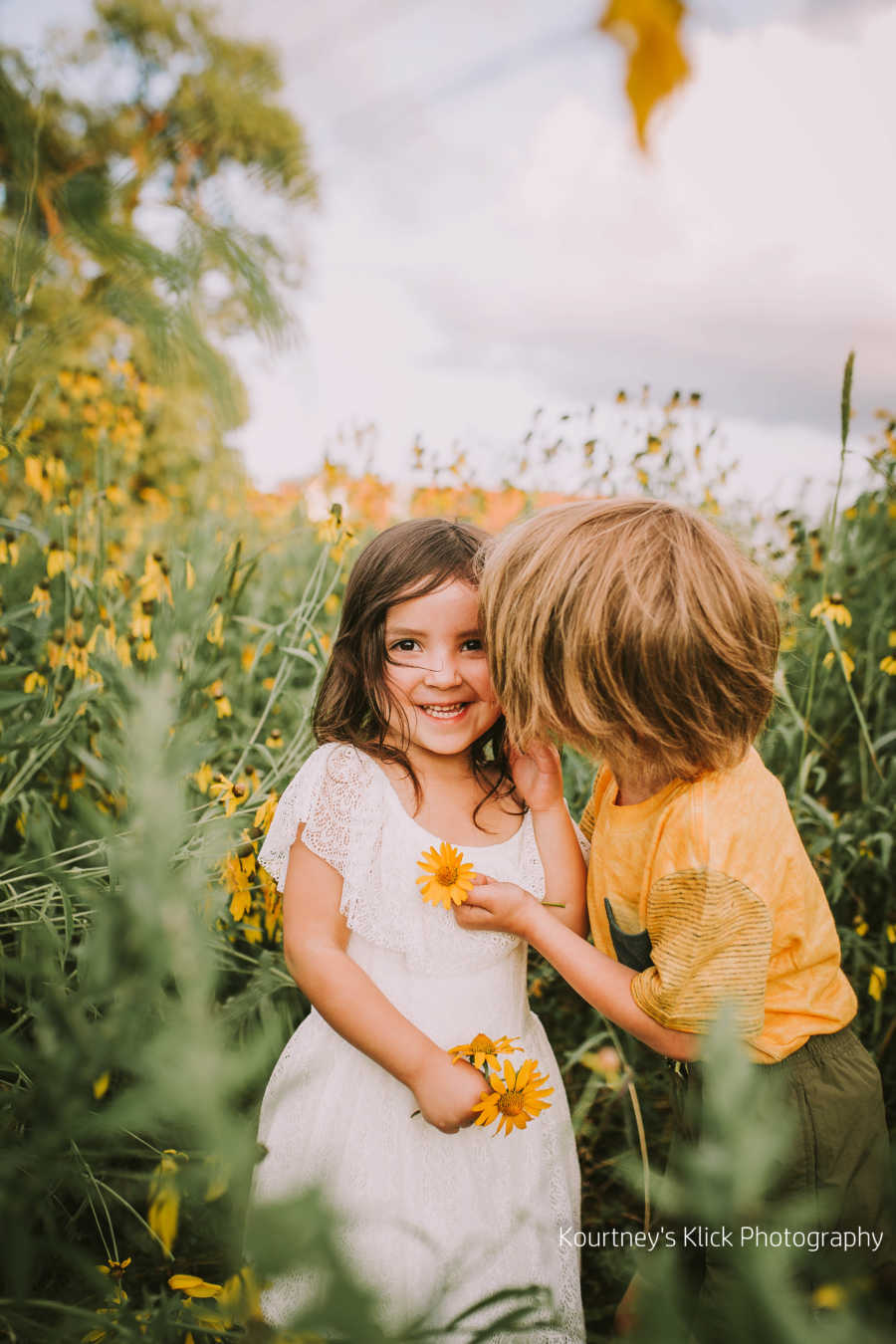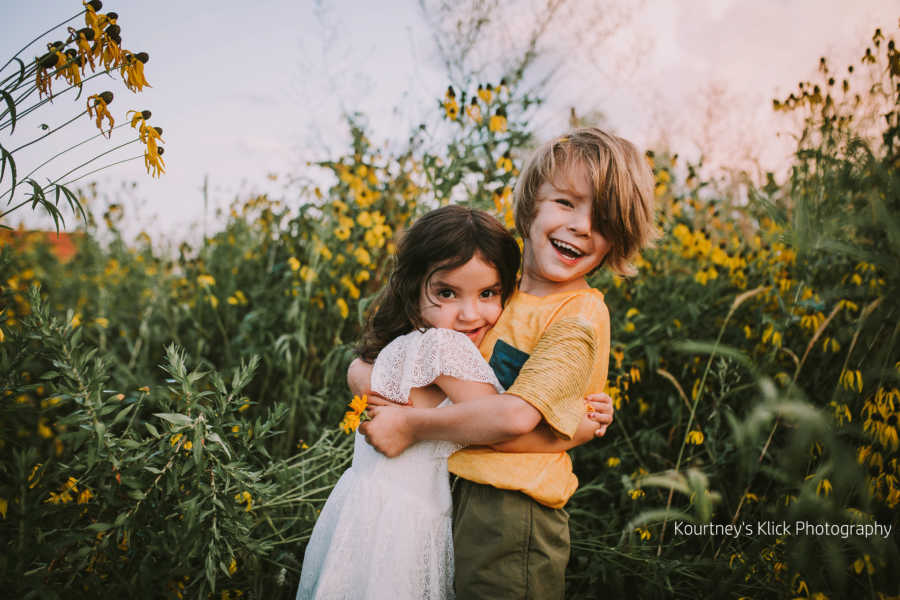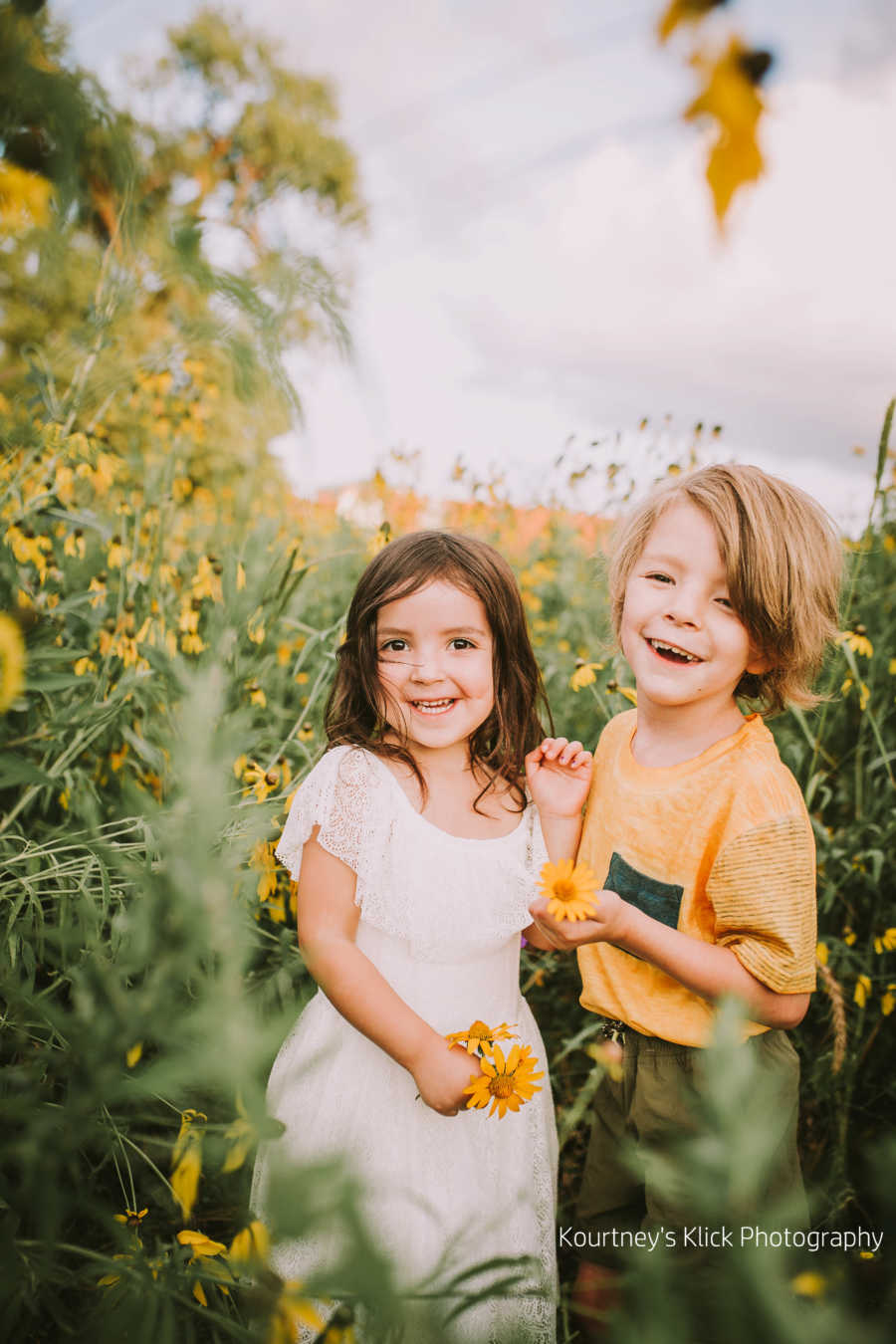 When I see these two together it makes my heart so happy to know that after all the worry, the doctors, the tests and the uncertainty, to see how big his smile is and how loved he is in life, I'm overwhelmed with emotion and over the moon with happiness. When Kai was born we couldn't agree on his name. Finally when we were about to leave the hospital, we decided on Henri Kaius Lee. Months later, we found out his name quite literally means 'King of the happy meadow,' and it just fits him so perfectly. These pictures with his best friend now fit him so perfectly.
I know with that love and with that smile, and Cecilee by his side, Kai will be OK."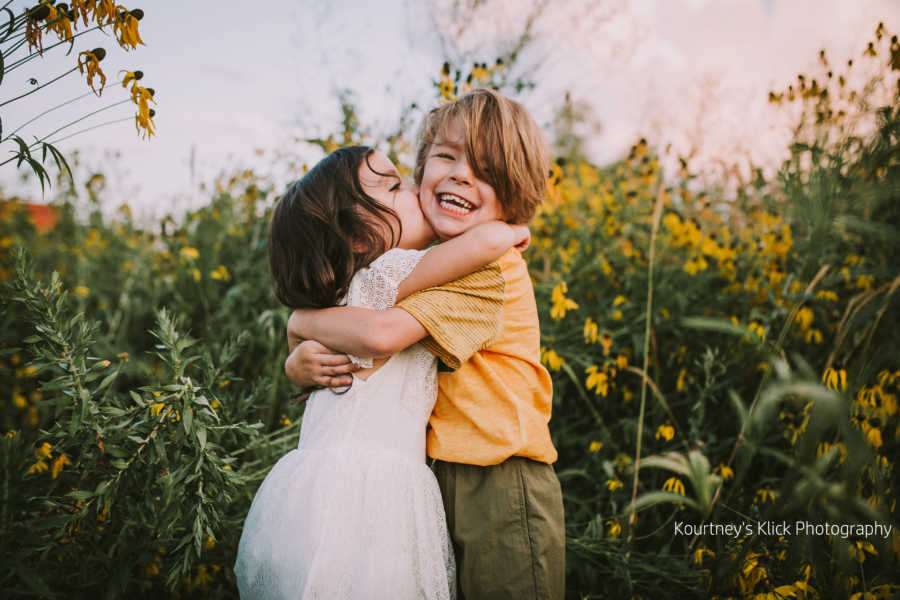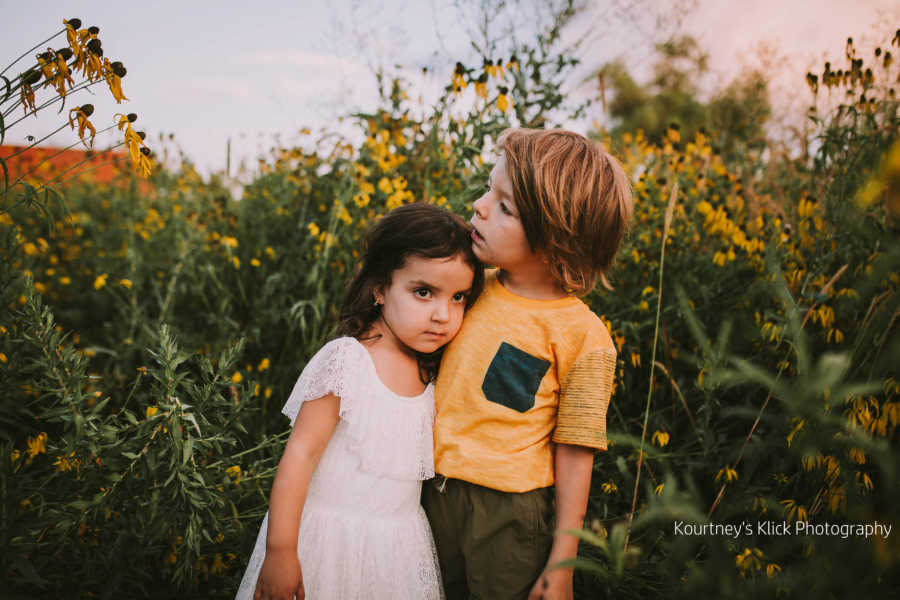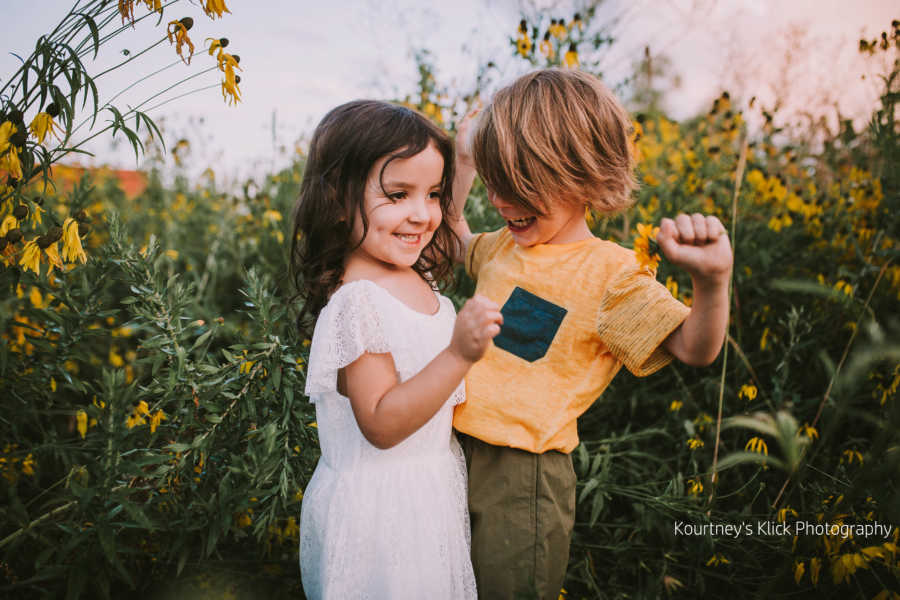 This story was submitted to Love What Matters by Kourtney Knapp of Kourtney's Klick Photography in Des Moines, Iowa. Do you have a similar experience? We'd like to hear your important journey. Submit your own story here. Be sure to subscribe to our free email newsletter for our best stories, and YouTube  for our best videos.
Read more stories like this: 
'I told him I captured him crying seeing his son. He said, 'That's not why I was crying.': Photographer captures husband in tears of joy after watching wife 'helplessly' struggle during pregnancy
'I'm single, and I haven't had sex with anyone, but I'm pregnant.' After the shock, they were happy.': Single-by-choice mom births son with Down syndrome, 'I thought I chose Matthew, but he chose me'
'I walked past my girls playing Barbies. They were pretending a girl on the playground had a wheelchair.': Mom proud of daughters for advocating for baby sister who was diagnosed with Prader-Willi Syndrome at 2 weeks old
Provide beauty and strength for others. SHARE this story on Facebook with your friends and family.