"I split with my first son's dad and met KC, my amazing fiancé. We got together and never left each other's side. He took on my oldest child (he was only 6 months old at the time) like he was his very own. A year later we had our first child together, my second kid. We were living with his mom in a very run-down apartment. Shortly after we moved in with my mom. My grandmother also lived with us, but she was suffering from stage 4 cancer. She passed away 4 short months after we moved in which I believe caused me to go into early labor.
I had our son 6 weeks early, but he was perfect. Sadly, we ended up losing that house, but KC and I moved into our own beautiful apartment. It seemed things were finally getting better. That's when I found out I was pregnant with our 3rd child. We were thrilled. We were stable and living in a beautiful home, things couldn't be better. Nine months later I had my 3rd beautiful son.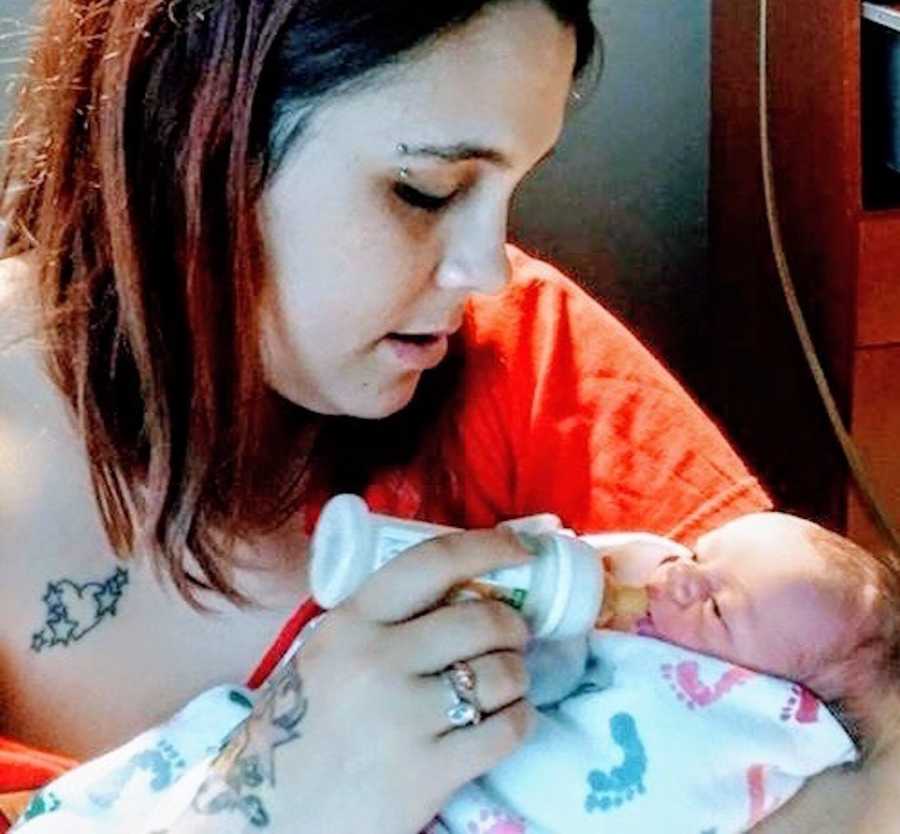 Soon after it all flipped upside down. The landlord at our apartment accused me of not paying rent the first month that we lived there and that we now owed them $2,000 in rent and late fees. Our only option was to leave. We found this run down, gross apartment but it was our only quick option, so we took it. And guess what… right around this time I found out I was pregnant AGAIN.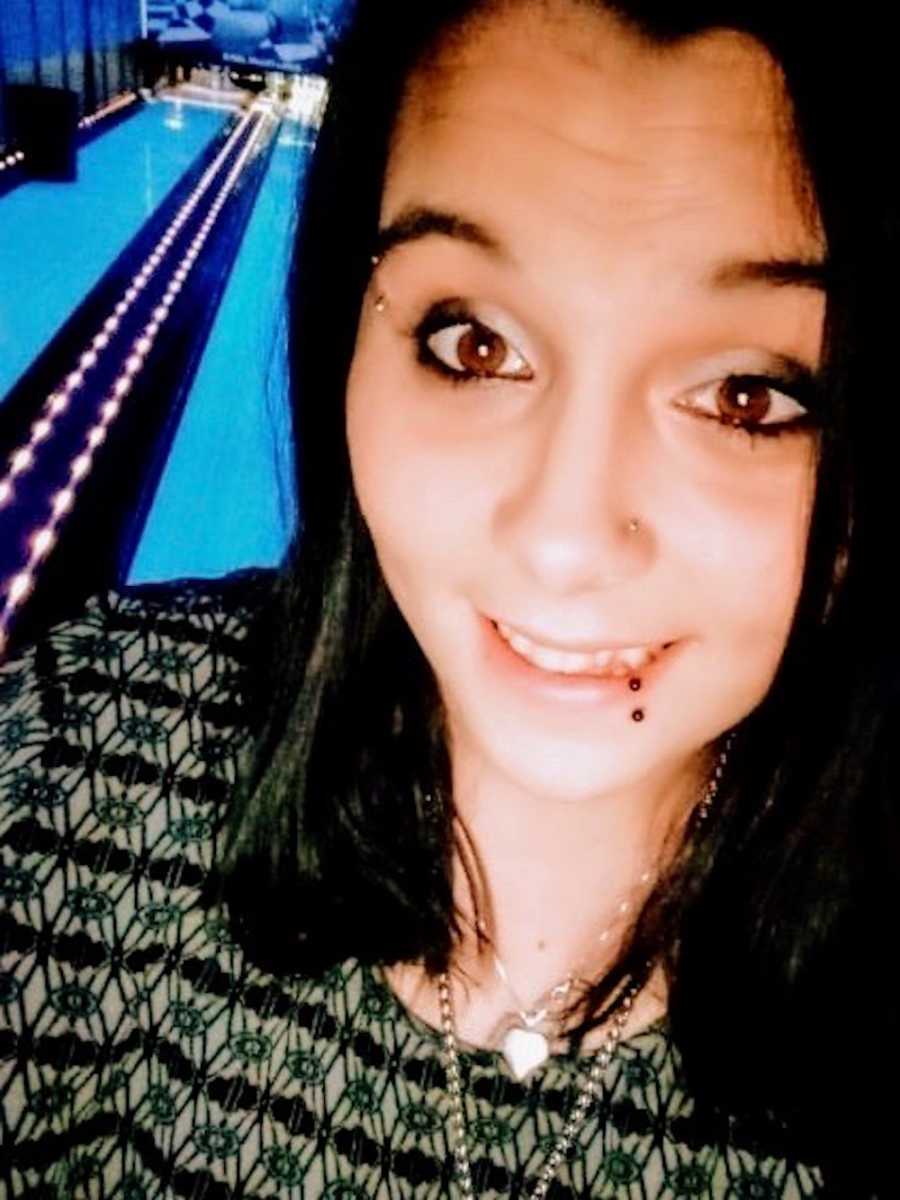 KC's mom moved in with us to help pay rent because I had some pregnancy complications and KC had lost his job. No one really wanted to be in that terrible apartment, so we spent most of our time at my mom's. On May 3rd, 2018, we had our 4th boy, Jayden Zander. He was beautiful. He had to stay in the hospital for a couple extra days with severe acid reflux, so we were bouncing from the hospital, my house and my mom's house.
One day we went home to pick up rent to pay the landlord and KC's mom was nowhere to be found. We called everyone and no one knew where she was. Basically, she bailed. She took all of the money and went to New York where KC's other brothers lived. I tried to talk with the landlord as we only had our half of the rent. When we went over to check on the place, he had new tenants throwing our stuff out into the yard and into dumpsters which is illegal! Our only option was my mom's house, but she was living in a two-bedroom apartment and one of those rooms was full of storage. So, our whole family was living with my mom and we would bounce back and forth between her and my sister's apartment.
You think it couldn't get worse right? But this is where our lives completely changed, and not for the better. On August 3rd, I went upstairs with my older kids while KC stayed downstairs with Jayden and made everyone blueberry muffins. When the muffins were done, he brought everyone their plates, about 3 trips up and down the stairs while Jayden slept peacefully on the couch.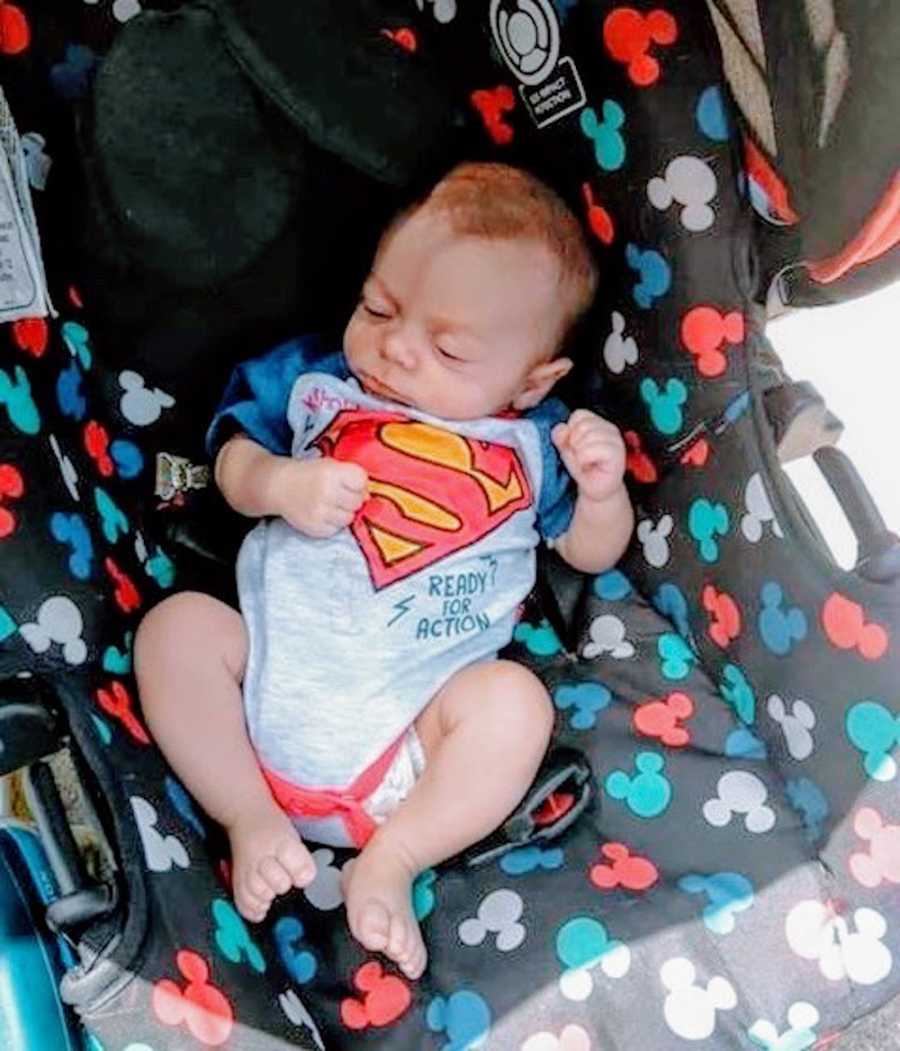 After he was done, he went to get Jayden and picked him up. Vomit spewed all over the place. We weren't too concerned yet because Jayden always had severe acid reflux. KC started to walk up the stairs while patting Jayden on the back when he realized that our baby boy wasn't breathing and was blue! He screamed as loud as I have ever heard someone scream, 'HE'S NOT BREATHING! CALL 911! HELP, SOMEONE HELP ME!!!' Everyone ran from their rooms and when I say everyone, I mean me, kids, my sister and her kids to see Jayden lifeless on the ground. KC started giving Jayden CPR. We all started panicking. My mom showed up before the paramedics. She and KC took Jayden downstairs still doing CPR when FINALLY, a half hour later the paramedics showed up and took over. I had all the kids upstairs trying to keep calm but all I wanted to do was scream, WHY, MY BABY, WHY!!!
The paramedics brought our baby back to life! Suddenly there was a little bit of hope! KC, my mom and I jumped into the car and rushed to the hospital. We watched as they pulled this huge stretcher out of the ambulance. Jayden wasn't moving. I was terrified and started to panic. They put us into a room across from where they were desperately trying to keep my baby boy alive. The doctor came in to inform us that they had to transfer him to a better hospital because they didn't have the proper equipment to take care of him. They also told us that he had been seizing but that was a good thing because they thought it meant he still had brain activity. That was their main concern at the time because he went without air for so long. The other hospital flew to come get him and they transported him by helicopter.
We followed right behind them but when we got there, we weren't prepared for what they were about to tell us. They explained that there was absolutely no brain activity and he had had a heart attack. If we kept him on the ventilator much longer, he would more than likely go into cardiac arrest. Our baby boy was suffering. I never in a million years thought I would have to make a decision like this. Do I keep my son on the ventilator where he is suffering and would most likely go into cardiac arrest and have no life? He would be a vegetable. He would never smile, laugh, or cry. Or do I turn the ventilator off and let him go peacefully when clearly, he was in pain.
After 12 long hours we decided to let him go. We got him Baptized and got his finger and handprints before the doctor came in and said it was time. She put him in a little quilt and put him into my mom's arms. Yes, my mom's. I couldn't hold him at that point, I was a coward. But my baby boy waited until he was in my arms to finally let go and go off to heaven. I was in total shock. My baby boy was happy and healthy just 12 hours ago! How did he go from being a happy healthy almost 3-month-old to GONE in such a short amount of time?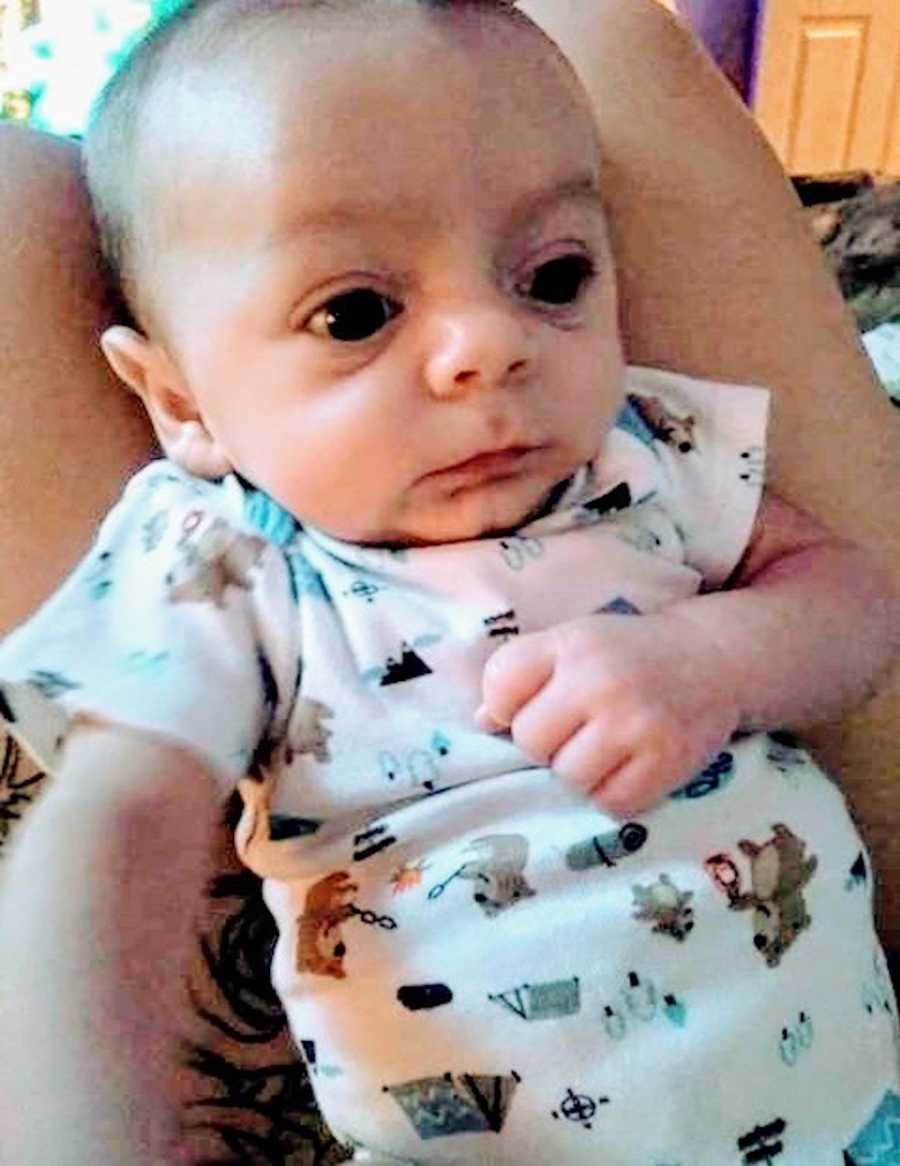 The next couple days were a blur. I was picking out his outfit for his funeral as if it was a normal day. But when it hit me fully it hit HARD. There I was standing in front of my beautiful, lifeless son in a casket. I was shaking uncontrollably, unable to breath and having a panic attack. People were coming up and hugging me, but I couldn't tell you who was who. I couldn't pay attention and I had mentally blacked out. His funeral came and went, and it was that time I had to let go and say goodbye forever. They were taking him away to cremate him so he could be home with me because I couldn't bear to be away from him.
The thought of him being cremated haunted me and still haunts me to this day. I don't think it's ever going to go away and neither will the night terrors I still have from that night. I have always struggled with depression, but it has gotten ten times worse. I had suicidal thoughts for about 6 to 8 months after it happened, but I always knew I couldn't go through with it because of my other kids. It would not be fair to them to lose a brother and a mother. I went to therapy which has helped so much. The depression is still very much there, but I know it will get better.
I found out I am pregnant with our first girl and that alone makes it very hard to leave my mom's house. I am slowly working on it with therapy. I know deep down my kids deserve a bigger place to live with a happy and healthy mom. I know a lot of times these stories have a happy ending but so far mine doesn't and I'm sorry for that. I'm still working on my happy ending. I am THRILLED to have my baby girl, but I am also terrified.
The reason I wanted to share my story is because I want people to live each moment like it's your last and appreciate what you have because no one is promised tomorrow. Your life can change DRASTICALLY in a matter of minutes. If you have kids hug them tightly and tell them, you love them. And always trust your gut! Jayden was diagnosed with whooping cough about a month before he passed, and the doctor should have hospitalized him but didn't. His autopsy read 'SIDS and bronchial pneumonia' but it truly was a mixture of his acid reflex and his illness. If my story can help even just one person, it's a win for me."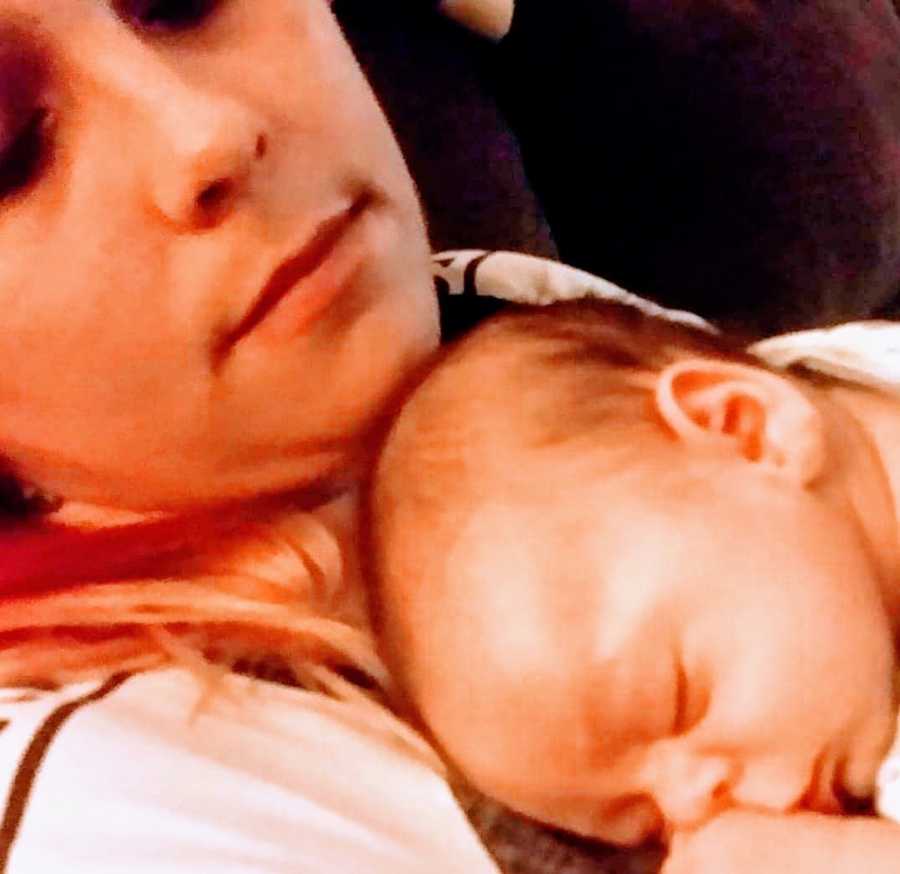 This story was submitted to Love What Matters by Kelsey Heath, 25, of Weirton, West Virginia. Do you have a similar experience? We'd like to hear your important journey. Submit your own story here, and be sure to subscribe to our free email newsletter for our best stories.
Read more stories like this: 
'I ran to the laundry room. Something told me to put my hands in the washing machine. I resisted. No way. Are you kidding me? Of course he is not in the washing machine.'
3 months after our son's death, I was unexpectedly pregnant again. We couldn't believe it. We couldn't fathom having another child.': Mom says she was 'destroyed' after SIDS loss, but newborn daughter 'saved me'
'Mama, it's beautiful! Look at all the flowers.' I felt sick to my stomach. There is nothing normal about cemetery shopping for your baby.': Mom tragically recounts losing daughter during pregnancy
SHARE this story on Facebook to encourage others to cherish every moment and love what matters most.