"It all started on December 20, 2018. I got a call from our local hospital about an older gentleman who wasn't in the best of living situations and needed assistance. This precious gentleman was Mr. Nathaniel Hudson. Little did I know, an unbelievably special friendship was being formed. Little did I know, the good Lord was crossing my path with this kind soul to not only impact his life but mine as well.
I do marketing at North River Village Assisted Living. On December 21, I drove out and picked Mr. Hudson up from his apartment. Bless his heart, it was tiny and run down. It was a situation I knew I wanted to do everything in my power to get him out of. When I arrived, he was ready to go in his suit and hat. He looked so sharp that day. I remember telling him how nice he looked. He held onto my arm as we walked to my car. He toured our community that day and absolutely loved it. He didn't want to leave. While he was there, he attended a Christmas concert and for the first time, I saw him dance. It warmed my heart and many others that day.
After his time at the community was over that day, we went to the west end of town, got lunch, and then I carried him back home. After that time, it took a few months to get some things lined up for him, in addition to a long hospital stay but on April 5, 2019, I picked him up from the hospital and brought him to North River Village — his new home!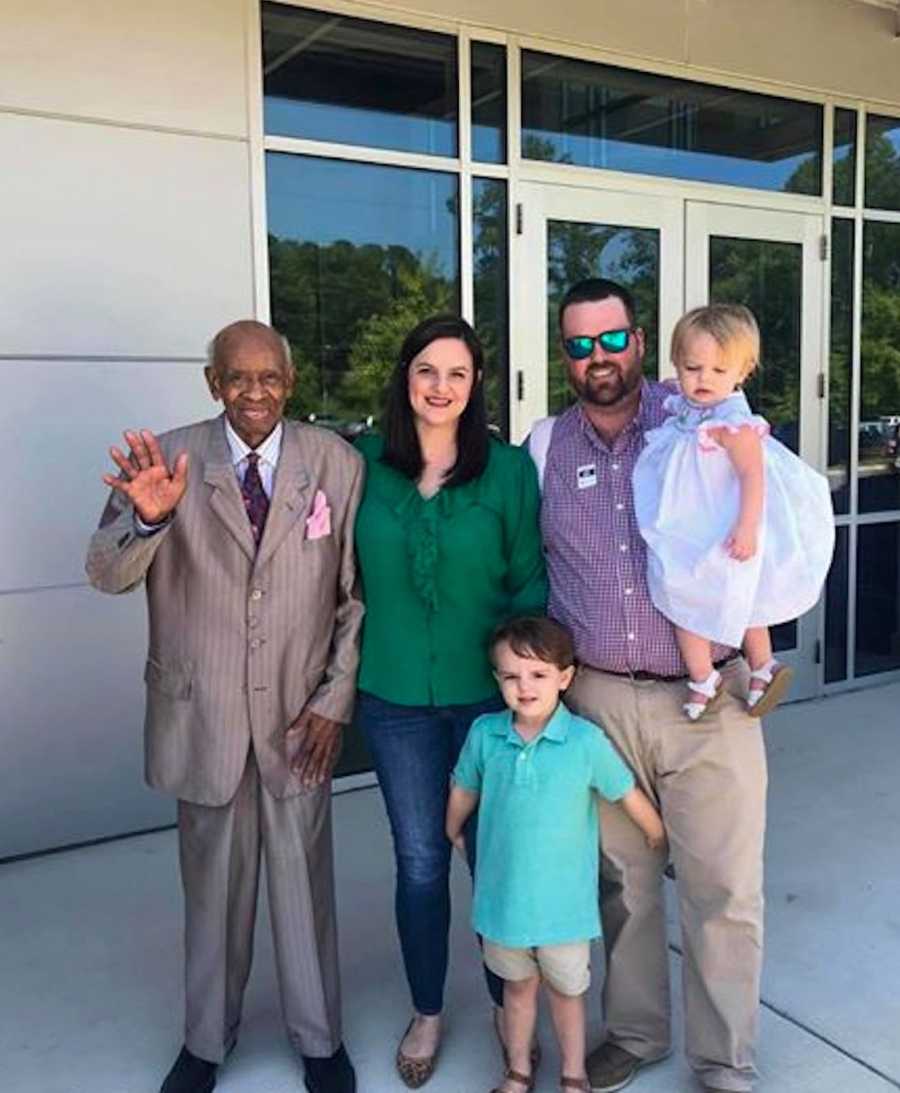 He was so excited! So many precious employees and sponsors at my facility pitched in to donate bedding, decor, and other items for his new place. I felt so good knowing he was in a safe, clean place with three meals a day, nurses making sure he took his medications, and new friendships to lift his spirits. Over the following 12 months, Mr. Hudson and I became close buddies. He didn't have any family in the picture, so I gladly stepped up to be a daughter to him. I helped him with his mail, his cell phone, dry cleaning, and bills, took him to doctors' appointments at the VA, kept him stocked with toiletries, his favorite drinks, and snacks, etc. I became his 'supervisor.' That's what he told people I was. It always made me laugh. He went to church with my family and was around my kiddos many times. He proudly told everyone he saw at church that day that I was his daughter. It melted my heart. I was so proud to hold onto his arm throughout worship and the sermon. He danced at his seat that day and everyone around him enjoyed it.
I started to grow very fond of Mr. Hudson, to say the least. Mr. Hudson loved his new home and participated in games, made new friendships, and loved the exercise group but his favorite was the theater. He was in there just about every day. He loved a good romantic movie. He was a hopeless romantic and always talked about wanting to find a wife.
The months went on and Mr. Hudson started to slowly decline. About a month ago, he was diagnosed with cancer. We were all devastated when we got the news. During a hospital stay the staff started asking him questions about nursing homes and end of life care and he said, 'I'm not making any decisions without Brooke.' In another nurse's note, he said, 'Brooke is my everything.' Since Mr. Hudson had officially discharged from the facility and was going to a nursing home, he made me his power of attorney. I was honored and humbled to represent him. On March 25, I went to see Mr. Hudson and do important some paperwork with him. While I was there, I pulled up a chair beside him, asked him some questions and was able to lead him to Christ! My heart was overwhelmed, and I cried tears of joy.
Today around 3:30 p.m., Mr. Hudson went to be with his Lord and Savior Jesus Christ. The nurses told me that prior to his passing, he sang 'Amazing Grace' so loudly that it echoed throughout the facility. He had been a little confused lately, but he knew every word to the song. He sang it over and over. I think he knew he was about to go home to Heaven. I've been crying all afternoon and evening but I'm so grateful to know that he's cancer-free and dancing on streets of gold! I sure will miss my precious buddy, but I will see him again. What a day that will be!
I'm working hard on his final arrangements. With COVID-19 still rampant, we will have a proper veteran burial in the future. Please keep me and those that loved Mr. Hudson in your prayers. He loved the Lord, his friends, family, and his country."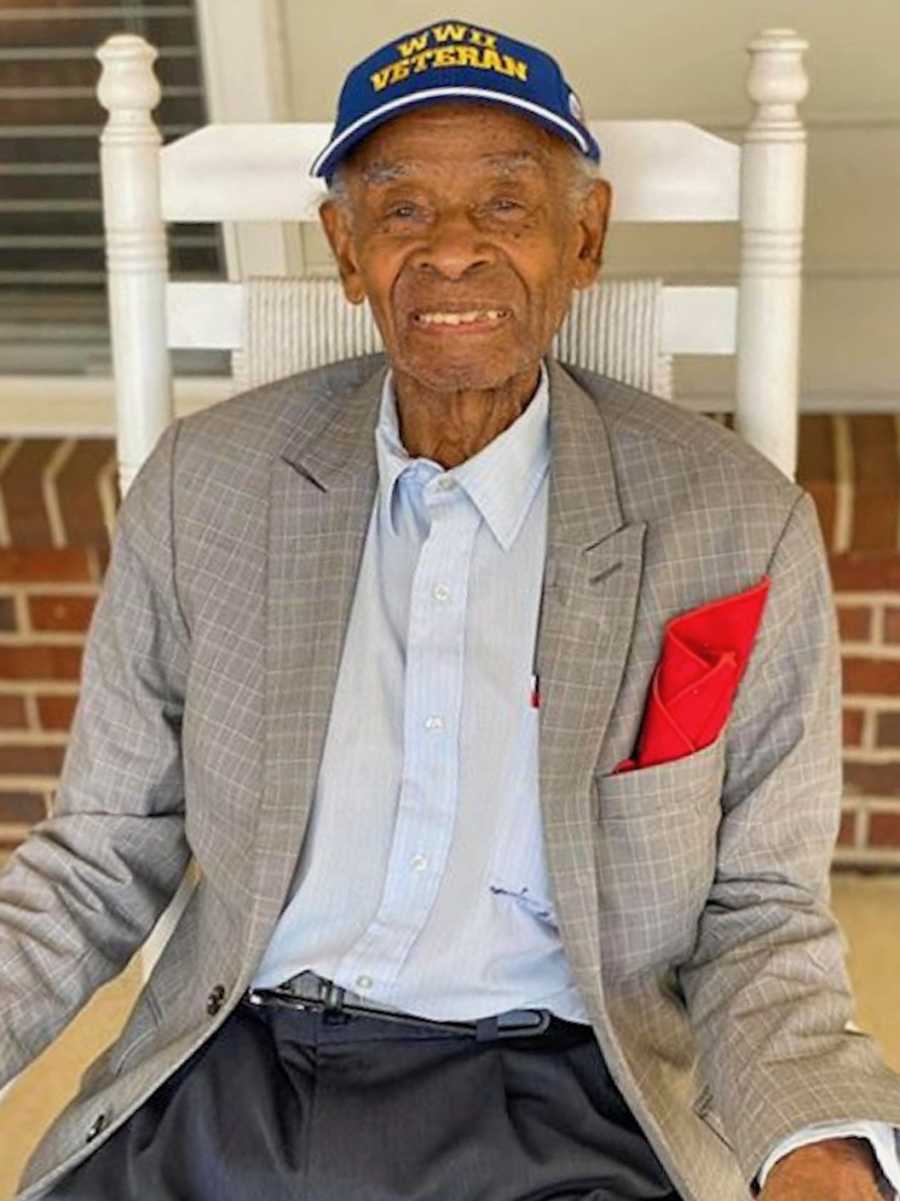 This story was submitted to Love What Matters by Brooke O'Briant, 37, of Alabama. Do you have a similar experience? We'd like to hear your important journey. Submit your own story here. Be sure to subscribe to our free email newsletter for our best stories, and YouTube for our best videos.
Read more stories like this:
'An older gentleman stopped us and asked, 'Do you know how to make a cheese sandwich?' He was veteran, and he didn't know how to cook.': Woman urges 'don't forget the Marks in the world who need you to say hello'
'Every night, we create these letters for hospice patients and nursing home residents who aren't allowed visitors right now.': Family share acts of kindness for 'lonely' elderly during pandemic
'People look at our elderly and tell themselves 'it was their time' when they leave this earth. I'm shocked and flabbergasted.': Woman working in nursing home says 'These are PEOPLE! Please stay home'

Do you know someone who could benefit from reading this? SHARE this story on Facebook with family and friends.