"My wedding day was truly one of the most extraordinary days of my life. There are so many memories that fill me with joy, yet if I am being honest, there is one factor that can still sneak up and haunt me today.
I may have been the bride that day, but due to factors beyond my control, I definitely did not feel like I looked like one.
My husband and I went non-traditional for our wedding day. It was on a beach with a guest list of only 75 people. We wanted casual and fun, so we rented a house and literally just threw a party. We set up tables in the living room and kitchen. We put cocktail tables around the pool. We had a DJ on the deck and Polaroid cameras for everyone to snap their most candid moments. We had a catering company bring in a BBQ Pit to serve all the traditional backyard party foods that everyone enjoys.
It was mid-May, so the Virginia weather was unreliable. That time of year it could be 75 and sunny, or 40 with snow flurries.
I remember clearly the night before our wedding at a meeting with our DJ, he warned us that rain was a good possibility. He pushed us to move everything indoors, yet we pushed back because we thought…who gets married at the beach indoors?
The nostalgia of that weekend sometimes hits me like a sledgehammer. It is the epitome of all emotions twisted into one. It was fear, excitement, anxiousness, happiness and dread. We had people traveling in from all over the East coast, with most of them never being to this location before.
The morning of the wedding was filled with nerves about many things, but for me, it was 80% about the weather. It had rained the night before, so our hopes were low.
Yet by mid-morning the day of the wedding, the weather had cleared. So, my family and I prepped quickly for the 3:00 ceremony, and by early afternoon, it was time for me to get ready. Now like a lot of brides I know; this was an extremely stressful experience. You have so many visions of yourself on your wedding day because you are supposed to look your most beautiful.
I ended up being late to the ceremony due to a hair redo and dress fiasco, but just 20 minutes past the expected start time I was finally ready. So, I grabbed my Dad's arm, took a quick picture and headed to the decorated beach for the ceremony.
Little did I know that this picture would be one of the only pictures where I would look like the bride I dreamed to be. Because in the next 2 minutes I would walk outside and run into something I had done absolutely no planning for – the brutally viscous post-storm ocean wind.
You see on a regular day, almost every beach on the East Coast is windy. It's normally something you don't even notice, because that is just what it is like when you stand by the ocean.
Now for people like me who do not live at the beach, I had not spent much time by the ocean after a storm or on a day that's overcast and cool in mid-May. So how was I supposed to know how bad it was?
So, as I stepped out of the comforts of the windless house into the wild ocean air, just like that, all my dreams and hopes for the perfect wedding pictures literally blew out the door with me. The wind got a hold of my beach waved hair and tore it shreds. The make-up I had done and redone to perfection was eliminated with damp sand-filled blasts of air. My dress was twisted and move into directions I couldn't control.
I very quickly looked nothing like the pictures I had spent hours admiring in magazines and on wedding websites. My dreams of looking my most beautiful were literally blown-up in a matter of seconds.
Yet I am thankful that I got caught in the moment of the day. I am thankful that people told me I looked beautiful not matter what they really thought. I am thankful that I was at the beach, where I am always the happiest.
I am thankful the DJ played amazing music, and the food was the best I ever had. I am thankful for the family and friends that surrounded us with love all night.
I am so thankful that in the end the wedding was about us and not just me. I am thankful I was marrying the love of my life that, and that it was never about the wedding but about the marriage. It was a proclamation of our love to our friends and family, and my hair looking perfect on our wedding day was definitely not a line written in our vows.
I would be lying if I didn't say that some pictures from my wedding make me cringe. I wish I had more to post and talk about with the world, because in the end, it was one of the most special days of my life.
Yet this experience gave me a valuable lesson that I have taken through my entire marriage – that life is not about the picture, but it is about the moments that make up the pictures we take and share. It is the laughter you cannot hear and the emotions you cannot feel.
I may not have looked like the bride I wanted to be, but I know I definitely felt like one… and I have every day since.
I may not have the pictures I dreamed of from that day, but I got the better end of it, and I have the life I dreamed of. I now have thousands of pictures with my two beautiful kids and husband that are worth far more than a few perfect shots from just one day."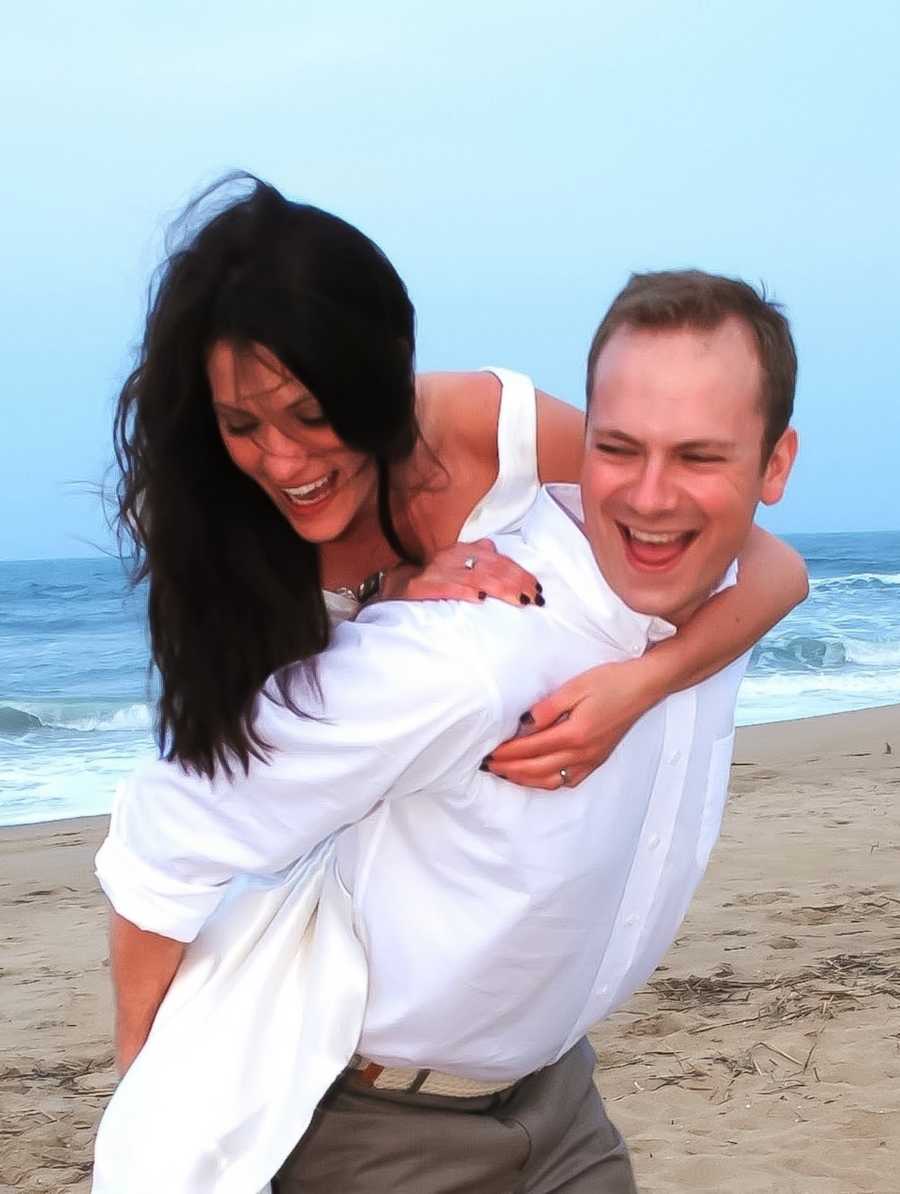 This story was submitted to Love What Matters by Stacy Seltzer. Click here to learn more about a scholarship created in Laurin's honor. Do you have a similar experience? We'd like to hear your important journey. Submit your own story here. Be sure to subscribe to our free email newsletter for our best stories, and YouTube for our best videos.
Read more powerful stories like this:
'Are we still getting married?,' she looked at me in tears. She wanted to protect me.': Man loses wife to stage 4 cancer months after wedding, 'I have a huge hole in my heart'
'Little did I know this one wedding, and this one bride, would change my life forever.': Photographer captures 19-year-old bride's impromptu wedding after she was told 'she wouldn't make it through the night'
'I'm not scared to die, I'm scared to be forgotten. And I'm worried about you.' I had no words, just tears.': 28-year-old widow gets sign from husband in heaven, 'I'm okay Mama Bear, I made it, I'm now pain free'
Please SHARE this story on Facebook to encourage others to cherish every moment and love what matters most.