"I started talking to Laurin on March 24, 2015, after finding her on the dating website Plenty of Fish. She had a picture on there where she was wearing pink boxing gloves, and was bald from her first bout with cancer. I initially scrolled past her, but kept coming back to her.I was amazed at her bravery to put herself out there like that, and after a little while, decided to send her a message. We chatted throughout the day and that evening decided to talk on the phone – which went on for about 3 hours. I am not a person who normally likes to spend much time on the phone, but the conversation was so natural, we just kept talking.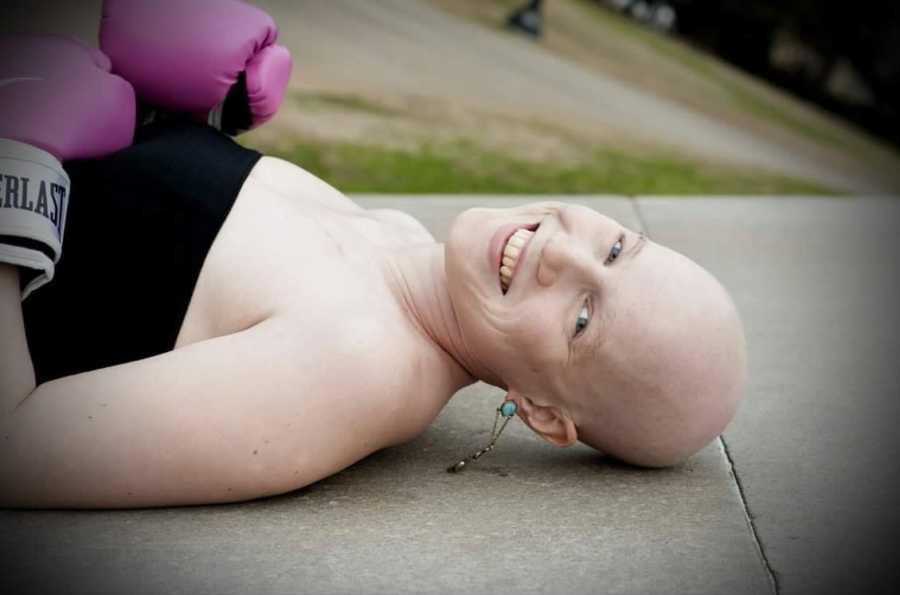 We met the next day at Starbucks downtown after work. I had dinner plans with some out of town friends later that night, so it was a very convenient place and she only lived a few minutes away. I buzzed my head that day so my hair would be shorter than hers, and we walked to a nearby bench where we talked for about an hour and a half. I explained I was recently legally separated and waiting the necessary time required for my divorce to become finalized, and she told me about her cancer journey and how she was recovering. We decided we could either each go through our sh*t on our own, or together. From that day on, we called that bench our 'sh*t bench.' I felt an incredible connection with her from that day – we seemed aligned in our values and life goals, and I left excited to get to know her better. When I walked her back to her car, I decided to be a gentleman and not go for a kiss the first night, which later I found out she took as me not being interested in her.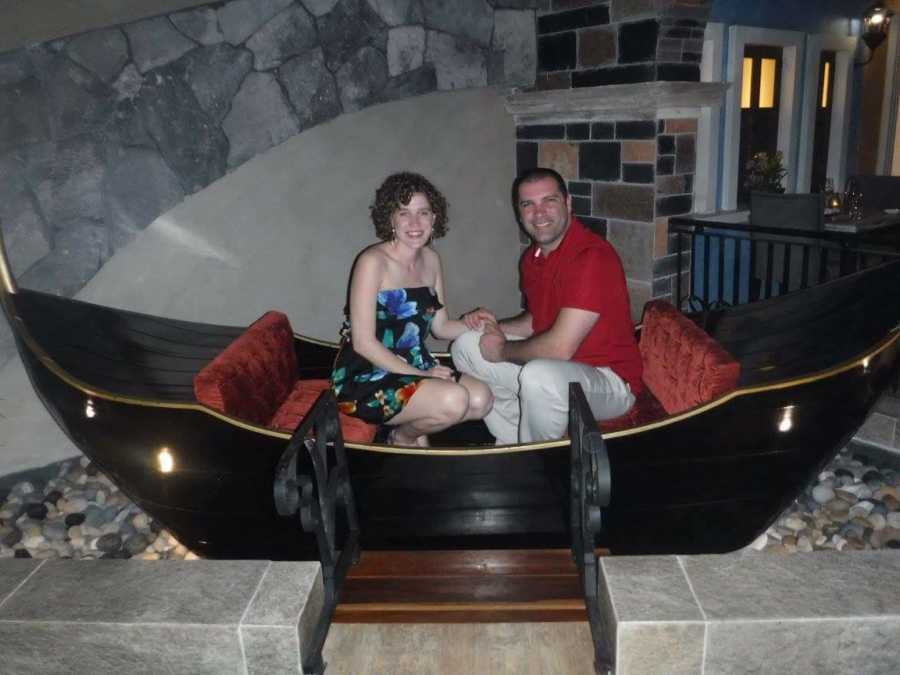 She was moving in with her sister 2 days later as she was going to be spending some time at Duke for radiation coming up, so she said she would not be able to see me for a few days. On the day she was supposed to move, something came up and her sister was unable to bring her large SUV to help her move, and Laurin was telling me it was going to take her a ton of trips to get everything in her little car. I replied, 'I have a large truck…' She argued with me for a while and then finally decided to let me come help. We were able to get almost everything in one trip. When I arrived at her house, she pushed me against the wall for our first kiss to thank me. After loading everything up, we headed to her sister's house. When we arrived, I was fairly unpleasantly greeted by the family being the random guy showing up with her uninvited. But we moved everything in and went out to dinner. I brought Laurin over to show her my house.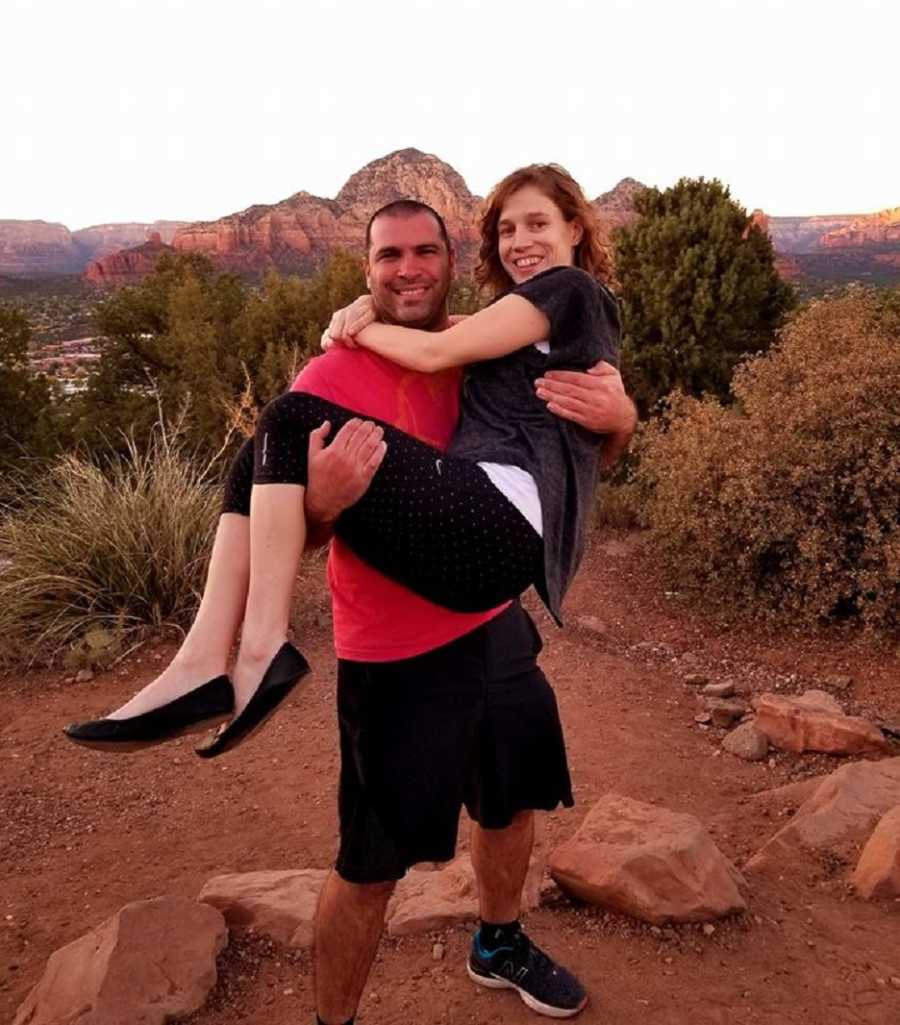 Pretty much from that point on, we were together almost every day. She had a double mastectomy a few weeks later and had to stay in Raleigh, North Carolina for 6 weeks of radiation, but every weekend she either came back to see me or I went to see her. I ended up keeping her dog for her because her sister's backyard didn't have any good shaded areas for him to stay, and I enjoyed having a dog around. I never let her live it down that her dog got to move in first. After a few months, she officially moved in with me, and got the news that she was free and clear from cancer.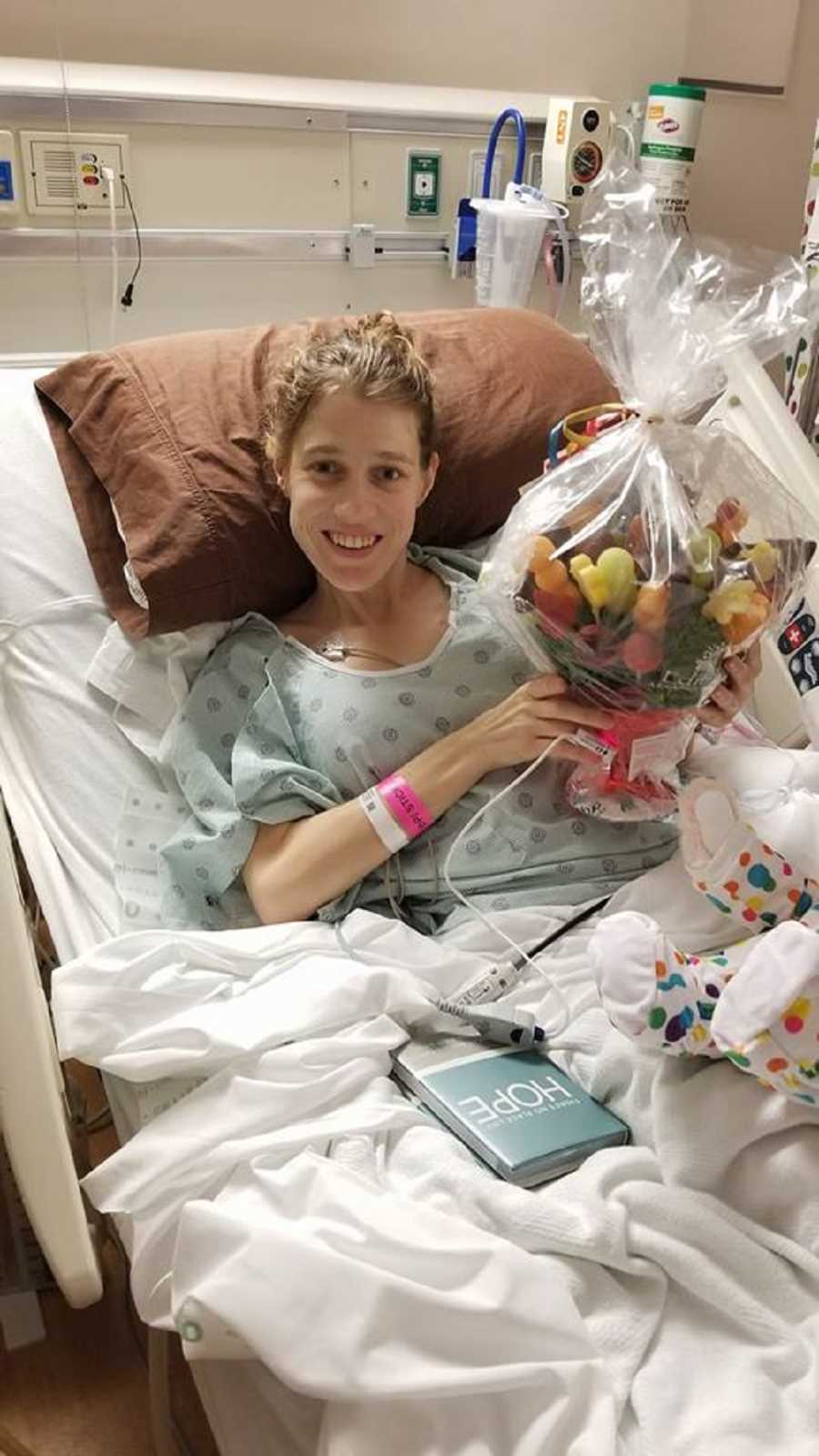 Laurin went back to school to get an accounting degree and I was busy running my martial arts school. Life was pretty normal. Because of the scare she had, she put adventures and memories as her highest priority. I had a similar mindset from my time in the military. I realized how much she truly cared for me that August when she decided to surprise me for my birthday. She saw on my goals list that I wanted to pet a tiger. So she found a place in Myrtle Beach where we got to have a full day tiger and other exotic animals experience! I don't know the cost but I know it was quite pricey and she did not make a lot of money, so it was a big deal.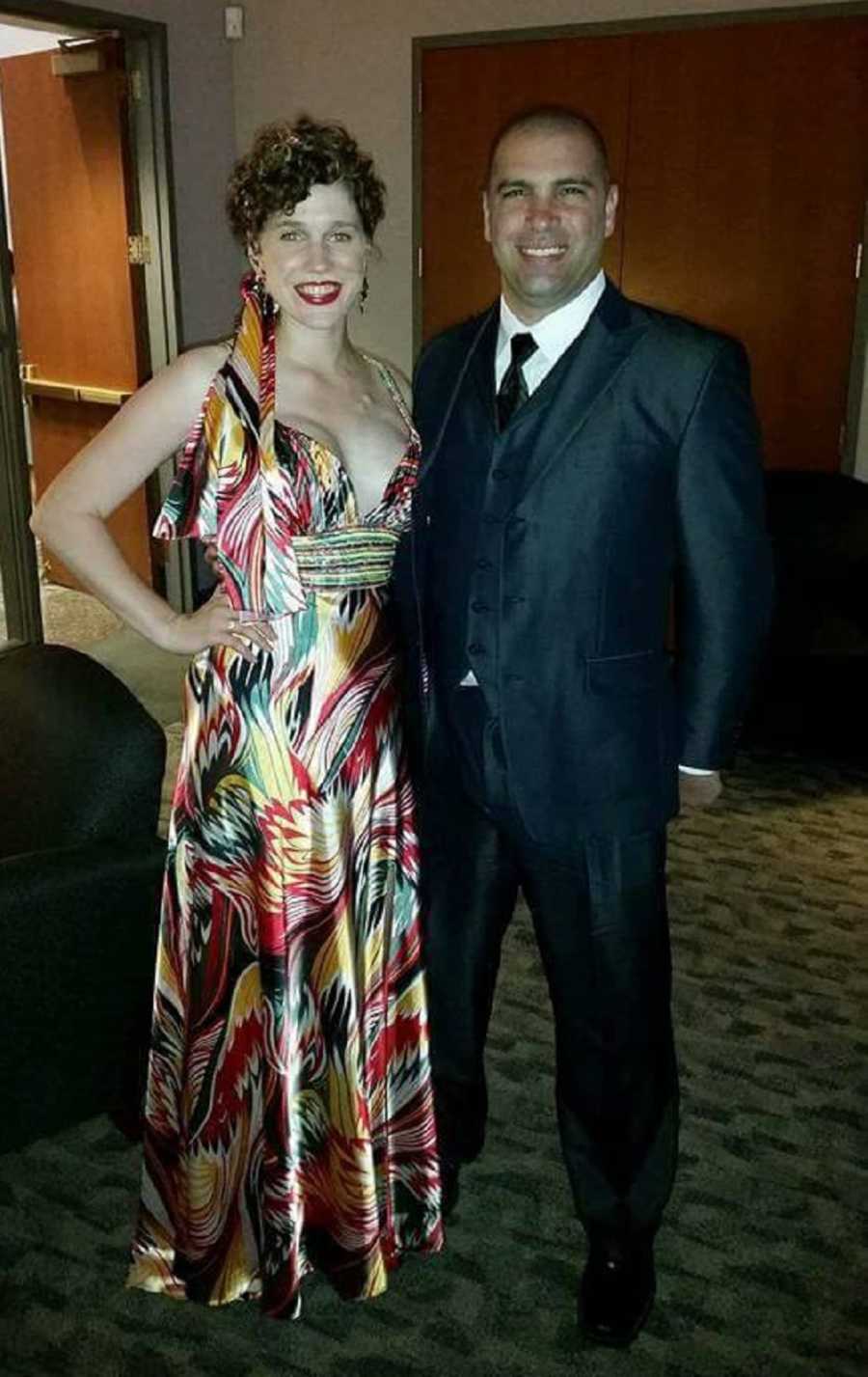 Over the next few years we had countless adventures, from touring wine country, to hot air balloon rides, indoor skydiving, all-inclusive resorts in Cancun, and 7 day cruises. I knew I wanted Laurin to be my wife, but didn't know how I wanted to propose. Then she ended up getting a job offer with a new company after finishing her accounting degree. She turned in her two weeks' notice and her boss spent an hour telling her how she would never make it in accounting and completely degrading her. So when she called and told me this, I immediately went to her work, we packed up her office, called the human resource director and told them she would not be returning to a hostile workplace and started a 2 week road trip. I knew this was the opportunity where she would not see it coming, so I packed the ring I had ordered about 2 months before and we took off. We ended up in Niagara Falls where we had an amazing dinner. We were walking in front of the falls where I dropped to one knee and asked Laurin, 'Can we keep the party going?' She squealed with delight. I don't think she was able to say anything comprehensible for about 10 minutes. We turned off our phones before we got to Canada, and had decided to not use them at all while we were there, so we spent the evening and next morning just enjoying each other's company before we came back and started telling everyone!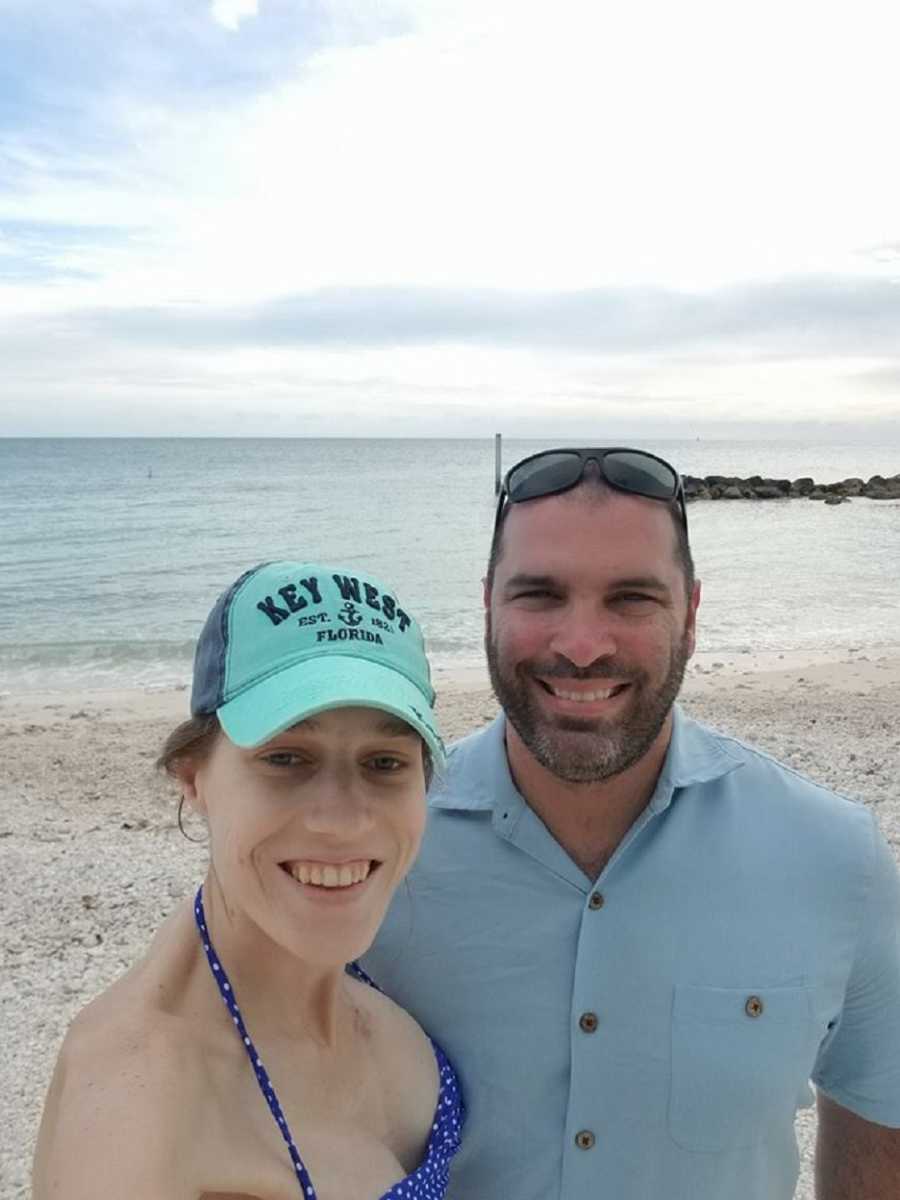 Over the next few months Laurin started developing some back pain, but that's a side effect from all the cancer treatment she had, and we thought maybe she slipped a disk or something. We went to the ER one night and they diagnosed it as muscle spasms. We went to a chiropractor a few times, but things were not improving, so we ended up going to an orthopedist to get scans. The next night we got the dreadful call saying, 'You need to contact your oncologist immediately.' The on-call oncologist got her admitted that night and they spent the next few days running a battery of tests. We were told that the cancer had metastasized into her bones, lungs and liver. Hearing this made me feel very useless, I am used to always being able to have some control over a situation. But I was 100% committed to being by her side as she started her second round against this dreaded disease. I wanted to be in her corner and help in every way I could.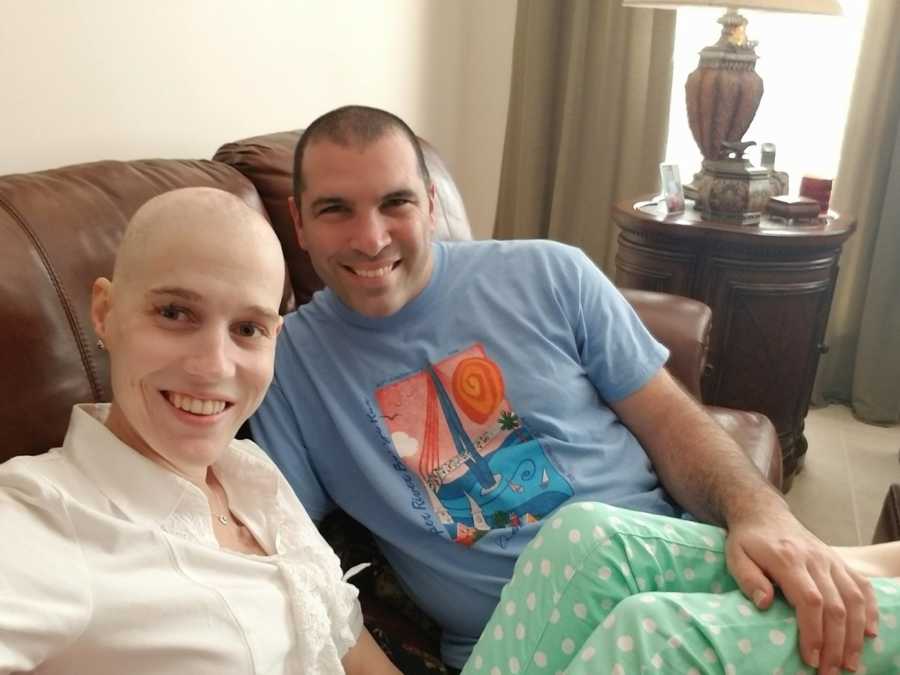 Laurin had lost both of her parent to stage 4 cancer and knew all too well what this meant. She looked at me in tears.
'Are we still going to get married?,' she asked.
She was not asking me this thinking I was going to change my mind, but was wanting to protect me from the possible extreme costs of treatment.
'Of course we are,' I told her. 'It just means we have more to figure out.'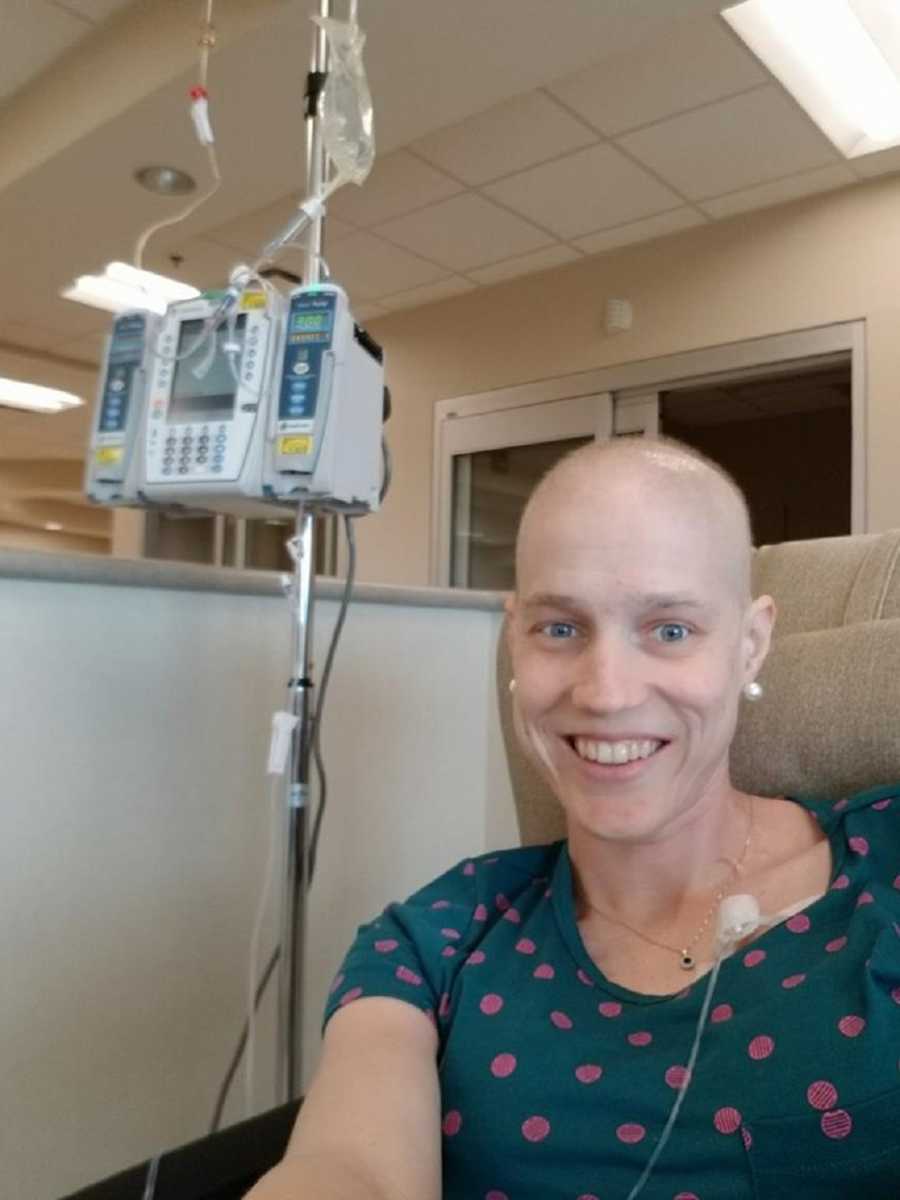 By this time we had already chosen our wedding date which was the 3 year anniversary from the day we met. We had booked our venue, sent out save the dates and were well into the planning process. The doctors encouraged us to move up the date, fearing the worst. But we decided after much discussion that no matter what, that would be our wedding date.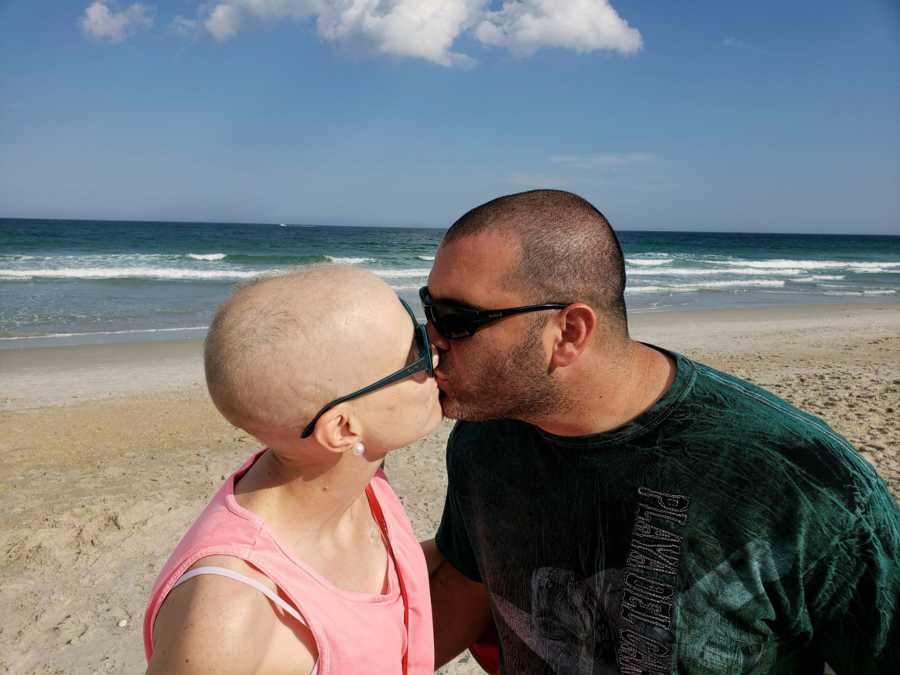 In between treatments we continued to travel as much as possible. We spent thanksgiving in Arizona and saw the Grand Canyon, the slat canyons in Paige, and spent a few days in Sedona. In December Laurin required a surgery because of fluid buildup on her lungs that put her in the hospital for a week. During that week, Laurin asked me jokingly when she was going to get her 'fun car.' By the end of the day I found her dream car, and 2 days later went and bought her an Infiniti convertible. At this point she had not driven in months, but as soon as we got this car she got so excited she started driving every day again. A few weeks later we were accepted onto a clinical trial which would start about 6 weeks before our wedding date. So we decided to go on a pre-honeymoon not knowing what the next few months would look like. We took the convertible and spent an amazing week in Key West!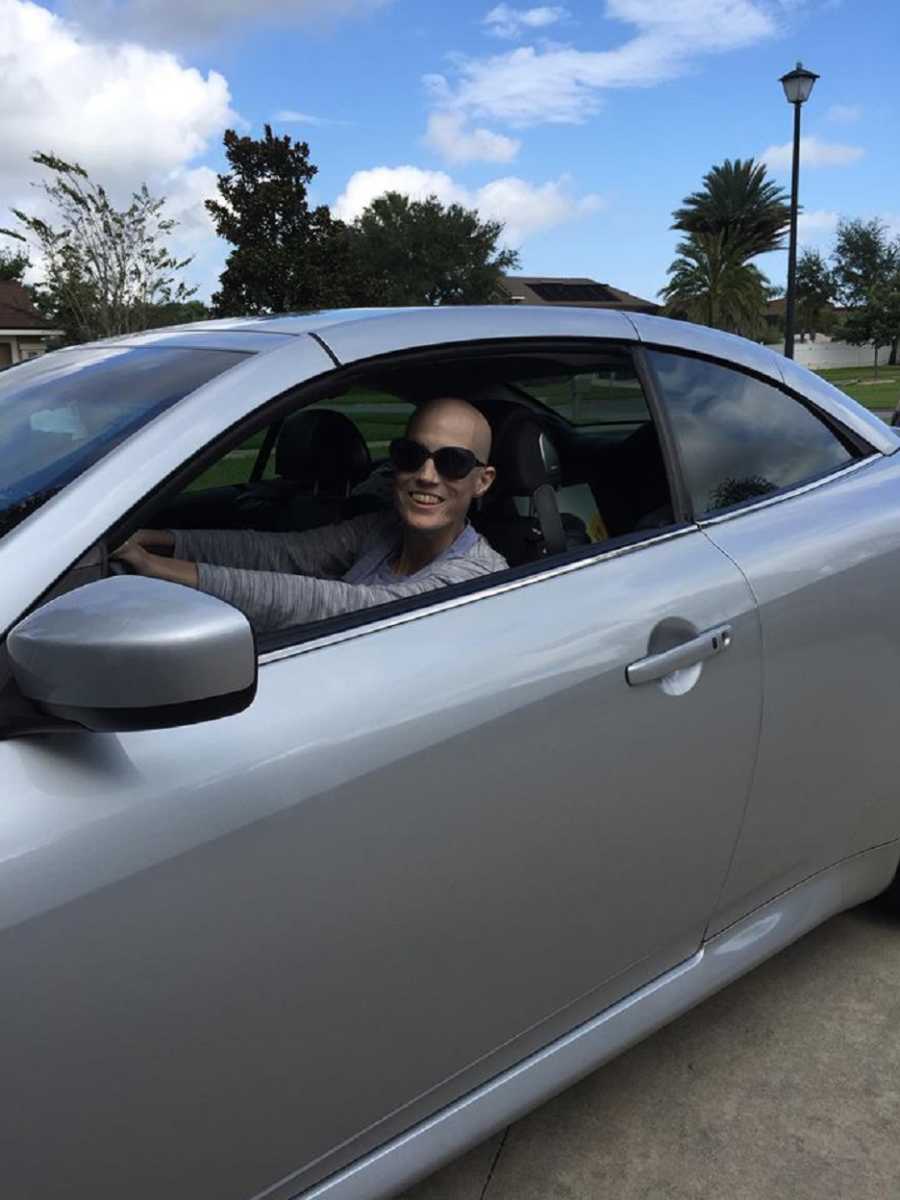 The clinical trial was originally having great results, and by our wedding date, Laurin was even stronger than she had been in months, although she lost her hair again 3 weeks before the wedding.
'I fell in love with you when you were bald, so it does not make any difference,' I told her.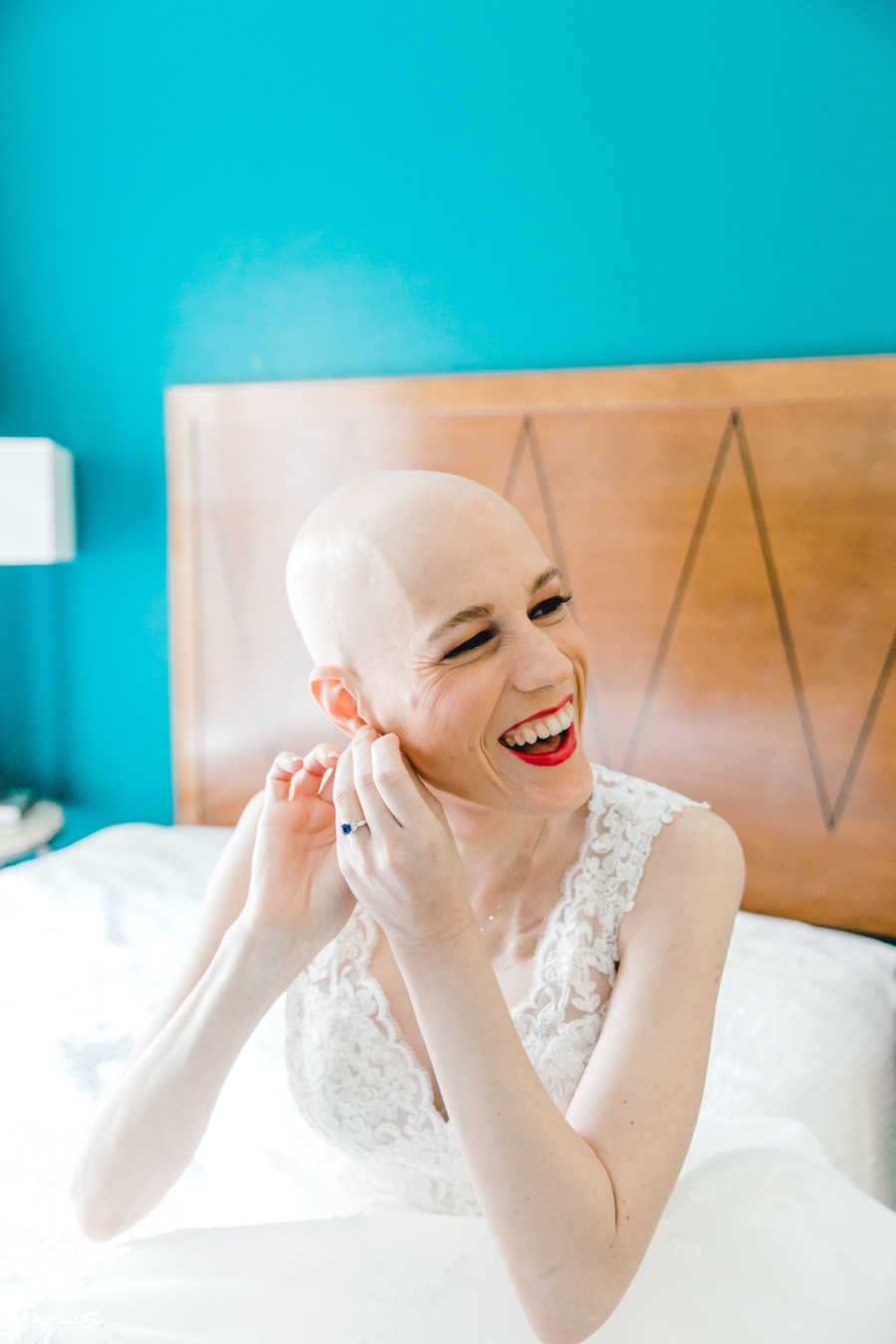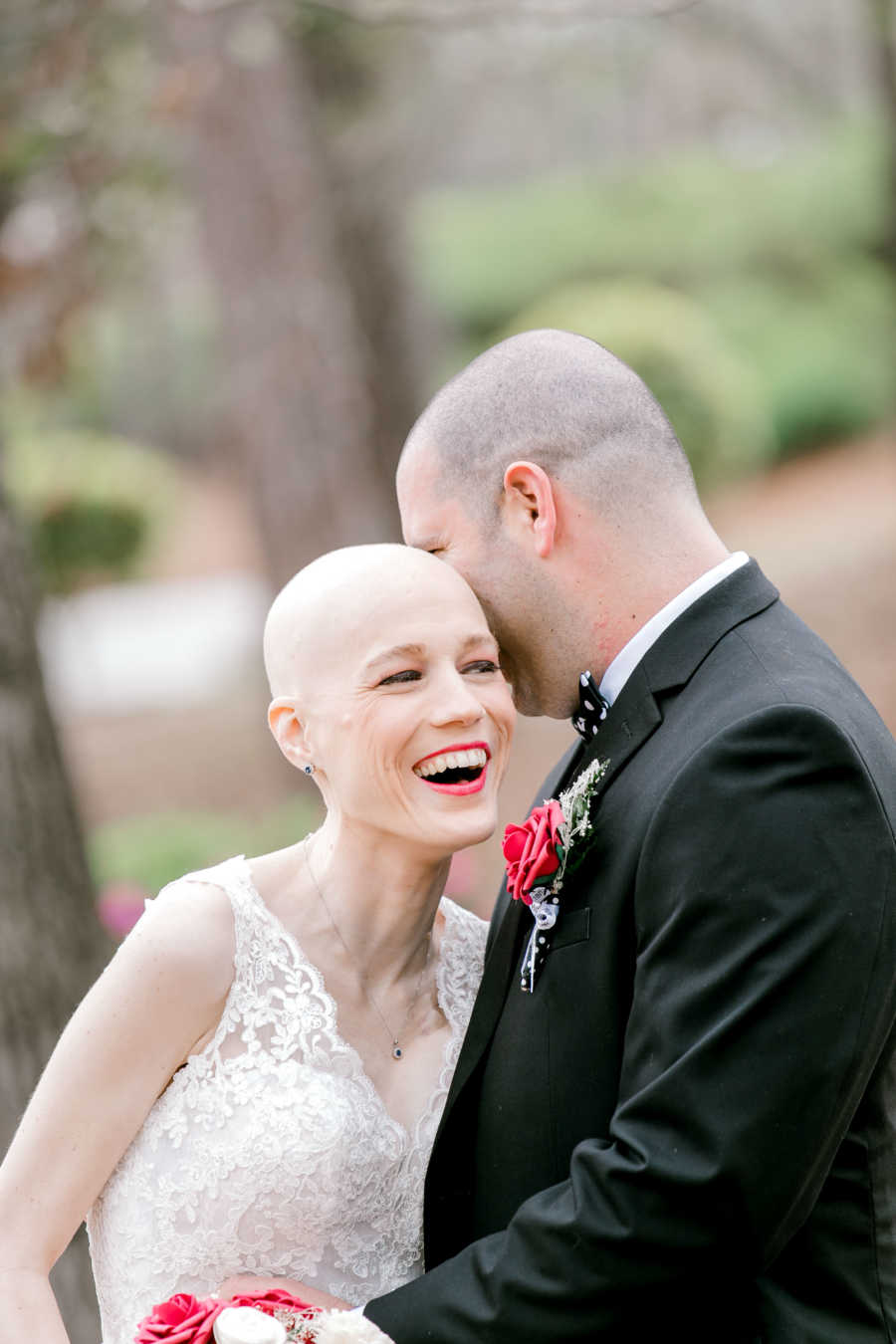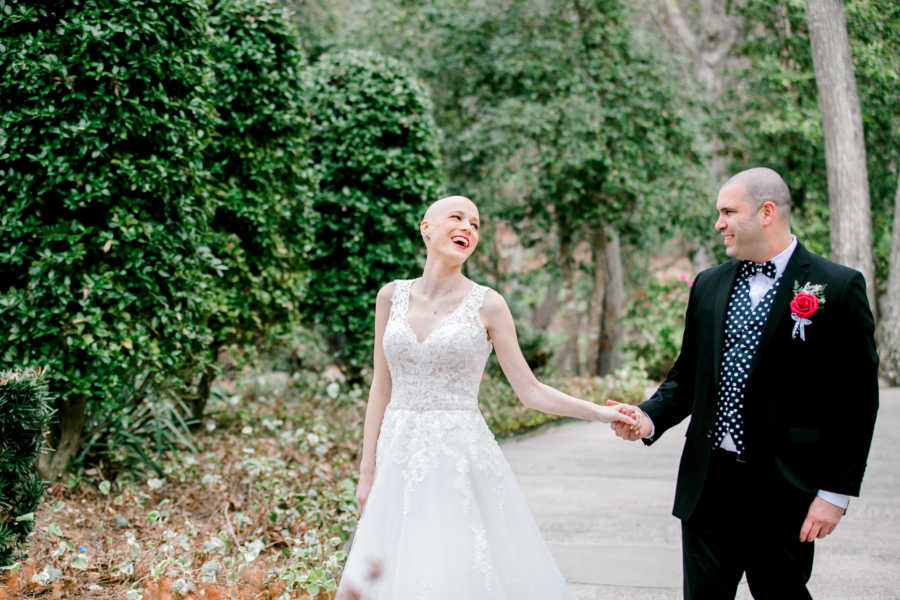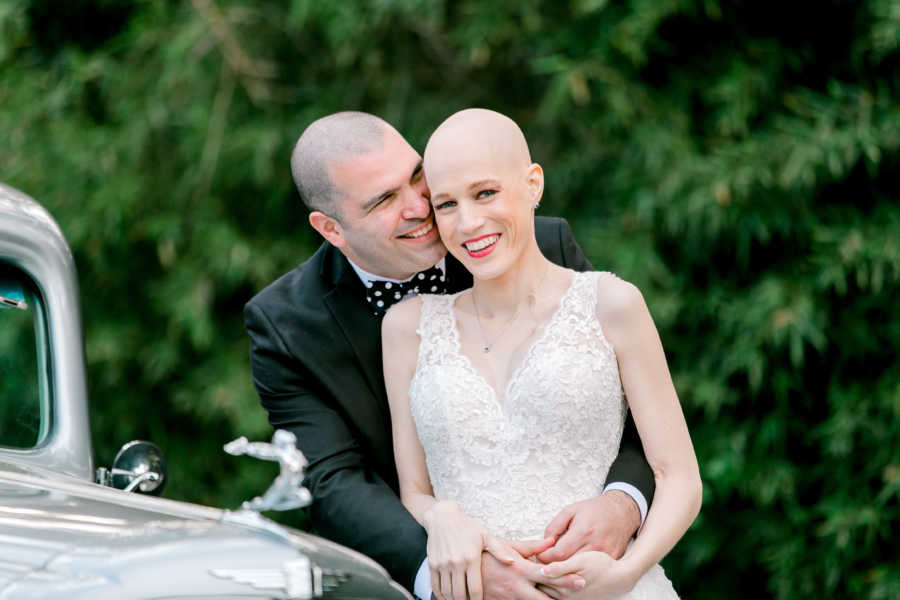 She was absolutely stunning as she walked down the aisle. I could not take my eyes off of her the entire ceremony. We kept our eyes locked, smiled, laughed and enjoyed the moment to its fullest! I felt like the luckiest person in the world.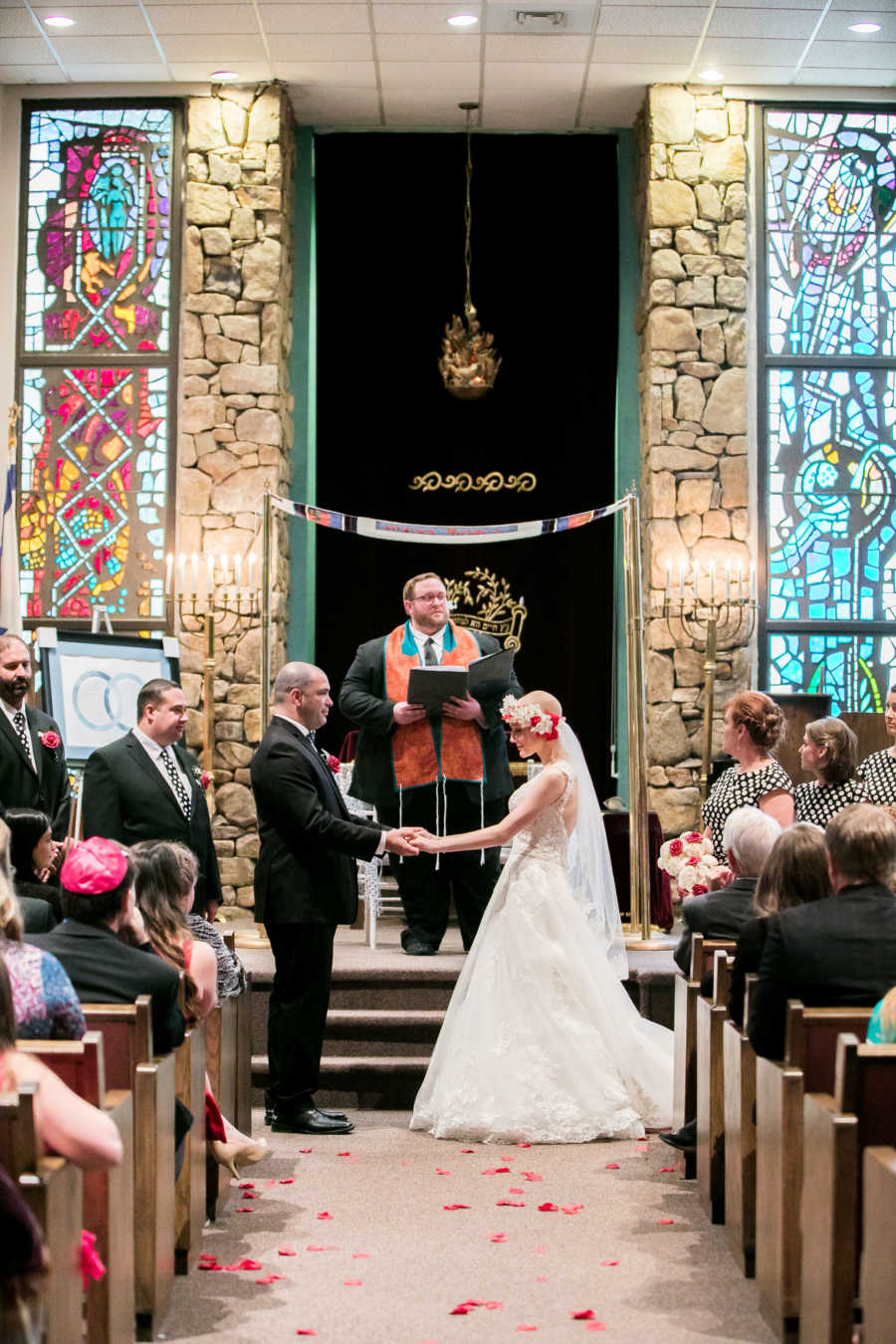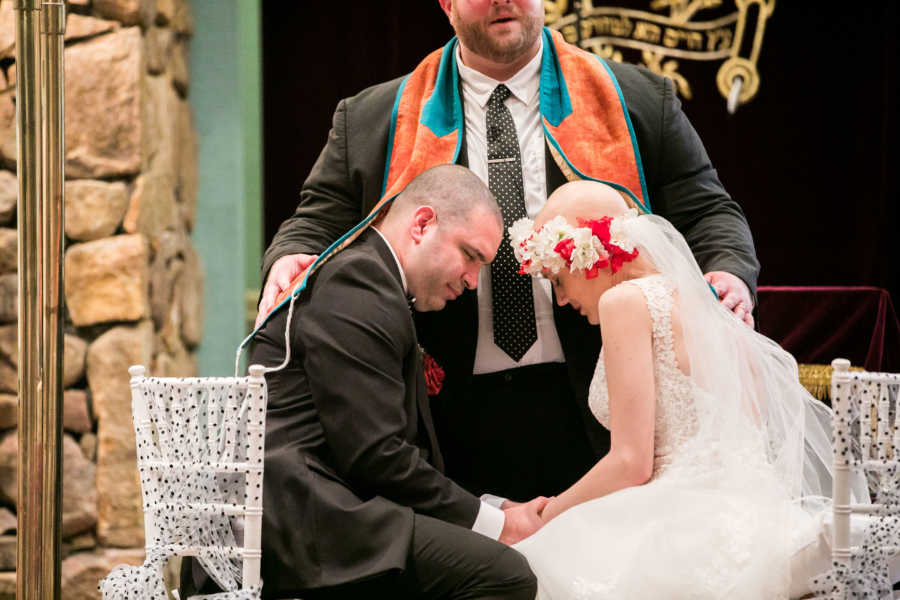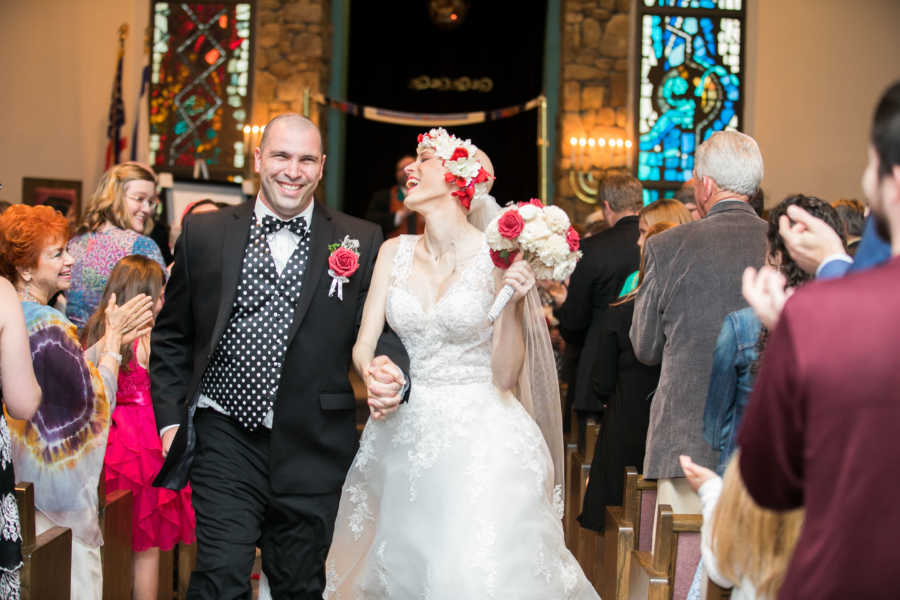 We were able to dance the night away and enjoy a magical wedding. There was not a dry eye in the room during our first dance as husband and wife.
'We made it!,' I kept telling her.
Our dance was 'Perfect' by Ed Sheeran which perfectly described the day.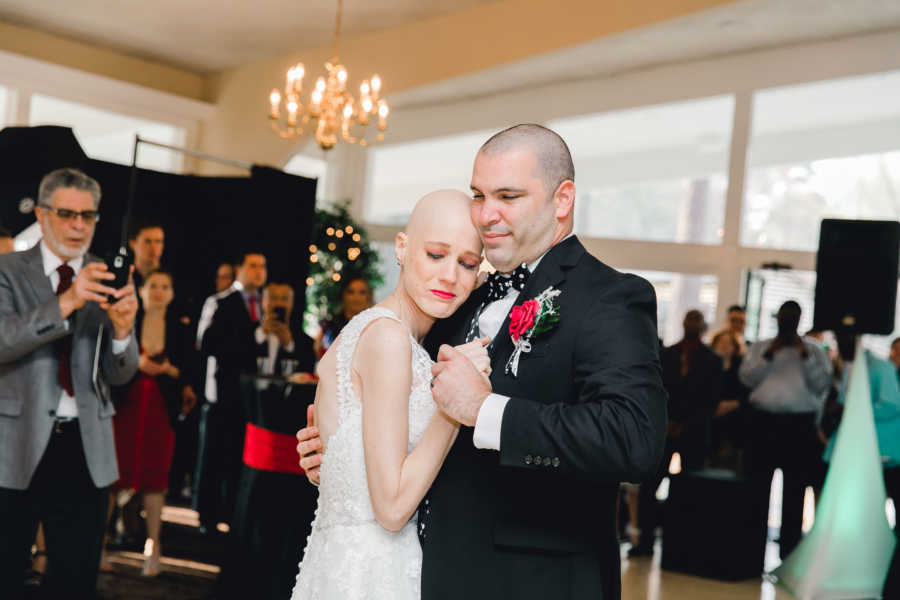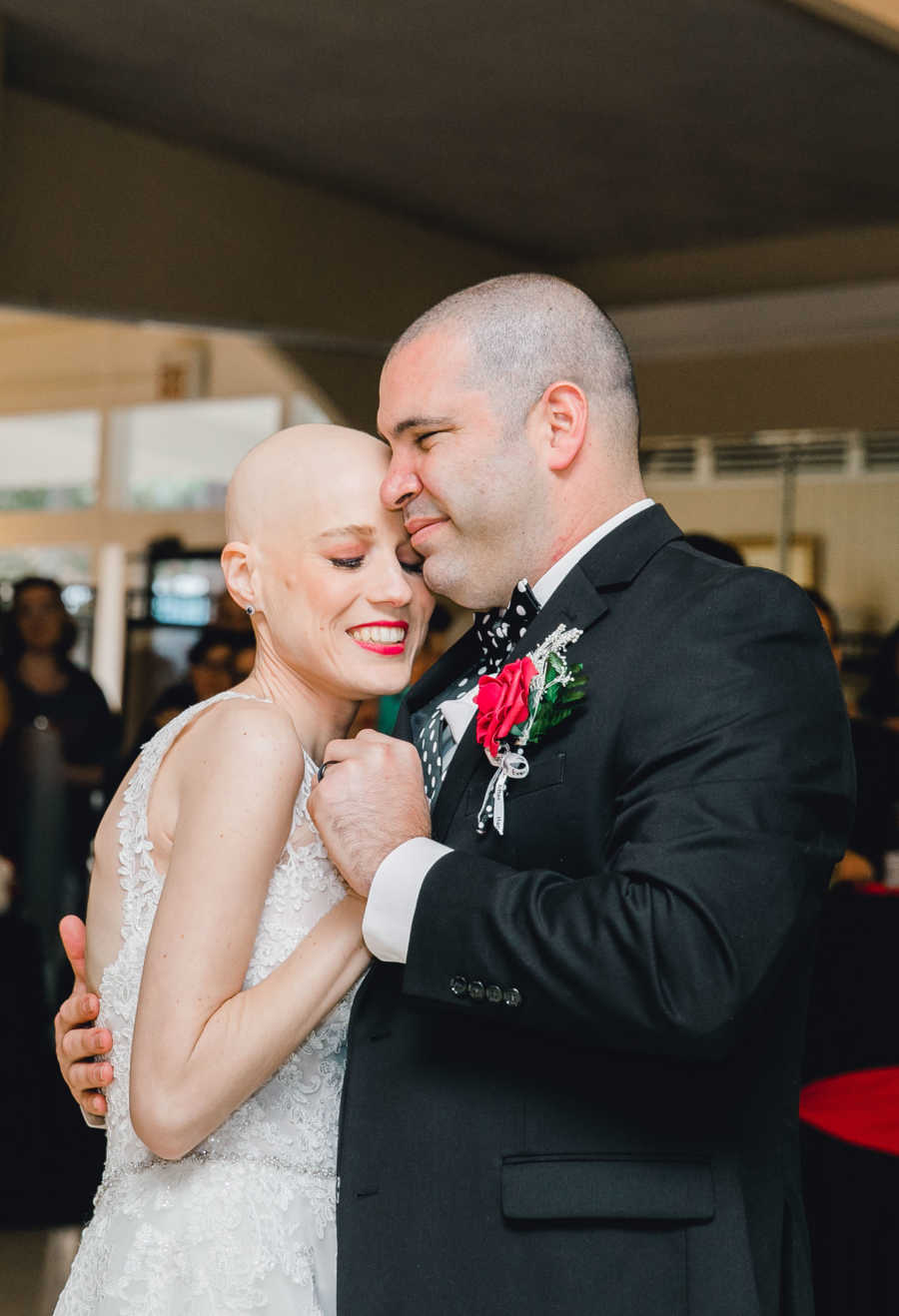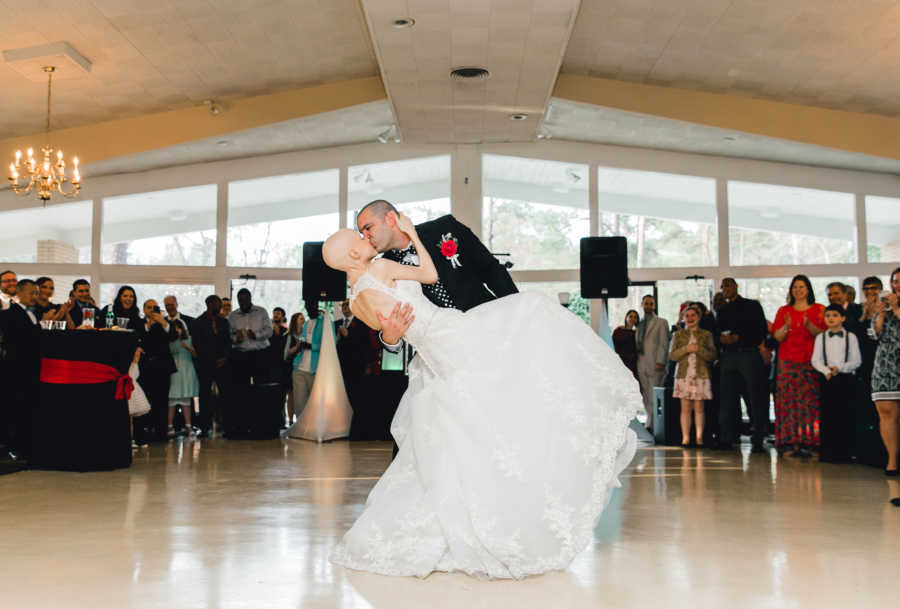 After the wedding, we continued on with the trial for about 3 more months when a new tumor was discovered in her spleen. This unfortunately meant it was not working properly and we were unable to continue the trial. I think I walked around the parking lot for an hour cursing nonstop after this news. It was a crushing blow after how well things had been going, and we were becoming more and more hopeful for a future together up to this point. We made the decision that we would try and do whatever it took to qualify for another clinical trial, and the clinic was supporting us 100%.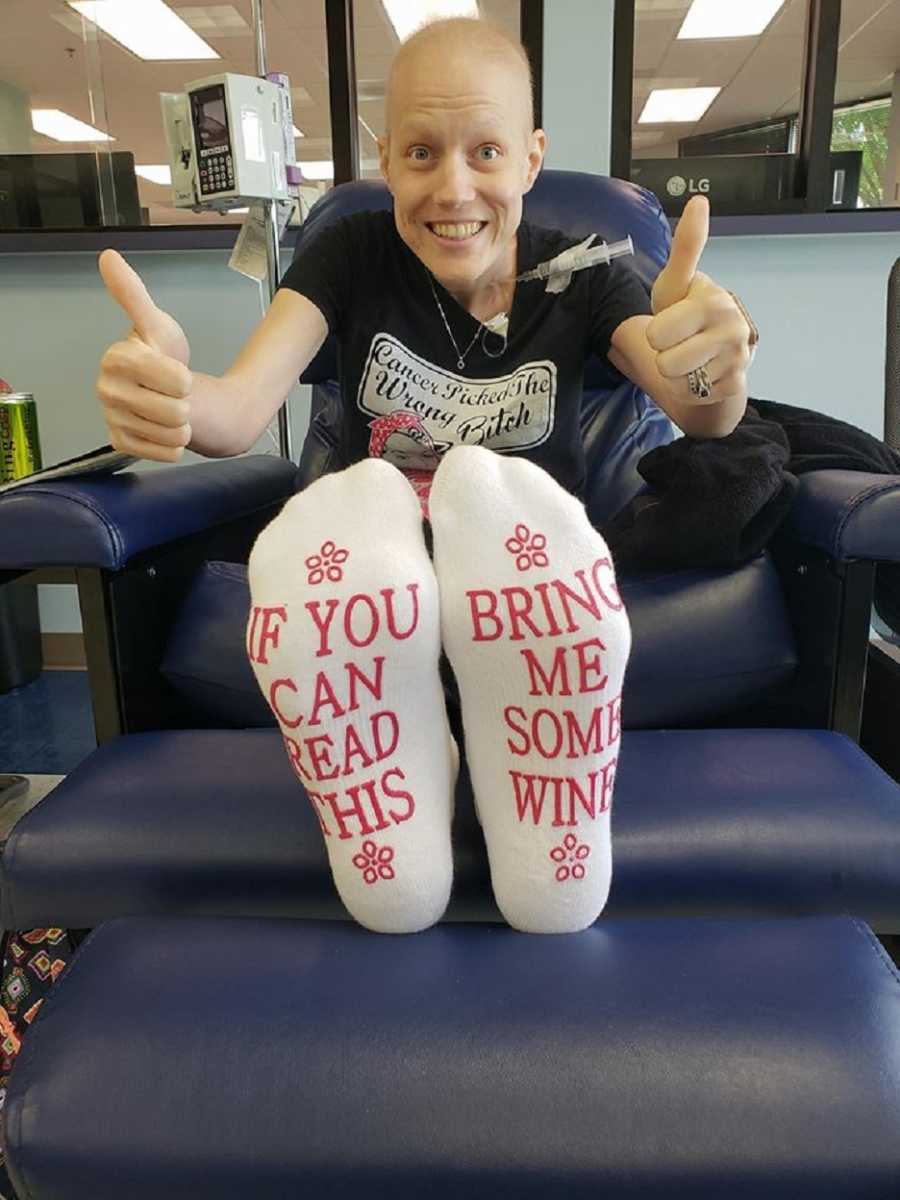 Laurin did a few rounds of triple dose chemotherapy to try and see if we could qualify for another trial, but sadly we were not able to get everything under control. Right before her 30th birthday, we decided to give up all treatment and enjoy the time we had left. We were preparing for a 2-week road trip, I had a conference in Oklahoma that I was not planning on going to, but Laurin told me she wanted to spend time with her Aunt in Florida for a few days. So she drove down to see her aunt while I went to my conference. I flew in late Saturday night and woke up Sunday morning to a call from Laurin.
'I do not feel well,' she said.
I spoke with her Aunt and we decided to meet in Savannah so I could get Laurin home. She was so uncomfortable, we had a hospice nurse meet us at the house when we got home. She checked all of Laurin's vitals and said everything seemed fine. Her pain got worse and worse and the hospice nurse came back a few hours later, took her vitals again, and told me we were losing her.
We knew time was short, but we thought we had months, not hours. Laurin could not get comfortable anywhere. I spent the evening trying to help as much as I could – we kept giving her morphine every 15 minutes which did not even seem to help. I eventually picked her up and carried her to our bed. Within minutes, she had passed away.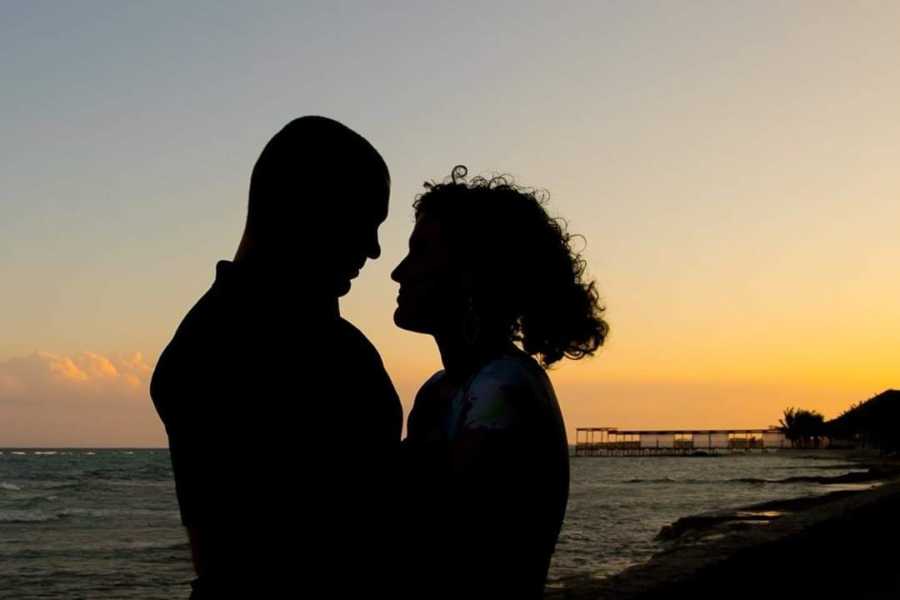 Looking back on this time, there is so much more I wish I could have said to her, but I was at such a loss for words. I just held her hand and kept thanking her for the past few years, for making me a better person, for teaching me how to love. I have no idea how much of this she heard or exactly when I lost her, I just kept talking until the nurse came in and checked her pulse and let me know she was gone.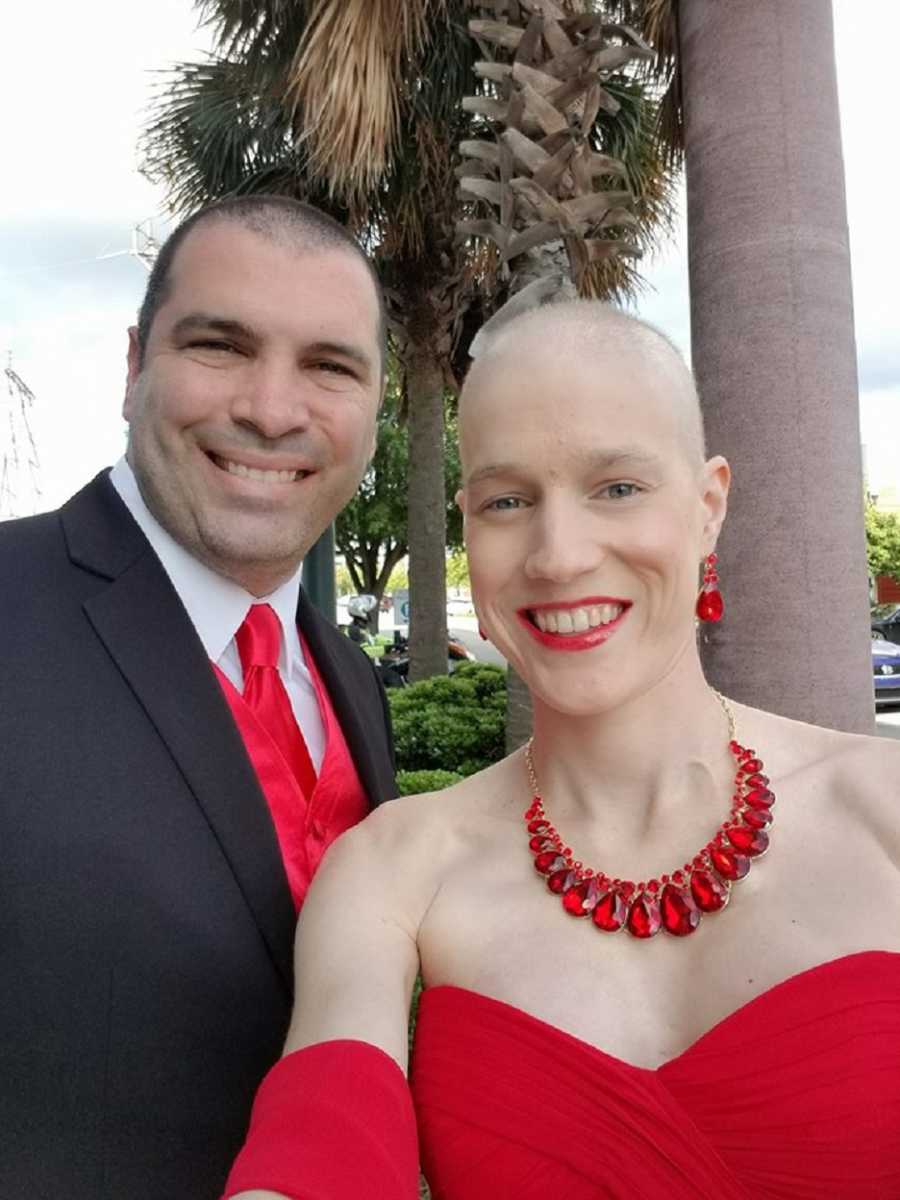 Laurin hated hearing people talking about a 'battle with cancer,' because with stage 4, there is almost no chance of winning, so she asked me to describe her journey as her having great fortitude. I have no idea how she kept a smile on her face every day, even through constant pain, medical procedures, and bad news. She was the first person in my life that I cared for more than myself and would have done anything for. Of course we had our moments like any couple would, but we always focused on making each other's lives better. I have a huge hole in my heart in which I fear will never be filled. But I have so many amazing memories of our time together.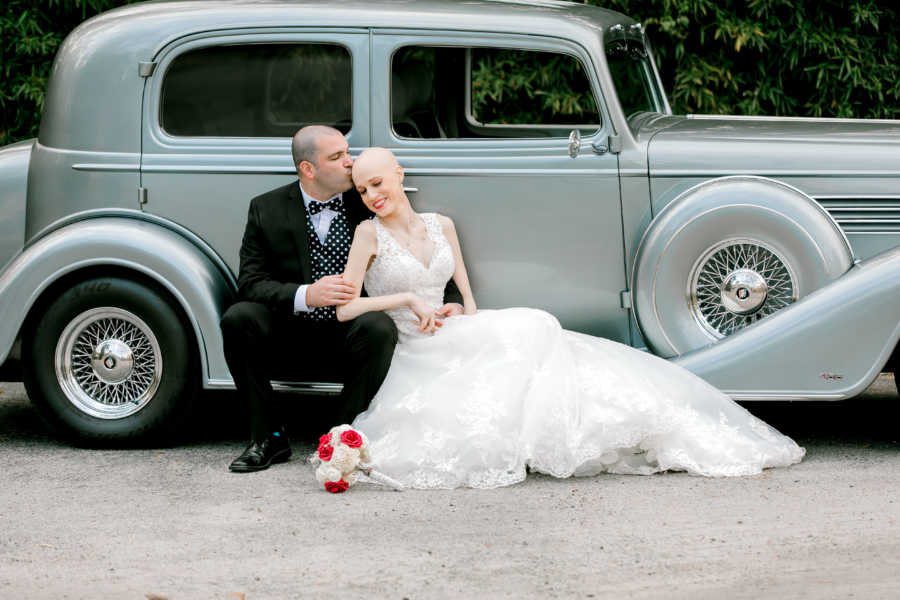 As I write this almost a year later, I have continued to take a lot of the trips we were planning, and trying to continue fulfilling many of her wishes. I have spent the year traveling the world, helping with several of the organizations that helped us along the way and continued her blog with close to 5,000 subscribers who shared our journey with us. Please continue this journey with us on her Polka Dot Queen page where you can read her side of the story in the older posts, and my thoughts in the months following.
'Til we meet again, my love."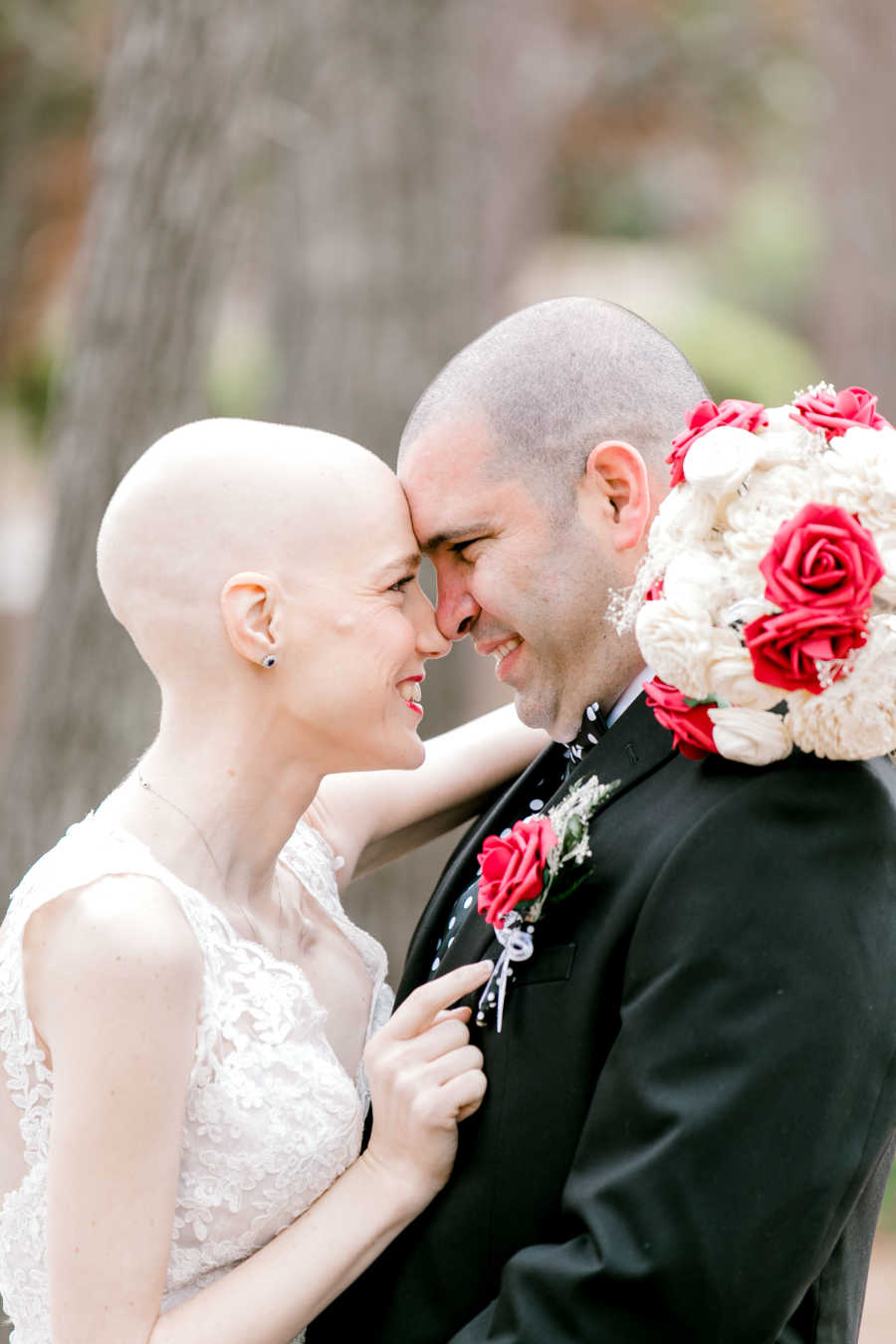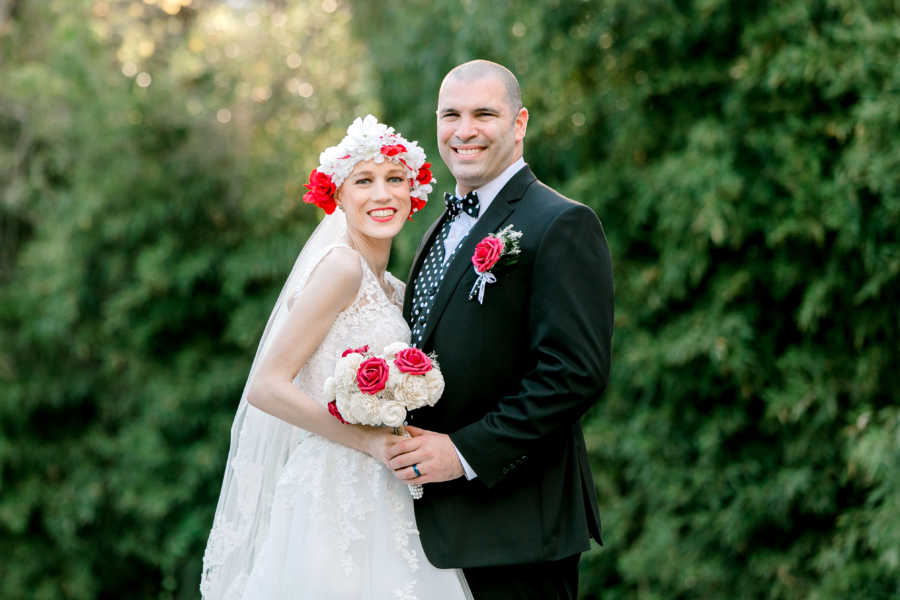 This story was submitted to Love What Matters by Michael Bank of Columbia, South Carolina. Click here to learn more about a scholarship created in Laurin's honor. Do you have a similar experience? We'd like to hear your important journey. Submit your own story here. Be sure to subscribe to our free email newsletter for our best stories, and YouTube for our best videos.
Read more powerful stories like this:
'Little did I know this one wedding, and this one bride, would change my life forever.': Photographer captures 19-year-old bride's impromptu wedding after she was told 'she wouldn't make it through the night'
'I'm not scared to die, I'm scared to be forgotten. And I'm worried about you.' I had no words, just tears.': 28-year-old widow gets sign from husband in heaven, 'I'm okay Mama Bear, I made it, I'm now pain free'
Please SHARE this story on Facebook to encourage others to cherish every moment and love what matters most.