"Hi, my name is Kristy and I'm a full time executive assistant, an amputee, model for Naturally Fit LA and Images Modeling Agency, a Tough Mudder ambassador, a Hanger Clinic Ambassador, an amputee peer support visitor, and an adaptive Athlete! But my road to success hasn't always been easy…
I was diagnosed with a rare tumor in my leg at age 6. Very rare. The doctors told my parents I had a better chance at winning the New York lottery than having the type of tumor I did in the size and location where it was. I grew up in the hospital having surgery after surgery. I didn't fit in well with kids because of it and always felt like an outcast. It was hard on me physically and emotionally.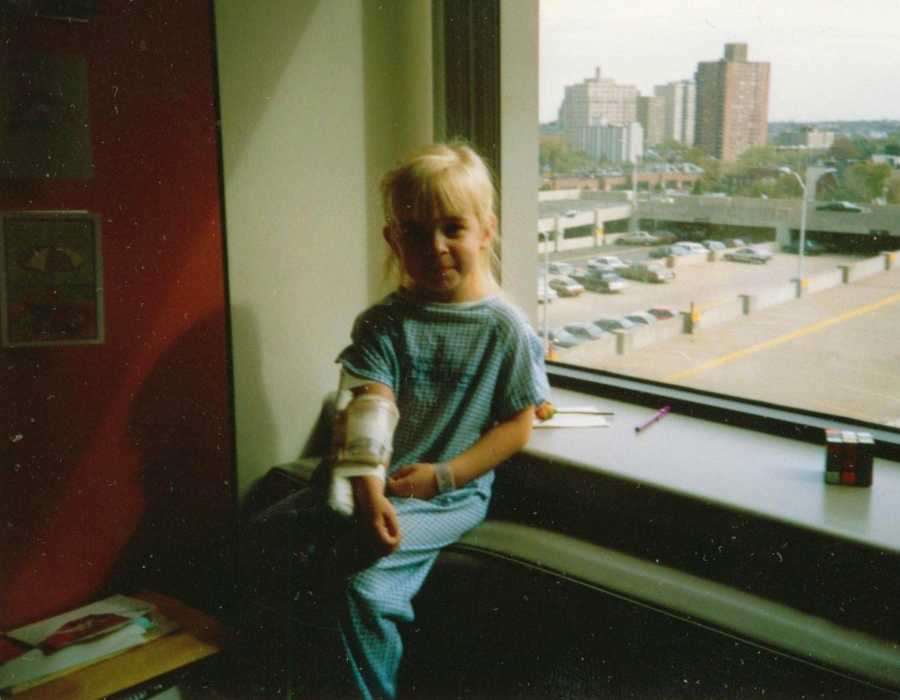 My parents were always there for me through every doctor's appointment, surgery, medical bill, etc. They pushed me to try things I never thought I could do, like softball and cheerleading. They were there for me through the hardest times in my life when I was scared and crying, ready to give up. But I didn't, because of them. I was made fun of all the time and felt left out at school by most of the kids, but I never felt left out or unloved by my parents.
When I learned how to drive, I couldn't drive with my right foot, so my dad and his friend took a gas pedal out of another car and welded a Y bar to it, connecting it to the left side, so I could drive with that gas pedal on the left with my left foot. One year, when I was in a wheelchair after a surgery, I couldn't walk. So, for Halloween my parents made my wheelchair into a race car so I could still dress up and feel like the other kids.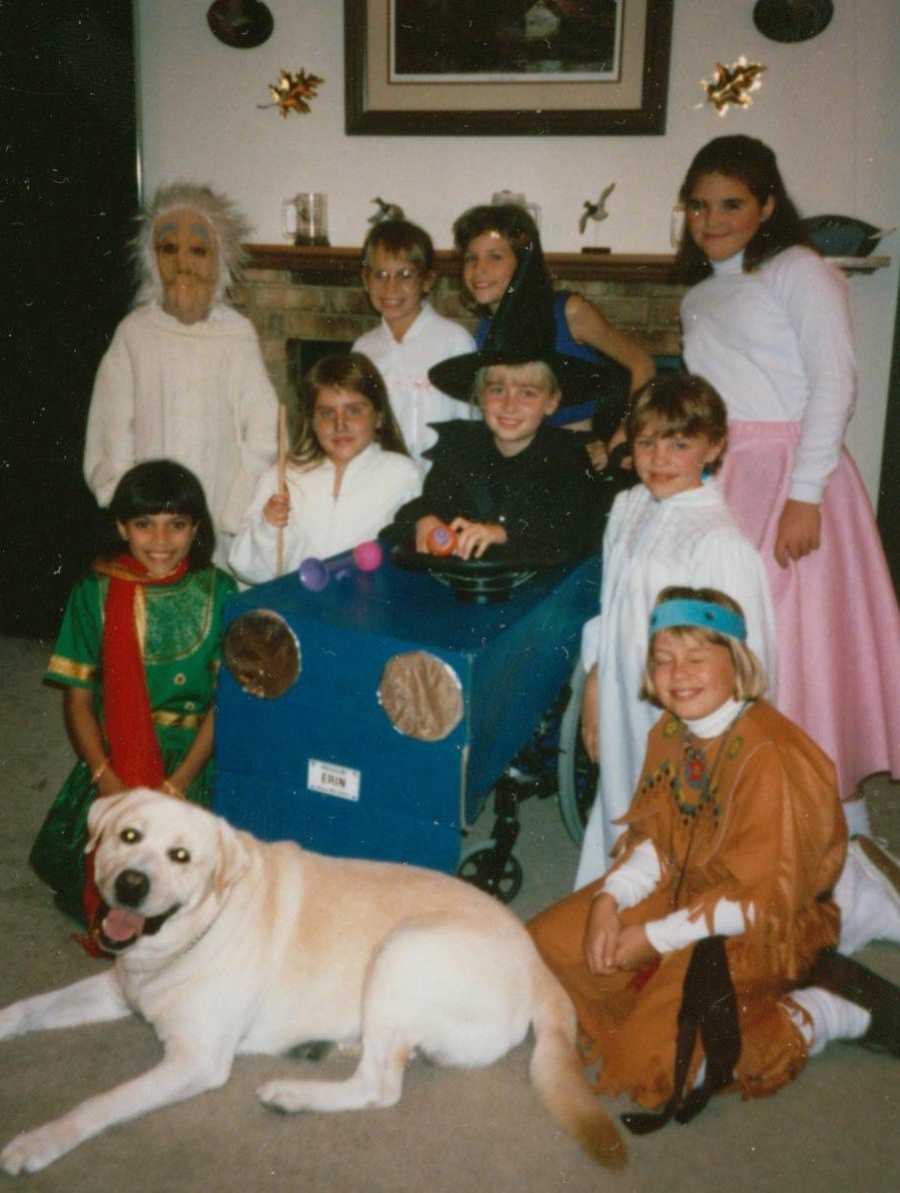 My leg was basically a dead weight that only caused issues, infections, and extreme difficulty walking. It was was awful. I had severe cellulitis infections in my leg. One year, I was in the hospital for over 7 days. It got so bad that when they sent me home, I went with an IV tube in my chest and antibiotics for a month, daily. I had to carry around the IV in a fanny pack. I couldn't walk without a full length leg brace. I never worked out. I never stepped foot into a gym prior to having it removed. I had this mindset my leg was holding me back and I couldn't do anything with it.
At 31, I finally decided to have the leg removed. I asked for it to be removed myself. I actually asked when I was in high school but was turned down because it was considered too drastic back then. My doctor told me I would eventually have to have it removed anyway somewhere down the road and rather than have it be done in an emergency situation. I was making the right decision by being proactive and asking for it to be removed.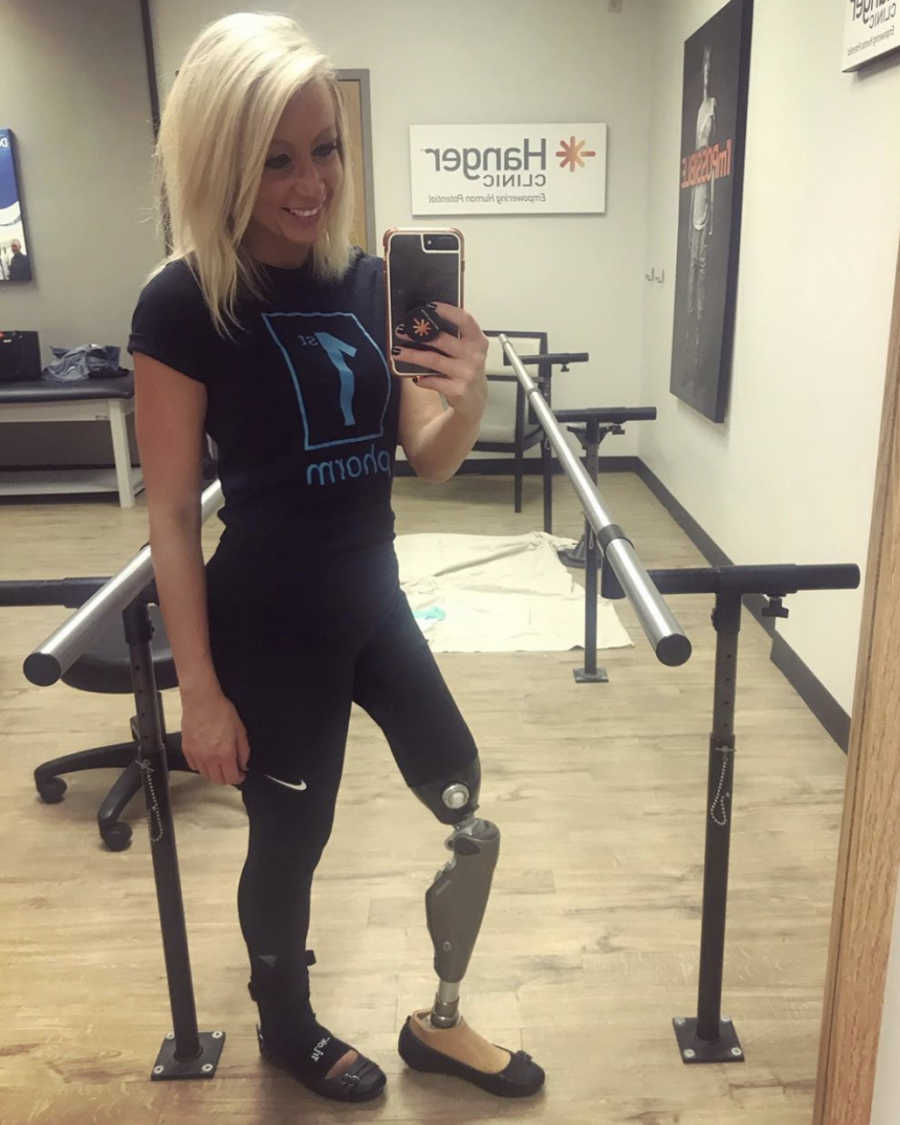 Two weeks after I electively had it removed was the first time I stepped foot (pun intended) into a gym, and I haven't stopped since. I love working out. If I can't use my leg, I crutch it. I also have a running blade and would be learning how to eventually run using it.
Since then, my life has 180-ed. I went from thinking 'this is the best it's going to get,' to 'this is the best decision I've ever made, look at all the things I can do now,' and 'what else can I try to do that I couldn't before.'
My confidence has completely changed and now I'm proud and confident enough of myself to be a signed model and even a role model to others. I was completely ashamed of who I was and how my leg hindered my life mentally and physically, but now I am free of it and so happy.
I work out now when I never did before. I worked up to the Tough Mudders. I represent companies and brands to promote diversity and inclusion. I visit amputees who just lost their limbs and help them through the process mentally and emotionally and answer any questions I can. I try to show just because you have one leg it doesn't stop you from living and loving life. I am absolutely happy I did it and my only regret is I didn't do it sooner.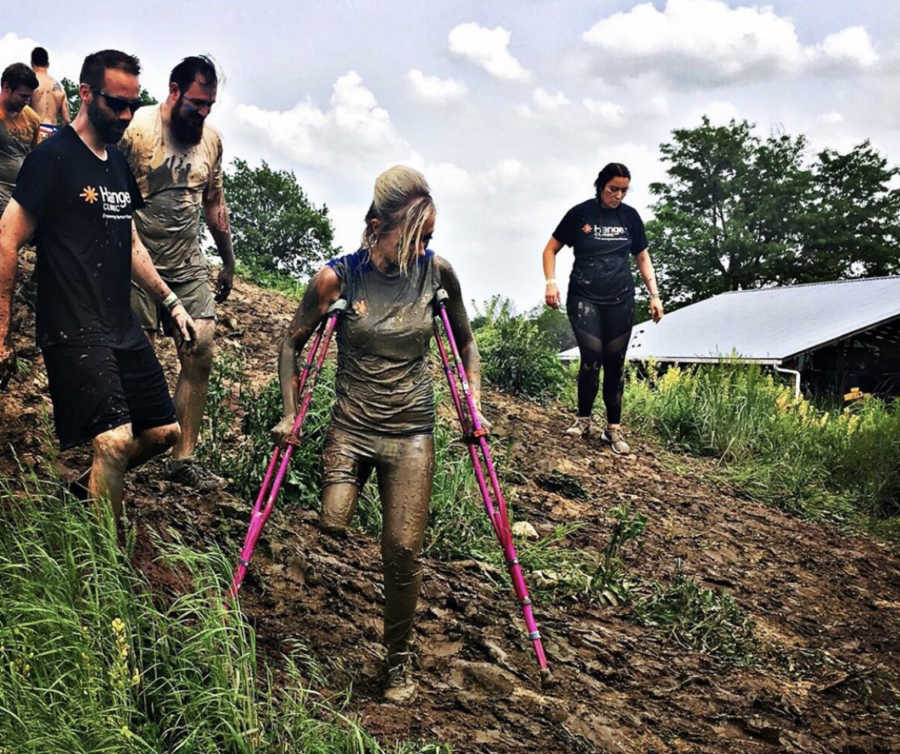 I turned all of my negatives into positives. Some people may look and feel sorry for me, but I look at myself and I'm proud of all the challenges that have been thrown at me that I've overcome. Two years ago my life BEGAN. I opened my eyes to a whole new world and that whole new mindset brought on so many opportunities. I've been in a Target commercial, I've walked a runway show in Las Vegas, and did a professional photo shoot in the Vegas desert. I've done a satellite media tour in Times Square and a fashion model photo shoot in NY. I've auditioned for TV shows and casting calls. I would have never done any of these things prior to two years ago.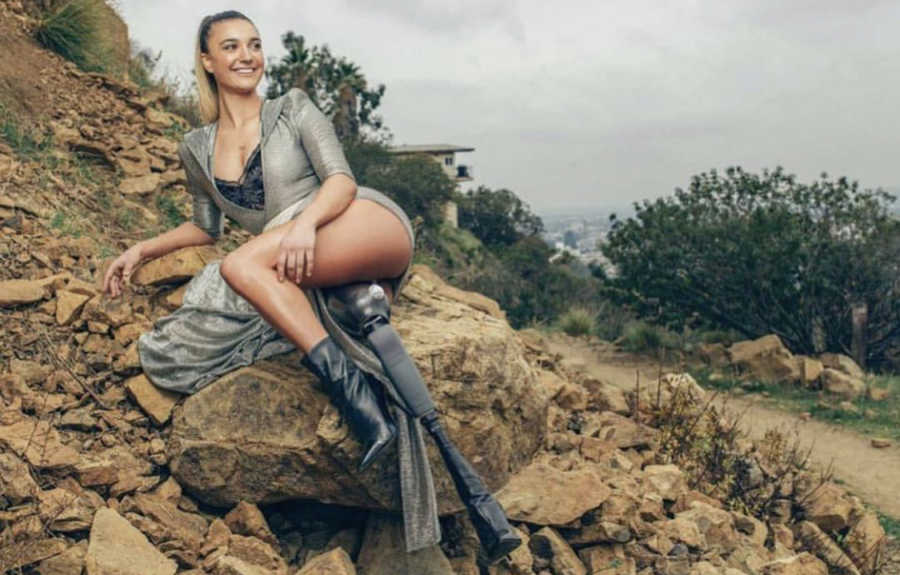 I divorced my husband not long after I had my leg removed. He wasn't there for me emotionally like I needed, so I moved on. My work has supported me more than anything as well as all of my new amputee friends. We have a group of us who are like family and are best friends because we go through the same things.
I have a daughter Eva and she is 6. She's so proud of me and my robot leg. She loves to tell the kids about it at school and show them when I pick her up. She helps me with small things when I need help and is just all around such a great kid who looks at me just like any other child would with their mom. She knows I'm different but loves me for me.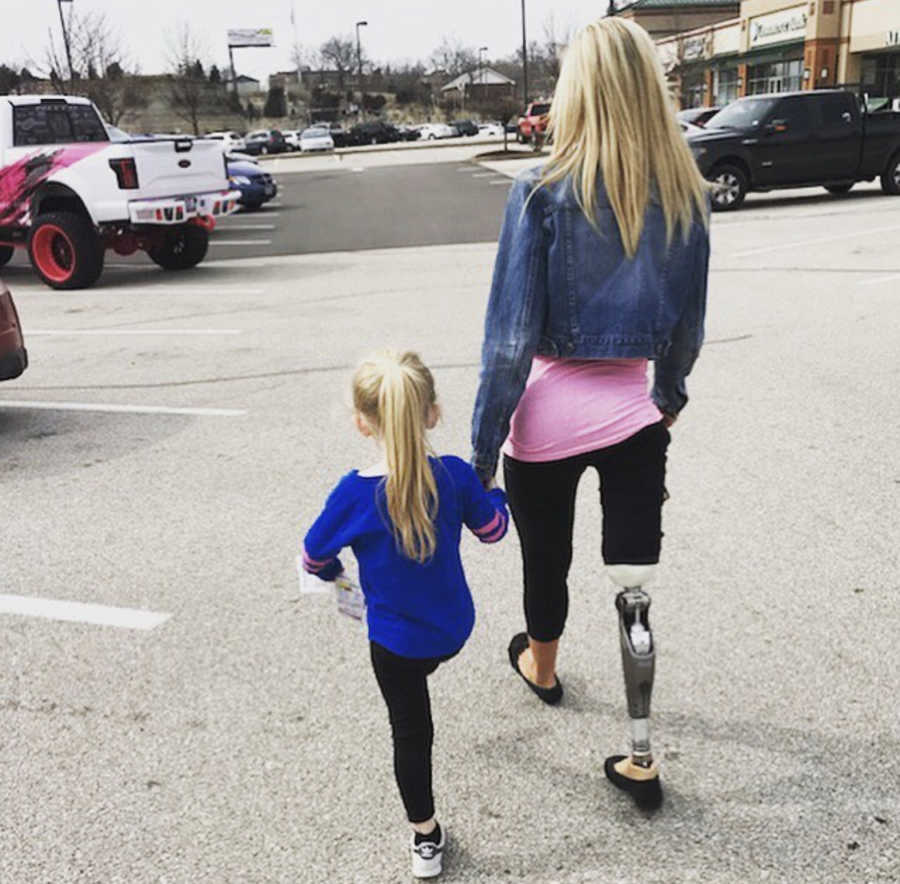 Advice I can give is to never, EVER give up. There's going be times when you feel like this is the worst time of your life and you're not sure how it's ever going to get better. You just can't ever give up. It all happens for a reason to make you stronger and more of a fighter and you'll look back one day and think, 'Wow, I was able to make it through that. If I can do that, I can get through anything.'
I always tell people to look to the finish line. Look at where your end goal is, your happy place, and visualize that while you're going through the hardest stuff. Picture your finish line to make it through and I promise you, it will help you. Positive thinking and never giving up."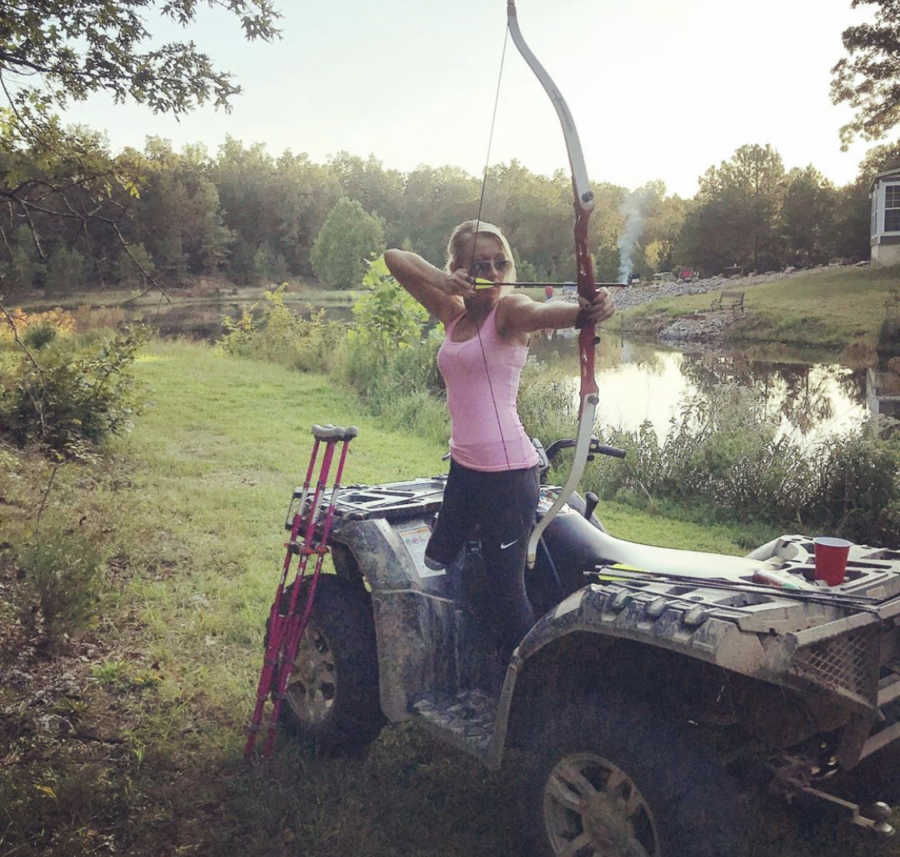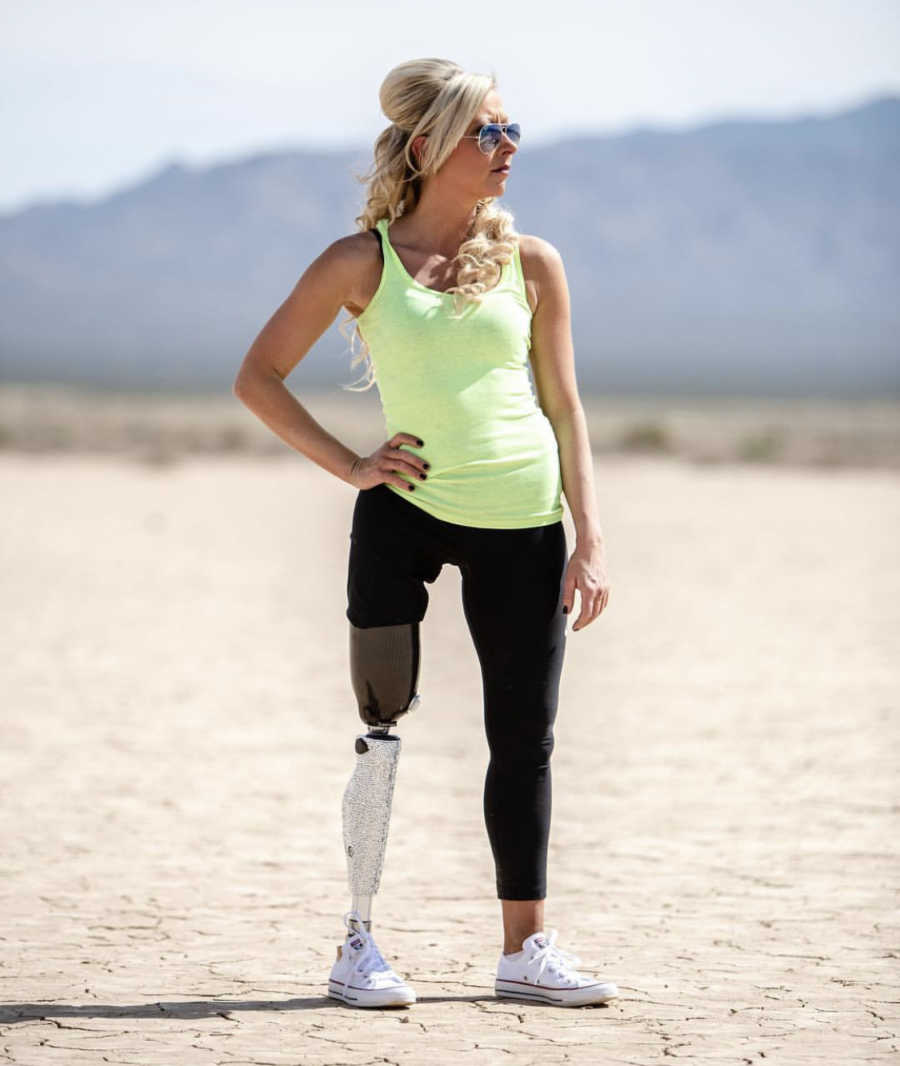 This story was submitted to Love What Matters by Kristy Eastman of St. Louis, MO. You can follow her journey on Instagram and Facebook. Submit your own story here and be sure to subscribe to our free email newsletter for our best stories.
Read more inspiring stories about those living full lives after amputation here:
'Why am I doing this?' I couldn't run at the park or playground. I hid my pain from my parents for years. When I spoke to them, they were shocked.' Man surprises parents with life-changing decision
'There is smoke all around me. A bright flash followed by debris rushing past my face. A pitched ringing in my ears. My mouth is moving, but no sound is coming out.'
Please SHARE this story on Facebook and Instagram to encourage others to live life to the fullest.