"I will never forget being on my best friend's couch and sharing with her the desire to date again now that my daughter was 4 years old. She and I crafted a beautiful profile for me and within minutes, I was flooded with potential suitors. Though scrolling through my options was quite exhausting, this man's smile stood out to me. I knew I hit the jackpot with this one. He checked all the boxes, from his physique to familial and educational background. We were thrilled to discover we worked in the same profession at the time. It was love at first click.
This man swept me off my feet. He gave me the desires of my heart, from simple gifts to exotic travels around the world. Not only did he show up for me, but he also actively participated in my then 4-year-old daughter's life. Every track meet, dance recital, and even weekly practice and rehearsals, he was there. I had found my happily ever after. I remember thinking, 'Dreams do come true, after all.'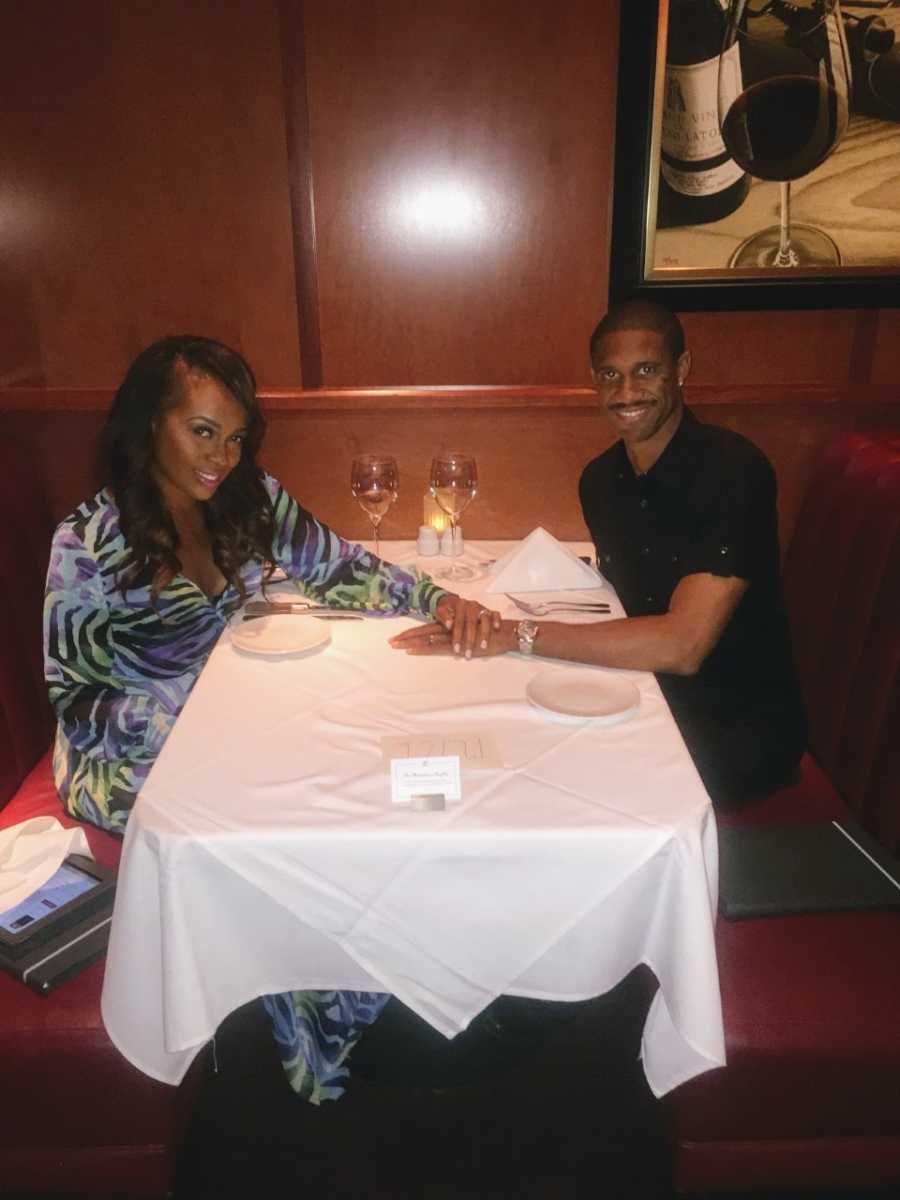 We were engaged in 6 months and married within a year of meeting! Isn't this what women want? A man who says, 'You are it for me. I want to spend the rest of my life with you.' So why wait? Besides, I was 34 years old—it was time, right? Sure, there were warning signs, but I thought we just needed time to find our groove. I remember the first sign I had of his infidelities was while he was away on a 'business trip.' He left his Sprint account open and had been on the phone all night with someone in Atlanta. I truly assumed love alone would be enough to build and sustain our marriage. My vision for my marriage was glorious, and I was willing to sacrifice the little things to get there.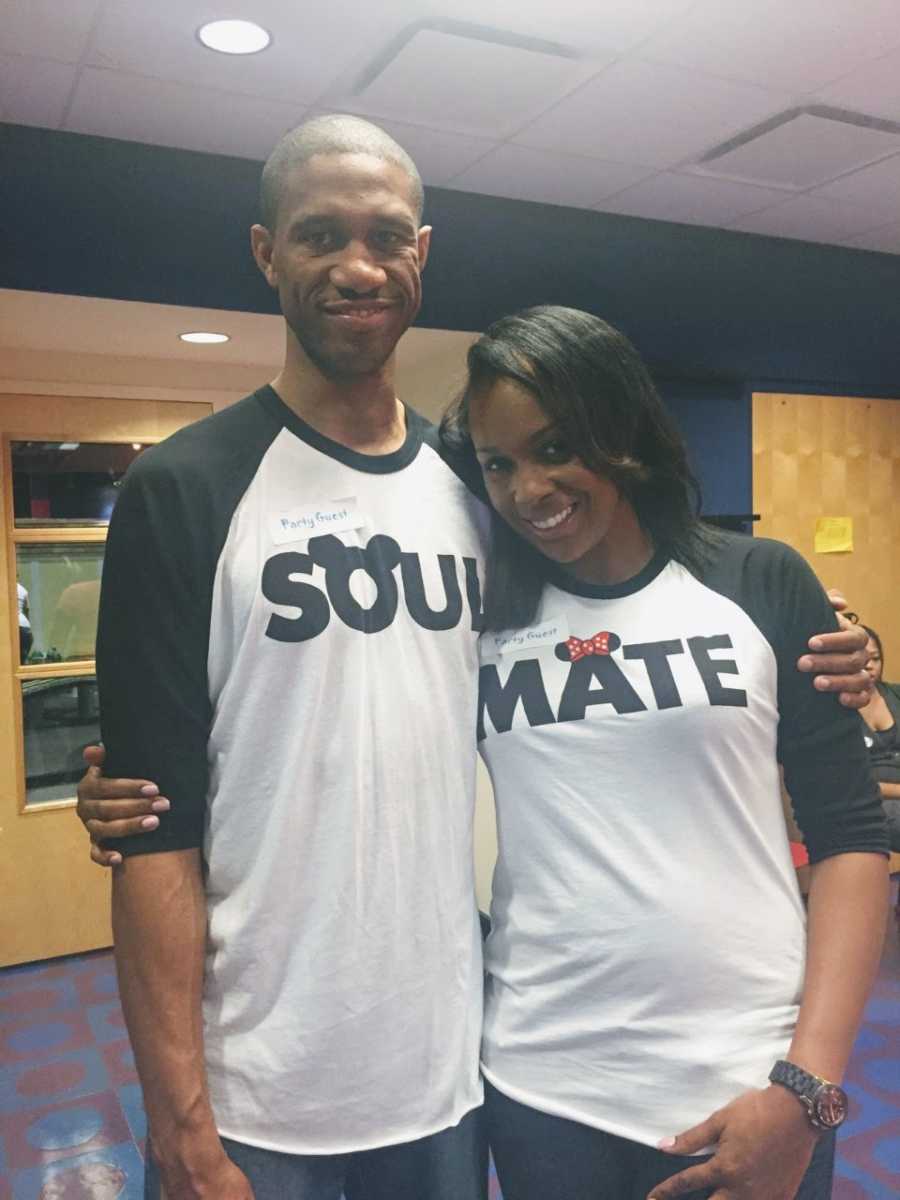 There were so many things I was looking forward to but soon, the things that excited me the most—being a wife and a new mom again—blew up in my face. I found myself a married single mother, no longer financially independent, completely reliant on my husband's income—which gave him full control of every decision in our home. Time after time I asked myself, 'How did I get here and trust someone so much?' Truthfully, it doesn't take a lot of strength to hold on… it takes a lot of strength to finally let go.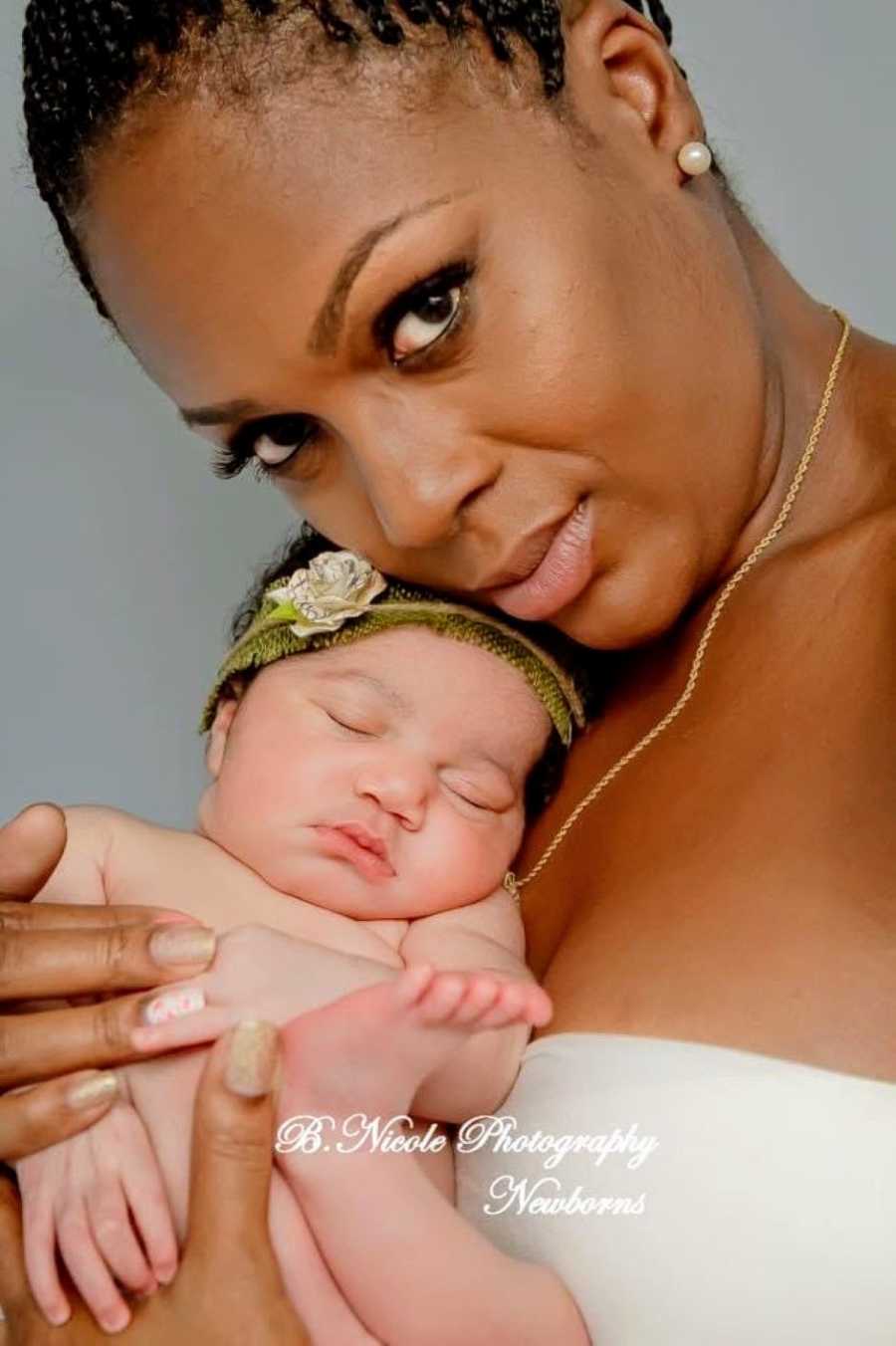 Family to me is the safest place on earth. My husband knew this and often stated, 'You put the kids before me.' I didn't realize in those moments, though I was faithful to my husband, I failed him, too, by putting them first. I recall mumbling back, 'My daughters adore me and will never inflict the pain or harm you have on me. They are my safe place.' Family should be a space free of chaos, and instead full of loving, open arms one can always rely on. Family has always been everything to me. I'm envious of large families who act as cohesive units. I still plan to provide just this for my daughters, considering family isn't always blood relatives.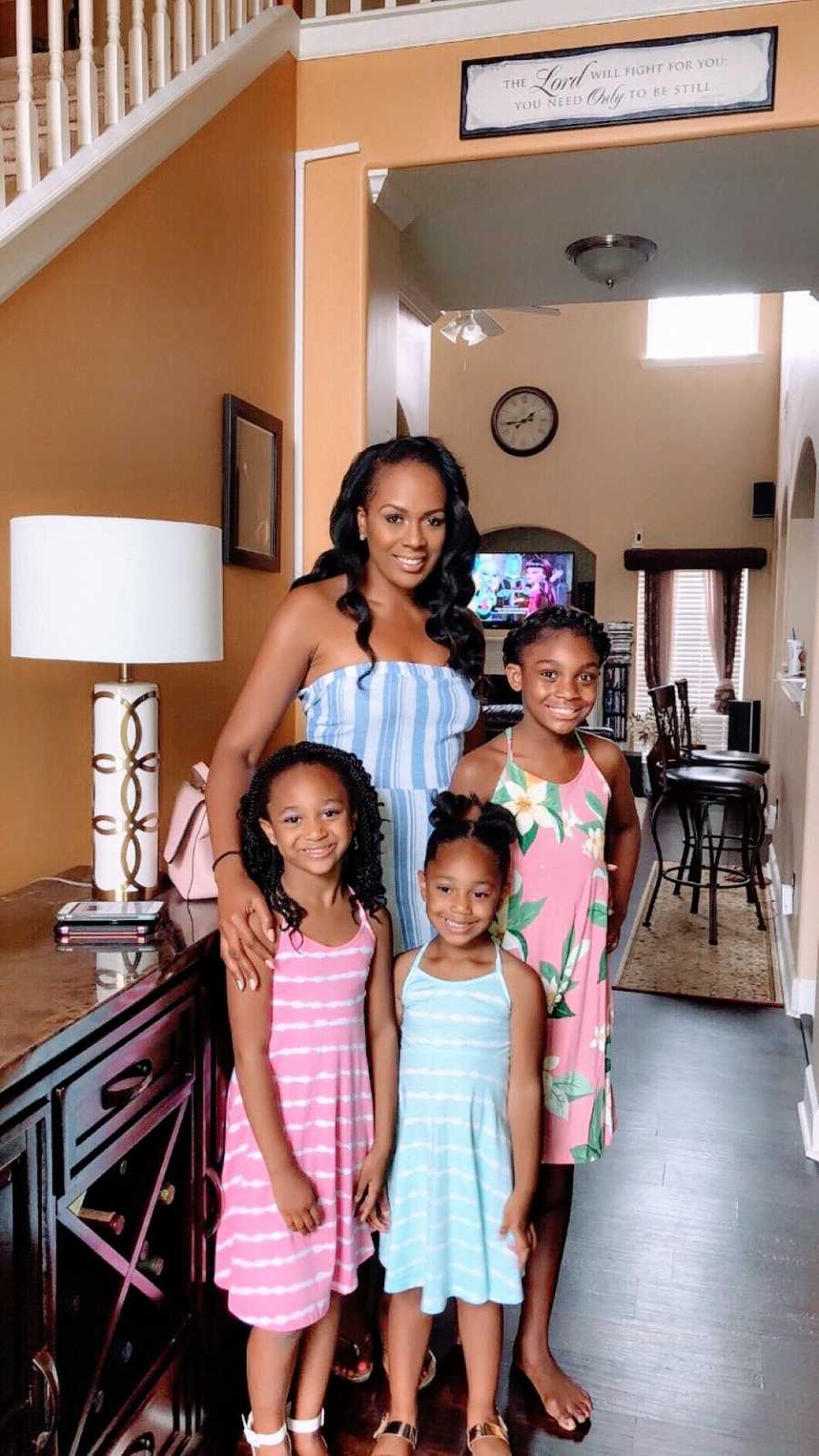 I felt I was failing my daughters by ending my marriage. Truthfully, it ended well before our divorce. On my journey to redefine our family, I had to do the work on ME. I always tell my daughters, 'Some quests in life require you to be brave just like the movies, and sometimes even a rebel for the cause. Find your cause, your why, and live your truths.' I realized my daughters deserved the best of me, so starting family and individual therapy aided in my healing process, and theirs too. Life as we knew it would change going forward, but our love for one another was something we could always count on! I am their example, I am the line leader of my crew, and my goal is to be a d*mn good one. My presence is the best gift I can give my girls. Children thrive in environments where love and consistency exist. I enjoy being the one they can count on to always show up for them, transport them, cheer for them, and even cry with them if needed.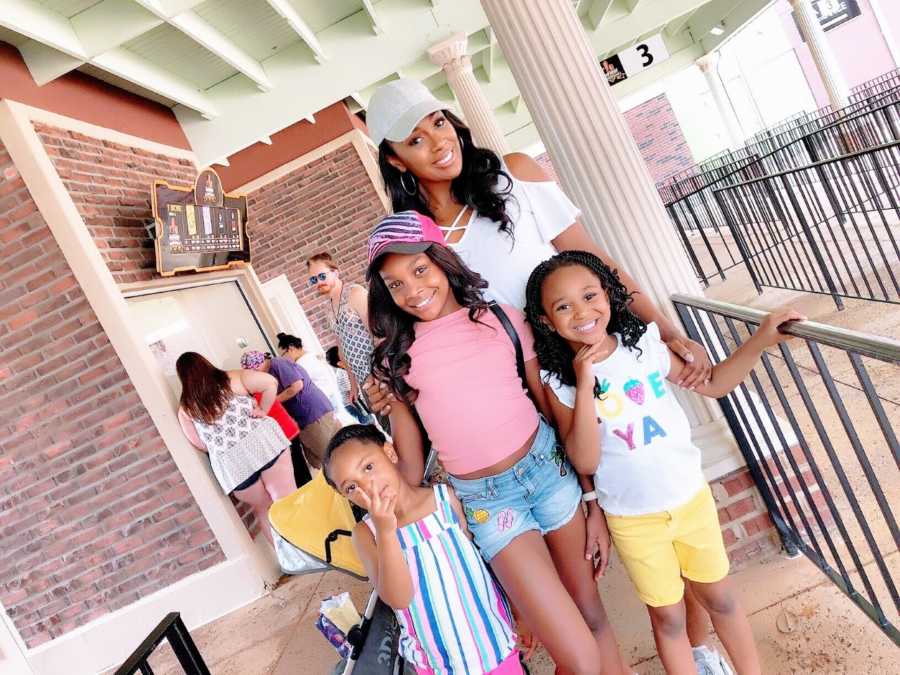 They will never have to wonder about my loyalty to them. If there is air in my lungs and mobility in my body, they can always count on me. There is, however, a need for balance as I parent! Though my daughters fill me up, I am so much more than their mom. I love for them to see me operate in different capacities—working, loving, being a friend, and showing up for others all while still supporting them, and most importantly, myself. As I parent three tiny human beings, I realize they need me in different ways. I have a day or an evening out alone with each one of them every month. This is my way of offering my undivided attention to each of them, even if it's playing video games (which I'm no good at), riding in the car talking and listening to music, riding bikes, hiking, making a TikTok video, or going to their favorite restaurant.
They deserve it, and I consider it an honor to give them individual time with me. I've always maintained I was a married, single woman because my ex-husband was a provider and barely present day-to-day. My family provides support for me, then and now. I am eternally grateful and forever indebted to them. This journey isn't easy, but it's mine and I've learned to marvel in all its splendor. We live a semi-structured life, and my village supports me when I can't be in multiple places at the same time. Some days are indeed harder than others, but I often remind myself of this quote: 'Forget all of the reasons why it won't work and believe the one reason why it will.' God's grace has been more than sufficient and it's sustained me through some low valleys in my life.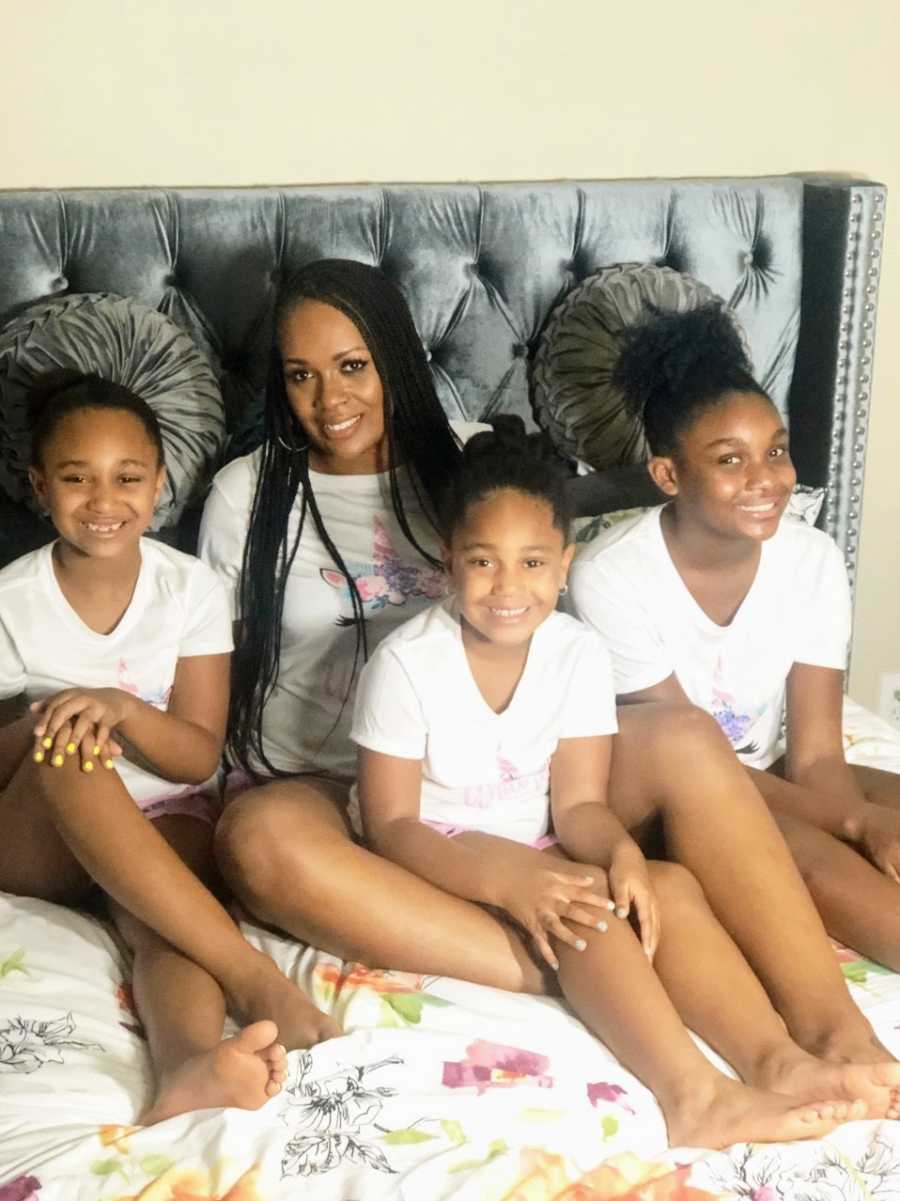 Co-parenting with my ex-husband was initially tumultuous, to say the least. However, we've chosen to give our daughters childhoods they won't have to recover from. Besides, I can't imagine being an angry, bitter, scorned woman for the next 20 years of my life. I'm teaching my daughters how to navigate life. Even though Mom and Dad didn't work out, we are committed to the joy, happiness, and success in the lives of our girls.
The most important piece of advice I can offer is to call on your support system and avoid trying to navigate your divorce alone. It will tear you apart! Go to individual therapy, find a support group, and find YOU again. Divorce deserves to be mourned. You deserve to grieve the loss of your marriage. It is the death of something you never anticipated would end. Yet, life must go on. You don't have time to stop living. And even more, you still must interact with that person, especially if children are involved. You can be, and you are, more than just a parent. Remind yourself of who you are, and all the things that bring you joy. Find a healthy way to tap back into that space.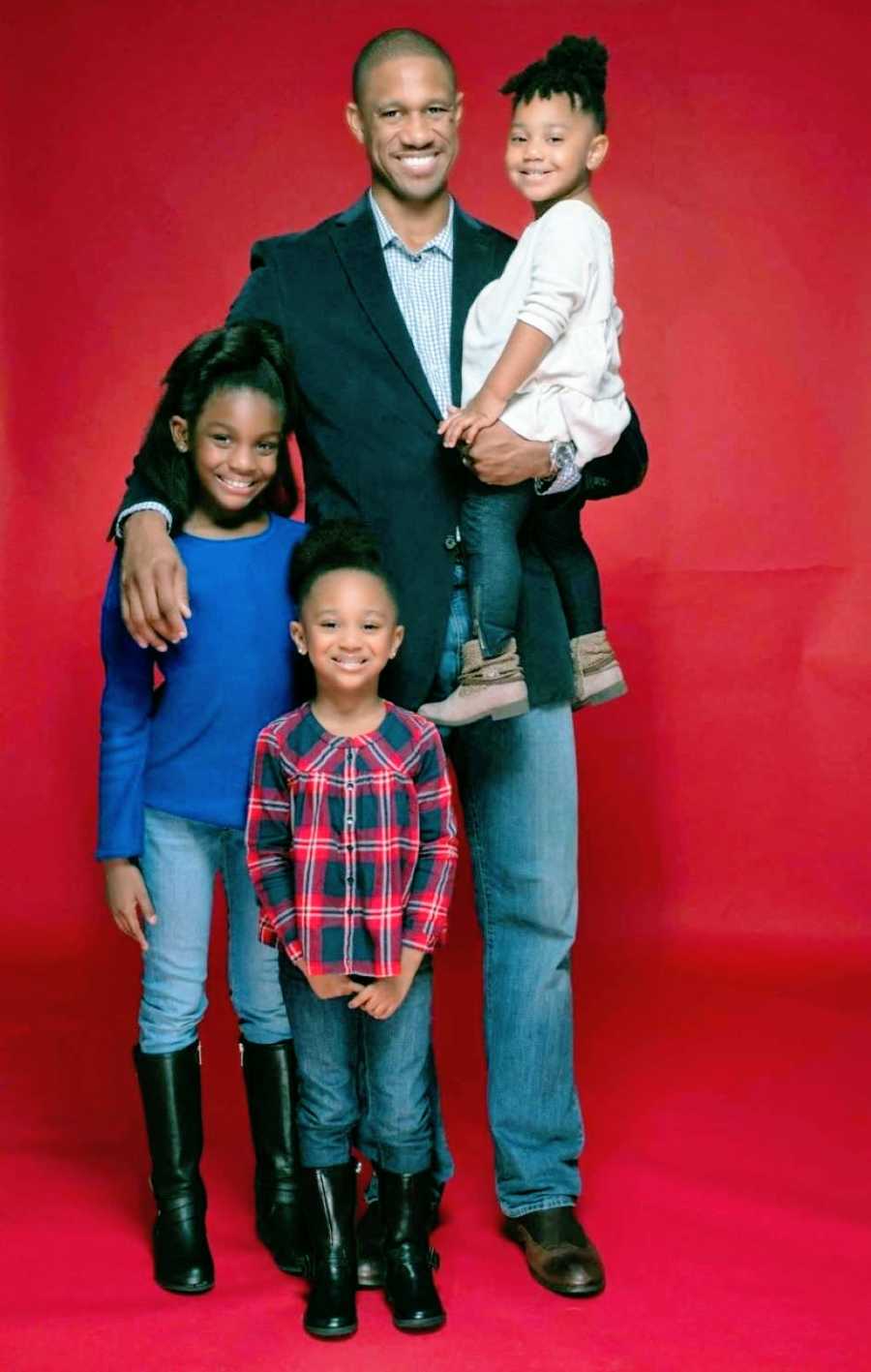 Remember, as you redefine your family, honesty is key. I'm very forthcoming with my daughters, even about my failures in my marriage. I'm careful not to overshare because they are children, but they heard the fights and arguments, so they are worthy of an explanation if this helps them rationalize their thoughts and feelings. I've never spoken poorly about their father to my daughters. They're very bright and capable of forming their own opinions of him based on their interactions with him.
Being a single mother of three was never my plan, but here I am, rocking it. I am certain I was made to be a mom, married or not, so I've adjusted my seat belt, and chosen to ride my roller coaster of a life with my hands high in the air. As the wind slaps my face and my stomach drops repeatedly, I'm reminded my steps are ordered by God. God knew I would be here well before my arrival. I didn't see it back then, but now I can say this without uncertainty: God equipped me with everything I needed to get through my divorce. He still has His hands on me and my daughters. My faith in God is unwavering because I see Him operating in my life daily. I know it's cliché, but it's so true—there is a rainbow after every storm. My storm has passed, and the sun is on me again. It will shine for you again, too."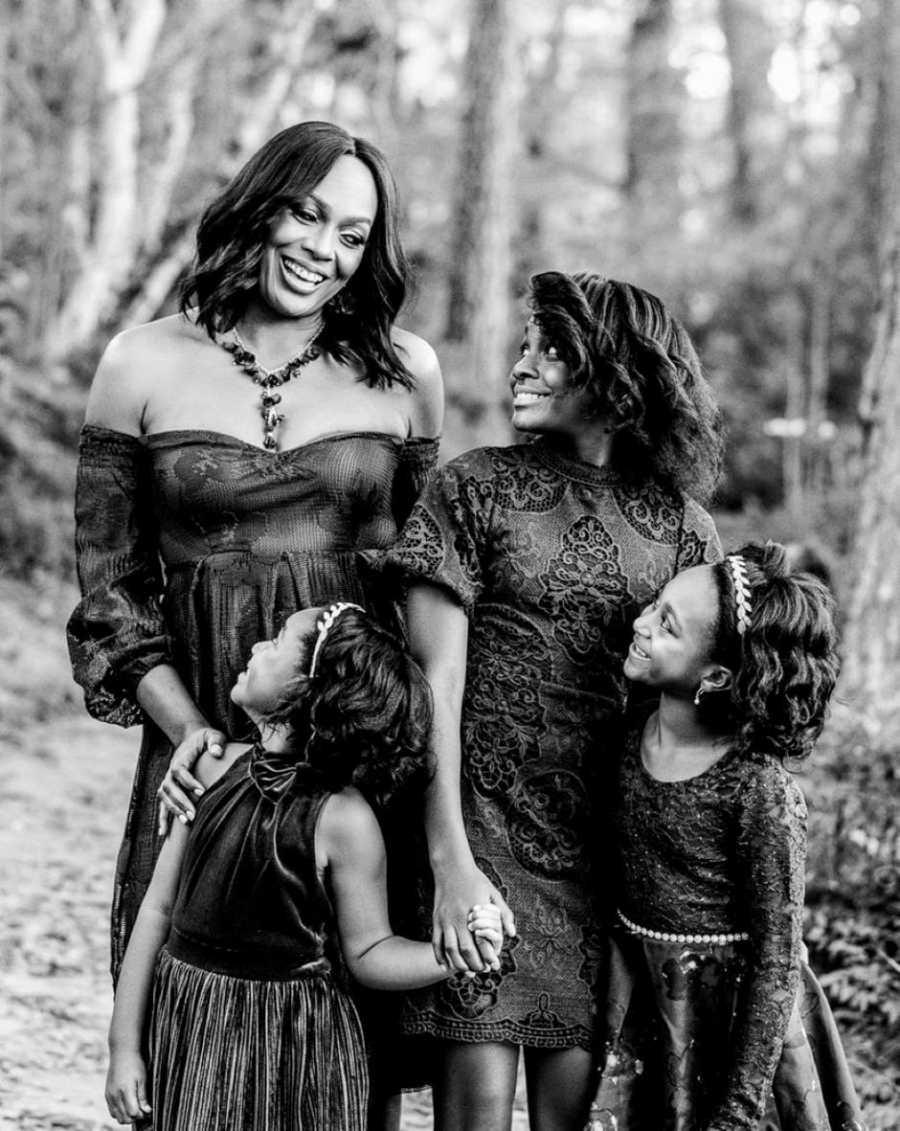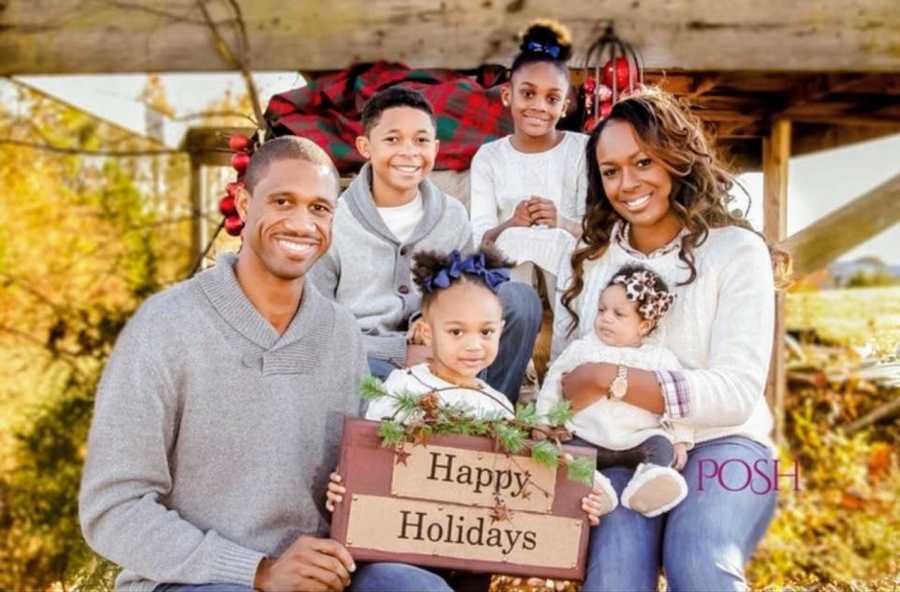 This story was submitted to Love What Matters by Nneka Williams of Atlanta, Georgia. You can follow her journey on Instagram. Submit your own story here, and be sure to subscribe to our free email newsletter for our best stories, and YouTube for our best videos.
Read more stories like this:
'No one will want a divorced, single mom of 3.' I thought it was the end of me. He showed up day after day for my broken family.': Mom shares powerful love story, 'It was just the beginning'
'You don't know me anymore.' I thought he'd be an amazing dad. I was confused by the man in front of me.': After divorce, mom and dad co-parent successfully, 'The split was best for all of us"
'My husband threw his cuff links across the room and said, 'I want an annulment.' I spent the first night as his wife alone on a hard hotel couch.': Ex-couple join forces to co-parent after divorce
'Molly…' My husband looked me dead in the eye. 'We need to talk.' Shaking, he told me the painful truth no one in a monogamous relationship wants to hear.': Divorcee urges 'listen to your heart'
Provide hope for someone struggling. SHARE this story on Facebook with friends and family.