"This is my story, in my words, of how I gave the gift of my kidney to the man who gave me everything. To really understand how I got here, you need to understand where I came from. You need to understand the people who shaped my life and without knowing, groomed me to make a life-changing decision, the decision to help my dad the only way I could.
I grew up in the beautiful village of Bayville, New York, the son of Anthony and Cathy and the older brother to Dan, Anthony, and Gabrielle. We grew up in a close-knit, family-first Italian household, a 5-minute drive from my mom's parents, and a 20-minute drive from my dad's. My entire childhood was based around the beauty of being with family, being involved in the family, and understanding the importance of family. As a kid, I would look forward to the times I got to spend with my entire gang. These were the most important times in my life built around traditions, laughs, love, food, and most importantly in our house sports.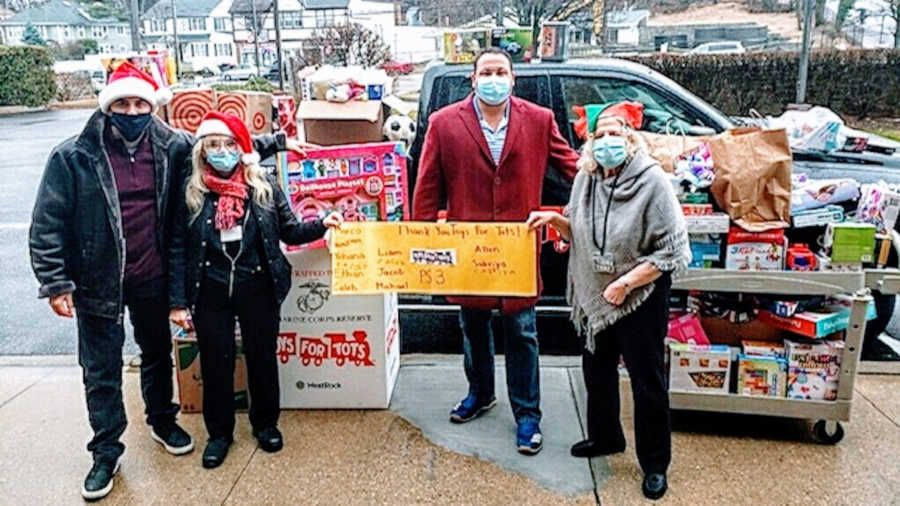 My love for sports and my love for family started at a young age. I can vividly remember, at about 3 years old, throwing rocks into a duck pond with my Grandpa Jimmy, wearing my Yankee starter jacket and cap, then taking swings with my wiffleball bat with Grandpa Ralph off a tee in our front yard. There was no doubt the next 20 years of my life would be dedicated to the sport of baseball, the next 30 and beyond dedicated to family, but the most important thing about the journey was the involvement of my dad. My first t-ball coach? My dad. My first little league coach? My dad. My first travel ball coach? My dad.
I remember being a kid in ninth grade and having my dad throwing me batting practice at the West Harbor Bayville Little League fields, well after the sun went down, pretending to be opposing pitchers from a rival high school. He was there along my entire journey from t-ball to my final pitch in Reading, PA at a Philadelphia Phillies workout. The ups and downs we shared together on the ball field; he was the glue keeping us together. There is no way I would be the man I am or have gotten to the point I have in my professional career after baseball without the life guidance, advice, and love I get from my father, still to this day. My mother, father, grandparents, aunts, and uncles instilled in me that family is always and will always be the most important thing you have.
Growing up, every holiday, especially every Christmas Eve, was an over-the-top event. The man behind it? My dad. Every day I saw a hardworking man go to work, day and night to provide the best life he could for his wife and kids, showing us what love and family are all about. To me, my dad will always be the strongest, smartest, and coolest guy around. So about 3 years ago when as a family we found out my dad would be going on dialysis and would need a kidney transplant, my life purpose was about to change.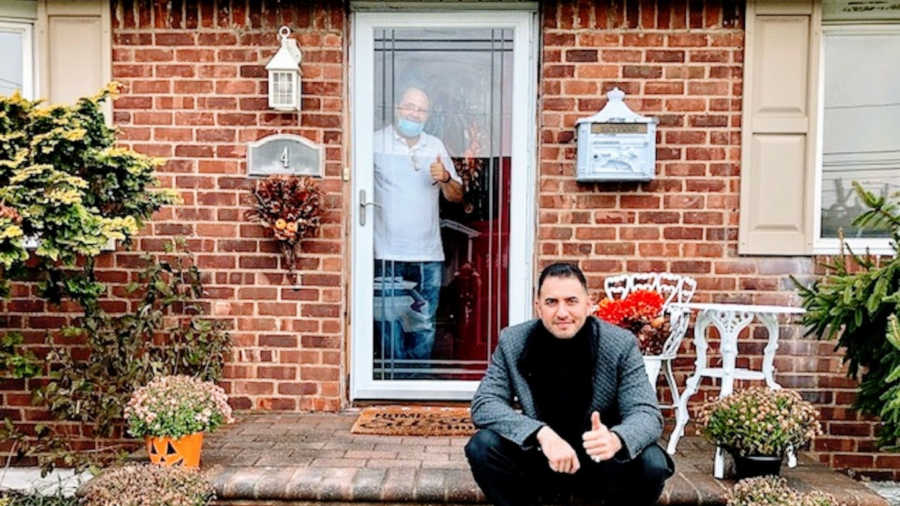 The wild part is my father was at the very forefront of many foundations and charitable organizations, simply helping people. Being involved in numerous companies and businesses set forth to heal others meant for certain my dad would be fine, right? Not the case. In my family, we have adopted a mantra for the last 20+ years. 'NO LET UP' has been the backbone and core of our family values and our strength as a unit. I have tried to live by this 'code' my entire adult life, but until recently, I never really knew the meaning of these powerful words until I experienced it firsthand. This is where the next part of my life begins.
My father began dialysis about 3 years ago. This was not a new thing for my family. Before my Grandpa Jimmy died, he too was going three times a week and as a family unit, we saw the stresses of this task of going to 'school' put on him every day. I was fortunate enough to be able to drive him back and forth for an entire summer one year and listen to his stories from growing up as a kid playing in the streets of Astoria. But this time was different. My grandfather was the best all-around person I ever knew, strong as they come, but 82 years old, my dad at the time was just shy of 60. This was not supposed to happen to my father. On the outside looking in, you would have never known there was anything wrong.
I remember as the short time went on, the kidney issue got worse and the need to get on the transplant list was the focus, and in time he got on the list. But the stress of dialysis took a toll on his body and about a year ago, as this crazy 2020 poked its head, I will never forget my mother telling my brothers and me, 'Okay, Dad needs help.' These words stuck and these words kicked off my journey into the unknown but with a known purpose.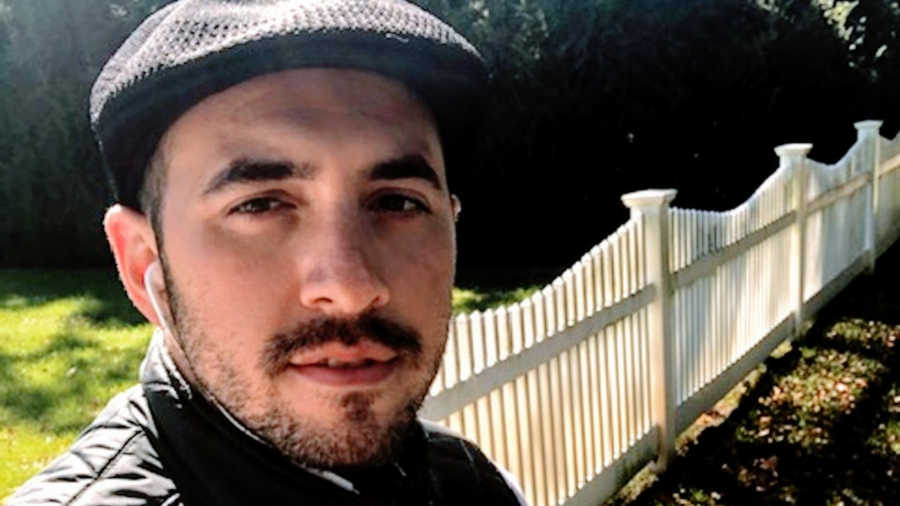 Mind you, in our family, the only way we find out any information on my father's health is through my mom or sister. If you ask my dad, he always says, 'I'm feeling fine.' But that conversation was different. There was a sense of urgency. Little did the world know, COVID-19 would completely shut us down 2 months later, which made this time for my father more terrifying. After the conversation my mom had with us, something in my soul clicked. There was some type of feeling I cannot explain which came over me saying, 'You will be the one to do this for your dad.'
The time was February 2020. COVID-19 had not yet reached us with the punch it did, and I took my first steps to donate my kidney. I remember gathering the information from my mom on who to call. Her name was Min, and she oversaw the Living Donor Transplant Team at Northwell Health in Manhasset, NY. The minute I hung up the phone with her, I knew this was happening and there was no person who could talk me out of it. This was my new purpose and journey to give my dad what he gave me: life.
It was now early March, and my first test was set, my first blood test to see if I was a blood type match with my father. This was the beginning of this sense of courage and honor carried with me until surgery day. Of course, the tests came back we were a blood type match but there were many more tests to go. Now for those of you who are unaware of the process, basically a transplant team consisting of nurses, surgeons, social workers run you through every physical and mental test they can to make sure you are fit to donate an organ. They put it like this, 'We are taking a healthy adult, who does not need surgery, then turning them unhealthy for a bit. Then we gather all the results and talk the good and bad behind your back to give a thumbs up or down.'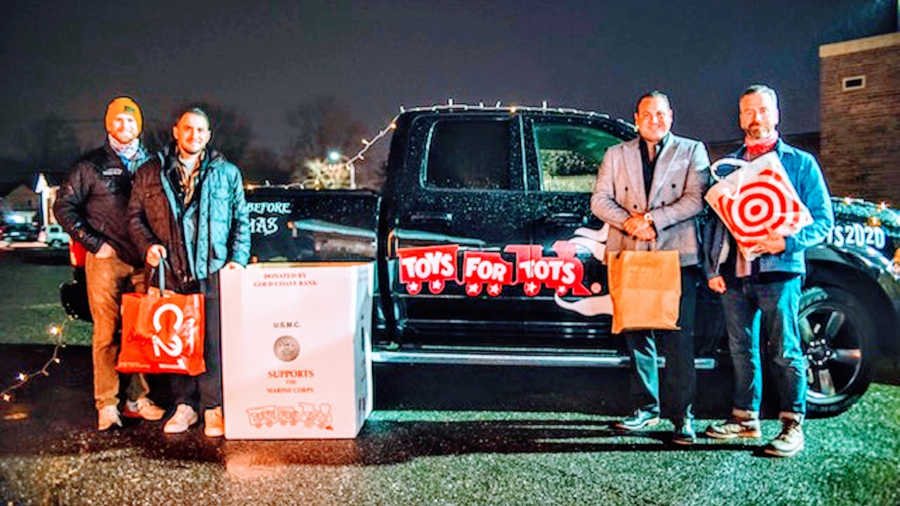 After the blood type match, my next lined up test was a genetic match and 24-hour urine sample. My date was set for March 25th, then the world stopped. COVID-19 stopped the world and for the many who were in need or lined up for organ donation, put them on the backburner. I talk about it like it was years ago, but it was less than 10 months. As a restaurant owner, I was forced to close my doors for quite some time until we could reopen again. The obvious stresses of potentially losing my business loomed over my head but my only real concern was, 'How soon can I start my testing again so I can get my dad a kidney?' Then, I came down with COVID-19.
It was late March, about a week after I temporarily shut down my restaurant Roslyn Social, when I started feeling a slight tickle in my throat as I took my daily runs outdoors, thinking nothing of it I went about my days preparing for my March 25 tests for my genetic match. As my tickle got worse, something told me maybe I should just push the testing back until I was feeling a little better, not knowing it would be over 2 and a half months later.
During the time I was sick with COVID-19, glued to the news stations, praying deeply for the world and the countless people losing life, my dad, a high-risk person, was continuously taking his morning trips to dialysis, patiently or impatiently waiting for a kidney to save his life. Something not many people understand is during this time, tens of thousands of organ donors lost their lives to COVID-19, tens of thousands of organs that could not be used anymore. Throughout this time my mission remained the same: to get my body back into shape and finish what I started in my head, and to help my dad the only way I could.
Once I was able to get my restaurant opened again and I was feeling as close to 100% as possible, I gave the coordinator a call and told her, 'I am ready to resume my journey.' The date was May 27, and I was taking my next step. After a few days, I finally got my results of the testing. We were a match, and my kidneys were healthy enough to move forward. At this point, I decided if I was going to do this, I was going to make myself the healthiest version I could possibly be. I was not failing this for my dad. While juggling my restaurant and my obsession with my health and fitness the next few months, I transformed myself into a better version of my younger ball-playing days.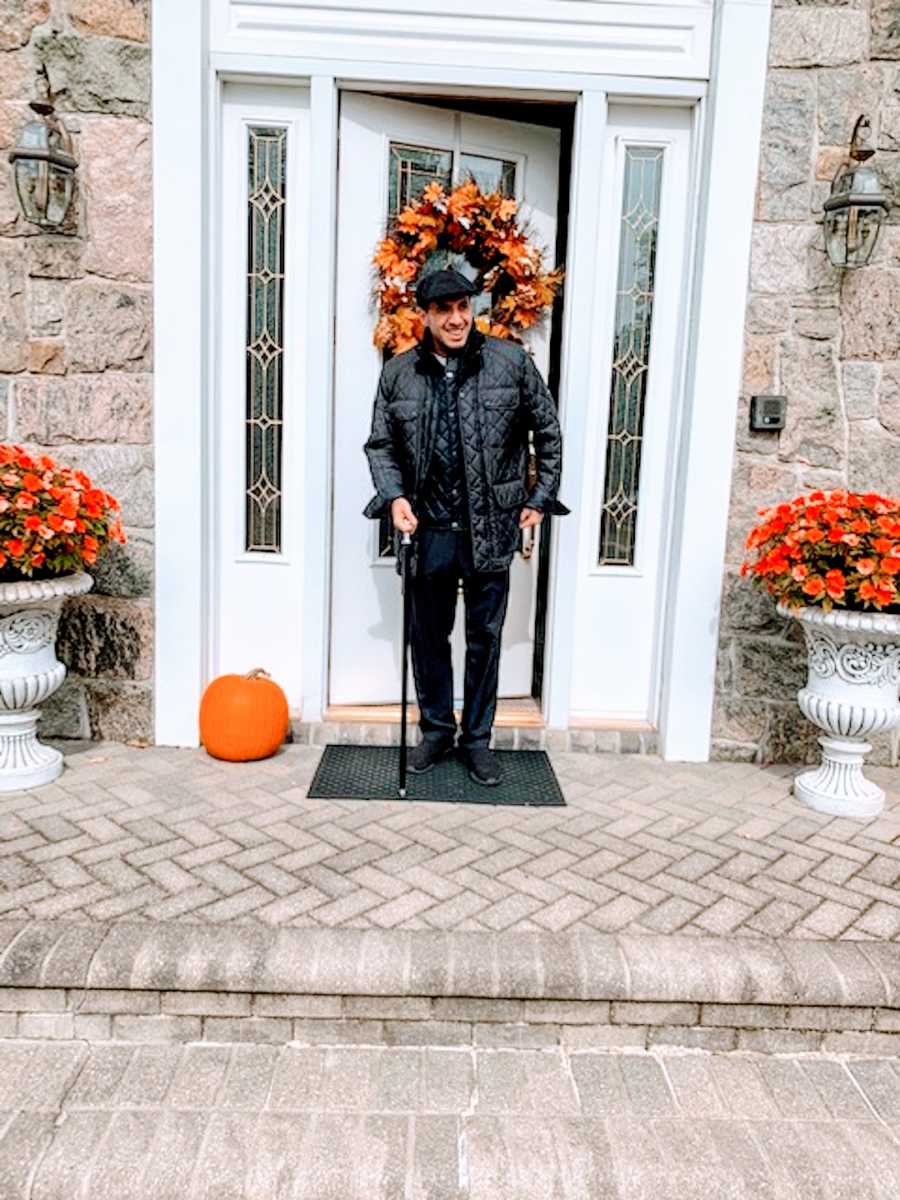 The most important thing people usually find interesting here is outside of the doctors and nursing staff, throughout all the testing only my mother, sister, and girlfriend had any idea I was even pursuing this. The emotion at this point for me was almost like a covert mission where a few people knew, and I was going to hit it out of the park when the time came. Then in August, something interesting happened.
In August, a close friend of the family had a family member in the hospital who had just died. He ended up being an organ donor, with the same blood type as my father. We had a donor, yes, the cost being another life, but the emotions of the time are so all over the place it is hard to be happy or sad. For myself, of course, I was overly excited for two reasons: 1) My dad would be okay, 2) selfishly maybe, I would not have to give my organ after all. I started to think about all the hard work I put in to be able to get to this point and it became a bittersweet moment for me. But just as fast as hope came to us it went, the poor gentleman ended up having COVID-19 and his kidney was then unusable.
The emotional rollercoaster of the day was a lot to handle. I went from knowing for sure I was donating my kidney, to then being happy we had another donor, to then feeling guilty for not being able to donate, to then feeling sad knowing none of this was going to work. But my final emotion of the day was strength in knowing I was going to be right back on course.
Finally, it was August 31, and I was 100% cleared for surgery. The next day was my 34th birthday and still outside of the hospital staff, my mom, girlfriend, and sister, no one knew I was doing this, not even the most important person to know, my dad. This was also a tricky time in the hospital, as the transplant team left a small window of opportunity for me, saying this needed to be done before November because it's when they anticipated COVID-19 to return. I set a date, September 8.
Out of all the challenges and obstacles I faced and things I put myself through just to get to this point, this was now the hardest part for me. Telling the man, I grew up wanting to be like he had no choice, and I was giving him my kidney. As it turned, out someone in the circle leaked my plans, and my dad ended up approaching me first. He asked me, 'Are you serious about doing this?' And of course, he expressed his concerns and emotions to me, and I remember the only real response in my head was, 'This is what we are doing, there is no turning back, I got this.'
I cannot really speak on the emotion my dad was going through, knowing his son was the one stepping up to the plate for him, but I am sure my dad was confident in knowing I was not going to strikeout. Now as my nature has it, I usually take big risks on a whim, but this time I was so certain this was the right path and the right journey I never once backed down from the challenge of it. I saw this almost in a way to be able to conquer something for my father no other person on this planet could. To heal the man who gave me life. There was truly 'No Let Up' in my mission now.
We have funny relationships in my family. We are all so close, but a lot of the important things can go unsaid, they are just understood, an extremely hard thing to explain. Maybe this comes from being Italian men with thick heads? Who knows but there was little conversation partially because there was no one talking me out of this, and there was a sense of relief in a way I was going to make things better? But finally, after my dad got over the fact that this was happening, I re-set our date. It was now final, Tuesday, September 29.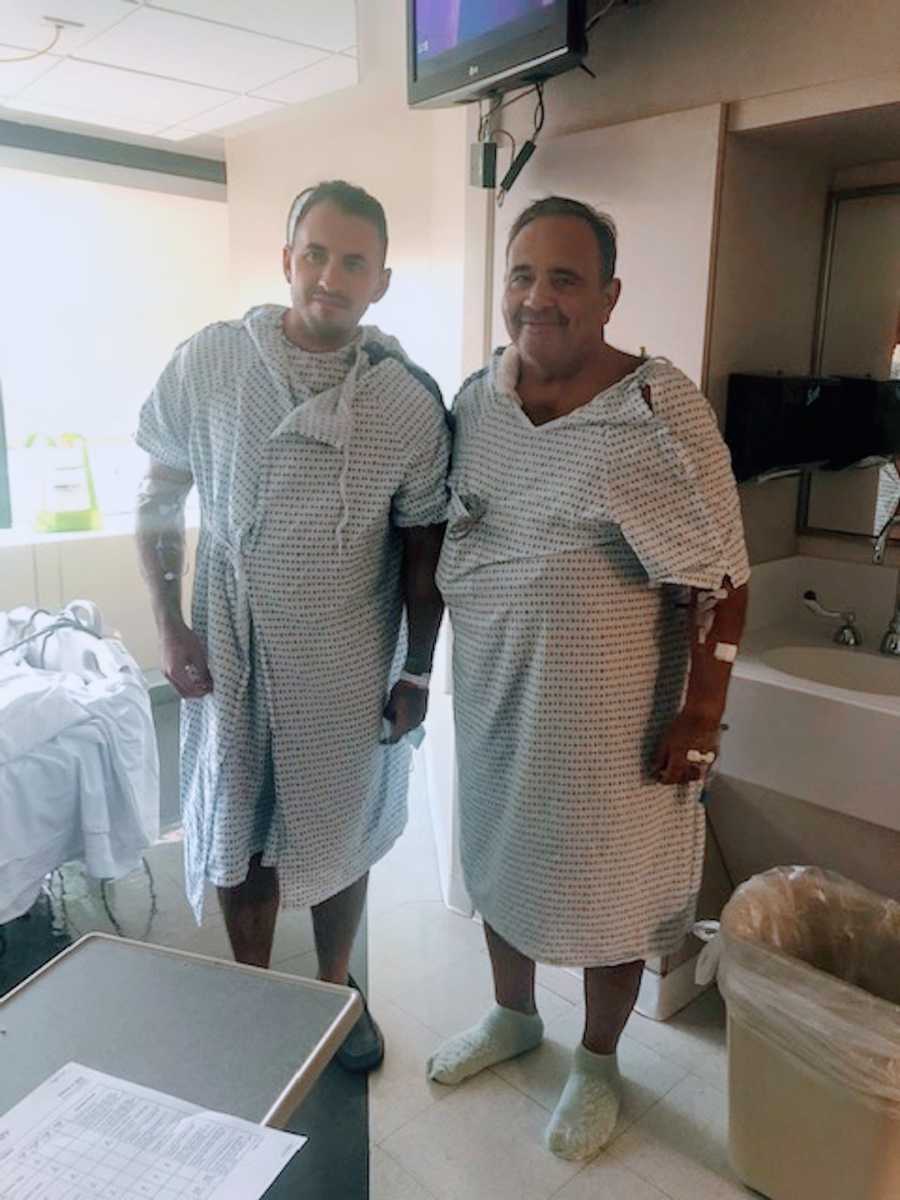 Leading up to this day, I had a lot of prep to do, mostly in tightening up things at my restaurant because I was going to be out of work for a few weeks. But regarding the surgery again, I was laser-focused on my goal. The most emotional moment for me was the morning of surgery as my father and I sat in the waiting room to go in. Not a word was said at the time between us, but I started to get choked up knowing the end of this journey was minutes away and when I woke up, a new one would begin. A journey where my dad would be okay as we healed together. After getting dressed in my gown and prepped, I remember walking towards the Operating Room and telling my dad, 'Hey, NO LET UP, I love you but take good care of my kidney.' Then it was lights out.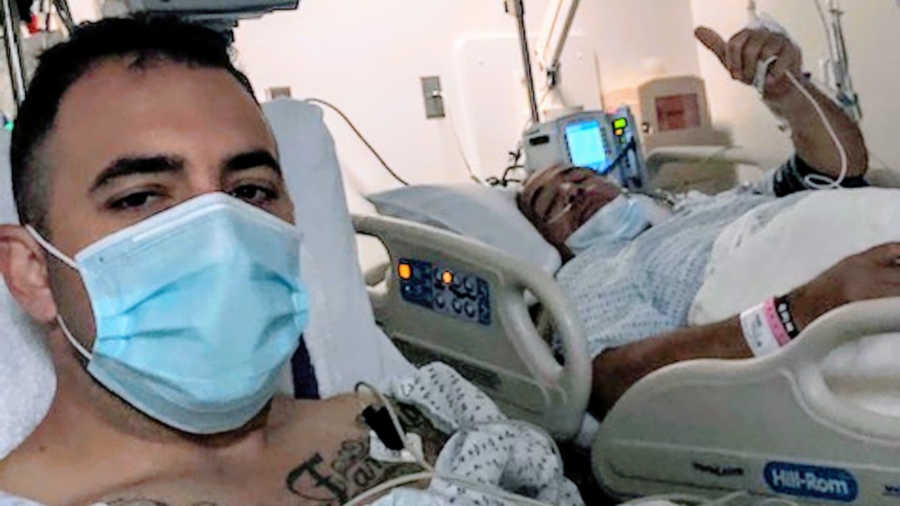 Looking back now, we are about 2 months out of surgery, still healing. Things are coming along great so far, but still living in this COVID-19 world. I have made it my new purpose to give back as much as possible to those in need. I have dedicated every Tuesday at my restaurant Roslyn Social to a cause and am committed to donating 10 % back, titled 'NO LET UP TUESDAYS,' to those who need some hope to not quit fighting. Do not quit searching or reaching out because there are a lot of people who want to help but do not know how. The amount of great people I have met in this short time, who have donated and who have received is incredible. To those who may want to donate, speak to your doctors, and believe me when I say there is no better feeling than to be able to make the decision to save someone else's life. Yes, it hurts but the pain is temporary, the gift of life carries on.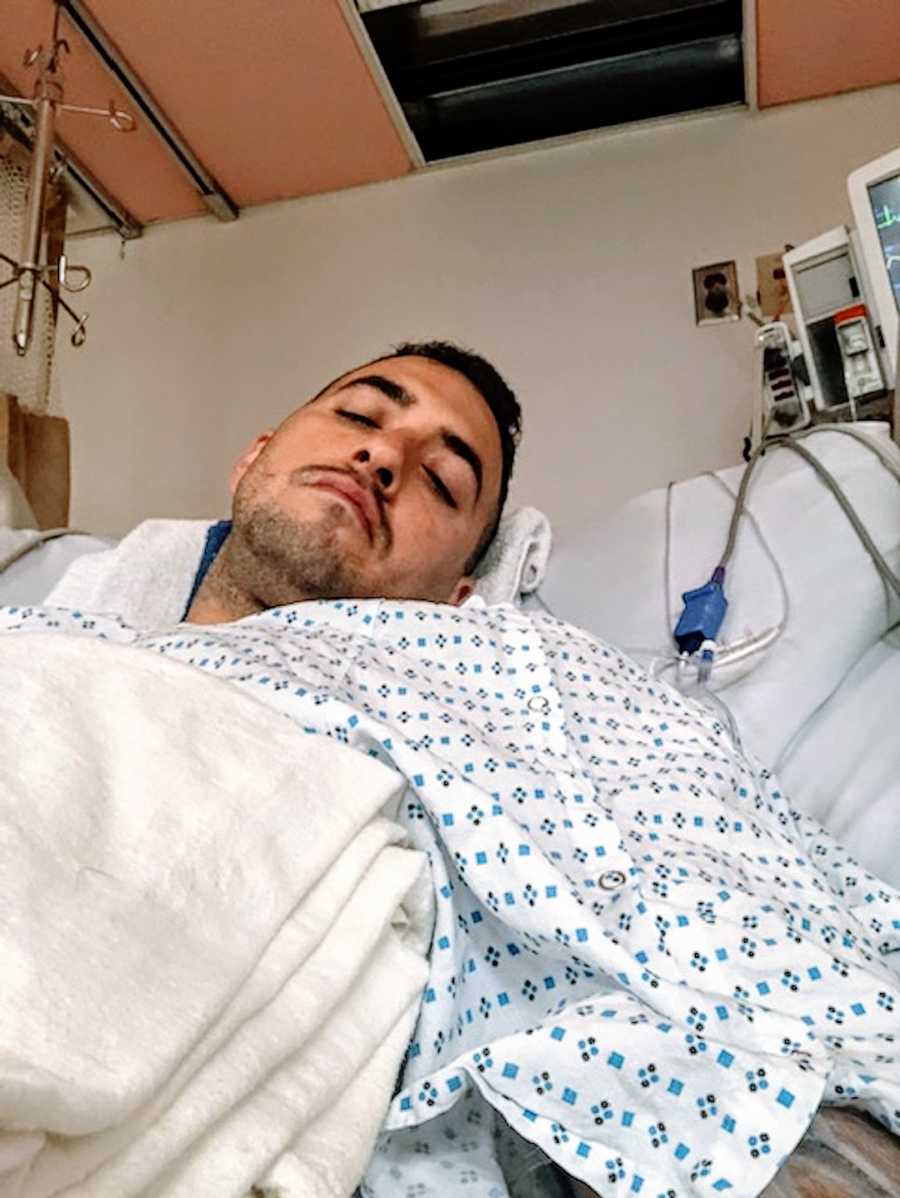 So many people had asked me, 'Are you afraid? Why did you do it? Did you really want to?' I always found it so difficult to answer these types of questions because I found myself just thinking, 'Hey, this is my dad.'
I guess in a way, I am fortunate to be in this situation because of the dad he was and continues to be. To me, it is more of a testament to how great of a dad he is, to what he taught my brothers, sister, and me growing up, to how we were raised in this family because of my mom and dad. To me, family is everything, but not always blood, you do what you can to lift yours up. This is my why, NO LET UP. Have a blessed Holiday Season. "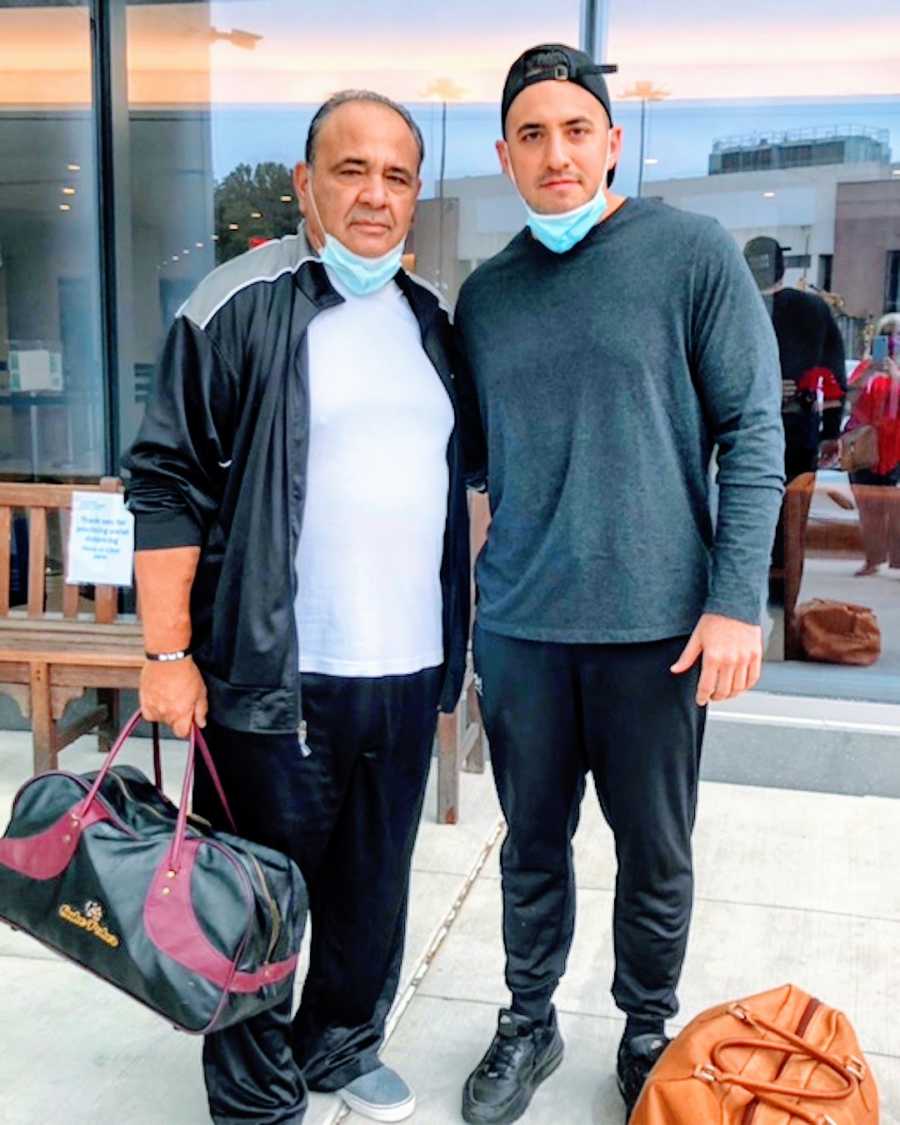 This story was submitted to Love What Matters by Nicky Luisi, New York. You can follow their journey on Instagram. Submit your own story here and be sure to subscribe to our free email newsletter for our best stories, and YouTube for our best videos.
Read more stories like this:

'Why are you so loud, Nicole?' a boy asked. 'You can't be fat AND loud.' That moment set something off in me.': Woman shares extreme weight loss journey, 'The joy I've felt is indescribable!'
'At 13, I was 300 lbs. My dad told me, 'If you want to kill yourself, I'll help you pull the trigger.': Woman undergoes weight loss surgery at husband's demand, 'My soul is healing with each bout of laughter'
'I wouldn't have taken you out if I knew how big you were.' I wanted to hide, from myself and everyone else': Young woman undergoes weight loss transformation, 'I've finally found myself'
Provide hope for someone struggling. SHARE this story on Facebook with family and friends.