"The first thing that comes to mind when it comes to sharing my story is the realization most of us typically don't face opposition until after we have been born. The reality is my story started with opposition long before I was even born. Both of my parents were born healthy. Environment and medical situations, though, caused both of them to become special needs. Cue the opposition in my life. Yes, the moment their lives changed at such a young age was the moment opposition stood up against me. My mother had a fever that wouldn't go down, a fever that got so high, it basically fried her brain. The doctors told her she would not live past the age of 18 and if she did, a vegetative state is where she would reside. Vegetated, blind, and deaf.
By the grace of God and his bigger plan, my mother defied the odds against her. She and my biological dad met through a special needs workshop. Both of them were and are able to live independently with minimal assistance. They fell in love and had a big beautiful 80's wedding. Big hair, satin turquoise bridesmaids dresses, and big puffy shoulders were in attendance that day. Writing this really going back has me wanting to tear up. I am proud of my mom. She truly was determined to live beyond her circumstances. I could only imagine how proud she must have felt walking down the aisle, and that thought alone makes me incredibly grateful for her determination.
So we all know the obvious. I wasn't delivered by stork haha. She became pregnant, of course. I'd believe she was initially excited, as most of us are. The thought of the actual labor was something I'm almost sure she wasn't thinking about and maybe didn't fully understand. At some point during contractions, she decided she didn't want to be pregnant anymore. The pain was too much for her. She hit her stomach a few times (not to cause harm to me, but because she truly wanted the pain to be over with and mentally, this might have been too much for her to fully understand). I was a little babe. I came out with a broken shoulder, black and blue on one side of my body, and a large hematoma on my head. A 'stress baby' is what they called me.
I was incubated for a little while. During this time, I'm sure the reality set in for my grandparents (my mother's parents). What was going to happen with this new baby? There was talk of my uncle adopting me to raise me. If someone didn't step in, I would be sent to an orphanage.
My grandmother — who I believe is my angel on earth, at a time where she and my grandfather were going into their next season of life and living life with the kiddos out of the house — quickly gave all that up to provide a life for me I may never have had. I was raised and eventually adopted by my grandparents. They also made sure I knew who my biological parents were and always scheduled time for me to spend with them. Though my grandparents made it very clear who they were, biologically, to me, I made the personal decision they would be mom and dad. Out of respect to my biological parents, I made sure to always call my biological parents 'mom and dad' when I was around them so I never hurt their feelings. My biological mom always made sure to remind me who she was when I'd visit. As I got older, I really started to understand being adopted by my grandparents was the best thing for everyone. My grandparents (who from this point on I will refer to as Mom and Dad) not only had time to invest in raising me, but there was so much more patience they gained through raising their own children before.
Around the age of five, I went into modeling. I traveled to New York for a few shows, did some catwalks, and was also in a few magazines that were pretty popular back in the '90s. I made some incredible friends and so many incredible memories that wouldn't have been possible without my parents. But the traveling started to get to me and eventually we decided it was just too much for me, and exploring dance would be more the route I'd want to go.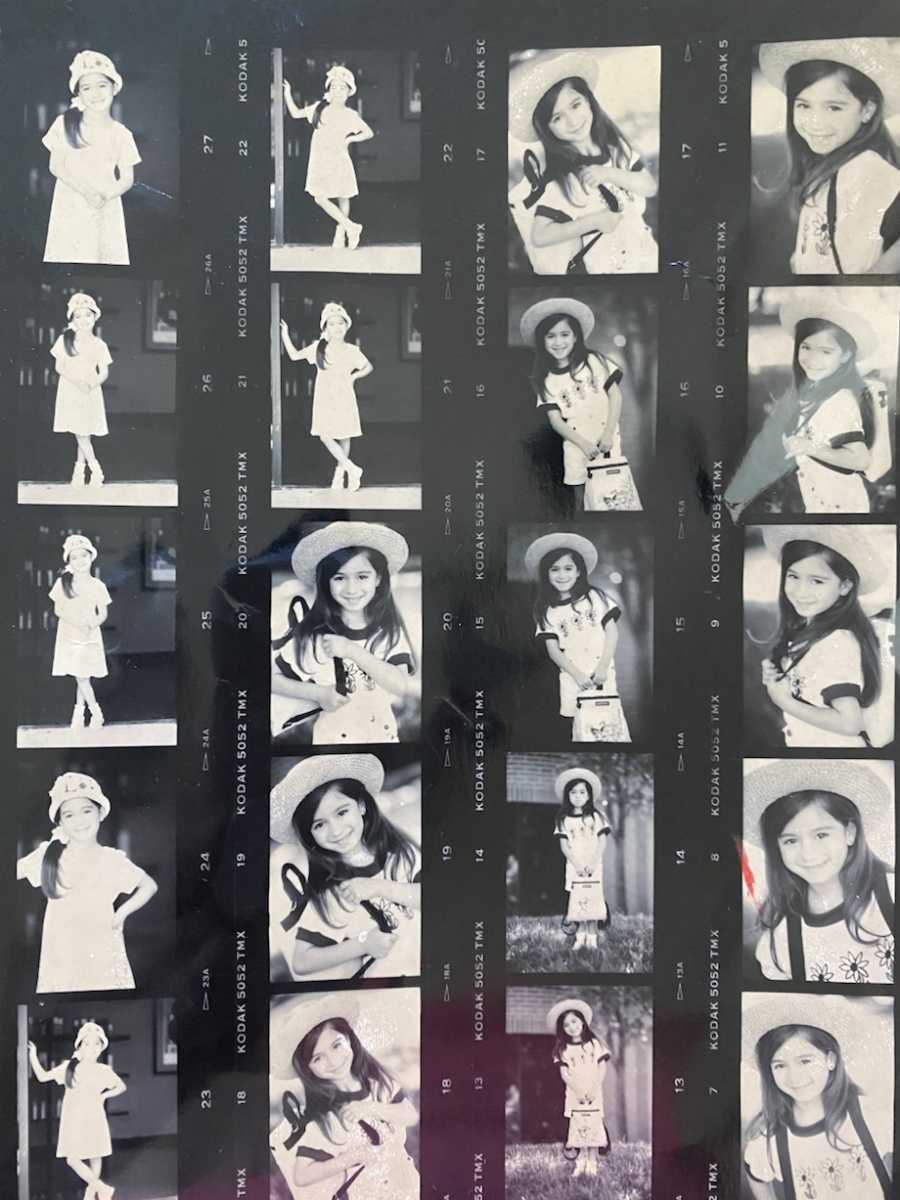 Thirteen years of dance. Tap, ballet, jazz, pointe, lyrical, contemporary — you name it, I did it. It was my first real experience with passion. I breathed dance and well, I practically lived in the studio for ten solid years. I spent almost every day in the studio after school and on the weekends. I even found myself traveling an hour away to be taught by one of the top ballet teachers in the area. She was notorious for always placing first or second at competitions. In total, I was part of four studios at one time. It was honestly my first and greatest love.
I competed and even was selected at 9 years old to represent my city (Sacramento) in a dance convention which was held in Las Vegas for a 12 week period. You could only participate by being hand-selected by one of the judges at the competition and only one person was selected per year. I was selected for three consecutive years. These years were probably the highlight of my childhood. I finished off this time, at the age of 12, being picked the lead role in the Sacramento Nutcracker.
It was after this my life changed tremendously.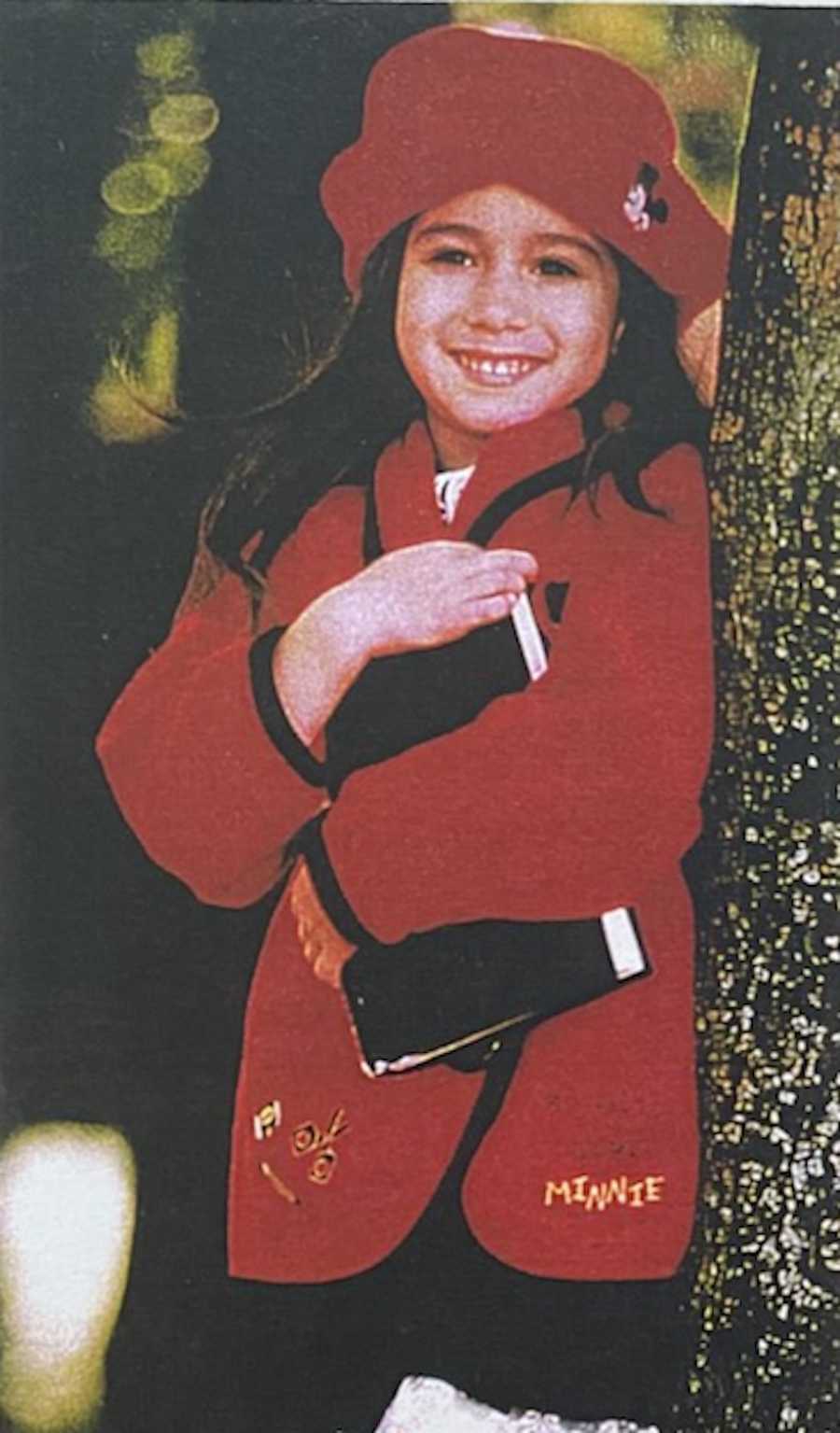 My parents, behind the scenes, had the conversation of splitting. It was my father's decision. Though my mom gave me the choice for us to either stay in town or move to the bay area because of the business she owned, ultimately, we moved. I was young but mature enough to understand the best decision would be to leave my friends and leave my dance studios to make sure my mom wouldn't be stuck traveling back and forth from our home to overseeing her business.
I went from a home that was consistent and always filled with their presence to quickly having a mom who was single for the first time in her life, and now having to work full time to support our new life. I spent a lot of time home alone while she worked evenings. Depression hit hard a year after our move.
I quit dance. It was a way to punish my parents, but really I was hurt and didn't know how to express it properly.
I started internally isolating the pain. Something I haven't mentioned is molestation. It happened to me by two different people. I didn't understand what happened at the time, but about a decade later, I would. I started hanging around the wrong crowds. I even disconnected from my dad completely for a two year period. Abandonment wasn't a word I would use or consciously feel for a while. But around all of this was the shift of those feelings developing in my life. Those feelings played a huge role in my future.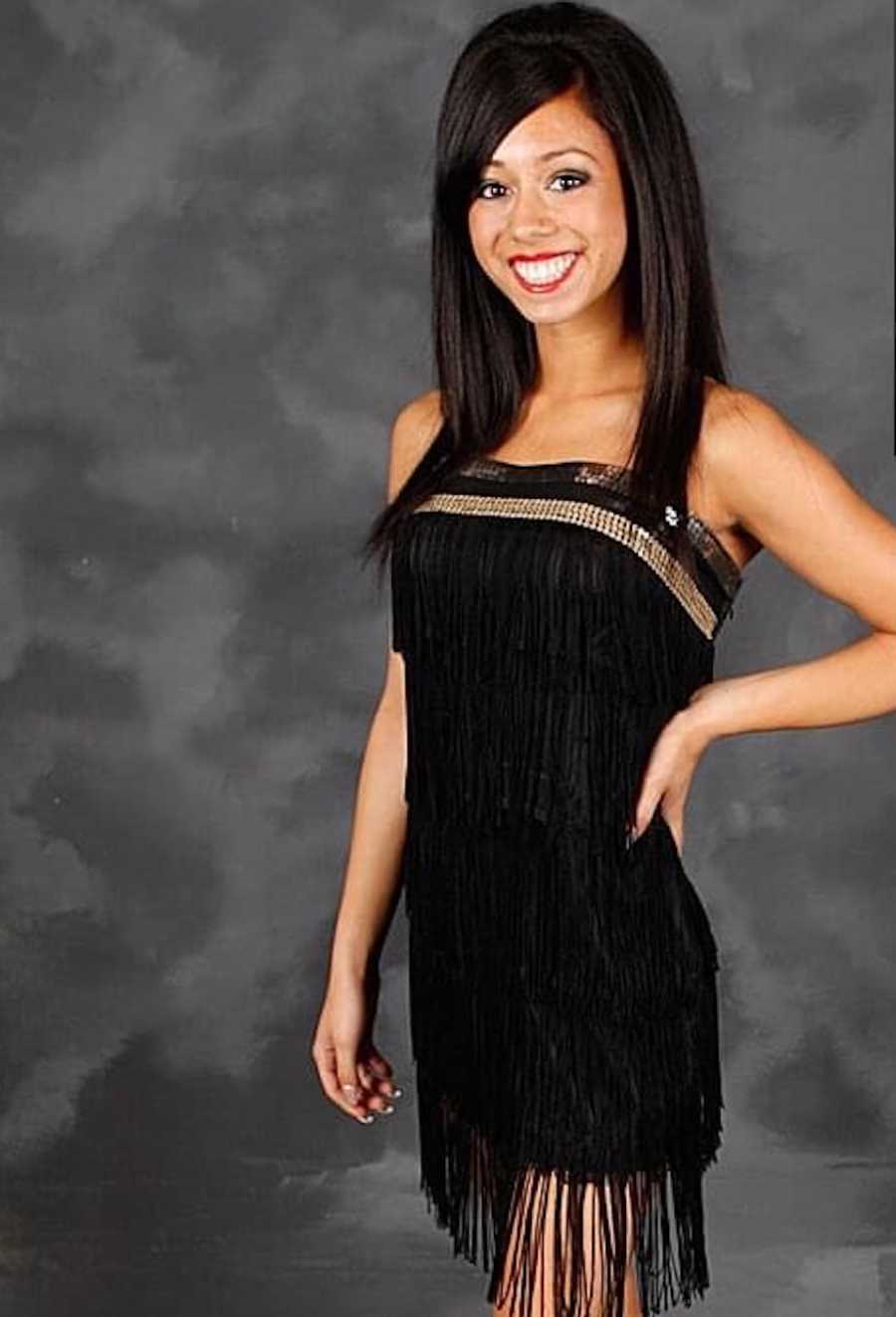 In my sophomore year, I transitioned to a new high school. I lived my first six months of the school year at my aunt and uncle's house. I spent most of that time at their home after school. It was a lonely time, honestly. But I'm grateful, because it was a time I really started getting involved in youth group and developing a deeper relationship with God. I've always had one, but now it was more critical because I came with real pain and a wandering spirit that wanted to be grounded.
Throughout that year and into my senior year, I had one serious relationship. It was my first puppy love, as most would call it. But it was also something I became very dependent on. It started off great as most things do, and quickly brought unhealthy habits, feelings, and environments.
At the age of 18, I found myself in my church my entire family was raised in. I remember, for whatever reason, coming to a fork in the road with God. It was almost like all the pain from my childhood surfaced and said, 'Okay, God, where you at?' I remember internally telling God, 'Okay, if you're really real… then I want you to have this man call me out of the crowd and speak over my life… or else.' The ultimatum. My view on this type of call out to God is much different these days, but back then, he did deliver on my request. The man called me out of a thick crowd. (It was a lot more intense than I'm describing, but to get to the point, I'm summarizing like crazy.) I didn't need to hear what that man had to say. Tears flooded the floor beneath me and the fire for God hasn't left me since.
A few months later, I randomly auditioned for the NFL as suggested by my mom. I had no idea what to expect, and honestly, my makeup (or lack of) showed just that. After a two-week audition, as an 18-year-old in my senior year, I made the team. I was one of the 300+ who had auditioned. About 13 spots were open, outside of the veterans who were also selected for the 45-size team. I had never felt so alive being out on the field cheering along with the devoted fans! I cheered for two years. I spent both those years connecting in the community, and a huge piece of that was with Shriner's Hospital, a moment I am truly grateful for.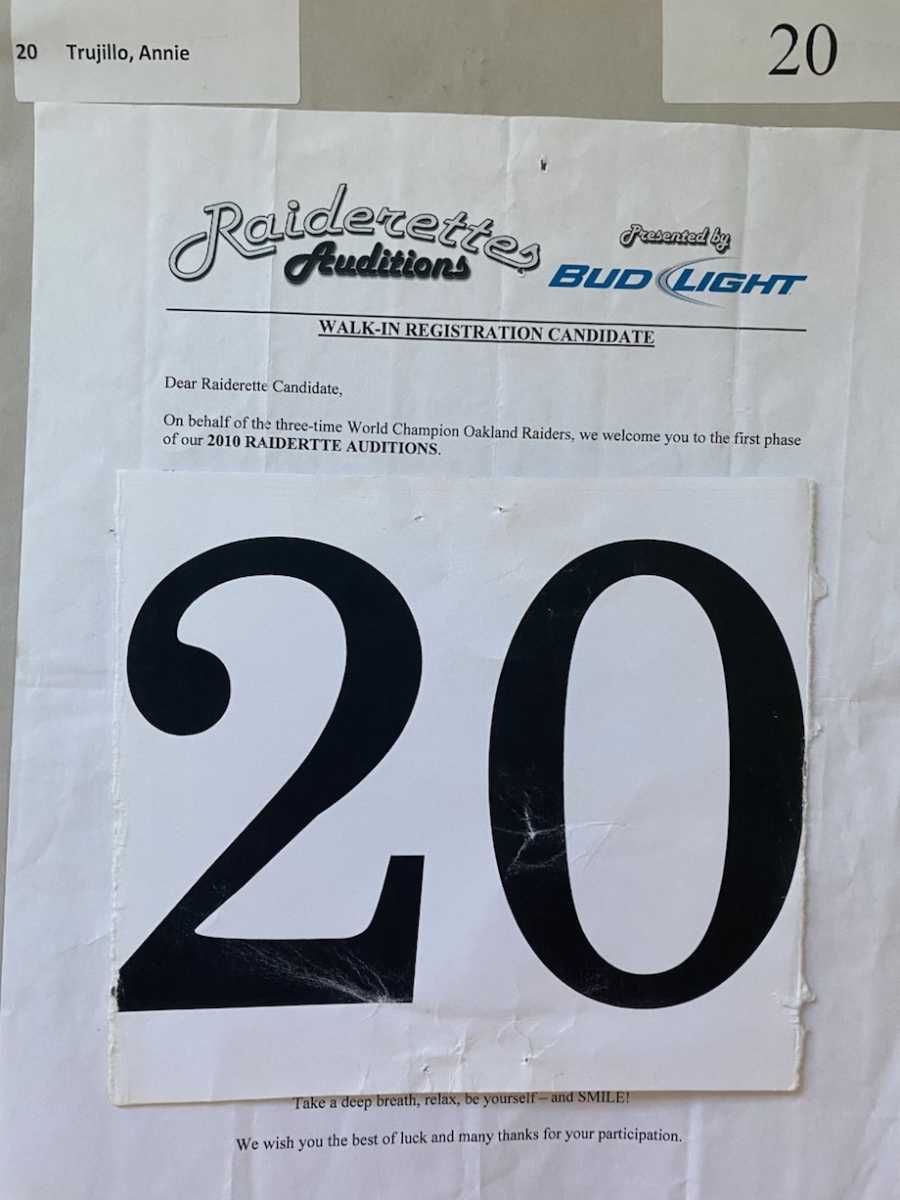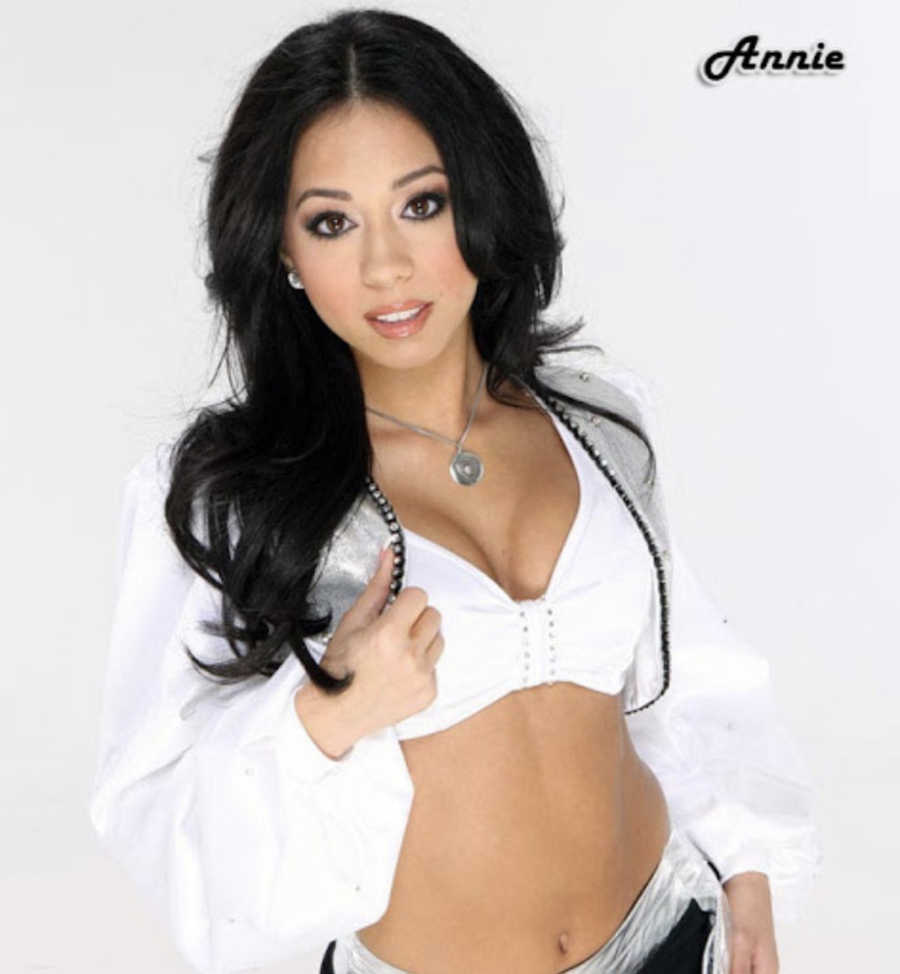 I was working two jobs alongside cheering for the NFL. I was a manager for a tanning salon and a nanny for an amazing little girl who was another angel in my life. This sweet little girl had autism, and her mom had tenacity, grit, and great expectations for her child to not be defined by her circumstances. Little did I know, this example she led was everything I was going to need a little over a year and a half later.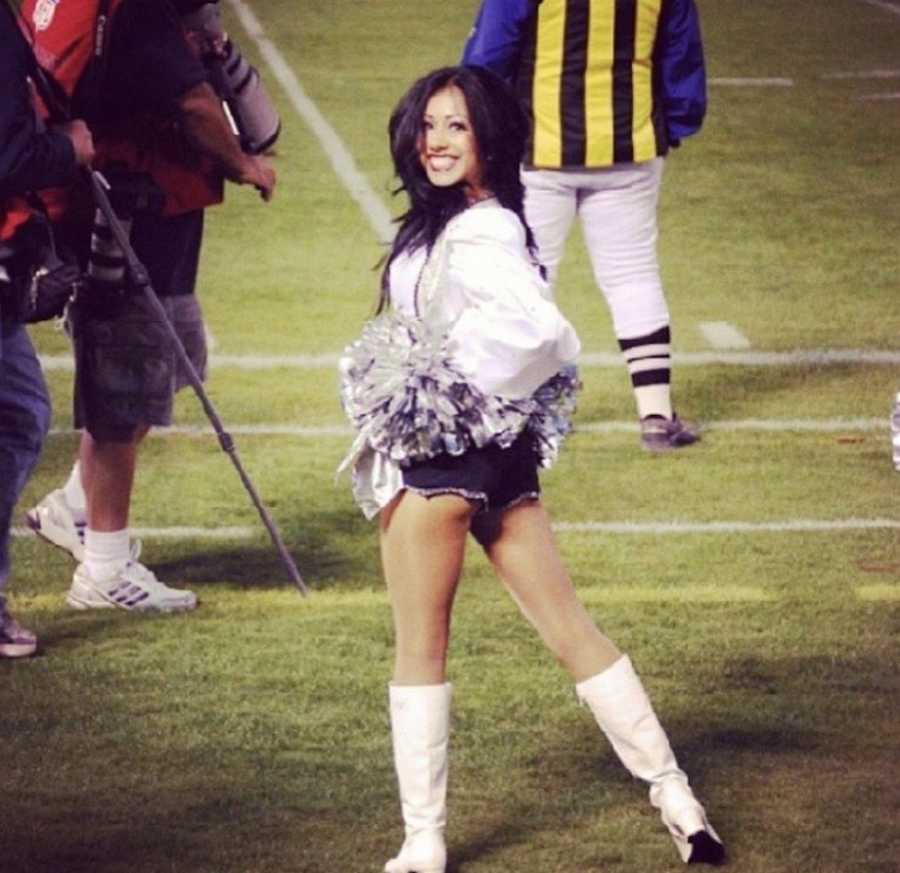 I finished the season as Raiderette of the week and 11-weeks pregnant by the boy I had been dating throughout high school. I spent most of my pregnancy single. Did I mention I was 19?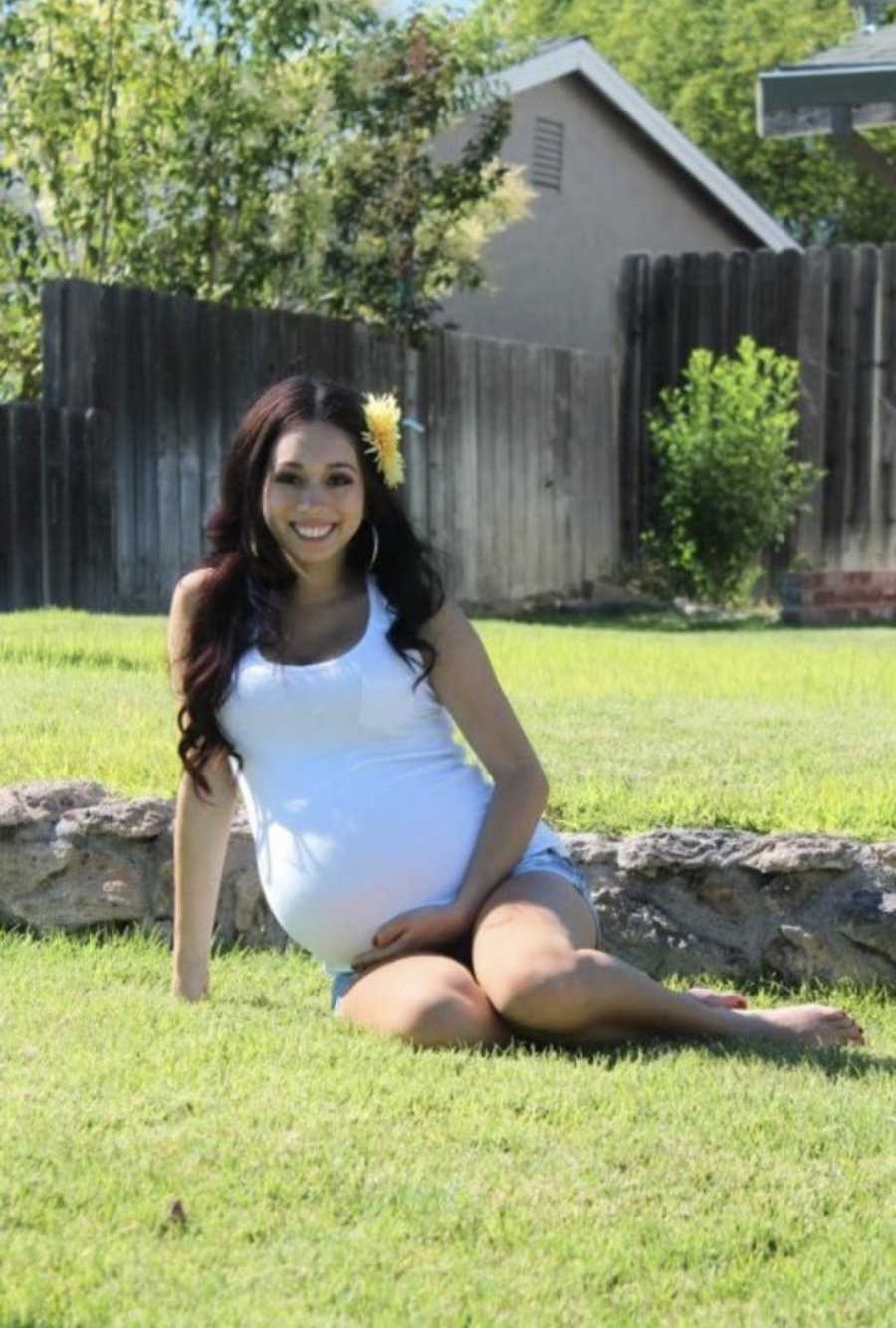 Around 7 and a half months pregnant, I woke up in excruciating pain. Two hours later, I found myself in the ER. I was peeing blood and still in a lot of pain. I was hospitalized, hooked up to IV, and eventually, it was planned I would undergo surgery because I had kidney stones. Not just one, but SEVEN. I was left alone in the hospital. That next morning around 1 a.m., I woke up struggling to gasp for air. Within minutes, a team of nurses surrounded me. Vaguely, I heard them yell, 'Code Blue!' One nurse announced I was going into labor. I had surgery, but no kidney stones were removed. I had a stent placed in my kidney I would keep until post-delivery.
My daughter came out healthy, tiny but a mighty spirit. Our first week home was extremely hard. She didn't latch well and had to be fed by a syringe the first week. Sleep rarely happened, for her or me.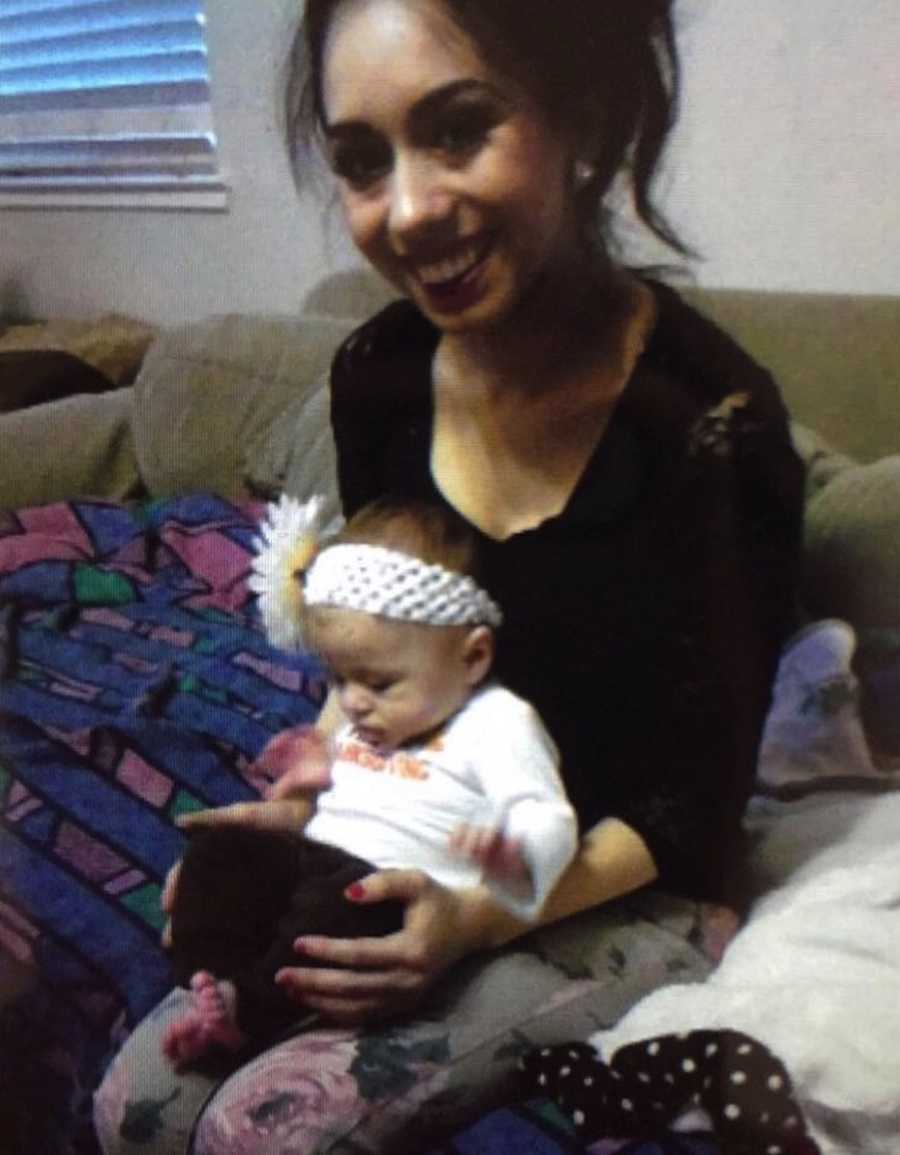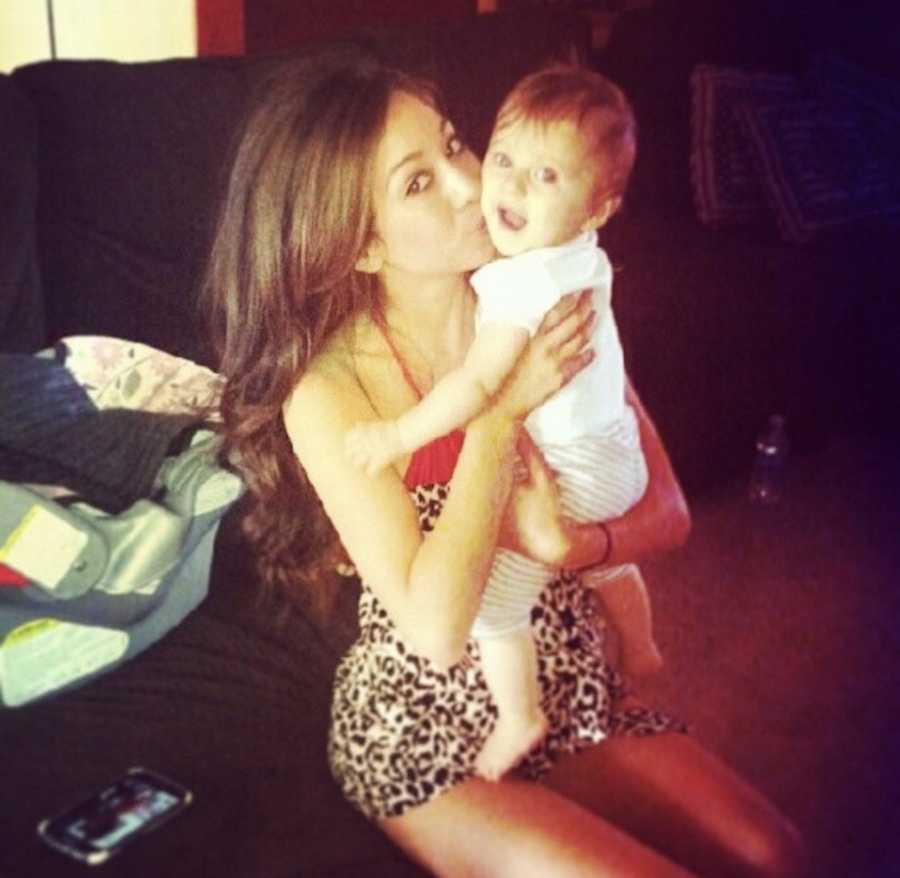 I found myself again back with my little girl's father. To make a traumatic time very short, when Ava was four months old, I officially walked away for good. The details of this I've never spoken publicly about, but what I will say is this all came to an end because of domestic abuse. My mom sensed something was wrong and called the police. Had she not made the call, things could have escalated beyond what they did. As I was on the phone with the operator and hearing her tell me the police were around the corner, the phone disconnected. The line was pulled from the wall and almost simultaneously, the cops entered and arrested him.
A year and a half later, my daughter wasn't meeting milestones. She was referred to a neurologist and in-home therapy. After a traumatic moment with her fading out of consciousness one random day, she was hospitalized for three days. A few days later, she was diagnosed with Angelman syndrome, a rare neurogenetic disorder. I was told she would never walk or talk and her life would be extremely dependent on me. Seizures would also be part of her journey.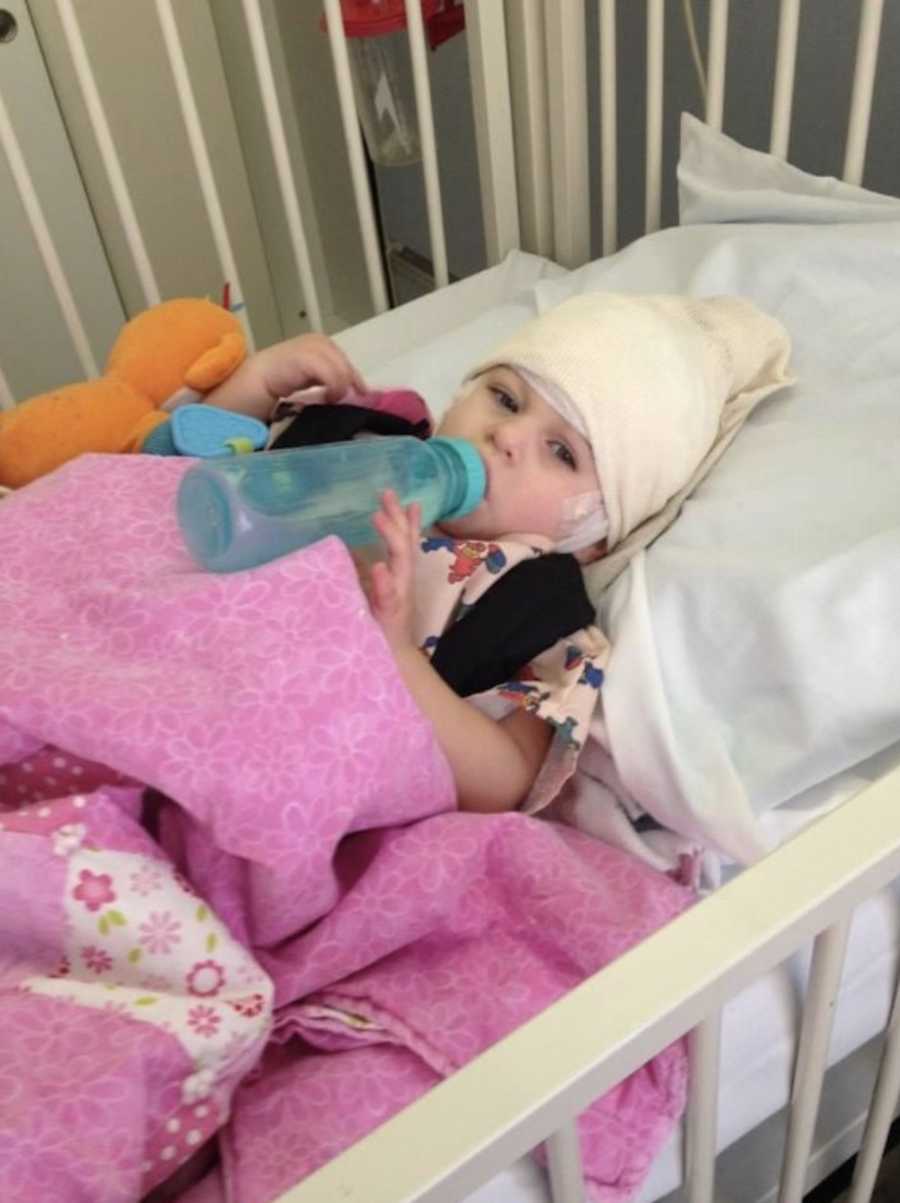 I promise you, this story isn't just full of gloom. Hope, determination, and God's grace and purpose are threaded throughout all of this! After years of grit, hard work, tough love, and the determination to teach my daughter she is more than her circumstances, not only does she say a few words, but this girl is walking! She is living a life and is thriving in her circumstances.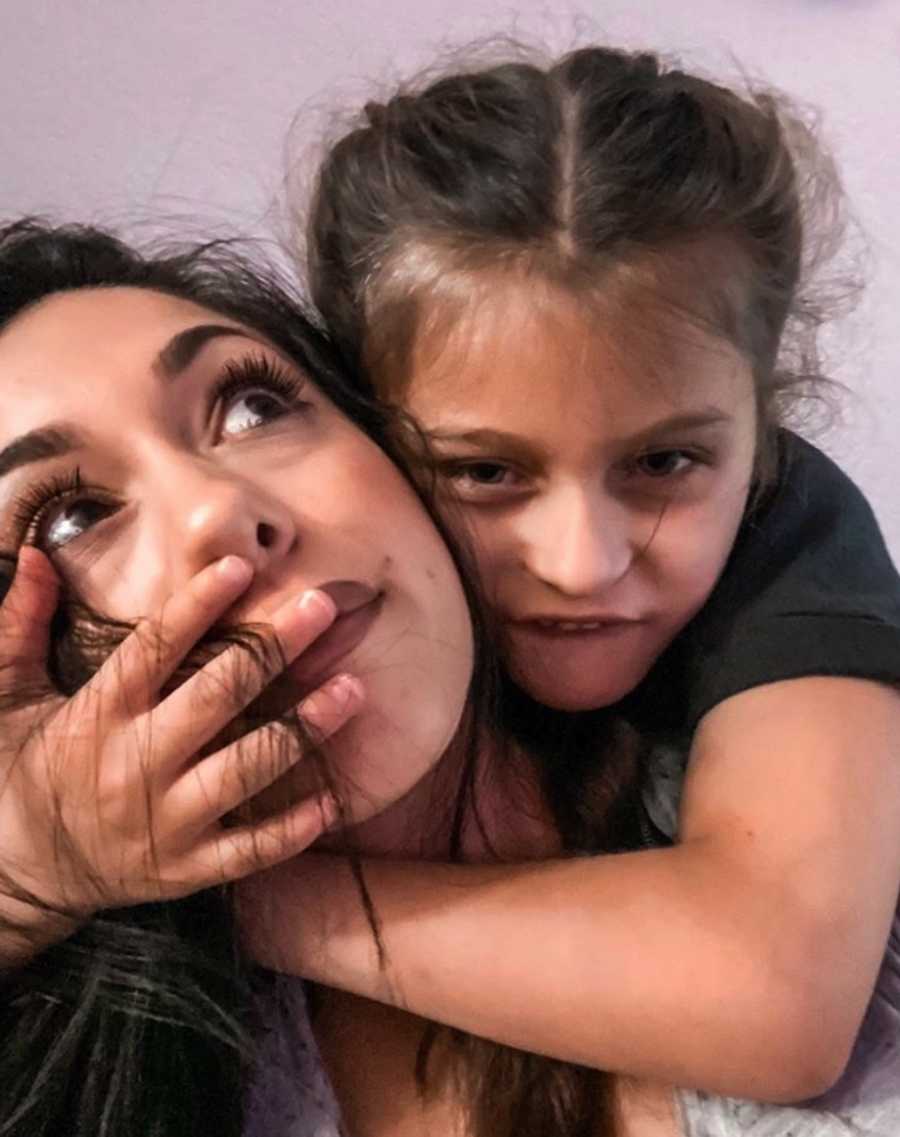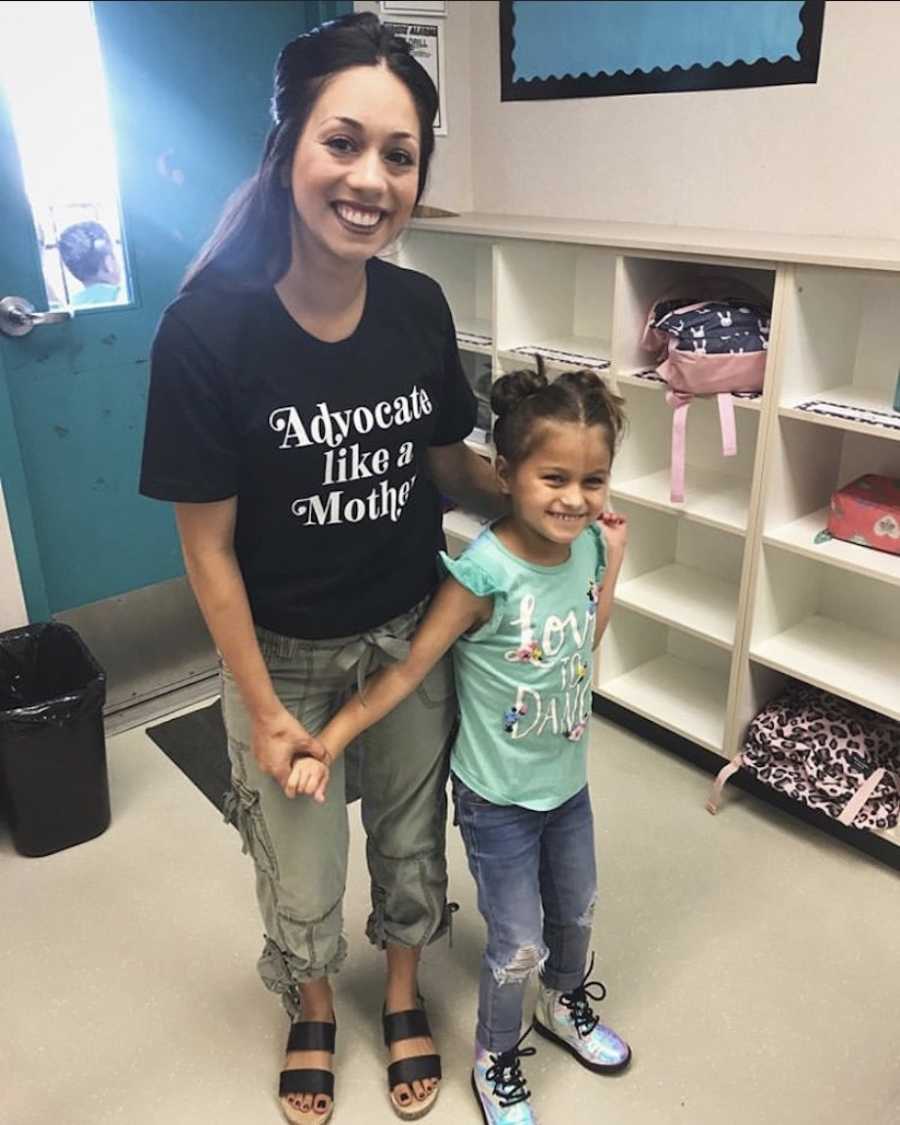 Today, I am happily married to a man who has loved Ava and I both, despite what we brought into our relationship. He has fully raised Ava as his own since day one and has provided her a father's love she has always deserved. We have two beautiful babies, Ava and Brody, and we are a family who is breaking generational curses one moment at a time. Today, we spread hope and encouragement to our community through our social media. All of us were never meant to survive in this world, but truly thrive! Each and every one of us can live a life that isn't defined by our circumstances."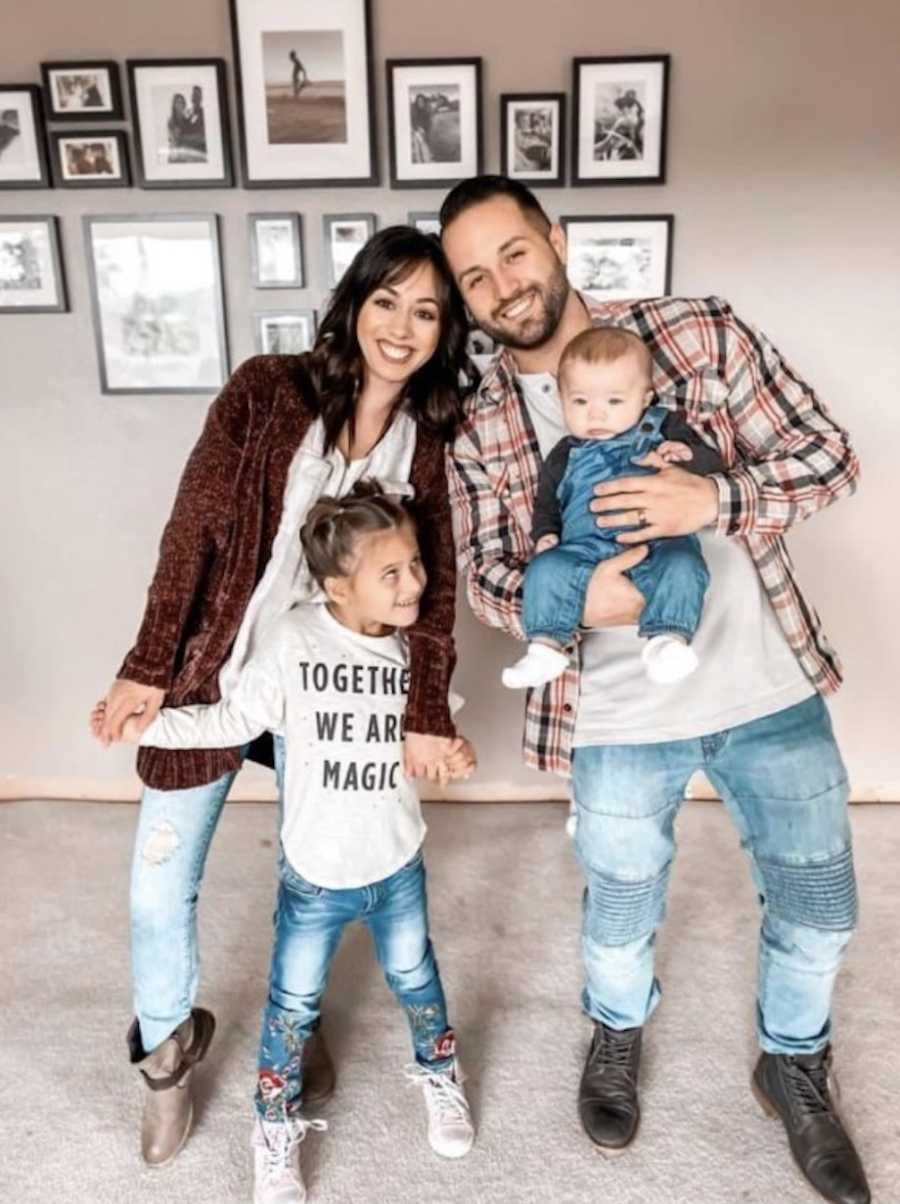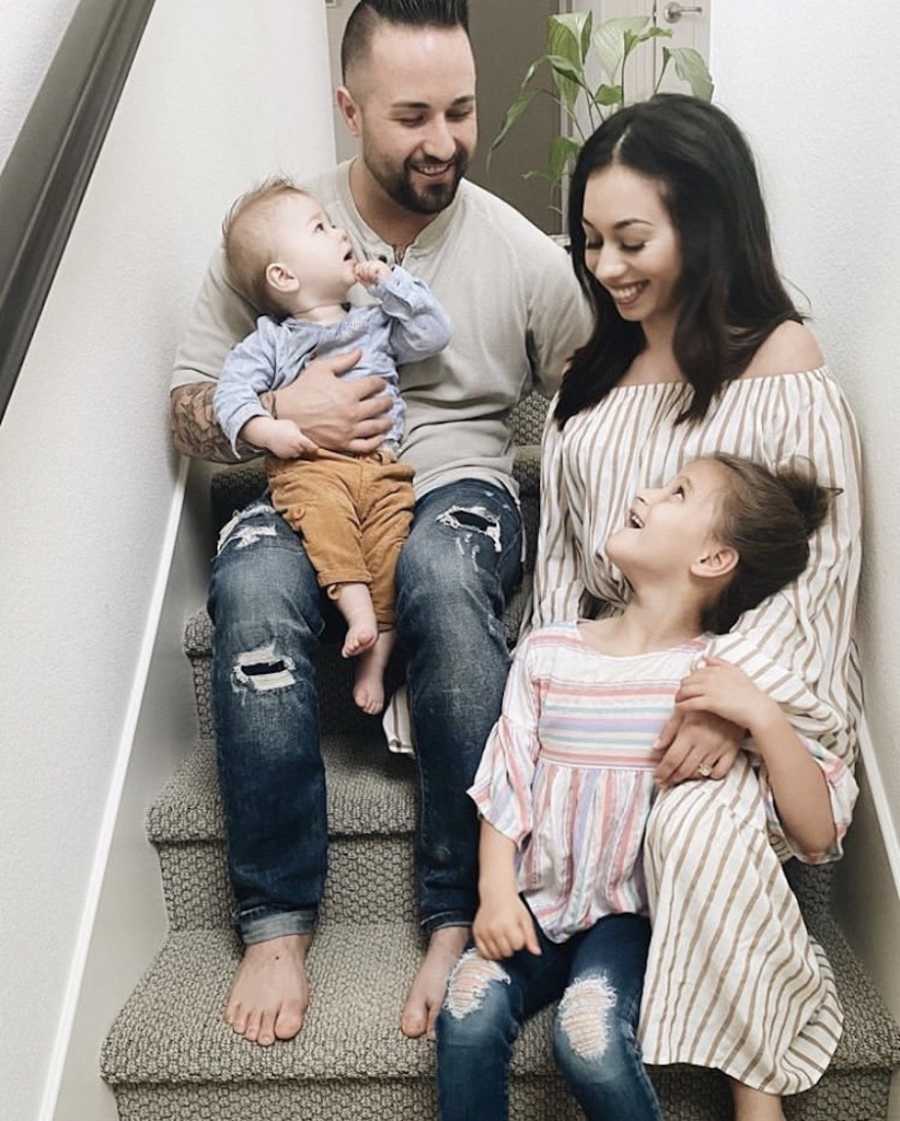 This story was submitted to Love What Matters by Annie Morgan. You can follow their journey on Instagram. Do you have a similar experience? We'd like to hear your important journey. Submit your own story here. Be sure to subscribe to our free email newsletter for our best stories, and YouTube for our best videos.
Read more touching stories like this: 
'She had abnormal, starry blue eyes. I had a gut-wrenching feeling. We were told 'not to worry.' A checkup for a mild cough changed our lives.': Mom births baby with Williams Syndrome, 'Genetic disorder or not, we will love her more each day'
'I want to live!,' I was screaming. The cops were on their way. I was trying to get out of the bathroom, trying to get my boyfriend off me, trying to hide in the tub.': Single mom's empowering story of surviving domestic abuse with infant daughter
Provide strength and encouragement for others. SHARE this story on Facebook with your friends and family.