"To love the Working Man:
My kitchen smells amazing. I've spent hours cooking our family-favorite chicken dinner. The potatoes are whipped to perfection. The gravy is thick and aromatic. The chicken has settled after coming out of the oven, and my knife glides through with ease as I slice it. The kids are at the table, mouths watering. Mine is too. Everything is ready at just the right time, but as I lay it all on the dining room table, my phone vibrates.
A short, familiar text lights up the screen.
Hubby: late
Being married to the working man isn't always easy.
There will be days when I slave over a five-star meal, only to watch it go cold before he's home in time to enjoy it.
There will be evenings when I clutch the remote, so excited to press play once the kids have finally gone to bed. Only to shut off the TV when he falls asleep 13 minutes in.
There will be times when I get a sitter lined up, do my hair, put on my make up, and slip into that hot little number. Only to hear he's been called in for another shift.
There will be occasions when I plan a family gathering. My family and his. All the grandparents, aunts, uncles, cousins, only to get the call that he won't make it home in time for the party.
There will be summers I mark the calendar, pack the car, and head to our vacation spot. Only to find myself praying he can make it for at least one night.
There will be winters when I shovel the driveway, build snowmen, take the kids sledding, drink hot chocolate, tuck the kids into bed, and awake the following morning knowing I'll be doing it all over again as he clocks into another shift without ever coming home.
There will be parent-teacher conferences, baseball tournaments, family reunions, and social engagements… all attended solo while he's off making the buck.
There will be days I feel like we are missing out.
There will be times I hate how much he works.
There will be moments I feel so very alone.
But then, there will be those nights…
Those night I'm lying in bed after a long day without him.
The bedroom door creaks open, and he crawls under the covers beside me.
His hard, tired body sinks into the soft comfort I've been nestled in for hours.
His calloused hands brush across my soft skin.
And it's then, in those moments, I remember why I married this working man.
This man of ours has worked those hands to the bone since day one.
Since the 1st Response showed that 2nd pink line, he went to work.
For us.
And he's never stopped working. Never will stop working.
For us.
There will be times I resent his job. But I'll never resent the man behind the hard work. For all the hours I miss him, I'm grateful for the hours he's putting in.
For us.
Here's to our Working Man."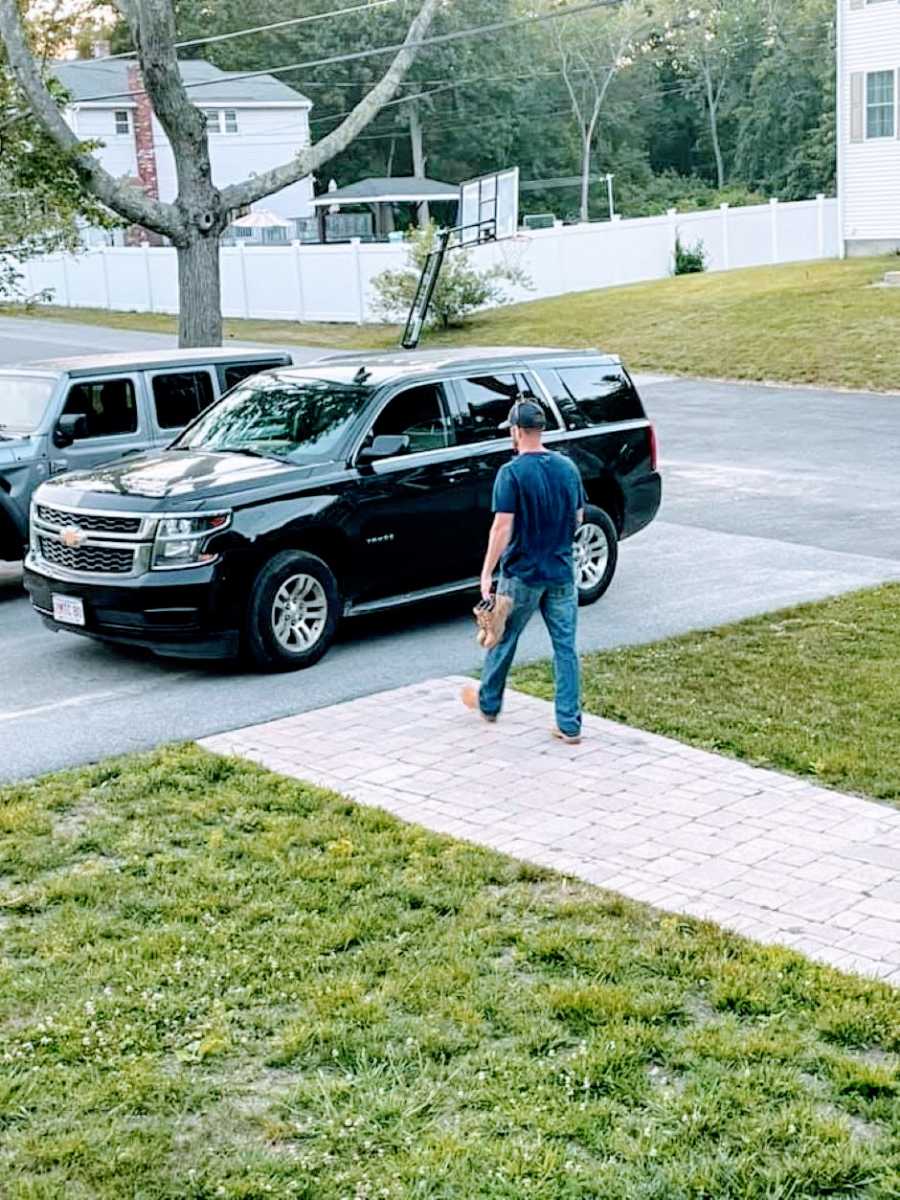 This story was submitted to Love What Matters by Mehr Lee of Raise Her Wild. You can follow her journey on Instagram and Facebook. Submit your own story here, and be sure to subscribe to our free email newsletter for our best stories, and YouTube for our best videos.
Read more from Mehr here:
'Tell her,' I whispered to my daughter as she pressed her body against mine. The cashier's face lit up.': Mom shares beautiful moment daughter learns 'the power in raising others up'
'Just a little while ago, you were my baby. Tiny toes, soft hands, and a little body that nestled so easily in the crook of my arms.': Mom shares heartfelt advice for son approaching adolescence
'We butt heads. We push buttons. We don't see eye to eye. I assumed my girl would think like me, talk like me, act like me.': Mom gushes 'you are all your own'
Read more stories like this here:
'A man who sits in the trenches with you and never leaves. I'd like to see that on a Tinder profile.': Woman pens appreciation letter to husband who 'never gave up hope'
Do you know someone who could benefit from reading this? SHARE this story on Facebook with family and friends.