Early College Life
"Where should I send my resume?'
I was a freshman at a conservative Baptist college in rural Ohio when a boy chose to 'slide into my DMs' with that line. I had dated around frequently, but no one ever seemed to put forth this much effort into getting to know me. Ben was different from the start. He never spoke without thinking, he was humble and hardworking, and he was honest and respectful.
And me? I was a mess. Being an athlete all my life, I quite literally assessed any situation as if it were a competition. I was 'The Hurdler.' I felt this need to prove my worth, assert my dominance, and come out on top. Besides, that's how I became a national champion in the indoor hurdles. It worked on the track, why didn't it work in relationships? Often times, this toxic behavior would be done at the expense of hurting others or just flat out lying. I didn't know who I was other than what I did. My identity was completely wrapped up in keeping my appearance spotless.
This wasn't a new behavior of mine. In fact, I seemed to have acted this way my whole life. My mom tells a story about how I would purposely trip myself and fall if I was losing in a race with the neighborhood kids. 'I fell, that's why I lost,' is easy to say. 'I lost because I wasn't the fastest,' is hard to say.
This attitude didn't come to a halt the minute I met Ben. Unfortunately, it twisted itself within our relationship, resulting in hurt feelings, arguments, and tears. I had lied to Ben about things I couldn't remember, for reasons I didn't understand. But Ben stayed steady. He was never rattled. He never wanted to leave me. He Pleaded with me to trust him.
I left that Bible college after my first year, quit track, and decided to go home and attend community college instead.
Mental Health Challenges
In the beginning of 2019, I was working full time and going to school full time, while having also just completed my certification to be a yoga instructor. Soon after, I was teaching yoga part time. You could say I was busting my butt. The goal was to finish school and save up enough money to get a new car and move into an apartment in Columbus, OH, an hour and a half away from home, but closer to Ben.
Not running track left this empty void in me. Still not knowing who I really was, I dove head first into the role of 'The Yoga Teacher.' Once again attaching my identity to what I did and not who I was.
Still, problems arose between Ben and I. I had breakdowns when my appearance seemed attacked. I didn't want to see people because I was too tired to 'prove myself' and didn't know how to just 'be myself.' I grew angry with Ben when he didn't do things 'perfectly' in fear of what other people would think of our relationship.
On October 5th, 2019, I moved into my studio apartment in Columbus, OH. At first, things were great! I was closer to my boyfriend, something we had wanted for our almost two years of dating.
Very quickly though, it became apparent that I wasn't okay. And that was showing up daily in our relationship.
I became obsessive over my schedule. Always needing to check the mail at the same time, cleaning my apartment in the exact same order, following the same routine down to the minute, morning and night. Routines are great, don't get me wrong, but I did them in a panic. I was a prisoner to them. This voice in my head told me that if the routines weren't done correctly, things would end in disaster. I was experiencing panic attacks daily and repeatedly having outbursts towards Ben. Ben was scared to talk to me, in fear that one wrong word would set me off. I felt like everything was spiraling out of control, and the only thing I could control was my schedule. It became an obsession. So much so, that one evening during an argument, Ben said to me, 'I feel like you care more about your schedule than you do about me.'
I can remember sitting on my couch alone in my apartment, tear stained face, pounding head from crying, racing heart from trying to control my anxiety, texting my mom three simple words.
'Is counseling expensive?'
I reached my rock bottom. I was tired of fighting with my boyfriend. I was tired of feeling out of control. I was tired of dreading getting out of bed. I was just so tired.
So I went to counseling.
Confiding In Counseling
I told my therapist the depression and anxiety made it feel like I was running fast on a slow treadmill. I told her I didn't know who I was I was anymore. Track was gone. I wasn't teaching yoga in my new city. No impressive profession. I had nothing to prove my worth. I didn't know who Brooklyn really was. Moving forced me to confront my problems. It forced me to confront the ways I had hurt Ben. I couldn't hide from them anymore. I had to face my fears.
When my therapist asked why I had this constant desire to prove myself, I admitted that I was scared people were going to think less of me if I didn't. I was terrified that if I wasn't proving myself to be the 'best' I was going to get looked over. I convinced myself that not doing anything at all was better than doing it and failing.
She then challenged me to try something I'm not good at the following week, and to let her know how it goes. I wasn't excited, but nonetheless I chose to bake cookies for Ben and I. It sounds simple, but I don't know my way around a kitchen…at all. Even so, the idea of baking cookies and them not tasting AMAZING was terrifying to me. I mean, I've lived my life for so long only doing the things that I excel at. I NEVER let myself be mediocre and there I was in the kitchen, doing something I suck at, and was terrified of not just being average, but actually failing. What would Ben think of me? Worse yet, what would I think of myself?
I kept on saying to Ben, 'I don't know how these are going to turn out' over and over and over. Eventually, Ben cut me off and asked, 'You know I don't care if these cookies are good, right? You know I'm not going to like you any less if these cookies are gross?'
And then it hit me. I literally laughed out loud because he was right.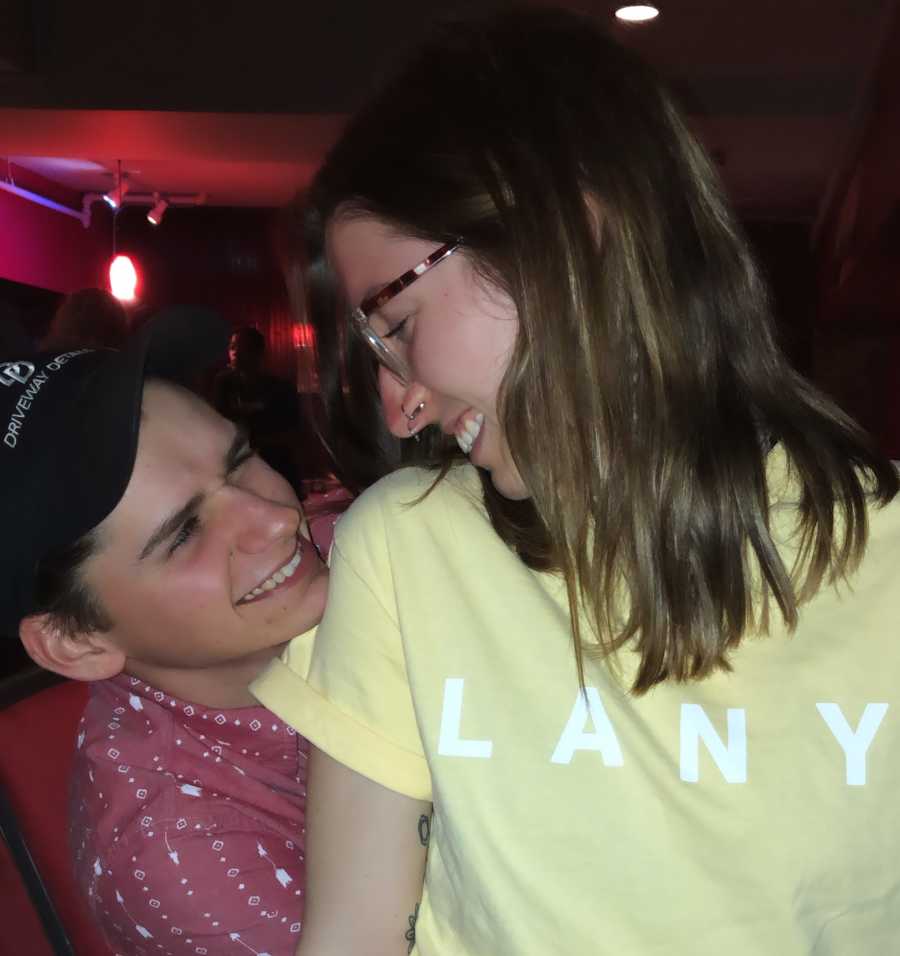 In the words of my therapist, 'Let's think of something you aren't good at. In this very moment, you are bad at it. If you try it, you're probably still going to be bad at it. So what changes? Nothing. You're still the exact same person before and after. And if you try it, you might even have some fun.'
Flash forward to a few weeks later, where Ben and I attended my work party to go golfing. The days leading up to the outing, I was nervous. I've been working on overcoming my need for perfection and to appear 'put together' 24/7. And quite frankly, I can't golf. It's a win in my book if I even connect with the ball. I told my therapist I was nervous. I told Ben I was nervous. What were they going to think of me when they saw how embarrassingly I sucked?
Skip ahead to after the party on the drive home. Ben and I are blaring music, shouting, dancing, and I turned to him, with tears in my eyes and I said, 'I did it.' All the lies in my head, all the tears I cried, all the fights with Ben were silenced. Ben just smiled and said, 'I know. I'm so proud of you.'
Mental Health Breakthrough
That outing showed me that I am capable of being in a social gathering and not getting overwhelmed. I am confident enough in what I can do, and confident enough to accept what I can't do. I am strong enough to overcome my toxic habits. I can swing and miss, spill chocolate all over myself, and get the lowest score in a game, and I'm okay.
It might have just been one evening, but it gave me a glimpse of hope. Although my mental health can be challenging, it is no challenge for my God. I had a breakthrough.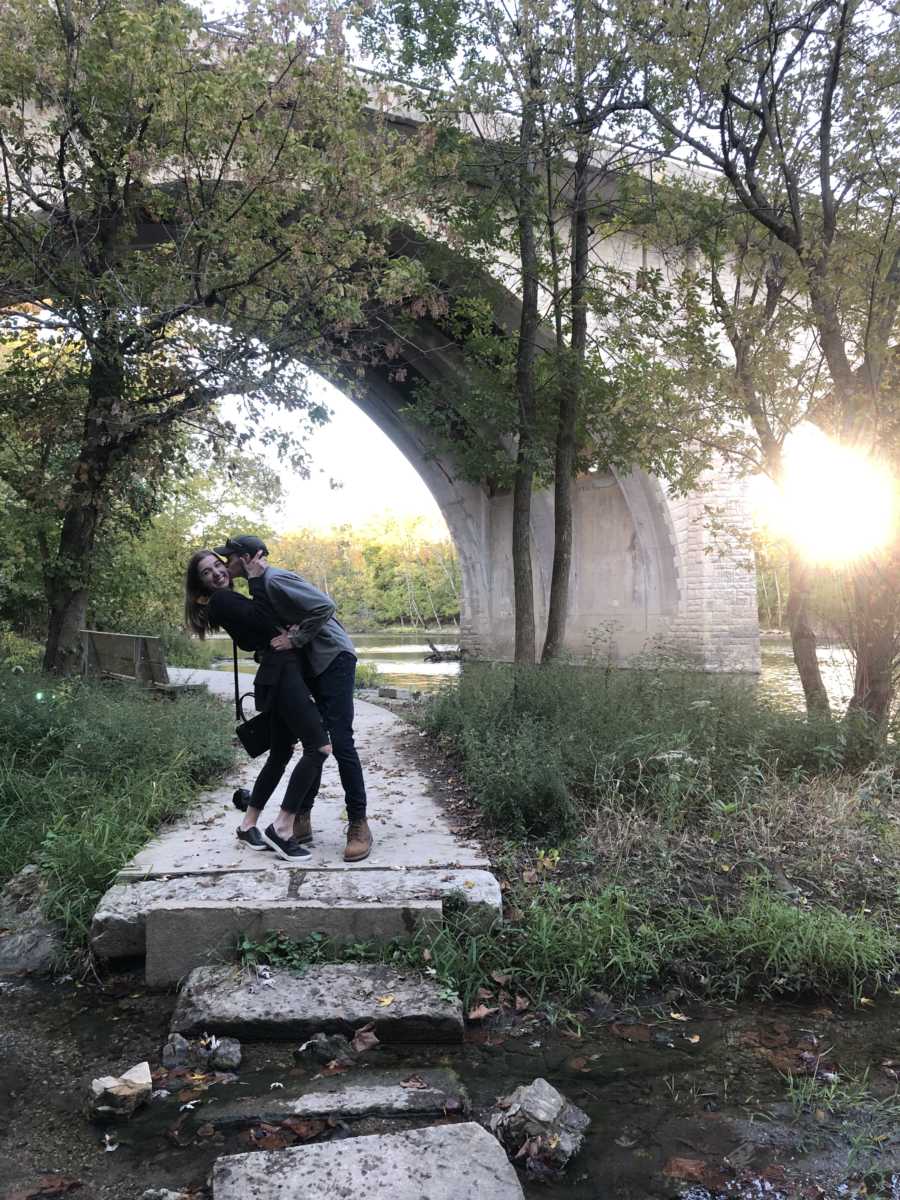 My mental health doesn't just affect me, so I don't have to fight it alone. Ben was there for me when I didn't even want to be there for myself. He was picking me up off of the ground when I felt like my legs didn't work anymore. He was forcing me to go through the routines my therapist taught me to calm my anxiety. Please, find yourself a Ben. It doesn't need to be a spouse or significant other. Just find your person. Our minds are scary, but we were created to be in a community. Find your community. Ask for help. See a counselor. Tell your people exactly what you need when your head starts spiraling downwards. And if you don't know what you need, ask them to simply sit with you, or better yet, pray with you. Please, promise me, you will ask for help. You are not a burden. There is an amazing life outside of your depression, anxiety, bipolar disorder, OCD, eating disorder, or any other mental illness, and you deserve to live that life, where you are in control.
Find your Ben. Because I have mine. And I can't imagine my life any other way."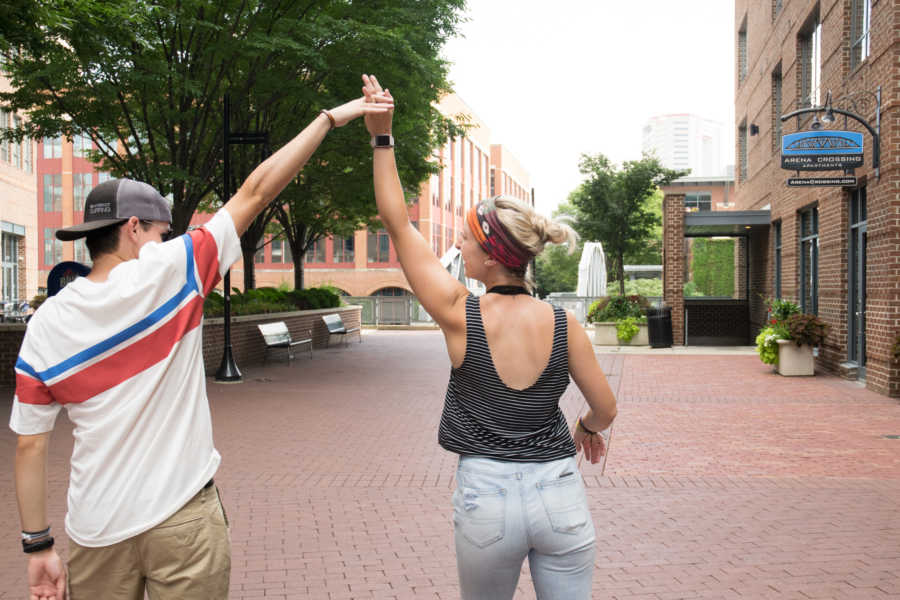 This story was submitted to Love What Matters by Brooklyn Warren. You can follow Brooklyn on Instagram. Submit your story here, and be sure to subscribe to our free email newsletter for our best stories.
Read more stories about mental health awareness:
'My 4-year-old had a rough week. He's been acting 'off.' Anxiety and depression don't care if you're 5, 25, or 65.': Mom gives son mental health day, 'kids are never too young to talk about their struggles'
'Since you're 30 weeks, we do a mental health evaluation,' she said matter-of-factly. I hesitated. 'Uhhh. Okay.': Mom shocked to be diagnosed with antepartum depression, depression during pregnancy, after nurse midwife surprised her with 'mental health evaluation'
Help us show compassion is contagious. SHARE this story on Facebook with family and friends.