"My four-year-old son has been having a rough week. His teachers told me that he has been acting off the past few days, and I have noticed it at home, too.
I don't like to blame myself when my kids are having tough weeks, but I have also noticed that I yelled more, was less patient, and said 'I can't play, mommy's busy!' a lot.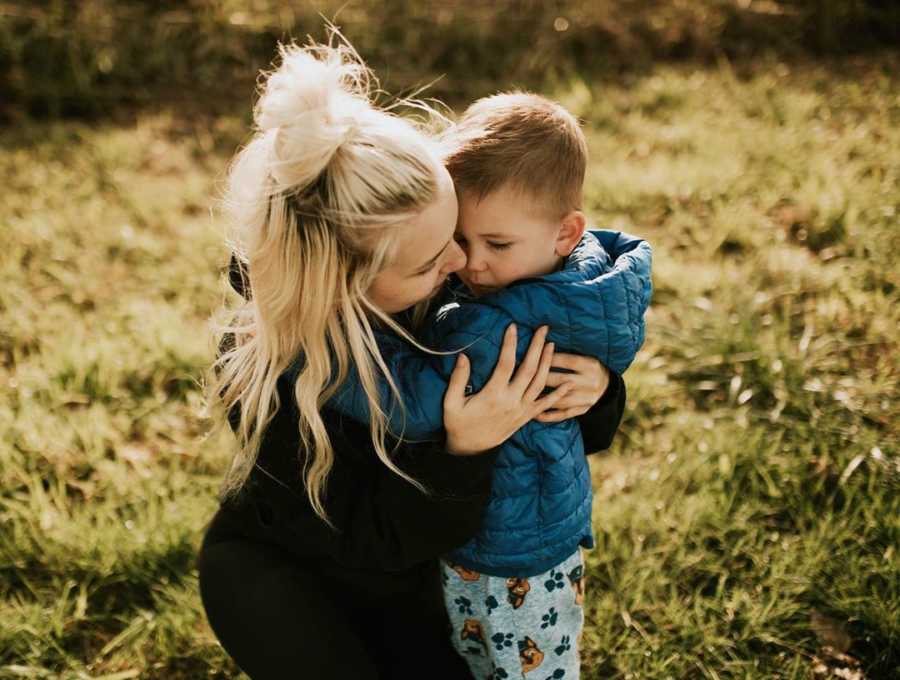 Today, he crawled onto my lap and cuddled me. He started whining, and I told him to use his words. At that exact moment, I realized I have not been using mine.
I forgot to ask him if he was okay.
I forgot to ask him how his days were.
I forgot to ask him why he was having a rough week.
I forgot.
So, I did what I do for his older sister. I made him feel special.
I told him to take off his shirt, and lay down. I cut up some cucumbers, and put them on his eyes. I found one of my gentle face masks, and started to rub in onto his little forehead.
His smile was instant.
I sat there on his bed, massaging his face, reminding him that it's okay to have bad weeks, and that mommy is there for him.
Sometimes we all need something that makes us feel better, even for a couple minutes.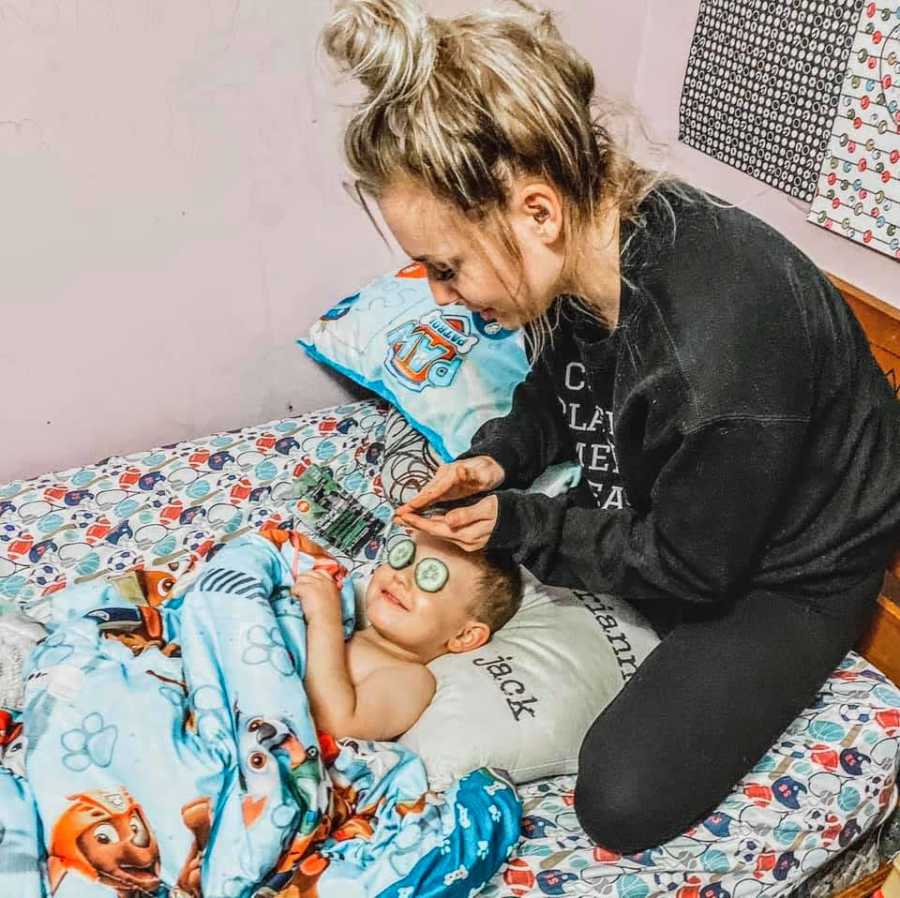 Everyday I am learning how to be a more understanding parent.
Because we all need someone who understands us and to feel a little less alone, no matter the age.
I started doing this because mental health discussions need to start sooner.
Anxiety and depression don't care if you're 5, 25, or 65.
I had anxiety my whole childhood and didn't know.
I was just labeled as the 'weird kid.'
I want my kids to know it's okay and they're never too young to talk to me about their struggles.
My kids know I'm in therapy, and I don't hide it from them.
I want them to know the importance of talking about their mental health struggles."
From podcasts to video shows, parenting resources to happy tears – join the Love What Matters community and subscribe on YouTube.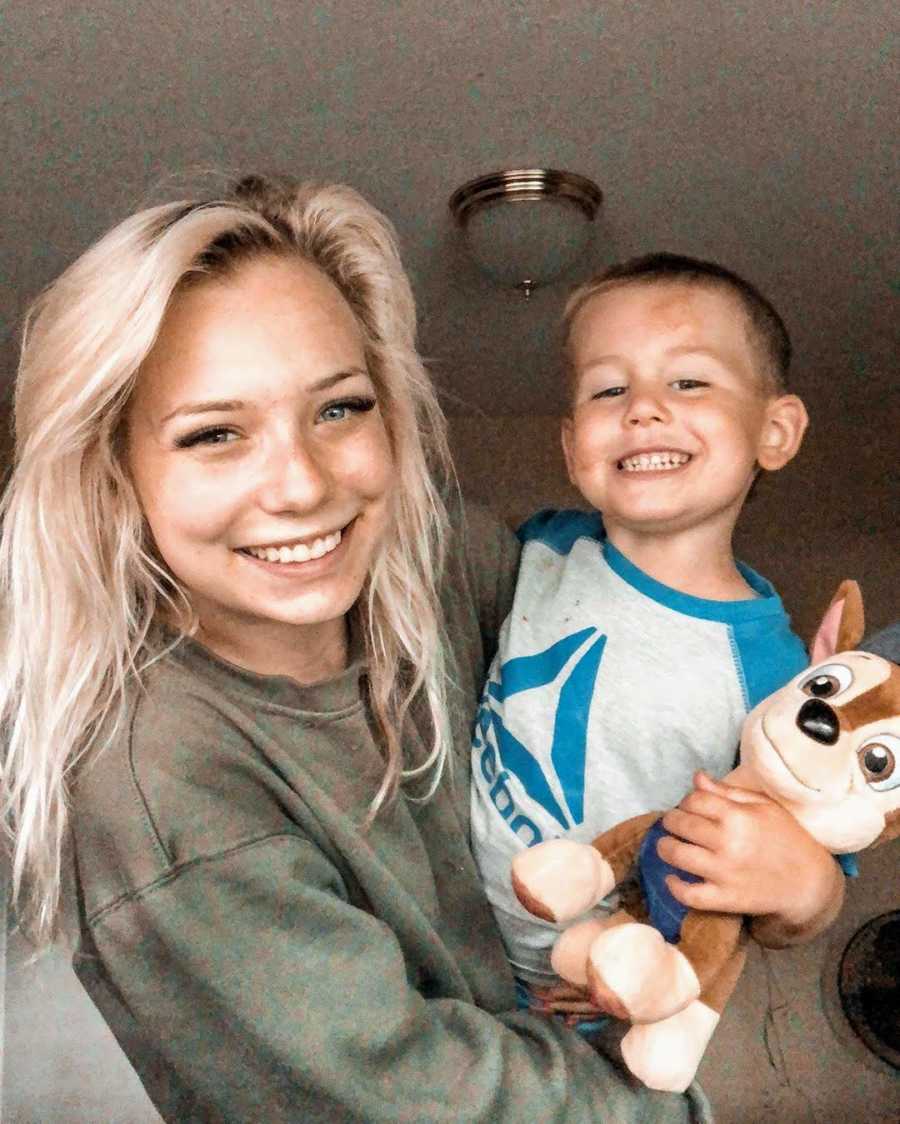 This story was submitted to Love What Matters by Caitlin Fladager. You can follow her journey on Facebook and Instagram. Submit your own story here, and be sure to subscribe to our free email newsletter for our best stories.
Read more from Caitlin:
'My husband and I ask each other for permission before making plans with friends.': Woman shares marital practice for time apart, 'we do it out of respect for our relationship'
'Yes, I have 2 kids. Yes, I smoke weed daily. Weed makes me a better mom.': Mom says marijuana has helped her anxiety, 'weed is my glass of wine'
'I'm the backpack of the family. I carry all of your things. Put it all on me. Physically, and mentally.': Mom pens sweet letter to children, 'I love being your safe space'
Help us show compassion is contagious. SHARE this story on Facebook with family and friends.