"Dear husband,
I think I've forgotten.
I've forgotten you.
And maybe just as importantly, I think I've forgotten me.
Oh, this season of parenting.
Man. It's different.
I feel like we are on the same team. But we are kind of playing a zone defense.
You doing your thing. Taking care of your area.
And me doing my thing, taking care of mine.
With not much overlap.
Both of us putting effort into making sure everything is covered…but it feels as though we are doing it separately.
Guess that's sometimes what kids do to you, huh?
They put your focus so much on making sure everything is covered that you somehow forget.
Forget each other.
This season? It's busy. But in a different way than the toddler-and-newborn-season busy. And I'm sure in a different way than teenage-kid-season busy. And different than grandparent-season busy. But busy nonetheless.
So in this season, I ask:
That we don't feel guilty for throwing headphones back to the kids in a car ride, so we can visit together.
That you keep calling me. Whenever you are off. Or whenever I'm on lunch. Just to say hi. Because it helps me know you are there, even when it feels like I'm doing my own thing.
That we make every effort to find those little times in between.
The little times in between coaching this practice or cooking that for church.
The little time in between the kids bedtime and our bedtime.
The little times in between what we are doing now and what we are doing next.
Those in between times can hold so much.
That we go on a date. Shoot. I'll even pay!
Let's make our kids squirm with those home-from-work kisses.
Let's put our eyes on each other more and on our phones less.
Let's be willing to sometimes say no to others and say yes to each other.
Let's try to catch each other in moments other than just in passing.
Let's not forget to dream together, plan together, and most importantly, pray together.
Sweet husband, in this crazy mix of kids and their stuff, I will do my best to remember you.
And I ask you do your best to remember me, too."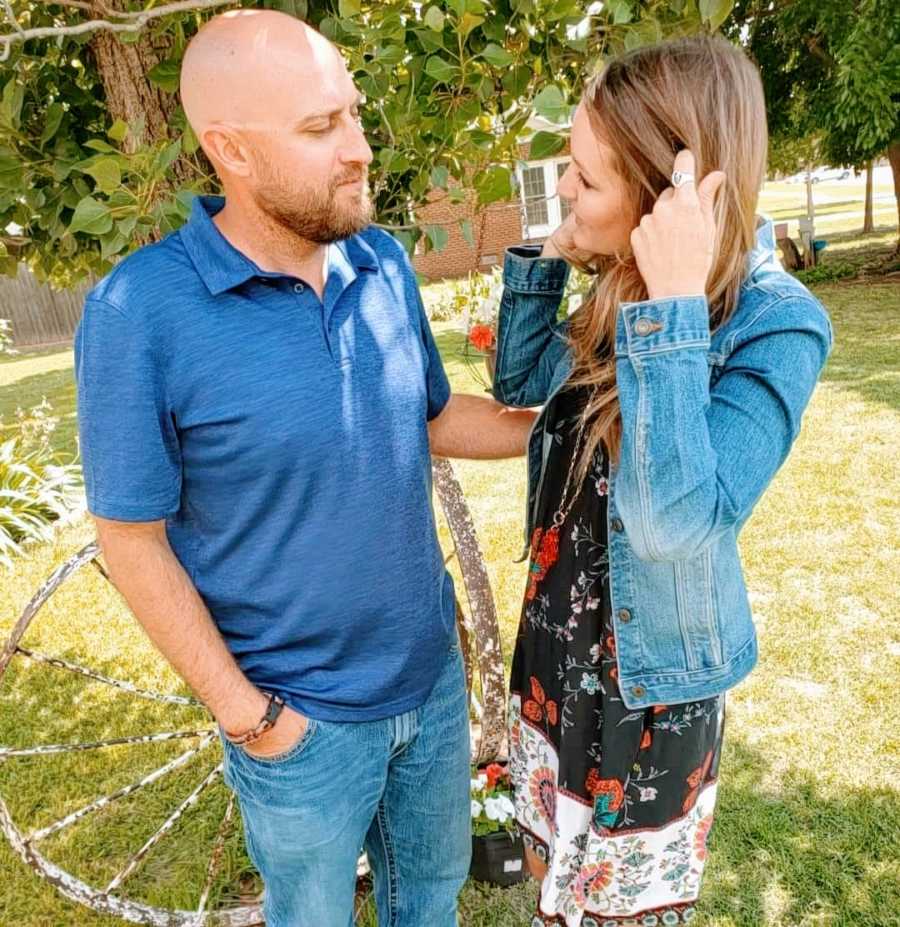 This story was submitted to Love What Matters by My House Full of Boys and originally appeared here. Submit your own story here. Be sure to subscribe to our free email newsletter for our best stories, and YouTube for our best videos.
Read more stories like this here:
'Dear husband, don't ask how you can help. Just do something—ANYTHING.': Mom urges 'do something big or small' to help your partner
'Dear husband, I am struggling. The load I carry is more than I can bear, but you can't fix it.': Mom tells husband 'I will be okay as long as you are with me'
'Our marriage isn't 50/50. We don't keep scoreboards. We love as much as you can, whenever we can. The rest will fall into place.': Woman reminds us relationships are all about 'recognizing needs'
'I put my husband on the backburner. Sex became a chore. We were roommates who co-parented. Our marriage lost its spark.': Woman candidly shares lessons she learned from divorce
Do you know someone who could benefit from reading this? SHARE this story on Facebook with family and friends.