"To the person who loves someone who has experienced trauma, domestic violence or PTSD.
Some days you can feel powerless. To watch someone you love suffer so much. Wanting to take away their pain. And to watch someone you love push you away.
I know you've heard so many times, 'Why do you love me? You can do better,' and it hurts. I know you want to love away their pain, but you can't. The feeling of not being deserving of love is in a deep place that needs intense help. You can't carry that. We know that. But encourage us to get that help with you by our side.
It is an illness. An illness that lowers the self-esteem down to the ground. One that argues with blame and guilt. One that feels like you're on a roller coaster blindfolded and you don't know when the next dip is coming. It makes you sad, it makes you angry, it makes you frustrated and it's hard to explain it.
The worst is always coming for us. We are the masters of catastrophic thinking. That's why crowds are a nightmare and social anxiety is hell.
It's different than being upset or just sad. It's a trigger. Some that we recognize and some that we don't. It's a response to the most horrific of pain which leaves us feeling angry, or deeply hurt. It's a scar of emotional abuse. We wish you didn't have to see it. We wish so badly. We are sorry when you do.
It's feeling isolated or trapped and alone. It's loss of control. All these feelings make things we say or do seem irrational sometimes. It's not intentional. It's escaping from a wrongful imprisonment.
You can set boundaries, and we can get better. You don't have to live in the pain with us. I promise. There is hope for us, we just need to know that we can get it. It's a journey we need to take.
Validating constantly is frustrating. I get it. But it's not just being needy, it's the lowest of low of confidence. We had it ripped from us. All you need to say is, 'You are safe. You are loved.' Six words that can free us from the prison of our minds. Being fiercely honest is all we need to make sure no surprises pop up so we have to run away. We can always know what to expect. That feeling alone is liberating.
Please don't walk away. Abandonment is what we wait for. We try, we work hard, we want to be what you want and what you deserve. We respect you; we want to see you happy. The feeling that something is wrong with us is strong, but you are what is right with us. You're doing amazing, you're doing all you can. We see you; we love you. Don't give up on us.
To my husband, love from your wife. Thank you for being by my side through the smiles, and through my tears. You can't love away my abuse or trauma, and just knowing that you want to, makes my world feel whole. Thank you for your patience while I try to escape my prison. I can't wait to see you on the other side, and be the wife you deserve.
I love you."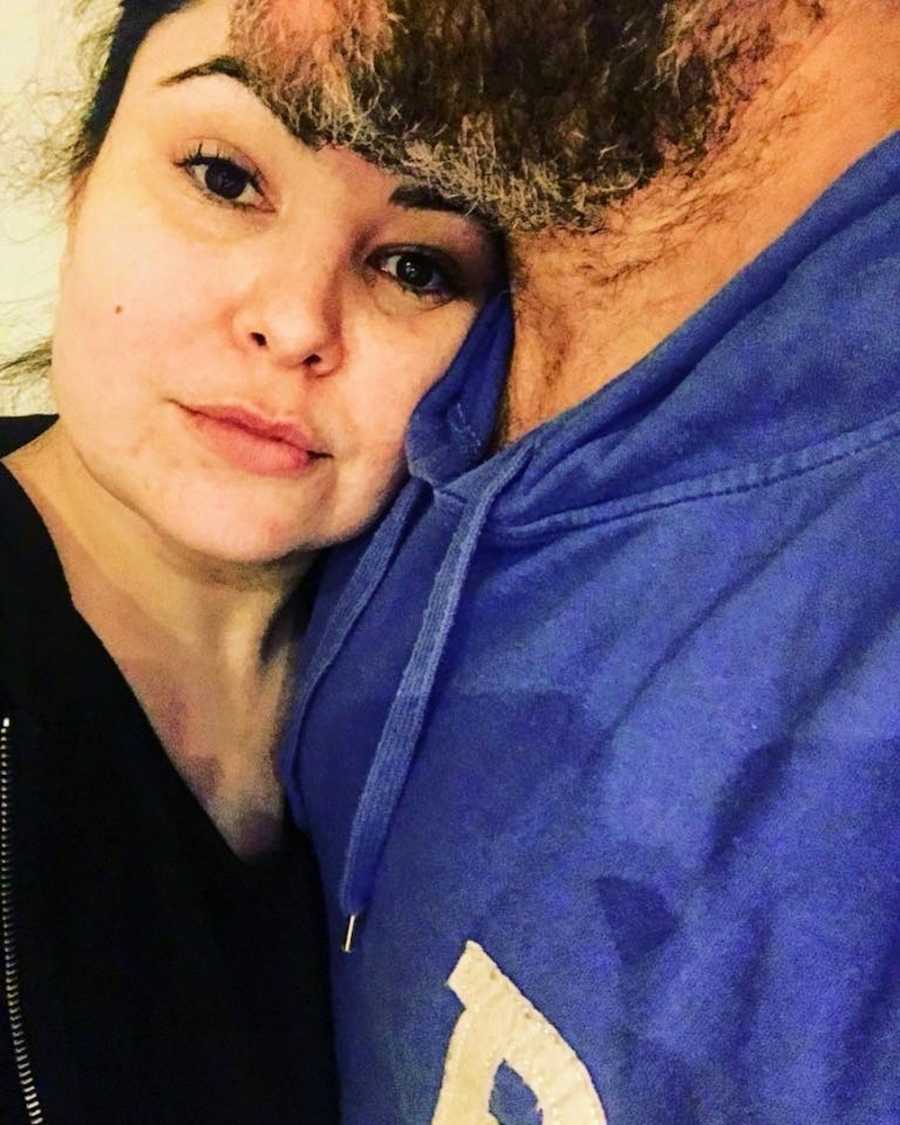 This story was submitted to Love What Matters by Laura Mazza of Mum on the Run, where it originally appeared. Follow Laura on Instagram here. Submit your story here, and subscribe to our best love stories here.
Read more from Laura:
'She's not broken': To the man whose wife or partner has anxiety
'My wife cut her wrists. I'm not ashamed, I'm not embarrassed. This is my wife, and she is dealing with pain.': Husband unapologetically tells his boss of his wife's trauma, struggles
'To the woman at the pharmacist. Not the one who stared at me like I was a disgusting pile of filth. The other woman, with kindness in her eyes. You didn't know it, but you saved me.'
Provide beauty and strength for others. SHARE this story on Facebook with your friends and family.