Starting My Foster Journey
"I was a single mom of a beautiful little girl. She is perfect in every way — smart, beautiful, loving, and caring. But I always wanted more kids. As a child, I dreamed of growing up, getting married, and having at least four kids. I used to love to babysit and always wanted to hold any babies I was around. When my daughter was 12, I started to realize I wasn't married and the hopes of having any more of my own children were dwindling away. I knew there had to be another plan for me. I just had to figure out what that plan was.
I decided to turn to foster care because I knew there were so many kids out there that needed a home, even if only temporarily. While in the long process of obtaining my foster license, I bought my house and was busy getting a room ready for a child. I finally finished the grueling background checks, home inspections, and all the paperwork that goes along with the process. I became licensed in November 2015. My daughter and I anxiously awaited a call. I was so impatient. I wanted to have a placement by Christmas because I wanted to give another child a memorable Christmas. No calls came at all throughout December. I was beginning to get frustrated. You hear there are so many kids needing homes and not nearly enough foster parents as they need, yet here we are with an empty room, awaiting a child and our hearts being broken each day that goes by without a call.
Finally, in January I received a call about a 17-year-old girl who was in residential care because she had been in some trouble. She had been there for a while and her behaviors were much better and she was ready to come out of residential. She would come to spend the weekends with us to see how things were going. She was shy and quiet. She had a lot of trauma in her life, not only being taken from her bio family but then adopted, only to turn around and be given back to the state by the mom that had adopted her. My heart broke for her. I wanted to be the person who could fix her, to show her there is unconditional love out there and she could be happy and well cared for.
By the end of January, she was placed in my home. She had a mentor who came over and helped her get her room all organized and cute. Things were going well. For the first couple of months, the girls got along well. I would take them places to give this girl experiences she never had. I tried to show her what family was supposed to be.
Unfortunately, there is a little thing called the honeymoon phase and things began to turn upside down. By October of that year, things had gotten so bad, it was time for her to go to another foster home. This crushed me. I felt like I failed her, myself, and my daughter. All I wanted to do was given a child the same loving home my daughter always had, but I failed. I was devastated. I was stressed out from the whole situation and told my agency to just put my license in inactive status. I was not cut out for this. They were so helpful. They told me to take some time for my daughter and myself to relax and truly think about if I really wanted to give up.
As I hung up the phone, I thought, 'Yeah, I will appease them and pretend to take this time to think. I will call back in a few weeks and again tell them I am done.' A few weeks went by it was nice to just be with my daughter. We were making up for the lost time we had missed when things were getting bad in the house. It felt like life was going back to normal. But deep down I still had that calling to help kids. My daughter and I talked about it and we agreed to give it another shot. I let my agency know (even though I was adamant I would not change my mind) I had changed my mind and wanted to get another placement.
So there we were in December of 2016, hoping again to get a placement before Christmas to be able to bring joy to a child. 2 weeks before Christmas, we received a call about an 18-month-old little boy who would need placement in a couple of days after his court hearing. We were so excited. We got a crib ready and bought some stuff for a little boy. We couldn't wait. On the day of his court trial, I was so anxious to get a call stating when he would be brought to me. There was no call all day. Finally, I called my agency to see if they knew what was going on. They called the social worker, only to find out the judge sent the boy home with a relative. Once again, I was crushed. I mean, I was glad a family member stepped up and was caring for the boy, but it was still heartbreaking. Christmas came and went. It was the second year we weren't able to share it with a child.
Our Baby Boy
Two days after Christmas came the call I had been waiting for. A 3-month-old little boy was in foster care. It was only supposed to be emergency placement for a week or so but the family that had him had too much on their plates at the time to keep him. 'Do I want to take him in? Do I want to take him in?' This is what I waited for. This is what I prayed for. Yes! I want him to come live with us. The next evening, the cutest little 3-month-old boy entered my life and instantly stole our hearts. We were so in love. He was perfect. Something told me from the second I held him, he was going to be mine forever. I knew instantly this was my son. The next morning, as I sat in the hospital for the baby's triage appointment with his county worker, I was just full of love and joy.
I told the county worker I wanted to adopt him. He looked at me like I was crazy and said, 'This boy is never going to be up for adoption. His plan is reunification. Don't get too attached.' It was too late. I was in love with him. I truly felt he was brought into my life for a reason.
Over the next 6 months, there were meetings trying to get a family member to step up and take him. No one was willing to. The county then finally proceeded to file for permanent custody. This was the best news because if they got permanent custody, I could start the adoption process. I was so happy. Life was finally where I wanted it to be. In February of 2018, permanent custody was finally granted. At the meeting that was supposed to be where I informed them of my intent to adopt, they dropped a bombshell on me that, quite literally, ripped my heart out. They said an aunt wanted to adopt him. I sat there in shock. I felt like my heart had been shattered into a million little pieces. 'I have raised him all of this time. I have been his mommy. Nobody else was there through the sleepless infant nights, the colds, or the time he was admitted to the hospital with the flu and very ill. It has been me all this time, loving him, crying for him, laughing as he learned new things, and did silly stuff. And now they want to tell me she has a chance to get him?'
The only thing that gave us an even playing field in this situation was he was already in permanent custody, which meant family no longer came first. It was what was in the best interest of the child. She and her husband would need to sign up for foster care classes, do the home studies, get background checks, begin visitations, and basically do the whole process to become a foster parent before the courts would even consider her. This was definitely a speed bump in the process that would slow the adoption down considerably, but there was also a risk I would lose my son forever. I was all he knew as a mommy. Never mind this killing me — what would it do to him?
I took my baby boy to Disney World in June of that year to meet his hero at that time, Mickey Mouse. While we were down there, I got a phone call that would change my life forever. The aunt backed out. She realized she and her husband were too old to start raising a child all over again. This was it. The final roadblock was cleared, and it could now be smooth sailing to the finish line. November 15, 2018, Moroccan Jeffery Sapp became my forever son.
Adoption Experience
During all of this going on with him, I had another story in the making. Moroccan was 9 months old when on June 22, 2017, while at work I received a call from my agency. They had a 3-day old baby discharging from the hospital who needed a home. My initial response was, 'Are you crazy? Remember, I have a 9-month-old at the house. What am I going to do with a 3-day old? No thank you.' After we hung up, I seriously took 5 seconds to think, 'What is wrong with me. She's a baby. She needs a home.'
I called right back and said, 'I will take her.' From the time I got off work until she was coming over, I had 3 hours to completely prepare for a tiny, newborn girl. I ran out and bought a bassinet, an infant car seat, and some clothes and diapers.
She arrived and she was so tiny. She was only 5 pounds and was born 4 weeks early. She had been exposed to crack the entire time her mom was pregnant. She did not come with an instruction book of what to expect when your baby is going through withdrawals. It was the saddest thing. Her body would go rigid. She would scream and shake and there was no calming her down. She did not like to be held. She didn't like to be touched. The only time she was truly happy was when she was in her swing. She slept in it and was in it throughout the day. The more you left her alone, the happier she was. This went on for the first 7 to 8 months. She was waking up multiple times a night, anywhere from 6 to 8 times a night. Here I am with another baby, working full time, raising my teenager, and trying to deal with an infant who does not want to bond. I felt like a failure again. I loved her but just didn't feel that maternal bond I felt with my other two kids. I was failing her. She needed to be somewhere that had more ability to spend one-on-one time with her.
It was the hardest decision I ever had to make but I did start talking to my social worker about possibly finding another home for her. I was no rush because I wanted the perfect home for her. She was about 8 months old at this time. I don't know if God intervened or what but as soon as I mentioned this to my worker, my baby girl did a complete 180. She started sleeping through the night, she started attaching herself to me, and she was a different baby completely. We finally bonded and life was great. She went into permanent custody. She has three other siblings who were all adopted as well. Those families did not want to take on a baby so even though it was still a long process, my baby girl, Jovanna Brooke Sapp, officially became my forever daughter on October 24, 2019.
I can't imagine my life without my three kids. It finally feels completed. While I still do foster care, I don't know if I will ever adopt again, as I am 43 and raising toddlers on my own again while working full-time and getting on my Master's in nursing. I wouldn't have my life be any other way right now. These three kids are my life.
We need more foster families out there. There are so many kids in need of a loving temporary home and so many in need of a loving forever home. It takes a lot of work and dedication. It is frustrating, hard on your hear,t and difficult at times but in the end, to be able to help reunite a child with a loved one or help a child along their path to their forever home is the most rewarding thing I have ever done."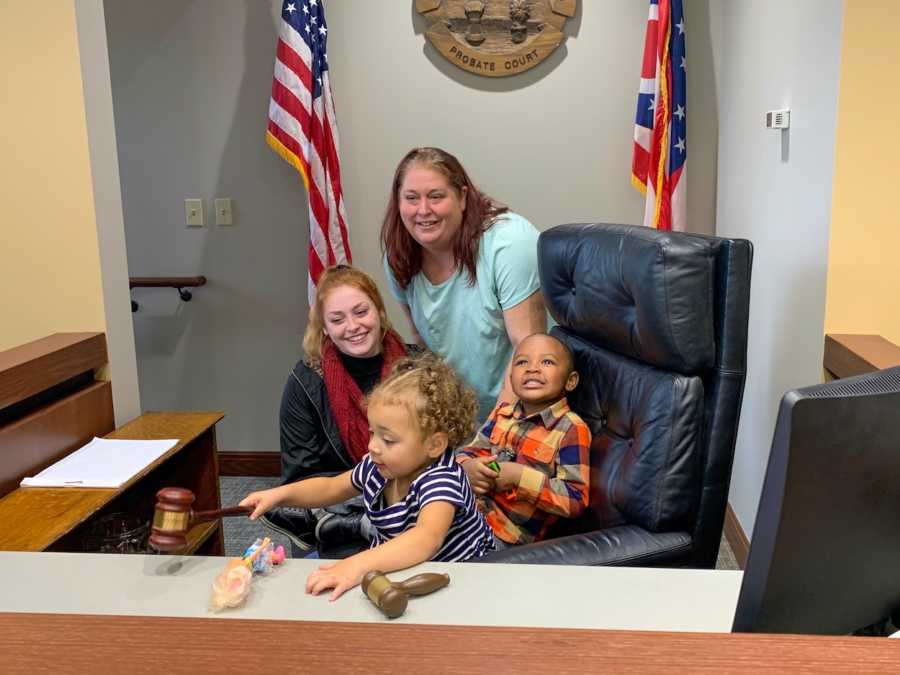 This story was submitted to Love What Matters by Erin Sapp. Do you have a similar experience? We'd like to hear your important journey. Submit your own story here. Be sure to subscribe to our free email newsletter for our best stories, and YouTube for our best videos.
Read more stories like this:
'Never in a billion years would I have imagined myself a stay-at-home mom with 3 foster kids.': Foster mom starts movement to help others understand 'the effects of childhood trauma on foster and adoptive youth'
'My 9-year-old said, 'I want to eat something I used to eat a lot with my old family. Sometimes, I like to remember how strong I had to be.': Foster mom shares heartbreaking story of son's trauma, 'We must not give up on our kids'

Do you know someone who could benefit from reading this? SHARE this story on Facebook with family and friends.