"They say everything happens for a reason, and you never know how strong you really are until you're faced with life or death and it leaves you with scars of courage. The crazy thing is it can happen in the blink of an eye. One moment, I was out enjoying dinner with a friend and the next, I was in the ICU fighting for my life.
I was the girl who was terrified of hospitals and burns. It's ironic in facing that fear and nearly losing my tongue, I gained a whole new voice and an even bigger story to share. This is my story of my brush with death and second chance at life. Every day, I am so incredibly grateful to the doctors and nurses to be here. They're the true heroes of this story.
At the age of 23, I was having a quiet Saturday night dinner with a friend and was home in bed by midnight. At dinner, it felt like I had bitten my tongue, but I ignored it and continued our night. Little did I know, the pain I was feeling was my first clue to something much more sinister. At home I snuggled into my winter pajamas and closed my eyes in my warm bed. It was less than an hour later when I awoke choking, short of breath and with a numb feeling on the right side of my tongue.
Home alone, unable to speak properly and with shallow breath, the adrenaline and fear kicked in simultaneously, as my mind raced to thoughts of 'stroke, paralysis and death,' mixed with the fear of knowing I had to get to a hospital and there was no one to help me. As my breathing worsened, it turned into a race against time, because I couldn't speak and couldn't phone for help and I was losing energy. My survival instincts kicked in and I still remember forcing myself to sit up, find my Medicare card and text for help. With eyes closing, I texted my friend, my dad and finally, my aunt. This was my last message, as I was so tired and just felt like going back to sleep. At 11:11, she replied and it kept me awake and saved my life.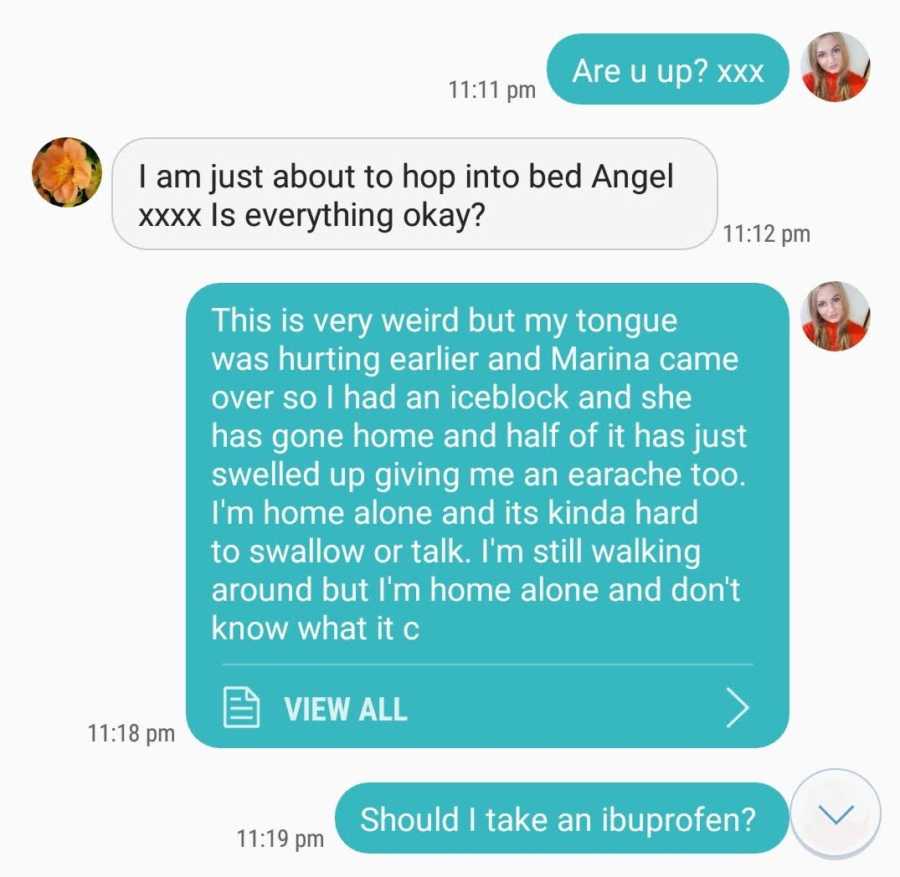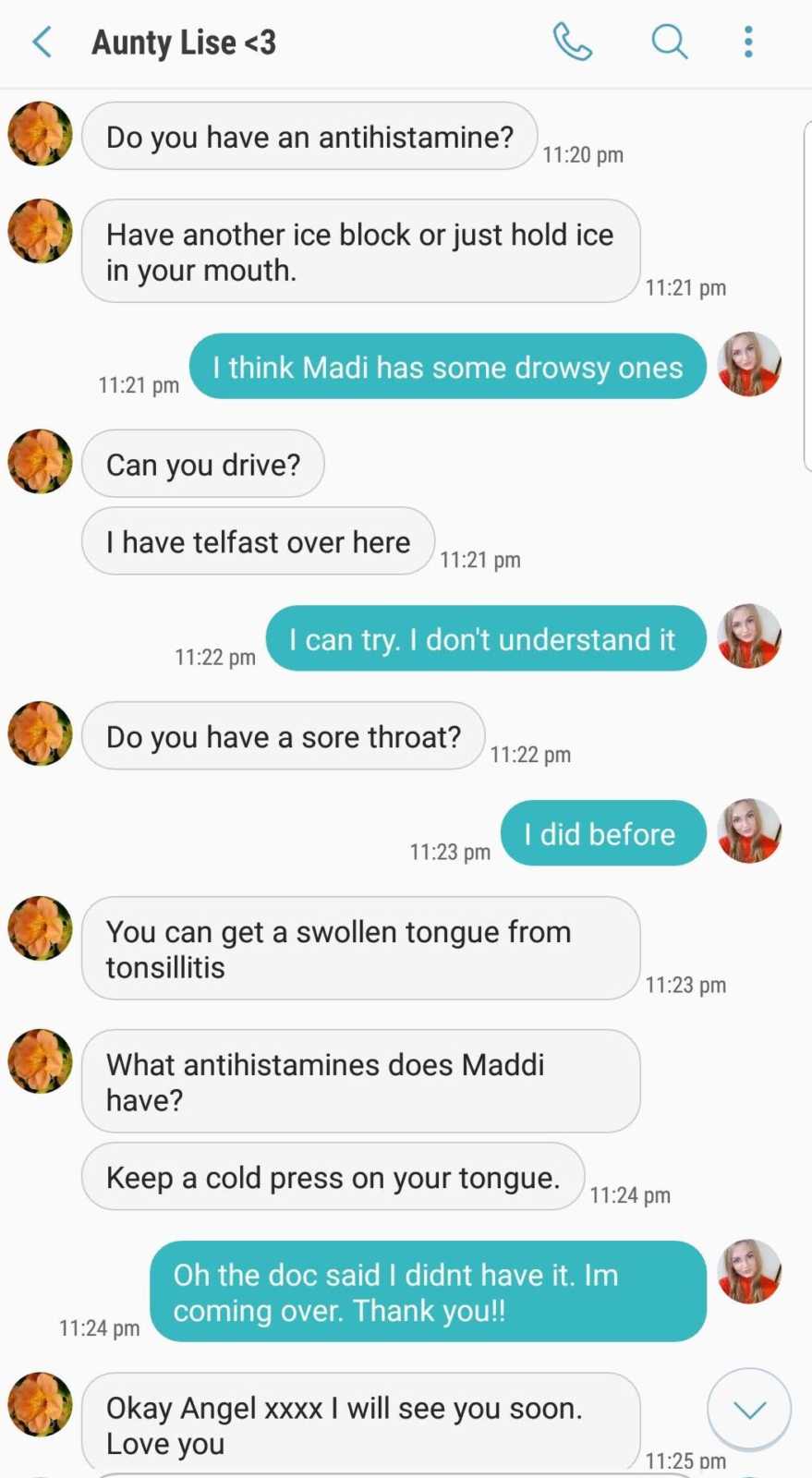 'Have you been punched in the face?' was the first thing my cousin asked when he saw me. He was with my aunt as she tried to help. We thought it was a simple allergic reaction and she gave me a liquid antihistamine, while calling for help. I remember seeing the fear and panic flash in her eyes as I choked on the antihistamine, my throat so swollen I couldn't swallow. I knew it wasn't good. We needed to hurry, so she bundled me into the car and raced me to the local emergency department.
'Forty-five minutes and you'll be out of here.' That's what we were told by the kind doctors at the local hospital, who too, thought it was an anaphylactic reaction. I don't blame them, all the symptoms pointed to it. They gave me two shots of adrenaline and a steroid, but it had the opposite effect. My blood pressure completely dropped, my breathing worsened and I kept passing out, with a rash rapidly spreading over my body. That '45 minutes' turned into an emergency ambulance transfer, an induced coma for 9 days and a life-saving surgery.
The local hospital had tried everything they could and called for an emergency ambulance transfer to a bigger hospital, with the possibility of an ambulance tracheostomy. Because of my condition, I couldn't have anyone but doctors in the ambulance with me. The medics were so kind, but I was scared. It's a terrifying feeling being strapped in and unable to breathe, with an oxygen mask over your face.
When I arrived at the bigger hospital, there were nearly 20 doctors and specialists waiting for me. I kept deteriorating and was known as 'mystery girl.' They tried different methods to preserve my airway, including awake intubations and as a last resort, they put me into a coma, paralyzed me and put me on life support (the ventilator) in Intensive Care. My family was told, 'Prepare for the worst as she remains a medical mystery, deteriorating, blistering and burning from the inside out.'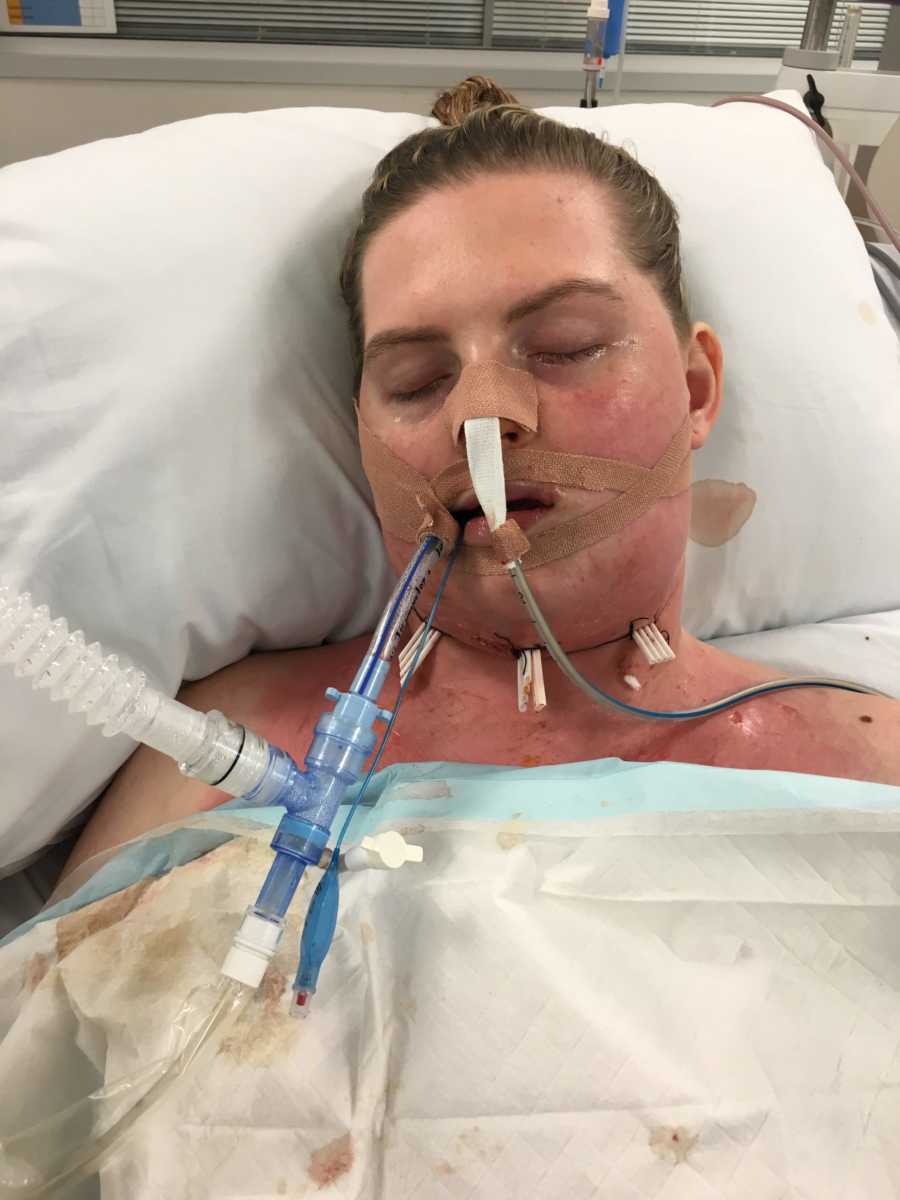 I was comatose for 9 days with 'up to 100 people' working on me and my mystery condition. I had scans, tests and infectious disease specialists looking at me. The rash burnt the top half of my body, my tongue blackened from lack of circulation and there were talks of amputation. The real cause ended up being Ludwig's Angina, which means to be 'strangled alive' and as the doctor said it led to 'severe sepsis.' An unknown, infected and impacted wisdom tooth shown in a CT scan had nearly cost me my life! I had no pain, good oral hygiene and no other symptoms, but the infection took over my body and nearly killed me. That's the reality of sepsis.
The next part was really scary for my family, but doctors were amazing and were there for me every step of the way. The infection swelling started to crush my jugular and there was concern for blood flow to my heart and brain. They needed to quickly stop the infection and preserve my blood supply to my heart and brain, but my black tongue couldn't be amputated as it was too risky. Thankfully, they saved my life by surgically removing the tooth, inserting neck drains and putting me on a heavy dose of IV antibiotics.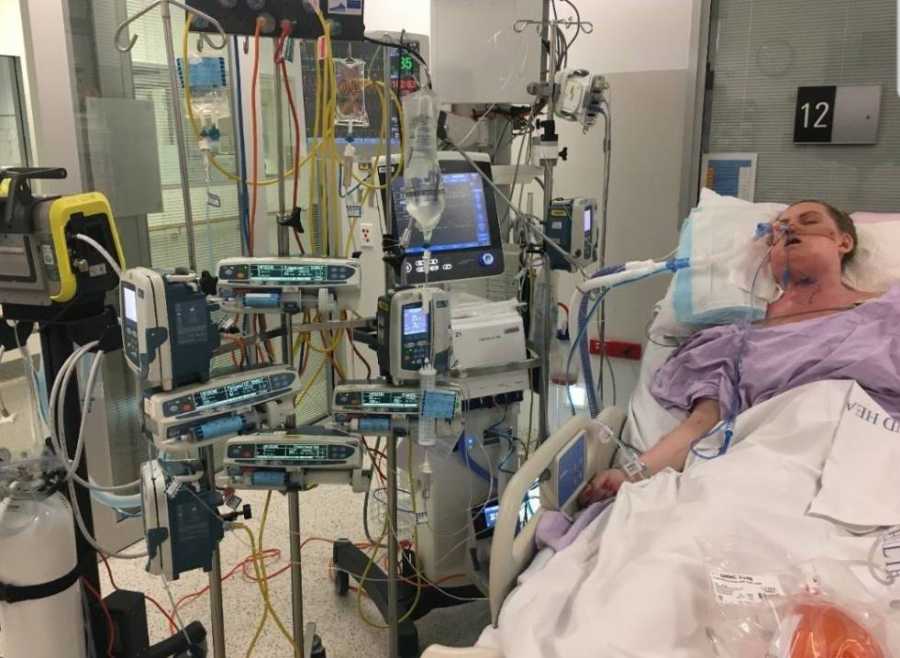 After more than a week in a coma, I woke up, started breathing on my own, walking on my own and slowly recovered. I felt like the luckiest person in the world to be alive. Disoriented and scared, under the influence of drugs, I seriously believed what I had thought 'happened' through drug-induced dreams was reality. At the same time, I had never felt more grateful to be able to see, hear and breathe and all I wanted to do was jump out of bed and go to the beach, which I did!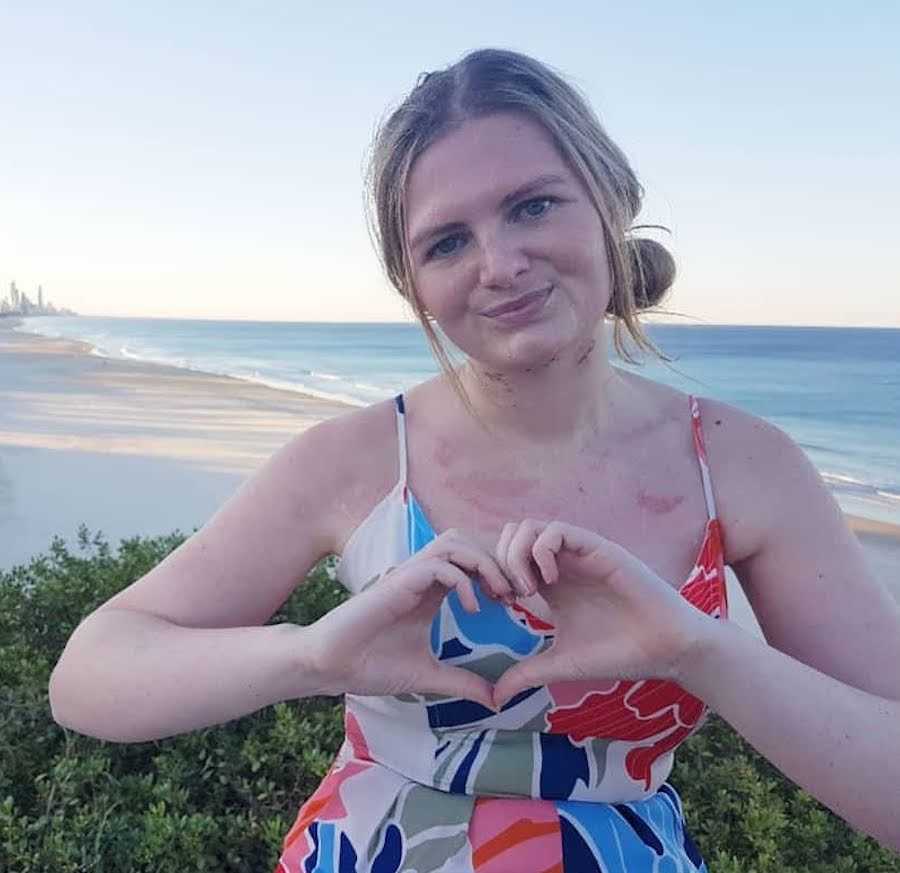 Everything happens for a reason, and it was in the hospital bed when I made a decision to treat this as a second chance at life, wear my scars with pride and use my story to help others. During my recovery, I couldn't talk properly, couldn't eat because of the ulcers in my mouth, had issues with my memory and had a newly-found lisp from the burnt tongue…but I always looked for the positive. I put myself on chocolate Sustagens (a nutritional food supplement), made jokes about my memory and was spoiled by my family. I always found a way to do things, even if it was a little slower than it used to be. Through the help of my family and friends, especially my super dedicated mom, I got stronger and stronger everyday.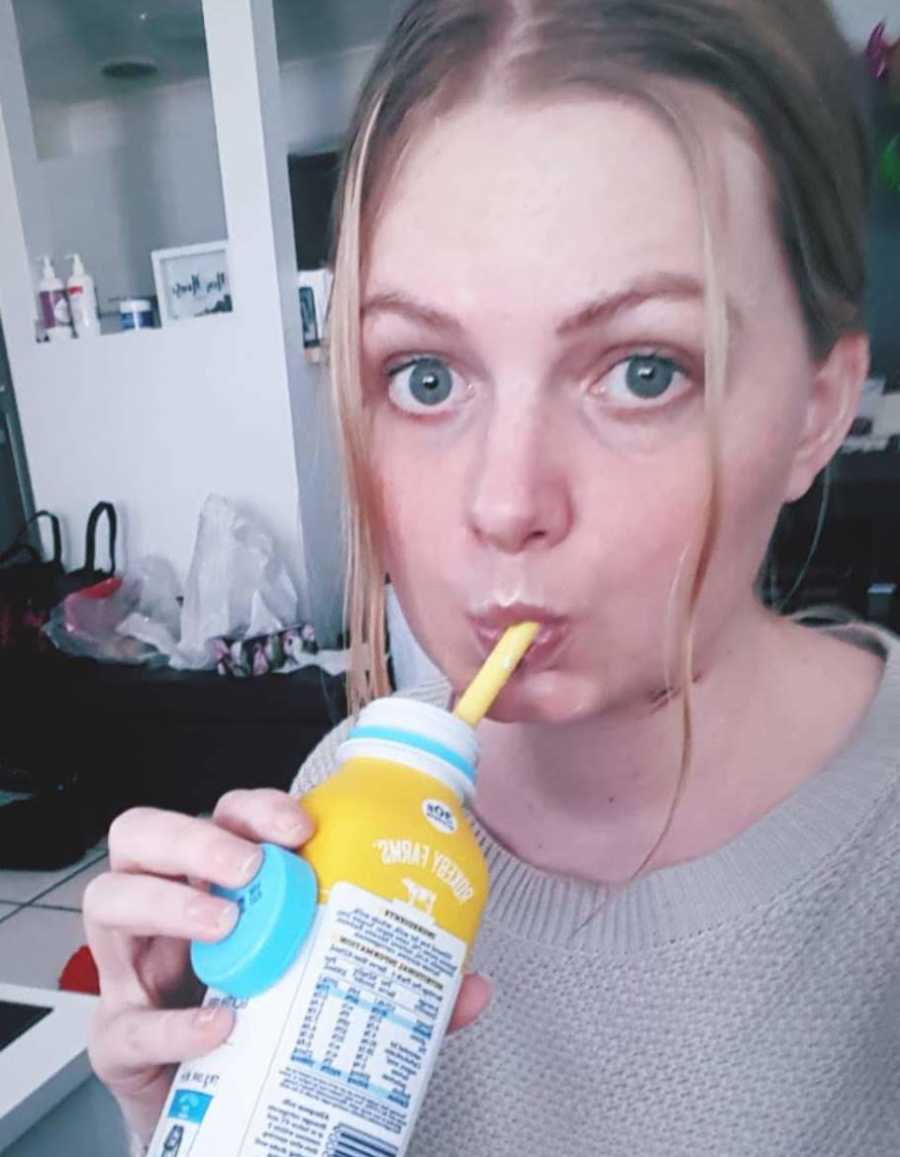 The universe works in mysterious ways to push you outside of your comfort zone. It just so happened in the days before I was rushed to ICU, I had resigned from my comfortable job to work full time for a startup as a consultant. The irony is, the startup role required confidence, talking and being the face of a business and I now had a lisp, open wounds, burnt skin and couldn't drive. I was scared to talk with my lisp and anxious about questions about my scars, but I had a vision and it was to help people and make a difference. So, I started and I learned as much as I could and over the past year and built it up to being a recognized brand on the Gold Coast. We are also working now with other major brands! It was through this journey I proved to myself just how much I could do.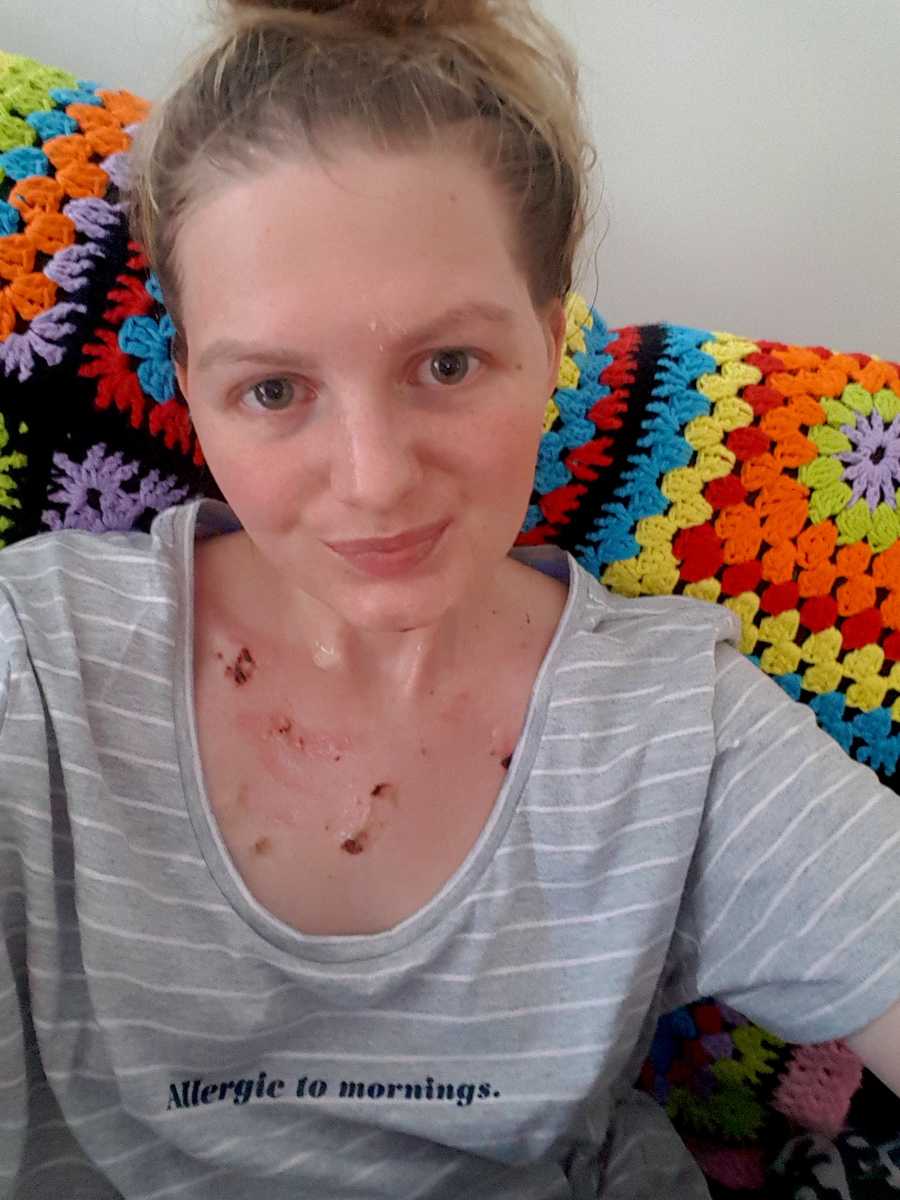 My story is literally from a coma to confidence, as I focused on building a business, using my story to make a difference to others and representing my scars with pride. I was shocked when I was offered an opportunity to share my own story which connected me to the most incredible, inspiring people going through similar journeys and inspiring my own personal project. Never did I think my story would allow me to reach the thousands of people we've been able to reach. My goal is to help people, to give back to the hospital and to learn and grow. Although I'm still learning every day, I find ways around the challenges.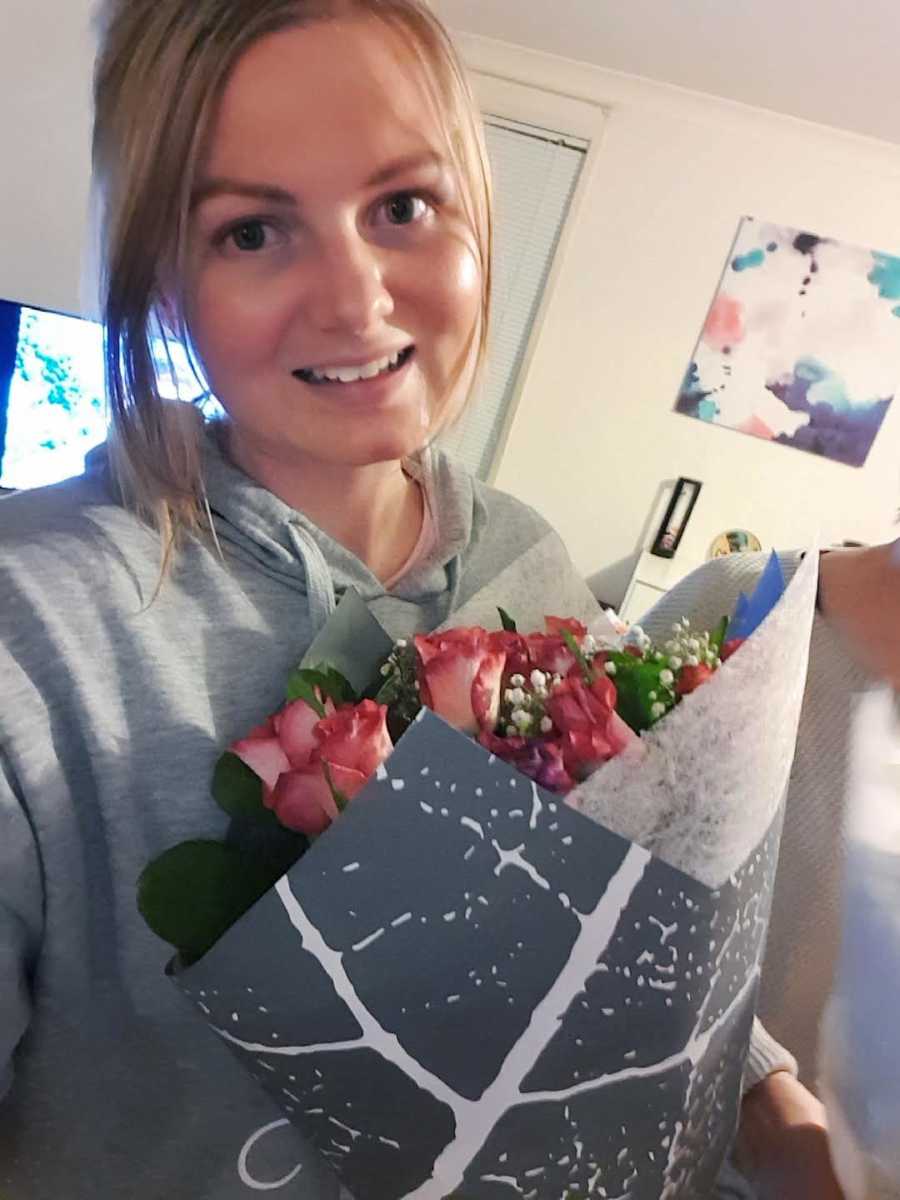 I am honored to be able to share my story on Love What Matters, as I have been personally touched by so many of the stories here. I'm so determined to make a difference in the world, to give back to the hospital and to change the knowledge about sepsis. I am honored to participate in charity events for the Gold Coast Hospital Foundation and to meet the most incredible survivors and doctors. I hope sharing my story helps someone with their own scars, inspires someone and enables someone to see just how strong they truly are. 'Never be ashamed of a scar, because it means something tried to beat you but you were stronger than it.'"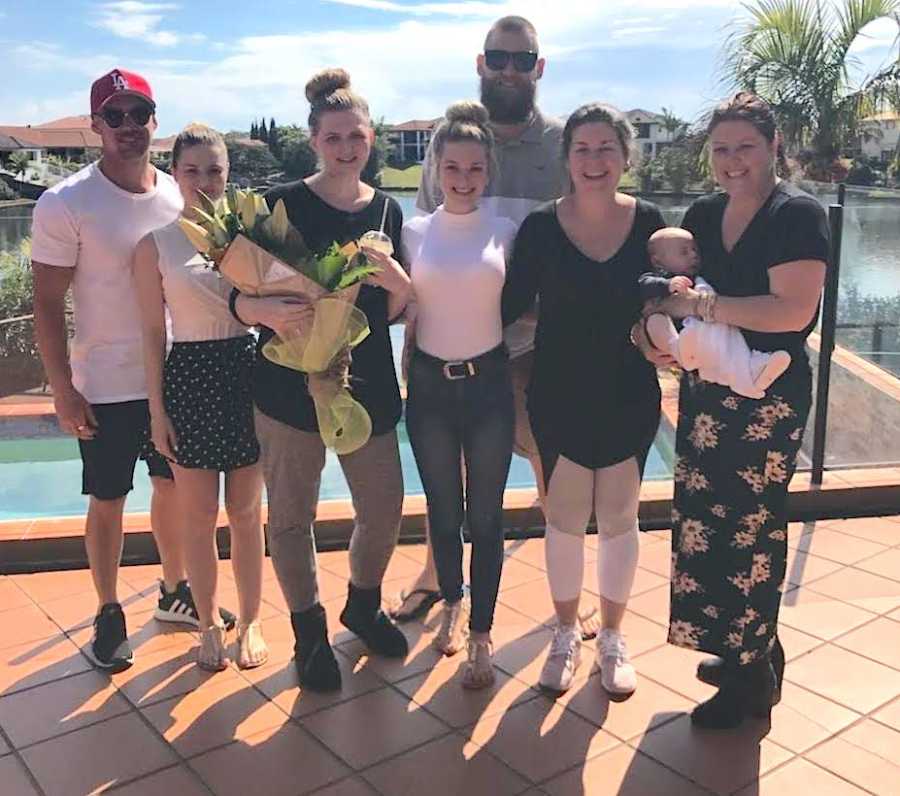 This story was submitted to Love What Matters by Caitlin Alsop of Queensland. You can follow her journey on Instagram. Do you have a similar experience? We'd like to hear your important journey. Submit your own story here. Be sure to subscribe to our free email newsletter for our best stories, and YouTube for our best videos.
Read more inspiring stories about living with scars and skin differences here: 
'You look like a snake. You'll never get a boyfriend.' I made up my mind the whole human race was beautiful, and I was ugly.': Woman survives 4th degree burns after 'hide and seek' game gone wrong, learns to embrace unique beauty
'How can your mom kiss you with that face?!' My cysts were so bad they'd literally explode at any time.': Young woman with Acne Conglobata embraces skin, gave her 'confidence, resilience'
Give other women strength and courage to love themselves. SHARE this story on Facebook and Instagram.