"For as long as I can remember, I never wanted to be a mother. I look back at my childhood and I can vividly recall having conversations with my friends about their future children, what they would look like, the sports they would play, the names they had picked out. I would sit without an opinion with my mouth open slightly, just confused at how young girls could dream this way.
Instead of a mother, I wanted to be a wife: A wife who was loved by her spouse, a wife that traveled, one who threw extravagant holiday parties, and maybe the kind of wife that volunteered within the local community, and a wife that had the best snacks for game night. I always dreamt of a full house of friends eating my delicious baked creations while we played cards and laughed until 2:00 in the morning. THAT was my dream scenario: a spouse, a marriage, and a home. All surrounded by the people we loved.
My mother asked me once when I was 17 why I didn't want children. My response? 'I don't have the desire. I cannot imagine a world where I am responsible for another person. I cannot describe a scenario where I would willingly give up my autonomy to be everything for a child.' Her rebuttal? 'You will change your mind one day.' And as mothers normally are, she was right.
In the fall of 2016, I blindsided when I met my wife, Heather. She is kindness, love, grace, and humility wrapped in big blue eyes and dark blonde curls. Cue a whirlwind romance that quite literally brought me to my knees at times, and 6 months later, we were married on May 27, 2017, in a private ceremony. We had a wonderful first 2 years of marriage. We traveled to so many places, we hosted gatherings, we made our house a home, we stayed up late, and we laughed until we cried. Heather and I traveled out of state almost monthly. We completed many DIY projects. We ate the best food. We went to concerts. We swam in oceans. We did everything. And then in early 2019, I started to feel an overwhelming pull.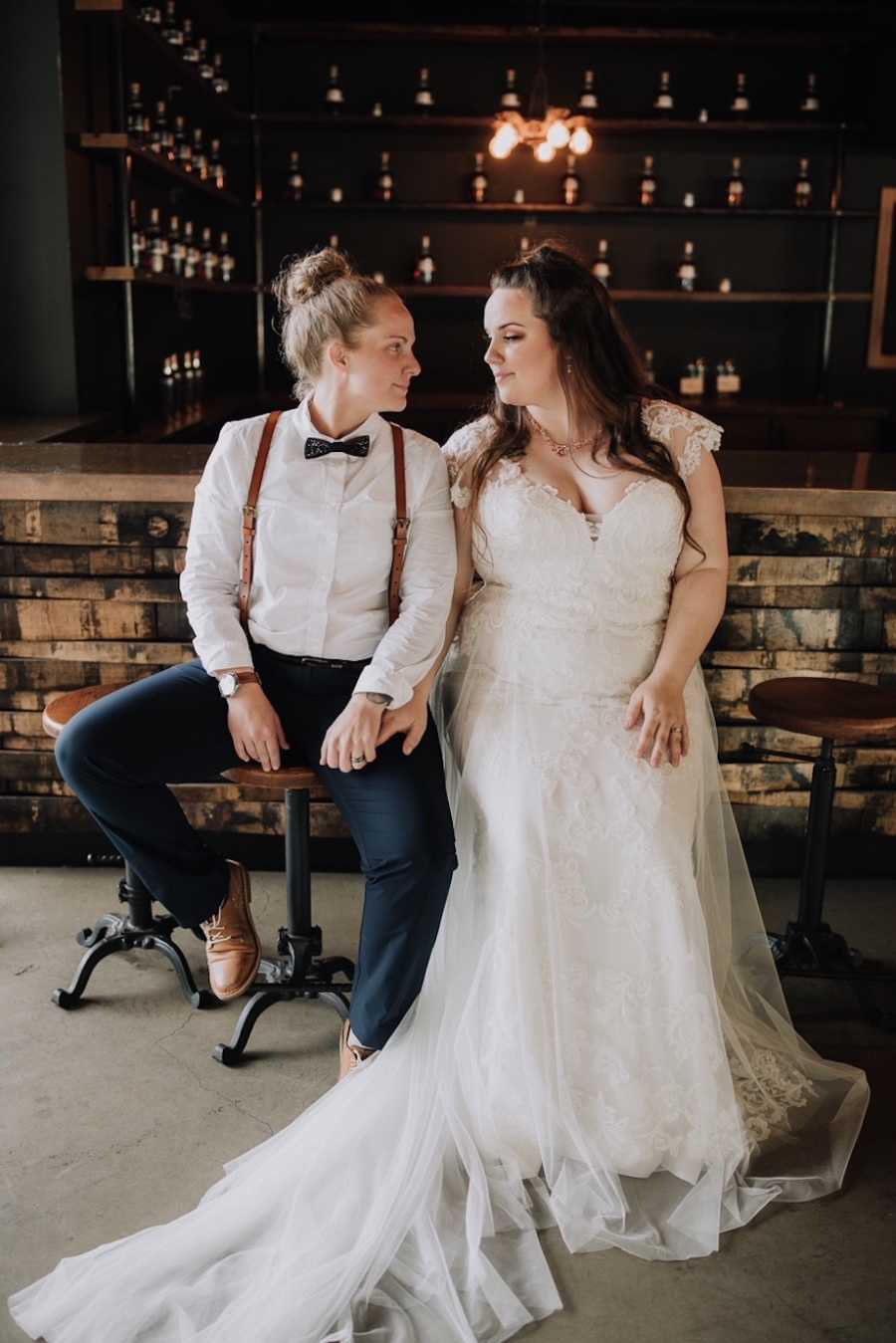 That pull was foster care. I would stay awake at night while Heather was sleeping and look at foster teens' profiles on adoption sites. I would watch hours and hours of videos of kids desperately searching for families who would love them without limits. I would sit in the passenger seat while Heather (always) drove to our next adventure, all while my nose was in the next story of a boy who needed someone like me to step in.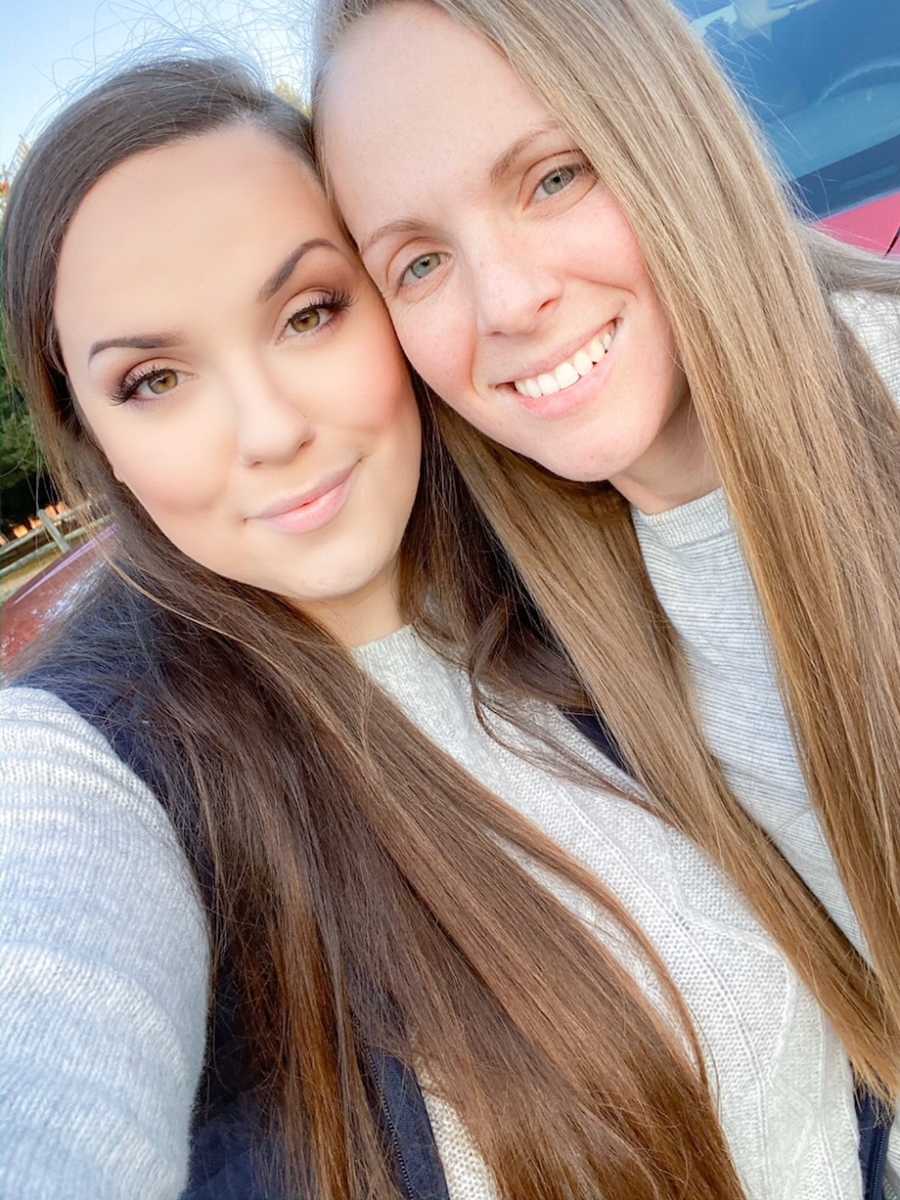 In April of 2019, we took the leap. After a few phone calls, we were on the roster for foster parent training. I bought a new matte black notebook with new black pens for training classes. I spent weeks dragging Heather to sit in the front row with me. I took copious amounts of notes. We did homework. I raised my hand to answer every single question our trainer asked. I spent class breaks connecting with other foster parents and asking every question that popped into my brain. Loads of paperwork and a couple of months later, we were officially certified. We would quickly become a short-term respite home for a multitude of teen boys. Age 13 to 17 was my comfort zone. No mess, no fuss, easy to communicate, and fairly self-sufficient. It was my perfect scenario.
On a night in near fall, our home was empty for the first time in a while. Heather was at a sleep study. I was a home alone watching a Bachelor rerun. It was after midnight and my phone rang. I picked it up and immediately had chills running down my spine. 'Hi, I'm from placement. I am looking for a permanent placement for two brothers 17 months and 3. They're really scared. (Insert list of extensive issues here.) I know you guys only do older kids but I'm trying to find something in the next few days. You have time if you want to think about it!'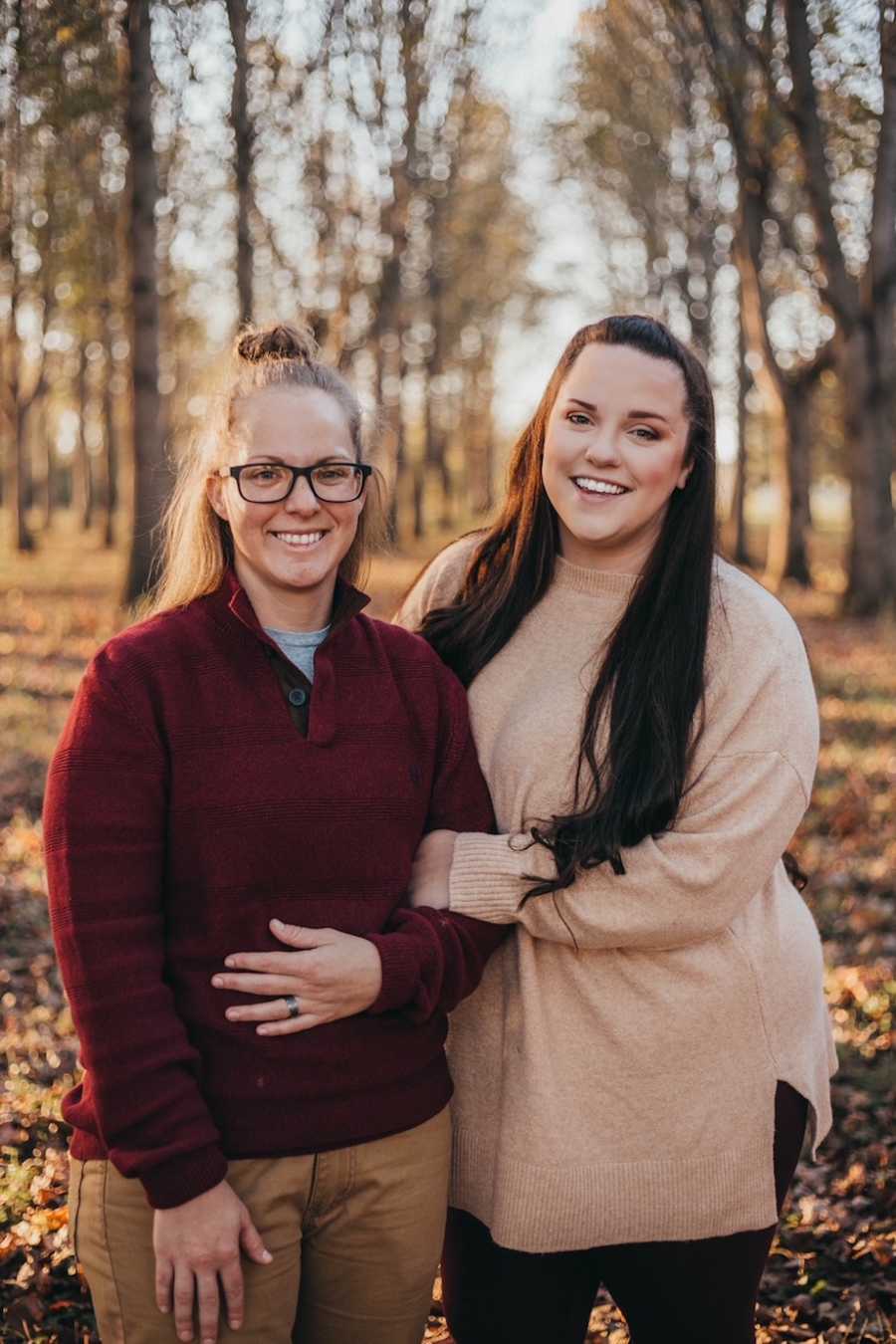 A million thoughts raced through my head. We don't have a crib. How much is a car seat? Where is Heather? Why am I home alone? This is not what I wanted. I never wanted small kids. This is crazy. I can't do this. What am I doing? Why am I thinking of saying yes? Diapers?! How do you feed a toddler? I need to call my mom. I need to talk to Heather. And before I knew it my mouth was speaking before my brain had time to catch up.
'Yes. We will take them.' Immediate panic. We weren't prepared. I wasn't prepared.
3 days later, on a warm fall afternoon, I received the call I had been waiting on. A DCS worker was sitting in my driveway and my babies were asleep in the back seat. I walked to the car knowing with every step I was leaving behind my old life and I would never be the same once I opened that car door. I didn't know exactly how, but I knew these two tiny humans were going to change everything in my life. I was going to love them for as long as I would have them. I would stand in the gap as long as I was called to do so.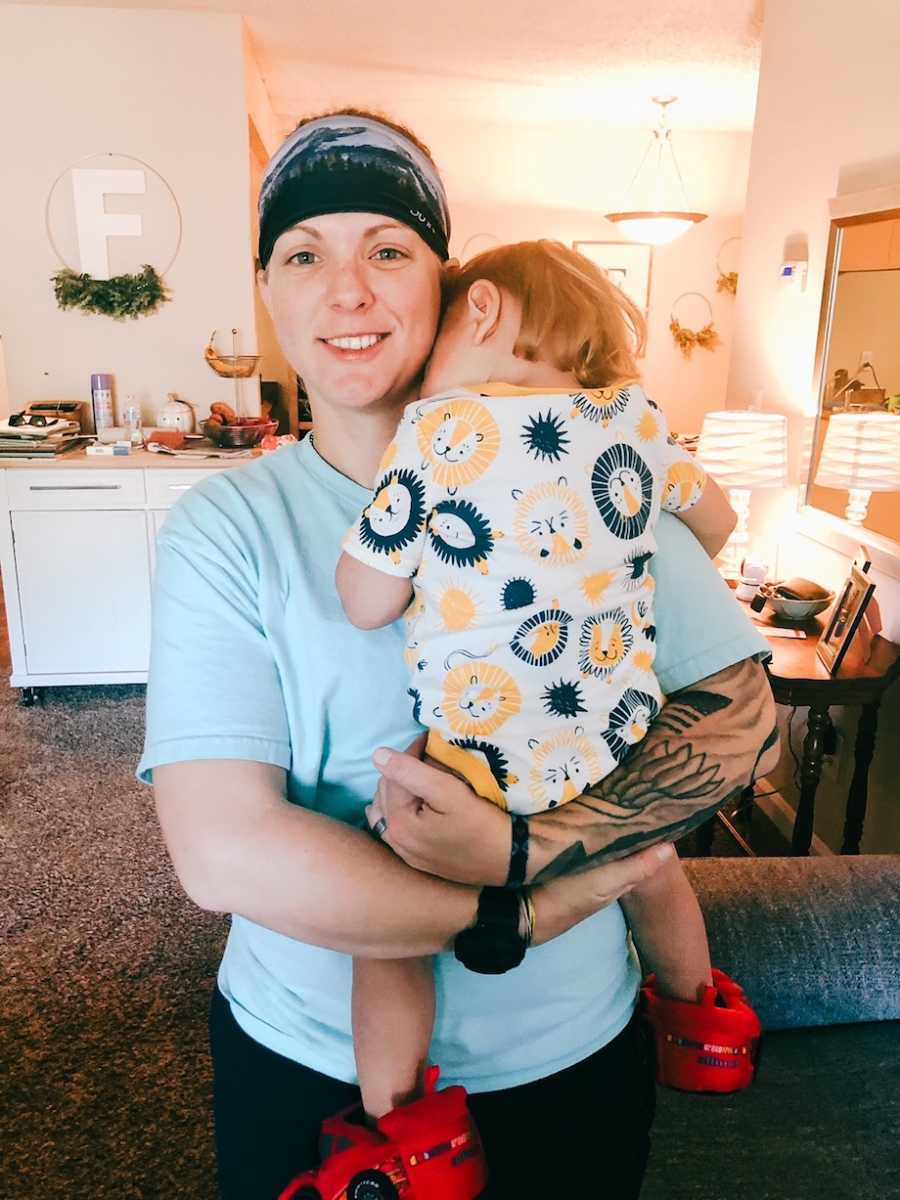 I walked to the passenger side of a dark-colored SUV where a sleeping 17-month-old was strapped into a car seat. I opened the door and his big brown eyes opened and he looked at me, confused and scared, and he started to cry. I had never seen brown eyes that big before. He was dressed in a yellow and navy short-sleeved shirt and black shorts. His feet were bare and his toenails were broken on every single toe. His nose was red from a cold he was fighting off. He had a scratch below his left eye. He was petrified of me.
I unbuckled his car seat and took him into my arms. He smelled like smoke and a hospital if you could've wrapped those two things in a blanket. He hugged me around the neck so tight it made me cough and he screamed and screamed and screamed. I wasn't sure if it was ever going to stop.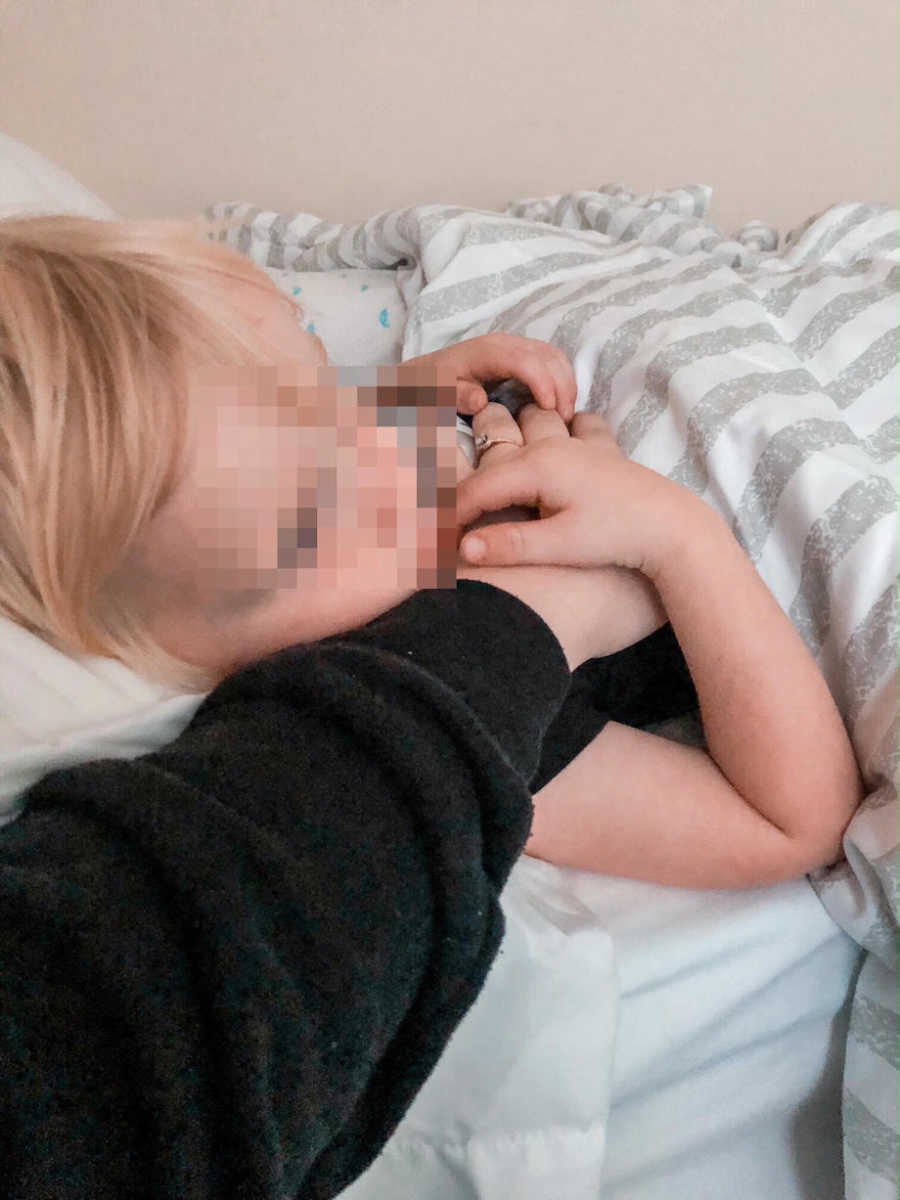 His 3-year-old brother had also begun to cry and at that moment, I realized I hadn't even made eye contact with him yet. I circled the dark SUV with my arms full of Baby Brother and opened the door. Big Brother looked up at me with tears in his big blue eyes and he said, 'Mama?' His front teeth were missing. His blonde hair was stained yellow. His fingernails were long and he had been digging them into his palms to make half-moon shapes in his skin. He was dressed head-to-toe in PJ Masks and he was trembling. I smiled and it felt like I was looking into the face of someone I had always known.
'I'm Sarah! I'm so happy you are here. Would you like to come play with my toys?'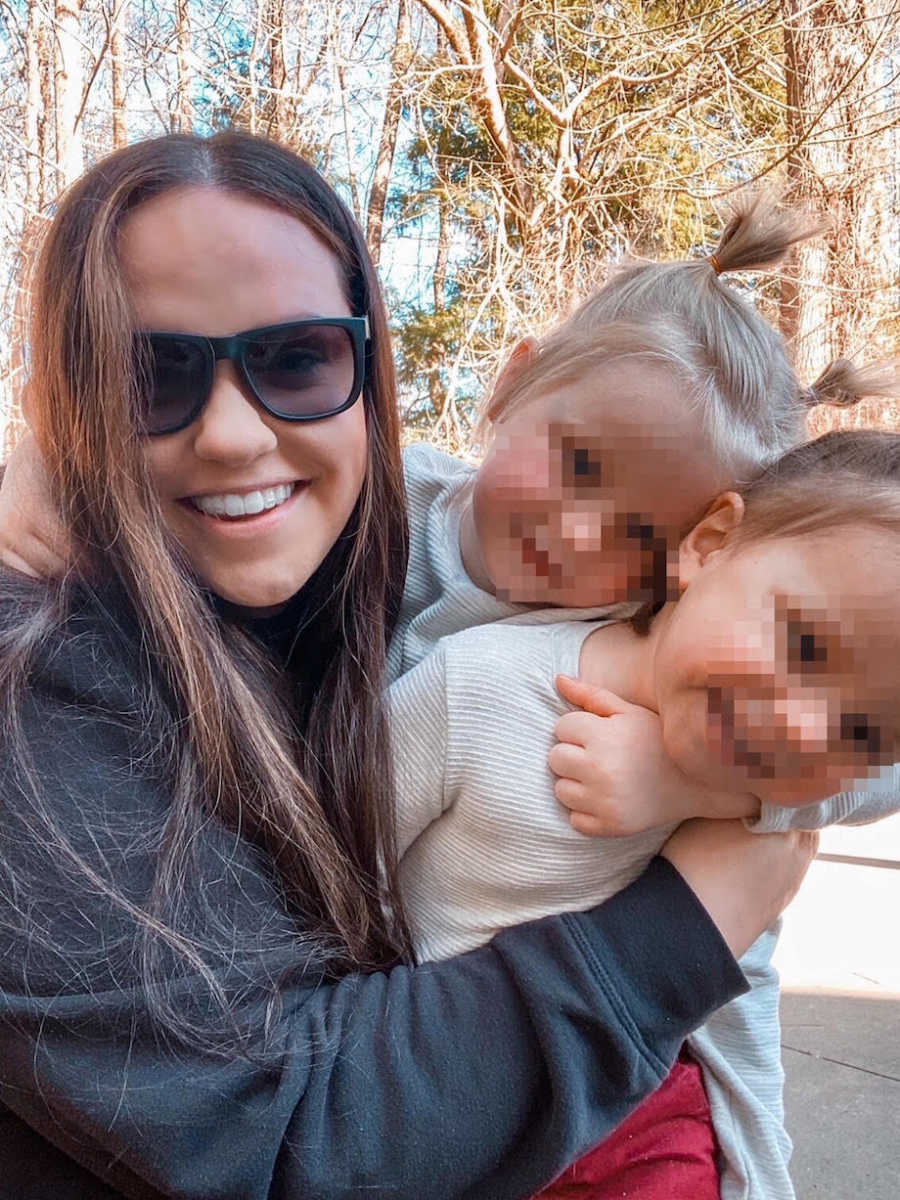 As I unhooked him from the straps holding him into his car seat, he grabbed his brother's hand and refused to let go. I wrapped him up in my free arm and his PJ Masks cape brushed my cheek. He was shaking and I held him as tight as I could. With my arms at full capacity, I led the DCS worker inside and shut the door behind me on my old life, the one before them. A few tears streamed down my cheeks as I sat them down on the floor and I knew these were my sons.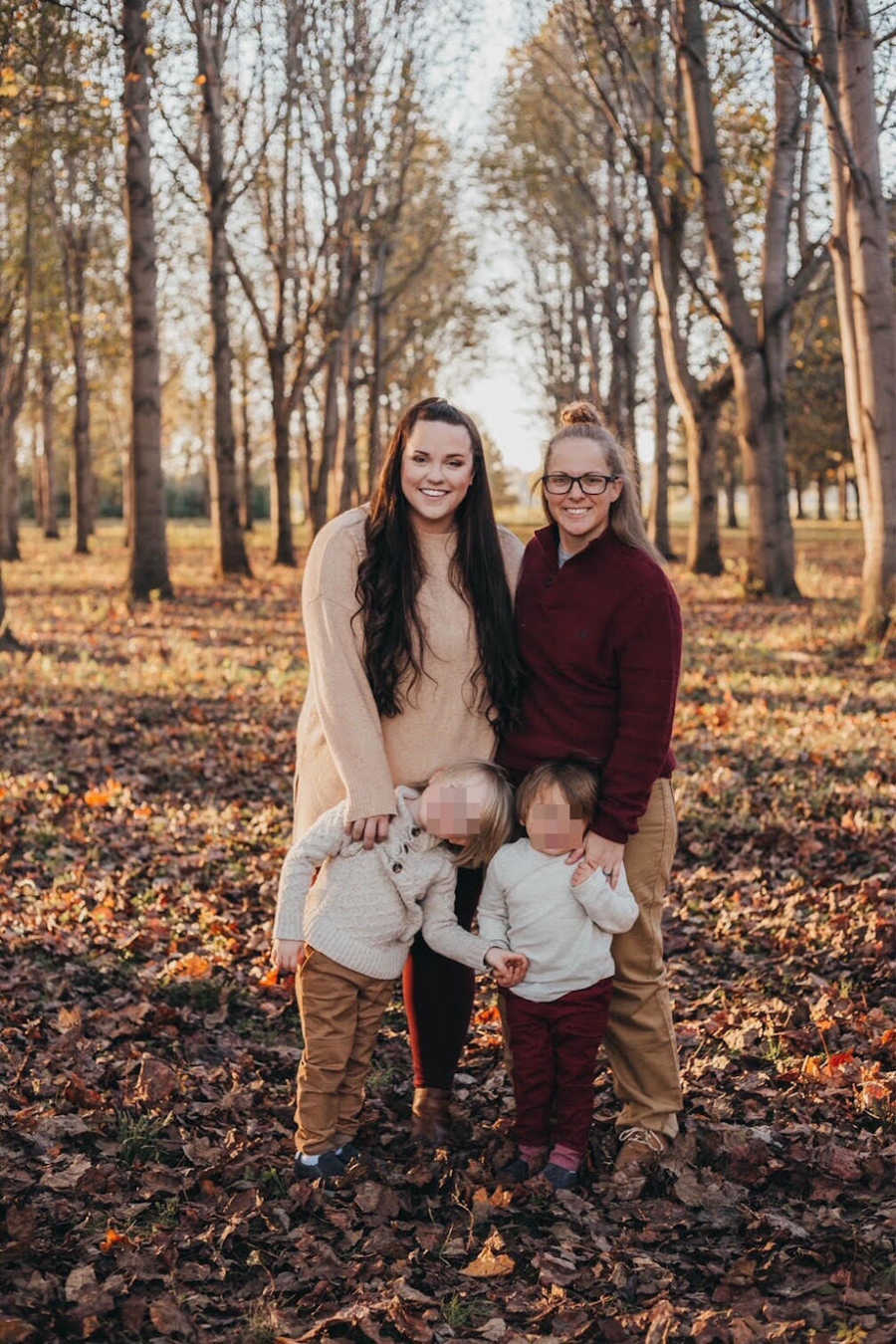 It was such an immense feeling. It was as if being their mom was like flipping a light switch. I had been fostering for months. Half a dozen kids had filled my home and yet, something about this was different. It wasn't the age or the circumstance. It can only be described as a moment designed by something greater than me. It was like I had crossed a threshold. Everything up until that moment had prepared me for everything that was to come. Every struggle, every lesson, every 3 a.m. call to my mother, every adventure with my wife, every life skill, every fiber had aligned in the most perfect way to transform me into their mom.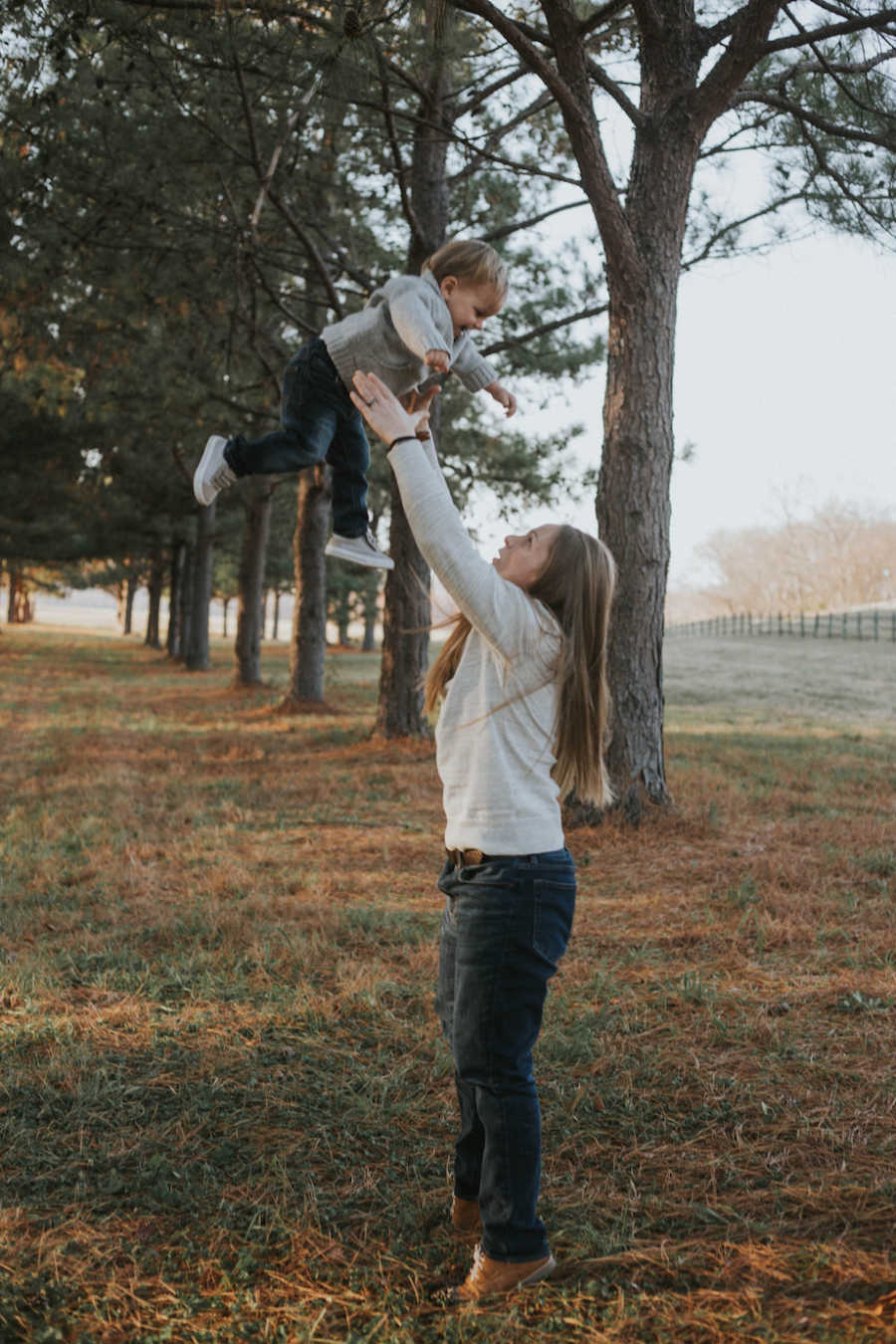 We were unprepared for a little-known secret: There is a silence and a loneliness in foster care. It's as if the world around you is foreign and you only exist in an echo chamber of like experiences. Everyone outside of foster care fails to understand what you're going through. For anyone considering this journey, I cannot place enough importance on building a network of like-minded foster parents. For the first few weeks that fall, Heather and I were wrapped in daily appointments, caseworker visits, paperwork, contracts, and screaming. So. Much. Screaming. Neither Big Brother nor Little Brother could verbally communicate. They ate anything they could get their hands on, food or not. Every single experience from bath time, to sleep time, to car rides, to the noises in our home was foreign and terrifying.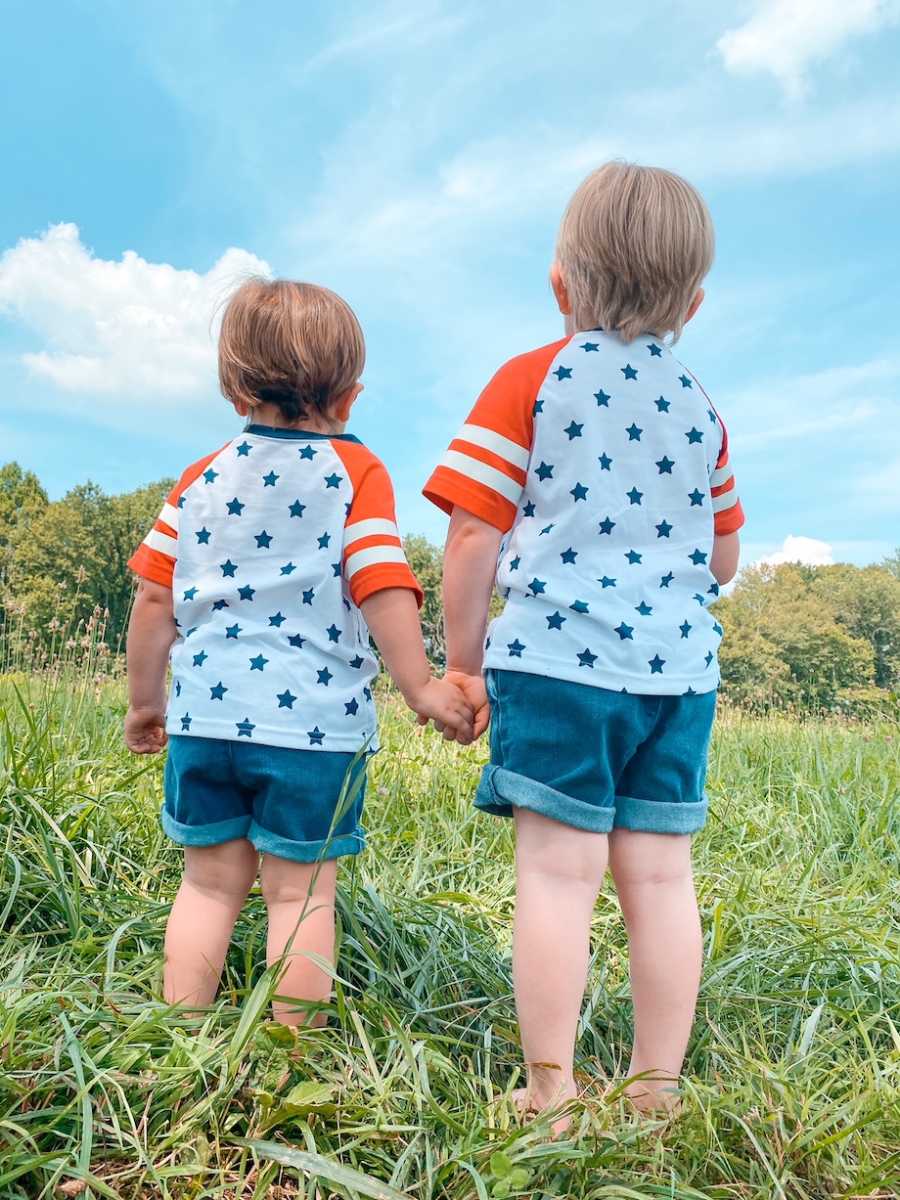 The daily struggle started to permeate all aspects of our lives together. Spousal communication was at an all-time low. I spent all of my free time hiding in my room to cry. The four of us weren't sleeping. We were cooking eight to ten meals a day between the meltdowns and crying. Nighttime disturbances came in 20 to 30-minute intervals. Heather couldn't see I was at max capacity. I couldn't see she was as well. We went from being comforting, understanding, and patient spouses who played on the same team and we transformed into opponents. We were keeping score due to lack of sleep and downtime. Our house was a chaotic mess physically and figuratively. We started to question our ability to be parents. No one understood the trauma behaviors we were parenting. There was no training that could've prepared us. Roughly 10 weeks into placement we emerged from our new placement fog. It felt as though a weight had been lifted from our new family. The boys started to trust we would be there every time they cried, there would always be food, we would always be one step behind them waiting to take their hands.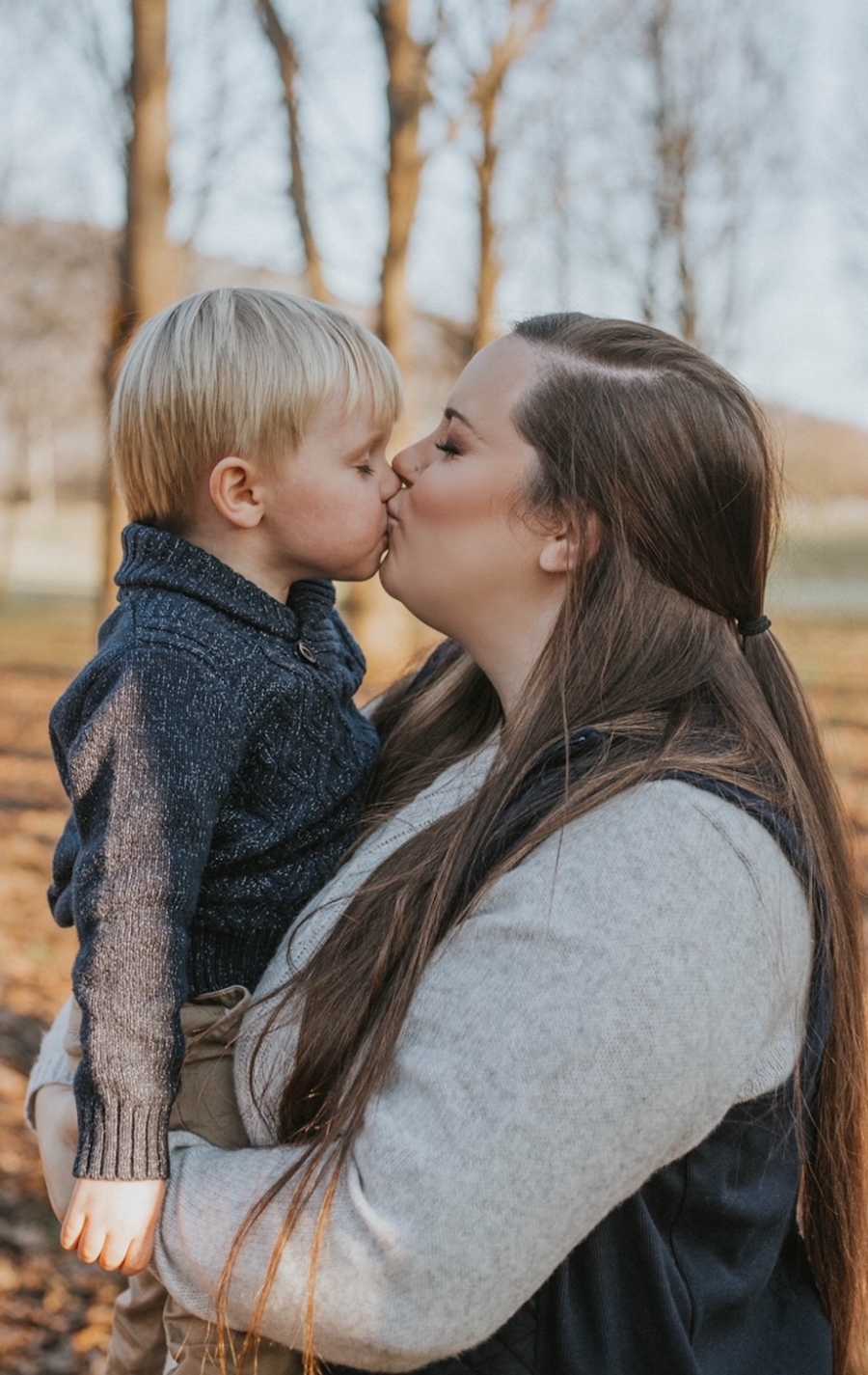 On a slow and sleepy Sunday in November, our sons asked to go on a walk. They were slowly learning words and how to truly play. We sat down on some grass near our house. The leaves had fallen from the trees and they both had leaves in each hand. They started to act like lions with leaves as giant paws, growling, pouncing, and the whole routine. I started to cry because it was the first time I had witnessed true joy from them. They both walked over to me. Little Brother sat down in my lap and took my cheeks in his tiny chubby fingers and forced me to smile. Big Brother looked me in my eyes and said, 'Okay Mama?' And through my tears and sniffly nose, I mustered, 'Yes sweet boy. We are okay.' And that was the first moment I truly knew we would be.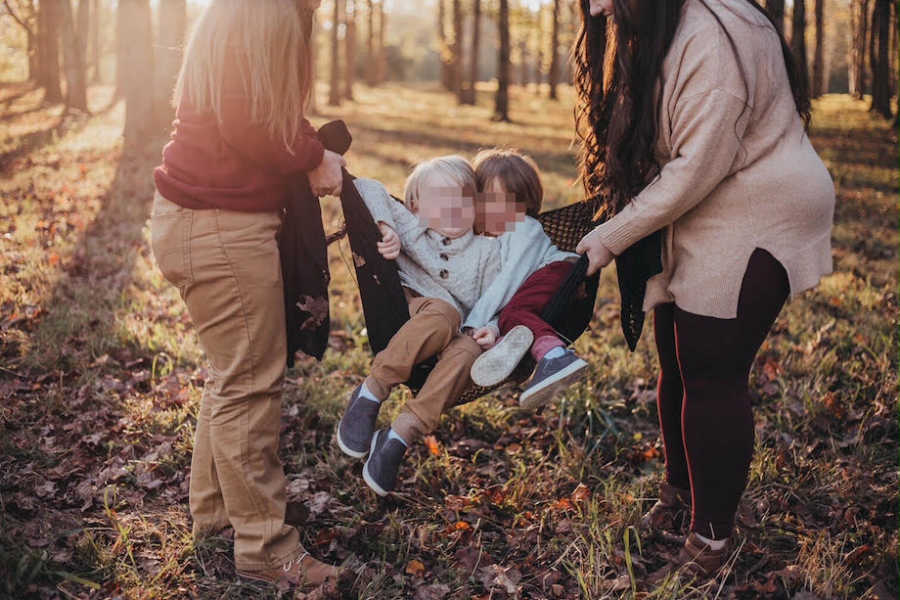 As of February 2020, we are heading for adoption. Big Brother is thoughtful, empathetic, bright, and curious. Little Brother is vivacious, hilarious, charming, and kind. They play league soccer and prefer to be outside. They are begging us to get a cat. They can identify their feelings. They think they're special because 'Two mommies are more better than one mommies.' Foster care doesn't define who they are… who WE are.
In the last 17 months, everyone we meet —doctors, therapists, caseworkers, family members, and friends— are all in agreement on how lucky our boys are to have Heather and I. Lucky. Blessed. Privileged. Those are the words they use to describe our sons. What people fail to understand about foster care is they are not the lucky ones. Our sons are just kids who, like all other children wrapped up in foster care, have been dealt incredibly unmanageable circumstances, and how lucky are we to be entrusted with them? At the end of all of my days, it is worth it. They are worth it."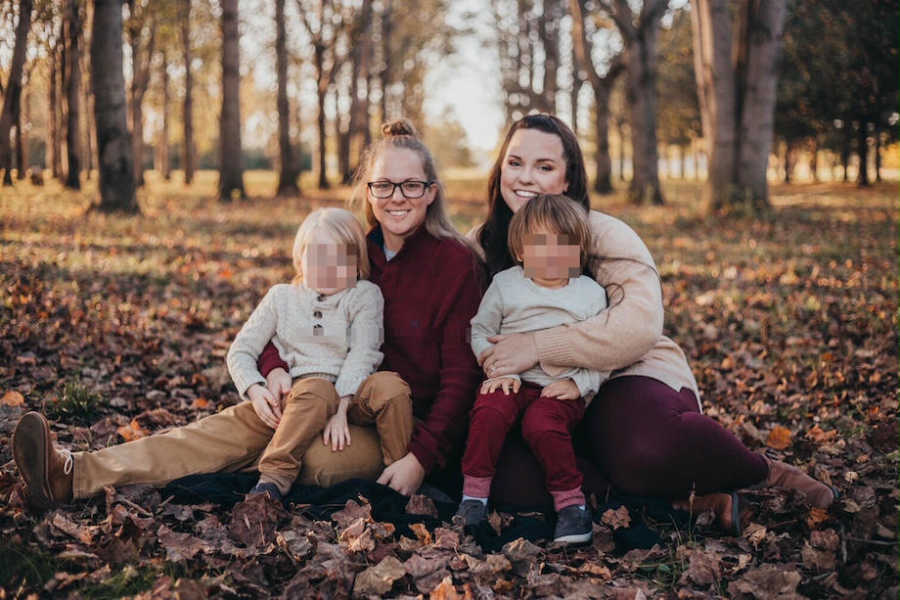 This story was submitted to Love What Matters by Sarah E. Fields from Cleveland, TN. You can follow their journey on Instagram. Do you have a similar experience? We'd like to hear your important journey. Submit your own story here. Be sure to subscribe to our free email newsletter for our best stories, and YouTube for our best videos.
Read more touching stories like this:
'His entire world was falling apart. Carter turned to him, 'I'm so glad you're back. I missed you so much!' We knew he was right where he was supposed to be.': Couple adopts son from foster care

'Did he think we abandoned him?' I was still grieving. He hardly slept day or night. I struggled to feel connection.': Couple foster to adopt, 'If you don't get attached, you're doing it wrong'

'At 11, his adoptive parents abandoned him at a hospital, never to return. 'Mr. Peter, can I call you my Dad?' I began to cry uncontrollably.': Single dad adopts 11-year-old boy from foster care after biological, adoptive family abandon him
'That night I cried in my driveway for a child. 10 minutes later, I got a call. 'Can you take in 1-year old twin boys?': 26-year-old single foster mom says 'I was called for plans bigger than myself'
Are you or someone you know looking to adopt? Please SHARE on Facebook to make them aware there is a community of support available.