"We met in October of 2012, on the dating site Plenty Of Fish. After talking for a week, we went on our first date. We made things official in February of 2013, and were engaged November that year. The following May we got married in court, and decided we'd use the money we would have spent on a wedding to stash away for a house, and to start our family. Before we got married, we knew we wanted to have children. While we did want to do a bit of traveling, establishing our careers, and build our nest prior to having children and starting a family, we didn't take any preventative measures.
Aside from the physical requirements of what goes into getting pregnant, we purchased a house large enough for the family we wanted, vehicles safe enough for toting our children around, and I (Lindsay) even made the initial steps in a career change, from retail to education, which would allow for me to raise my family and be home on nights, weekends, and holidays. When it became apparent that naturally conceiving a child wasn't in the cards for us, we sought out medical expertise and started our journey in reproductive medicine at an infertility clinic. After two rounds of IUI and three rounds of IVF had failed, we started to look into adoption. Our hearts sunk when we realized the cost of adopting both in and out of the United States, especially after the hefty six figures we'd shelled out for infertility treatments.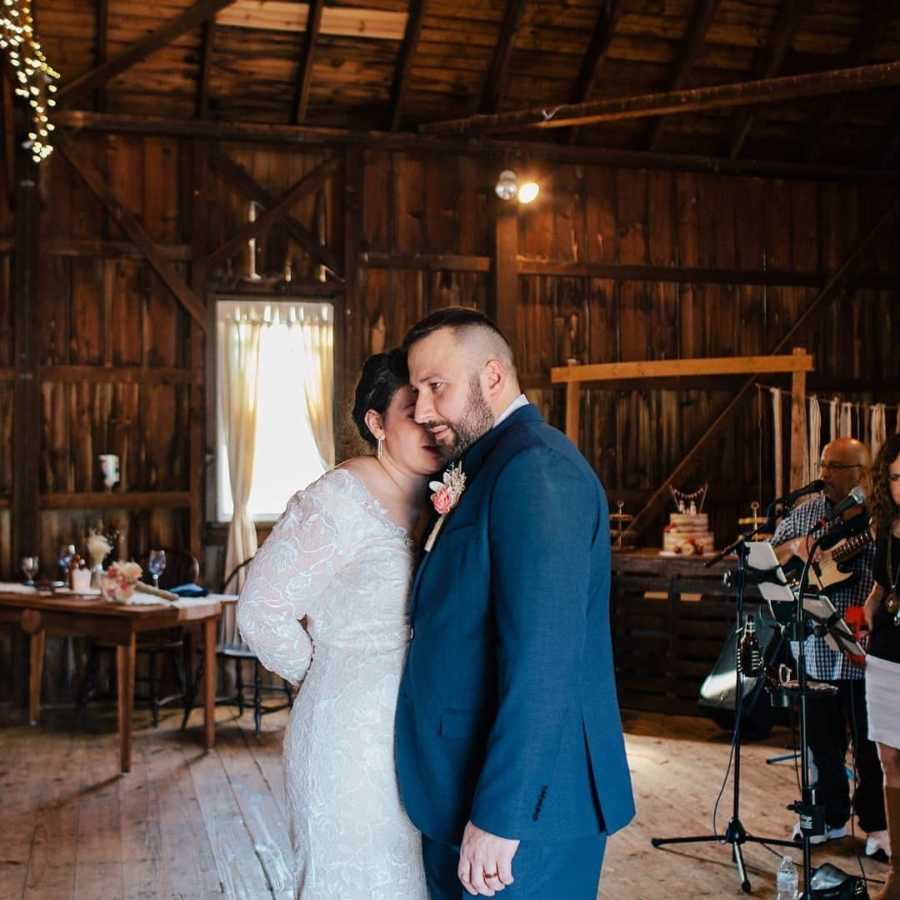 Our initial loss was the ability to naturally become pregnant. It initially caused a rift in our marriage. Was something 'wrong' with either one of us? Were we working too much? Too stressed? Was this a sign we shouldn't be parents? For me, not being able to get pregnant felt like a loss of womanhood, like I had no control over what my body should be able to naturally do. When we started with our fertility clinic, the loss of time, money, comfort, and familiarity were all par for the course, but what we never expected to experience was the loss we experienced each round: miscarriage. To this day, it is a heavy weight we both carry on our shoulders. Through as many tears as prayers, we were able to continue to stand back up after each round knocked us down, though each loss will always be with us. Our silver lining, it led us to foster care.
There was a weird sort of feeling after we realized we couldn't naturally conceive—were we just not meant to be parents? A lot of self-doubt came into play, moreso with each failed round of IVF. We even blamed ourselves when adoption wasn't in the cards for us, and truly doubted we would ever hear a little voice call us mommy and daddy. There was resentment towards each other, and towards others who could start families. Facebook was often a dagger in our backs with each pregnancy announcement we saw. While scrolling through Facebook, I saw a friend I used to go to school with who had just became a licensed foster parent. I had joked with Roman about it, and we decided we were not cut out for something quite like that. During this time, we were somewhere in the middle of our infertility journey. However, as time went on, becoming foster parents started to look less and less like something we couldn't do, and something we were willing to explore.
We decided to attend the orientation, the training, and even the licensing process. If worse came to worse and it wasn't working, we would just close our home to fostering. Initially, we were excited. We felt like everything we had gone through with infertility was for one reason, and one reason only: we were meant to become foster parents! We heard both horror stories and those with happy endings in training: the trials and tribulations of some of the more difficult children, the triumphant outcome of what love, dedication, and support offered them. We decided to become a foster-to-adopt family, meaning if a child was unable to return to their family member, we would be willing to adopt them into our family. We were told a large majority of children did get reunified to their families, but we remained hopeful we would, when the situation was right, adopt a child out of foster care.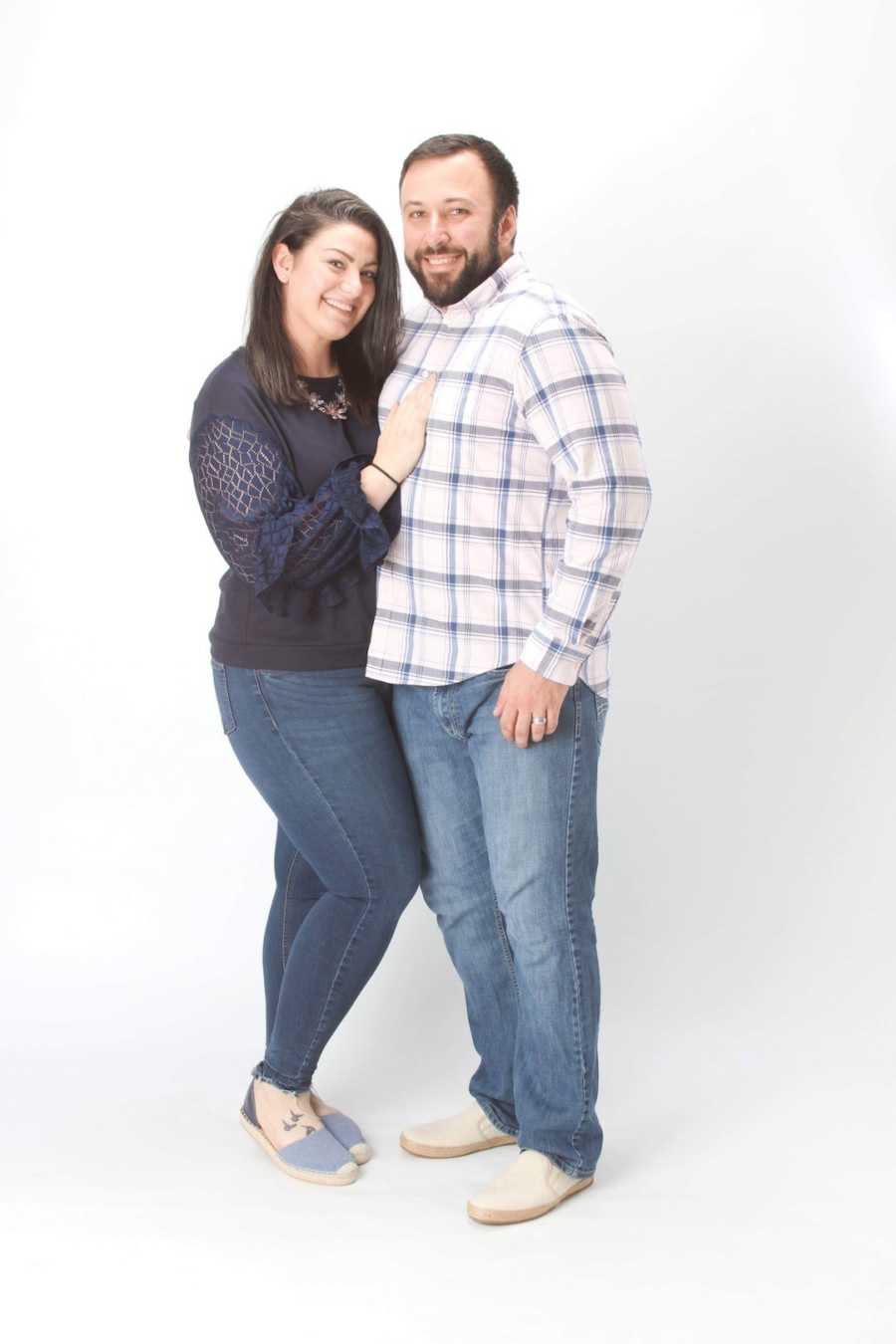 When it came time to tell our families and friends, we were a little hesitant. What would they think? Would they be supportive? They thought we were crazy. Nuts. Completely out of our minds. Our families are both very open, but were concerned of what impact would be had of the children, and/or us, if we became a biracial family—especially due to the demographic where we live. They were even more worried about our mental wellbeing if and when a child we had in our home was to return to their family, after we had bonded with them. We assured them this was something we wanted, and we would be able to figure out all the details along the way. Honestly, after sitting through the orientation and training, we felt like it was our duty to move forward with it. We were given statistics of just how many children were in foster care, and the conditions a lot of them endure before they are placed in foster care. We knew it would be tough for us, but we also felt like it was our calling.
Very long, stressful, and invasive. The process, start to finish, we were told, would only take 90 days. It took an entire year. Once you attend orientation, you are set up with training. We scoffed at the idea of attending training, because how hard could it be to be a parent? But it wasn't 'that' kind of training. It was educational, teaching us more the psychology behind certain things, such as why when a child is removed from their home after suffering physical abuse, they still long to be with that parent. After training, there were applications. And applications. And applications. Each of us had to fully reveal everything about our family history, upbringing, morals, even sexual preferences and experiences, to make sure we would provide a strong and stable family unit for any child. Then came the background checks and financial check. Even though foster parents receive a stipend for the children in their care, it is not only a fraction of what it monetarily takes to raise them, but often times delayed. You must provide pay stubs, as well as all your financial responsibilities, to ensure you could provide for the children while waiting for the stipend.
Once we passed all of this, it came time for the home study. We were the most nervous about this, as we had a couple in our training who had previously been denied due to the height of their windows. We were given the list of everything the inspectors required of us, and could fail us for, and got to work. Changing our pool gate to make it a pull-to-open and self-closing almost landed us in divorce court, but after several days, trips to the hardware store, and numerous eye rolls, we were ready. We had so many generous friends and family members who provided us with nursery furniture, clothing, and all baby essentials, so once our nursery was set up, we scheduled our inspection. And, we passed! We received the news we were officially licensed on May 30th, 2018. We were so excited—this was it, we were about to become parents. Now, we just had to wait until we received our first placement call.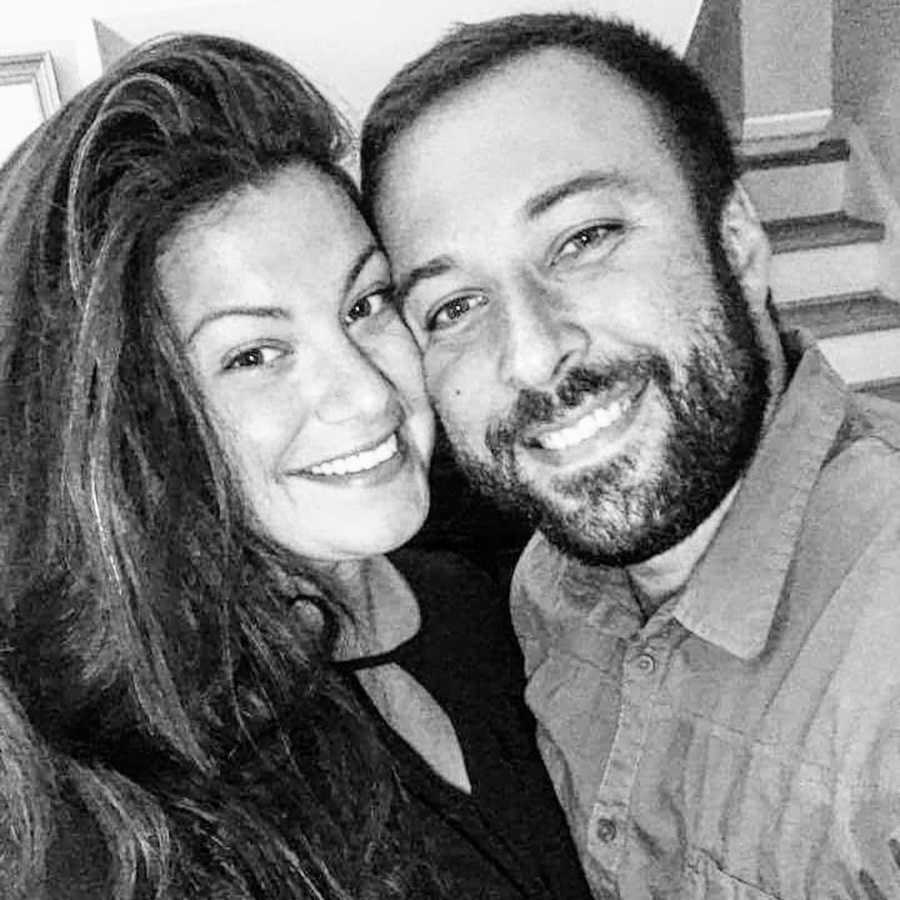 We decided on the age range of newborn to three years old, with no preference to gender or race. We heard it might be some time until we received a call. So, we just shared the news with our family, and figured we'd wait. Well, it ended up being a pretty short wait. The morning of May 31st, we got a phone call that DCP&P was going to court to file for a removal of two sisters, two and three years old. After we got what little information DCP&P had on the girls, we decided we were only ready for one child. We both worked full-time, and we're only set up for one child. We had mixed feelings, having turned away our very first placement call, and even worried we wouldn't get another call. This wasn't the case. A few hours later, the phone rang again. Like the last phone call, I put it on speaker and sat down next to Roman. We were told two boys, fifteen months old and a few weeks shy of three years old, needed to be moved to a new home.
We were told about their medical history, the reason they were removed from their family, and why they needed to be moved to a new home. We were also told DCP&P was aware we only wanted one child, and while they make every effort to keep siblings together, we were the last family on their list to call. There were no other homes in our county that could take them both, and asked if we had a preference of which of the boys we wanted, because they were going to have to be separated. I put the phone on mute and asked Roman, 'Can we really handle two kids right now?' 'Absolutely not,' was his response. 'But can we be the reason these boys are separated?' I mumbled, brokenheartedly. Again, he replied, 'Absolutely not.' So, we agreed to take them. We agreed to 'try.' They would be dropped off the following afternoon. It gave us less than 24 hours to purchase another bed, carseat, high chair, and everything else we thought we'd need. We were excited, nervous, anxious, and elated all at the same time.
We felt like kids on Christmas morning, and just waited by the front window for hours for them to show up. As soon as the van pulled up, we ran outside to meet them. We took one look at them and simply fell in love. They were absolutely adorable and had the sweetest smiles. We brought them inside, where we had some toys set up, and can barely recall the conversation we had with the caseworker. We were just so excited they were here. They were home. The first few hours were great. We fed them some lunch and played with them, FaceTimed with our families and introduced them, and showed them their new rooms. We decided to run out to the store with them to get some things we realized we'd still needed. And this is where everything unraveled. The older of the two boys, K, had meltdown after meltdown, screaming at the top of his lungs if we did not put everything in the cart he had requested.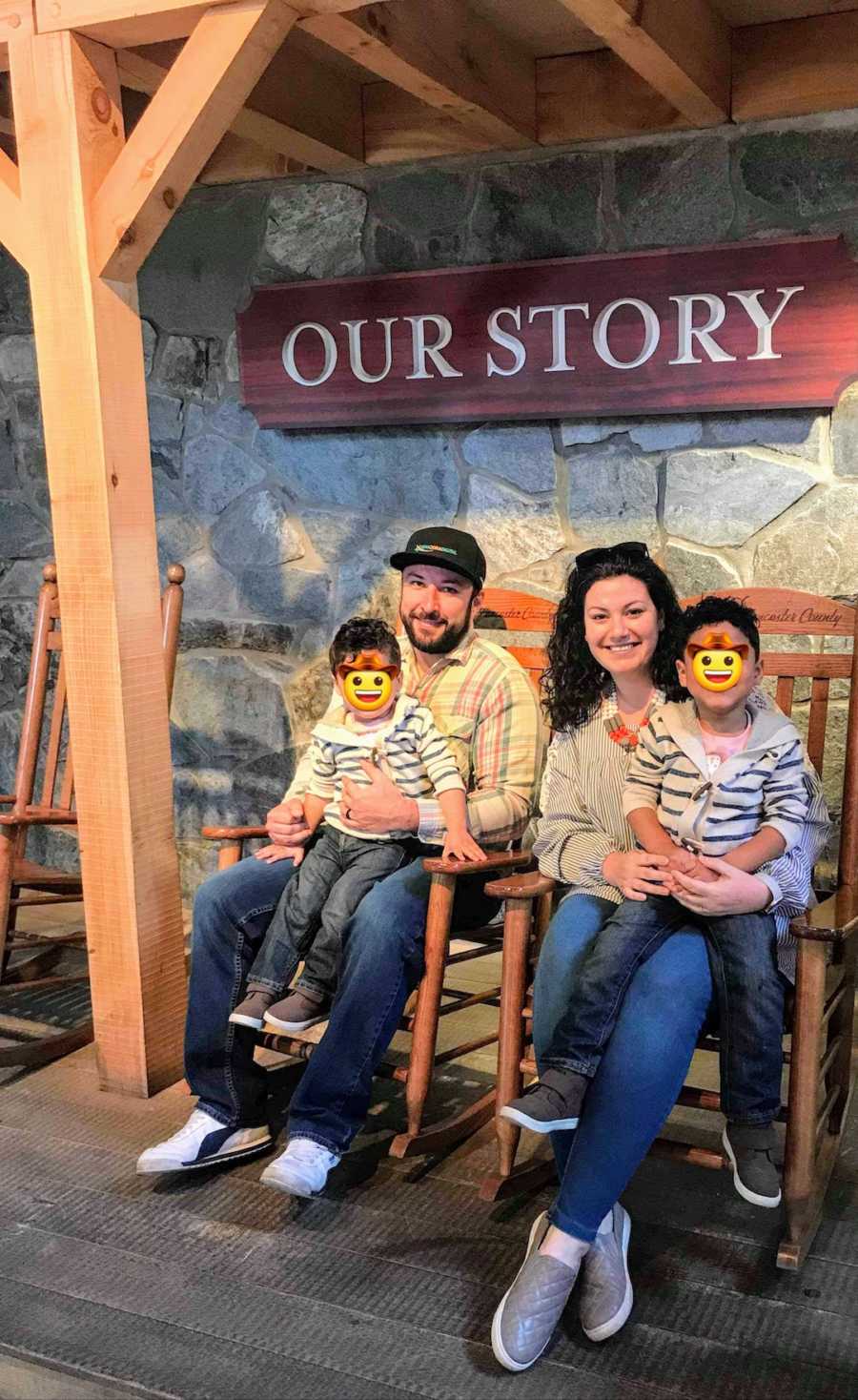 People were staring at us. Especially when he started yelling, 'Get away, you're not my mommy.' Everyone's stares were like daggers, and completely unavoidable, especially as two Caucasian parents with two Hispanic children. We made a beeline for the register and couldn't get home fast enough. They didn't cooperate that night for bath time, so it was an early bedtime. I remember coming downstairs after putting them to bed and just sobbing. I couldn't believe what we had gotten ourselves into. What a mistake. We were NOT cut out for this. This was my reaction every night for several weeks. While I cared greatly for the boys, I couldn't bond with them. I felt guilty and broken, and pathetically unmotherly. The almost-three-year-old was having a hard time adjusting. But then, the morning of his third birthday, about three weeks into him being in our home, it was as if a switch was flipped. The weeks of nothing but love, affection, and praise, despite his defiant behavior, had finally paid off. He woke up that morning and was a completely different child. It was at this moment I completely fell in love with my sons.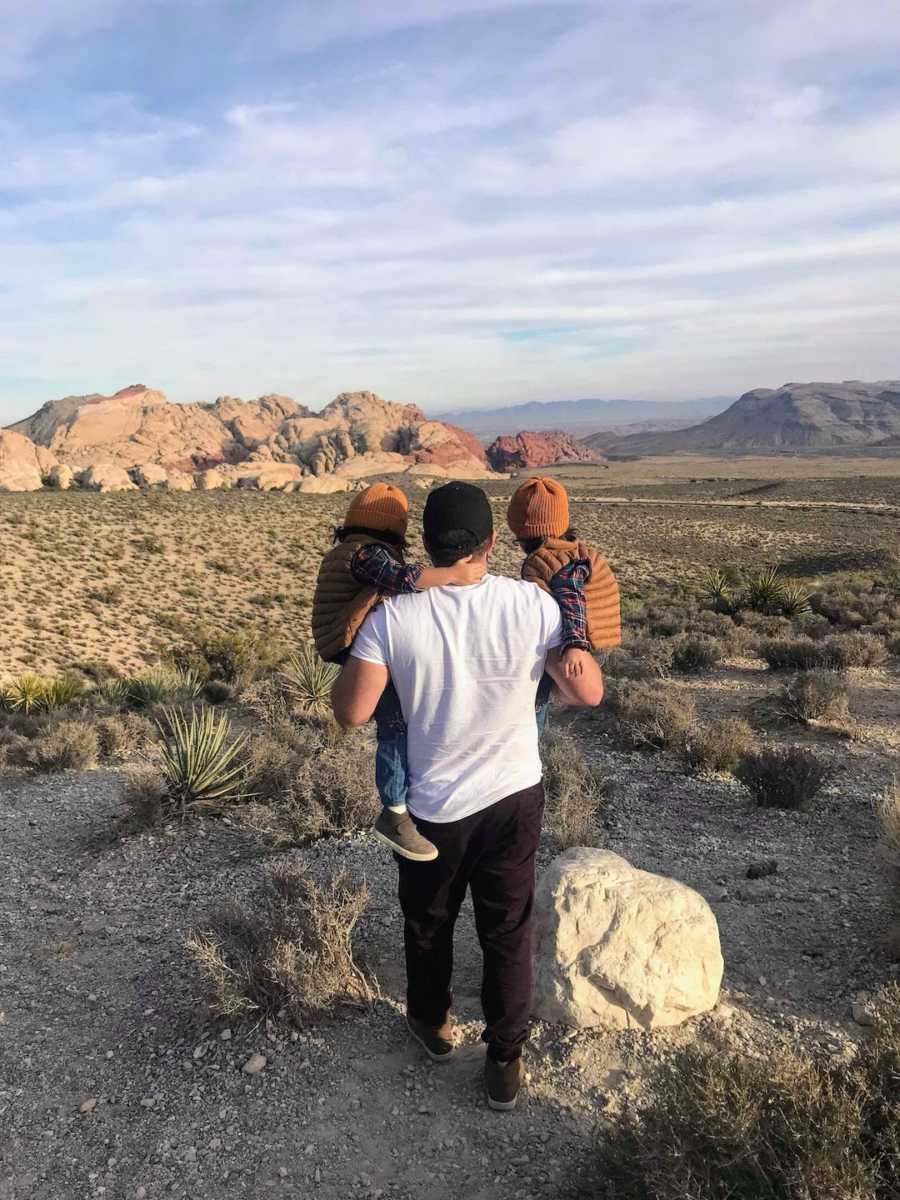 The younger of the children, J, was so young, he had an easier time adapting. He was simple, he just needed food, a clean diaper, and lots of love. K, on the other hand, had a lot of behavioral issues. He would scream, yell, curse, hit and throw things, break things, and defecate everywhere. It was such an overwhelming whirlwind, it took our breath away. Everything we had learned in our training was unfolding right before our eyes, but what we didn't learn was how to help him. This wasn't a little boy who was having a tantrum over not getting his favorite snack at the store, though we experienced this. This was a vulnerable child who was ripped away from his mother and placed in a stranger's home. Twice. The best day of our lives was one of the worst of his. It took us some time to truly understand this. The cursing wasn't out of anger, it was a mimicking behavior. And the screaming and yelling was the only way for him to express the fear, anger, and loss he was feeling. How could we even expect someone this young to process and vocalize what he was feeling?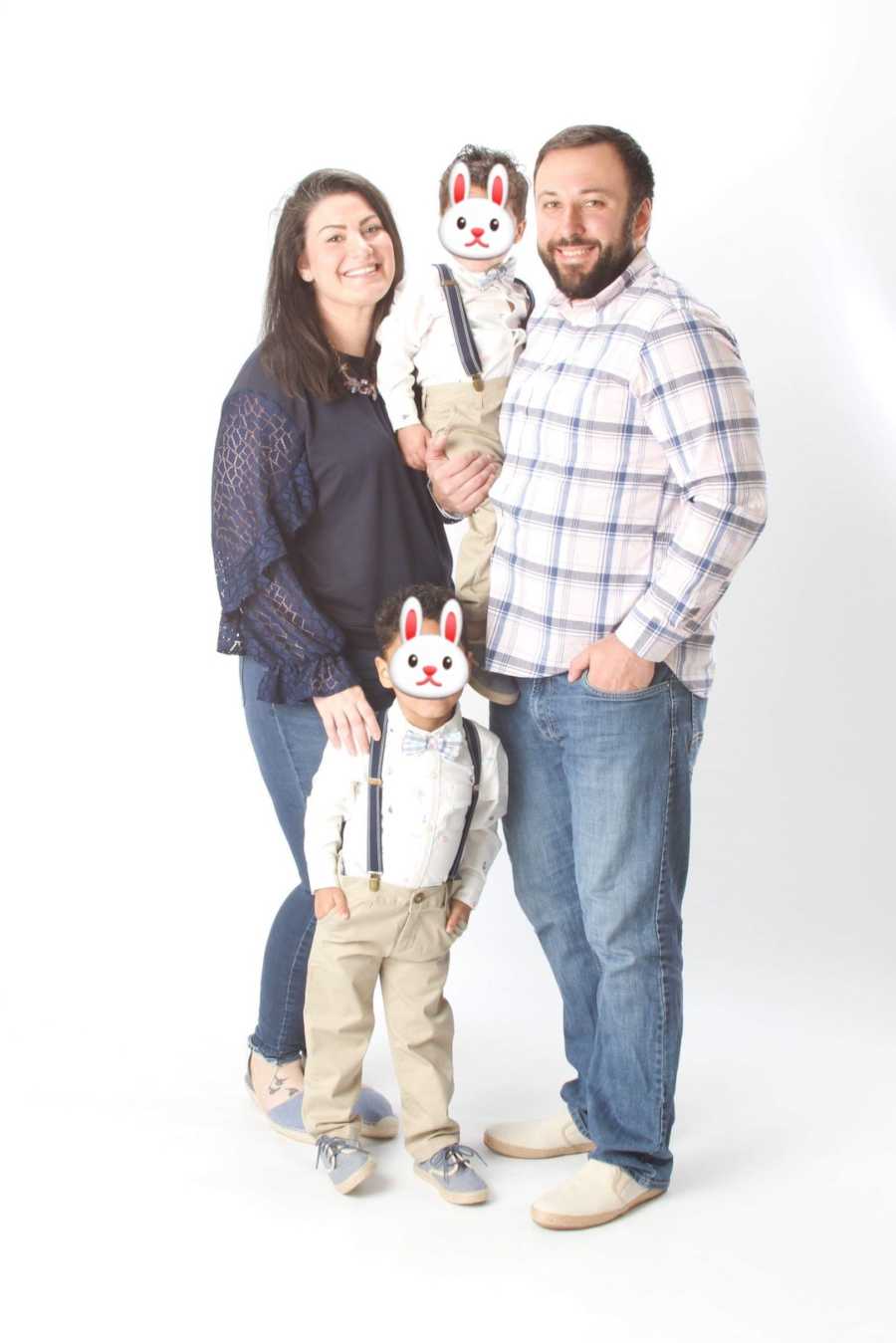 Loss. Foster care is completely revolved around loss. The loss of our ability to have children. The loss of a mother's mental health, resulting in the removal of her children. The loss the children experienced when they last saw their mom. The loss of comfort and control, felt by all parties. Yes, we were very much in love with our boys, and we were absolutely head over heels in love with being parents—their parents. But it was still centered around loss, and there was always this lingering bittersweet feeling. We learned, more than anything, how to be empathic. Even though when we initially took the children we were told there was a high probability of adoption, we quickly learned this was not the case. From one month into them being with us, we were told they would be leaving soon. They found a family member, they found a father, mom was doing well. We thought we'd lose them in August, then again in December, February, and April. And then in May, it finally happened. Absolute torture. By far, the worst day of our lives. Yet, at the same time, like the bandage had finally been ripped off.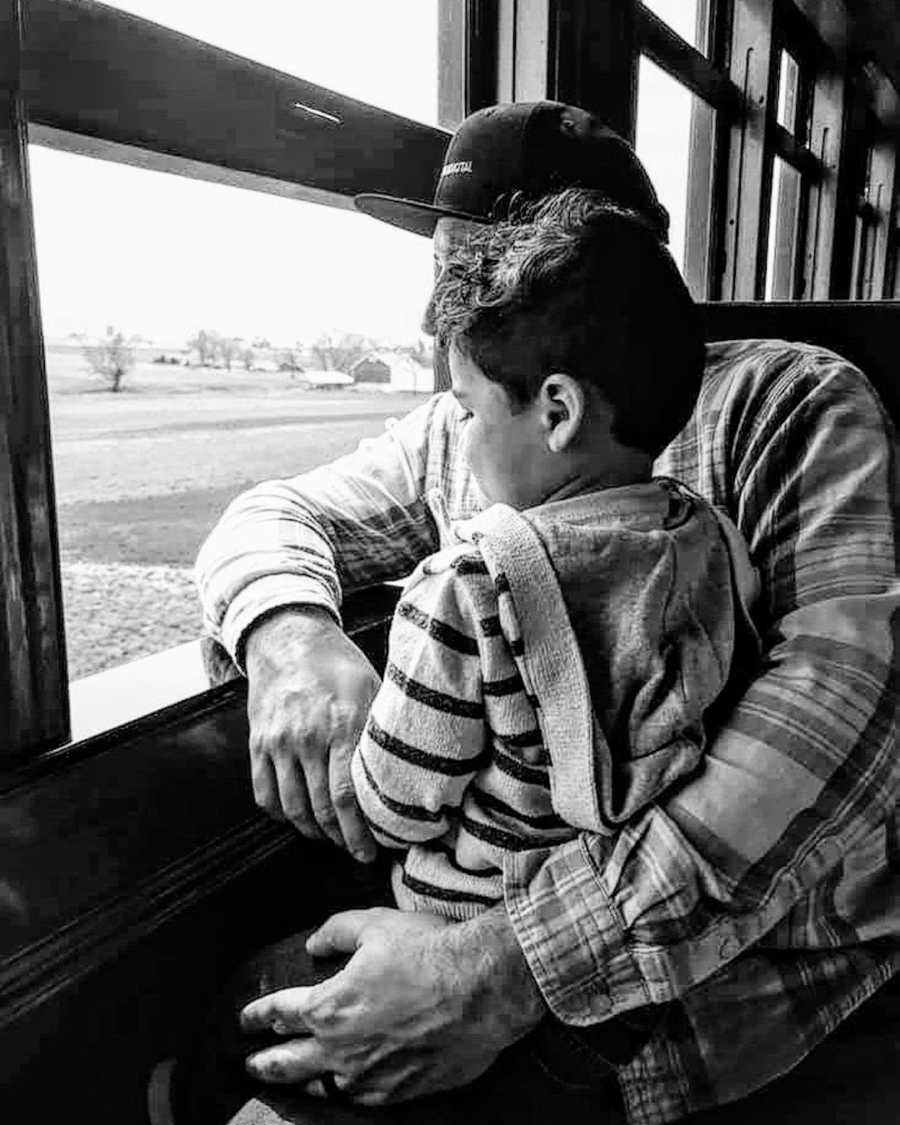 We had been trying to prepare ourselves for this moment, but there isn't anything anyone can ever do to prepare. We got the phone call at 6 p.m. on a Friday night of a holiday weekend—the boys would be leaving us the coming Tuesday. It felt like someone had ripped my heart out. We were at a restaurant on the beach with the kids, after spending hours on rides and arcade games. The server set our food down, but we couldn't even eat. Our breath had been completely taken away. We had just lost our children. The parts of our hearts beating outside our bodies for a few days short of a year were loaded into a van and driven away. We knew we would most likely never see them again. It is so difficult to explain the type of pain a foster parent feels when their children leave. You grieve like you do when a loved one has died, except it's worse. I would tell people, when a family member died, you know they are in peace and don't have to worry about them. You just get to grieve over them no longer being with you. But as a foster parent, we literally became sick daily, worrying if our babies are getting enough food, dressed appropriately for the winter, safe enough in their new neighborhood, and on and on, on top of the crushing sadness of them no longer being in your home.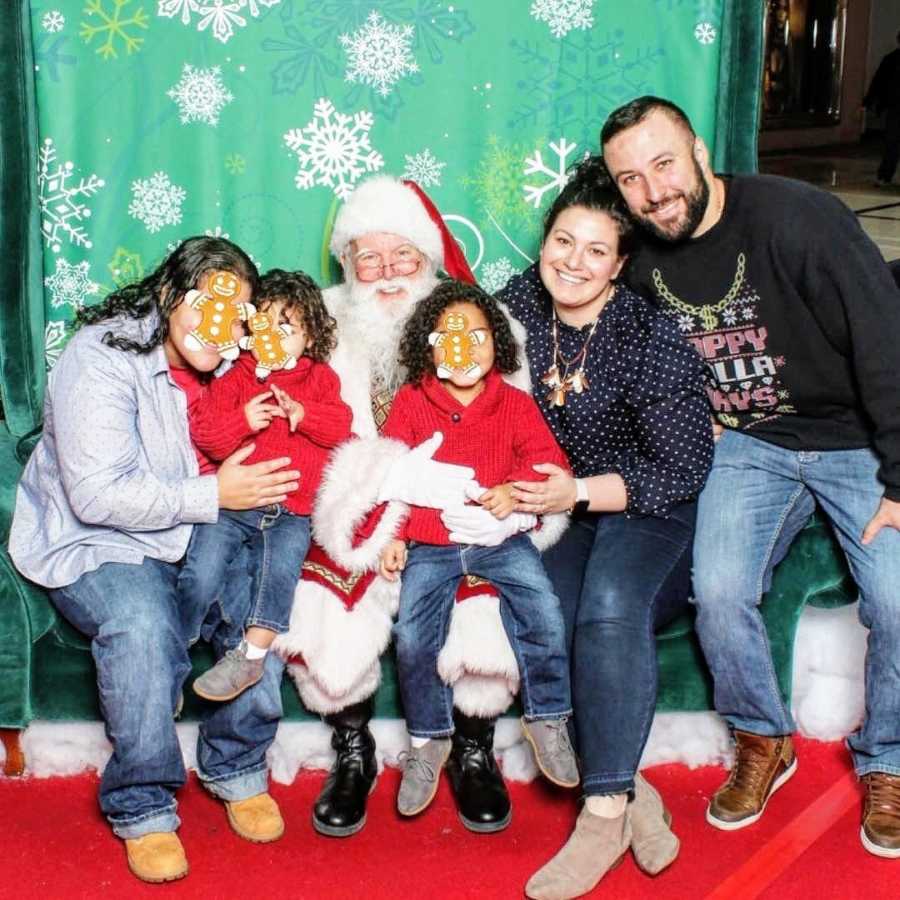 The kids had been with us for a year, and at the time they left were a little over two years old, and almost four years old. The older one, K, had formed a good relationship with his mom. He was able to understand he and his brother would be going back to live with their mom, but couldn't comprehend they'd no longer live with or see us. Being our first placement, we implemented what we had learned in our training about 'bridging the gap,' meaning forming a positive relationship with their mother. We spoke to her and shared pictures with her regularly, spent Christmas Eve with her and took a family photo with Santa, even spent the children's birthdays with her. We had all intentions of keeping close contact once the children were back with her, but unfortunately our relationship was sabotaged by DCP&P, and we knew the chances of ever seeing them again were slim. They were happy to go to live with their mom again, so we just left it at that.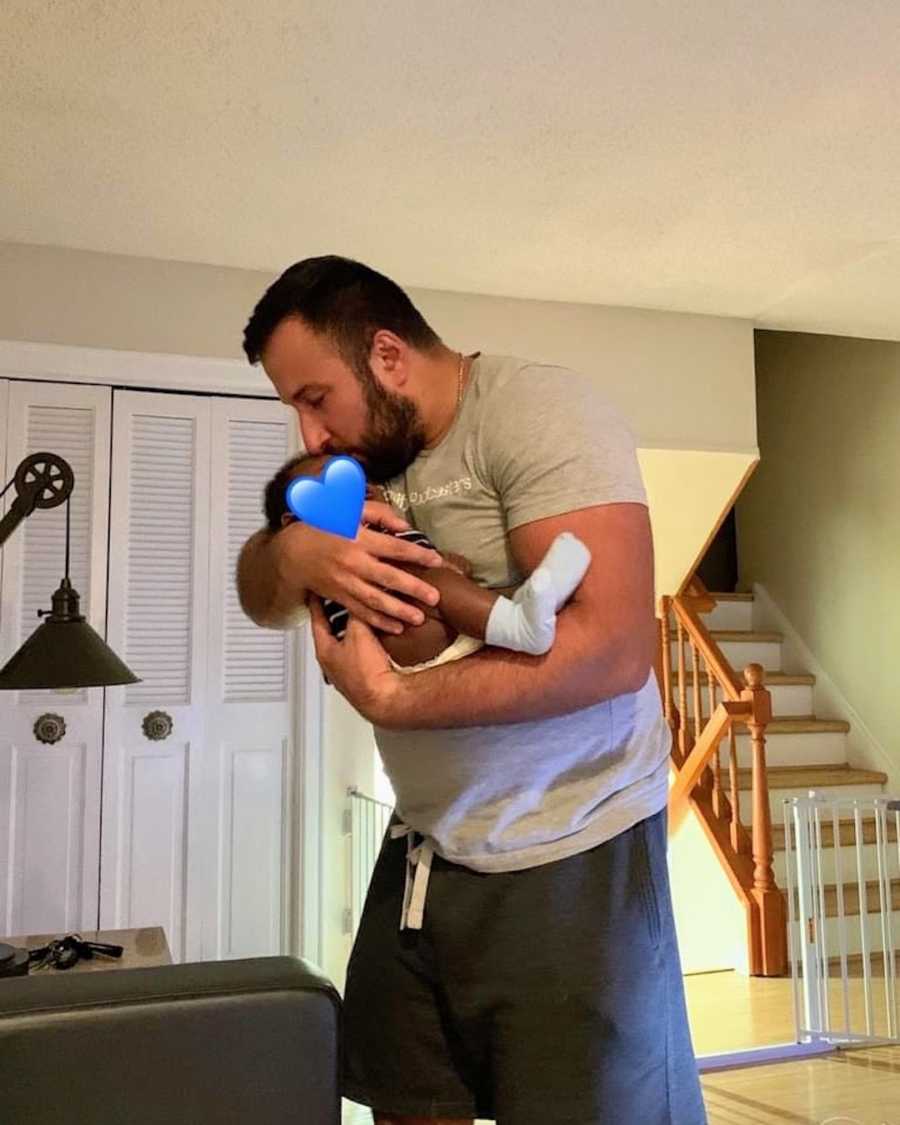 We decided to become foster parents. We made the decision, went through the process, knew of the potential outcomes and the pain we might experience. We are adults and made this decision for ourselves. These kids, they didn't wake up one morning and ask to be placed into foster care. They didn't ask to be abused, neglected, starved, ripped away from their families and dropped off at a complete stranger's house with nothing but the clothes on their backs. They are vulnerable, helpless, and in need of so much love, affection, support, and guidance. We chose to become, and will continue to be, foster parents, because these children did not decide to become foster children. We often tell others, prior to becoming foster parents, had we known everything we know now, we would have never gone done this path. But now, knowing what we do, we may never be able to stop doing what we do.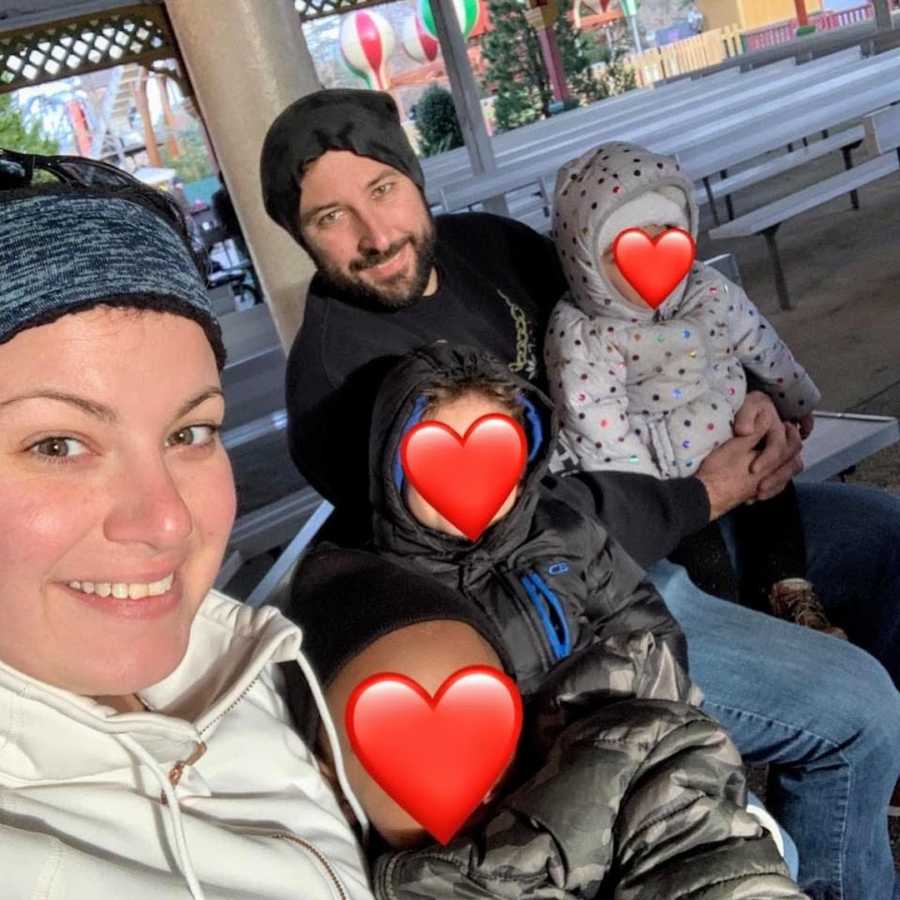 Since June 1st, 2018, we have had 25 children live under our roof. Some for as little as overnight, others for a year, some as young as two weeks old, others as old as eleven. There have been times we've had only one child in our home, and other times we've had seven. We never really could have imagined what these last two and a half years would have been like for us, and they certainly weren't always easy. We have had children placed here who broke our hearts when they left, and other children who broke our belongings when they were here (really, over a thousand dollars in structural and property damage!). Some children who were absolute saints, and others who had behaviors so out of control. But, at the end of each day, we remind ourselves these children are just that: children. They have been shaped and molded by their environments, upbringing, things they have witnessed and experienced.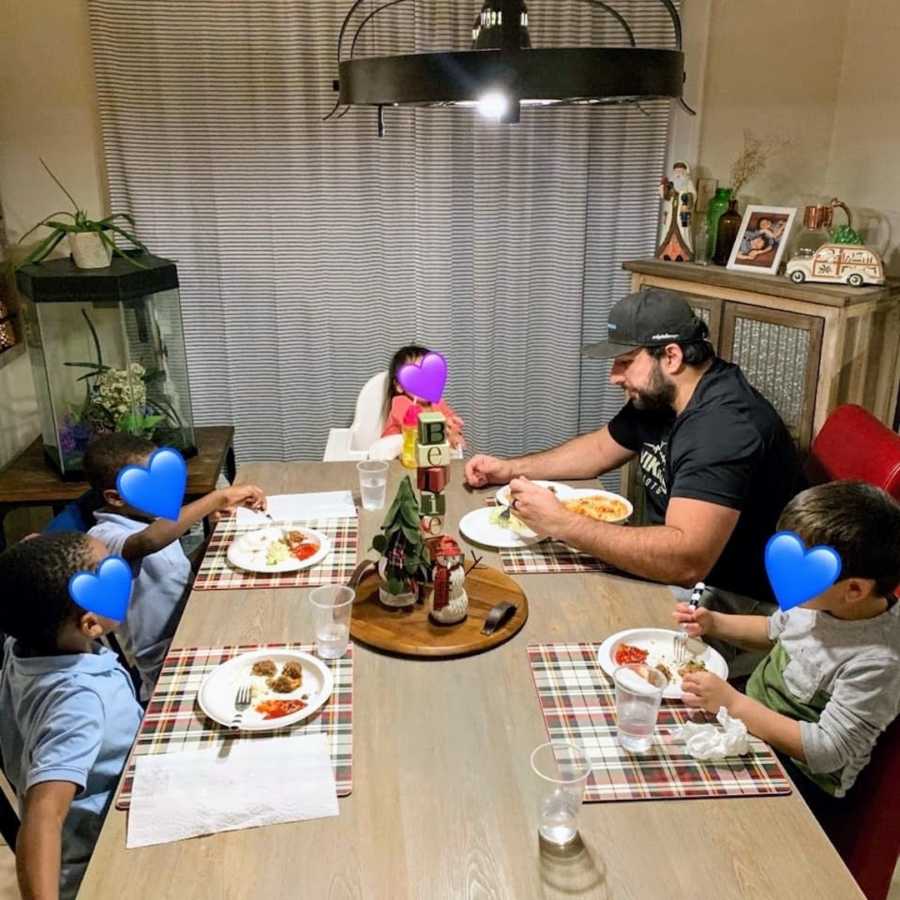 To be honest, they handle it a lot better as children than I'd be able to as an adult. We continue to start each day fresh, remind them of how much they are loved, how proud of them we are, and how lucky WE are, that we get to share time with them in our home. We have learned to be more patient, understanding, empathetic, and forgiving. And, above all, we learned perspective. When our boys came into our home, it was the best day of our lives, but the worst day of their mother's. And the day they left us was the worst day of our lives, and the best day of  hers. Learning to truly put the shoe on the other foot has allowed us to have more peace in our hearts and see the best, in an otherwise messy situation.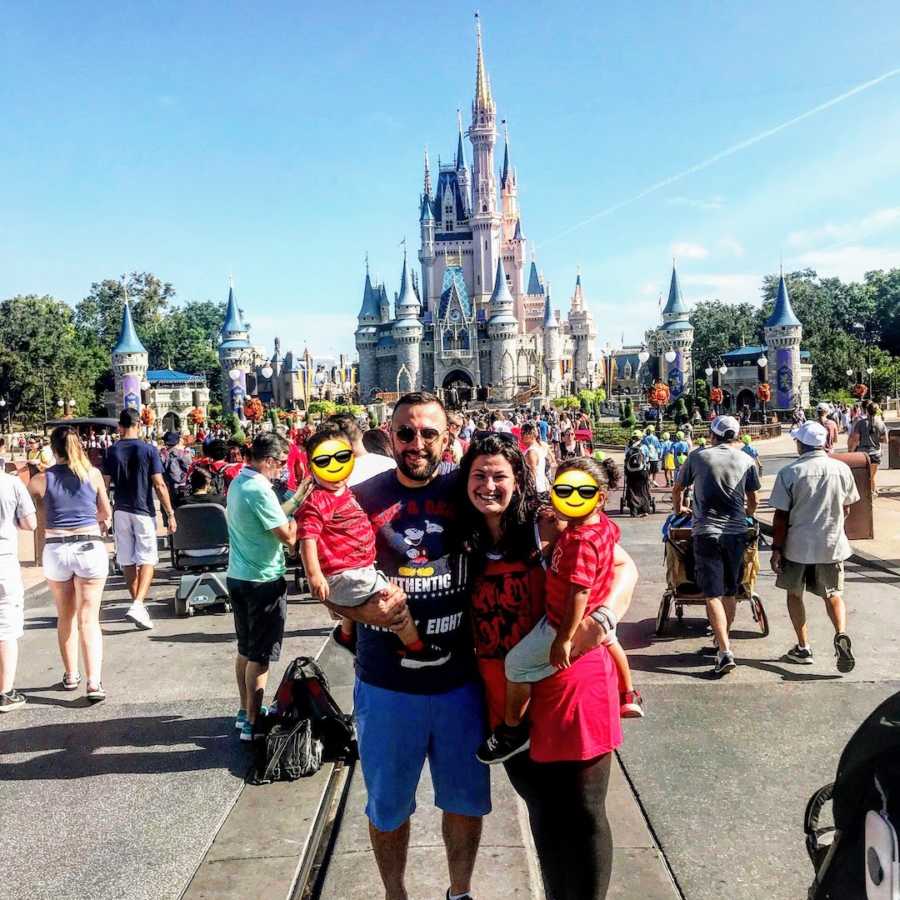 Because we tend to stick to having younger kids in our home, they don't really ask why they are there. They know they aren't 'home' or with their families, but they are young enough to adapt quickly to their new surroundings. For the older children, or the ones who do question it, we just keep things simple. We never make their parent(s) out to be bad people or paint a negative picture of them. We just tell them their parents weren't feeling too well and needed some help to get better, and they will stay with us until it happens.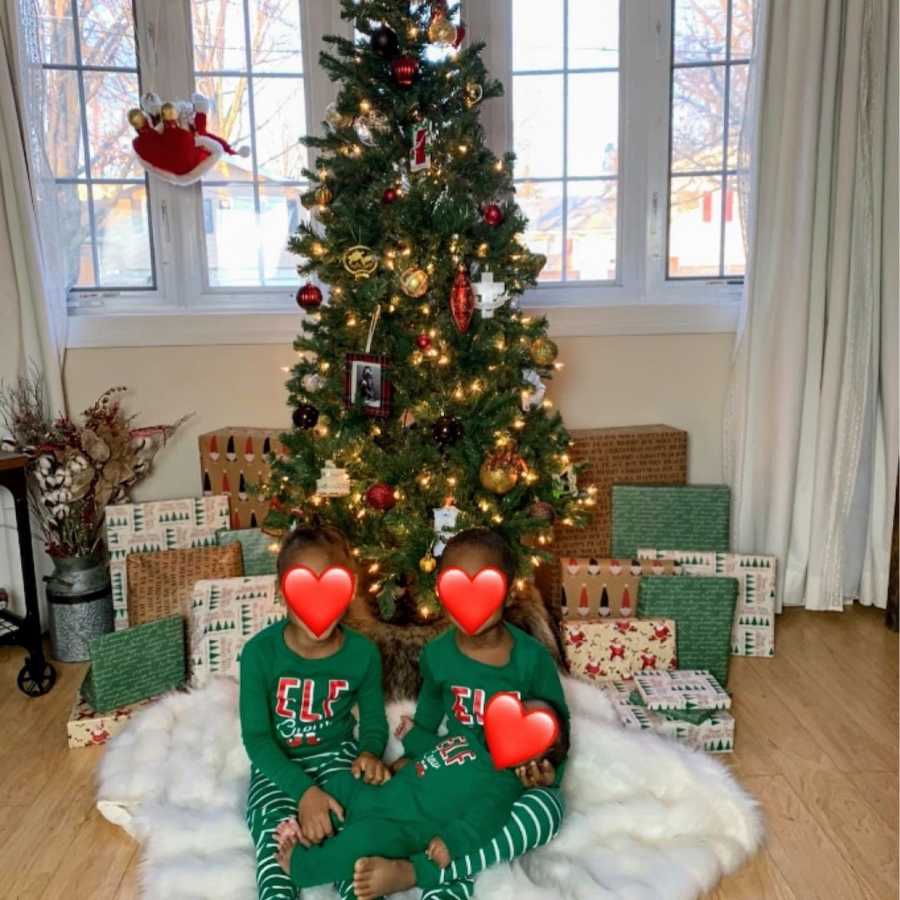 It's cliché, but never quit. If you want something badly enough, go after it. It may not be the way you originally envisioned, but learning to adapt and be open to changes allows you to be at peace with whatever comes. We hope people have a different view of foster care. It sometimes comes with a lot of negative connotations. The children need us, they need you, and it truly takes a village."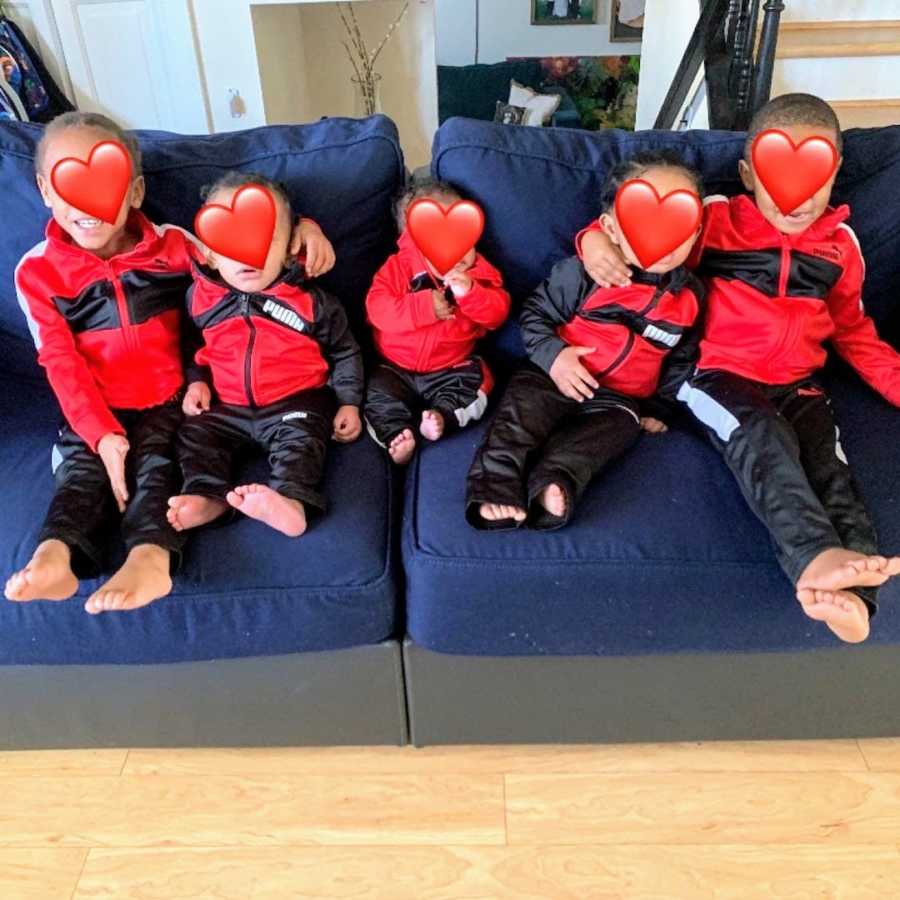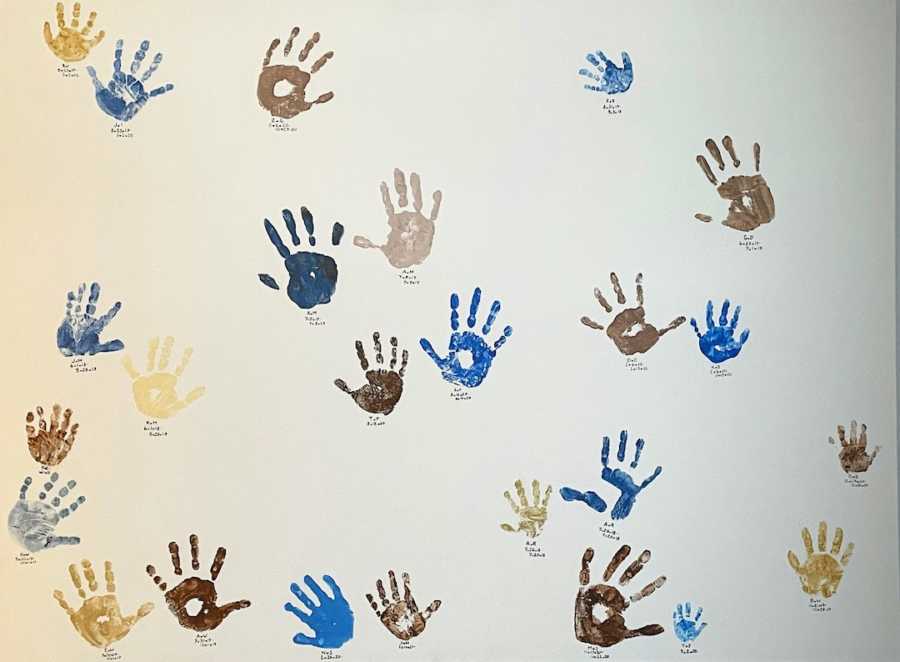 This story was submitted to Love What Matters by Roman and Lindsay Prokopchuk of New Jersey. You can follow their journey on Instagram, their website, and their podcast. Submit your own story here, and be sure to subscribe to our free email newsletter for our best stories, and YouTube for our best videos.
Read more stories like this:
'We have an 11-year-old with identity issues. Would you be able to take him in?' We said yes to 30 days from now. Then we received a call: 'Can he move in today?': LGBT couple adopt 4 children from foster care
Are you or someone you know looking to foster or adopt? Please SHARE on Facebook to make them aware there is a community of support available.