"'I know you're going to think this is crazy, but I was thinking, you should adopt him!' I was sitting in the parking lot of a hardware store, about to go in to pick out cabinet hardware for the new house we were in the process of building. My friend had called me to talk about the 3-year-old boy she and her husband were fostering. They aren't an adoptive home, and it was becoming clear he might not be returning to his bio family. I had recently disclosed my infertility struggles with her.
At that point, my husband Jake and I had been married for 15 years. We were 19 when we got married, so we were certainly in no rush to have children. We traveled the world, I built a business, we became dedicated fur parents to our pets. Around year 10 of our marriage, and approaching 30, we decided it was maybe time. And then, nothing happened. After 5 years of nothing happening, several rounds of infertility treatments, we decided to let it be. We would say, 'Maybe down the road, we'll adopt?'
Fast forward to this moment in the hardware store parking lot. My friend, not ready to see her foster son leave, knowing I wanted a family, called me and asked if I would consider adopting him.
'Okay,' I said, 'let me look into it.' As if she had asked me if I wanted to have Italian for dinner. I don't know why, but the decision was so fast and made total sense to me. I went home that night and told Jake what she had said, and he said, 'Let's do it!' It's honestly crazy how fast we were okay with the idea. Clearly, we were just ready to have a family, and this made sense. There was just one problem: we had no idea what to do or where to go from there!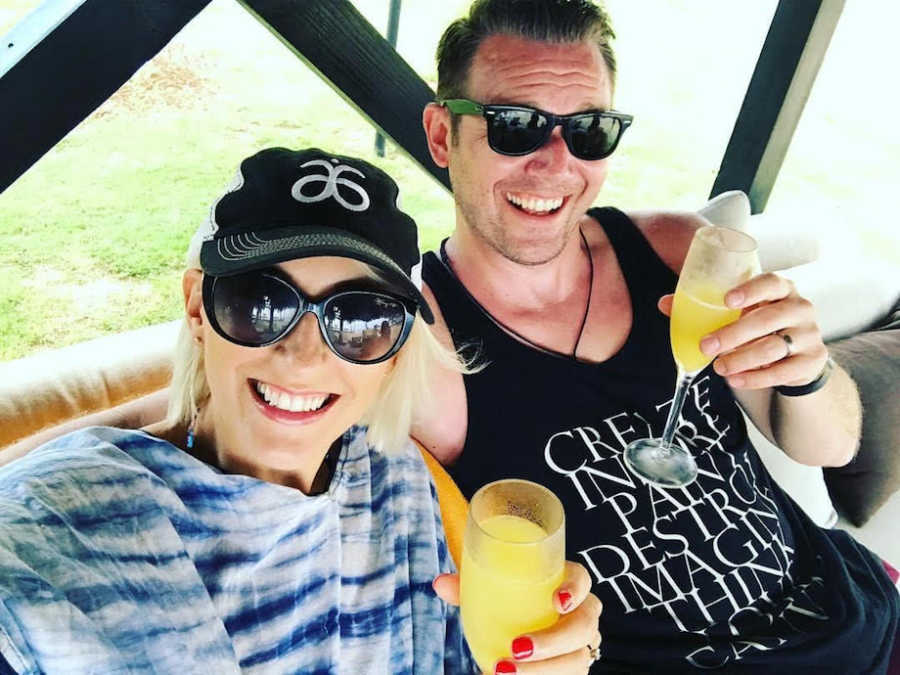 I researched all night and by the next morning, I had signed us up to attend an informational meeting about foster care. I told them we had a boy in mind already we wanted to pursue the adoption of. We were told, 'That's completely fine. We will write his name on your file so his worker is notified.'
We arrived at a community center on a Tuesday night to find a conference table with four other couples sitting there, all looking as hopeful and terrified as us. A social worker handed out a packet and started sharing statistics. Ten thousand. Ten thousand children were currently in foster care in the state of Kentucky, and 400,000 nationwide. We were shocked. My husband and I looked at each other, and we knew regardless of what happened moving forward, there was no going back.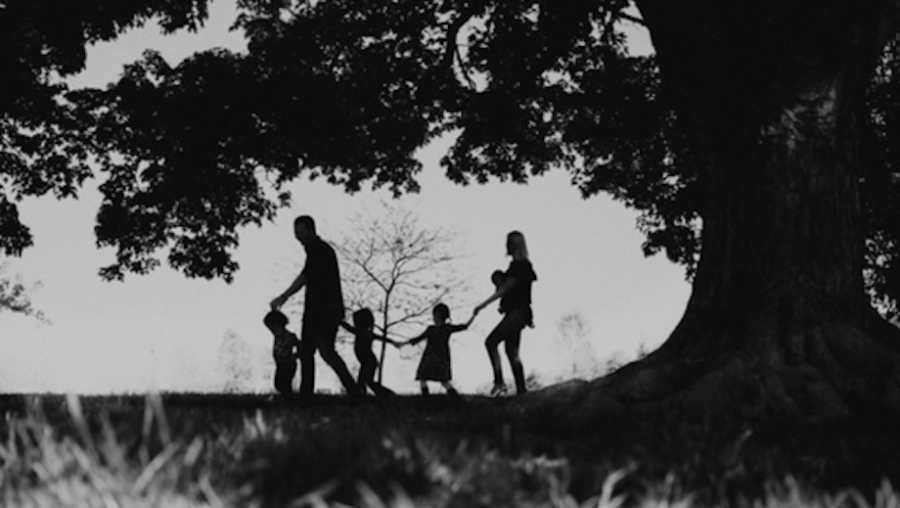 Finally, 6 months later, our classes were complete, all paperwork was submitted, our home study was finished, background checks, credit checks, CPR classes, and medical physicals, all finally done! By the time we had gotten to the end of our approval process, one thing became very clear, for many 'red tape' reasons I'll spare you the details of, they were not going to place my friend's foster son with us. We were devastated. We had fallen in love with the idea of him as part of our forever family, and that image was quickly shattered. Still, knowing what we had learned, we knew there was no going back. We had a brand new beautiful home with empty rooms, I had built a business that allowed me to work from home, we had an amazing support system, we had to move forward and open our home.
We told the worker we would take any child 4 and under and would possibly accept one sibling depending on the circumstances. Next, we just had to wait for a call. We moved into our new home, we went on with our every day. In October 2018, I had earned an incentive trip through my company, and we took off on an amazing vacation to Jamaica. On Friday, our last day in Jamaica, we rented a cabana, ordered mimosas, and relaxed on the beach. I needed to check into our flight for the next day, but the wifi signal on the beach wasn't working well. I decided I would turn the data on my phone back on so I could check us in. My phone blew up! I had missed almost 20 calls from our social worker! I jumped up out of the cabana in a panic!
'Hi Ashley, I'm calling because I think we have some kids that might be a good fit for you guys. This isn't an emergency placement so it's not needed today but quickly. I think you all might be on vacation or something. I've tried calling you a lot and it's going straight to your voicemail. Call me back when you can.' Kids. Did she say 'kids' as in plural?!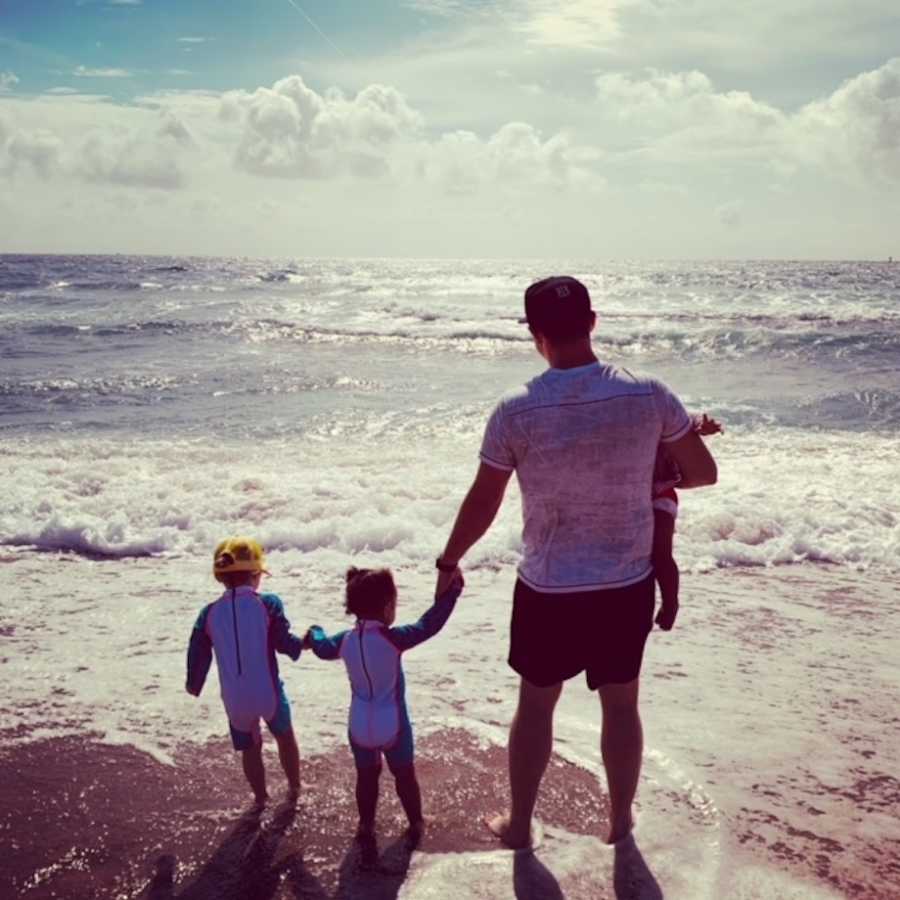 I called her back and she said she had a sibling group of three girls, ages 4 months, 14 months, and 2, who she was having a hard time placing. They had been removed in September and had already been moved twice. They were in a current foster home, but couldn't stay there. 'I really don't want to have to split them up,' she said. My heart sank. I told her I'd call her right back. I found Jake and we sat on the beach as I cried and told him what she said. We prayed and within minutes, decided to say yes. We thought, 'If not us, who?'
I called the social worker back and said, 'Yes, we will take them.' And she said, 'Okay, well it's not for sure. Don't do anything yet or buy anything because you aren't officially approved yet. I'll have to see if I can get you approved and I'll let you know on Monday.' It was the longest. Weekend. Of. Our. Life.
We flew home the next day in total shock and ridden with anxiety. Monday at 3 p.m., we finally got a call. 'Okay you have been officially approved, we will be there at 11:00 a.m. tomorrow with the kids.' Gulp. It was go-time! We scrambled that night, collecting cribs, car seats, diapers, bottles, everything we could think of we'd need. Everyone told us to go to bed early, so we did but we definitely couldn't sleep.
We anxiously waited for their arrival the next day. Finally, a car pulled up, and I think I held my breath until the door opened. Two social workers got out first. One opened the door and pulled out a tiny 4-month-old baby, another grabbed a 14-month-old little chubby baby with curly black hair from the other side of the car, and unbuckled a 2-year-old little blonde girl who climbed out of the car on her own. We watched from inside as the 2-year-old, in an act of pure bravery, walked ahead of them all, by herself, down the sidewalk and up our porch steps. She was crying but walking forward. I opened the door. I didn't know what to do, so I just knelt down and opened my arms. She walked right into my arms and sobbed on my shoulder. I picked her up and brought her inside, and told her it would be okay.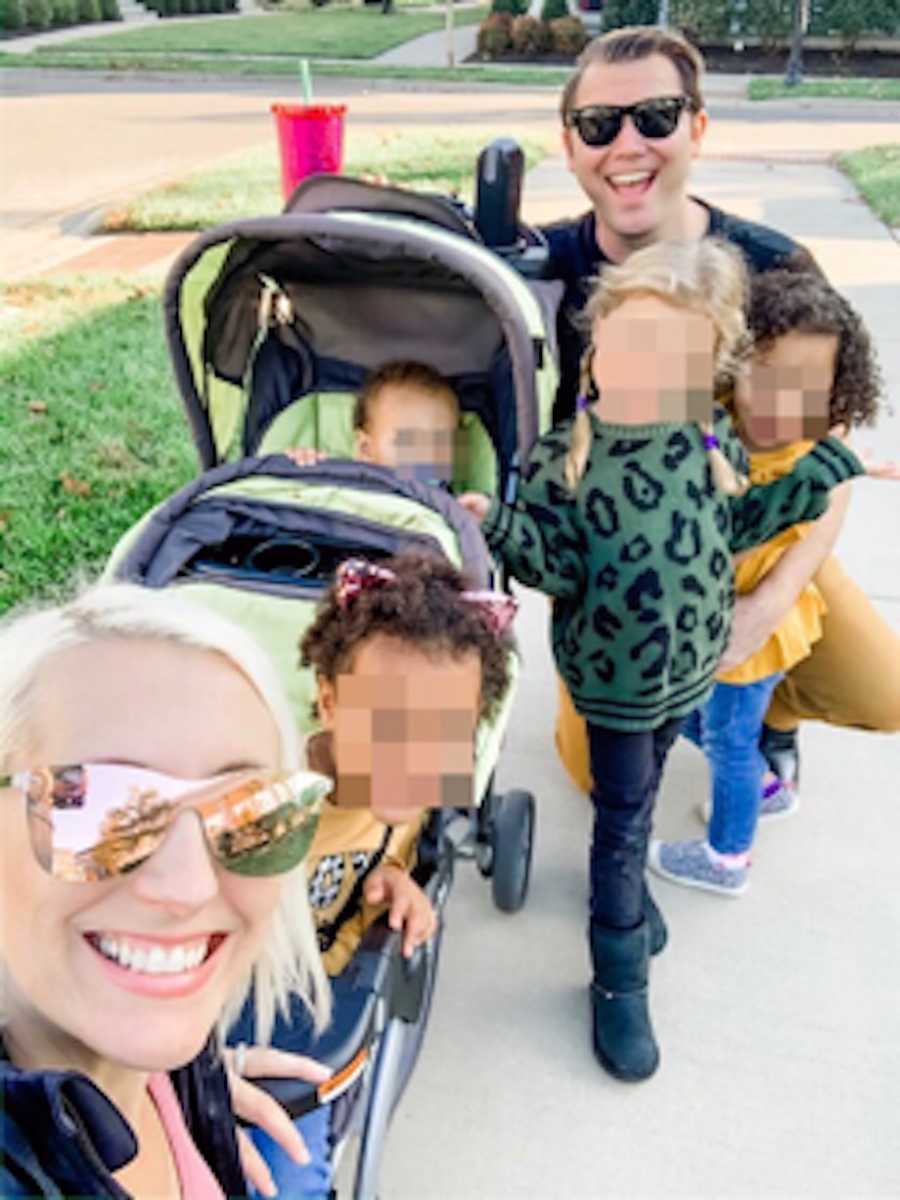 The other two were brought in and handed to us as the social workers explained visitation schedules with the bio family. Within 20 minutes, the social workers left and it got real super fast! The two oldest girls were running around everywhere, pulling stuff off of shelves, and exploring. I called my parents, 'Okay, come fast and help!' They were there in seconds, and everyone was grabbing a child. It was clear things were going to change very quickly ha!
That first week is a blur. We became an instant family of five. The girls were traumatized. They had been in three homes in 4 weeks and had no idea what was going on. At night, they would scream and cry if we tried to leave the room, so we would lay on the floor and try to sneak out when they would finally fall asleep. The 4-month-old had been through some serious trauma and was very stiff. She couldn't sleep laying flat on her back, so for the first few weeks, I just sat on the couch and held her at night so she could sleep. Our village showed up in a big way. Meals were being dropped off daily, an Amazon list was posted and every item was bought and delivered to our door. Friends drove over with clothes, baby items, gifts, everything we needed. It was crazy, and I'm actually not even sure how we got through those early days except for a lot of prayers and a lot of help!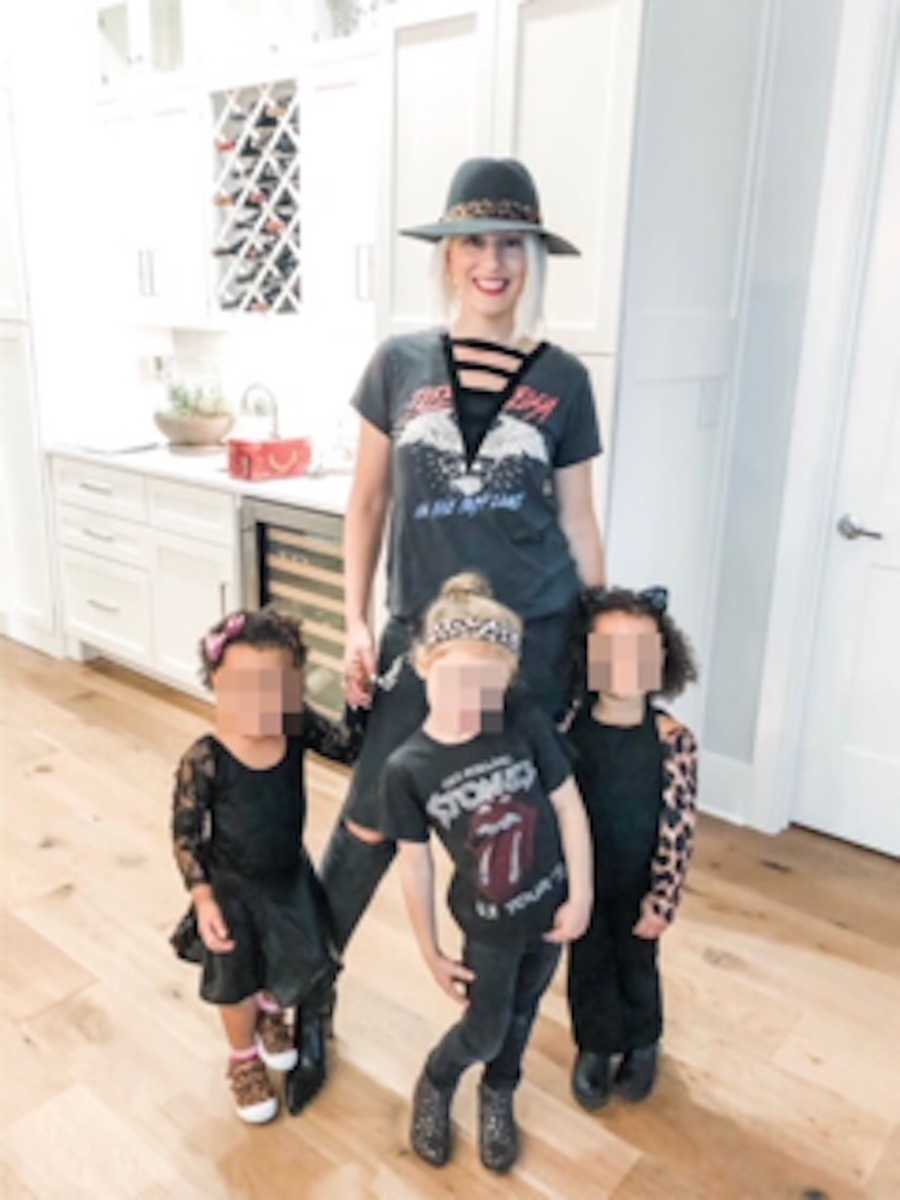 Very quickly, we fell in love. As the girls began to adjust to us, we saw their walls start to come down, and our home became their home. We began to settle into a routine and things at home started getting easier, but we realized very quickly this was going to be anything but easy.
We had visits with the girls' bio parents once a week and wow, that was hard. The biological family was understandably emotional, and the children didn't understand what was going on. Just as we would begin to make progress, they would have a visit and their trauma was brought to the service, tantrums flared up, sleepless nights, and nightmares returned. For the next year, we walked around like open wounds, never knowing when they would be pressed upon. Emotional visits with the biological family, animosity and ridicule from them, heartbreaking court days as we went through a long trial to prove the abuse and neglect our girls had endured. The bio family came forward seeking custody, and we held our breaths. They were denied by the court. Visits were increased, visits were decreased, the bio family liked us, then they hated us. The attorney prepared us they could be returned. We lived in constant fear.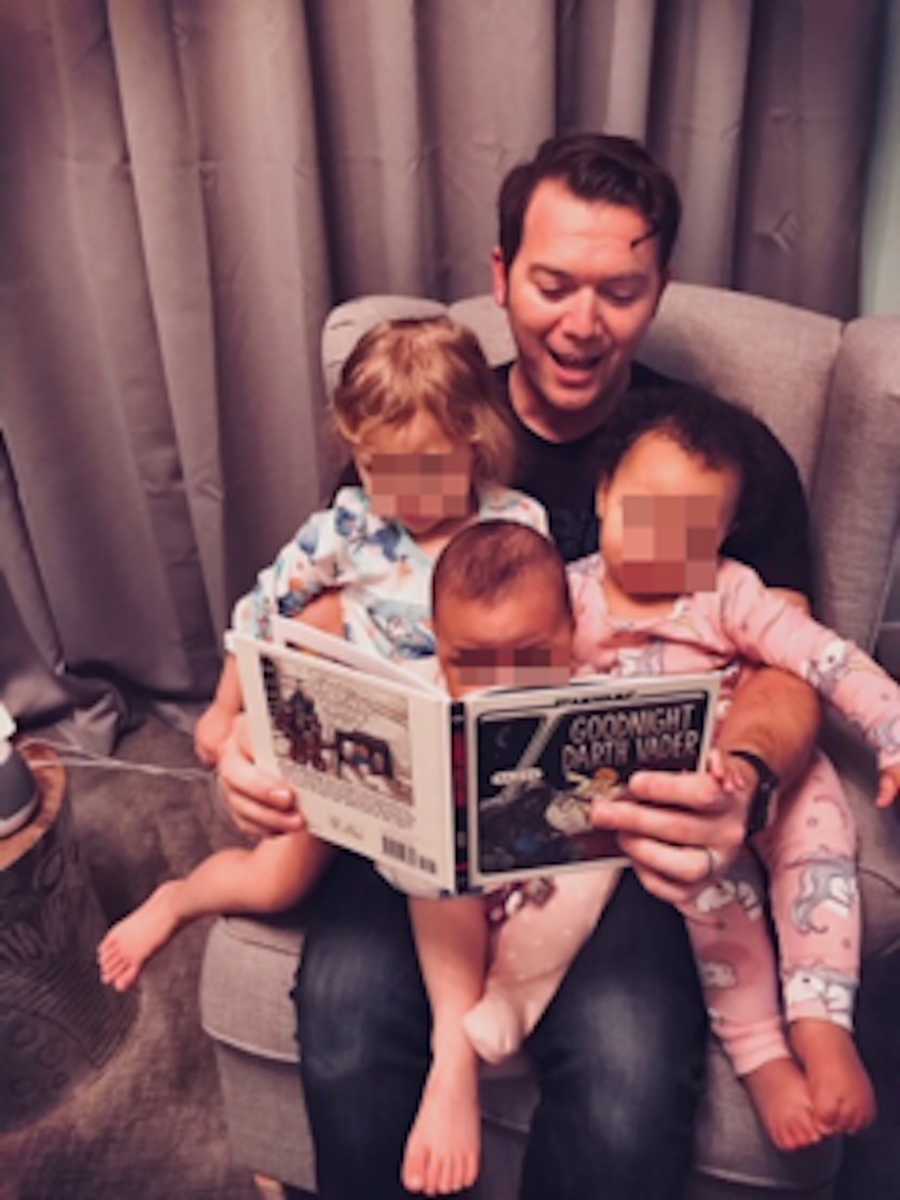 One day after a visit, my oldest got in the car and said, 'She has a baby in her belly.' 'Who?' I asked. 'Mommy.' Okay, I thought, she's 3, she doesn't know what she's talking about. I put her in the car and turned to the two social workers who had observed the visit. 'She just told me her bio mommy has a baby in her belly.' I said. They looked at each other with a knowing look, and I gasped!
5 months later, we picked up the girl's brother from the hospital. He was 2 days old. We were now a family of 6. He was sure a surprise, but an absolute and complete joy!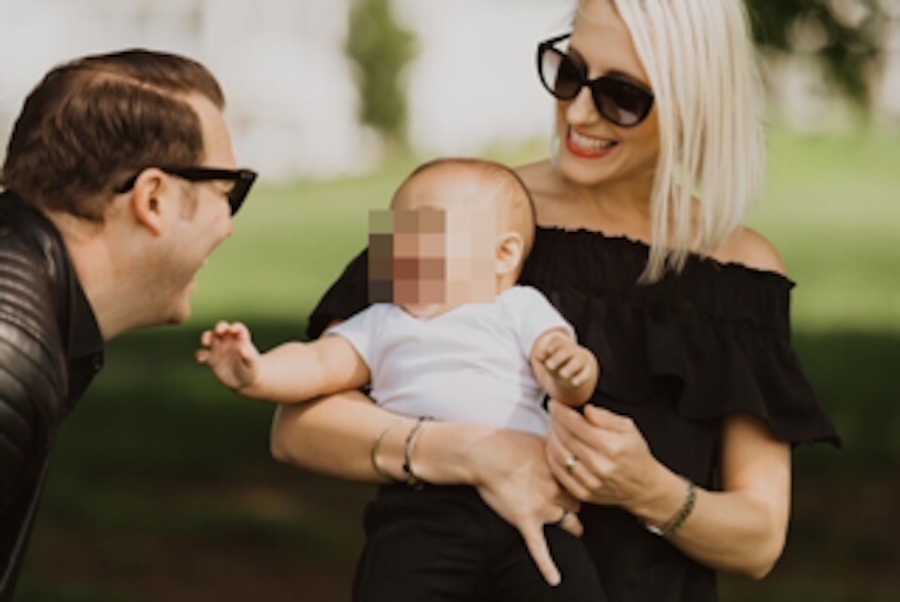 It's been 2 years now and wow, it has been a crazy ride. After a long, drawn-out trial, findings were finally made and after a more than reasonable effort on behalf of the cabinet, it was decided by the cabinet and the judge the children would not be returning home to their bio parents. It's very sad and bittersweet to watch that happen. I don't wish upon anyone for them to lose their children. The children's safety and welfare must come first, and we are grateful every day for our kids' safety and protection. For now, we wait some more. Hopefully, soon, our adoption day will be upon us and we will make legal what love has already done, we are a family. I couldn't love my children anymore if I had given birth myself to them. The last few years have been an emotional roller coaster, to say the least, but it's been so worth it. My heart leaps out of my chest with love for my four babies, and we plan to spend forever loving and appreciating them.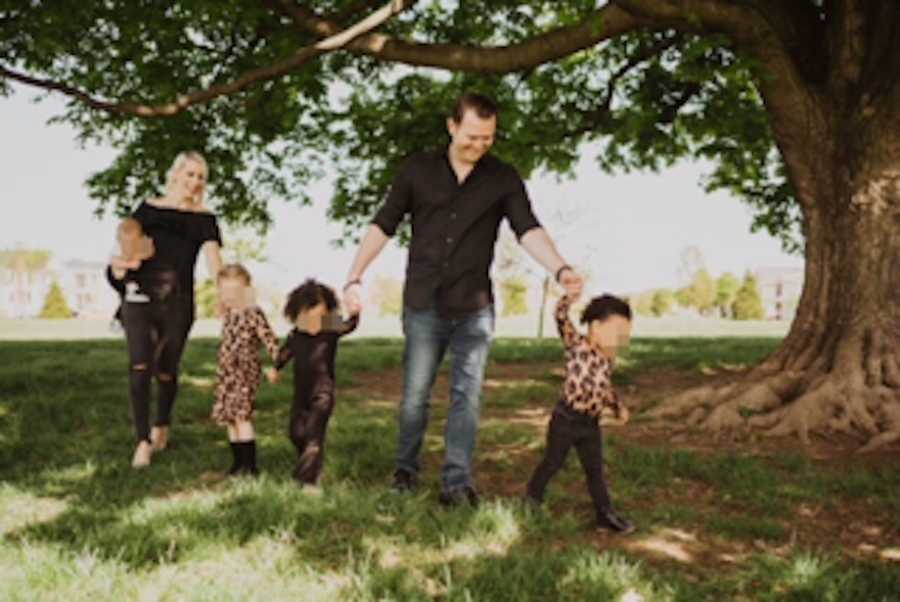 Here are a few things I'd like you to know about foster care: YOU ARE NEEDED! There are currently over 400,000 children in foster care just in the US alone!  Yes, foster care is hard. But isn't all parenting hard? If it seems hard to us, imagine the children and what they've gone through. They need people who are bigger than them to take on the hard on their behalf! It's so worth it!
Please do not say to a foster parent, 'I couldn't do it. I'd get too attached.' It implies to us that we DON'T get attached, that we don't love them huge… which of course we DO! Imagine being 3, 7, or 12 years old and having NO ONE. These kids need your attachment. Foster children are not 'broken!' They are CHILDREN! They are scared, they are hurt, they are incredibly brave and resilient. They are just looking for someone to stick around.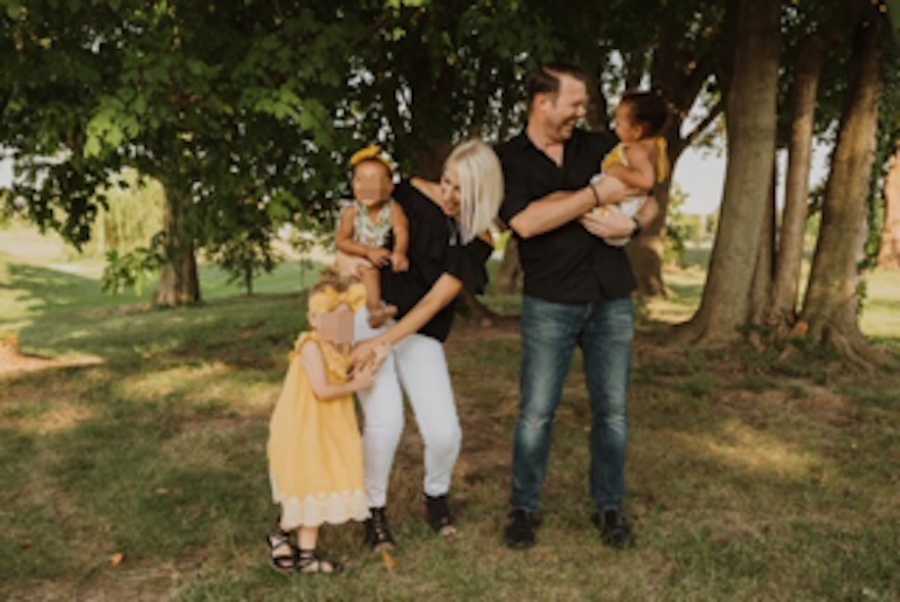 If your lifestyle doesn't allow for you to be a foster parent, how about becoming a respite provider? Foster parents are not allowed to leave a foster child for more than 24 hours with just anyone. It has to be someone the state has approved. It's fairly simple to become approved and you could provide respite! It might be a few nights, a week, etc.
Could you support foster parents in your area? Support a foster parent as you would your friends who have a new baby. Take them meals, find out the children's ages and sizes, and buy appropriate clothing and gifts. Many times they get hours notice before receiving a placement, not 9 months to prepare. (HUGE shout out to our friends and family who supported us and showed up in a big way to help us when we got our kiddos. We can't thank you enough!)
Other ways to help: Donate to local foster closets. If you don't have kids' items to pass along, they can always use new diapers, socks, and underwear! Donate new and used luggage to organizations that help provide foster kids with luggage so when they move from home to home, they don't have to put their belongings in garbage bags. (Yes it happens all the time!) Thank and support social workers, they are the real MVPs! Send them cards, encourage them, let them know they matter! Remember, you were born with the ability to change someone's life!"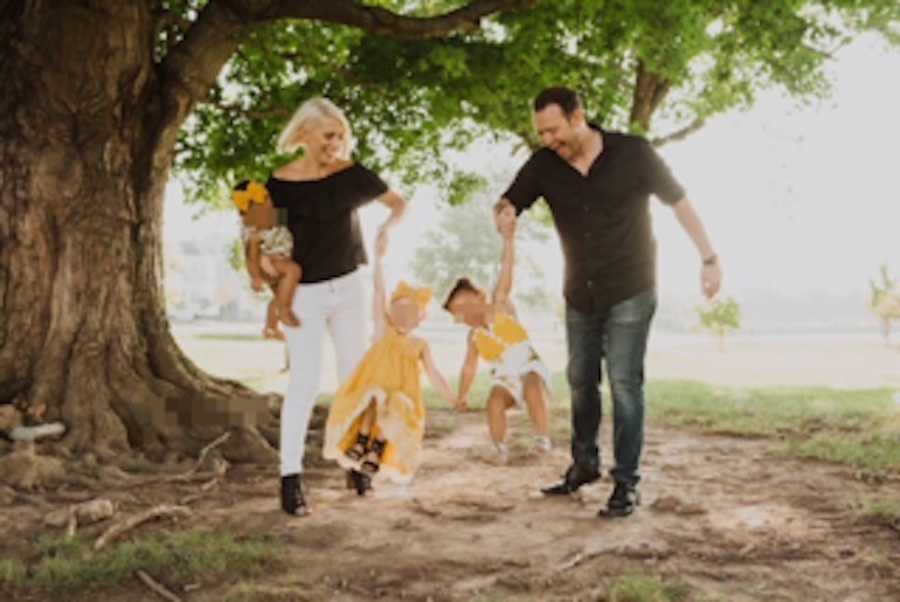 This story was submitted to Love What Matters by Ashley Stone. You can follow their journey on Instagram. Do you have a similar experience? We'd like to hear your important journey. Submit your own story here. Be sure to subscribe to our free email newsletter for our best stories, and YouTube for our best videos.
Read more beautiful stories like this:
'We can have one more. Only ONE.' That's all I needed to hear. We had 8 kids within the next month.': Couple adopts four kids from foster care, 'My heart was changed'

'Dear God, please bring me a 4-year-old sister.' Then came an email. 'Let's not get our hopes up.' I wanted to protect her.': Couple adopts 3 'unlikely siblings,' 'We are a family'
Provide beauty and strength for others. SHARE this story on Facebook and Instagram with your friends and family.