"Our perfect life, my perfect husband, our perfect daddy, my perfect family… gone in a blink! My husband was the most loving, fun, supportive, loyal bloke who everyone loved, and he was mine. He was ours.
Being childhood sweethearts, we had been together for 15 years. In our perfect life together, we had bought two homes, were married in 2016, and went on to have two beautiful little girls.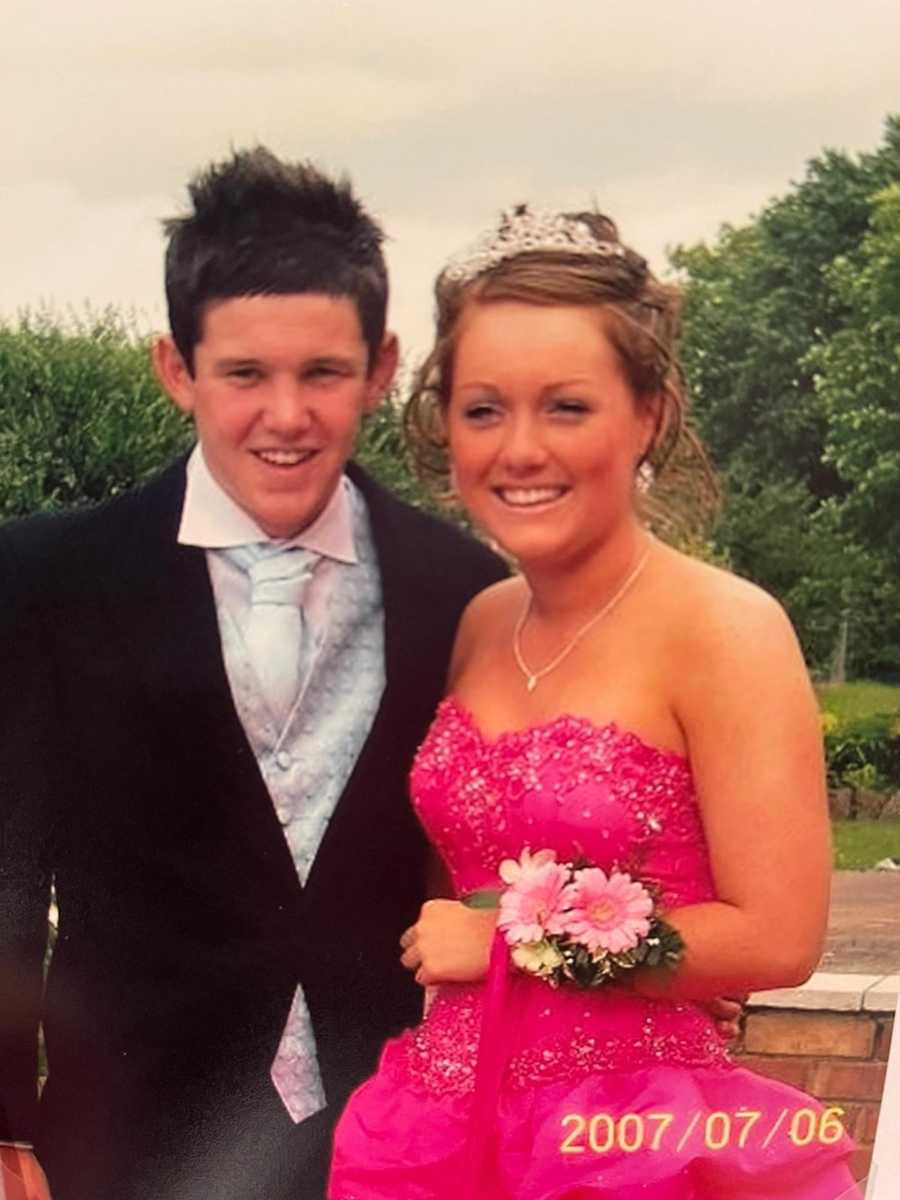 Our love story began in 2005. We were 14 when we first met in a nightclub at a 'Nappy Night' for under-18's. From day one, our relationship developed very quickly, and it was clear to everybody how much we loved each other. We became a part of each other's families and had no idea what the future would hold for us.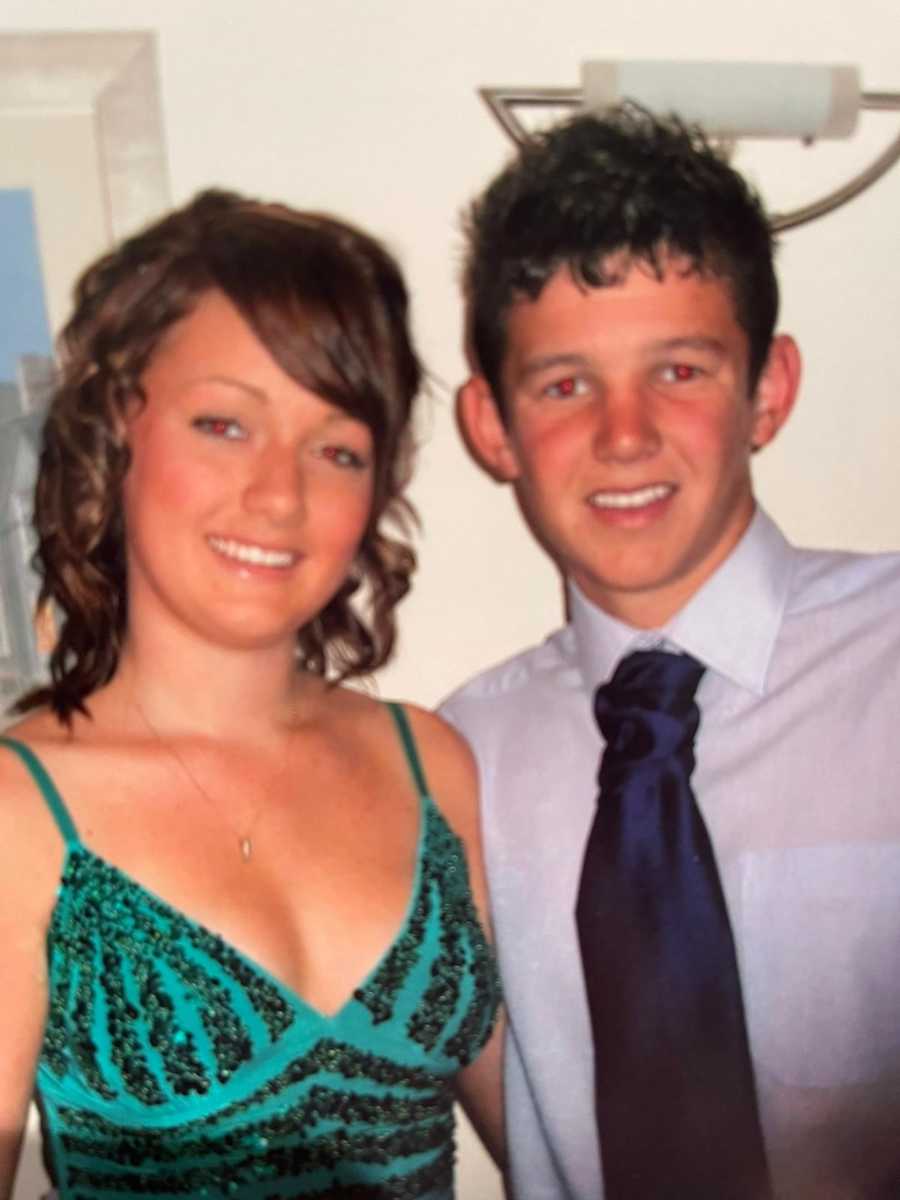 2013 was the year we bought our first house where we frequently held parties for our many friends and sometimes annoyed the neighbors. Ewen was not the quietest of people but his loud and bubbly voice was perfect to me!
2014 was the year he proposed and asked me to be his wife. It was the most magical moment, and I knew right then he was going to be mine forever! On June 4, 2016, we were married, and it was the most amazing day. We were the perfect couple and had the biggest of all celebrations! We flew off to Thailand for our perfectly planned honeymoon. However, as far as most honeymoons go, ours was far from the relaxed and peaceful honeymoon you would expect! We laughed and we drank from the minute we landed to the minute we left! This really sums us up as a couple. The happiest, funniest, most loving couple you would ever meet. What we did not realize at the time was I was pregnant.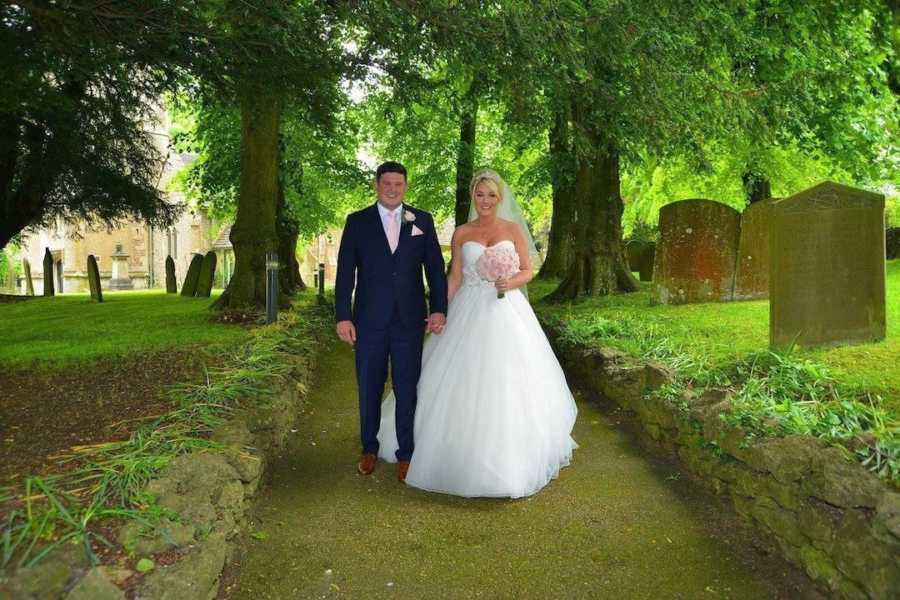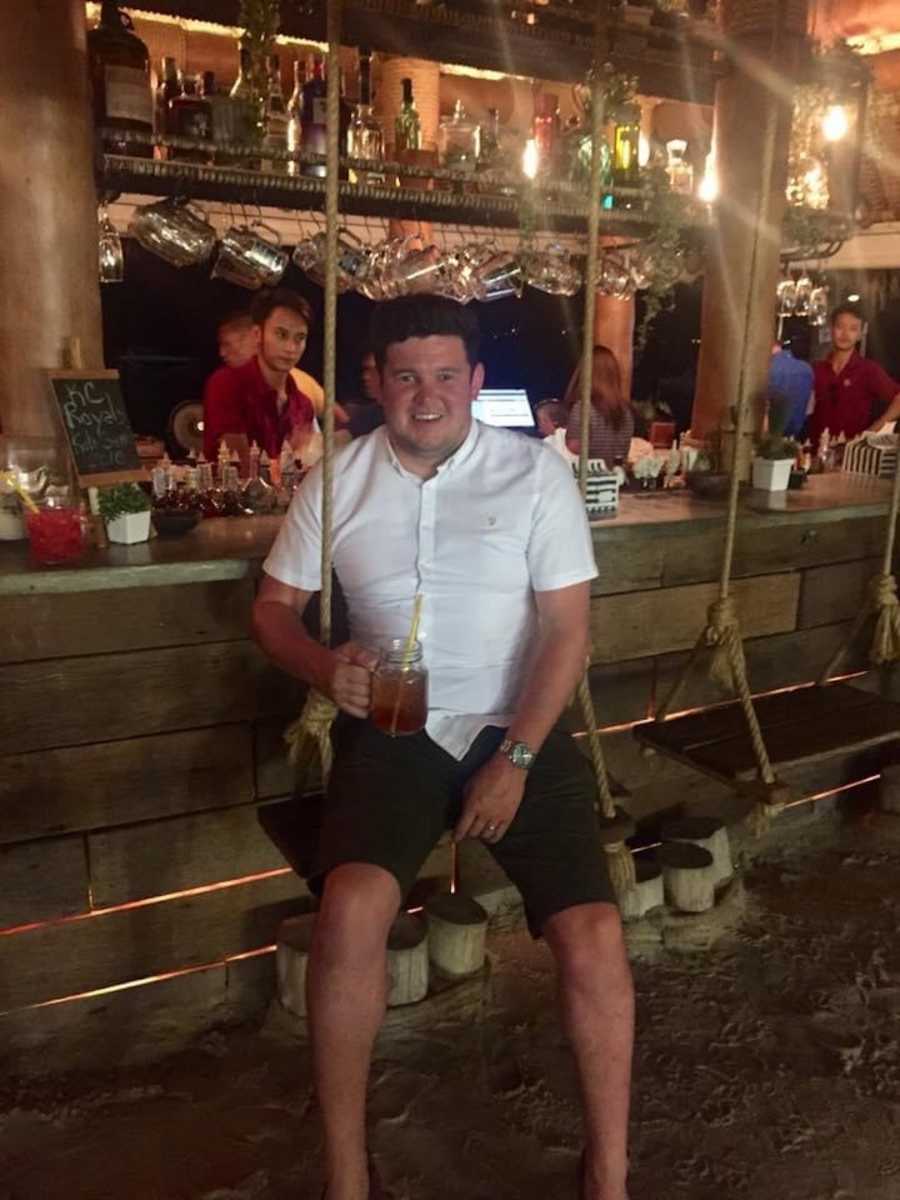 Our first little girl, Ayla, was born in 2017 and we instantly became the most amazing, loving, happy little family. After becoming parents, we both continued to work hard and play hard and would often enjoy nights out with our friends and family. We never missed an event and we were always the life and soul of any night out! We had lots of holidays abroad to places like Barcelona, Amsterdam, and Malta with friends and even managed to join the mile-high club! But that was us: young, wild, and happy together! We would always say to each other, 'Why are we so amazing? Why are we so good together? Why are we perfect?' Little did we know, it wouldn't last forever.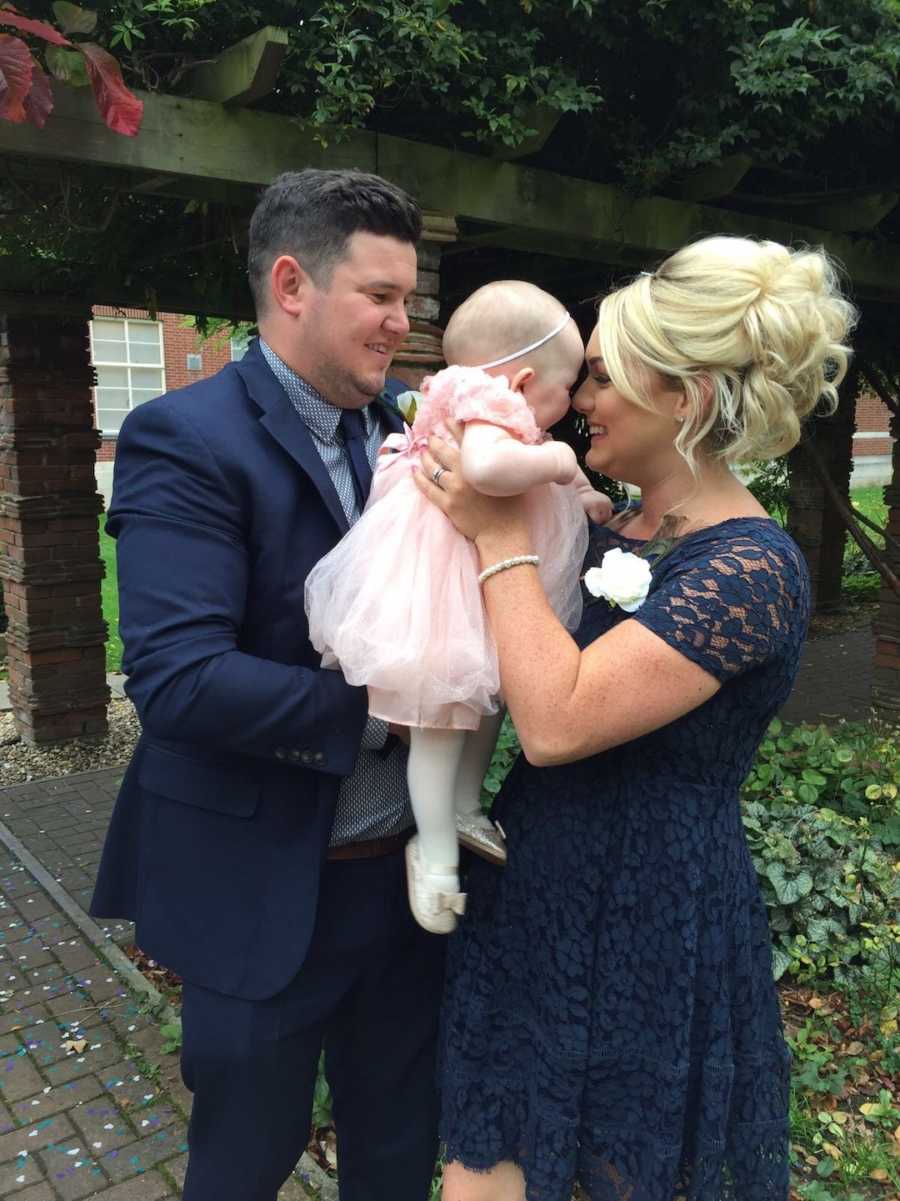 Ewen was a plumber and always such a grafter, always working hard to provide for me and our girls while also always working hard to get some extra money for his golf days and beers with the lads. Ewen really was the most amazing man. He was a proper man's man who loved nothing more than nights and days out with his mates but at the same time, loved coming home to his wife and girls. He was the happiest and funniest guy with the biggest smile and loudest laugh! Anyone who knew Ewen would only have good things to say about him. It's safe to say there aren't many Ewen's in this world and I thank my lucky stars I was able to call him mine!
We started off 2020 with the news baby number two was on their way! Ewen was desperate for a boy, a mini version of himself but after no surprise, we found out we were adding another little girl to our team, and we could not be happier! We decided in order to support our growing family and our love for hosting parties and family get-togethers, we needed to find a new bigger family home.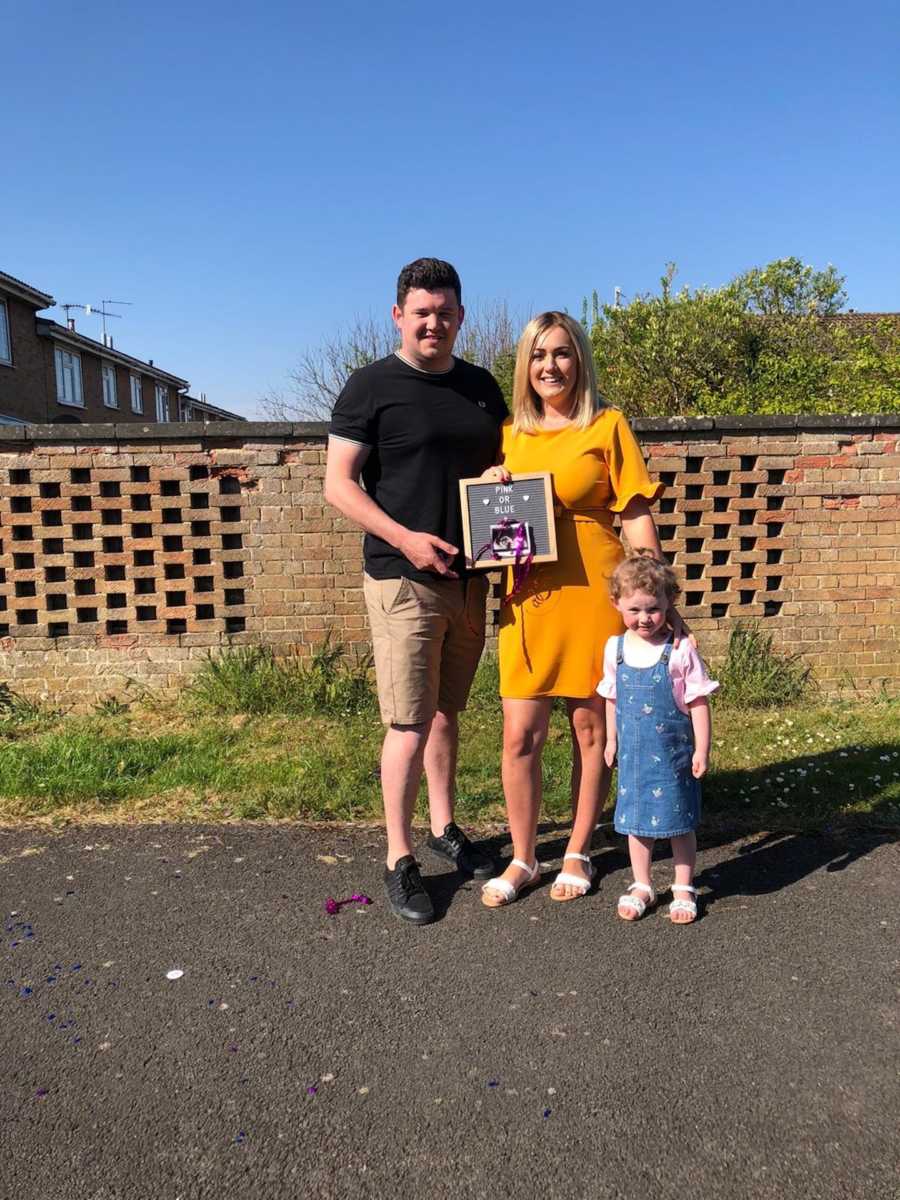 Ewen has left such a huge hole within our friends. He really was the heart of our squad, the life and soul. It is safe to say you would hear Ewen's voice before you saw him. You would see his beaming smile from far away and everyone who met him just loved him! There was actually no one that disliked Ewen. Do not get me wrong, he was very loud and I'm sure people thought he was too much… but to me, our girls, our family, our friends, he was our Ewie!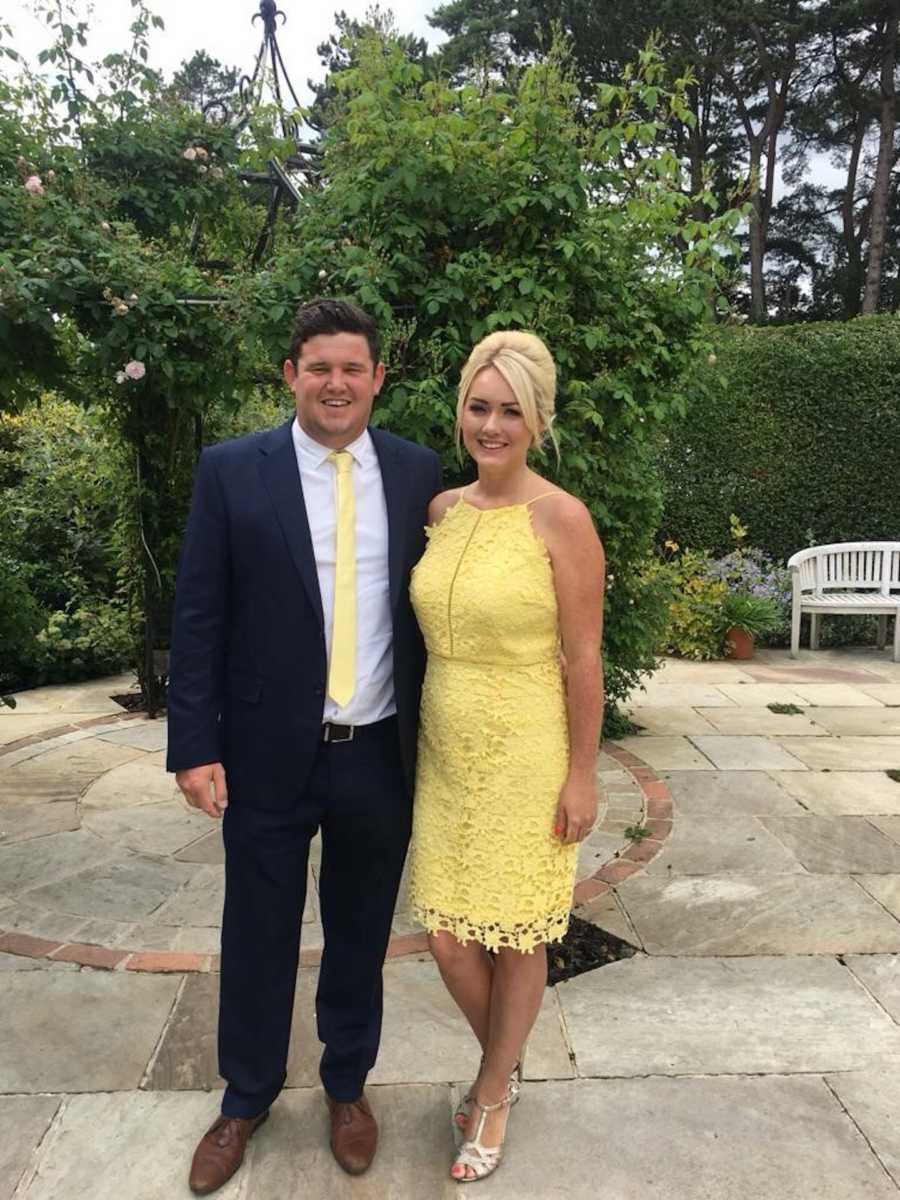 As everyone knows, 2020 was a quite different year for all. Confined to our homes, not being able to go to parties or pubs, not hugging our families and friends… Ewen missed all this, especially the pub. But WOW, what a year we had. We made so many memories during lockdown, including long walks as a family, quiz nights via Zoom, and drinking and dancing around the kitchen together. We made the best memories as a family of three before we became a family of four. In June 2020, we moved into our forever home where Ewen started the renovations to make it perfect for us. We mainly bought the house for the big entertaining kitchen and a big garden with the intention of building a bar in the garden to host our many parties, and also so he could have his friends around to watch football. He had all these plans and was working so hard to make them come true.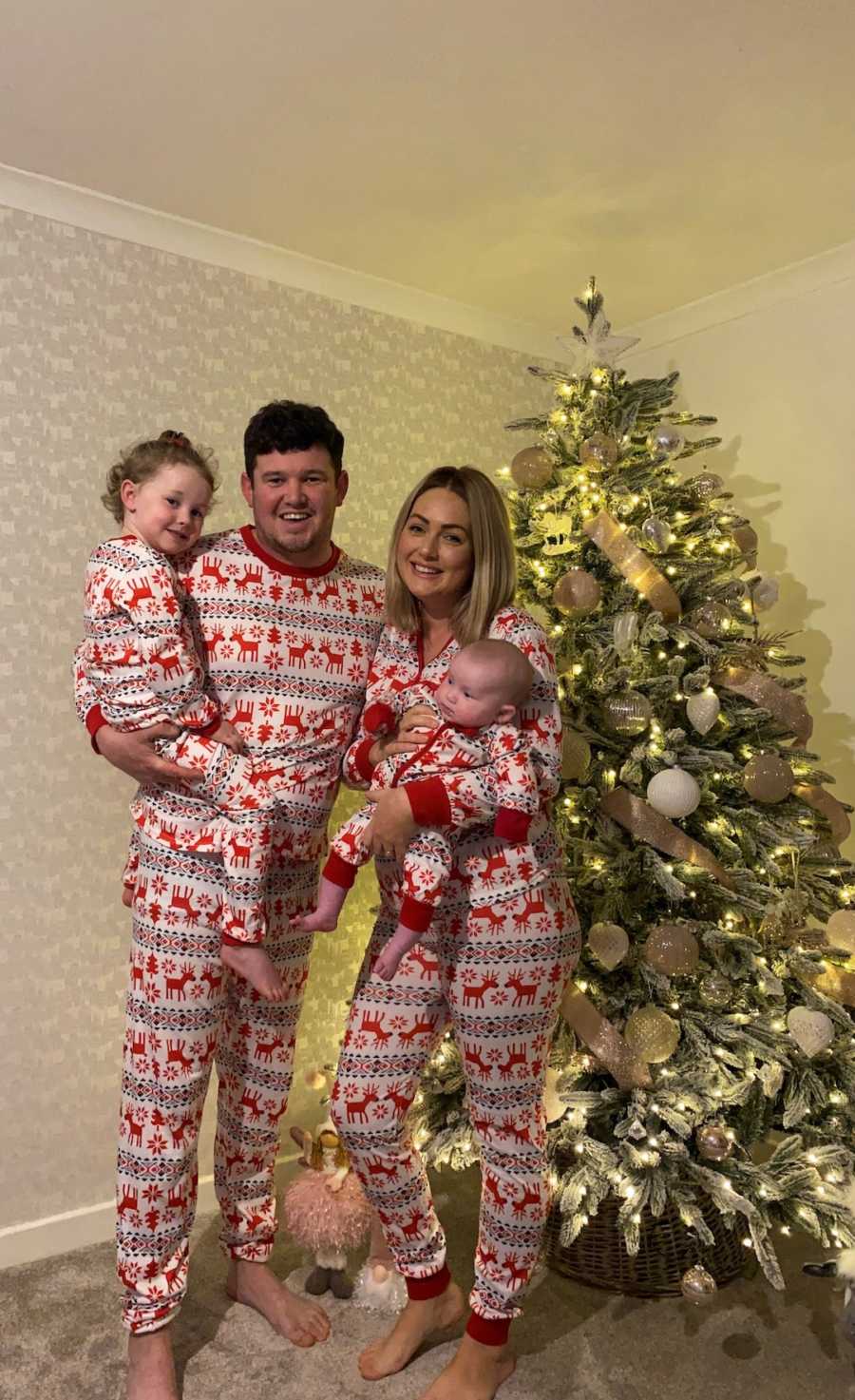 In August 2020, our second little girl, Poppy, was born, and our family was now complete. We were a team of four, a little family unit but little did we know our little family unit would only last 3 and half months. Our perfect love story, our perfect family, our perfect plans and dreams all came crashing down! It was over. On Wednesday the 9th of December, Ewen set off early to work. He said goodbye to the three of us, kissed us, and then said, 'I love you all,' like he did every day. Ayla then ran and shouted again down the stairs, 'Daddy, I love you.' Then he left. Little did we know that was our last kiss, the last time we would hear his voice, the last time we saw him.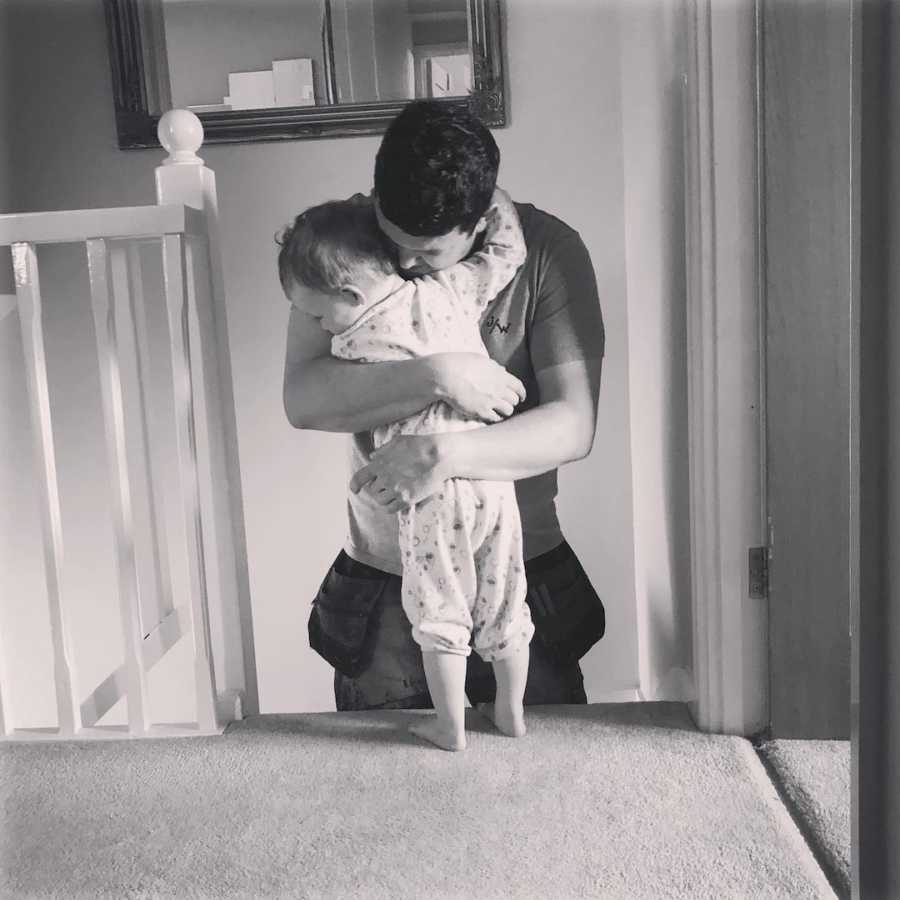 At 1 p.m. that day… I will never forget my life turning into what felt like a movie. I opened the door to two police officers with our baby Poppy in my arms. 'Mrs. Lever.' Their hats came off and the world started spinning. I felt the impact of the floor and I could hear a high scream. I was unsure where it was coming from, but then I realized it was me. I was making that noise. The pain shooting through my body from my head to my toes. I felt numb and I knew before they even said the words, I had lost our Ewie. We had lost our world.
The police went on to explain Ewen had been in a car accident and unfortunately, passed away. Those words will never leave me. 'Unfortunately passed away.' How can these policemen sit in my house and tell me my husband had passed away? Things like this don't happen to people like us. Things like this only happen in films, not in real life. It couldn't be real.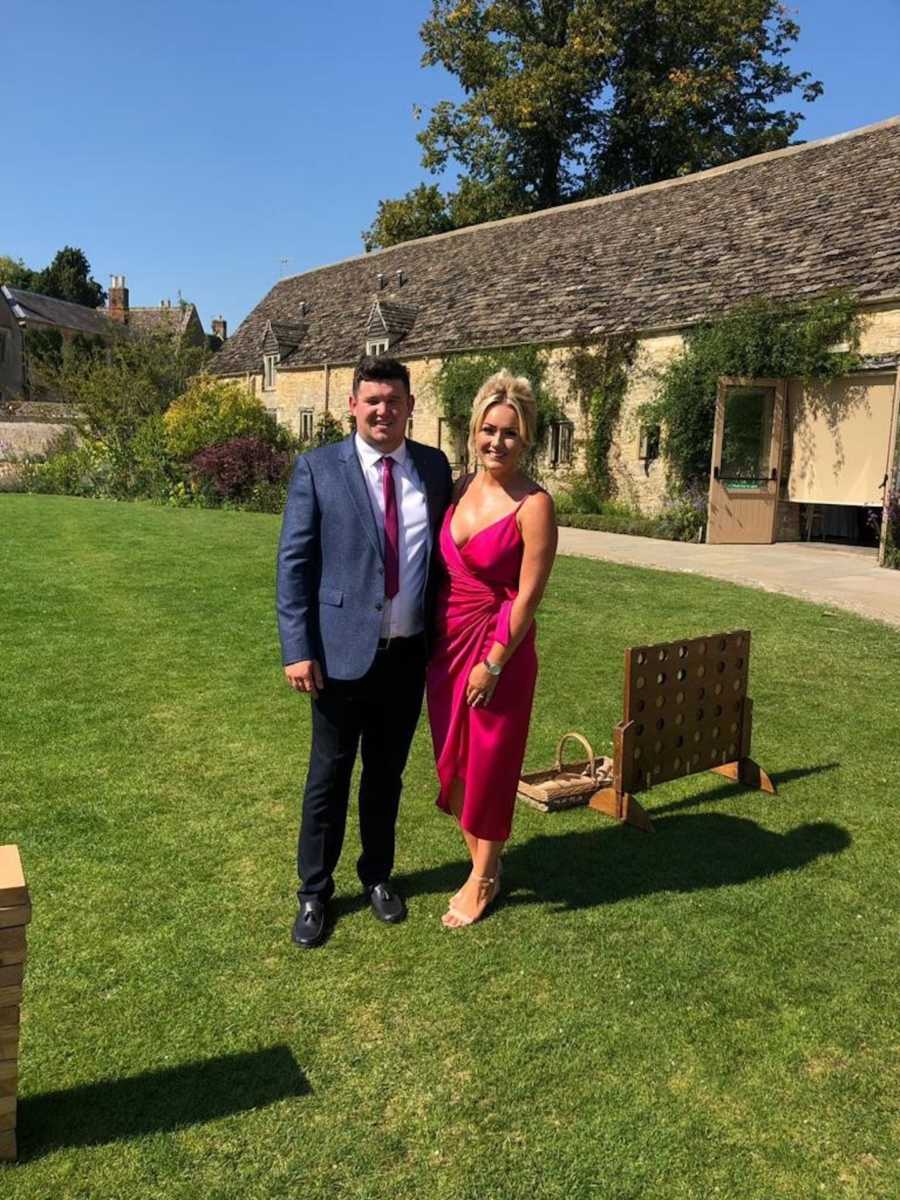 Our fairy-tale was over. Everything was the four of us and now it's just the three of us. The pain was and is unbearable. In the first few days, I remember thinking, 'How the hell am I going to do this?' He was my everything. We told each other everything. How are my babies going to survive without their daddy? Who will walk them down the aisle on their wedding day? Who will look after us? How do I live without you? The questions in my head in the first few days were things I never imagined to be thinking or feeling.
Our little girl, Ayla, was at preschool at the time I found out our Daddy was never going to be coming home. My mom collected her that day and I remember she walked into our living room, our house full of people with tears and broken hearts, and she sat on my lap and asked me, 'Mummy, why are you crying?' How do you explain to a 3-year-old her daddy has passed? How do you explain he won't be coming home again?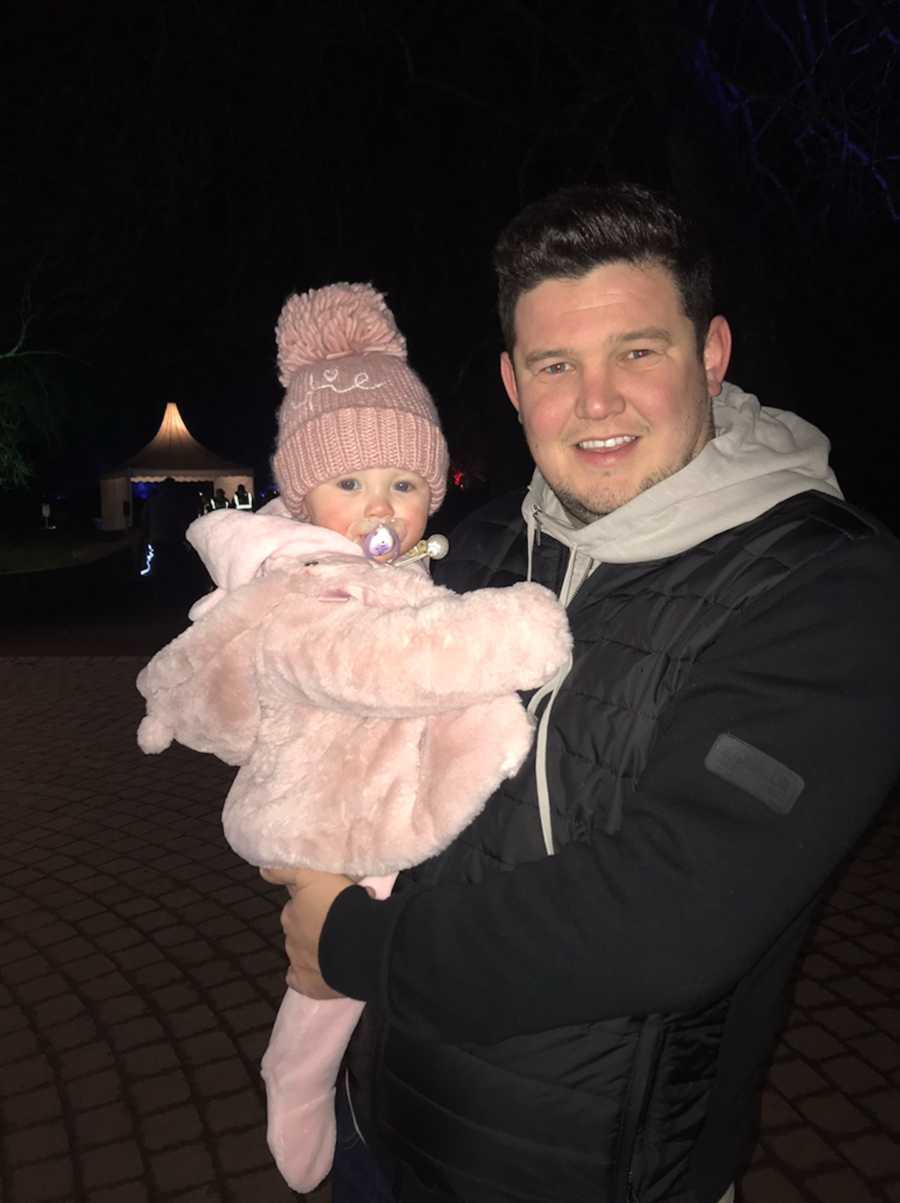 The words came out of my mouth before I even had a chance to think. 'Remember when our grandad went to the Moon? Well, Daddy has had a really bad accident in his van and now he has to go to the moon too…' Still to this day, I do not know how I had this conversation with her. I had just been told the love of my life was no longer here and now I was sucking up my tears and being a strong mummy to our girls. Her tears, I still see, the moment she heard the words come out of my mouth. I had just shattered her life forever. She no longer had her perfect daddy anymore, her idol, her hero. Ayla and Poppy would grow up without their daddy and it breaks my heart.
There is a story behind the moon. My grandad passed away due to a long battle with cancer in September 2020. When telling Ayla, 'Grandad had gone to the stars in the sky,' she interpreted this into, 'Grandad is on the Moon' and it worked. She waved to our grandad on the moon every night. I remember, Ayla asking me and Ewen, 'Mummy and Daddy, you're not going to the moon are you?' 'No Ayla, Mummy and Daddy will be here until we get very old.' That conversation sticks in my mind like it was yesterday. Little did we know, yes, Daddy was going to the moon.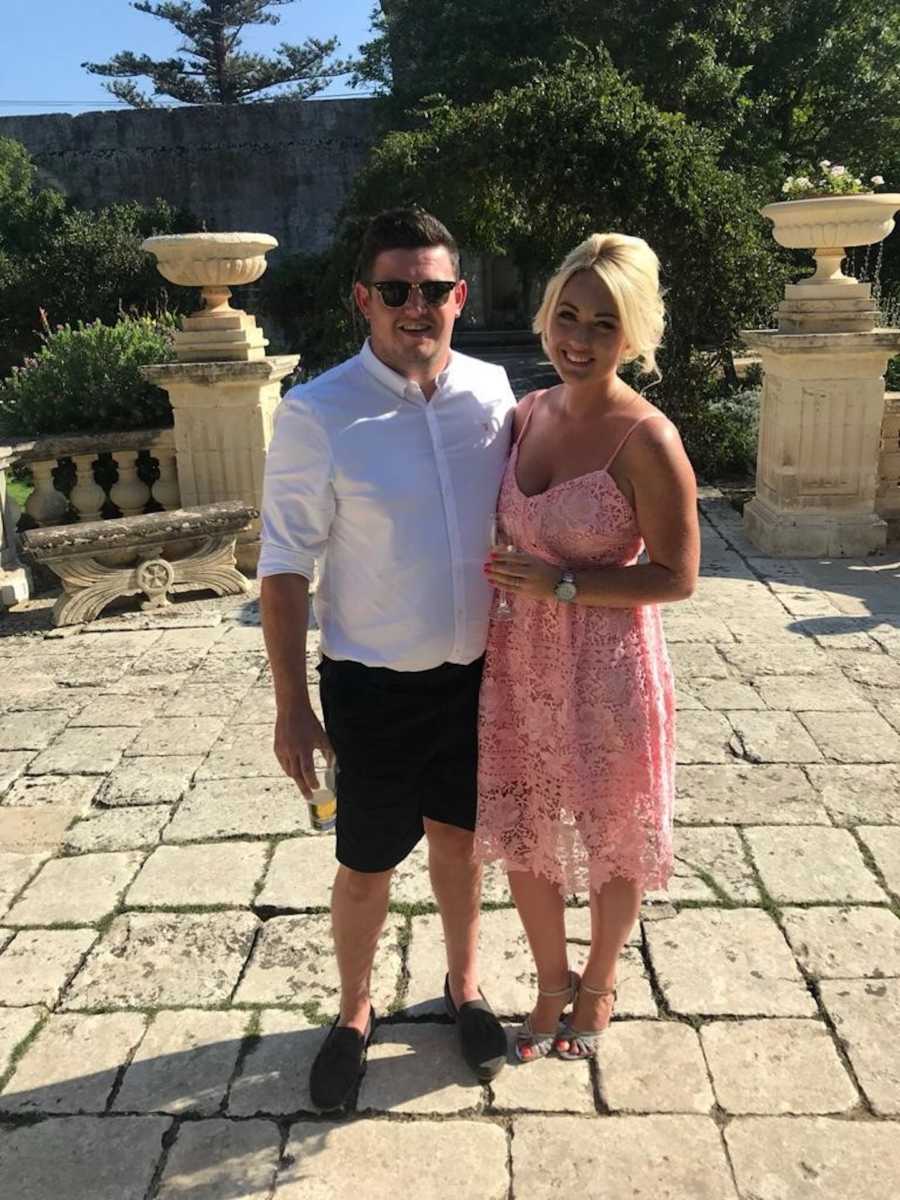 I was assigned a 'Family Liaison Officer,' a job title I had only heard in TV drama's and now, here I was. He explained more about Ewen's accident. He had crashed into a Royal Mail lorry and died instantly. If that's one thing I can hold onto and make this horror story slightly better is Ewen never knew. He never felt pain. He wouldn't have had time to think about what he was leaving behind. But it hurts me. I feel his pain and I am living his pain all day every day. Over the next few days, I had lots of friends and family in and out of my house. Police officers calling, coroners calling, funeral directors calling. Still thinking, 'Is this seriously happening to me? Why me? Why us? Why him?'
When the news hit everyone in town, it made it so real. The messages came flooding in alongside the sympathy cards, the flowers being delivered, the gifts. It was all so overwhelming and amazing, but it made it all feel so much more real. I knew Ewen was a well-known and loved bloke but wow! I had hundreds of messages from people we knew from school, family, friends, and people who don't know us. We had the most amazing and perfect little life and it was ripped away from us, without any warning, and now I'm left here with our two girls, alone. This was never the plan for us.
10 days passed. I used to lay on my living room floor playing, 'Lean on Me' and crying. I was playing that song the morning Ewen died, 7:39 a.m. but I just didn't know. Now it was the song that meant so much to me. Then I had to face 'The First' without him, It was my thirtieth birthday and Ewen had been planning it for months. We obviously couldn't do much, due to COVID, but I knew he was planning to make it perfect for me. My kitchen had been decorated in thirtieth birthday decorations, but it just didn't feel right. I was then told Ewen had planned and arranged the whole thing and this broke me again. The overwhelming pain through my body of grief hit, but then I felt love. I felt love from my husband. I remembered how much I meant to him, how much he worshipped me, how he would literally do anything to make me smile or happy.
As much as it hurt, I am thankful Ewen was so organized for my birthday. He had ordered me flowers in mid-November, as well as a cake, a balloon arch, decorations, and helium. He literally planned it all. Thankfully, my sister knew about it and made it perfect for me. I was then handed some gifts that were from Ewen. He had ordered me birthday cards, an eternity ring, a necklace with the girls' names on a bracelet saying 'forever yours,' a family calendar, and other thoughtful gifts.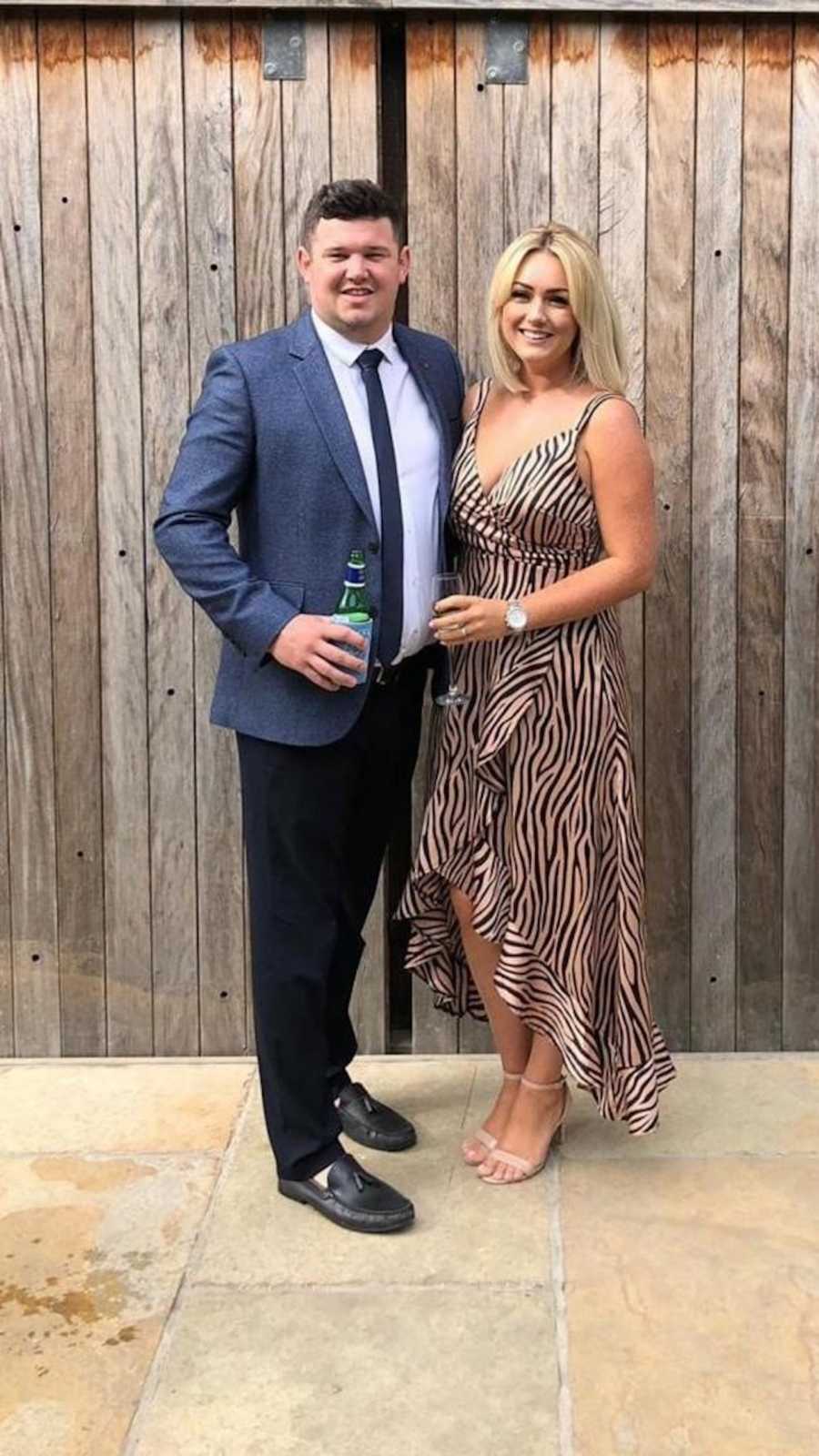 Seeing Ewen was always something I knew I needed to do. I had to see him, I had to kiss him, I had to hold him, I had to tell him we will be okay. I saw Ewen a total of six times before his funeral. I would go on my own to the chapel of rest, sit with him, cry over him, and talk to him. He was mine.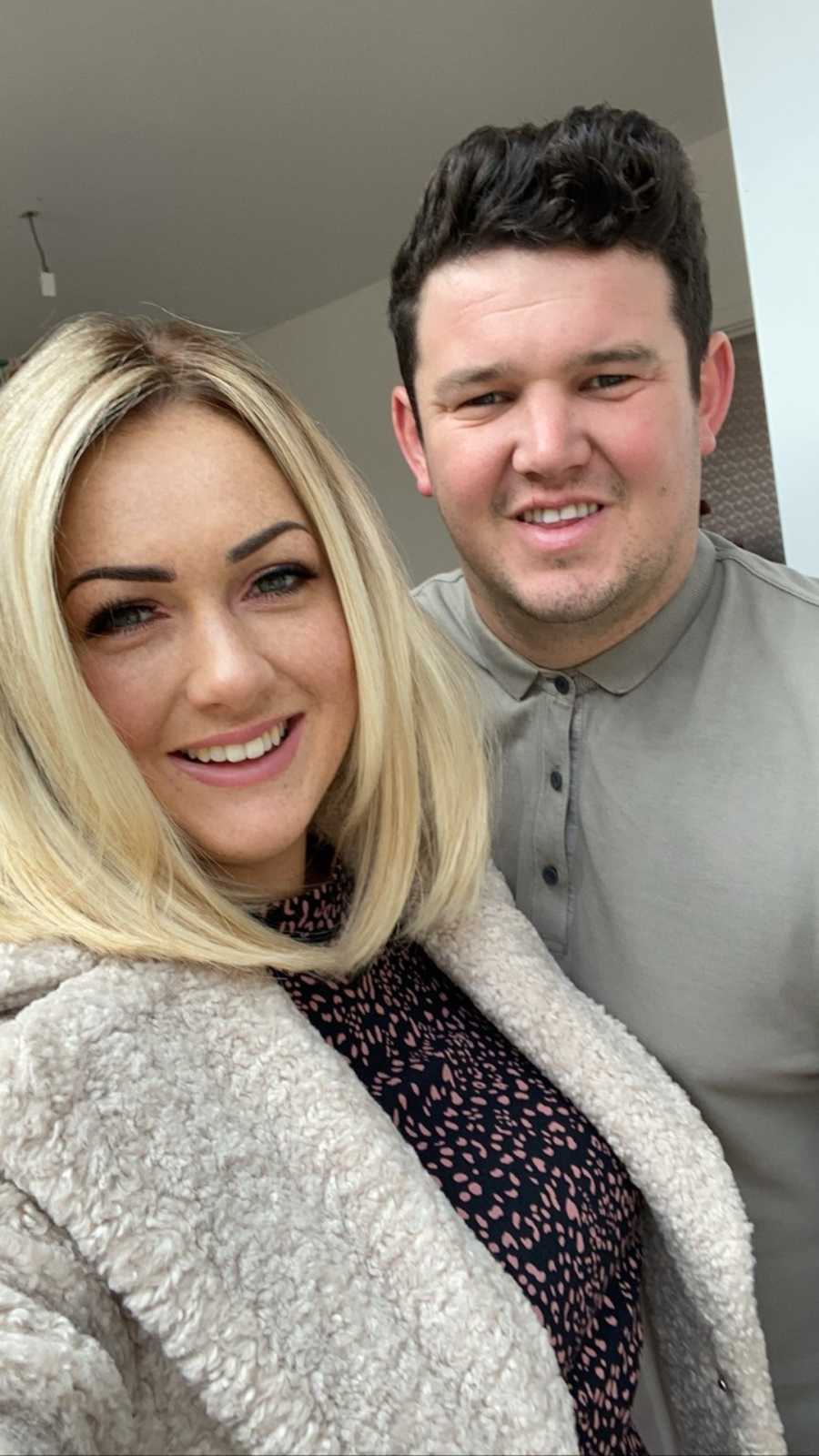 When it came to the funeral, I had everything planned as perfectly as I possibly could. I wanted to make it perfect for Ewen. I had planned it perfectly. I wrote the eulogy and prepared a tribute video. But we could only have 28 people attend. Choosing 28 people when we both have massive families and hundreds of friends was HARD! It was pressure and stress I didn't need, but then again, I never imagined to be planning my husband's funeral at the age of 30 whilst in a worldwide pandemic! But I did it. I stood up and read him my love letter. These were my last words to my husband:
'I love you. And I love everything about you! I still can't believe I am stood here alone without you, but I know deep down you are stood here holding me, telling me everything will be okay. Ewie, our first kiss was 5587 days ago. Our last kiss was 22 days ago. I will remember that last kiss for the rest of my life. Please will you continue to kiss me, even if I can't feel you?
I know talking on behalf of both of us, we can hand-on-heart say we truly loved everything about each other. We made the most of every minute of every day. We made each other the happiest people. We were the best mummy and daddy. We literally were Abby and Ewen. The dream team together. The dream team that is no longer.
Everyone keeps saying I'm so strong and you would be so proud of me. But the truth is I feel broken. I feel like one of my organs is missing. I am just not me without you! But Ewie. I love you.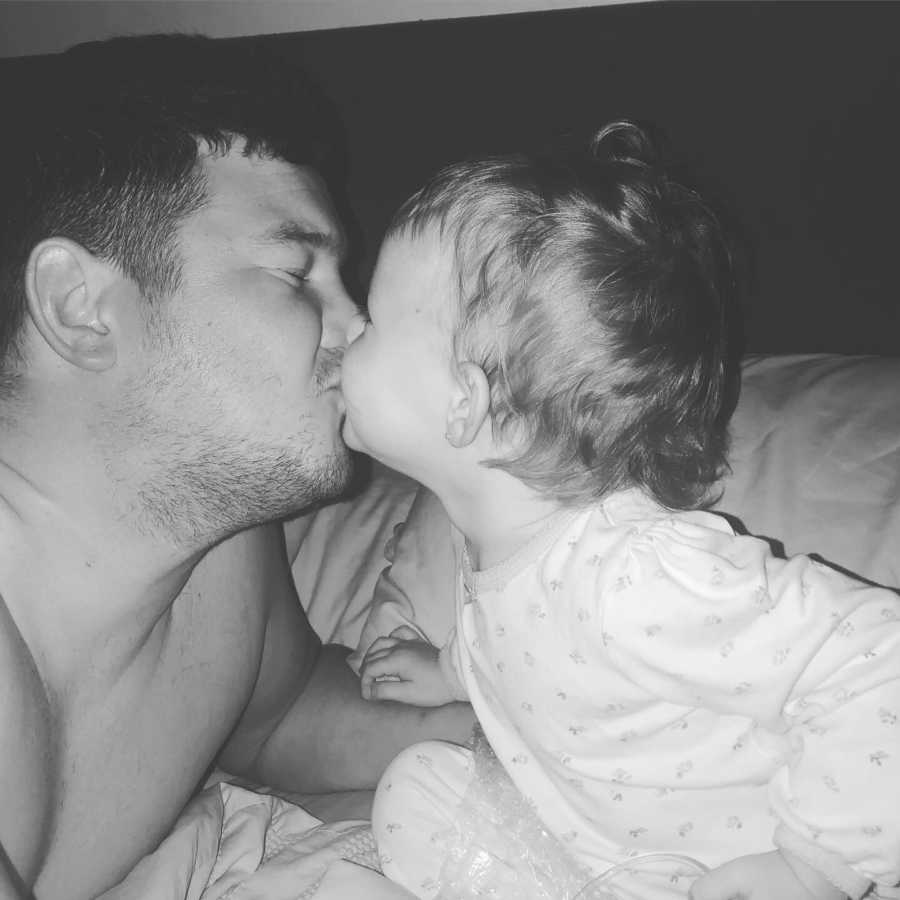 I love the way you kissed me. I love the way you held me. I love the way you told me everything will be okay. I love the way you were the best daddy to our babies. I love the way you came in from work and helped me cook, clean, and parent. I love the way you sang to me. I love the way you danced with me. I love the way you kissed me goodnight and rolled over. I just bloody love you so much! And I was so bloody proud of you!
We always said 'together forever' and I wish we were! If we didn't have our babies, I would be led in there with you! But I can't. I have to now be here for our babies. I have to now be mummy and daddy. I have to now be strong for them. I will wait and I will see you again one day.
Babe, keep dancing up there, keep singing out of tune, and keep being the Ewie everyone loves. I am so bloody lucky I had you. It's the end of our love story, it's the end of our fairytale, but I promise you, I will live the life you wanted. I will show your girls just the man you were and the three of us will make you proud every day. We love you. You truly are one in a million!'
Since the moment I got told my husband had passed away, it felt like a thousand knives in my body stabbing me, all day every day, and there is nothing I can do about it and it still feels like that now. 10 weeks on, I would say I'm surviving and I really don't know how I am doing it. I don't know when I will accept this, I don't know how I will do the rest of our lives without him. But we are, it's just quieter and painful.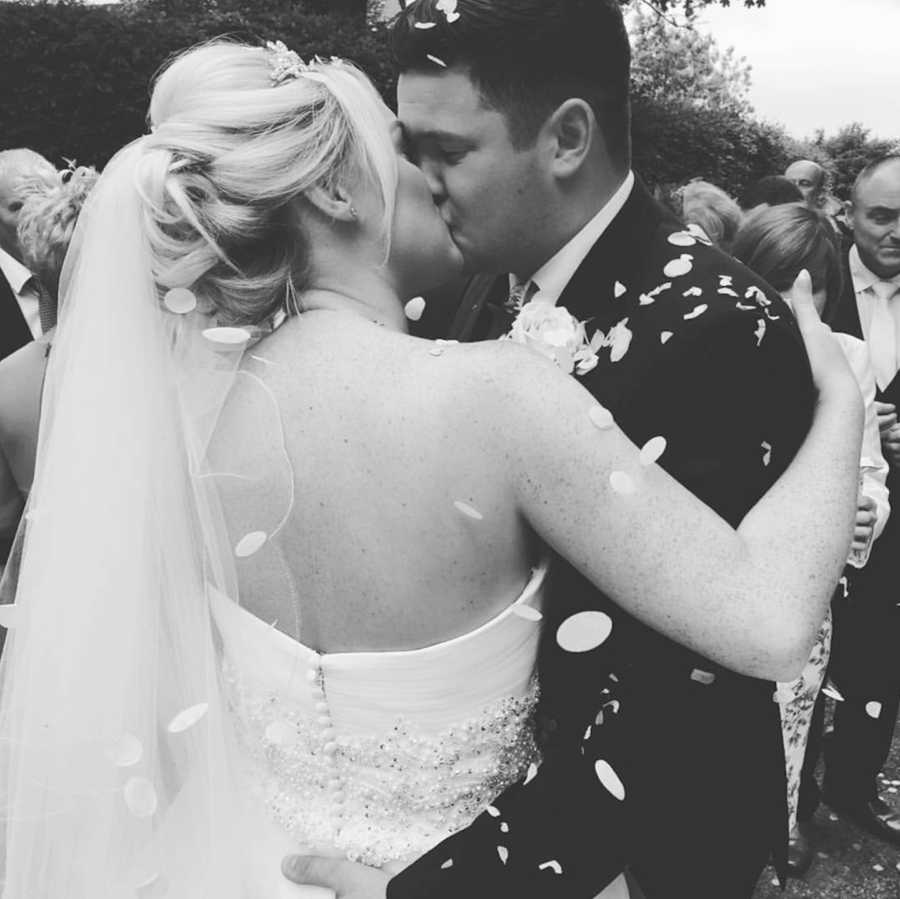 Grab your loved ones, squeeze them, kiss them, and tell them you love them! Sudden death grief is a very different journey, a journey I never imagined we would be on.
We will always love the world's most amazing man! Forever my husband, forever their daddy… Forever our legend, Forever our Ewie."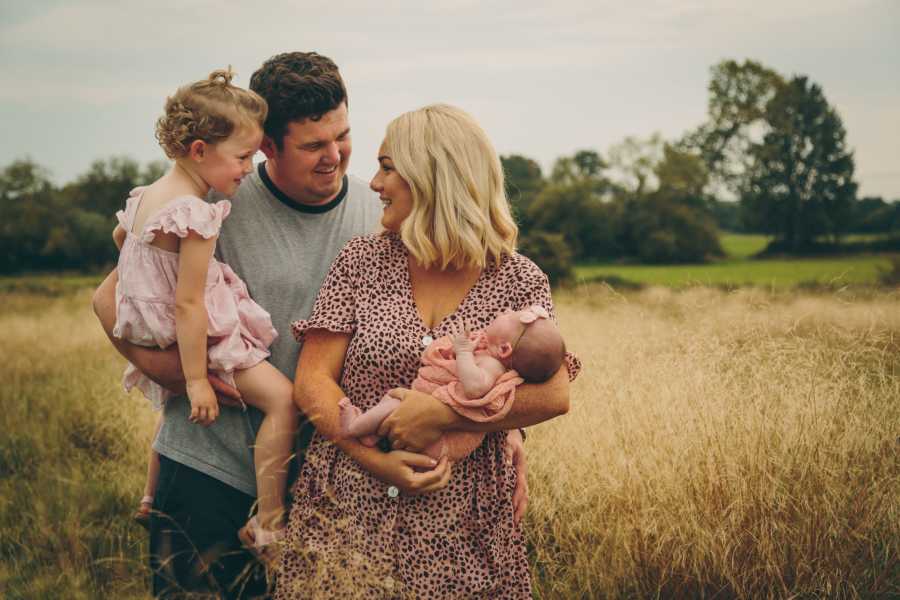 This story was submitted to Love What Matters by Abby Lever from Swindon, England. You can follow her journey on Instagram. Be sure to subscribe to our free email newsletter for our best stories.
Read more stories here:
'Do you remember your dad?' She responded, 'Which one?' Our family dynamic changed completely.': Widow shares 'beautiful and complicated' journey after loss
'I'm going to die young.' Tears rolled down my face as I held his hand. That day, I became an 8-month pregnant widow.': Woman re-marries after losing husband, 'I had two happily ever afters'
Do you know someone who could benefit from this story? SHARE on Facebook to let them know a community of support is available.