"I have often wondered what Brodeigh actually remembers about her 'bio' dad, what she truly thinks about it all, and if she has any questions about anything that I haven't answered yet…
Last weekend while heading to set up for 'Peaches to Beaches' we were talking about how her little sister could really come at any time and how excited we are! She mentioned how she is so excited to be in the delivery room; she says she has to be in there because her dad will 'hit the floor.'  We talked about several things regarding delivery and who all was going to be in there…and then she asked me in the most innocent little voice, 'Who was in there with you when you had me? Did that J**** boy stay for that at least?' (I don't put his name out because it isn't important, but for the record, his name is not Jacob even though it is 5 letters lol)
I sort of paused and told her I would pull over so I could make sure I answered every question she may have once I answered that one. I smiled back at her and said, 'He actually did stay for that. He was in there. It was me, him, Dr. Harper, and some hospital staff.' She looked at me really funny and said, 'I can't believe he stayed for that and then left me like he did.' I just told her that his leaving was NOT about her, it was about him. I reminded her that I am the one who ended the relationship between me and him, but that the rest of it was totally on him. Her response after that showed me just how much she has paid attention over the last few years and how well she understands the entire situation…she said, 'Well just because you broke up with him didn't mean he had to stop seeing me. I'm so glad we have my dad now. The best thing J**** ever did was let Jacob be my daddy forever. He would never do that to me.'
I honestly didn't know what to say after that, so I just told her that she was right, she never had to worry about Jacob leaving like that. That she had someone now who CHOSE her and continued to CHOOSE her every single day. He chooses to stay, he chooses to love her, he chooses to remind her every single day that he will always be there for her. He chose to adopt her, give her his middle & last name, and he chose to be her daddy. I reminded her how she deserved every single good thing that has happened since Jacob came into our life. I reminded her that even with a new baby coming she would always be just as equal and important to him. That she was our first baby and that not only are we the luckiest parents, her little sister is SO lucky to have her as a big sister.
I asked her if she had any more questions or anything else to say and all she said was 'You did really good by yourself, but it is nice having a complete family and we all have the same last name.'
I post this because I have guarded her as much as possible from the situation with J****. I always kept my answers to her questions age appropriate, and I made sure to always tell her the truth. I tried to make sure nobody spoke badly about him in front of her, and I have never told her he did not love her or care about her, because I believe he did/does and that's why he was so willing to sign his rights over and allow Jacob to adopt her. He knew he wouldn't give her what she deserved. He didn't want to. Brodeigh is right, the best thing he ever did for her was to allow that to happen.
To the single parents waiting on their Jacob, kids pay attention y'all. They KNOW who is there for them and who isn't. They are so much more aware than we give them credit for. Your kids love you and see how good of a job you're doing on your own. Don't ever discredit yourself because you don't have a partner to share the little moments with. Soak them up for yourself. Be thankful for that extra time where you didn't have to share them. Your face being there for their biggest moments is what they will remember. YOU ARE DOING A GREAT JOB!
I can't explain the absolute relief I felt when she said what she said. She gets it in her little mind, and she is thankful for our life now. She is such a happy girl and has the sweetest little spirit. If you have ever been around her then you know she is convinced Jacob hung the moon. If you would have told me years ago this would be my life now, I would have told you that you were crazy. I am so thankful for the crooked path that lead us exactly where we needed to be. God truly does have a plan, trust it."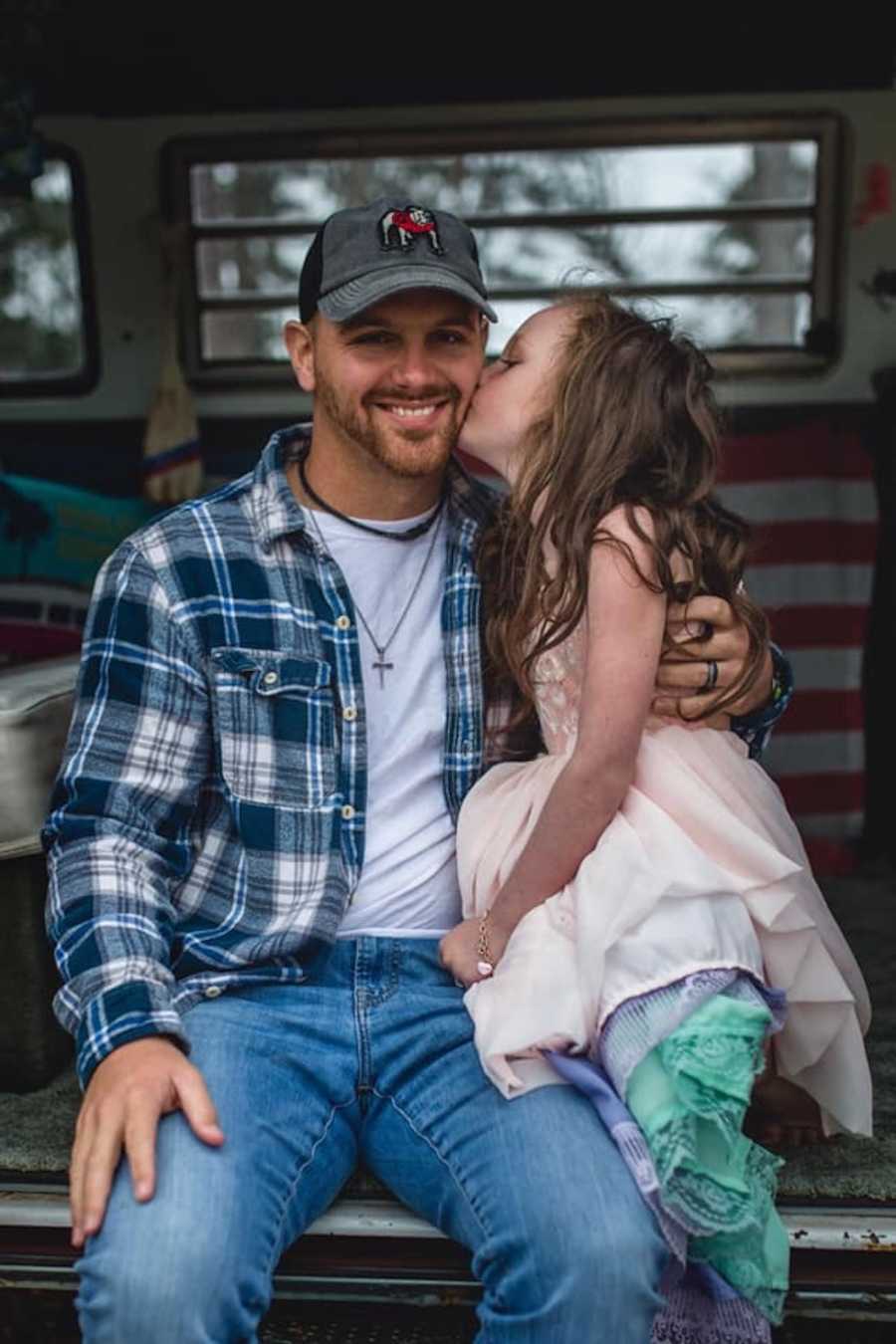 This story was submitted to Love What Matters by Amanda Byram, 29, of Georgia. You can follow her journey on Instagram here. Do you have a similar experience? We'd like to hear your important journey. Submit your own story here. Be sure to subscribe to our free email newsletter for our best stories, and YouTube for our best videos.
Read more from Amanda here: 
'You signed your rights over. I was so mad you two were laughing, carrying on like it was no big deal.': Mom pens letter to ex, 'she's 8-years-old now'