Disclaimer: This story contains mentions of drug abuse that may be triggering to some.
"My name is Jennifer Street and I am the face of a recovered Xanax and Adderall addict.
I had my first experience with drugs when I was going into my freshman year of high school. My friend and I went to a party where someone's parents were out of town and I tried mushrooms immediately followed by my first joint. Thankfully, that night my best friend stepped in and prevented me from trying methamphetamine.
Everything took off from there. I found myself sneaking into bars and clubs with a fake I.D. while lying about where I was going. There was so much freedom in the party scene, and little did I know it was the start of what would later almost be the death of me.
I was prescribed many anti-anxiety drugs throughout my high school years. After the doctor went down the list of trying new medications, Xanax worked best for my anxiety, or so I thought. I was handed my first prescription of Xanax when I was 18.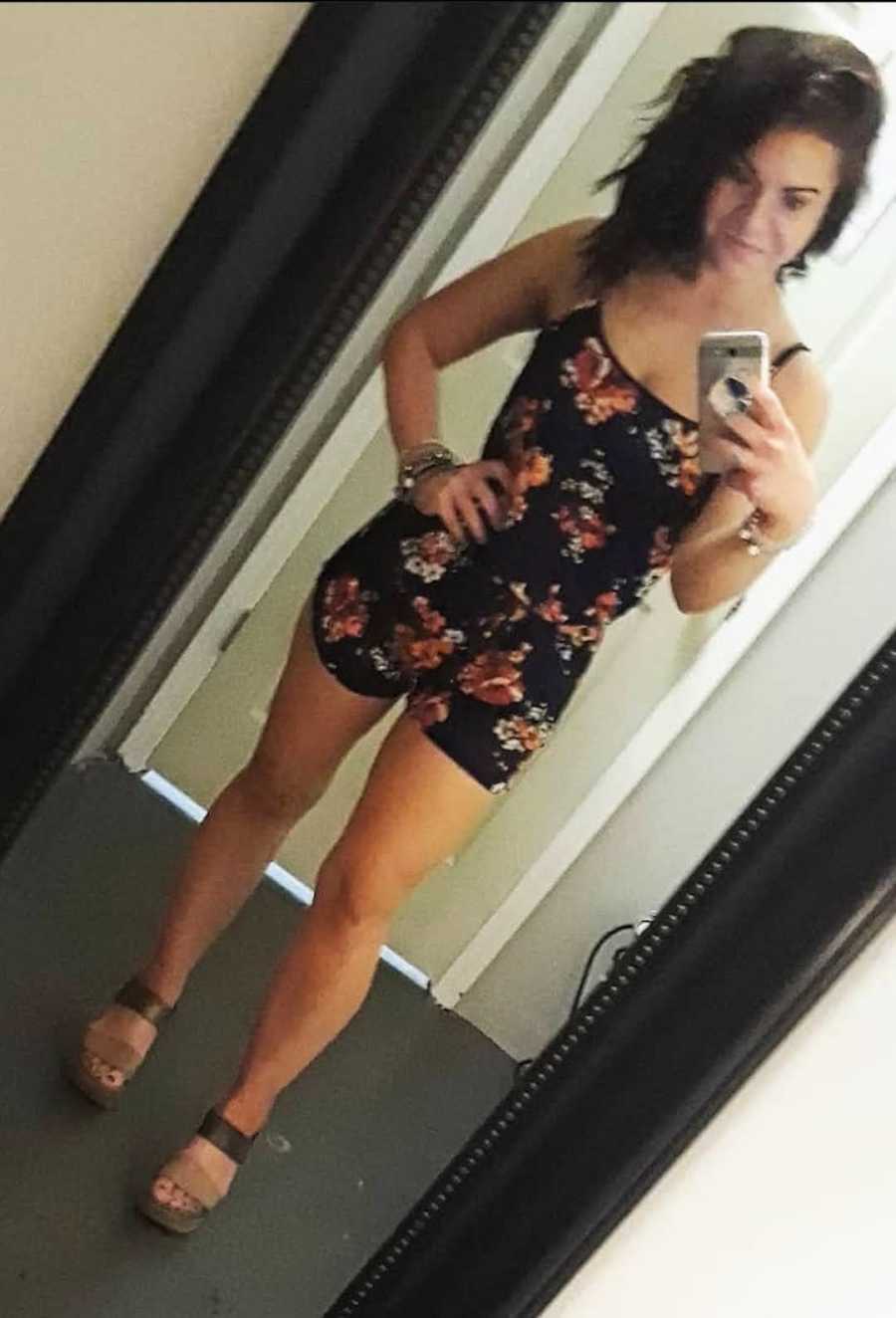 One night I was complaining about how tired I was and someone offered me meth again. This time I tried it and thankfully wasn't a fan of how it made me feel the next day. The following week I was offered Adderall and I was able to focus. I liked the way I felt when I took it, and this is where the slow snowball effect began to occur.
By the time the college years rolled around, I had tried the majority of the party scene drugs but I always went back to Adderall and my prescription Xanax. I could stay up late and take an extra Adderall to close the bar down. When morning rolled around, I would take Xanax to help me sleep.
I received my first DUI at 19 years old coming home from a bar. It was the first time I stepped into a court room and was held accountable for my actions.
Not long after my DUI, I moved into a home with some friends, one being a drug dealer. Our doorbell rang in the middle of the night and I opened the door to three guns in my face. That was one of my first wake up calls from God. I remember praying that night, 'God, I don't want to die, I'm too young!' Thankfully, that prayer was answered, although I didn't believe in God at the time.
A few years later I met the father of my children. The first night we hung out, he picked me up from a bar and I had already had quite a few Xanax and Adderall. We hit it off and partied together for four years until I became pregnant with our first son. After our son was born, life was good, until I was handed another prescription for Xanax, and this time, the Adderall was prescribed as well.
But it wasn't enough. My prescriptions would run out before they were due to be refilled so I reached out to some people I knew that could help me out on the streets. Before I knew it, I was in full blown addiction. I was battling postpartum depression and handling it in the worst way possible by abusing prescription drugs. I felt like I couldn't keep up with being a new mom and the house. I was miserably failing and didn't reach out for help.
Sean and I reached a toxic point in our relationship. We weren't fun to be around, we were always upset with each other, and could never reach common ground. It was a vicious cycle that I didn't think I could escape.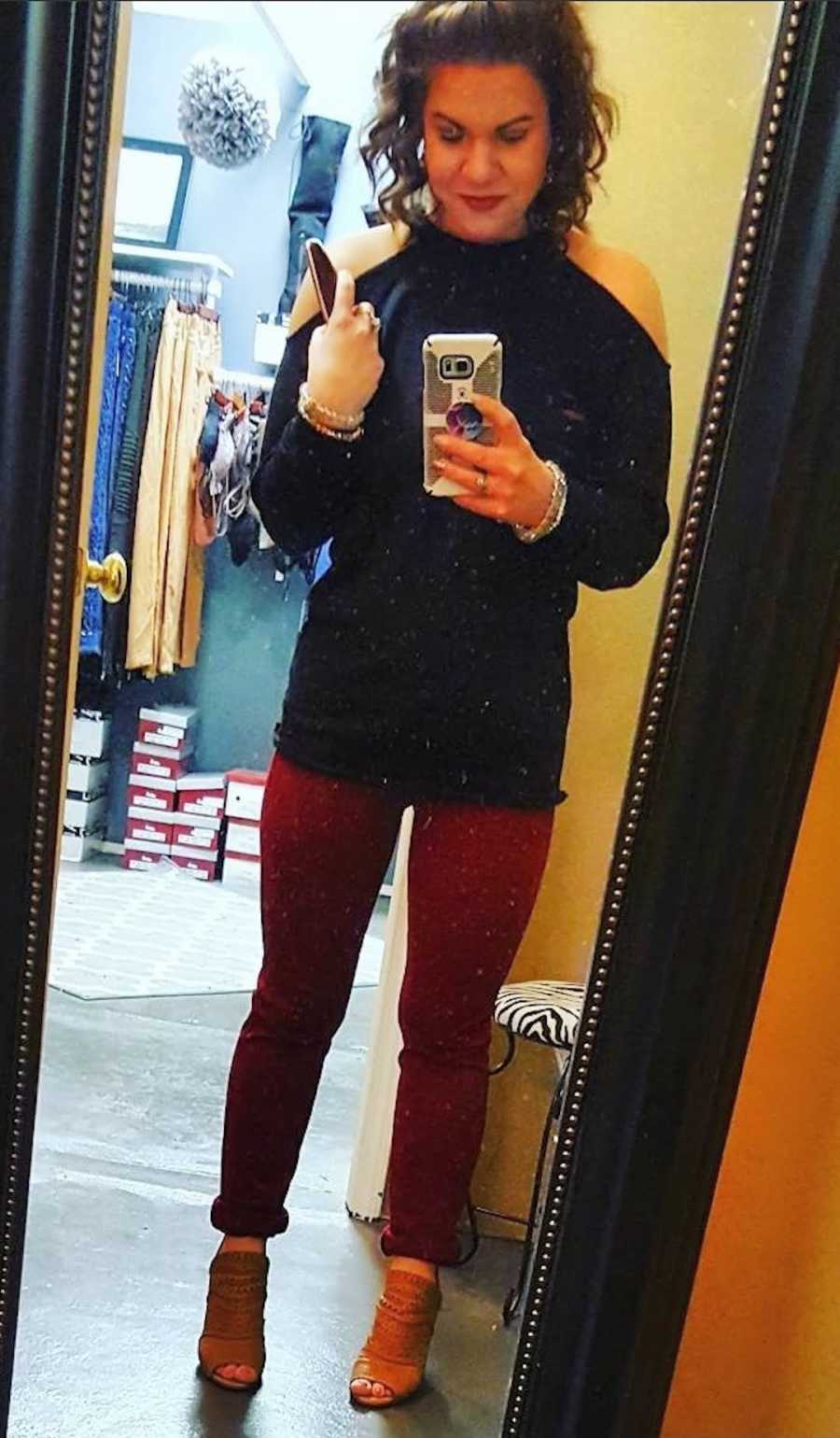 I became pregnant with our second son. Things were fine when I was pregnant because I wouldn't do drugs. During my second pregnancy I had quite a few complications. After my c-section, I hemorrhaged and didn't wake up. The doctors and nurses helped me fight for my life. This was the second time God had his hand on me, and I ignored his call yet again.
When I was discharged from the hospital, there was a mix up at the pharmacy and they gave me twice my medications. That meant double the pain medicine and double the Xanax, which was just a recipe for disaster for Sean and I.
Our toxic cycle continued until I knew I had no choice but to leave the first home we bought. I had my own apartment and we agreed to some arrangements with our children. When our boys were with Sean, I felt like I had freedom again. I was right back in the party scene and in a downward spiral.
I was in a wreck that almost cost me my life on the way home from a bar one night. I thought I had taken enough Adderall, but this time it wasn't enough. The car ran off the highway and I flipped into a creek. Hours later I came to and woke up upside down and called 911. I walked away from that wreck with a contusion to my right knee. This was another wake up call from God, but I kept running.
The in and out of jail trend began for me. It was awful. I called the law on Sean one night, and because I had a warrant for my arrest for a DUI I was placed in cuffs and transported to the county the next day. I paid my bond and immediately got more drugs. I felt the need to numb it. Numb all of my failures and misery. It was clear, at this point, to my friends that I had a major problem.
After 4th of July weekend in 2018, I experienced my biggest wake up call from God. I was sitting in my car in a grocery store parking lot calling out to God. I said, 'God, If you are really REAL then do something! I can't live like this anymore, DO SOMETHING!' With tears soaking my shirt, I put it in drive and headed to my apartment. The next day I landed myself in jail for criminal trespass damage and family violence. DFACS stepped in and put a safety plan in place. I wasn't allowed to see my children. Sean was granted full custody of our children and I felt like my life was now defined by a custody agreement. I went to my first court appearance shackled and cuffed, and was denied bond. When I went back to my cell, I cried until I fell asleep. It was the lowest of lows for me and God had me cornered. Each day I had to report to medical where I was given gatorade and I began to detox. Thankfully, God took the majority of withdrawal symptoms from me, however I was still devastated at how my life was turning out. I knew I had to do something, but didn't know how.
When I got out of jail, my best friends sat me down for an intervention and told me what I was doing wasn't working. I laughed it off and said I would be fine but they could see through it. They knew the pain I was experiencing and wanted better for me and my children. I agreed to go to rehab not fully understanding I was going to a seven month Christian Discipleship Program.
I entered the doors of The Broom Tree, and during my first 30 days there I gave my life to Christ. After the first 14 days I passed a drug test and DFACS lift the safety plan. After 30 days, I was able to hug my sweet children again for an emotional reunion. They were so happy to see me and as much as I knew I needed them, it was the first time I felt they needed me so I knew I was in for the fight of my life.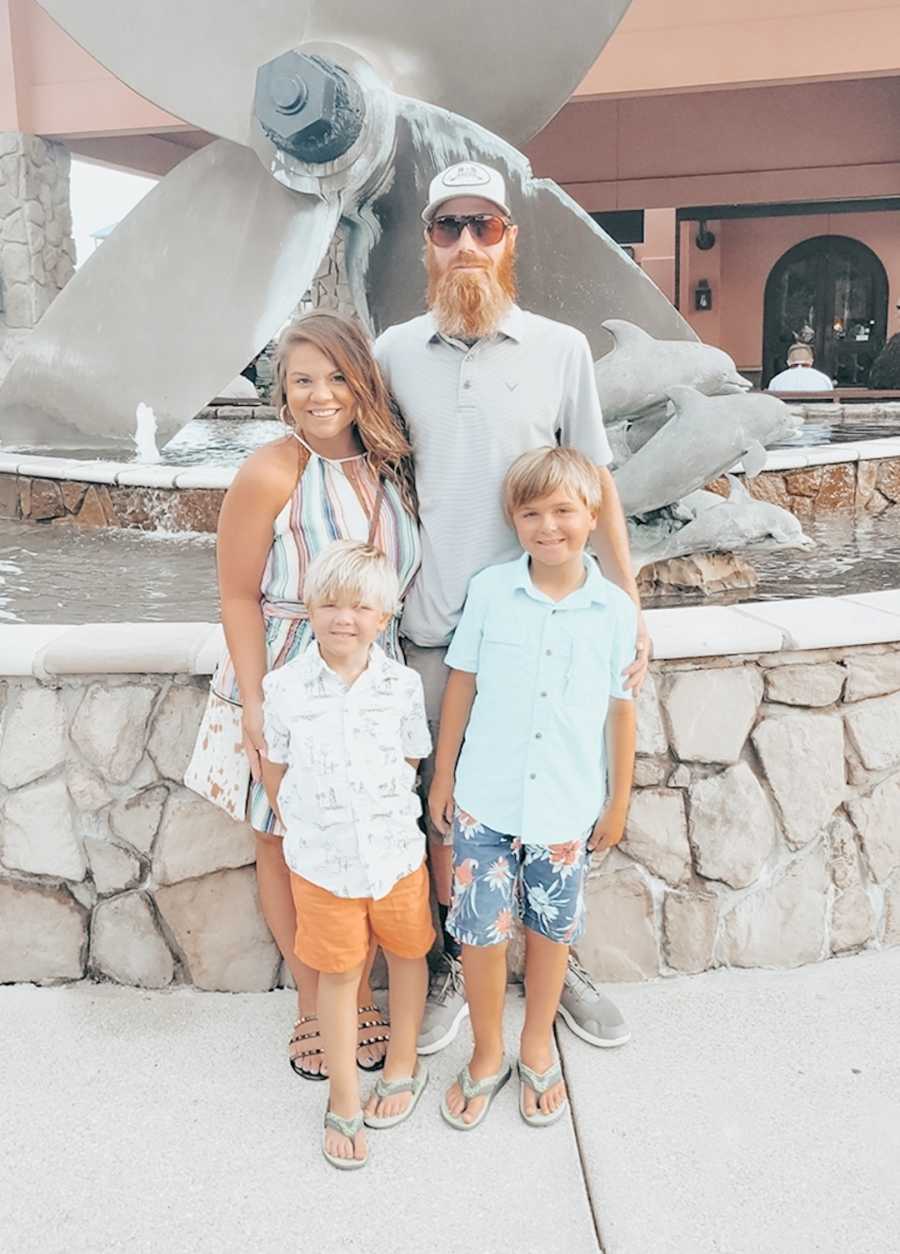 I graduated the program as House Mother and went to the first transition home in our town, The Living Tree, for six months. I was finally ready to step into the real world sober and excited to be the mom our boys needed. I started my own Christian t-shirt business, Exodus Boutique, as an outlet during my recovery journey. Exodus 14:14 is one of my life verses – 'The Lord will fight for you, and you have only to be silent' (English Standard Version).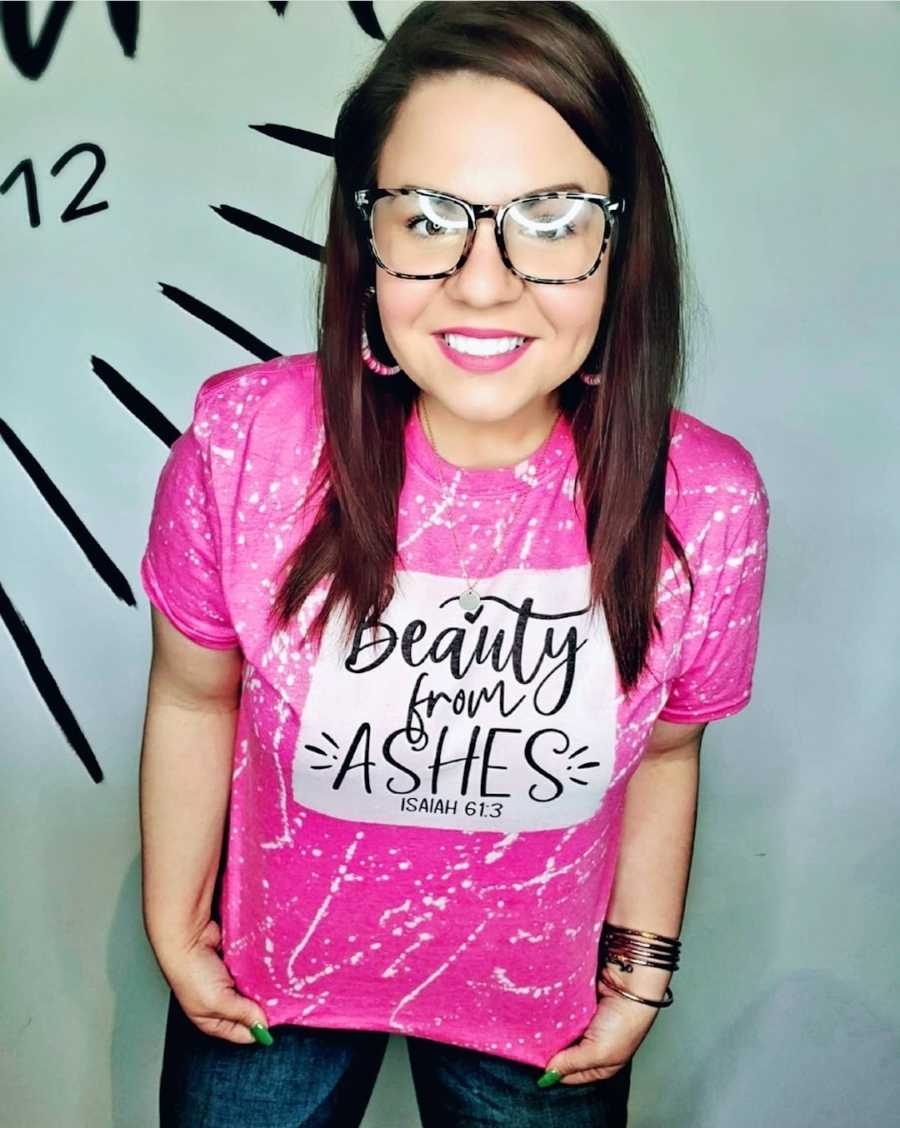 During our coparenting journey, God restored our relationship exceedingly and abundantly. We realized we work better together and sober. We make sure the boys are fed the word of God and regularly attend church, where Sean has been a coach to both our boys baseball teams. Sean and I are now able to peacefully coparent our children and provide stability for them. We are planning our wedding and couldn't be more excited for what God has in store for us.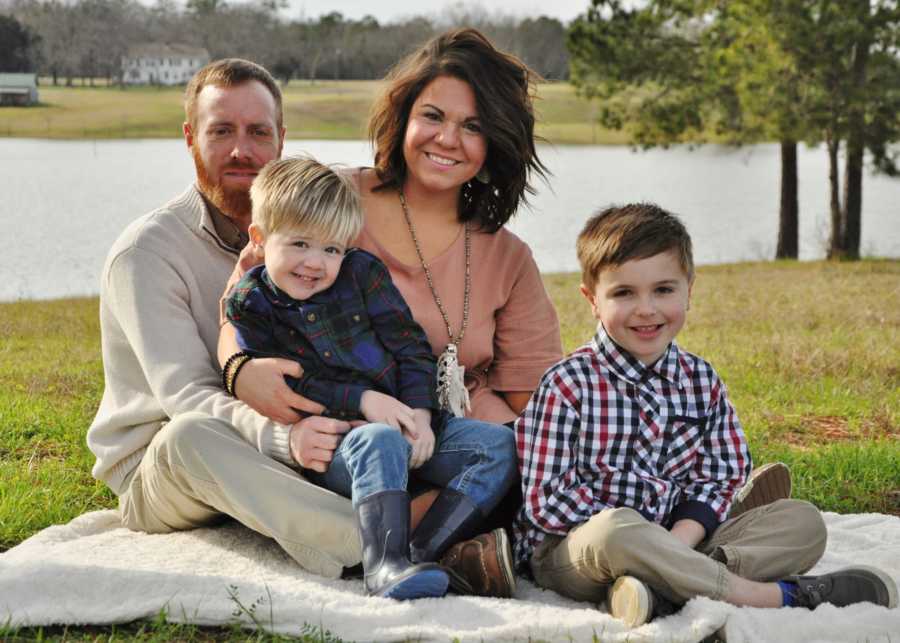 The best advice I can give anyone going through any type of addiction is to not be scared to humble yourself, ask for help and follow through with it. It's hard work and truly takes dedication, but the other side of the storm is beautiful, and it's attainable. There are plenty of resources out there, so if you have had enough pain and are ready to face your demons head on, make the call and surrender. Your life is important, you are loved, and you are worthy. Don't give up. You got this!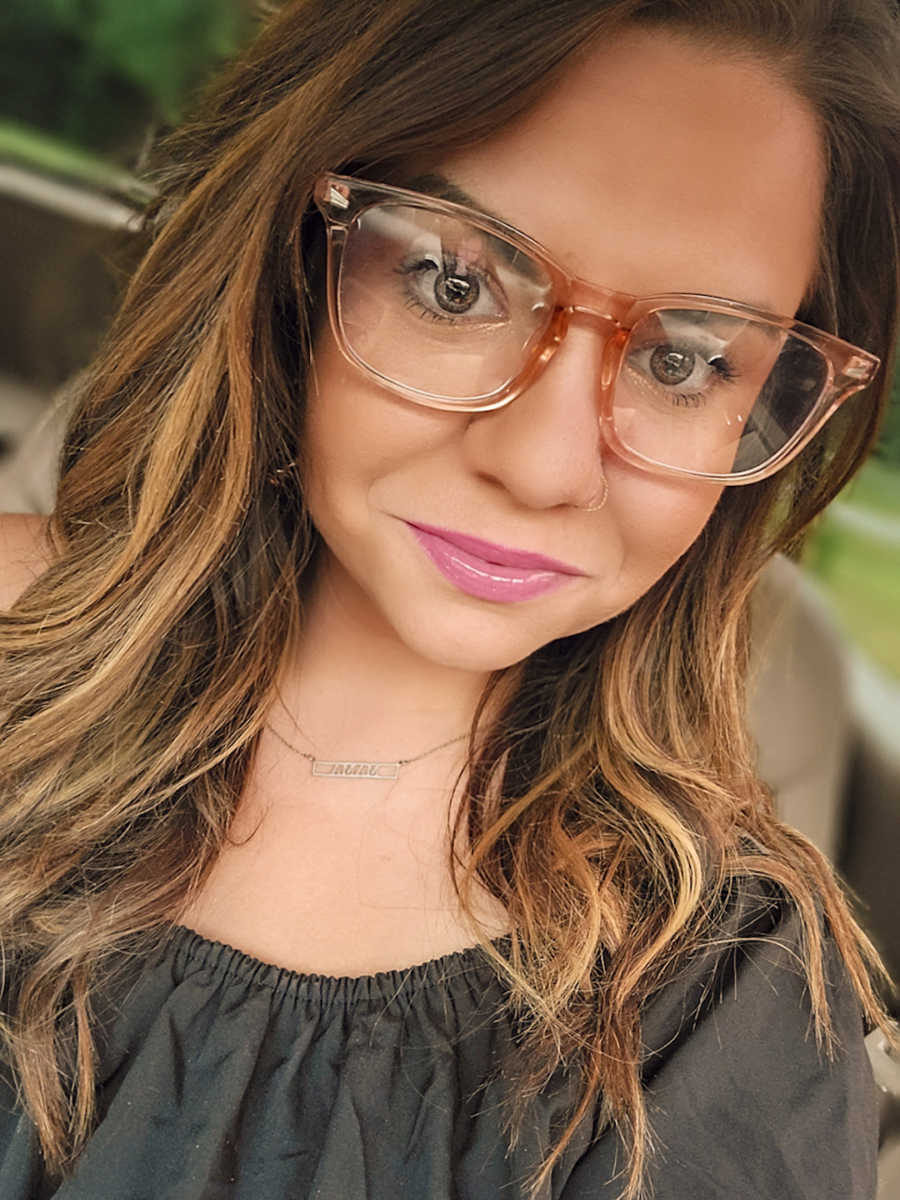 To those that know someone in addiction, while I've never been in your shoes, I can say that your prayers are heard by God. DON'T STOP PRAYING. Have your boundaries but don't give up."
This story was submitted to Love What Matters by Jennifer Street. You can follow her journey on Instagram and find her shop here. Submit your own story here, and be sure to subscribe to our free email newsletter for our best stories, and YouTube for our best videos.
Read more stories like this:
'That's just the coke talking!' I shook 5 Ambien into my hand. It had become a full-blown dragon.': Former addict celebrates 20 years of sobriety. 'I made the mess into a lesson'
'He found out I'd been using drugs again, took the kids and left. I was devastated. I begged him to come back, but he was done.': Woman grateful for husband's support and forgiveness
'He was homeless and I was embarrassed by him. Now he's free, and I'm chained by all the grace I couldn't bear to give.': Woman urges forgiveness after losing dad to overdose, 'My regret is stronger than all the anger I felt for years'
'A guardian angel called 9-1-1 as I convulsed in a coffee shop parking lot. At 18, I'd lost 20 jobs and been arrested 14 times.': Man 13-years sober after long battle with addiction, 'We're not meant to live in darkness'
Do you know someone who can benefit from reading this? SHARE this story on Facebook with family and friends.