"My whole life I've always believed everyone has a purpose. Sometimes you may not know your purpose until something tragic happens or you're in a situation you never imagined you would find yourself in, but you eventually learn. I never knew until God forced me to see it.
On January 31st, 2015, at only 19-years-old, I was driving my 6 week old puppy, Lilly, to the vet for her shots. A hay truck that was carrying stolen hay was coming at me head on in my lane. I swerved to miss him and it caused me to flip end over end for 75 yards. I was ejected and thrown 50 feet from my car and landed flat on my back on the ground. I remember the feeling of landing flat on my back out from the sky like it was yesterday. I remember my first thought being 'Lilly!' I tried to get up but I couldn't move. I couldn't feel. I couldn't do anything. A few seconds later I remember hearing someone scream 'say something, say something!' and all I could say was 'help.' I remember him running over to me and saying 'I have help on the way, it's going to be okay.' I don't remember anything after that.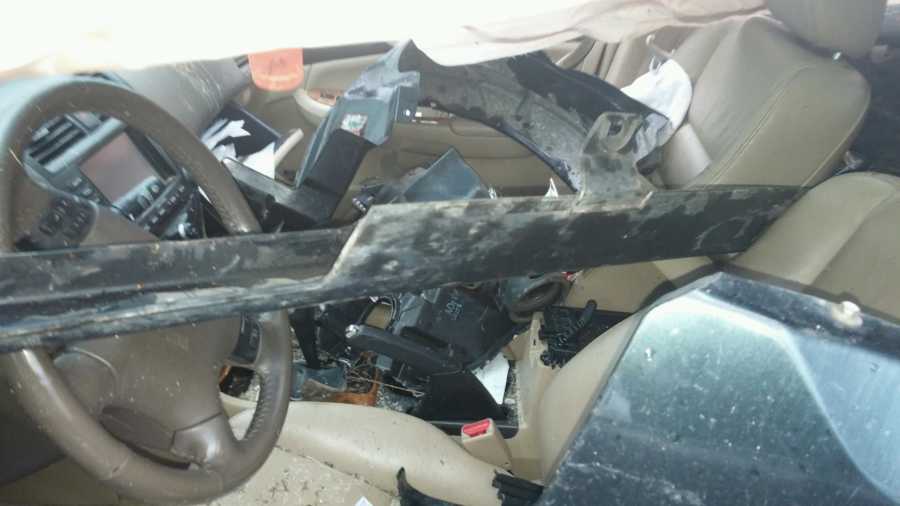 Apparently I was put into an ambulance and taken to a local church where a helicopter could land and I was life-flighted to Grady Memorial Hospital in Atlanta. I died that day. I took my last breath when first responders put me in that helicopter. EMT's did chest compressions the whole way trying to keep blood flowing to my lungs. When I arrived in Atlanta I still had no pulse and no blood pressure. I was rushed straight to the OR for immediate surgery so they could open me up and try to bring me back. My spleen had ruptured, causing all of my organs to bleed internally. Luckily they were able to remove my spleen and stop the bleeding. At the time I wasn't stable enough for any other surgeries so they weren't able to see what other injuries I had. No one knew if I would even make it through the night.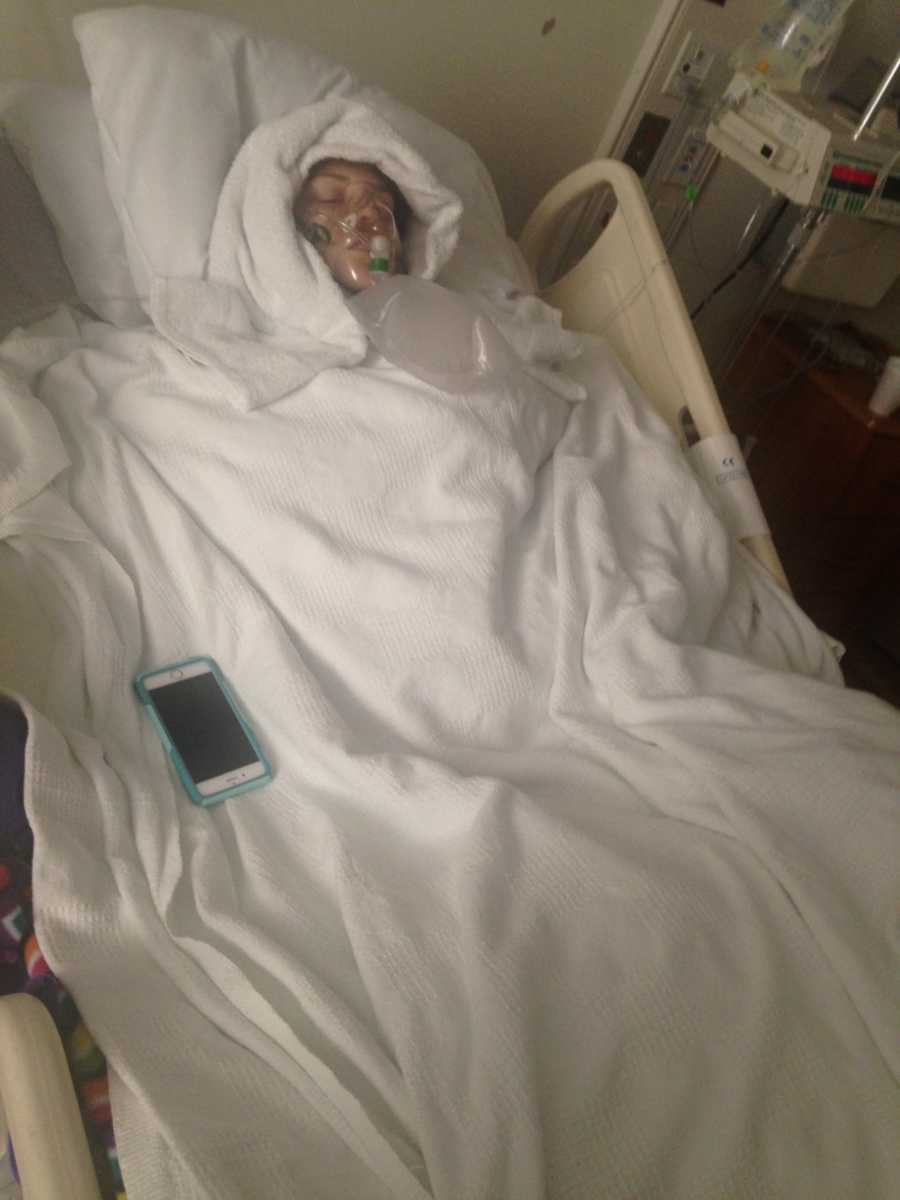 By God's grace, I survived. I stayed on the ventilator and breathing tubes in ICU and 2 days later I was stable enough for x-rays and CT scans to look for other injuries. They found my entire spine shattered into pieces, my spinal cord was severed, I had a C2 hangman bone fracture in my neck, 2 internal gastric tears and collapsed lungs. The next day I went into an 8 hour back surgery. They reconstructed my entire spine with rods and screws and were also able to see my spinal cord injury was at level T12, which left me paralyzed from the waist down.
After my back surgery I was able to wake up. I was still on the ventilator, so I couldn't talk, eat or drink. I didn't understand much of what had happened and what was going on. I couldn't sit up, but I could use my hands, so I could write. I laid there every day writing notes to my mom and family members, my boyfriend of only 6 months at the time and my friends. Although I couldn't see what I was writing and a lot of times they couldn't even make out what I had written, I made it work. That was my way of communicating. I knew I couldn't feel my legs but at the time I didn't know why. I was told by my surgeons I would never walk again.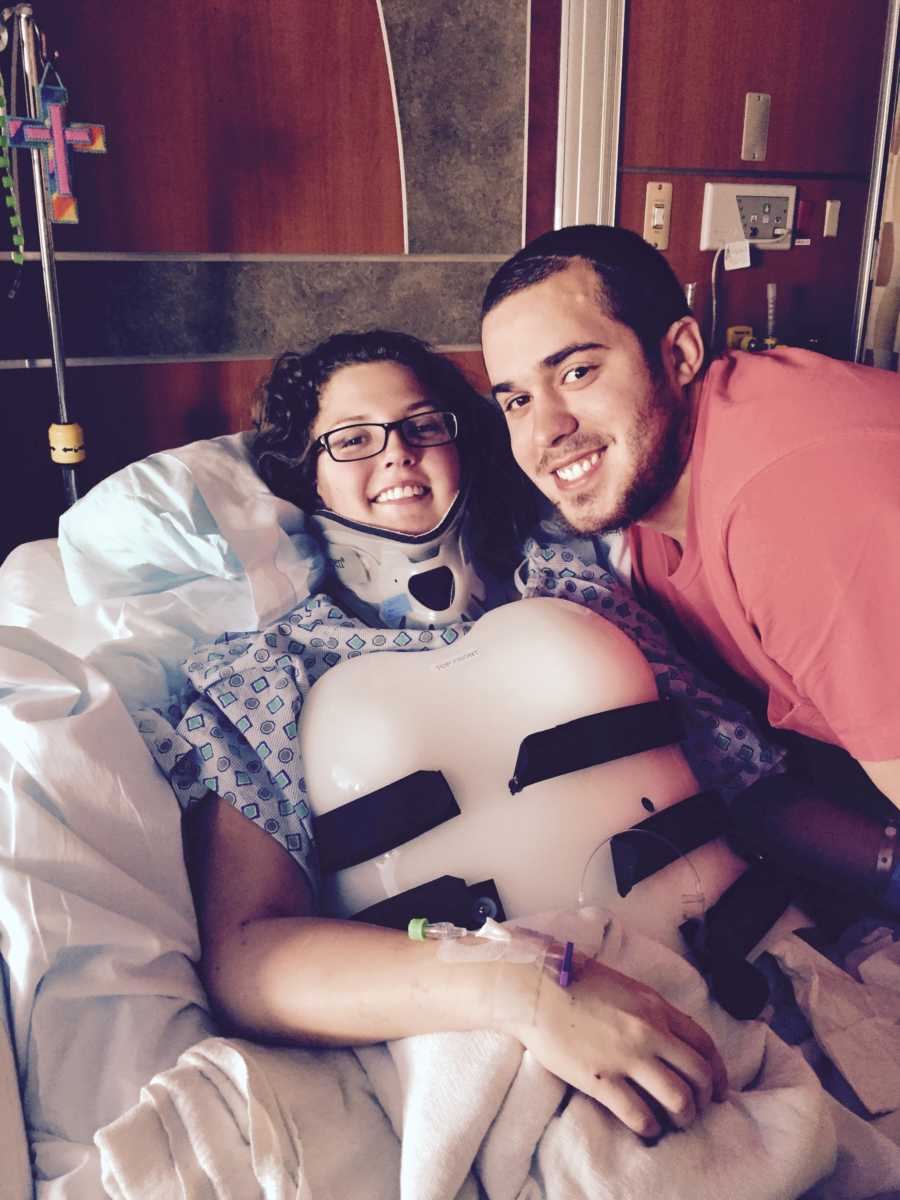 I stayed in ICU for the next 2 weeks and then I was transferred to the Shepherd Center, a top rehabilitation center for brain and spinal cord injury patients. I spent my first 3 weeks at Shepherd in ICU and also finally had my lung surgery. I was finally able to come off of the ventilator and breathing tubes. After I healed from the surgery, I was moved to a regular room and was able to begin very intense physical, occupational and recreational therapy. I spent a total of 7 ½ months at the Shepherd Center healing and learning to live again from a wheelchair with only the use of my upper body. It was the absolute hardest thing I've ever gone through in my life but I'm completely independent today because of them.
At 19, you don't really think something like this could happen to you until it does and when it does, it definitely teaches you a few things about life. It gives you a different perspective, a better perspective. At least it did for me. You learn who you are and what you're made of. YOU LEARN YOUR PURPOSE. It's been 4 1/2 years now since the accident and time seems to pass by faster with each year. January 31st has become just another day for me.
Thankfully Lilly is alive and well! She is my best friend. The bond we share could never be broken. That boyfriend I had at the time, he's now my husband. He is the most amazing husband I could ever ask for. My family members and I are all closer than ever before. I couldn't be more thankful.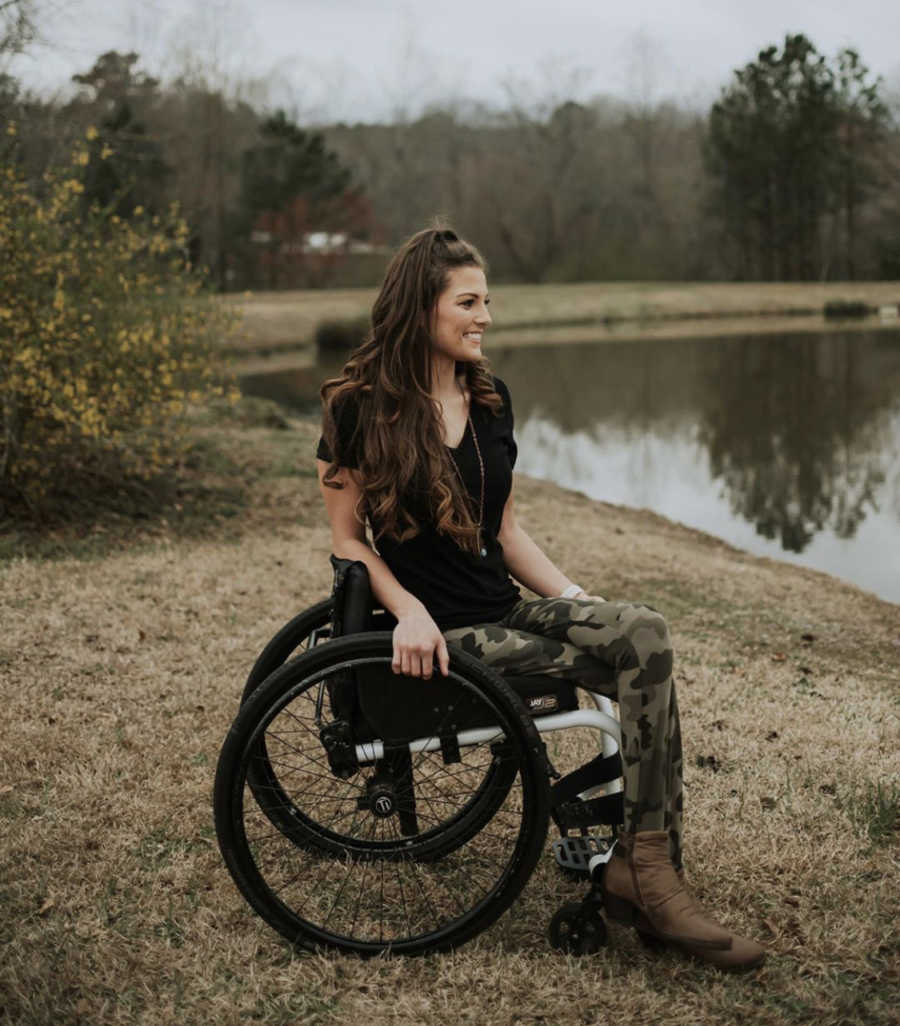 And as for me- I'm a speaker, blogger and a social media influencer. I live life every single day from my wheelchair and with only the use of my upper body. I drive. I visit Shepherd often and give back to other patients who are in the same situation I was in. I teach OT and PT students how to teach a future paralyzed patient to live life to the fullest.
I do everything any able-bodied person would do on a daily basis, just in a different way. I proved my surgeons wrong and I walked down the aisle at my wedding to my husband in my leg braces, all with the help of my physical therapist who trained me over the last 3 years. It was so difficult but I think every girl dreams of walking down the aisle to her husband from the time she's a child. I didn't want that picture to be played out differently just because of my accident. So I chased my dream. I conquered my goal and I hope by conquering my goal, I'm able to prove to every girl out there in my same situation or with any disability that they too, can still have that special moment on their big day.
Four and a half years ago, I never would've imagined I would be where I am today. The mountains, the valleys, the trials, the setbacks, the comebacks- there's a certain beauty in all of them. They made me who I am. They tend to continually dig up the soil in me and let me see what I'm made of. I think that's the whole purpose of the journey…to find your why. To share God's love. To shine light in darkness. To lean on him. To share how he's made beauty out of ashes. I've learned he won't protect you from every trial in life, but he will bless you with the strength, wisdom and grace to get through it. I've learned I wouldn't still be here if there wasn't more in store for me. Lilly and I celebrate our survival and the life we still get to live day in and day out. I'm grateful for where we're at and excited about where we're going. My wish for everyone I come in contact with and everyone who comes across my story is you never stop living your life to the fullest no matter what you may be going through. Always follow your heart and never give up!"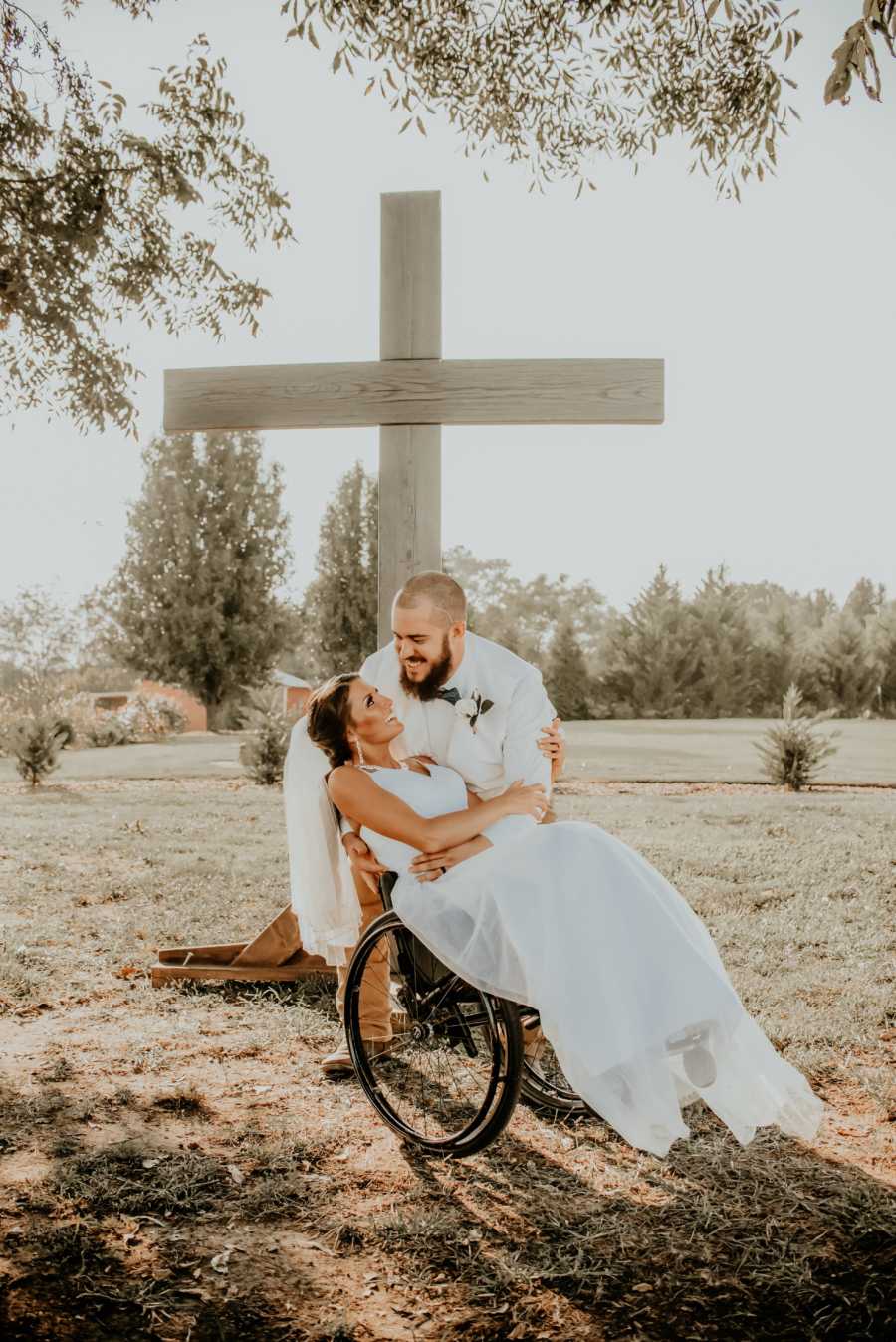 This story was submitted to Love What Matters by Ally Grizzard of Carrollton, GA. You can follow her on Instagram here. Have you overcome the odds and would like to share your story? We'd love to hear your journey. Submit your story here, and subscribe to our best stories in our free newsletter here.
Read more amazing stories of survival here:
'An accident sent me over a cliff into the Pacific Ocean. I was still in my car and could feel water rising over my knees.' Woman's harrowing story of survival 7 days on a deserted beach
'Get him out! That's Adam!' He slipped off the ledge and tried to yell 'Mommy!': Mother shares 'nightmare' of 5-year-old son's near-drowning in pool full of adults as warning for parents
Please SHARE this story on Facebook and Instagram to encourage others to live life to the fullest.