"This month marks my 41st birthday, and though there is so much of life that I can only recall in flickering images, in each memory alopecia was with me. My story does not have a beginning or an end. It is a train I don't remember getting on that has had me as both passenger and conductor since I was a toddler. I am because alopecia was, and still is, the most concrete thing that has shaped me. When I sat down to write what I could remember, it occurred to me that this was the first time I have ever tried to fully tell my story. I have been summarizing my experiences my whole adult life, treating my alopecia as less than the reflection that has informed every belief that I ever had about myself.
For something to be a part of me that consumes so much of my self-worth, you'd think there would be more 'firsts' that I would remember. But I don't remember doctor's visits, or how many nurses it took to contain my fear of needles, my fear of pain. I don't remember diagnoses or talks of treatments. It was the early 1980's, and I don't remember knowing the words 'alopecia areata' until years later. I do remember feelings—the emotions I did not have words for yet, that I stored in my body instead. I remember my sensitive scalp, and clenching up anytime a hairbrush came near. I remember the warm wet feeling of olive oil on my scalp, my grandmother anointing my alopecia spots as she said her prayers over me. I remember how it felt to touch the evidence of alopecia before my eyes had even opened for the day, reaching in the dark for the soft patches of recently hairless skin. I remember the comfort and dread of feeling for any changes, for new blank spaces underneath my hair, and just behind my ears, where it often fell out and grew back again. I remember the feeling of 'other' when looking at myself in a mirror, so small and spotted.  I remember being afraid that I couldn't hide. I remember wishing I didn't have to hide. I remember shame, and how it can make you so quiet for so long.
My earliest memories are the blurry pictures in my mind, and the ones in a box at the bottom of a closet. A polaroid looking down on the head of a toddler, just the hair along her soft terry cloth headband left clinging, the dark and delicate strands waiting for their turn to fall. A prayer from her father scribbled across the bottom of the polaroid. A 3×5 photograph of a little girl in her mother's lap, in what used to be her grandmother's kitchen, a shy smile, her fine brunette hair gently combed across the bare patches of skin and held with a plastic barrette, bangs freshly chopped by her big brother because he wanted to be like mom in the salons.  There's a lost photograph, now only a memory, of the little girl in her grandmother's backyard, sections of hair seemingly growing from a mound of desert skin. She is sitting next to her big brother on the concrete steps, goofy hotdog-filled smiles through their laughter, no sign of loss in her eyes. Those are the years I rely on pictures and my mother's stories, because the pictures and feelings don't always agree on how to remember.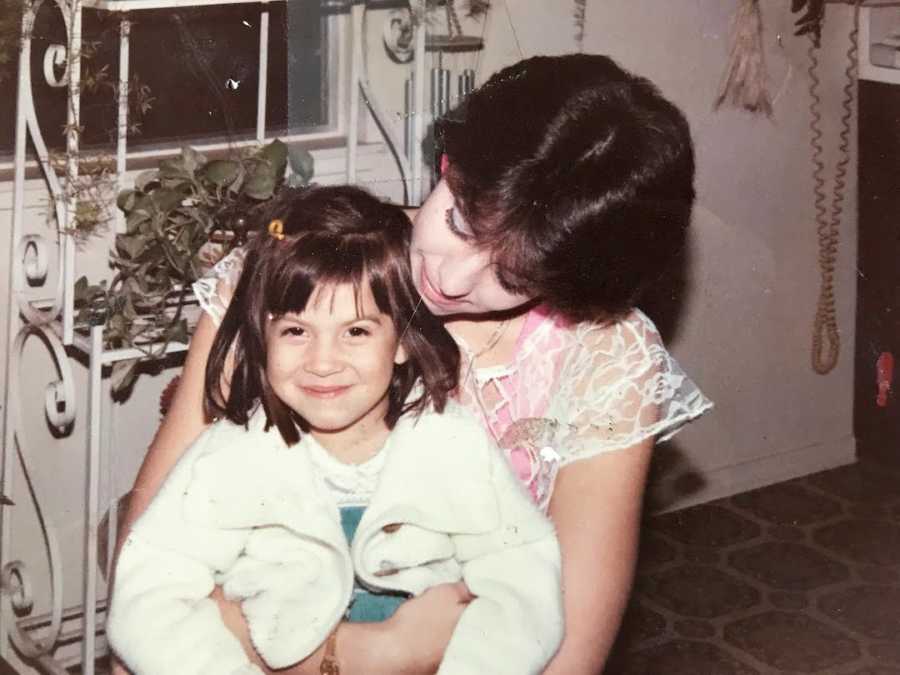 I think I hid behind my mom on the first day of kindergarten, afraid to walk into a room of other children who did not yet know that I was different. I didn't know why anyone should reject me, but I felt the fear of it. It was the first time I remember feeling insecurity, my constant companion in my life with alopecia. The next few years of childhood are a blur of fragmented memories, where alopecia remains the hum of background noise in an otherwise average childhood of young, divorced parents, an annoying but best friend of an older brother, grandparents, aunts and uncles, cousins, and a small tribe of friendships. My hair grew back at times, fell out more times, and I learned to become as numb to the rollercoaster as possible. As a little girl in the mid-80's, I remember how disappointing it felt not being able to pull my hair up into a pony-tail because my alopecia areata had a knack for playing hopscotch around my scalp in ways that a ponytail couldn't hide. I spent some time with my mom at work, spinning in the salon chairs, the smell of newly shampooed hair, watching ladies hand over their strands without fear to their hairdressers. My mom would always give me the full treatment: warm shampoo and conditioning, fresh cut and style, and a medium blast of heat from the hair dryer. But I knew what I had was fragile.
My high school years were the best of the 90's—grunge and alternative rock, flannels, ripped jeans, dresses with Doc Martens, and Manic Panic. I wanted to be Angela Chase in My So-Called Life and dye my hair burgundy. I pleaded with my mom to dye my hair, and she understood that my angst to belong was more than my youth. She found a safe solution in salon quality color-depositing shampoo, and I lathered my hair in as much red as it would take. I wanted access to the same self-expression as my friends. Even before my teenage hormones I was an empath, driven by art and music, and found my community in choir and theater. I was okay being quirky, and odd, and creative, and eccentric, but not with my alopecia. That was something I didn't want to own or share in public, though my close friends knew. The patches were small and—at least for most of high school—stayed consistent in the falling out and regrowth, making it manageably hidden. A few times my peers just assumed I shaved my head underneath, which wasn't uncommon then. I had anxiety around being exposed and continued to live my teens out thinking that if I was gentle enough with my hair it would get better, or at least not get worse.
I was 22 the first time I went shopping for a wig. In the few years prior, my alopecia continued to progress, but this time no patches were growing back. I lost one set of eyelashes, and then the next, my eyebrows also receding until there was nothing left to fill in. The last of my hair was barely hanging on, and I was to the point of wearing hats or bandanas daily to hide my alopecia. The irony is that this only made it more apparent that I was down to my last fistfuls of bio hair. A close friend asked me to be a bridesmaid in her wedding, and when I realized I could not do this with my usual head coverings, I set out to try on wigs. My first visit to a wig shop was embarrassing—I was anxious, deeply self-conscious, heavy-hearted, and I cried the whole time. With each wig I tried on, I felt like I was giving up, forced to resign, like I was surrendering to a new life with no hope. I was devastated, and only saved from that feeling of despair by my mother.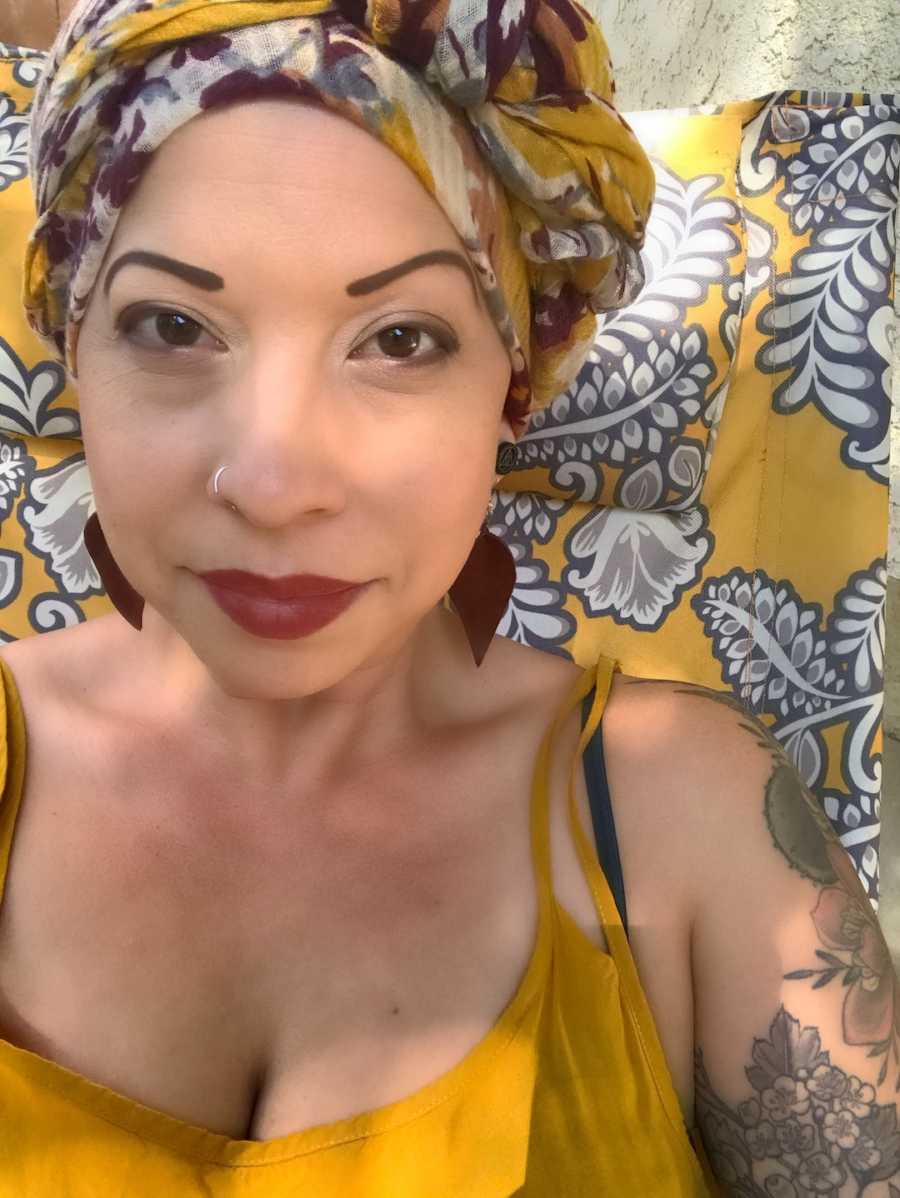 I didn't fully understand that my mom was a blessing until that first experience with wigs. She was a young mother who chose cosmetology so that she could have a trade. She didn't know that two decades later her trade would put her in the unique position to help me transition into a new way of life. Although she helped me navigate my childhood embarrassment with carefully planned cuts and styles, and perfectly positioned barrettes, it was in my adult years that I would need her the most. I was terrified of wigs looking too 'wiggy' on my small head and face, and that I would be drawing more attention instead of hiding as I intended, and that I couldn't afford anything realistic looking. With her professional discount, and her expert eye, we altered a few human hair wigs that would become part of my new normal.
Over the next decade, as human hair wigs became increasingly expensive and less attainable for me, I moved on to synthetic wigs, and found myself a collector of all wigs red, burgundy, pink, and purple. I could be my angsty inner Angela Chase, with my flannel, jeans, and Docs. I could be the dark chocolate brunette I knew from my childhood photographs. I could be the short spunky-haired plum-colored yoga-loving hippie that likes to walk barefoot in the forest on her days off. I could be and express any version of myself in any hair color, or be the blank slate chameleon waiting to decide what mood to be in next. I could be anything I wanted to be, and everything I always was, because at the end of the day, I am still me.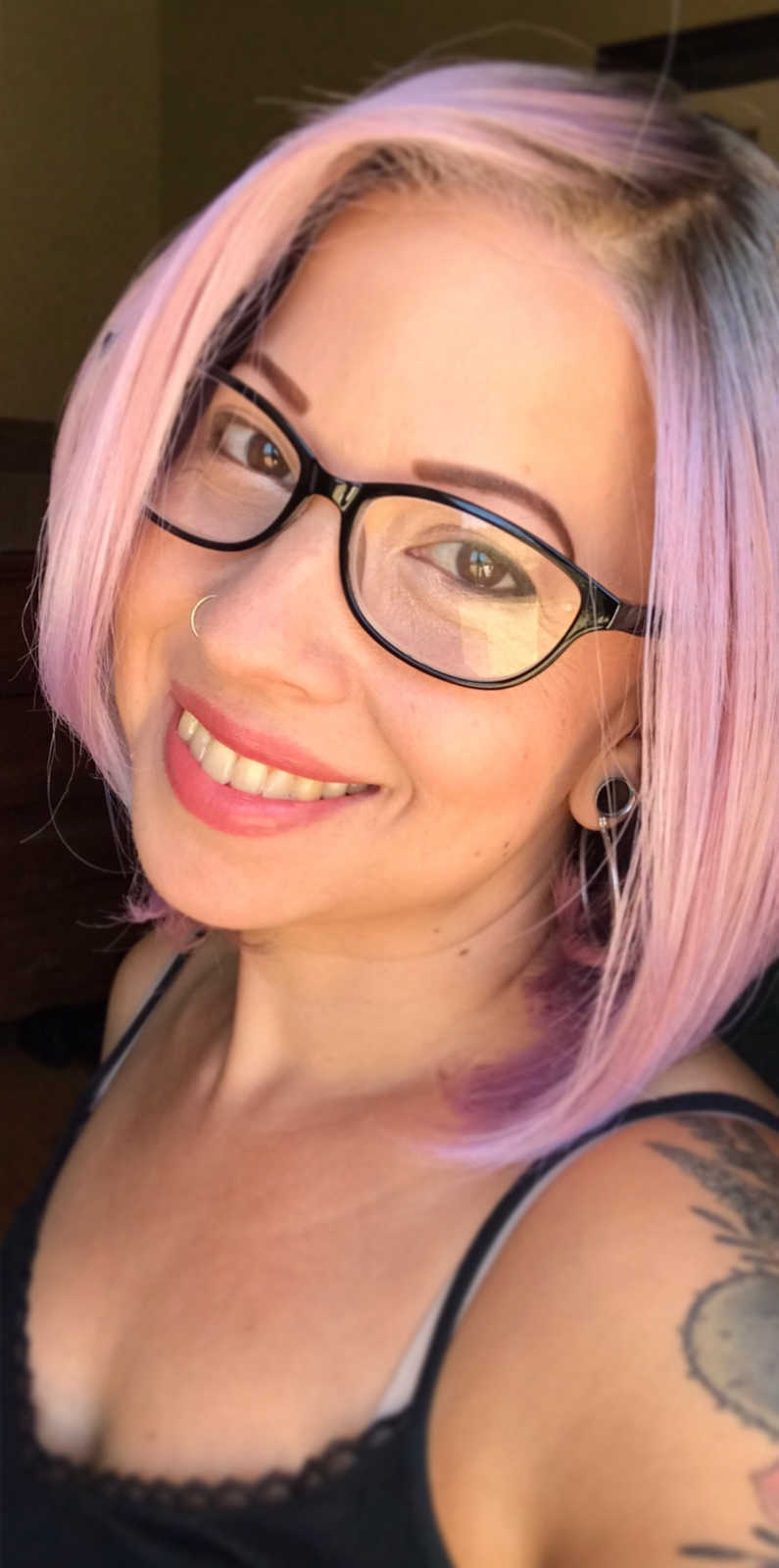 My alopecia has progressed, regressed, evolved, and transitioned, and my sense of self and self-worth along with it. It has taught me how to treat myself, and how to treat others. I don't know who I would have been without it. Sometimes I look in the mirror and try to imagine if a life without alopecia would have made me any happier. There are times I wish I could recall a specific moment of loss, a memory that I can hold onto, grieve into, and then bury for closure, save for some inevitable moments of nostalgia, when I remember what it felt like to run my own fingers through my own hair, the tingling of all those nerve endings in the follicles. Sometimes when I wear longer wigs, I gently pull at the hair underneath and behind my ears, like I did when I was a little girl, and like a ghost limb, feel those strands pulling on those nerve endings.
I am not here to tell you that I have completely overcome, that I am a fiercely confident woman in the face of my alopecia. There has been no singular death and rebirth for me. I spent years of my life shying away from intimacy because I was afraid of telling potential relationships that I didn't have hair. I avoided touch. A hand on my shoulder was too close to the truth, and I recoiled. For years I gave up activities that I loved if wearing wigs interfered or were not possible. I would love to tell you that I am as brave as I seem, as people tell me that I am—but I am getting there. I will continue to get there. I make daily decisions to show up for myself. I am open about my journey with alopecia areat –> totalis –> universalis. I embrace my love of wigs, and recently switched it up mid-wedding as my friend's Maid of Honor, much to the excitement of all our friends. I have a partner who never shied away from my truth and loves me in any color, or none at all. I melt into his acceptance every time he kisses my bare head. I have written my alopecia back into my life's story, and instead of wondering who I could have been, I focus on who I am still becoming.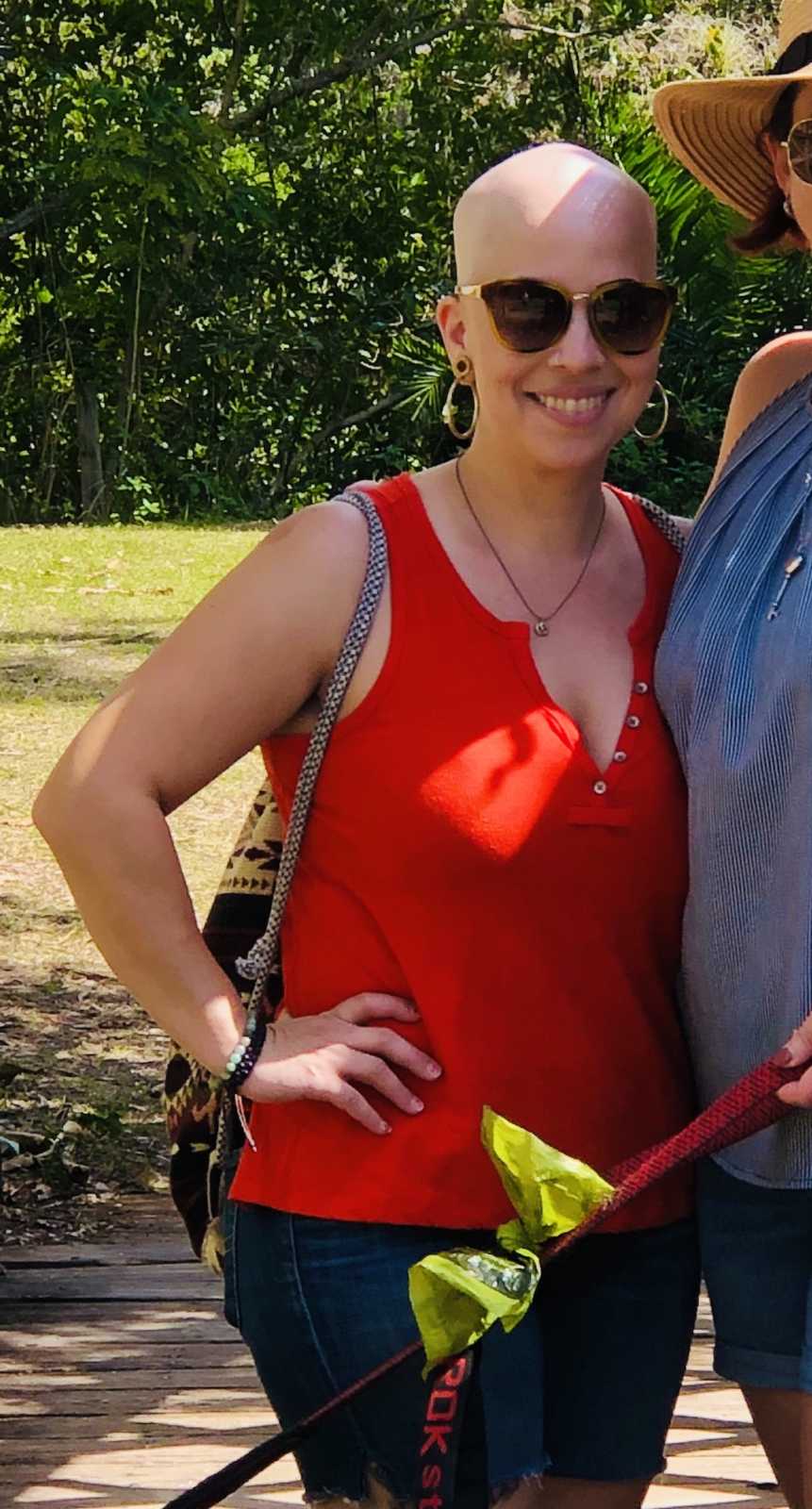 I love that the unintended side effect of social media posts, hashtags, stories, and reels, is that representation exists for the alopecia community in ways that did not exist when I needed it the most. I have too many years of hiding from cameras. I was on the late train to social media, and still maintain the same privacy settings I've had since this world's inception. I want to be in the chorus of big voices in alopecia awareness and advocacy, but for now I am here to be a part of the story, to be seen, as we all want to be. I am here because love matters, because the opportunity to be transparent and vulnerable showed up and asked me to participate, and because I have always believed that stories are meant to be shared so the ones who need them can find them. I hope mine is the story that someone needs now, the way I once needed it.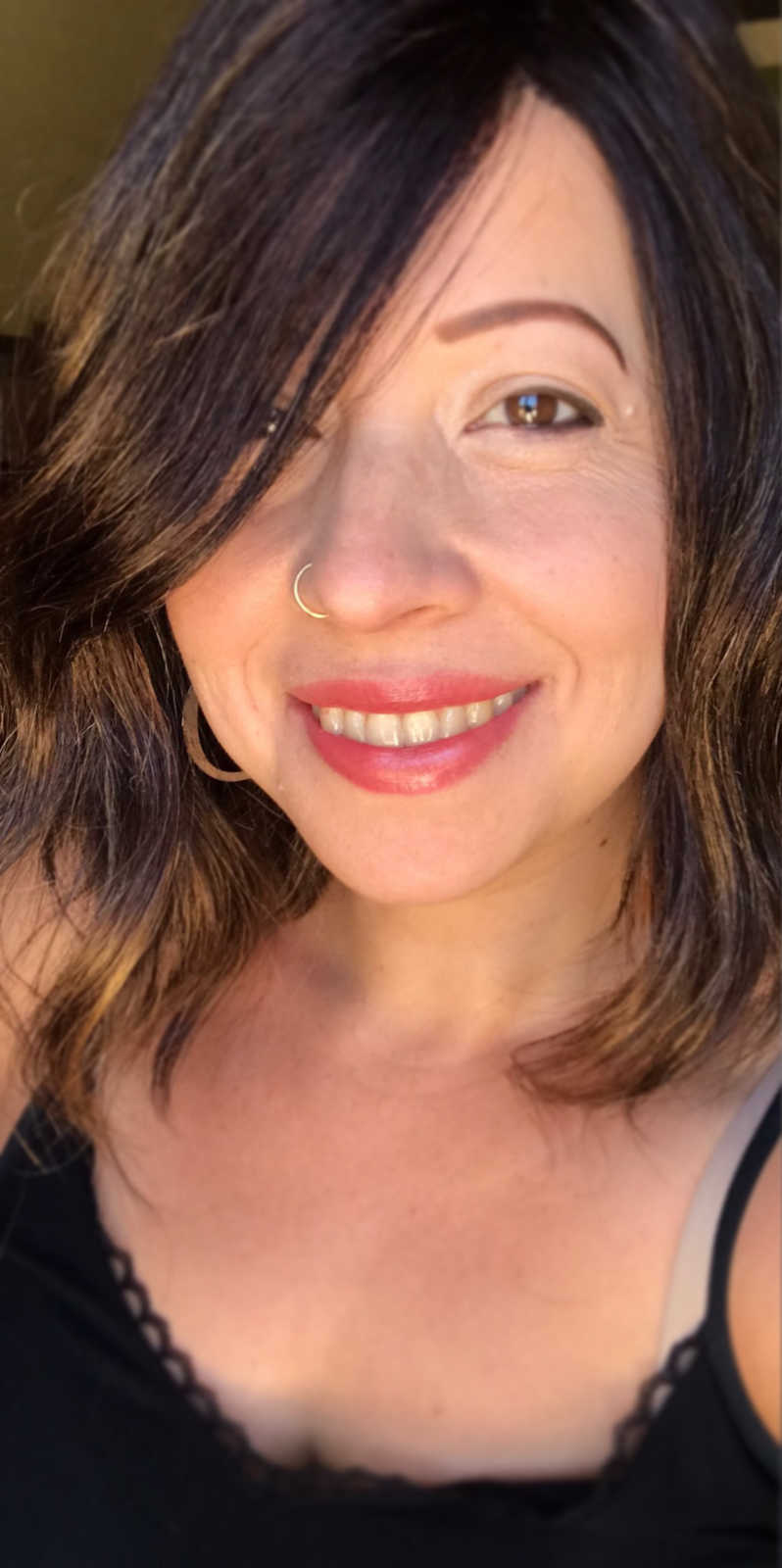 This story was submitted to Love What Matters by Danielle "Dani" Suzanne from Portland, OR. You can follow her journey on Instagram . Submit your own story here and be sure to subscribe to our free email newsletter for our best stories, and YouTube for our best videos.
Read more stories like this:
'Oh my God! There's another one here!' I thought she was just mocking me. I couldn't stop thinking about it.': Single teen mom raises awareness about alopecia, 'You are not alone'
'People will think you have cancer if you wear a headscarf.' I lost half my hair in 3 months.': Woman with alopecia embraces baldness
'I'll never be pretty enough for people to want to be my friend.' I had to face my hair loss.': Woman shares journey with alopecia
'I gently lathered shampoo and rinsed. I felt a fullness in my fists, countless strands in tangled clumps among the suds.': Woman with alopecia urges 'losing hair doesn't equal losing value'
Provide beauty and strength for others. SHARE this story on Facebook and Instagram with your friends and family.