"'It's important to keep your feelings and your self-worth in different places because when feelings get hurt, it shouldn't change how you view yourself.'
I read this quote earlier this week, and it really spoke to me. Not just me now but me at every stage of my life. It's something my parents have been trying to teach me for, oh, I don't know, 31 years now. Unfortunately, it's taken that long to understand exactly what that means, and it has taken incidents from this past year to really have it hit home.
Anyone who knows me (at this stage of life) knows I seem like a tough nut to crack. I tend to put on a tough exterior to minimize what (and who) I allow in because when it comes down to it, I am insanely sensitive. Subsequently, it really bothers me when people who don't really know me or haven't put in the time to really understand who I am and how I became her, decide I am not a good person or am not worthy of their time and effort.
I met my husband almost four years ago in a bar. He was with his friends, I was with mine, and the mutual 'I'm not looking for anything serious,' turned in to Wednesday night dates and weekend sleepovers. He was a lot of things I was not. He was laid back, carefree, funny, he's one of those people EVERYONE likes. I'm one of those people you say, 'When I first met you, I thought you were a b*tch. You just look intimidating.' Somehow it just worked. He's like my fifth child, and I love all those things about him. He makes life fun. I am ridiculously lucky for the life we built together. But for some reason, I feel as though I just don't measure up to what everyone else wanted for him.
This is something I have really struggled with the past few years, throughout a string of unplanned life events and the judgment passed along the way. Struggling as I felt myself changing to try to fit a mold that just isn't me, just to gain their acceptance. Struggling as I watched myself losing my sense of self-worth and confidence, viewing myself through others' eyes. Struggling to the point I was feeling like I was losing the person I worked so hard to become, and she was f***ing awesome.
Let me give you a little background. I was married young, too young. I was barely 20 the first time I walked down the aisle, helping raise two children, who weren't mine but whom I loved dearly and treated as my own. I was in a marriage that was volatile and filled with mental and emotional abuse. Fat, lazy, worthless, b*tch, whore, these were the things I heard almost daily. Naive to the change that really needed to be made, I became a mom to twins of my own at 22, instantly doubling my brood, while still suffering mentally and emotionally.
You can imagine the likelihood I could have ever made it out without significant postpartum depression. Suddenly, everything was compounding. I was increasingly unhappy but scared to upend the lives of our children. It wasn't until I tried to address these feelings, two years later, with my small-town doctor, my eyes suddenly opened, 'Shelby, I can write you a prescription, but I'm not sure that's going to help. I think what you have is situational.' Surprisingly enough, hearing that phrase from an outsider opened my eyes almost instantly. This wasn't how I wanted my children to grow up. I was missing all of these amazing milestones with them because I was absolutely miserable. It was time.
Cue an incredibly nasty divorce. Hate, anger, pain. I went from a stay at home mom of four to having two boys I loved ripped away from me. Still jobless, and now with a completely cleaned-out bank account, it was time to swallow the upper-middle-class pride I was raised with. I had to do something I never thought I would be in the position to do: apply for public assistance to feed my children. While this was short-lived, I have yet to live it down when the past is thrown in my face. I quickly learned to pick myself up for my kids. I worked nights in a hospital, my mom provided free overnight care (how would I afford daycare?), and I slept just a couple hours between the time I got off work and when the kids woke up. Then, I was back at it the next day. Who needs sleep anyway? Not moms.
In the meantime, I started dating. It was long-distance. Long-distance and completely unorthodox. Initially, it was a friendship. There were no expectations. It was just some messages back and forth at first, which quickly grew into biweekly trips to Dallas. He built me up at a time I really needed it. It made me want to shift my focus to being healthy both physically and mentally. I slowly changed from a beaten down, self-loathing 'ex-wife' to a driven, confident woman. I was happy for the first time in what felt like forever.
Then, unexpectedly (although I may have subconsciously expected it given the situation), the same person who built me up the past two years figured out how to tear it all down instantly. It wasn't in a way that he was directly telling me I wasn't worth anything, in fact, he was SAYING the exact opposite. Instead, what he was actually doing was SHOWING me I wasn't worth anything to him. Showing me by having another 'committed' relationship, closer to home, which everyone seemed to know about except me. Everything I had learned, all of the confidence and self-worth suddenly shattered around me. All of these feelings were too wrapped up in what others thought of me. How others treated me.
It was in the months following I finally learned to be happy, alone. Healing myself from toxic relationships. In this process, I learned how to be a single mom, a nursing student, a good friend. To REALLY focus on my physical and mental health for me. Slowly but surely, that strong, happy person was coming back. She was still in there. She was always in there, and not because of anyone else or what they thought of me, but because that was simply who I was. That was me.
I came back into my own. Confident, happy, but guarded. I am no longer naive to what others are capable of, so this can make me seem detached. Maybe even unapproachable, but this is me. I'm also loving, in my own very quippy and sarcastic way. I am thoughtful. Gift-giving is my 'love language.' I pay attention to what people enjoy or things they mention, which makes me very calculated in my gifting. I am protective of the people I care about and am loyal to a fault. Ride or die. You hate them? Me too, girl!
I tell you all of this not to defend who I am, but to try and explain myself in cliff notes. Not because I feel I need to, but because thoughts like these have plagued me and our marriage substantially this past year as we faced difficult situations. I have struggled, placing my self-worth in how others feel about me. What others were saying about me. Viewing myself through their clouded lenses. These thoughts and situations took away my ability to enjoy my final pregnancy and greatly affected our first year of marriage. While I still genuinely care about those involved, and always hope resolution is near, these are lenses that still don't know me well or see me for who I truly am. I know who I am… and guess what? I'm still pretty f***ing awesome.
Give yourself permission to be all you are and to still be loved for it."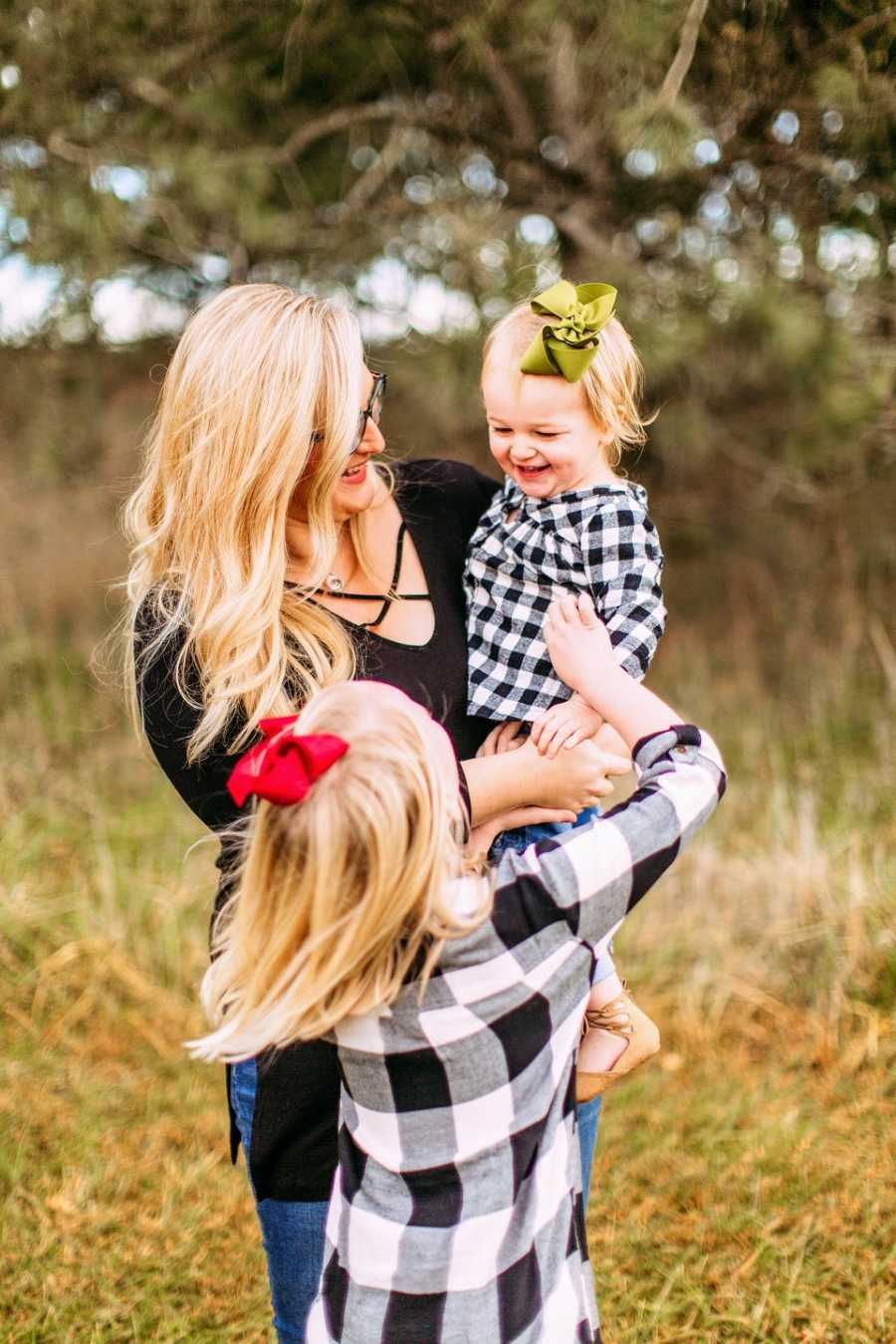 This story was submitted to Love What Matters by Shelby Cahalan. You can follow her journey on her website. Submit your own story here and be sure to subscribe to our free email newsletter for our best stories, and YouTube for our best videos.
Read more stories like this:
'I'm a guy who was married to my best friend for 10 years that discovered multiple affairs at the end of our marriage': Single dad rediscovers self-worth after it was shattered by infidelity
'He locked me in the basement for days. I had asked him to help with baths for our kids. Then he took his own life.': Woman reclaims self-worth after husbands' suicide
'Only 6 months after our divorce was final, my ex-husband ended his lifelong battle with mental illness.': Woman's journey to discover her 'self-worth' after ex's suicide
Provide beauty and strength for others. SHARE this story on Facebook with your friends and family