It's Friday. Mom and Dad have caregivers from the time they get up until 12:30, and then again at 2:00 til they go to bed. What can possibly go wrong in 90 minutes. Apparently – A LOT!
Our receptionist at work is on vacation this week and my sister Mary Ann headed to the beach for the weekend last night. That leaves me manning the office and a 90 minute mom and dad on-call window to be by my phone. Well, it happened. My phone rang about 15 minutes into my 90 minute mom and dad duty. It went something like this…
Dad – (out of breath) "Mom needs some help. Here, talk to her."
Mom – "Hi – what's up?"
Me – "I'm not sure Mom – what's up?"
Mom – "Beats me."
Me – "Put Dad back on please."
Dad – "I was in the bathroom. She didn't know where I was. She went outside into the yard looking for me."
Me – "I'll be right over."
I lock the office and head across the street. They are sitting in the bathroom. Mom is agitated and Dad is sitting there quietly – listening to her, then trying to explain to her that he told her he was going into the bathroom. She assured him he had not. He is looking at the floor. She is complaining – saying she was all alone, that everyone left her. He heads out of the bathroom and I stay to help mom. She doesn't stop – she continues on about being left alone. I attempt to explain she was not alone. She does not want to hear it. I talk about other things. She washes her hands – the water isn't warm enough. She cleans the already clean sink and says how dirty it is. We finish up and head to the living room.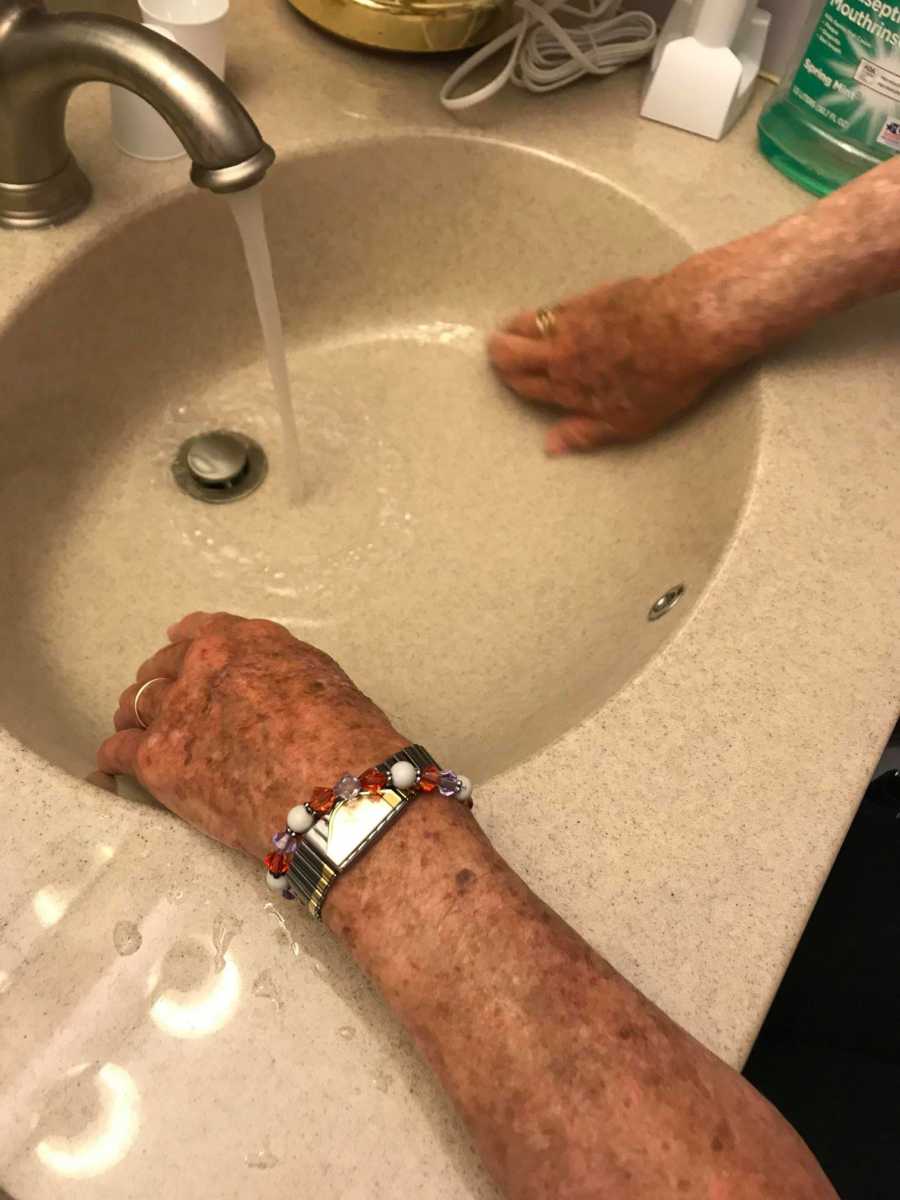 Dad is in his recliner. I get them some snacks. Mom mentions again about being left alone. In passing, I reassure her she was not. I help mom into her recliner. They both eat their snacks. I see Dad wiping his eyes. I realize he is crying. There is not anything much worse than seeing my dad cry.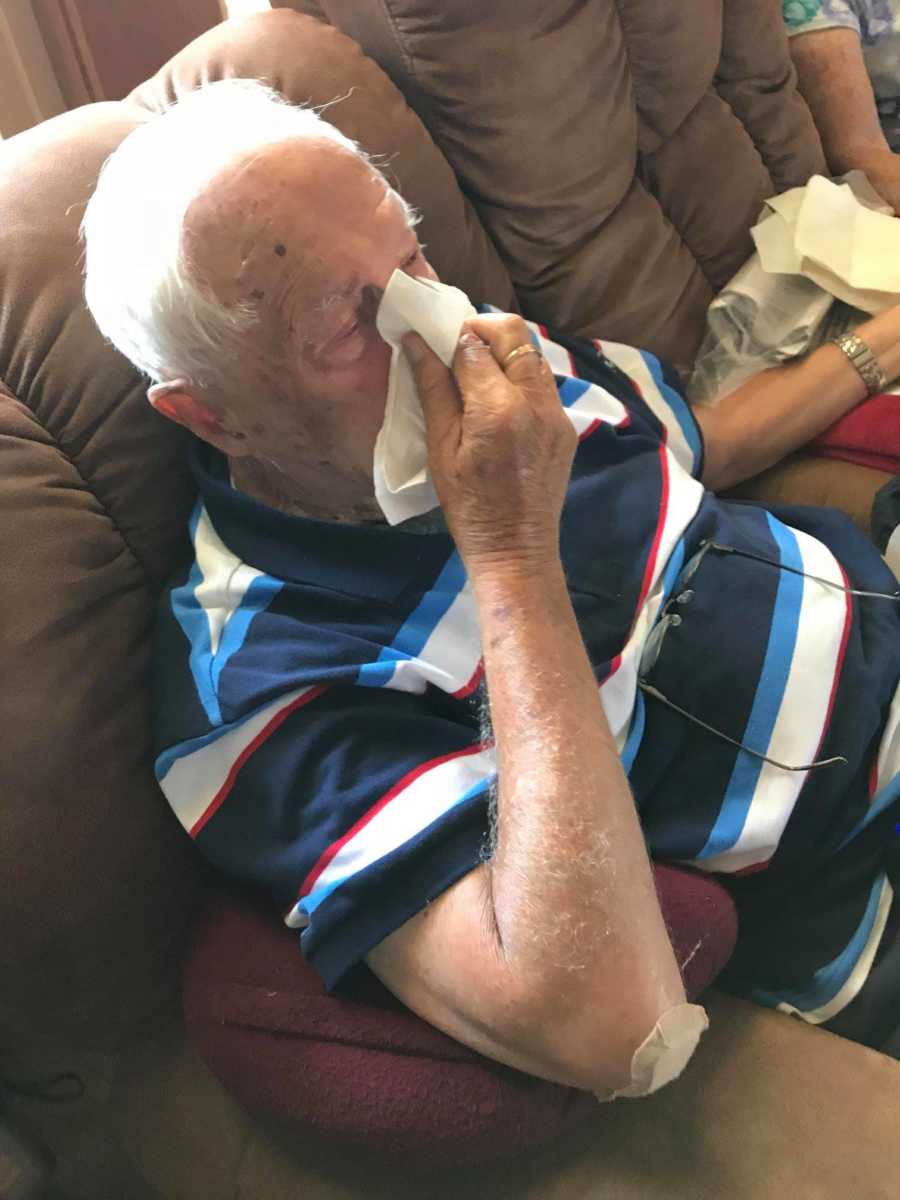 Mom looks over. She reaches for his hand. She looks at me. I tell her dad is sad. She looks at him and says, "He's a good guy. I love you." He is holding a napkin over his eyes. He continues to cry. I am falling apart. I leave Mom's side and go hug him. He is sobbing. I tell him he is wonderful with mom. I tell him I love him. Mom stares at us.
He tries to pull himself together. I have to walk into the kitchen so I can cry without them seeing me. I pretend to do things until, like dad, I can pull myself together.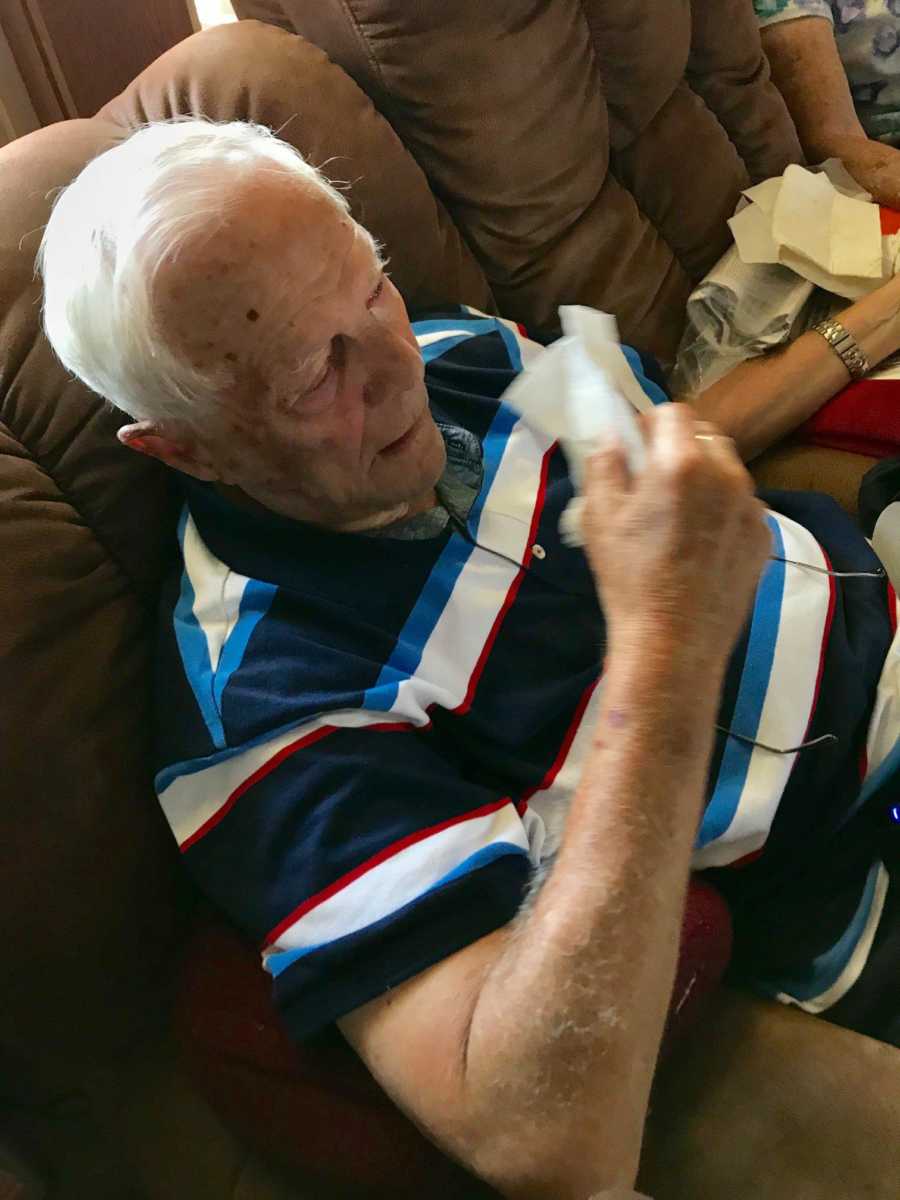 After a few minutes I wipe my face – text Mary Ann and fill her in on my 90 minutes of mom and dad duty. We try to find a sliver of humor in it all. I head back out to Mom and Dad. Mom has moved on to the TV not working – the cable company was having some issues (thank goodness). Dad is quiet but no longer crying.
It's 2:00 and their caregiver arrives. I walk back into the kitchen and she follows. I fill her in on my last 60 minutes. I ask her to redirect mom if she says anything about being alone. I ask her to reassure dad of all the things he does right. I give my hugs and say my goodbyes to Mom and Dad and head back to the office.
I feel as though I have just run a marathon that never ends. I have no idea what that would feel like since I hate to run, but I assume it would feel something like the way I feel now – exhausted, defeated, frustrated, angry and unending. This dementia marathon we are running is going to end someday and when we finally see the finish line, I wonder if we will collapse, or if we will finally be at peace. Maybe a combination of both."
This story was submitted to Love What Matters by Becky Gacono of Annville, Pennsylvania. She is chronicling her mother's dementia journey on their Facebook page and in a series of posts for Love What Matters:
Wife with dementia 'listens' to husband's story for 15 minutes before cracking a joke, which 'gives him a sliver of hope she is still there'
'His love for her is palpable': Doting husband's explicit instructions for wife with dementia's morning routine