"I am the youngest of six in my family. My parents had three biological children and then adopted three more children from South Korea. I was adopted from Seoul, South Korea when I was 10 months old. I was found outside on the steps of a police station.  
After my parents were matched with me, the adoption agency told my mom my birth mother left me there so I would be found. It was very risky for her to place me in such an open, public place because there would have been serious repercussions if she had been caught.  
My mom has always told me she knows my birth mother loves me and wanted a better life for me. She was willing to risk being caught to ensure I would be found and taken care of. This is the brave love of my birth mother. 
After being found at the police station, I was taken to an orphanage. The adoption agency that my parents used found out there were several newborn babies in the orphanage and asked if they could find them homes. Initially, the orphanage did not agree to this. If the adoption agency wanted the babies, they would have to pay for them. This adoption agency had received a donation, but only had enough money available to bring five babies into their care. I was one of the five.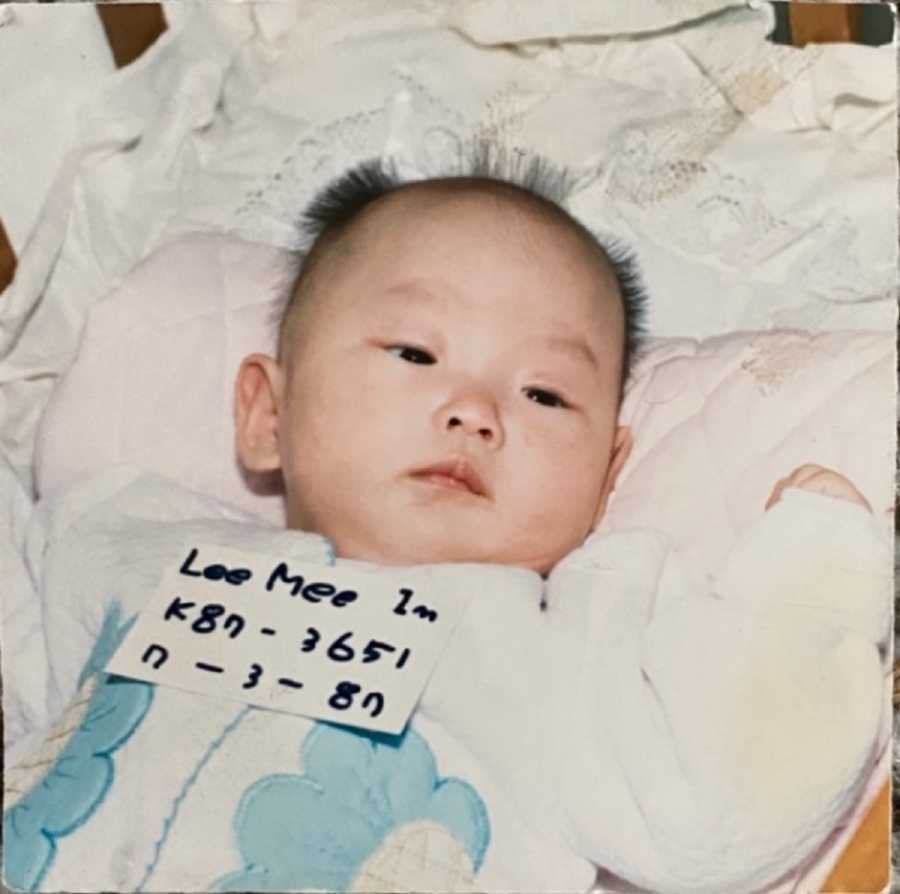 Meanwhile in the states, my parents began to feel the pull in their hearts towards another adoption. My dad felt that our family wasn't complete and told my mom he knew there was another baby they needed to adopt. Not long afterward, my mom had a dream about a little girl waiting for them. They prepared the paperwork and placed their names on the agency's list of hopeful adoptive parents. Shortly after, my picture and adoption scenario were reviewed by their caseworker.  
Somehow, she knew right away I was supposed to be matched with them. She shared my case with them, and they knew instantly I was meant to be theirs. As soon as I was matched, the agency placed me in the care of a foster mom who I only have pictures of now. Her brave love cared for me until I could make it home. I feel honored to have this as the beginning of my story.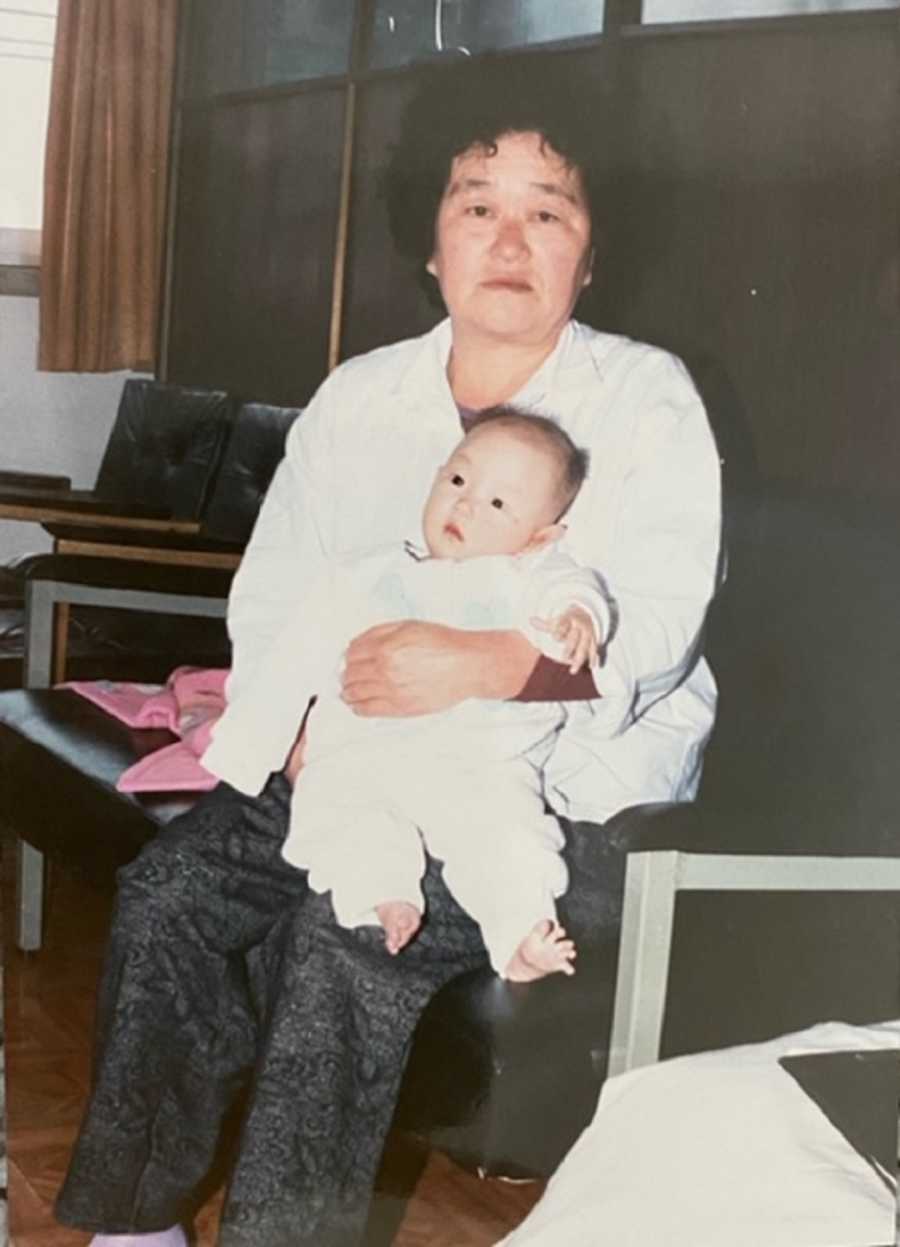 Most days, I forget I am adopted. I grew up in a very loving and supportive home. I was nurtured and taught about unconditional love. We lived in a small town with lots of family nearby. Our family loves the outdoors. Some of my fondest childhood memories include camping, hiking, and backpacking. The fact that I forget I am adopted best describes how my parents raised me.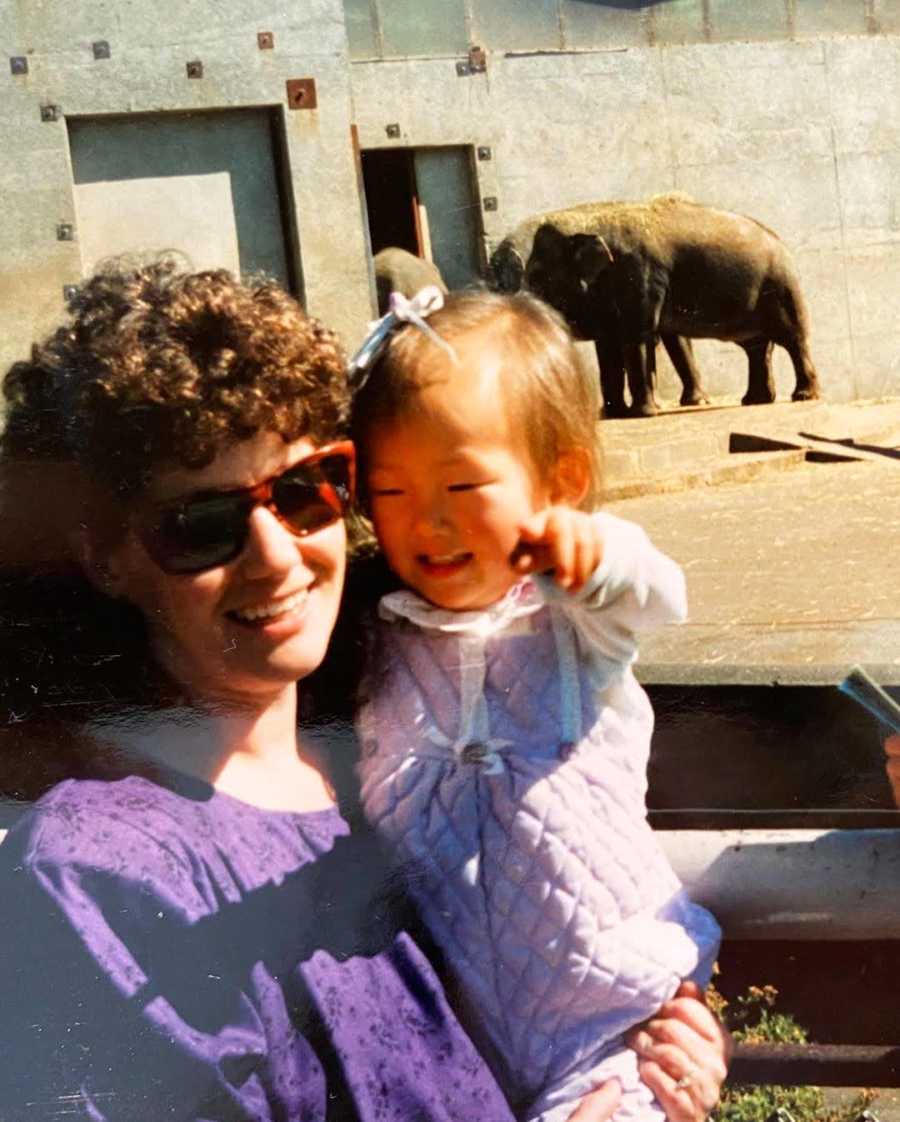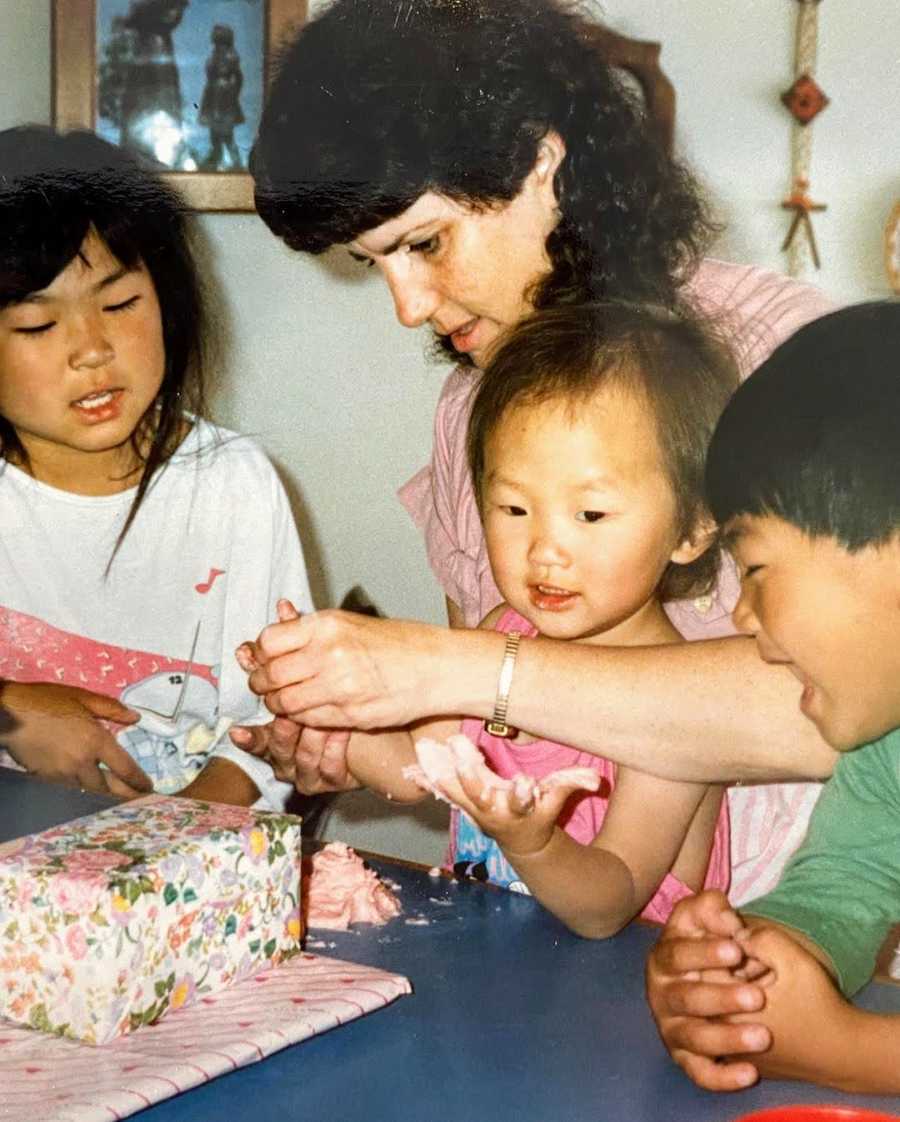 I was never labeled by my family as an adopted child. I was never labeled as anything. They gave me support, security, and the freedom to define myself. What has shaped me most are the values and life lessons they have instilled in me. Love truly does not have boundaries. Love does not have labels. Love is brave.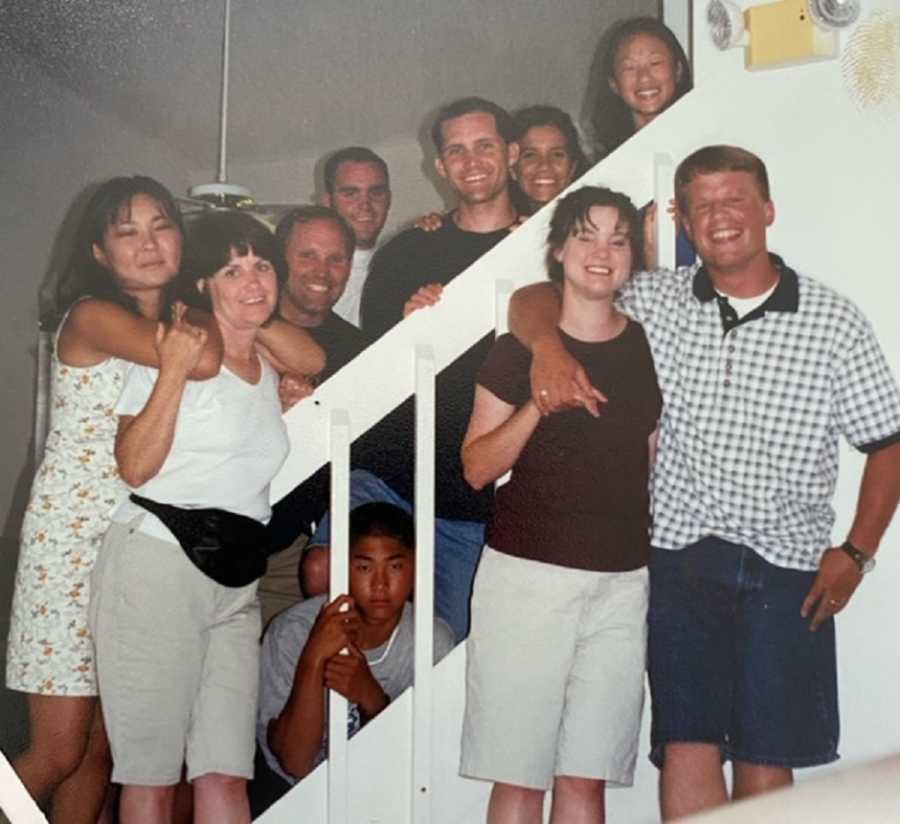 Logan and I met through mutual friends while we were in college. We fell hard and fast for each other and you know the saying 'the rest is history.' But, that's not really our story. After years of thinking we would 'just get pregnant' or that it would 'just happen' to us, one day we came to the realization it might not. We started slowly with a local infertility specialist and eventually found out it would be very difficult to get pregnant. The doctor literally said to us, 'The chances of you getting pregnant are extremely low.' 
To be honest, I was shocked when we received this news. We had been praying about the path we should be on. Should we start doing infertility treatments or adopt? Since we first got married, adopting was always part of the plan. For some reason, we just assumed it would be patterned after my parent's journey. 
After we found out the chances of us getting pregnant were so low, we immediately shifted gears. That news was our answer, and the feeling that came afterward was the confirmation. Adoption is how we were supposed to grow our family. So, in the fall of 2016, we stepped into the unknown with hopes, prayers, and brave love in our hearts.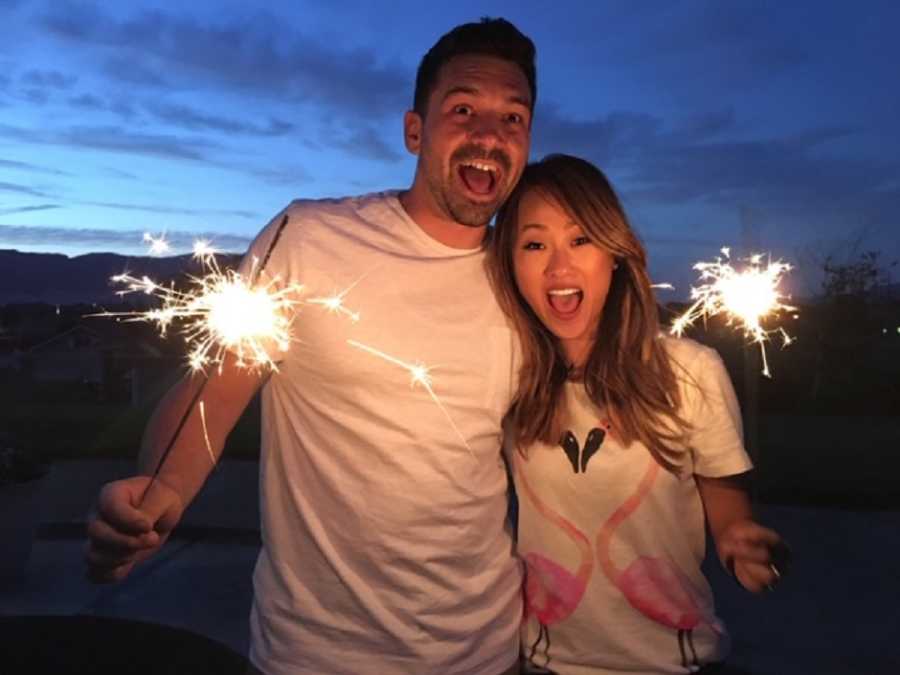 When we started the adoption process, we were so overwhelmed. I felt so afraid. The process looked, and continues to look, so daunting. There is no handbook covering the easy parts or the ugly stuff. Just like parenthood, you will never know what it's like until you've experienced it yourself. Where should we start? How much does it cost? What is a home study? We started talking to my parents, family, and friends who had all adopted internationally.  
The thought of adopting from Korea sounded so amazing! As we researched international adoption more though, we realized it just didn't feel right. So, we began looking at domestic infant adoption. Over several weeks, Logan and I compiled a list of adoption agencies we wanted to learn more about. We called them, took notes, compared notes, and prayed more. 
After a lot of research, we decided to go with an in-state agency that would do our home study and promised to get us started on the matching process right away. We filled out their application, sent it in, completed our home study, and then began waiting on pins and needles. Then we waited more. After not hearing from them for months, we felt pulled to apply with another agency in a different state we had been following closely on social media. That shift made all the difference. 
Our new agency had us apply and create a profile book for birth mothers to read. I remember sitting down with Logan to write our book, thinking for the first time about how real this was. We read other hopeful adoptive parent's profile books and saw a common theme honoring birth mothers.  
This is when reality hit us. Somebody was going to read our family story and choose us as the parents for her child? These birth mothers were making the ultimate sacrifice and powerfully changing lives forever. It is a completely selfless act and the hardest path they could choose. This is the bravest love. We finished our profile book with more understanding and increased love. 
After we had completed our profile book, and nine months after we had initially started our journey, we began receiving emails from the agency with current adoption situations. We received several situations that immediately did not feel like the right fit. I remember everything about when we got our daughter's scenario, though.
It was 10:30 p.m. on a Friday night. I was catching up on emails before getting ready for bed. After reading the email from the agency, I yelled across the house to Logan, 'I just found our baby!' The feeling overwhelmed me. I knew she was supposed to be in our family. Logan sat down on the bed, read the email, and immediately went silent. We both knew we needed to say yes. We told the agency we wanted to send our profile book to this birth mother and then crossed our fingers.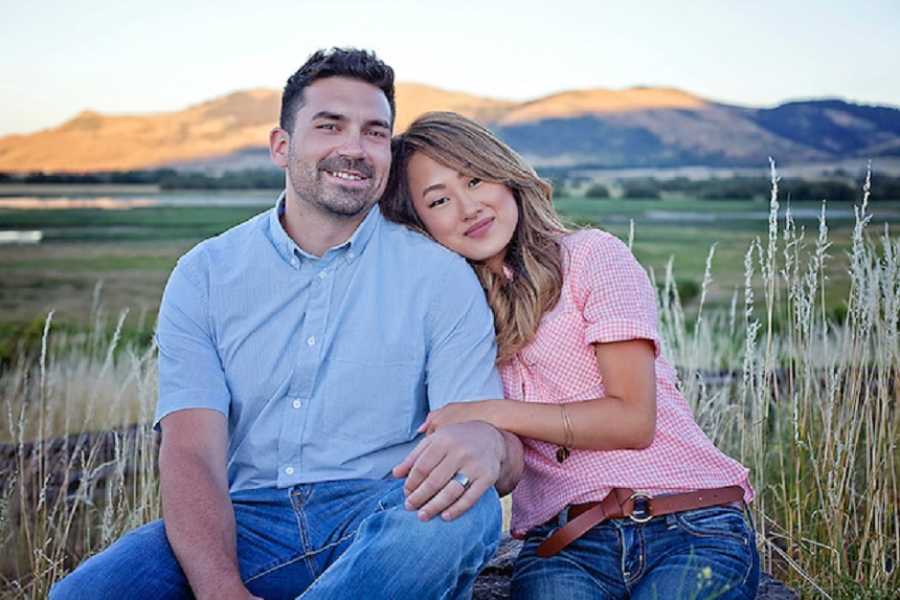 On Monday morning, I emailed our caseworker to ask her when we would know if we were matched. No response. The next day, I remember I was in the drive through about to order a drink. Right as I was pulling up to order I saw the adoption agency's number. Should I answer it or not? My voicemail alert rang a few moments later. My mind was racing. Why were they calling me? Did she choose us? No that's too soon. Maybe she did? No. I got my drink and told myself not to get too excited, then anxiously parked to listen to the voicemail. It was a short message asking me to call back. 
'Hi Meah, it's Rachel. I just wanted to call you and answer your question about how long it typically takes for people to find out if a birth mother has chosen them?' 
'Oh, thanks for getting back so quickly,' I replied.   
'No problem, I just wanted to let you know it typically takes a couple of days or so, but you don't need to wait to find out because she chose you.' I was shocked. 
'What?! Are you being serious?!' I immediately broke down into tears and couldn't find words. 
She quietly repeated, 'Yes, she chose you.' 
Choking back my tears I replied, 'Oh my gosh that's so amazing!' it got quiet again. She sat on the phone with me, letting the news and all the emotions sink in. I immediately called Logan, 'You are never going to believe what just happened…she chose us…we are going to be parents!' Later, we found out our adoption was one of the last to take place with this agency before their license was revoked by the state.  
The night before Maven was born, my husband and I were asked by her birth mother to be in the delivery room with her. During the waiting time, we were able to get to know her on a different level: who she really was, what sacrifices she'd made, and the journey she had taken that led to adoption. Our respect and love for her grew.  
After several hours, she started feeling unwell. Soon, a group of nurses rushed into the delivery room with the doctor following closely behind. We moved into a corner of the room to give her privacy and give the nurses space. Later, we found out her body went into shock. The baby was coming too quickly. It all happened so fast. There were so many doctors and nurses that we couldn't see her.  
Suddenly, I saw the doctor stand up with Maven in his arms and say, 'She's not breathing.' My heart sank. 'What? Is this real? How can this be real,' I said to myself. They carried her to another corner of the room and started compressions, clearing her airway, and preparing oxygen. Thoughts were racing in my mind and my body seemed to go numb. Is she going to be okay? 
Immediately, I sent up a silent prayer. I remember closing my eyes praying so deeply and earnestly for help. Then after what seemed like an eternity, I heard somebody say, 'She's okay, she's breathing she's going to be okay.' Then I heard another voice from behind the group of nurses, 'Is she okay? Let me hold her, please let me hold her.' I remember opening my eyes and looking over to see our daughter's birth mother. 
The first view I saw of my baby girl was when she was placed into this amazing woman's arms, embraced with all of the love and concern a mother could have. After she held her for a while and made sure she was okay, she looked at me and asked if I would like to hold her. I wish I could fully express the feelings of selfless love at that moment, but there is nothing I can find to describe it. It was a force so strong that it filled the entire room. Her love is brave!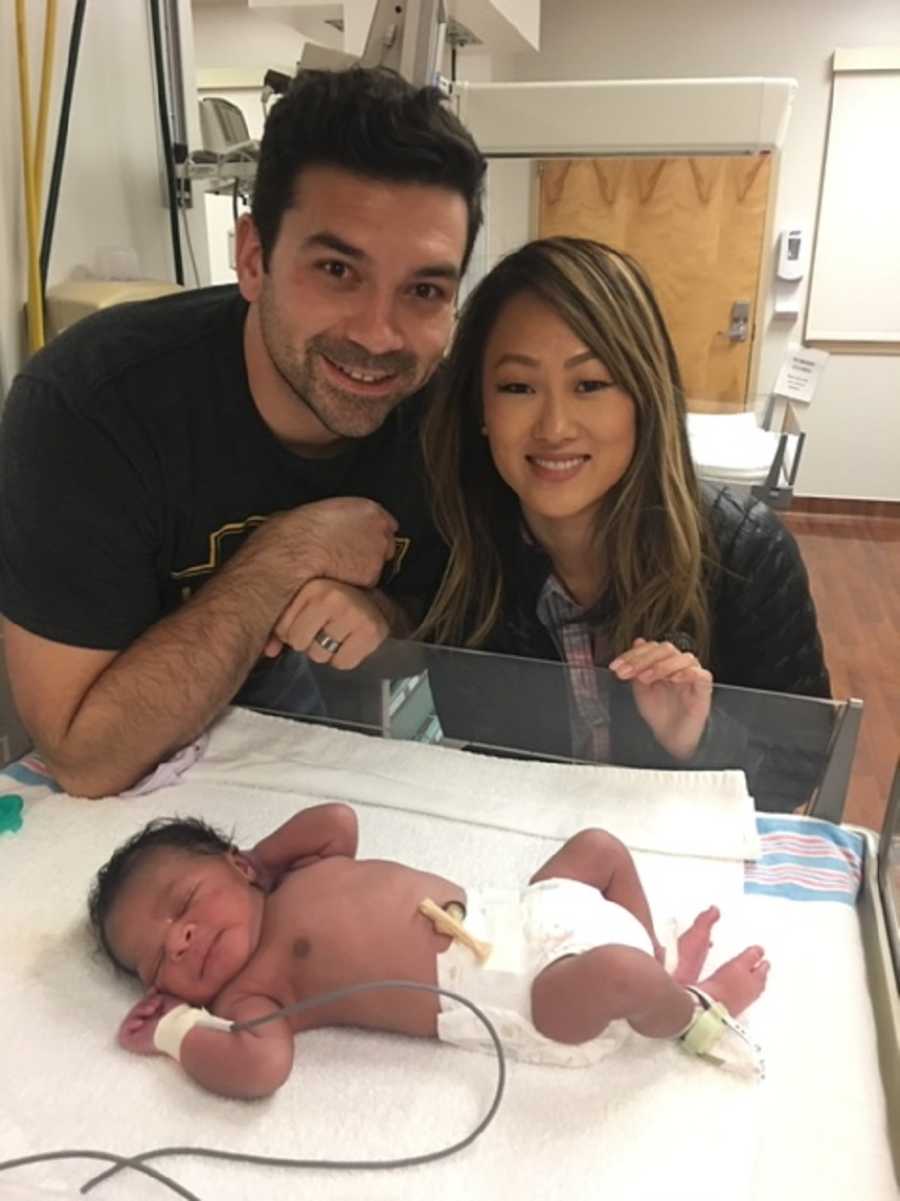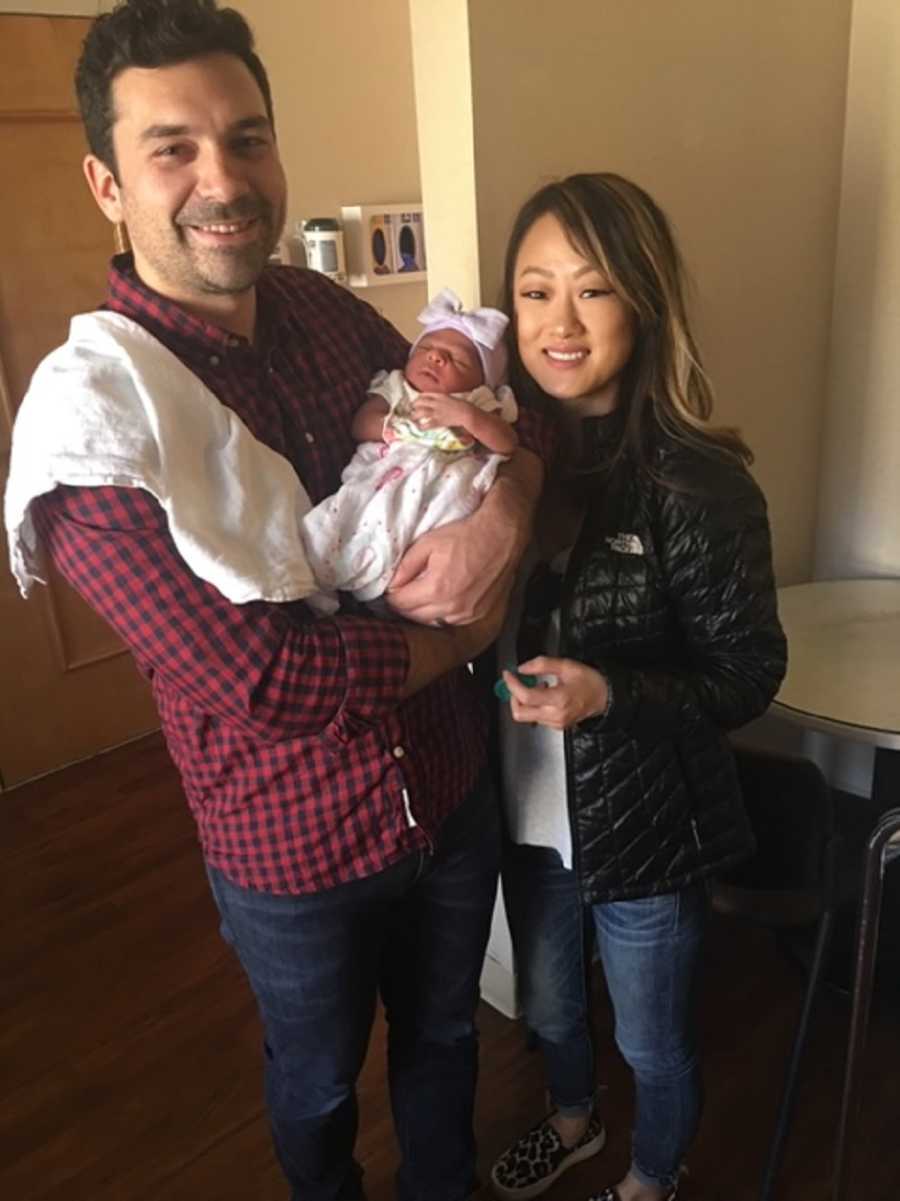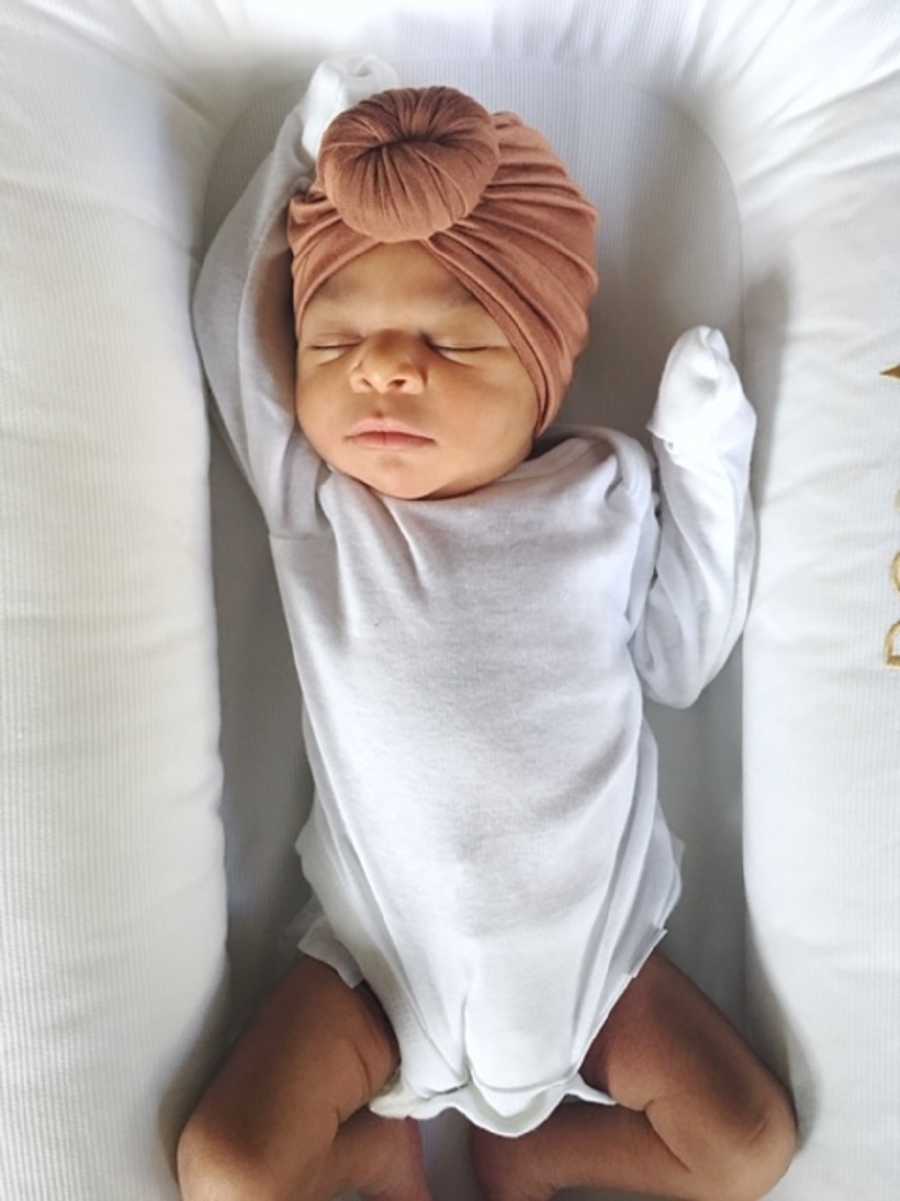 One common thread I've found in both of our stories is that love is truly what defines us. While my daughter is an adopted African American in a racially diverse family, these things do not define her or us. She is my daughter. My love for her is limitless. What is even more special and powerful is that we get to share that love with one of the most selfless women I've ever known.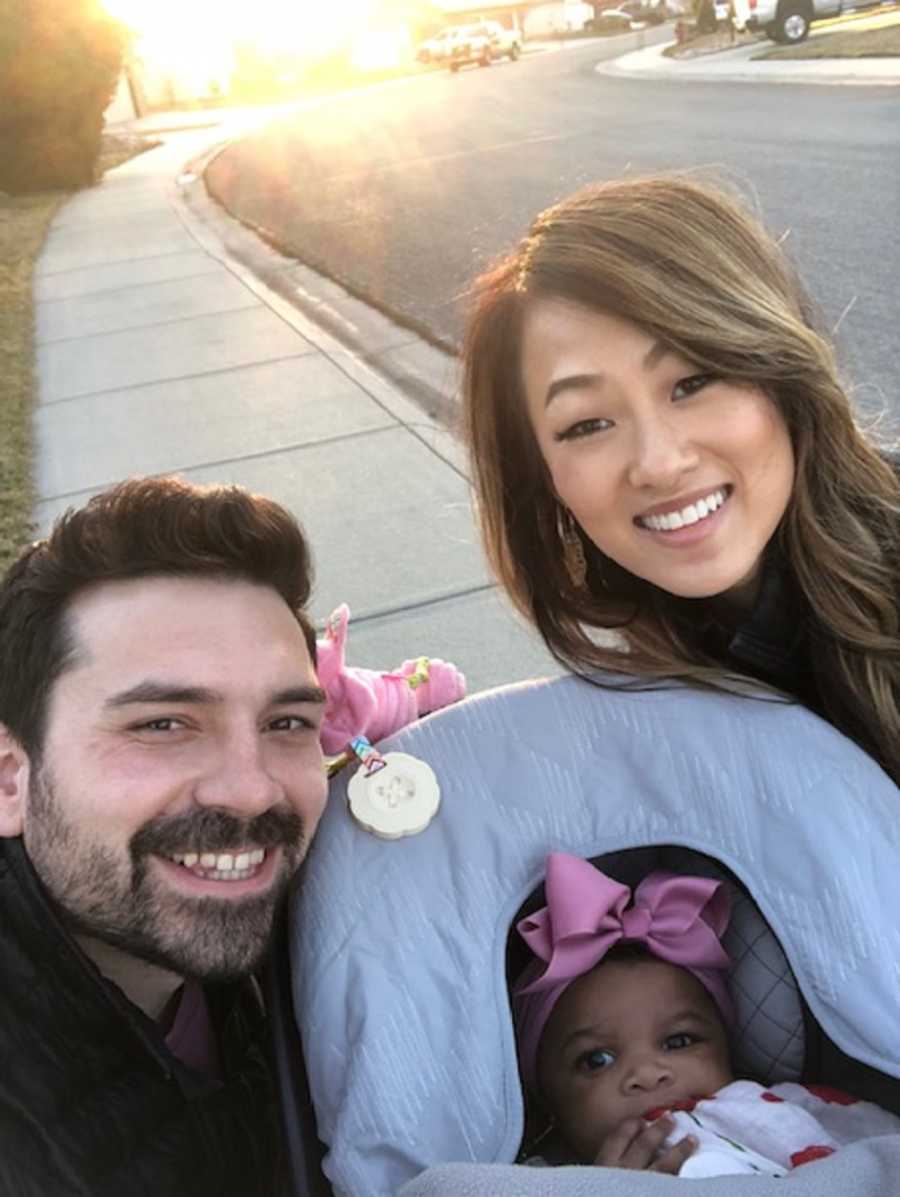 As I reflect on my own adoption, I see so many differences and one overwhelming similarity: the brave love and courage of our birth mothers. It is this kind of love that led me to my family and Maven to ours. I am so grateful for their courage and sacrifice. It has forever changed us. Miracles happen. The brave love of one person can answer another's prayers and change their lives forever."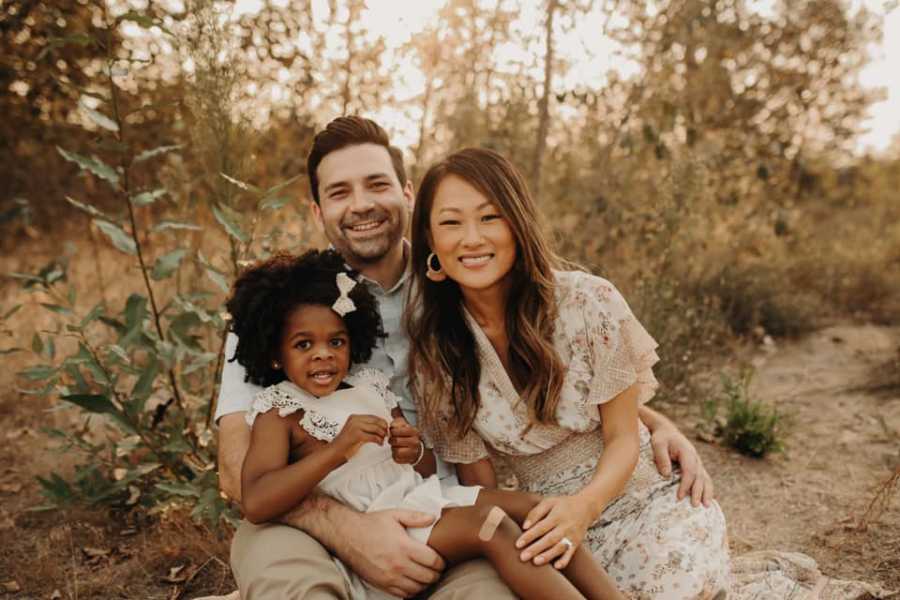 This story was submitted to Love What Matters by Meah Christensen of Idaho. You can follow her journey on Facebook and Instagram. Submit your own story here and be sure to subscribe to our free email newsletter for our best stories, and YouTube for our best videos.
Read more stories like this:
'The last time you saw me, you left me on the side of a bridge. Did you cry?': Adoptee pens powerful letter to birth mom, 'Thank you for giving me a better life'
'They bluntly asked, 'So, where is your real Mom? She didn't want you? Is there something wrong with you?' Everywhere I went, I stuck out like a sore thumb.': Transracial adoptee says 'it's okay to grieve the loss of your birth family'
Do you know someone who could benefit from reading this? SHARE this story on Facebook with family and friends.