"I am sitting here absolutely beside myself. I am so heartbroken words can't even explain. I just found out one of my best customers passed away at the end of last month. He worked at Walmart and I hadn't seen him in the last month or so. I just really don't know what to say at this point.
I meet Billy back when I worked at Four Seasons Ford. He had a wife who was very sick with cancer and he knew she didn't have very long. She wanted a Mustang so badly, so he and I sat down and got her a beautiful blue Mustang. It was going to be a surprise, and he was going to pick it up with her on the Saturday after I sold it to him. This was on a Tuesday, but she got really sick and couldn't get out the next Saturday, so I took the car to them. When I got to his house she was in bed and we told her what we had for her outside. She was so sick she couldn't even walk, but she wanted to see the car so bad. I was so heartbroken. I wanted to make this woman happy so I asked her if she would be okay if I carried her out to see it. She said yes, and she was so happy. At that point I made a friend with Billy for life and I knew it.
Fast forward about two months later. Billy would come to the dealership about two to three times a week to see me. He just wanted someone to talk to. He was so sad and so alone. He knew she was sick and knew it wouldn't be that much longer. See, what you don't know is Billy had a wife before her who had cancer as well and passed from it. This man had been through the wringer and back. About two months later, his wife was having a great day. She was feeling good and she looked amazing, so they decided to come by and see me at the dealership. They drove the new blue Mustang I sold them, because up until this point she had never even been on the road in it. The car only had 156 miles on it and understand I put about 30 miles on it taking it to their home to surprise her with it. They drove it up this day at least 30 miles again, so needless to say it was still pretty much a brand new car.
When she came in the showroom, I was just amazed how good she looked, and Billy was so happy and proud. When she came in, she gave me a hug and said, 'I had to come see you Jeff. I didn't want you to think I was ugly because you saw me at my worst.' Of course I reassured her she looked just fine. My desk was blocked from seeing most of the showroom by this big F150 that was beside my desk and as we walked around it, she saw this beautiful red convertible Mustang GT. She started crying and said she never even been in a convertible and has always wanted one and then she started crying. She said, 'I guess that will never happen, but it's okay. I have a pretty Blue Mustang GT and I love it."
As I saw this all unfold my heart was so heavy, I was just thinking about what can I do. I wasn't wanting to try to sell them a car. In my mind if I had the money, I would have just given it to her if I could. My heart was so heavy I remember going to the bathroom and crying. I remember thinking about my wife Heather Nicole Parton and I remember thinking of my kids and my situation of how everything could change in a second. Then the idea came out to me. I was thinking, 'No, I don't want to try to sell them a car. Not in this situation.' How bad would I look trying to sell a woman who is very sick and didn't have much longer, and an emotional husband a car, playing off their feelings. Nope, I can't do that, and I won't. I had a better idea.
This car was in the showroom and it was clean, and it was a brand-new car. Normally we don't even test drive cars like this, but I begged the managers just to let me take it out of the showroom and let me drive her around the block. If I had to reclean it, I would. So, we all get in the car, but she didn't want to go ride. I was like why? I couldn't figure it out then it hit me. She had been doing chemo and had a wig on, and was afraid it would blow off. I wasn't going to let it stop me from taking her for a drive, so I went back and bought her a Mustang hat and she put it on, and we went for a ride and she was so happy.
When we got back, she was smiling from ear to ear. Billy saw and he was so happy as well. Again, I had no intentions on selling them a car and I wasn't even trying to sell them a car. I was just trying to make a wish happen for this lady. Billy was so happy he looked at me and said, 'I'll take it.' Now understand, this wasn't like Billy. He would work you on numbers for a week. He would break down every penny to make sure he was getting a great deal. He never questioned price or anything. Come h*ll or high water, he was getting that for her.
I gave him a great deal—like an amazing deal. $600 under invoice and we gave him exactly what he paid for the blue Mustang (other than his tax, tag, and title fees). I remember her saying no and crying, but Billy wasn't leaving without the car for her. He loved her so much. This picture I posted was the day they got the Mustang. She passed away four days later. I took the picture and framed it and had everyone in the dealership sign it. Billy was so proud and this made our bond even stronger. Billy would always come see me and sometimes I had to hide because he would take up so much of my work time and I feel so bad for that now. Billy, I love you buddy, and may you rest in peace. You will always have a place in my heart and be one of my best customers."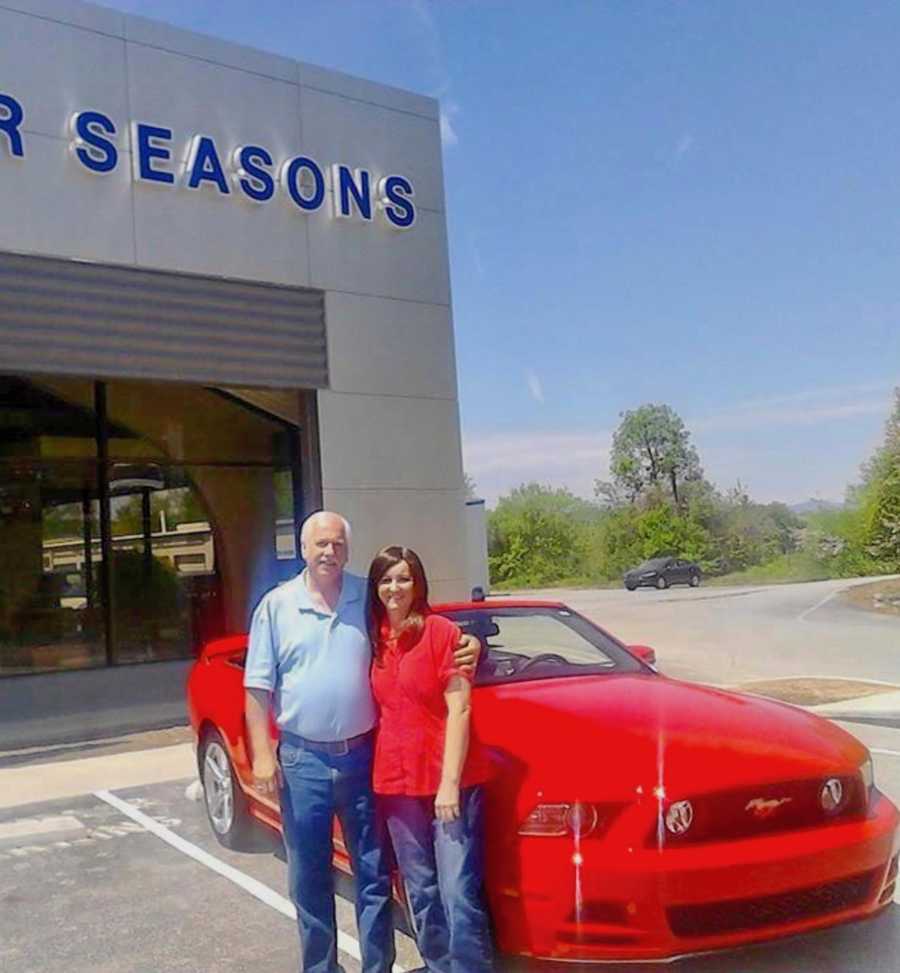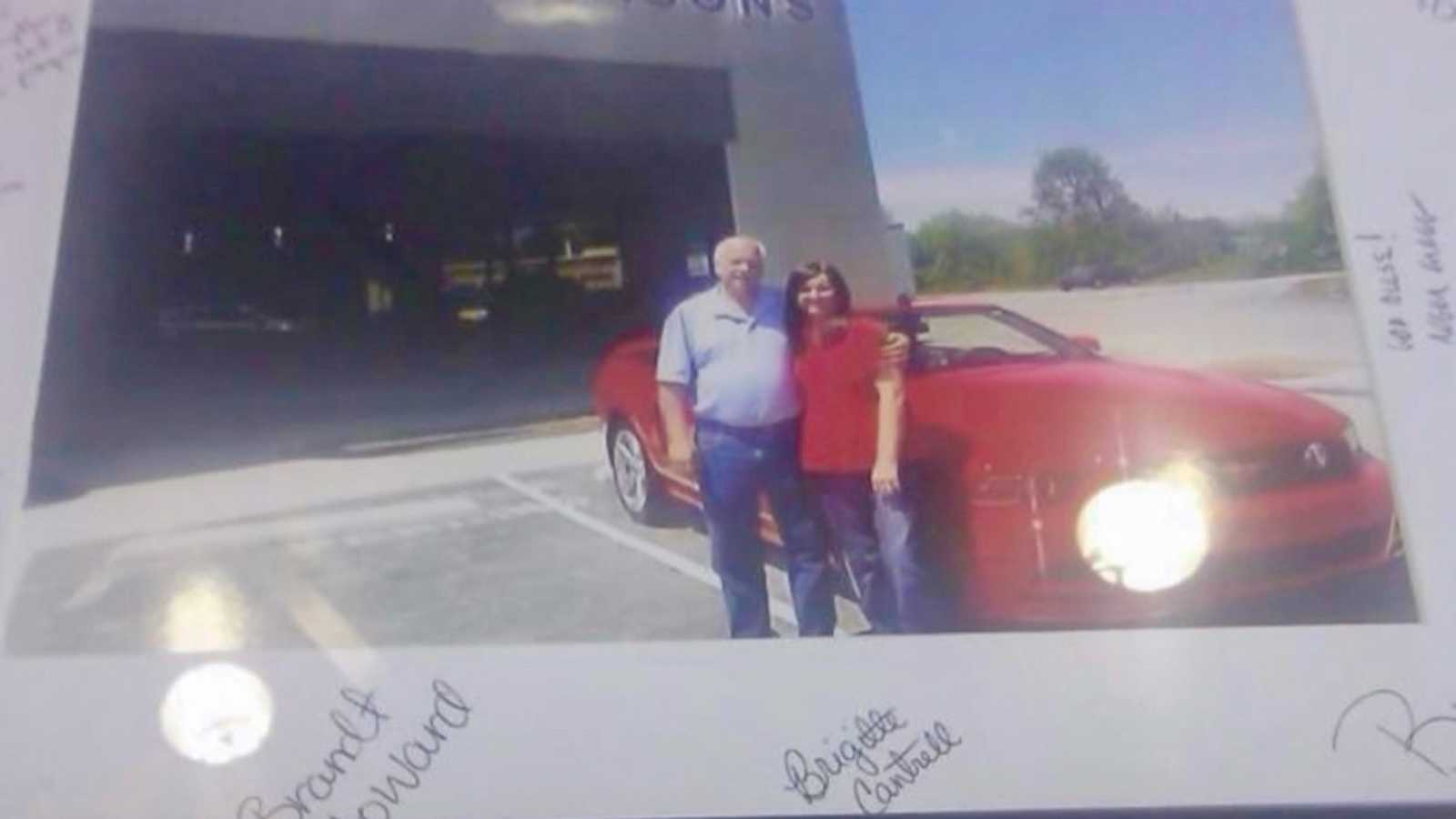 This story was submitted to Love What Matters by Jeffery Parton. Submit your own story here, and be sure to subscribe to our free email newsletter for our best stories, and YouTube for our best videos.
Read more stories like this:
'Aren't we past this?' Years after his murder, I was holding an unmanageable amount of pain.': Woman details grief journey after losing husband, 'I'm letting joy in'
'I found myself sniffing men's deodorant in aisle 11, holding back tears. I'm trying not to forget his smell, but it's fading.': Widow candidly shares 'gut-wrenching' grief journey
Provide hope for someone struggling. SHARE this story on Facebook with friends and family.