"I am sure at some point everyone has looked back at their past and wished they could change a few things they are not proud of. From time to time I feel like that, too. I moved to New Orleans when I was a kid, just out of high school. Owning this newfound life was incredibly liberating but it did not come without consequences.
I was definitely not popular in my south Mississippi high school. I was in the school choir. And I loved (and I mean LOVED) NSYNC. I thought it was so cool that one of NSYNC's members, Lance Bass, was from south Mississippi. We even shared the same last name, as my surname before I married Douglas was Bass. Imagine my jubilation when my father told me we were related to them! That just fueled my love and admiration for Lance and the music group. This might sound ridiculous, but something clicked and I wanted to be just like them. Around the same time I fell in love with a show called Real World- New Orleans and with Danny Roberts, one of its stars. Honestly, I have to give Danny Roberts all the credit for helping me find myself and having the courage to become who I wanted to be.
I wanted to leave the small-minded Mississippi town behind and start my own journey to stardom. So I did what any other closeted, starry eyed boy with big dreams would do, I moved away. Some dreamers move to L.A. and some to New York. I moved to New Orleans. Sure, it's not really the scene for pop music. HOWEVER, the gay scene is ON POINT. *lip smack*
I remember the anxiety I had walking down Bourbon Street when I first arrived from Mississippi. I also remember how the apprehension melted away as I walked into Oz, New Orleans' premiere gay nightclub, for the first time. This was my opportunity to recreate my own identity! My new self. So when I walked inside Oz, the shy and intimidated Erik faded away, and Maxx was born.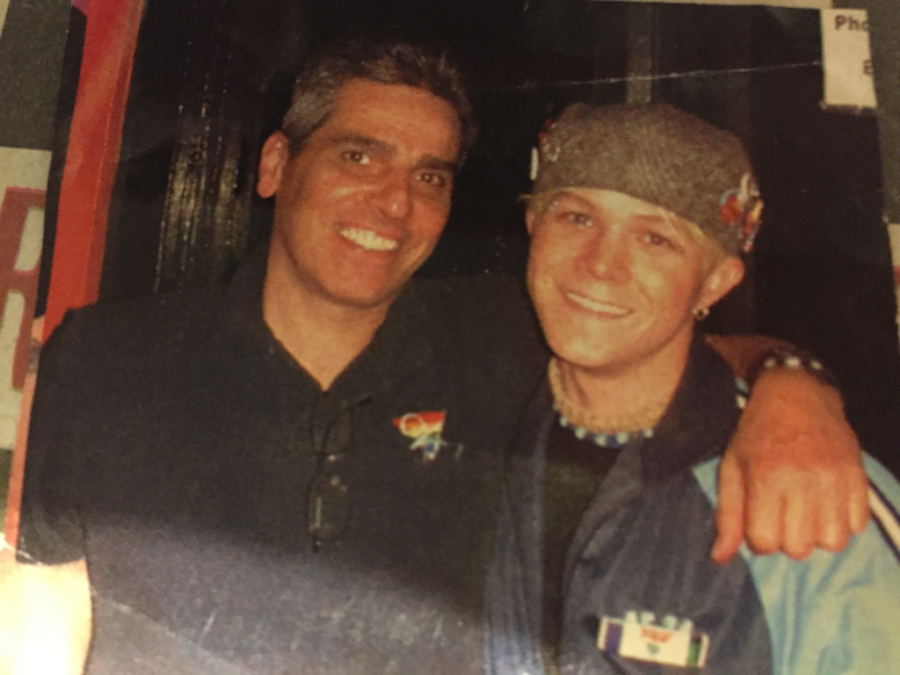 As time went on my confidence grew. I had never had so many friends! And they were all so interesting! For the first time I felt popular and accepted for who I truly was. About 6 months after moving to New Orleans, I landed a job at Oz as a daiquiri bartender. I quickly took to one of the club's owners, Tommy Elias. Tommy was also from south Mississippi, just a few minutes from where I was from. He had been in a band for decades and loved to perform. His voice was electric and and his smile lit up the room. I immediately respected him and wanted to learn everything I could about the music business. Over the years, he and I become close friends. I called him my 'gay dad' because I didn't have a relationship with my own dad. A couple of years later, Tommy gave me my own weekly Tuesday night show- a dance and variety show called 'The Maxx Doubt Experiment,' my quest to find New Orleans' best hip-hop dancer. This was my first taste of fame. Well, small town fame, but fame nonetheless.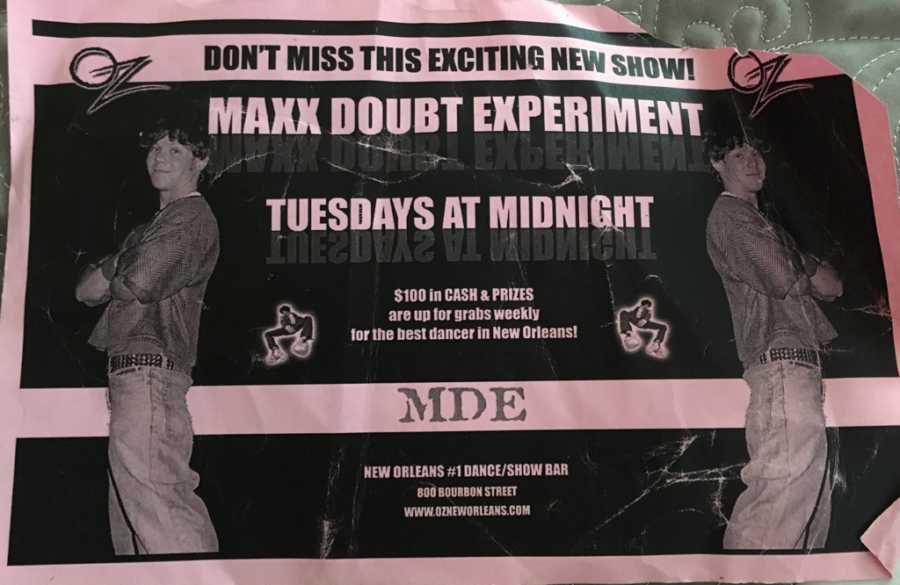 On Monday nights there was a talent contest called 'The Gong Show' hosted by none other than the famous drag queen Bianca Del Rio.​ It was huge! The dance floor was transformed into a sea of candle lit tables complete with linens that were all reserved for the who's who of gay nightlife. I only did drag a handful of times but I was lucky enough to have Bianca make me over each time. Unlike her onstage persona, she was so sweet and compassionate offstage. And she ALWAYS had the best advice. I was a kid, facing problems of my own and she always had the right words to say. 'Grin and bear it,' she'd say, 'until you can't.'
She had such a star quality to her back then too. When she walked in the room, everyone knew it. She had a way of making offensive jokes funny but not hurtful. She had nicknames for the regulars that would come to watch her shows… a sweet middle aged lady named 'Honey Bee,' a pretentious ogre looking man called 'Quasimodo,' and then there was me, 'Maxxi.' To this day some people still call me that.​ As I look back, I am so thankful she allowed me to come into her world and get a glimpse of what her life was like. Now she's a superstar and I am so honored to know her and call her my friend. She may be hateful on stage, but trust me- she is the sweetest person in the world you'll ever meet.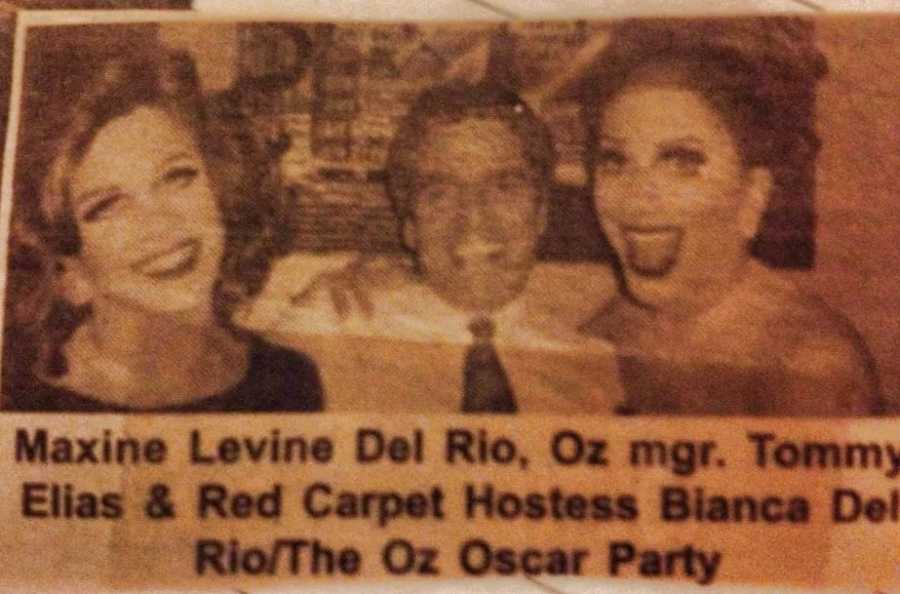 The longer I submerged myself in the nightly gay scene, the further I distanced myself from my morals. You see, people go to the French Quarter to party and act out. As such, the majority of my social exposure was comprised of people who were actively partying 24/7. As time sped by, alcohol and drugs began to take control of my life and I slowly turned into a person I did not want to be. I became cocky, entitled, and reckless.
I was due for a fall from grace and this particular fall would be one of the hardest and most important lessons that I have ever learned. I found out who my true friends were. I also had to learn to be at peace with letting the fake and spiteful ones go. People make mistakes in life, especially when you're just a 'punk kid'. Tommy would call me that when I wore my hat backwards. True friends allow you the leeway to learn and grow without judgement. Fake ones will watch you fall and talk about you as you do. In the end, I became more judicious regarding who I allowed in my inner circle.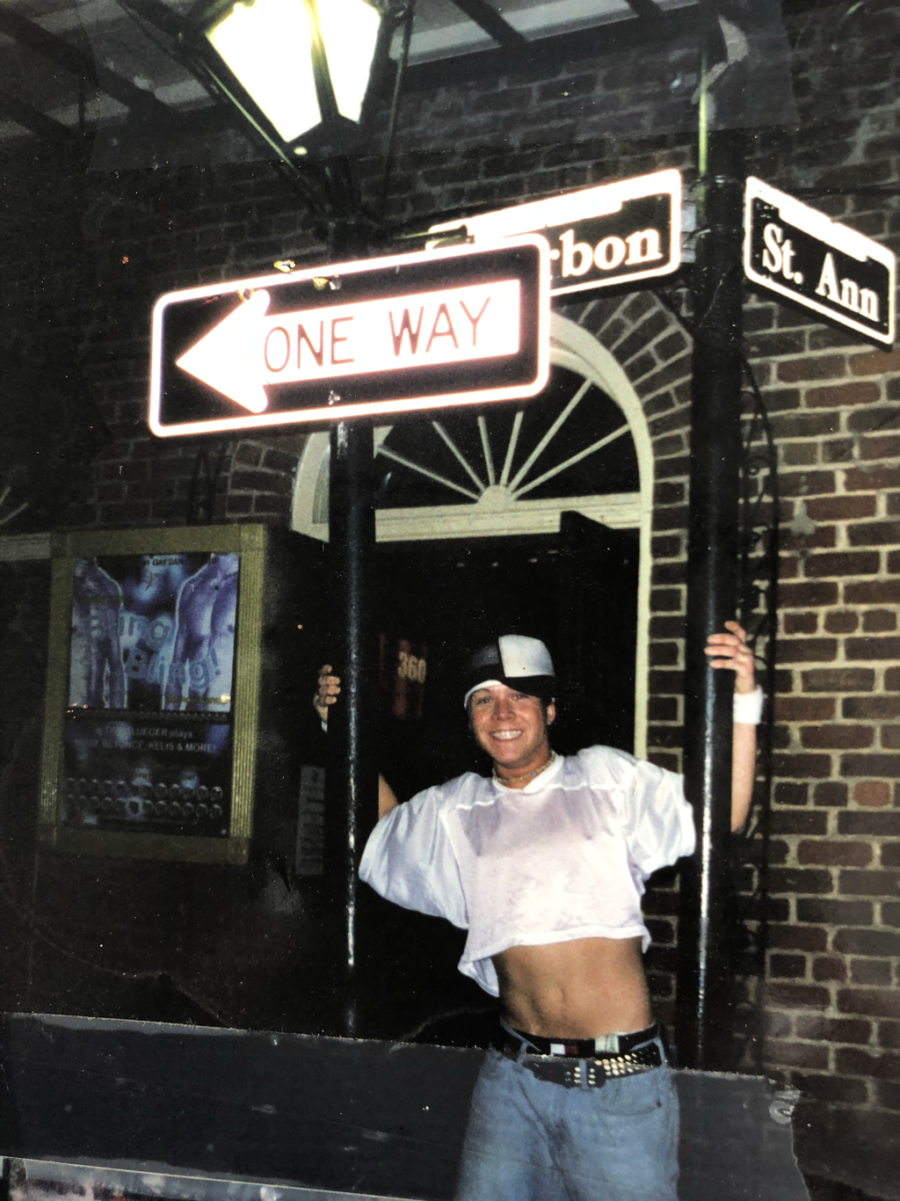 I left Oz and got a new job across the street at another gay club called The Bourbon Pub. I was able to shake a good bit of the social toxicity from my life and gain control of what was important. At the time, I was still brokenhearted from my little brother's untimely death. It was a rainy day and I felt depressed, alone, and hopeless. I was approached by my friend Aunt Vickie Vines who saw my sadness. 'What's wrong with you Maxxie?' he asked. I told him I was lonely and I didn't want to be sad anymore. To which he replied, 'I can fix that. Just give me some of your hair.' So, he snipped off a lock of my hair, folded it up in a bandanna, and put it into his pocket. Then he said, 'In two weeks, you will meet the love of your life. And when you do, you will know it from your head to your feet.' But then came a warning, 'But you must be a good person and do the right thing or you will be cursed 3x over.' I asked what he was doing with my hair. 'Just some New Orleans voodoo, baby.' He winked and walked away.
It was almost two weeks to the day when I was working my night shift at the Bourbon Pub. I stepped into the back to grab a clip board and that's when our eyes met. He sat at a desk filling out a new hire work form. It was like time stopped. It was like the beating of the bass from the music on the dance floor silenced, and all I could hear was my own heartbeat. I still remember what the room smelled like, I even remember what we were wearing. I couldn't look away, as if I was frozen. I knew I was in the very moment I had prayed for. This was him. I knew it, and felt it, from my head to my feet. Aunt Vicky Vines said I would, and indeed I did. My knight had come on the night I needed him. This was Douglas, my future husband.
Douglas and I became inseparable. He had just moved to town from Arizona and was staying at a local hostel. All I could think of was the horror movie 'Hostel.' He had to get out of there!  And that's exactly what he did (he came to stay with me!).  As much as I hate to admit, I began partying just as much if not more than I did when I worked at Oz. The only difference is I had a boyfriend. Spending so many nights in the club meant we also saw so many sunrises. Once the sun came up, we would dart out of the bar and cover ourselves like an Ann Rice character from 'Interview with the Vampire.' We would run to his old Volvo wagon and quickly drive out of the French Quarter.
He was so spontaneous and I loved that. Some mornings we'd walk to Audubon Park and climb trees. My favorite mornings were spent on the levee of the Mississippi river flying kites. Afterwards, he'd take me down to the railroad tracks by the river bend and smash coins under the train wheels. After the train would pass he would pull out 'The Little Prince', one of his personal favorite books. Douglas read, 'There may be millions of roses in the world, but you're my only one, unique rose.' ​As he continued all I could do was melt into the grass. As he looked down reading, I couldn't help but cry a little. I knew even more in this moment this was the boy I wanted to spend the rest of my life with.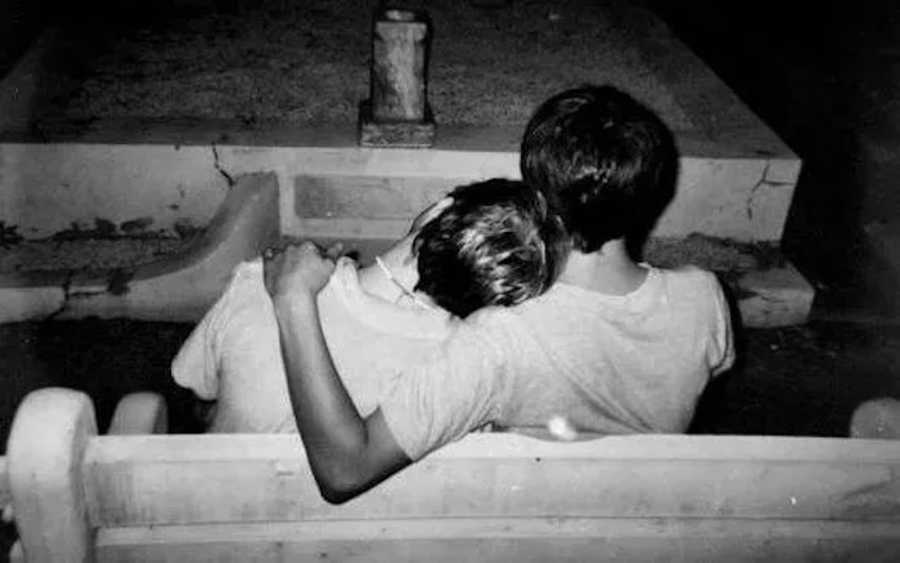 I wish it ended there with a happy ending but we still had some major growing pains to endure. To say the partying intensified was an understatement. Aunt Vicky told me if I didn't do the right thing, the spell would curse me 3 times over. As wild as this sounds, she was right. Both of us acted so irresponsibly. I was so careless and it all finally caught up with me. I didn't drink and drive, but that didn't excuse the other things I did. As a result, I was arrested 3 times in a 3 week period by getting pulled over. The last arrest was the day before Good Friday and I was in jail for close to 4 nights.
Once I got out, I made sure to clean up my act. I knew Aunt Vicky Vines meant business, so my turnaround was pretty easy. I was okay and now it was Douglas' turn. With a newly cleared head I was able to see the danger he was in. Ultimately, Douglas got clean, too. And not only did he get clean but he also decided he wanted to pursue a career that would allow him to help people who have a history of substance abuse. ​He went to college and also started a fundraiser to bring scientific instruments to local classrooms across New Orleans by climbing Mount Kilimanjaro in Africa. At first, all of the local universities rejected his application. The community college accepted him but pressured him to enroll in an air-conditioner repair program, saying medical school was too loft of a goal for someone like him. He pushed forward anyway and ended up getting a full scholarship to Loyola University, after which he graduated from LSU New Orleans School of Medicine. He asked me to marry him and on August 1st and we will celebrate our 12th year together and our 3rd wedding anniversary. We now have two beautiful girls that own our hearts. He is now a doctor and is starting a 4 year residency program in psychiatry which will allow him to practice a mind-and-body approach to substance abuse.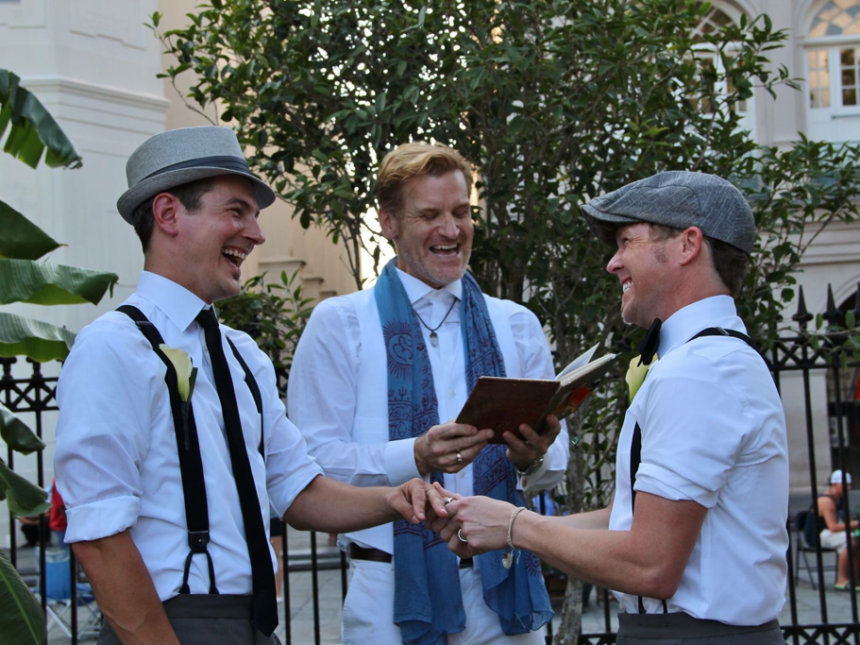 ​I write all of this to say in spite of your past, if you dream it, you can be it. Your past does not dictate your future. If there is something you want in life, go for it! If you are anything like me and have the desire and ambition to become a father, you can. And you can do this no matter what people say, no matter if you aren't completely proud of your past, no matter what your sexual orientation.
Just always remember to be a good person, to be honest, and to ​do the right thing. If you do these things, you will undoubtedly see wonderful opportunities coming your way. And just remember what an old friend used to tell me… 'Just grin and bear it…"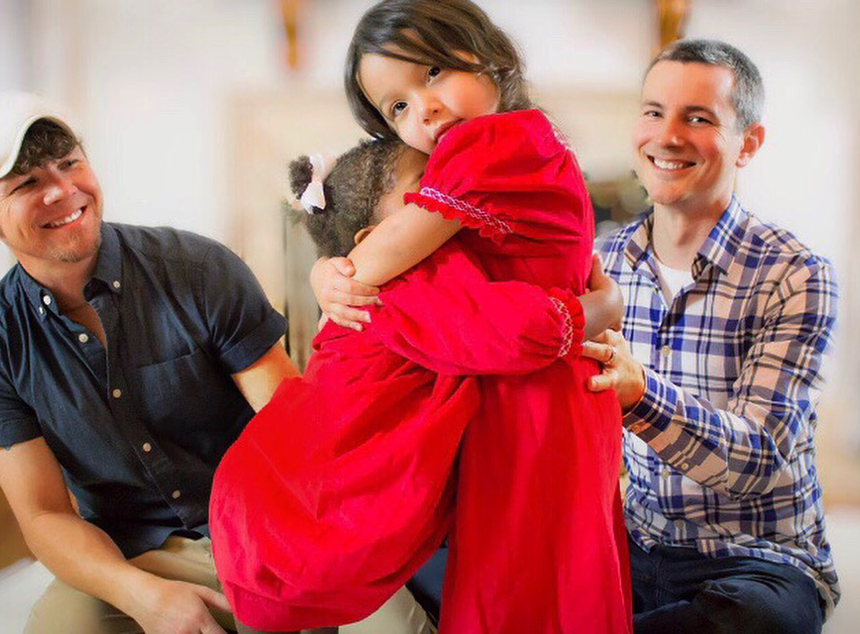 This story was submitted to Love What Matters by Erik Alexander of New Orleans. Follow him on Instagram here, Facebook here and his blog here. Submit your story here, and subscribe to our best stories in our free newsletter here.
Provide beauty and strength for others. SHARE this story on Facebook and Instagram with your friends and family.