"60. Six Zero. The number of emails I received from my kids' schools in the week — yes, one week — leading up to the start of D-day. You know, the start of the fall semester of Distance Learning (shudder). My head was literally spinning, and to say I felt overwhelmed and inadequate was an understatement.
I think the hardest part about it was the unknown. Not knowing what to expect was literally fear-inducing. What would the day to day look like? Would it mimic how the spring semester went (please God no!); or maybe look something like an episode of Lemony Snicket's Series of Unfortunate Events?
Although I had really tried to speak positively about distance learning in front of my kids, deep down, I was overwhelmed, scared, and honestly had a pretty bad attitude about it. The fact that at the virtual back to school night the evening before there were so many issues didn't exactly help. I had been completely unable to join in the Zoom call for 2 of my children's classes, and I found myself in a weird no-mans-land with 3 other lost parents for another. Needless to say, I was less than hopeful.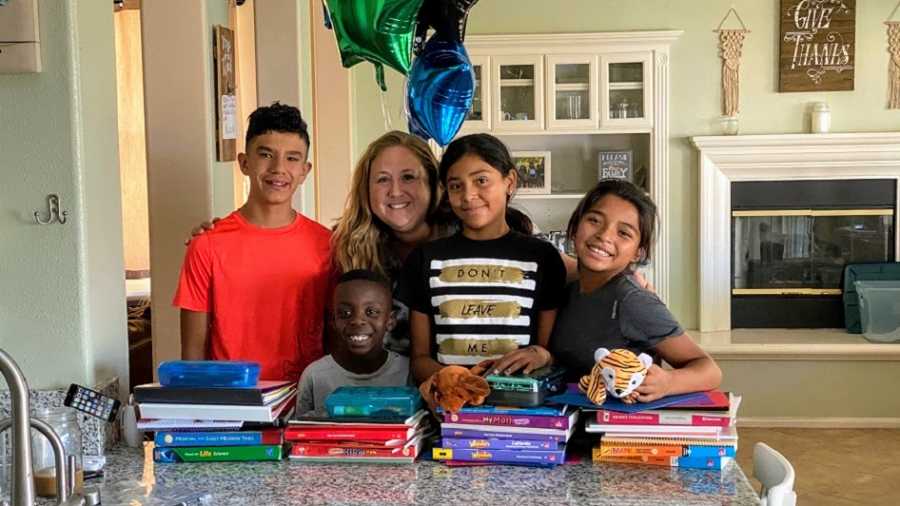 I woke up that next morning with a mixture of anticipation and dread. I quickly felt the panic setting in. I felt my breathing get heavier, and tears burned inside my eyes as the thought of 'there is no way we are going to be able to do this,' circled in my head.
So, it was almost comical when I opened my eyes and peeked at my phone to see a message from my neighbor that read, 'Is your Internet not working either?' Um, excuse me, what? I then hear both my husband's and my phones start pinging like crazy and knocks on the door as neighbors all realized that, yes, all of our internet service was down!
That was the first time that day that inside, I had to consciously choose to either laugh or cry. I think I did both. As I furiously sent emails from my phone to each of my kids' teachers, I kept thinking, 'God, I can't do this.' Quietly, though, I felt the peace that I can do all things through Him who strengthens me, while at the still time struggling with doubt that at that moment I actually could.
My superhero of a husband immediately got on the phone with our internet provider, who promised to call us when they had restored the service in hopefully an hour, and he then somehow managed to create hotspots from our cellphones (what does that even mean?) and all of a sudden all 4 of our kids were logged in, and we had officially started our first day of distance learning.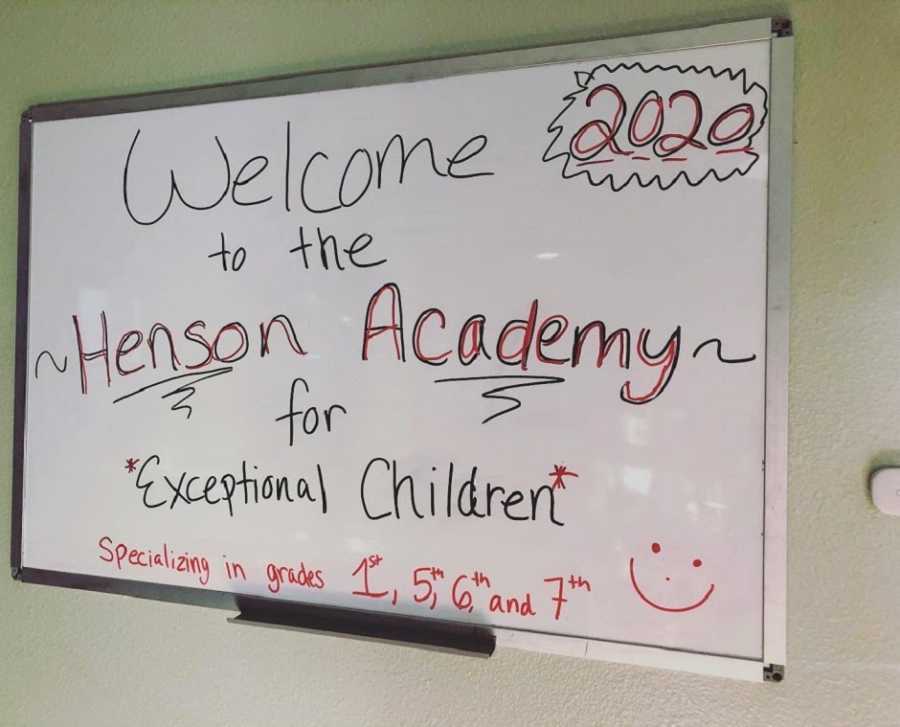 'Ok, maybe we can actually do this,' I thought, as suddenly I found myself standing in a silent room. Everyone seemed engaged with their headphones on and eyes fixed on their screens. Hmm, maybe I could get used to this; heck, maybe I will even sit down and enjoy a cup of coffee.
It was then, at exactly 7 minutes into our first day online, my 1st grader removed his headphones, announced that he was over this and would like to go to his best friend's house now. After sweetly threatening… I mean encouraging him from off-camera to pay attention, he slowly put his headphones on and went back to listening to his teacher teach.
Crisis averted. As I pour myself a cup of coffee, I watch as my precious son pays attention for a few seconds, then hits the unmute button and proudly announces to his class in the middle of his teacher talking, and I quote, 'Did you know some people sell leopard skins? I don't even know why!' As I spit my coffee out, I couldn't help but appreciate his sweet, patient teacher who with a twinkle in her eye, smiled and asked him to mute his microphone. First graders, am I right?!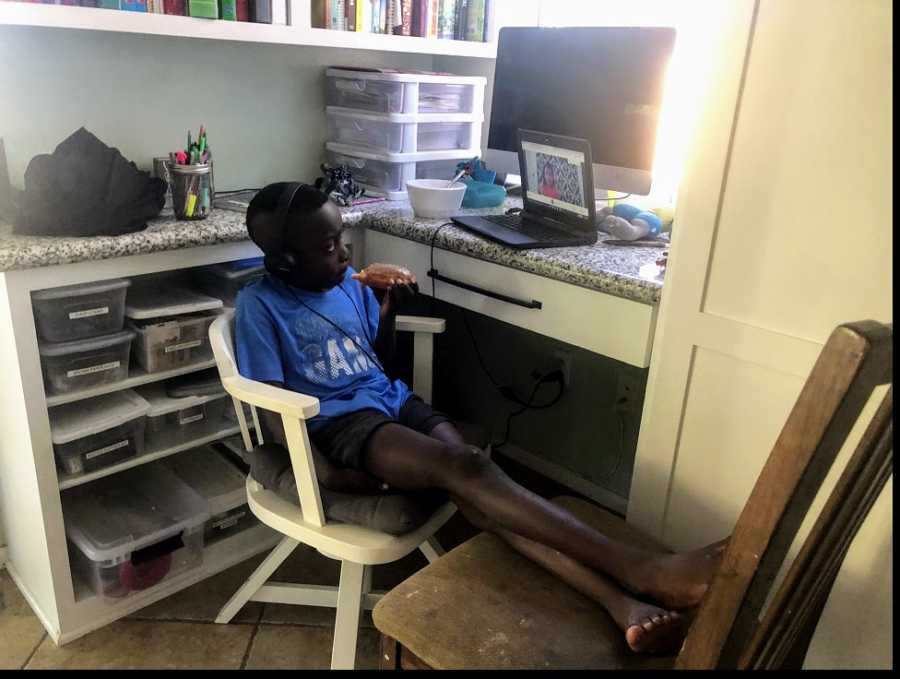 I grab my cup of coffee and go to sit down when my 7th grader turns to me and announces, 'Mom, I got locked out of my Google meet.' Cue superhero dad to the rescue again, only for him to determine, yep, he really is locked out. Despite sending emails and messages, our son sat there as he missed his entire first period due to a miscommunication. His entire first class! Again the choice: laugh or cry. Again, I think I did both.
Not going to lie, this day was overwhelming, to say the least, but there were also such sweet glimmers of hope along the way. Like when grandma showed up right as we discovered the Internet was out and took my 2-year-old for a few hours so we could focus on our other children. Or when a precious friend stopped by with donuts and encouragement for our kids to make their first day a little more special. Not to mention the multiple texts throughout the day back and forth with fellow moms who were all going through it too. I was not alone. We were all in this together.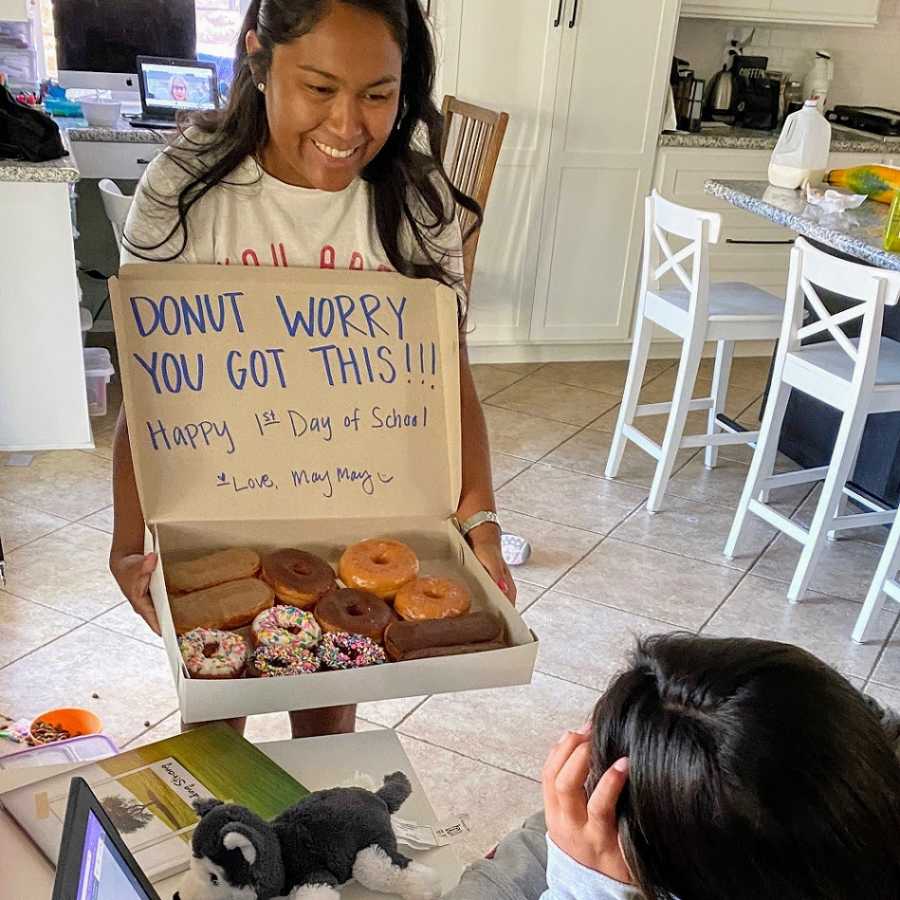 And most of all, I felt God's presence with me throughout the day. A verse had come to my mind the day before and it stayed with me during that first day of distance learning. It goes, 'Have I not commanded you? Be strong and courageous. Do not be frightened, and do not be dismayed, for the Lord your God is with you wherever you go.' — Joshua 1:9.
Looking back, I can see why I needed that encouragement that day. Not only did I need the reminder, but I also needed that verse so I could be who my kids needed me to be that day. My children did not need to see a mom who was overcome with fear and anxiety. They needed a mom who was strong and ready for whatever came our way. A mom who was courageous and confident God would supply all we needed for that day. Because He did!
After our second day of school, my sweet daughter wrapped her arms around me and asked what I thought of how distance learning was going. I looked at her and honestly said, 'You know what, sweetie? It is actually going really well, and I think it's going to be great.' She smiled, and I felt her body melt with relief. My confidence gave her confidence.
Yes, it was scary; yes, there were (and still are) many technical issues; yes, this is not what any of us wanted, but I feel confident we are going to be okay. And so are you: you've got this fellow mama, and the Lord your God will be with you too, wherever you go. You are not in this alone. Stand tall and be strong and courageous.
Oh, and bless the Spectrum employee's heart who called us this afternoon (about 30 hours after our internet was restored) to let us know our internet was now back on. This time, I literally just laughed."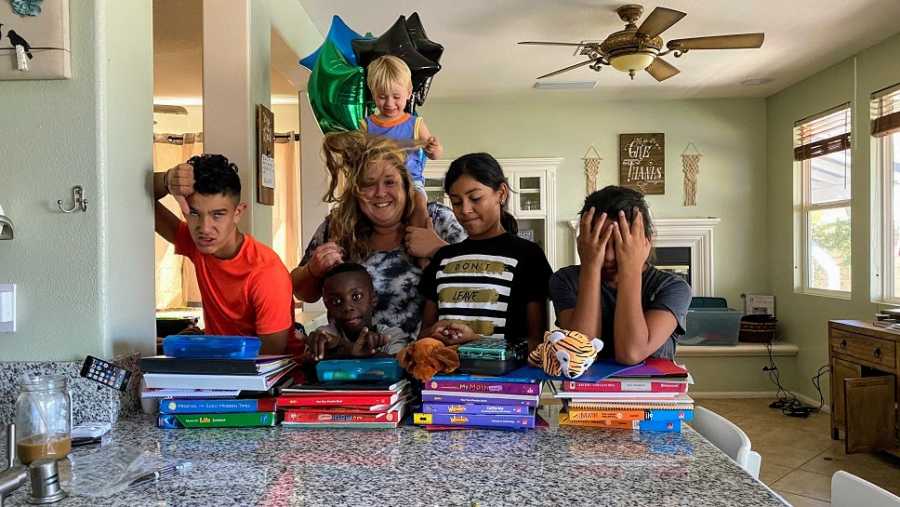 This story was submitted to Love What Matters by Shannon Henson. You can follow her journey on Instagram and Facebook. Submit your own story here. Be sure to subscribe to our free email newsletter for our best stories, and YouTube for our best videos.
Read more stories from Shannon:
'Please,' they begged. 'Would you take in a newborn, just for the weekend?' I knew my husband would say no.': Foster mom adopts 'special little boy,' is forever grateful for her son 'who almost wasn't'
'As I wheeled the adoptive mom out toward the elevator, I could see her shoulders shaking with sobs. I knelt down beside her and took her hand in mine.'
'You don't belong here and your color is awful!,' a child said to my 5-year-old African American son on his first day of school.': Mom worries for her adopted children at school this year, says despite 'all the goodness, there is hurt'
Help us show compassion is contagious. SHARE this beautiful story on Facebook with your friends and family.