"It never fails. 
Writing on the Internet, like most things, brings it shares of joys and frustrations. 
But sometimes it brings full on heartbreak. 
Whenever I write a post about my son with Down syndrome that goes viral–90% of the comments are kind and supportive. 9% of commenters may disagree with my stance, and that's just fine. 
But then there are about 1% of people who say my son doesn't belong here. 
Some of those comments on a recent post included: 
'Well, you chose not to have an abortion, so.' 
'Should have aborted.' 
'Abortion.' 
It never fails. 
Does my son have challenges because of his disability? Absolutely. Are some of those challenges related to his actual genetic makeup? Yes. 
But do you know where most of his challenges come from? From other people. 
He is living in a world that chooses not to be accessible to him. He's living in a world where he's so othered–that some think he shouldn't live at all. 
We are seeing some good progress in the human race lately. 
It seems as if a shift is taking place when it comes to race and LGBTQ relations. Inclusion is becoming a mindset. People are demanding justice, representation, diversity. 
As atrocious as the world is right now, I have hope we are moving in the right direction. 
Why are people like my son left out? 
Why are people like my son treated as if their existence is a problem? 
Why do we see it as progress to end his life before it begins? 
Why are people with disabilities last in line? 
Why do we look at them as a problem to be eliminated instead of a part of God's gorgeous, intentional diversity? 
What life doesn't come with challenges? What life is free of health concerns? Not one. 
Not one. 
We should be joining hands with the disabled, learning from them, and then partnering with them in the fight to make their lives better. 
Not eliminating them because we see them as different, too different, less. 
We are beginning to wake up to systemic discrimination, our whitewashed history, and the bigotry of the present. 
Finally. 
But when are we going to wake up to the fact that selective abortion based on a child's genetic makeup or disability is one of the most egregious parts of our past that is still with us today–eugenics? 
Right now, it never fails that the people of the internet tell me my son should not be breathing. 
In the future, I hope it never fails that allies will join him in the fight for inclusive education, in the fight for healthcare, in the battle for equity. 
One day, I hope it never fails that when the world sees my son, they see Anderson. 
I hope they see his humanity."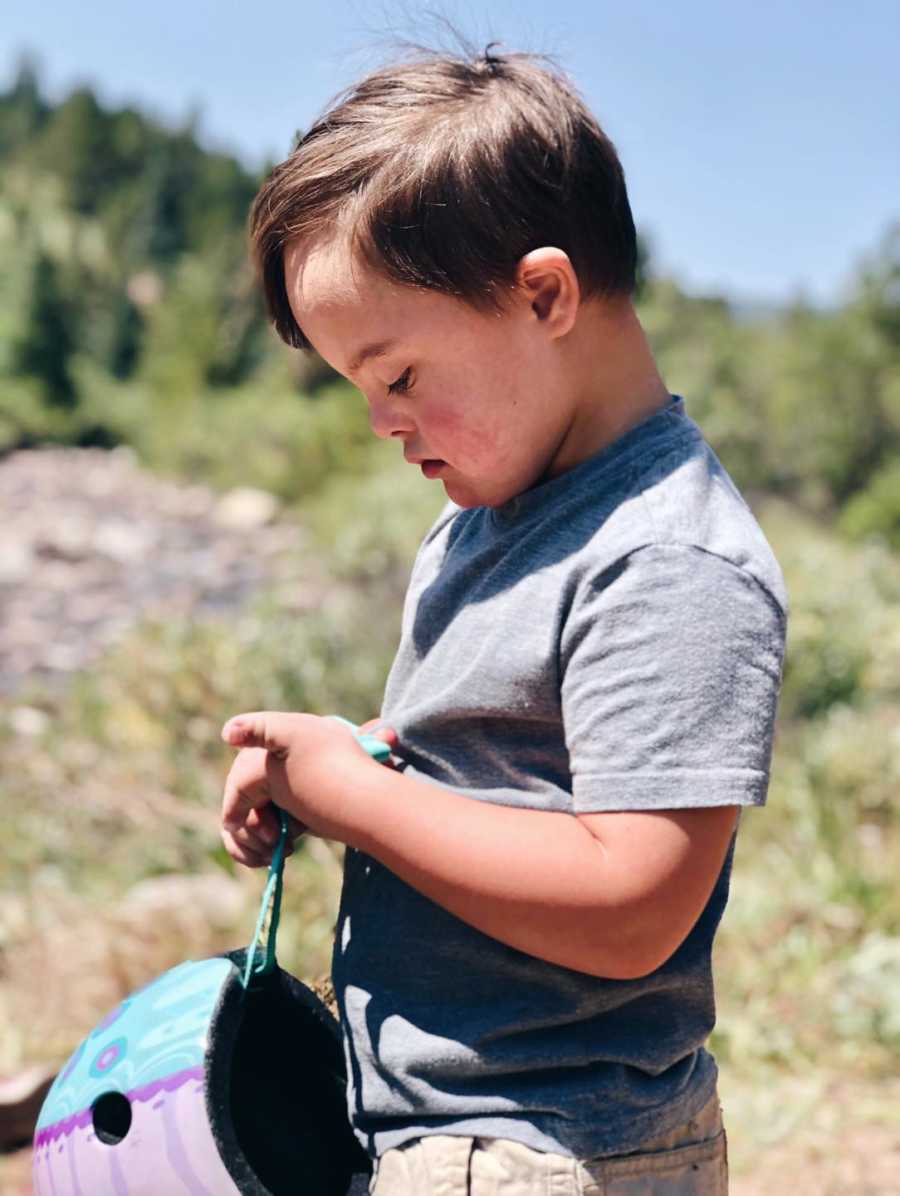 This story was submitted to Love What Matters by Jillian Benfield. Jillian is the author of the free e-book 5 Spiritual Comforts for Special Needs Parents. You can find her writing at JillianBenfield.com, Facebook, and Instagram. Submit your own story here and be sure to subscribe to our free email newsletter for our best stories, and YouTube for our best videos.
Read more from Jillian:
'I carry him. I know it looks silly. His toes dangle past my knees. But still, I carry his awkwardly long body against my own.': Special needs mom says 'he carries me, too'
'The doctor called…the blood screen came back, it's not good.' My heavy 22-week pregnant body fell to the floor. It's normally at this point people want to talk about their options.'
'Dear NICU Mom, I see you. This moment isn't at all how you envisioned, but you are determined to embrace it anyway.'
'My disabled child is not an 'angel.' He is not 'celestial' or 'heavenly.' He's just like you, fully human.': Down syndrome mom claims son 'wasn't sent here to teach you or me something'
Do you know someone who could benefit from reading this? SHARE this story on Facebook with family and friends.