"When I look at myself in the mirror today, I see a beautiful, strong, determined, smart, and happy woman looking back at me. I am proud of my body, and all that it has endured and accomplished. I see how my scars, stretch marks, and loose skin tell my story. Although my journey hasn't been easy, I wouldn't trade it for a second because it is how I became the woman I am today.

For as long as I can remember, I have always been referred to as the 'big girl.' I'm 5'10, and I have always towered over my peers. I started to develop early, and had thick thighs and hips as early as the sixth grade. I grew up in a small town in upstate New York, where a lot of the girls had similar features, but I didn't see anyone that looked like me or who was built like me. Most of them had lean bodies and were 5'4 and under. I think I started to notice how my body was different from the other girls around me in middle and high school. I would go to pool parties or change for gym class, and notice that the other girls didn't have cellulite on the back of their legs like I did, nor a single stretch mark. I would sit down on the bench at basketball practice, and notice that my thighs were significantly bigger than the rest of the girls on the team, even though I was in the best shape of my life at the time. I would shop at stores with friends, and have such a hard time finding a pair of jeans that were not only long enough, but would pull up over my thighs and hips. My friends, on the other hand, would grab a size two or four, and it would look like the jeans were made for them. I would go home and stare at myself in the mirror with confusion, wondering why I was built so differently. Although I was starting to become aware of how my body was different from my high school peers, I didn't feel like I needed to change anything. In fact, I appreciated my long legs, thick thighs, and wide hips. At this point in my life, I didn't want to look like anyone else.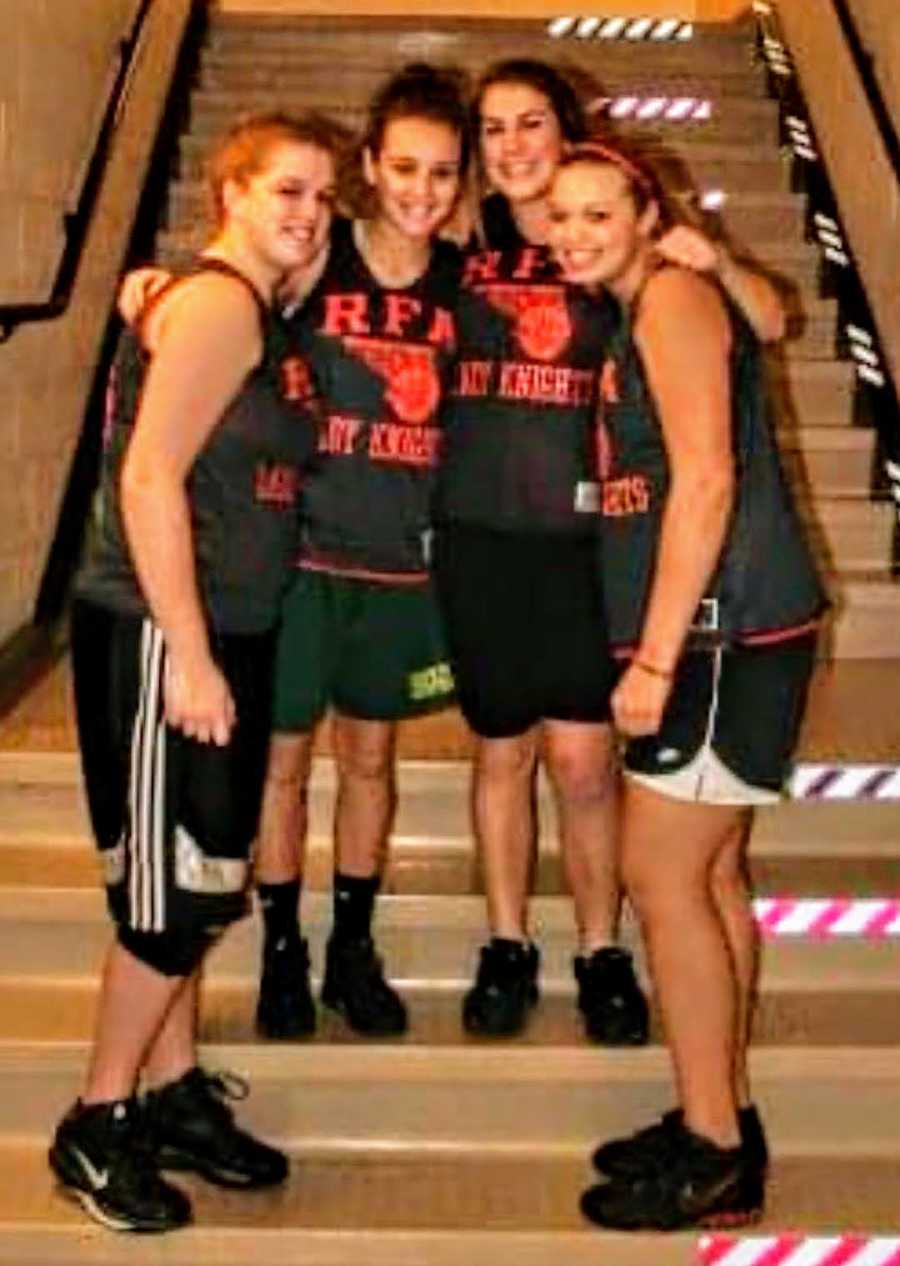 When I met my high school (now ex) boyfriend, everything changed. He was narcissistic, controlling, and super toxic. Now that I am older and wiser, I know that I was in a domestic violence relationship and that this treatment is unacceptable. He would tell me that I was pretty but wanted to control how I viewed myself. He was calculating with how he gave me compliments to ensure that I thought he was the only one who saw me as being pretty or enough. He wanted to keep me in a box and make me feel small, so I would never leave him. He used to grab at the skin on my stomach and say 'just enough fat that I know you'll be mine forever, because no one else will want you.' He would hug me in the hallways at school and say 'Have you lost weight? You can't get any smaller, then other guys will want you. You can't gain any more weight either.' His friends hated me for whatever reason, and would make cow-like noises at me while I would walk down the halls, and he would encourage it by laughing along with them. Unfortunately, he wasn't the only person in high school to fat-shame me.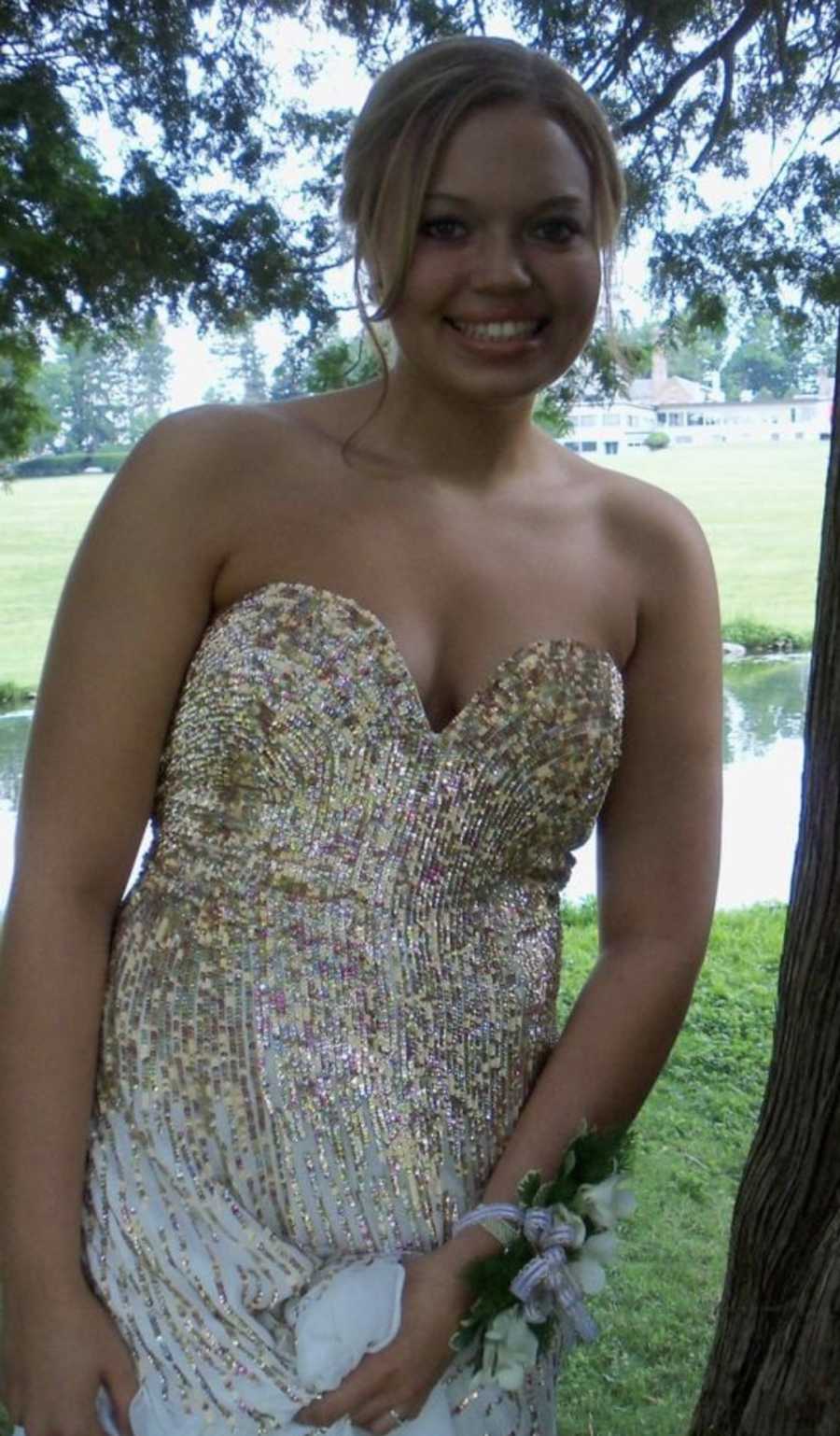 As I mentioned before, I am 5'10, and from what I can recall, one of the tallest girls in my high school. Growing up, adults would always look at me and say 'you have to play basketball or be a model. We wouldn't want that height to go to waste.' I was very comfortable in my own skin, but modeling was never my thing. Plus, at that time, there wasn't anyone curvy in the industry like me. So I tried out for basketball, and ended up being pretty good at it. My coaches would constantly refer to me as the 'big girl' or the 'Amazon.' It felt like they would always point out my size and compare it to others' bodies on the team. They would make remarks about the size of my hips, and how I should use that to my advantage. But if I ever excelled athletically compared to those who were shorter and weighed less, they would use me as an example. They would say 'Ashley is the biggest girl on the team. Why is she making it up and down the basketball court before the rest of you?' I had one coach who wanted to make us run until I wasn't the one who finished first. I've always enjoyed exercising, no matter what size I was or how much I weighed. But there always seemed to be a pattern of coaches and trainers putting me in a box because of my weight, or calling me out in front of everyone and using me as an example. They didn't think a plus-size girl could keep up with others without cheating. Or could be still be in shape, despite their size.
In high school, I had a group of friends who I hung out with all the time. One of them, let's call her Farrah for the sake of this story, would be the Regina George (Mean Girls reference) of the group. She was pretty with long black hair, curvy in the socially acceptable places, and oozed confidence. I envied her confidence because at that point in my life, I was allowing my boyfriend at the time to make me insecure. Our little clique would go to her house to get ready for parties and school dances, and she would take this opportunity to dress us up like dolls to make us look like her. One time, we slept over at her house and the next day we planned to go to a local coffee shop. I asked her if I could borrow a pair of her jeans and she laughed in my face and said 'b*tch, my jeans won't fit you. I'm skinny.' There were plenty of instances where she made little bee sting comments that were hurtful about my body, but I specifically remember her telling me that I had to maintain my weight so my boyfriend wouldn't leave me, and started monitoring what I was eating at the lunch table. Later that year, she took me to Hollister for the first time to try on jeans. She was obsessed with their jeans, and told me that I had to get a pair. We ran into the store together and I picked up a pair of size 10 jeans (I was a size 8/10 normally) and danced to the dressing room. I tried to pull them up, and they wouldn't go over my calves. She yelled at me from outside of the dressing room to let her come in so she could see how they fit, and I told her that I needed the next size up. She brought me back a size 12 and they fit the same. I opened the fitting room door and told her that pair didn't fit either. She mocked me, saying that I couldn't fit in anything in the store. Between my so-called 'friend's' comments, a bunch of other classmate's remarks about my body, and being labeled as the 'big girl', I started to dislike what I once appreciated about my body.
From what I hear, most people's high school experience is pretty terrible. When I look back at mine, it is what started my body positivity and self-love journey. I visited my grandmother before I left for college for her to have a 'chat' with me. I remember feeling nervous about visiting her because she was Southern and strict. I was convinced that she was going to tell me all of the things I shouldn't do at college, but instead she said something to me that I will never forget. She cupped my chin with her soft hands, tilted my head up until we locked eyes, and said 'granddaughter, don't let anyone tell you who you are. You have to know who you are on your own and love yourself… being a woman is a powerful thing. What are you going to do with your power?' Her words sent chills down my spine and brought tears to my eyes.

So, I took what she said and created my own identity. I was starting school as a freshman in college, and left my high school reputation and people's opinions behind me. I broke up with my long-term boyfriend and decided that I was going to take my power back. I woke up everyday as the person I wanted to be. I wanted to be the person that uplifted other women and empowered them. I wanted to be the girl that cheered other women on, and didn't see them as competition. I wanted to compliment women, and make them see the things that they didn't like about themselves in a different way. I became that woman, and I am still her today.

Uplifting others certainly made me feel good inside, but I wanted to start loving my body and appreciating it the way I once did. I developed a morning affirmation routine where I would get out of the shower, drop my towel, and look in the mirror and say 'You are strong. You are worthy. You are beautiful. You are enough. I love you.' This may sound cheesy and foolish to others, but it helped me. I started shopping at stores that catered to curvy bodies and offered extended sizing. I started showing off my 'assets' because I was proud of them, and truly felt not only beautiful, but sexy. I was confident and comfortable in my skin once again.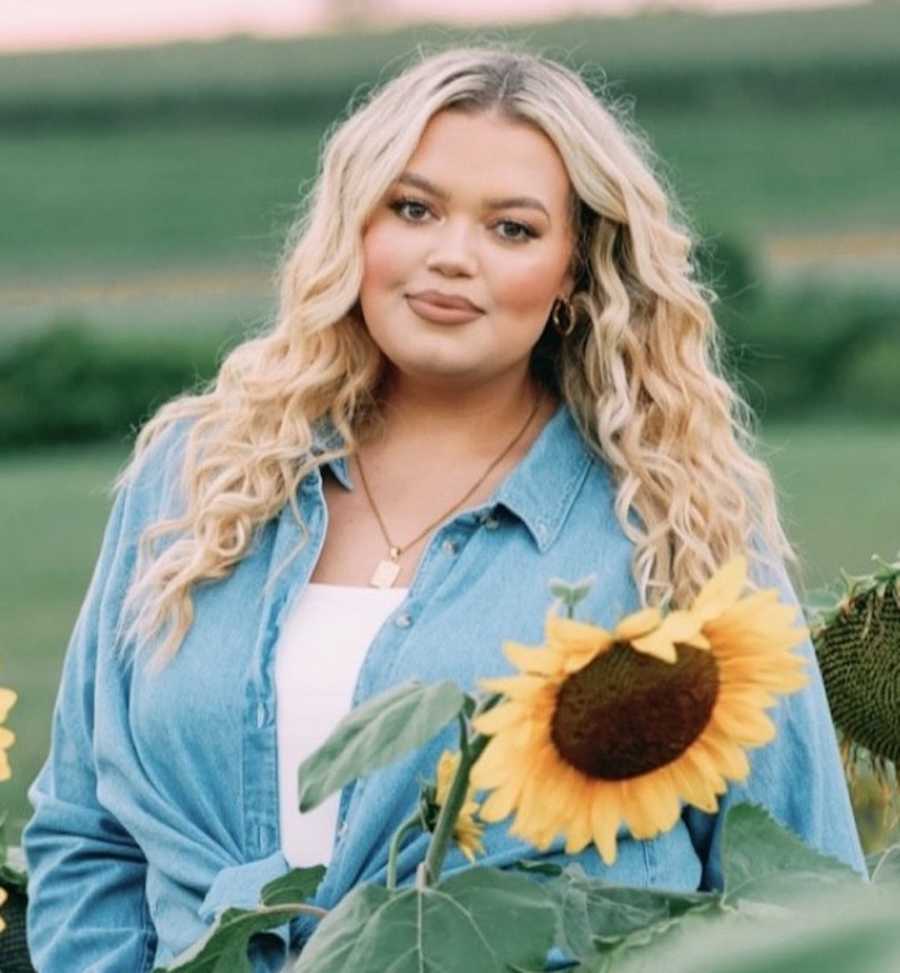 Right before I graduated from undergrad, I met my fiancé- Donte. We met online and talked for months before I got the courage to meet him in person. This was certainly anxiety-provoking, as my dating record wasn't the best, and I had dated a few toxic men between ending my relationship with my high school boyfriend and meeting Donte. I was at a place in my life where I knew my worth, and I was not going to put myself through hell again. I was NOT going to allow another guy to change how I felt about myself. When we met, he looked at me like I was the only woman in the world. His eyes literally lit up when he would look in my direction. There isn't a day that goes by that he doesn't remind me that he loves me, and  that I am beautiful. He makes me feel gorgeous in my own skin, even on my worst day. He looks at me with the same light in his eyes when I first wake up without any makeup and crazy bedhead as he does when I am in full glam. He's always loved me, even at my heaviest – which we will get to.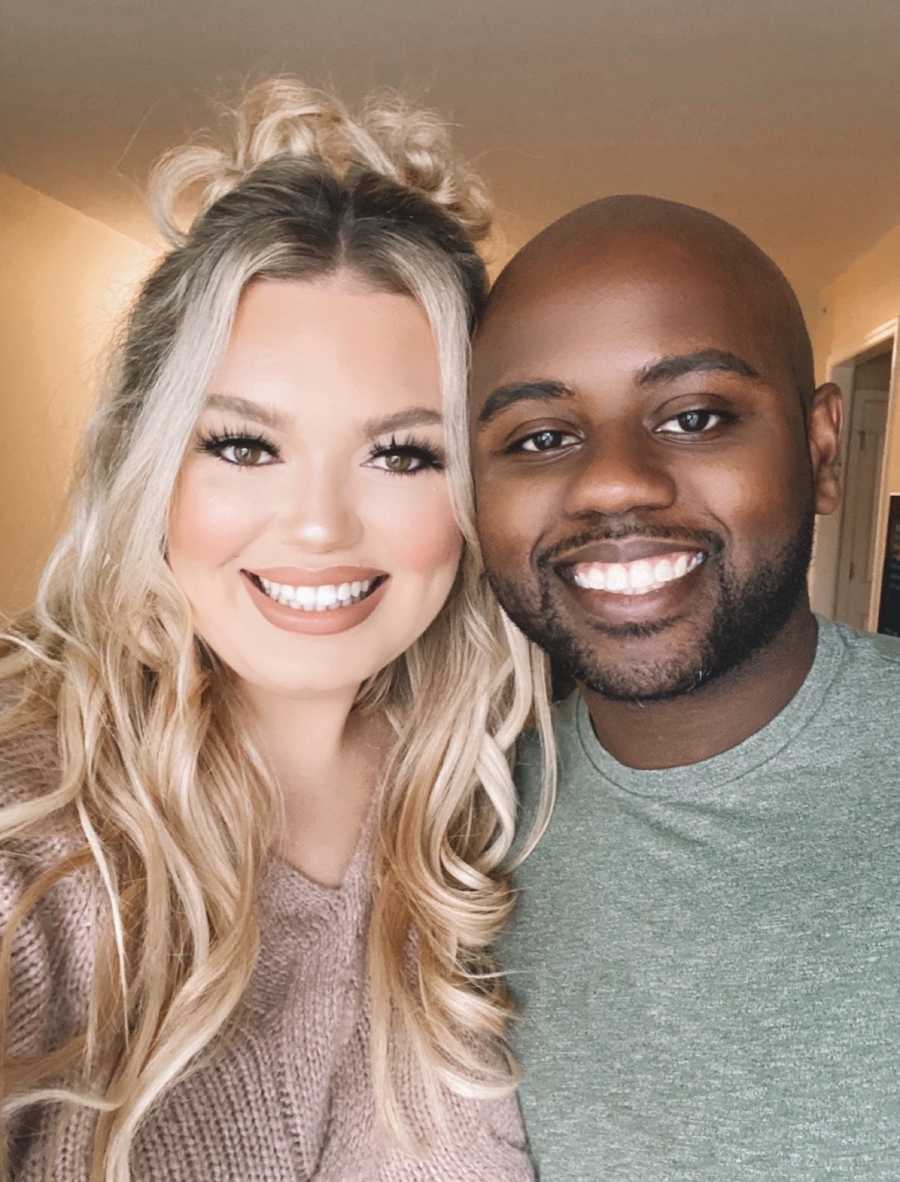 When I first started dating Donte, I applied to graduate school for social work, and got in. I was working two jobs and going to night school part-time. My program was three and a half years, and it was the hardest years of my life. My anxiety was at an all-time high from my workload, and I was feeling mentally exhausted. My day would start at 6:00 a.m., and I would get home at 9:30 p.m.. I always enjoyed eating healthy, and made sure that I bought groceries that were going to fuel and nourish my body. However, I developed a binge-eating disorder, and would overeat constantly. Although it was typically healthy food, I was consuming far too many calories. During my three and a half year program, I gained 100 pounds. No, you didn't misread that, literally 100 pounds. I started to develop signs of being pre-diabetic. I went to my doctor's office for an annual visit, which I had neglected for almost four years because of my busy schedule. I stepped on the scale for the first time in years, and saw that I was over 300 pounds. I felt all of the blood rush to my face, and felt like I was going to pass out seeing that number. My doctor labeled me as 'pleasantly obese' in my chart, and asked me if I was experiencing any symptoms that brought me in. I experienced shortness of breath while doing simple tasks, and I was always hot. I could walk outside in the winter without a coat and felt fine. My feet, ankles, and knees were constantly killing me, and I was always thirsty. My doctor told me that these were signs of being pre-diabetic and tested me. My results came back fine, but they encouraged me to work on dieting and exercising.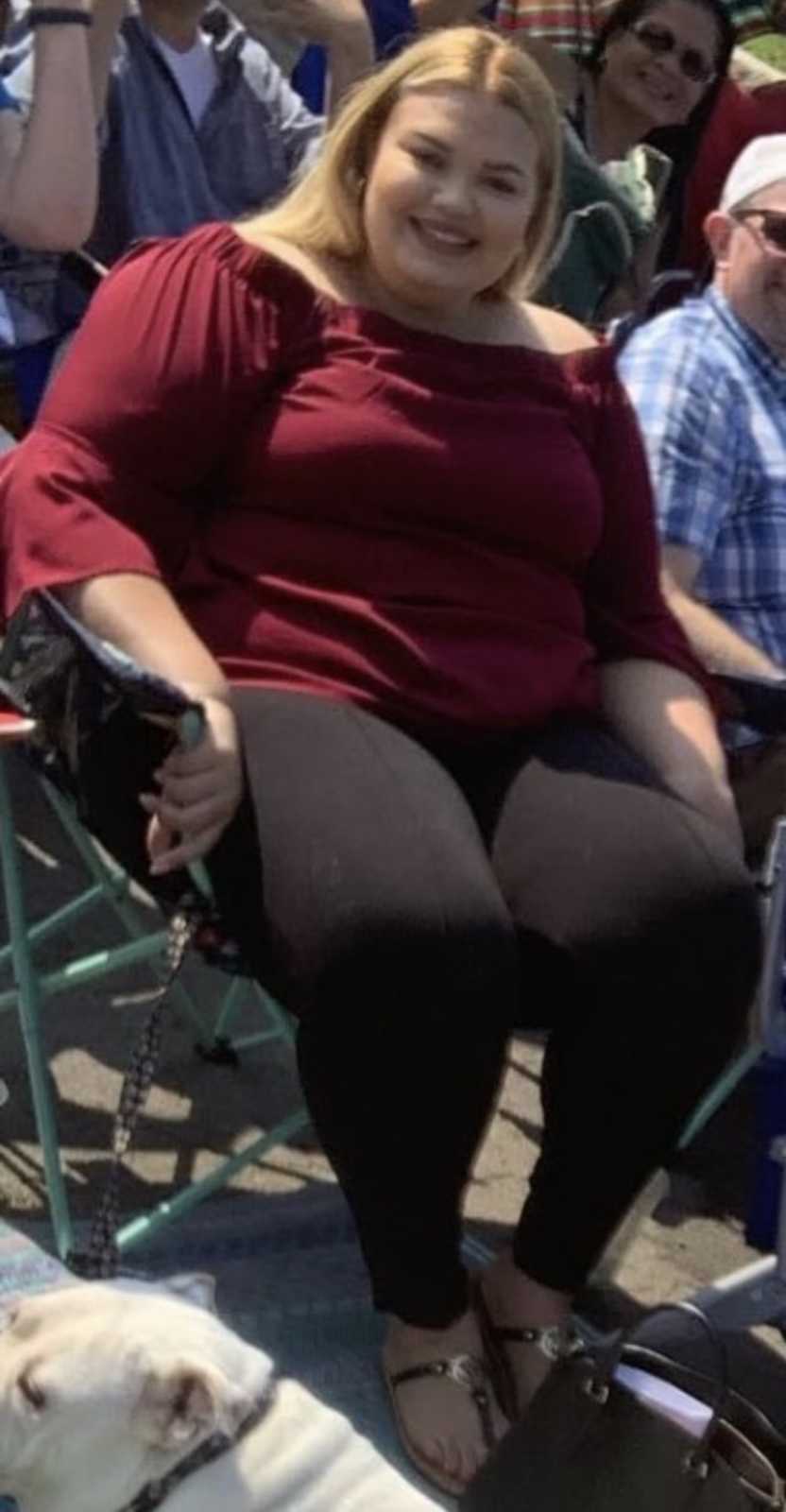 After seeing that number on the scale, I was determined to make a change because I loved my body and knew that we only get one. I tried several diets including weight watchers, keto, intermittent fasting, and I signed up for boxing classes five to six days a week. I aggressively worked at my health for over a year, and the scale stayed the same. I came across some women on Instagram who had the Vertical Sleeve Gastrectomy, and had great results, including @jakelie.george, @_finding_jess_, and @morganmabley. After tons of research, I decided to schedule a consultation for weight loss surgery, and was put into a weight management program in Rochester, NY. I worked with a nutritionist for six months before I was cleared for surgery, and had my VSG on 1/22/2020. Now, I have to be conscious and intentional of everything I eat to ensure that it is the best option for me. By no means have I become obsessed with food and calorie counting but I can only eat so much, so I make sure that whatever I am eating is full of protein or vitamins and nutrients. I exercise five days a week so I can feel strong, not only physically, but mentally, too. As of today, I am down 110 pounds, and I feel better than ever.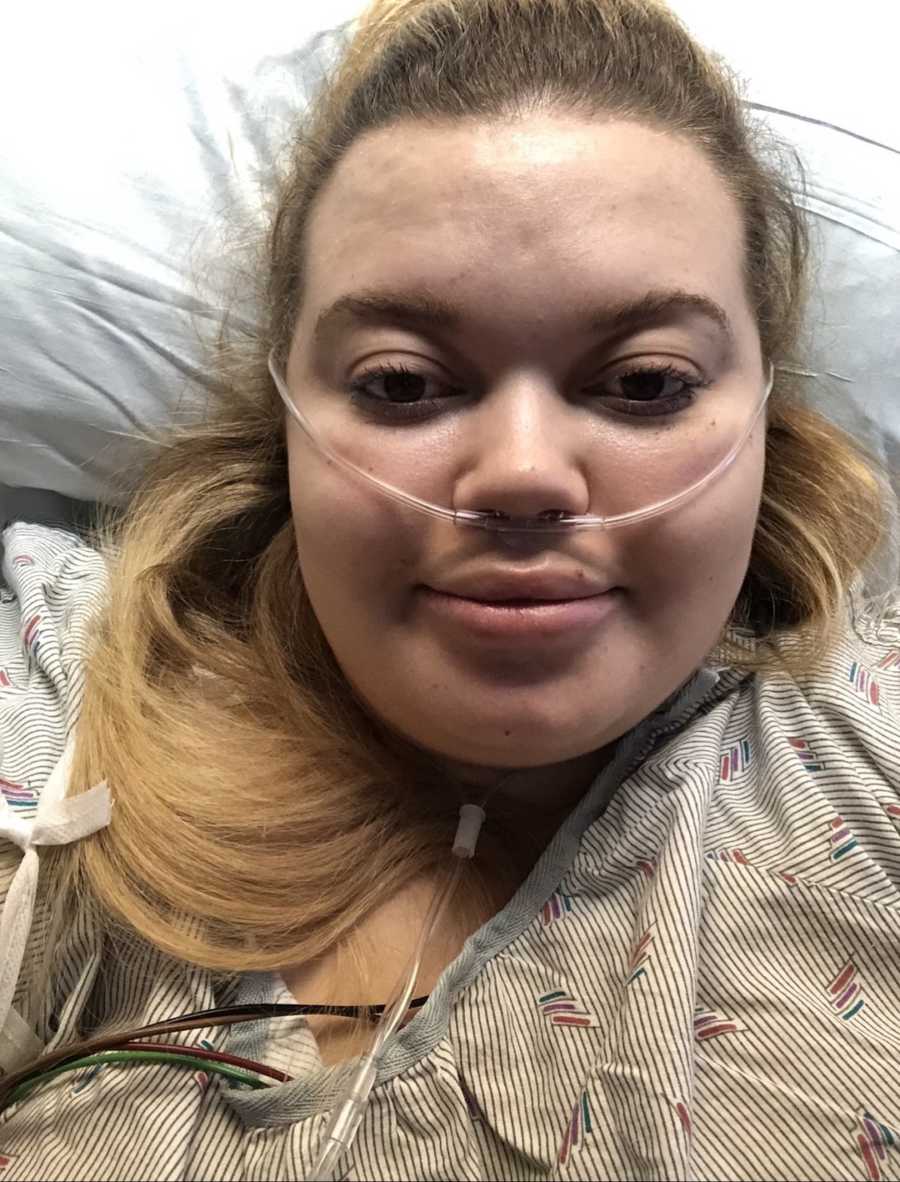 I chose to have Vertical Sleeve Gastrectomy because I needed help. I had been slowly gaining weight over the last 10 years, and it was impacting my daily life. I wanted to improve my life expectancy, be able to have children without concern of having a high-risk pregnancy, and overall feel healthy again. Another thing that I want to make clear is that I don't think there is a universal 'healthy.' I didn't go into this journey wanting to be a specific size, or a specific weight. I wanted to feel healthy, and not be held back by my size. I chose to have my surgery because I did love my body, and was able to admit that I needed help. This is hands down the best decision I have ever made.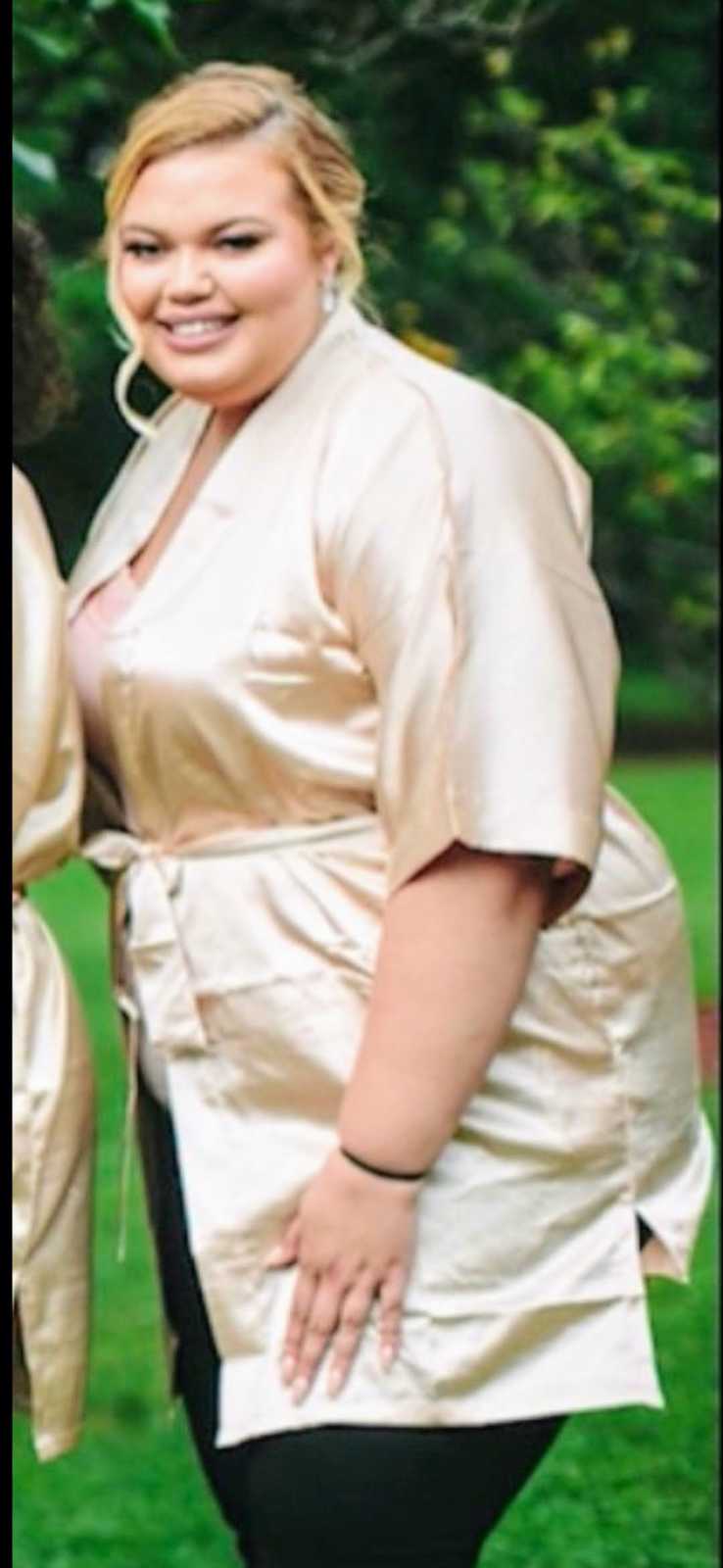 So as I sit here, looking at my body and how much it has endured, I am so grateful. Women's bodies are amazing, and I loved myself throughout all of its changes. I loved myself when my hips widened and my thighs got thicker. I loved myself when my boobs went from an A to a DD and now a less perky D. I loved myself when I was 300 pounds. And I love myself now.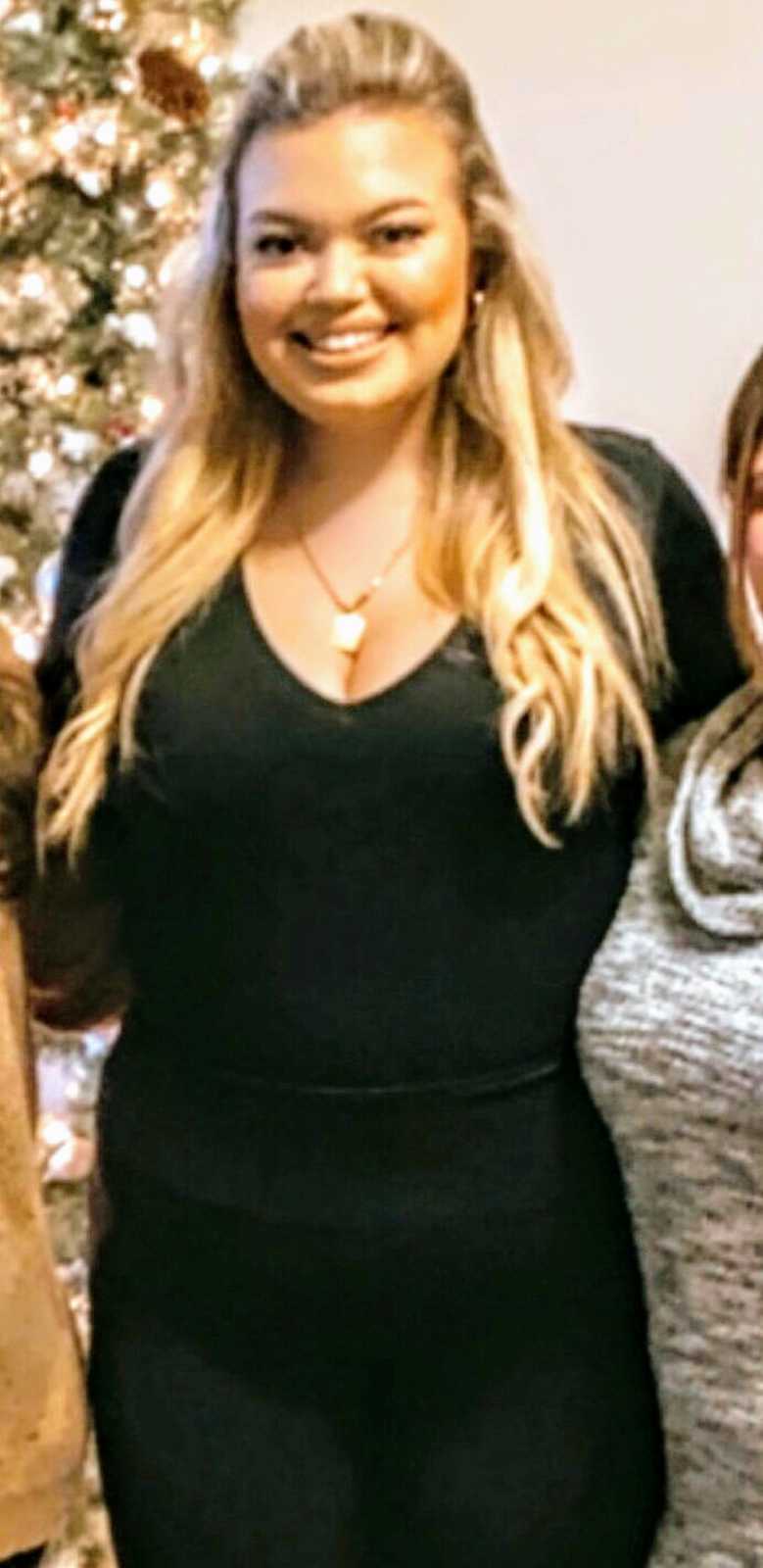 I think the body positivity movement is about loving all bodies, and embracing bodies that we don't see enough on social media or on tv. It's about taking control over how you see yourself, and ignoring negative outside influences. Let's normalize body rolls, loose skin, hip dips, disproportionate breasts, and stretch marks – just to name a few. It can be so easy to fall into self-hatred when you are comparing yourself to others, but confidence is all about changing your thought process. If you unlearn what's been taught by today's society of what beauty is and replace that with how you want to feel about yourself, you will eventually feel that way. PPllleeassseeee do this for you because you deserve it. If you've spent most of your life hating what your body looked like; what would happen if you woke up tomorrow and said you know what… I am going to try something different, and try loving myself instead? I am certainly not saying your perception of yourself will change overnight, but why not try it? What is holding you back? I am here to tell you that YOU ARE STRONG. YOU ARE WORTHY. YOU ARE BEAUTIFUL. YOU ARE ENOUGH. I LOVE YOU. Now go out there and believe it too."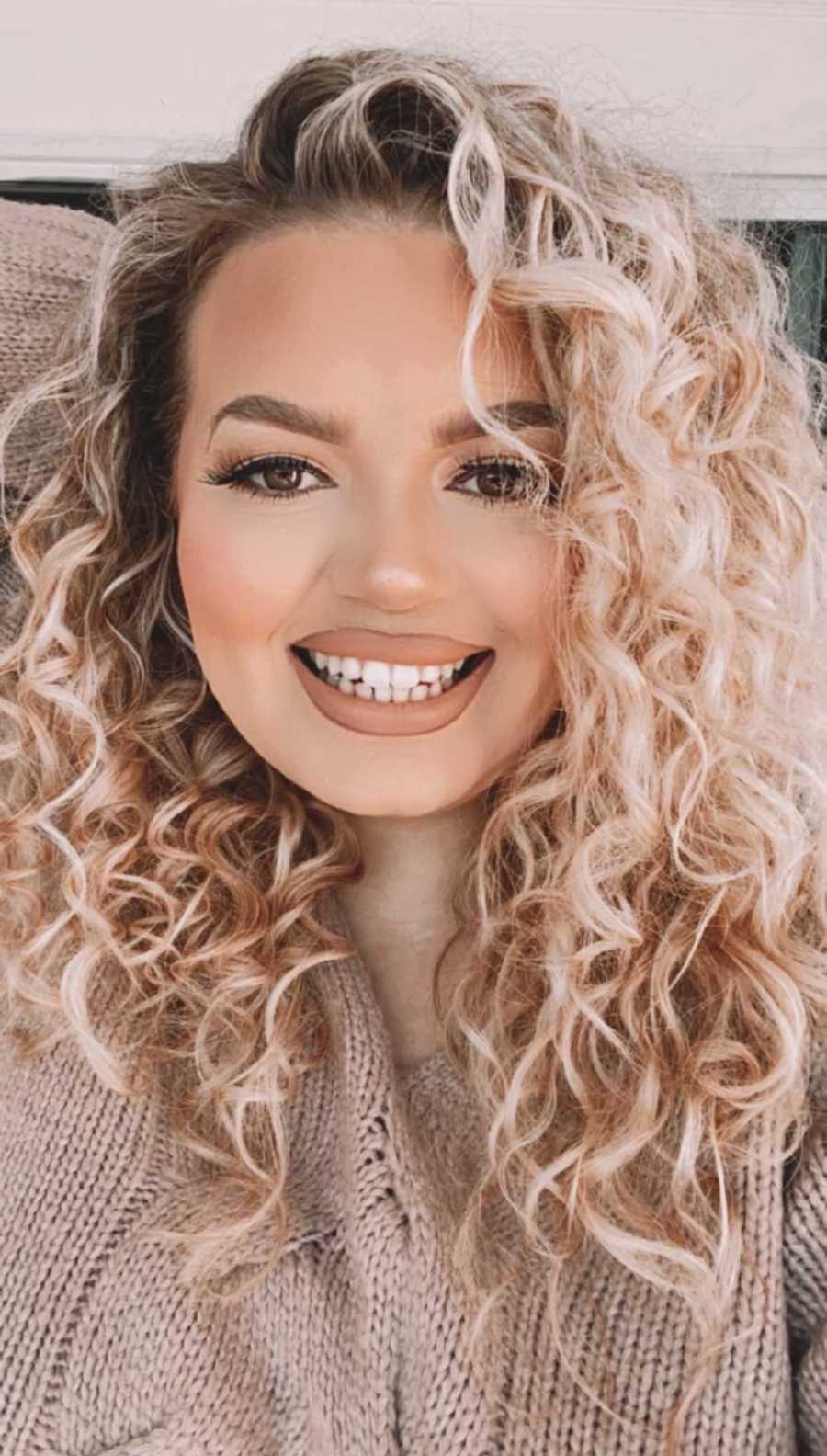 This story was submitted to Love What Matters by Ashley Janay. You can follow her journey on Instagram. Submit your own story here, and be sure to subscribe to our free email newsletter for our best stories, and YouTube for our best videos.
Read more about body positivity:
'I'm so sorry I haven't been kind to you.' I looked at the girl in the mirror and burst into tears. 'I promise to do better.': Woman shares body positivity journey, 'I love myself AS I AM'
'My mom would say I was 'ballooning.' I was in 4th grade. She'd implement some new weird food rule for my 'health.': Woman is 'blown away' by body positive community, 'I learned to love myself, heal my relationship with my body and soul'
'Curvy women welcome, but ONLY if the curves are in the bust or butt.' I would wear t-shirts over bathing suits out of fear someone would see my stomach and die of disgust on the spot.': Mother advocates for body positivity, 'You are perfectly imperfect'
'You need to lose your baby fat.' At 13 I was deemed 'unworthy.' I was told I shouldn't exist.': Woman fights for body positivity, 'I want to define what 'healthy' is'
Give other women strength and courage to love themselves. SHARE this story on Facebook.