"'Mommy, I'm scared.'
My daughter called me through the radio station phone lines as my cohost and I reported the latest school closures on the local news-talk radio station I started working at in December. Prior to this, I'd worked for nearly two decades doing the lighter fare of rock and alternative radio. It was fun, far more carefree, and I was done before school was out. We'd gotten used to me picking her up from her new middle school but that changed when I moved to afternoons. She understood the change and was supportive, even if it was less concerts and more talk about current events.
That day, she called me on-air as we provided the latest Coronavirus updates and the growing lists of school closures that we, as adults, had never seen in our lifetimes.
I choked back a sob midsentence and tried not to lose my composure as she tearfully told me that students poured into the hallways after dismissal, cheering that spring break was now going to be a month-long. Surrounded by the excitement of her peers, she kept her anxiety stuffed down until she could pass through the gates and use her cell phone. 'Kids were yelling and happy. But I'm really scared.'
I was too far away in that moment.
I knew my husband was there to get her, that he'd understand the internalized fear and confusion she was experiencing, in quiet, stoic sadness, trying to sift through the messages she was hearing from sources all around her.
I know that panic because I've had it too, as far back as childhood, peaking well into my 30s, even with considerable therapy, medical interventions, and a graduate degree and license in counseling. It's something you feel on a cellular level. Sometimes passed on the same way a kid has your eye color.
In central California, we are stumbling our way through the uncharted territory of massive school closures, panic purchasing, and fears about a virus that is killing thousands overseas. Restaurants have been asked to function at half capacity, the elderly are being encouraged to self-quarantine, and the stock market has been marked by enough movement that it could make you seasick.
We aren't alone. If anything, this pandemic has shown us how truly connected we are.
But I'm here to talk about 'our' kids. Between my husband and I, we have four, ranging from 10th to 4th grade. I also teach graduate students at our local university so for the sake of this conversation, I'll include that age group as well because the following applies to many of them.
These are the generations that were born and raised post-Columbine, post 9-11. They are a generation that grew up taking off their shoes for TSA and practicing active shooter drills at school. To hide under their desks, not on the off chance that California could experience 'The Big Quake,' like we did as children, but for the kinds of on-campus murders that make the 24-hour news cycle and turn the shooter into a household name.
Yet they kept going to school.
Until the Coronavirus… and they didn't.
As adults, do we even have it in us to understand just how earthshakingly confusing and scary that can be?
Kids have been told it's not something for them to worry about, that they are surprisingly resilient to the virus, which is true according to mortality rates.
Except at the same time, adults in the world are emptying grocery store shelves and stockpiling toilet paper. Adults are no doubt talking about how it's impacting them, what they've seen on the news or on social media, discussing restrictions on gatherings, dissecting 'social distancing' and such. Events were canceled, international travel restrictions put in place, religious services postponed.
Kids listened and watched and talked amongst themselves… but I'm not sure if adults were talking to them about it.
Then the schools closed.
For some, perhaps it is a few extra weeks of fun with family. For others, it may mean a food shortage or a lack of educational and emotional support. For some, the safety of school and the love of educators is on hold and they're in a home that is not safe, maybe downright dangerous.
At the very least, many of our children are home with parents that are stressed about how they will handle not having childcare or how they will make ends meet. For some, they're being shipped to stay with another relative so mom or dad can keep working. Others, being raised in multi-generational homes or by grandparents who are picking up the parenting responsibilities, may be worried it's their loved one who will become sick.
Educational plans are being rewritten; emergency declarations are being made. Students are missing out on class time, friendships, field trips, performances, extracurricular activities, athletics, AP testing. The list goes on and on.
I do not say this to minimize or question the need for such measures… I say it because I wonder if we are remembering to talk to them about it. If we are doing it in a way that is helpful? Children have very real emotions about what is going on in the world today, so much more so because they do not have the normalcy of student life. As adults, we owe it to them to validate those feelings and help them process through them, even if we don't have the answers. Even if we have a lot on our own plates to manage. I don't have the 100% correct answers as a parent, a broadcaster or mental health professional. I understand that not all kids will react in the same way. But the schools closed, and that's significant.
When the schools closed and I got home, we got pizza. There was something soothingly normal about it.
Afterward, my 6th grader sat across my lap on the chair in my bedroom and we joked that she'd never be too big for that, even when I was 80. We talked about being scared, about not panicking, about her fears for her immunosuppressed grandfather, about safety precautions. I could feel the tension release a bit in her body as she processed. It was progress.
In times like this, it's up to us, as adults, not just parents, to do all that we can to support all our 'littles.' Hopefully in doing so, we can decrease the chances that this becomes a time of childhood trauma. If we are lucky, we can model a sense of community they haven't seen before. If we are engaged, we can teach them coping skills and resiliency. If we are present, we can certainly show them how we love them."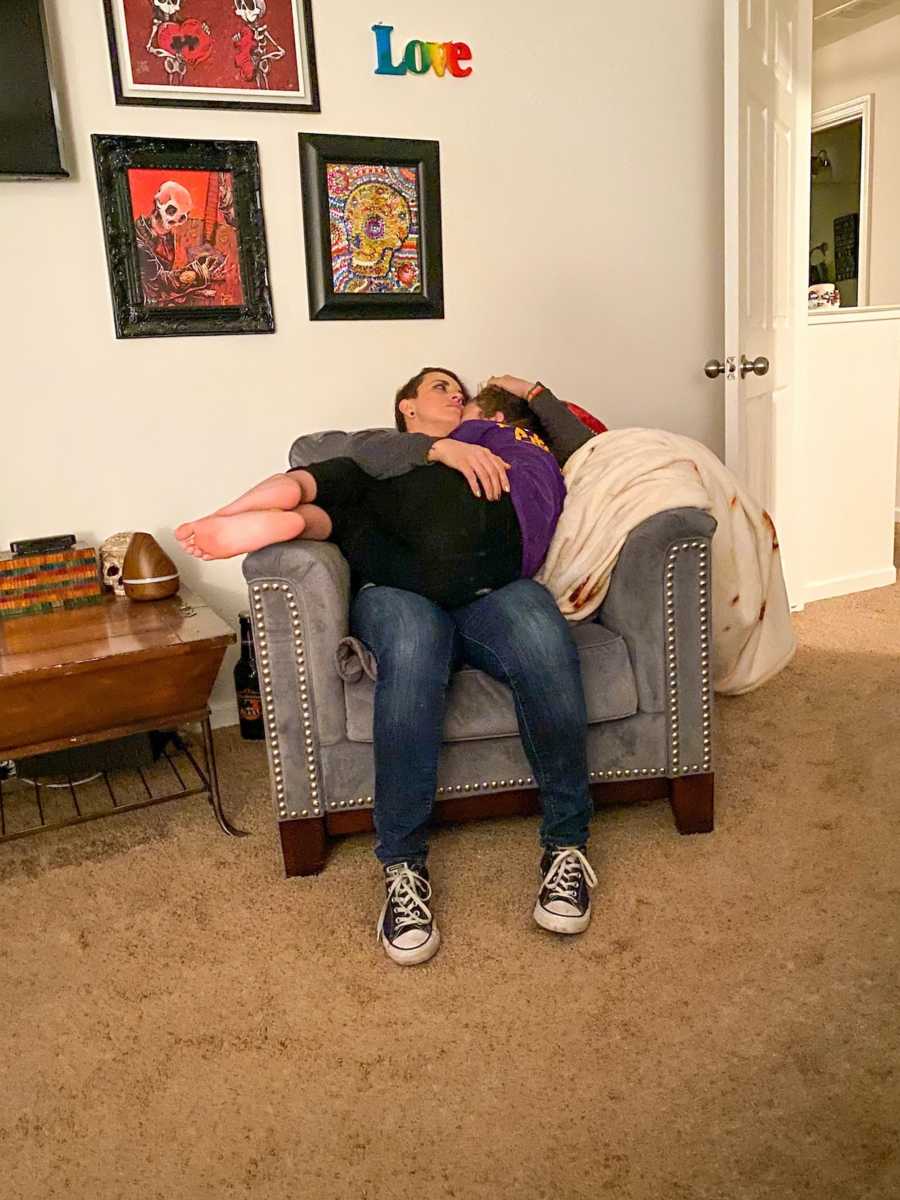 This story was submitted to Love What Matters by Frances Echeverria. Follow her journey on Instagram here Twitter here. Do you have a similar experience? We'd like to hear your important journey. Submit your own story here. Be sure to subscribe to our free email newsletter for our best stories, and YouTube for our best videos.
Read more stories like this:
'Today I cried. Not because I'm stressed out or scared. I cried because of a 92-year-old man.': Woman says 'forget about the 75 rolls of toilet paper you think you need and think about the 92-year-old man'
'My youngest son had a stroke while in the check-out line at the grocery store.': Mom to son with heart disease says 'it kills more than corona, but I won't let either stop our lives'
'Do these things actually work?' I paid $14.99 for these suckers. I'm going all in.': In the midst of a pandemic woman tries sticky bras, 'I chose poorly'
Do you know someone who could benefit from reading this? SHARE this story on Facebook with family and friends.