"Friends,
It seems like those days were years ago and many have forgotten those dreams they had for this 'vision year.' Instead many are holding onto fear and uncertainty or frustration with our new locked up life. I do not want to minimize anyone's pain or suffering, because these are uncertain times- this is unchartered waters like we've never seen before. I do want to share though that yesterday my 8 year old looked up at me and said, 'Mama, this has been the best day ever.'
Because not too long ago, as I barely crawled into bed after a long day physically weary from the demands of a privileged life in Fairfield county, I longed for a day when life would be simpler.
A day when my parenting didn't look like getting my kids from point A to B to C and back again. A day when I could jump off the hamster wheel of endless sports events and dance rehearsals. A day when there was no such thing as eating a quick dinner in the car before we were off to the next thing and back at home to check homework, make sign up deadlines, find silly socks for school and then fall asleep in everyone's bed but my own. A day when my life didn't run against a clock that did not have enough hours to accommodate the long list of tasks each day required of me. I dreamed of a day when I could pause and always look at my kids in the eyes when they spoke to me, rather than that clock behind them.
Amazingly, now during this global health pandemic, that day has come. It is the highest price one could possibly pay for this simple life and we are all collectively paying it. And even amidst the layers of fear and unknown, in some ways its really has been a dream come true. It's given us our most valuable commodity back: time.
And what I am seeing is if we do it right, the connecting can be more powerful than the distancing.
We are connecting to our families. We have had more family meals together in one day than in the last month. We are playing games together, watching movies together, reading together, talking and listening and actually hearing each other. We have time to bake the cookies, paint the sidewalk and kick the soccer ball- not to win, just for fun.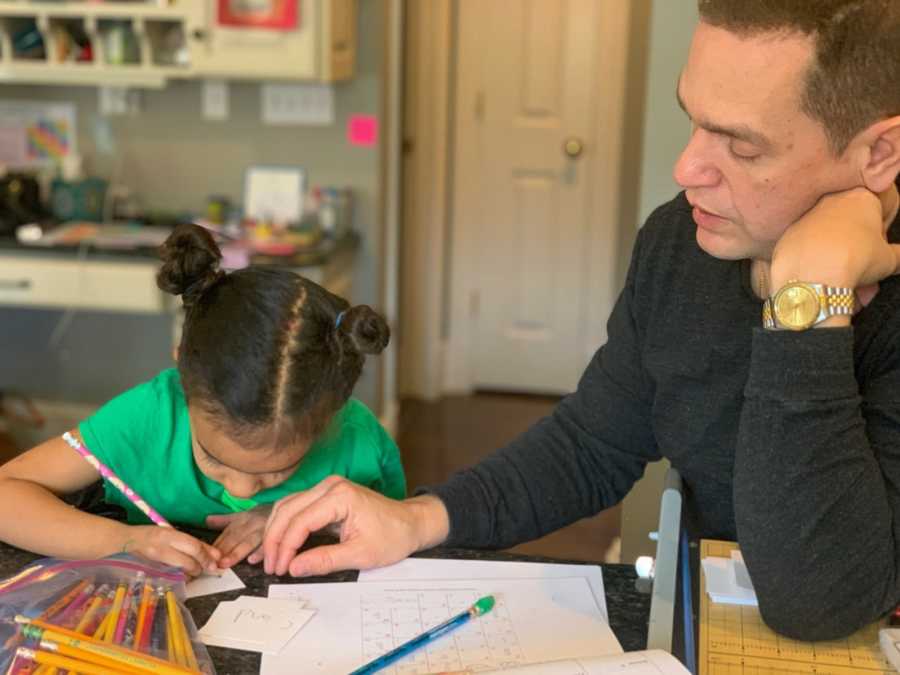 We are connecting to nature. I bought flowers for our house to remind us that it is indeed Spring and we can find beauty in these ashes. We are walking and running outside, soaking in the warmth of the sun that is finally making an appearance just at the time we need it most. We are playing in the woods, appreciating the opportunity to breathe fresh air, almost like we've never done it before. We feel it healing both our minds and our bodies with each deep inhale.
We are connecting to our community. I've seen generosity like never before. People offering to teach, to support, to share ideas and strategies, to spread kindness and love writing notes, buying supplies for those most vulnerable. A world of opportunity and learning has been opened up in our own homes, so that we can go on living and learning.
We are connecting to our world, coming together to make decisions for the well being and health of an entire planet, people we will never know in this life, knowing that is the only way each of us can move forward into the life we once had.
We are connecting to ourselves. We are sleeping more and resting our tired bodies. We have moments of stillness. We are reaching into those dark place to find the courage to look fear in the eyes and not flinch. We are seeing how resilient we truly can be.
We are connecting to God. For some of us, these are the times we see what our faith is made of. We are deciding to trust in something far bigger than ourselves, choosing to remain in that place of peace. We are allowing those dark, vulnerable places to be exposed and choosing to flood them with faith each day as the situation continues to evolve. We are borrowing faith from each other in those moments we can't find it. And we continue to believe that God is still at work, still bigger than even this and that He has not forgotten about those dreams we had. He has simply woven these days into the path to get there.
I don't want to minimize the struggle. There is frustration, there are fights, there is anxiety over finances, food and this everything about this new normal. We know this, too, shall pass, but we don't know when or what will life look like when it does. But here's a thought…
Choose your lens. If you want to look at the fear, the struggle the unknown, there is enough there to fill every minute of your day and social media feed. But if you decide, and its a choice, to focus on the parts of this we won't get back when things get back to normal, you might just step into a place of peace. If you choose to focus on the generosity, the stillness, the time, and even the ridiculous fights because one day those kids making you nuts will no longer be under your roof and it will be a different kind of quiet, you will make that needed shift.
And one more note- go easy on yourself and them. It's ok if this is not the time for academic excellence, its ok to let them watch the shows, do more tic-toc than usual- pick your battles. Because your mental health is important, too, and don't compare yourself to others whose gifts are different than yours. At the end of the day, my 8 year old did not tell me was the best day ever because I created the most efficient color coded schedule for her. Rather, she realized she had everything that was most important to her right in front of her and wrapped around her.
Be well and be at peace. You are all in my prayers.
Much love, Niro"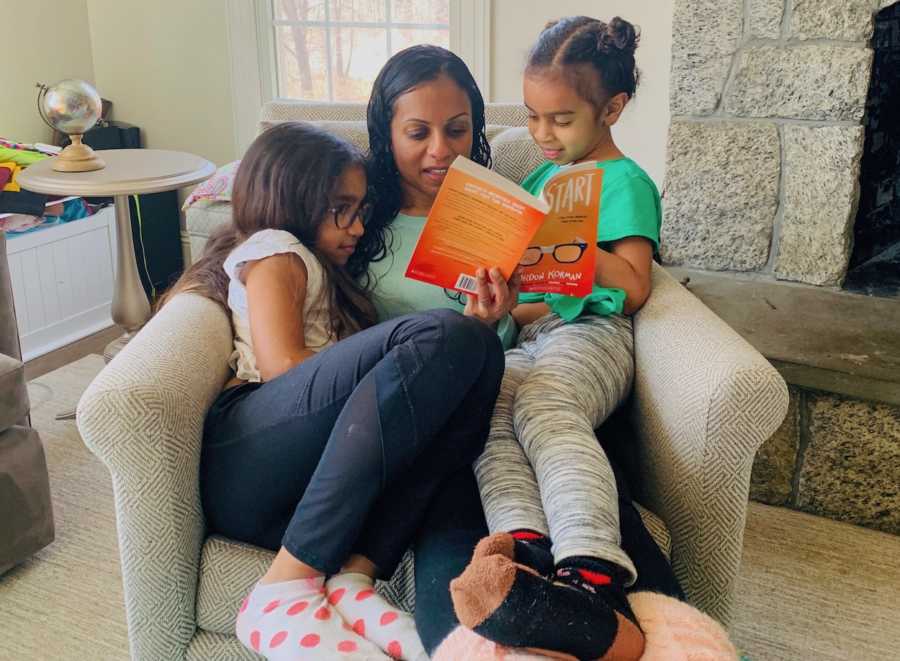 This story was submitted to Love What Matters by Niro Feliciano, 43, of Wilton, Connecticut. She is a wife, mom of 4, and psychotherapist. Follow her journey on Facebook here, Instagram here, and her website here. Do you have a similar experience? We'd like to hear your important journey. Submit your own story here. Be sure to subscribe to our free email newsletter for our best stories, and YouTube for our best videos.
Read more stories like this:
'Today I cried. Not because I'm stressed out or scared. I cried because of a 92-year-old man.': Woman says 'forget about the 75 rolls of toilet paper you think you need and think about the 92-year-old man'
'An 80-year-old woman cracked her car window and explained, in tears, 'We're afraid to go in the store. We don't have any family to help us.': Woman urges 'offer help to anyone you can' during coronavirus hysteria
'I found a handwritten note in our mailbox that said, 'Please tell me anything you need, and I will pick it up for you.' I heaved a sigh of relief.': Woman says 'the angels among us reassured me the world is still a good place to be'
you know someone who could benefit from reading this? SHARE this story on Facebook with family and friends.