"Today, I went and did something I hate for the first time in over a year.
I went to a store and I tried on some clothes in the dressing room.
Before the pandemic, I would dread having to try on clothes, and I usually only gravitated toward clothes I knew would fit; or I would just take the chance, buy it, and then return it later if it didn't fit.
Just like many other women, I don't always love what I see when I look in the mirror
My eyes immediately gravitate toward all of the areas I'm most self-conscious about.
The areas I see as anything but beautiful.
The stomach rolls, the cellulite, the stretch marks, the double chin, the deflated boobs.
No matter what I put on, it's never going to fit right because I believe I don't fit right.
Today, when I saw the dressing rooms were open again after being closed for so long, I decided to suck it up. I reluctantly handed over my eight items to be counted, and then took my number and my kids and headed into a room with a sigh and a prayer.
After I undressed and turned to look at myself in the mirror, I immediately felt that familiar heat creep into my cheeks, fueled by embarrassment and disdain at my own reflection.
I swallowed it down, and I asked my kids to help me out.
I asked them to let me know if they liked each dress or romper, and my son suggested a rating system — thumbs up if they like it and thumbs down if they don't.
After trying on a few items, I noticed they were giving me an enthusiastic thumbs up for every single one.
Even the items I was immediately dismissing in my head for accentuating all the areas I didn't want accentuated.
When I asked my son why he kept giving everything a thumbs up, his answer was simple. He said, 'Because you look beautiful in all of them Mommy.'
It was in that moment I realized my babies don't see my flaws. They don't see my imperfections when they look at me in the mirror. They don't see the sagging skin or the extra weight or the way everything juggles when I move.
They just see me.
Their momma.
I remembered I'm not always going to love what I see when I look in the mirror, and that's normal. It's okay.
But I need to give my body some credit. It's strong.
It grew and birthed two incredible humans. Two humans who will always and forever love me just the way I am.
And at the end of the day, if I'm good enough for them, then I need to be good enough for myself too."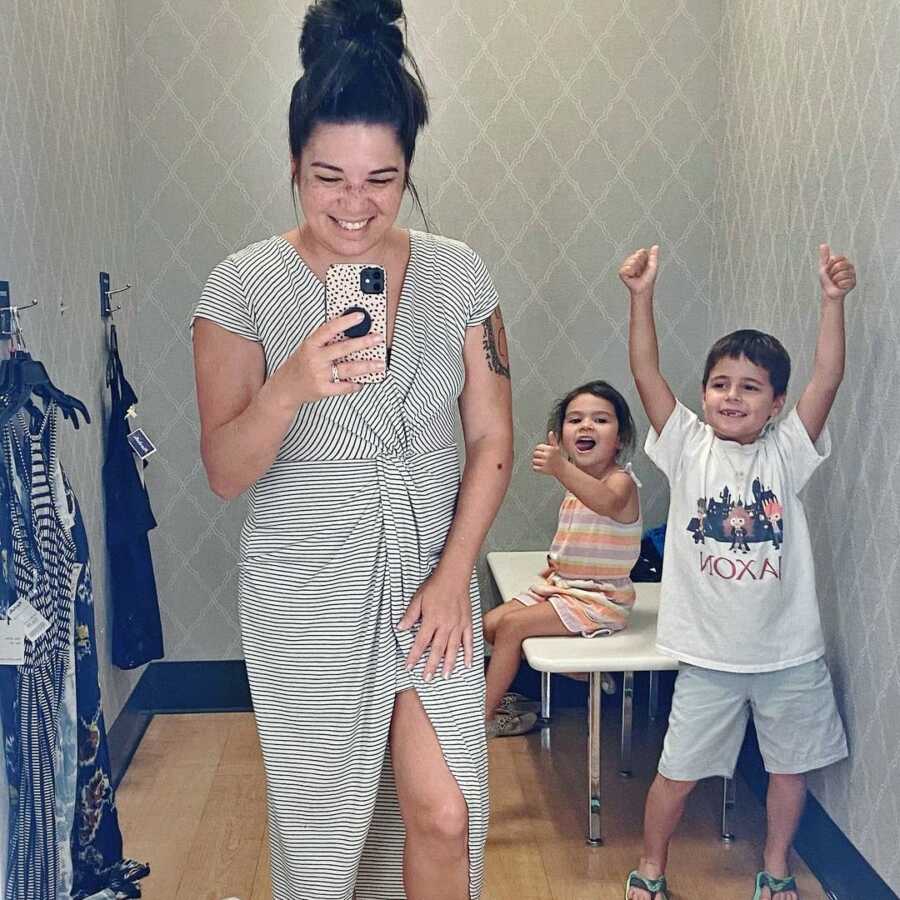 This story was submitted to Love What Matters by Mari Ebert. You can follow her journey on  Instagram, Facebook, and her website. Submit your own story here, and be sure to subscribe to our free email newsletter for our best stories, and YouTube for our best videos.
Read more from Mari here:
It's Okay To Not Want To Be A Mom Some Days—You Are Not A Monster
Hey Mama, You're Strong And Resilient — Despite Everything That Forced You To Forget
Read more stories like this:
'I'm so sorry I haven't been kind to you.' I looked at the girl in the mirror and burst into tears. 'I promise to do better.': Woman shares body positivity journey, 'I love myself AS I AM'
'Curvy women welcome, but ONLY if the curves are in the bust or butt.' I would wear t-shirts over bathing suits out of fear someone would see my stomach and die of disgust on the spot.': Mother advocates for body positivity, 'You are perfectly imperfect'
'Nobody commented on my bathing suit. Not only that. My butt. I'm sad now, you see. I was never a bikini kind of girl.': Woman struggling with body positivity says 'the world isn't judging you like you think it is'
Give other women strength and courage to love themselves. SHARE this story on Facebook.