"This is my husband, Erik, and our 3-year-old daughter, Emberlynn. Just looking at these pictures, I fall in love all over again with him. He truly will do anything in his power to make us all smile. Even through this pandemic with the uncertainty, he always makes us stay grounded and positive.
I was really sick for a little over three weeks due to what we suspect was COVID-19, so my husband had to stay home to watch our kids while I was ill. Today, he decided to lift all our spirits.
He came downstairs and surprised us with an Anna dress to match our daughter's Elsa dress. She loves to play dress-up with Erik all the time. Even though the dresses are a little bit too small, he will always rock whatever she puts on him, because he knows it will make her smile.
My husband said, 'Emmy go put on your Elsa dress, I feel like dancing.' As we went to put her dress on, my husband went upstairs. Thinking nothing of it, I thought maybe he just needed to grab something from the bedroom. He then a few minutes later comes down the stairs dressed as Anna.
We have three children, and their faces were priceless, especially Emberlynn. 'Daddy, you look so pretty!' Emberlynn said. Her face truly could light up a room at that very moment. It was such a wonderful surprise. I know we will all, especially her, remember that moment forever. Her favorite movie is Frozen!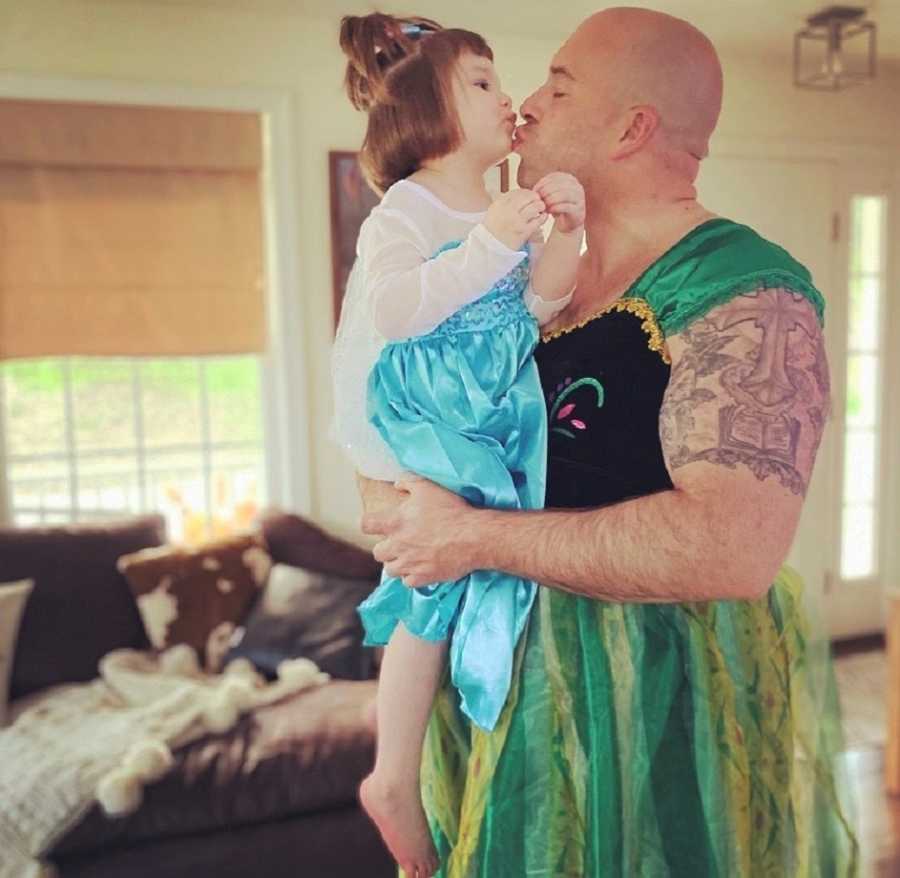 They turned the movie on and started singing and dancing together. I was able to capture a moment that I loved very much. They were watching and our daughter was closely explaining the movie to daddy. She wrapped her arms around him, and you could see just from that gesture, how proud they both were. The next morning, the first thing she asked was to put their dresses on!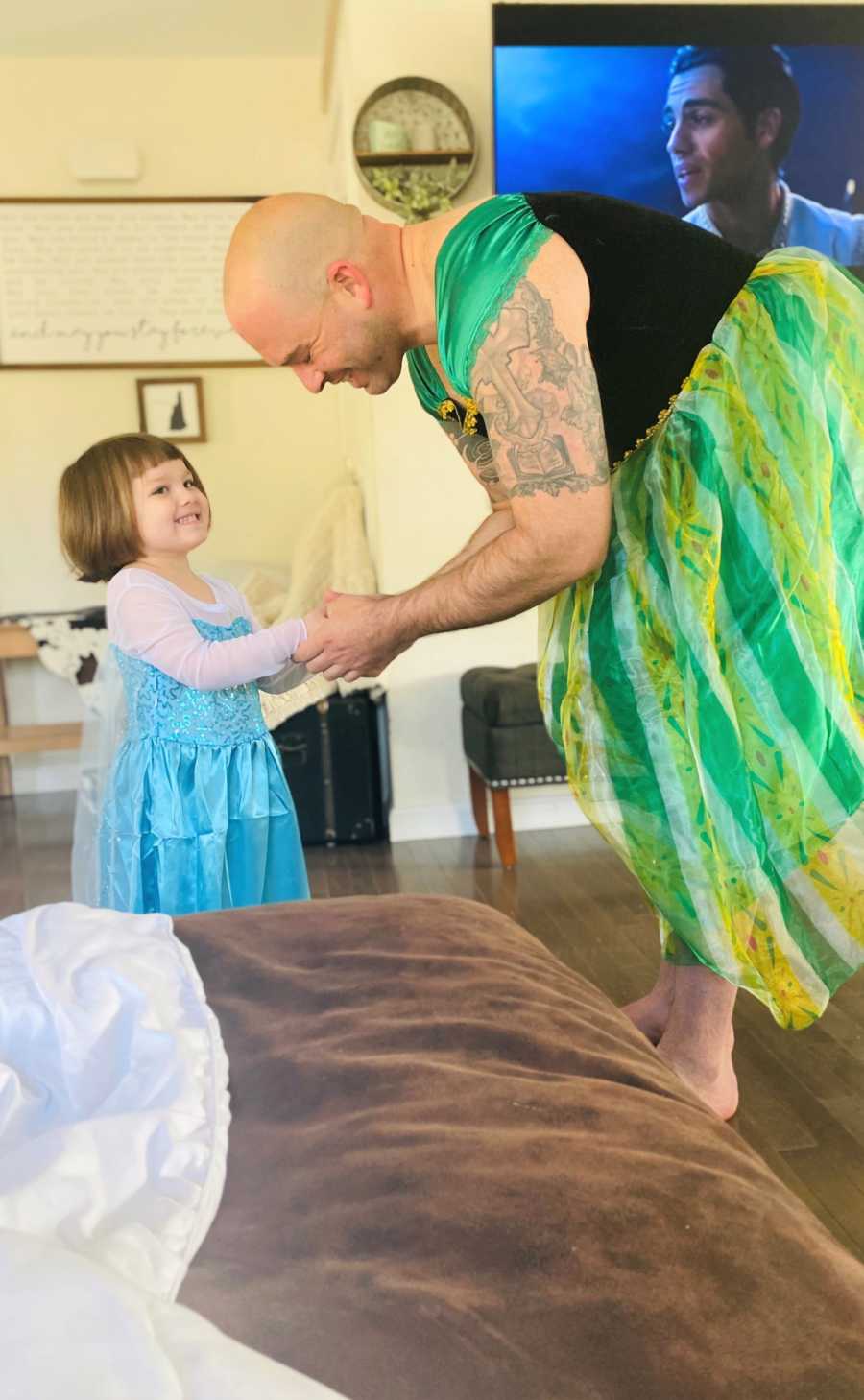 Erik and Emberlynn cooked us all special breakfast in their beautiful dresses. She now plans to have her brothers who are 2 and 4 dress as Olaf and Sven!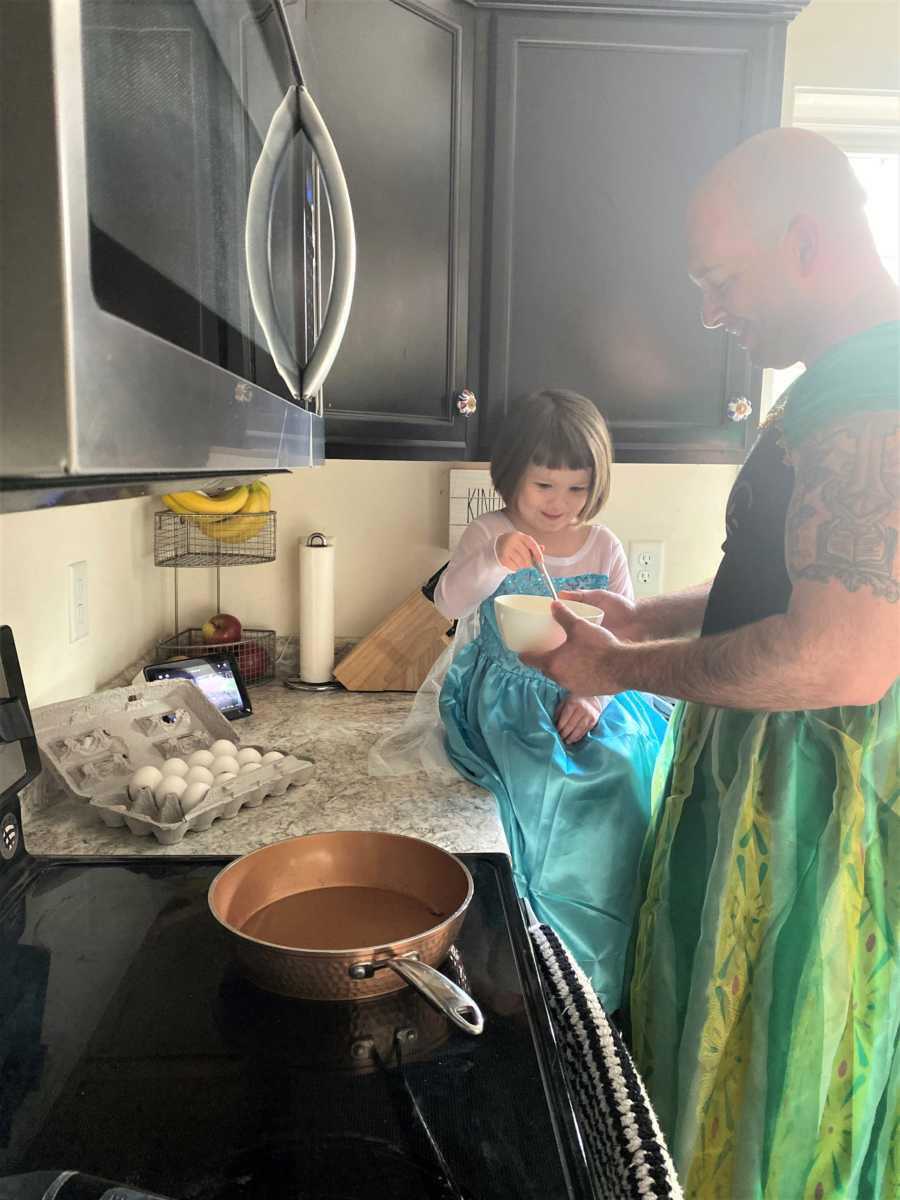 Family is everything, and during this pandemic, I have realized even more to never take a moment for granted. Also, my husband looks pretty great in that dress!"
This is an exclusive story to Love What Matters. For permission to use, email Exclusive@LoveWhatMatters.com.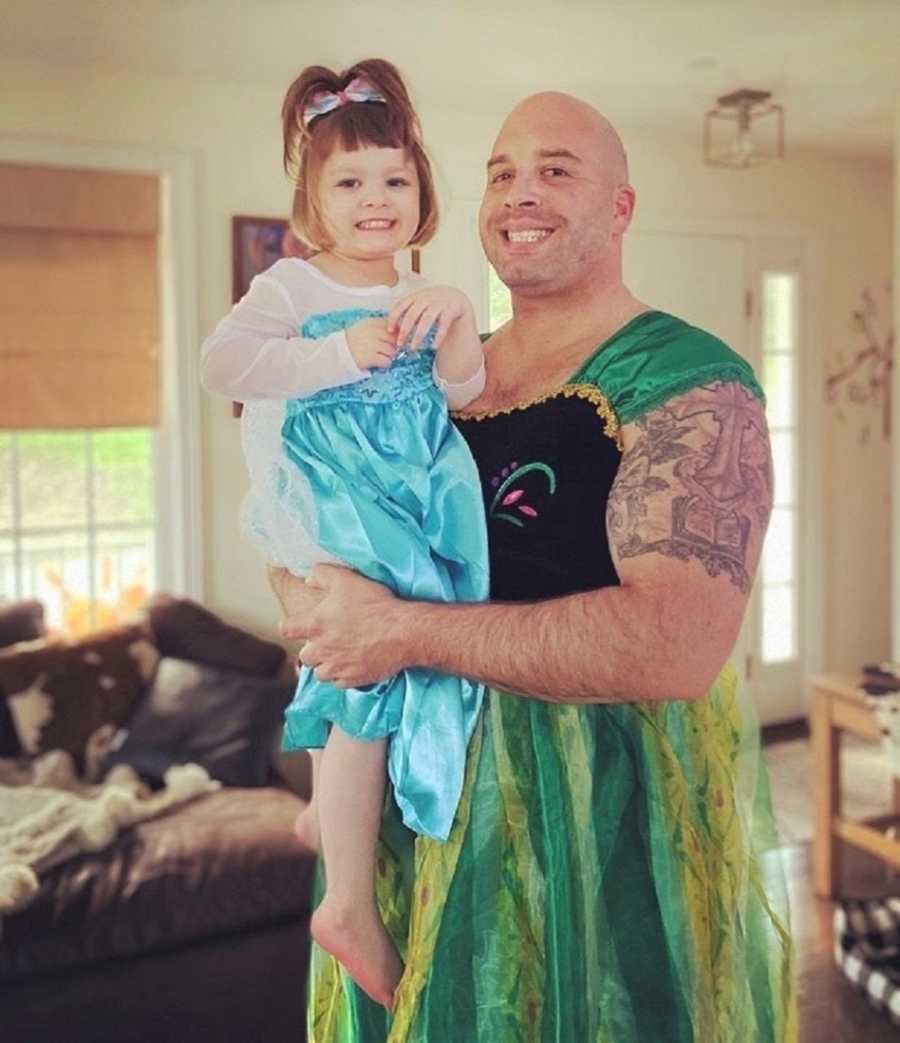 This story was submitted to Love What Matters by Heather F. Be sure to subscribe to our free email newsletter for our best stories.
Read more awesome dad stories:
'I'll hold you tight, but I'll hold your mother tighter. My love for you grows the more I understand the measure of a mother's love.': Dad pens appreciation letter to wife for birthing son, 'I will never be able to repay you'
'Here's to the girl dads who watch princess movies, slow dance in the kitchen, and let tiny hands put polish on their big toes.': Mom pens appreciation letter to girl dads, 'You are building hearts with your construction hands'
Please SHARE this story on Facebook to encourage others to cherish every moment and love what matters most.