"'Ashley…I am so sorry, but we found breast cancer.' On May 29th, we received news that completely changed our lives. Our youngest son was only 9 weeks old at the time.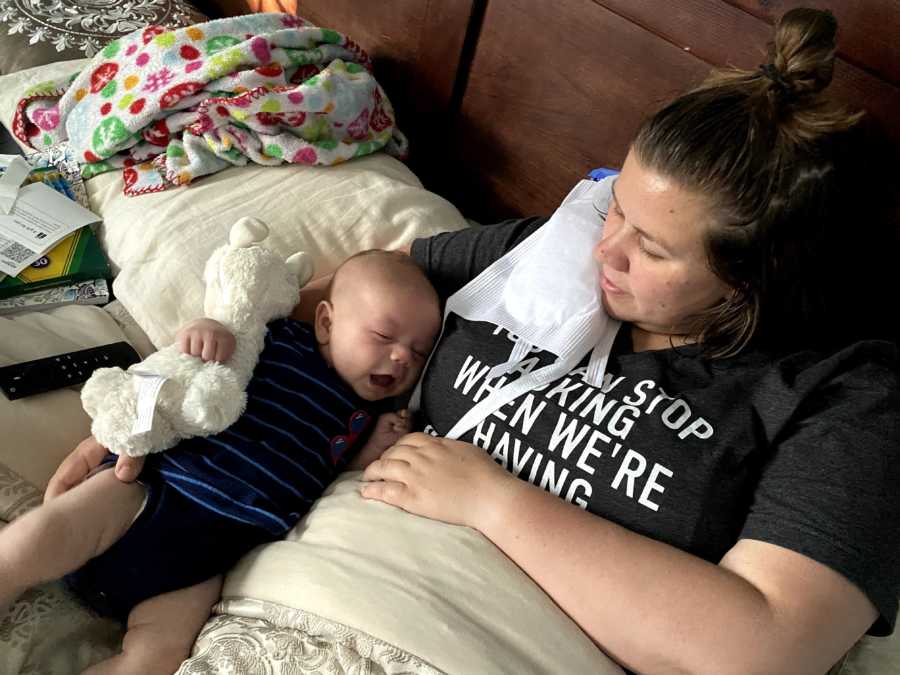 When I was 37 weeks pregnant with Ford, my husband and I noticed a lump in my breast. I assumed it was related to lactation, so I ignored it. On March 26th, we welcomed our sweet baby boy into a global pandemic. Strangely, it was a very relaxing delivery and postpartum experience. When Ford was four weeks old, I had issues with clogged milk ducts and I felt rundown and achy. I felt the lump in my breast again and decided it was time to get it checked out. I made an appointment with my OBGYN. We all assumed it was mastitis but decided to keep an eye on it.
When the lump was still there a week later after a round of antibiotics, my OBGYN sent me for an ultrasound. This led to an appointment with a surgeon, another ultrasound, and a biopsy. Throughout all of this, I had a bad feeling. I booked an appointment with my friend Holly, owner of HollyCo Photo, to get newborn photos taken. Something told me this would be our last normal experience for a while. I told her everything we were going through while she was taking the photos. We both decided there was no way I had cancer. I was barely thirty years old. I just had a baby. There was no way cancer was my reality.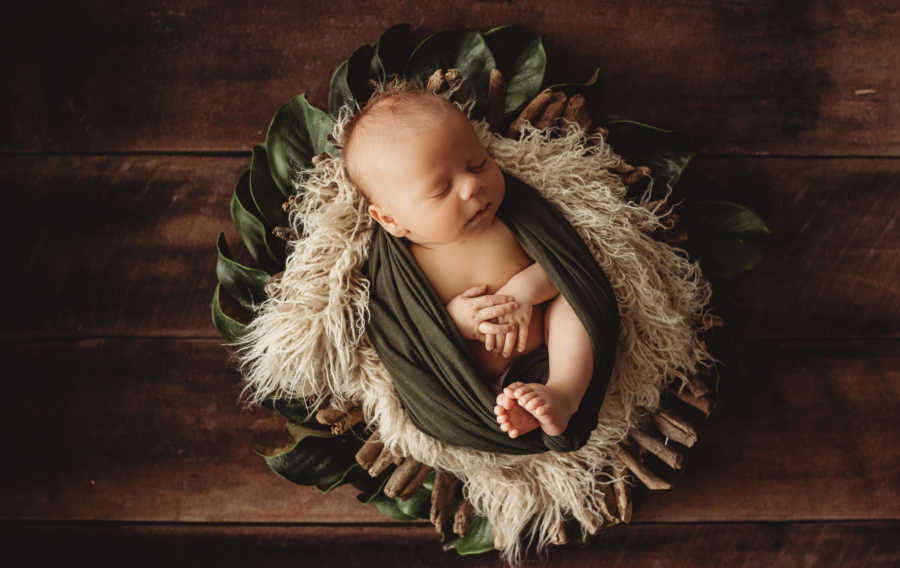 Two days after the biopsy, we received the call that changed our lives.
I don't remember much from the call except the surgeon telling me I had breast cancer. I said, 'I just want to be here for my boys.' The surgeon assured me they were going to do everything possible so I could be there for my sons.
My mind was racing. I have two sweet boys. I have cancer. We are in the middle of a global pandemic.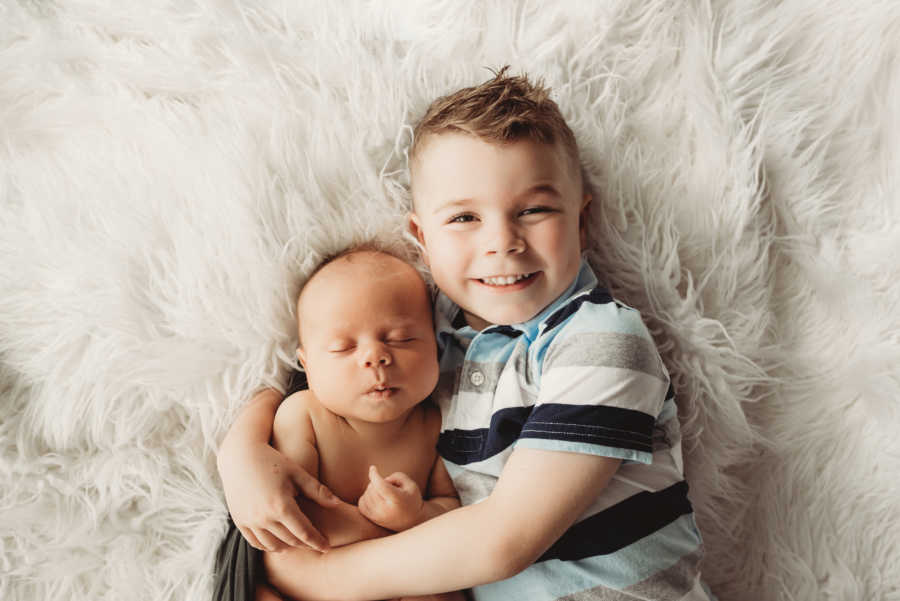 We knew we would need a lot of help to get through this, but we had been isolated from our family since the pandemic started. We had to open our circle up. We had to consider how seriously other people were taking the pandemic. Was it safe for them to come around? I could not take the boys with me to appointments. My only option was a babysitter. We were able to find a few families we trusted who were happy to help to take care of the boys.
I spent the next month meeting with my oncologist and completing different tests. I had a breast MRI, a CT scan, and an echocardiogram. I decided to participate in a clinical trial. We discussed a solid plan for treatment that would include chemotherapy, immunotherapy, surgery, and radiation.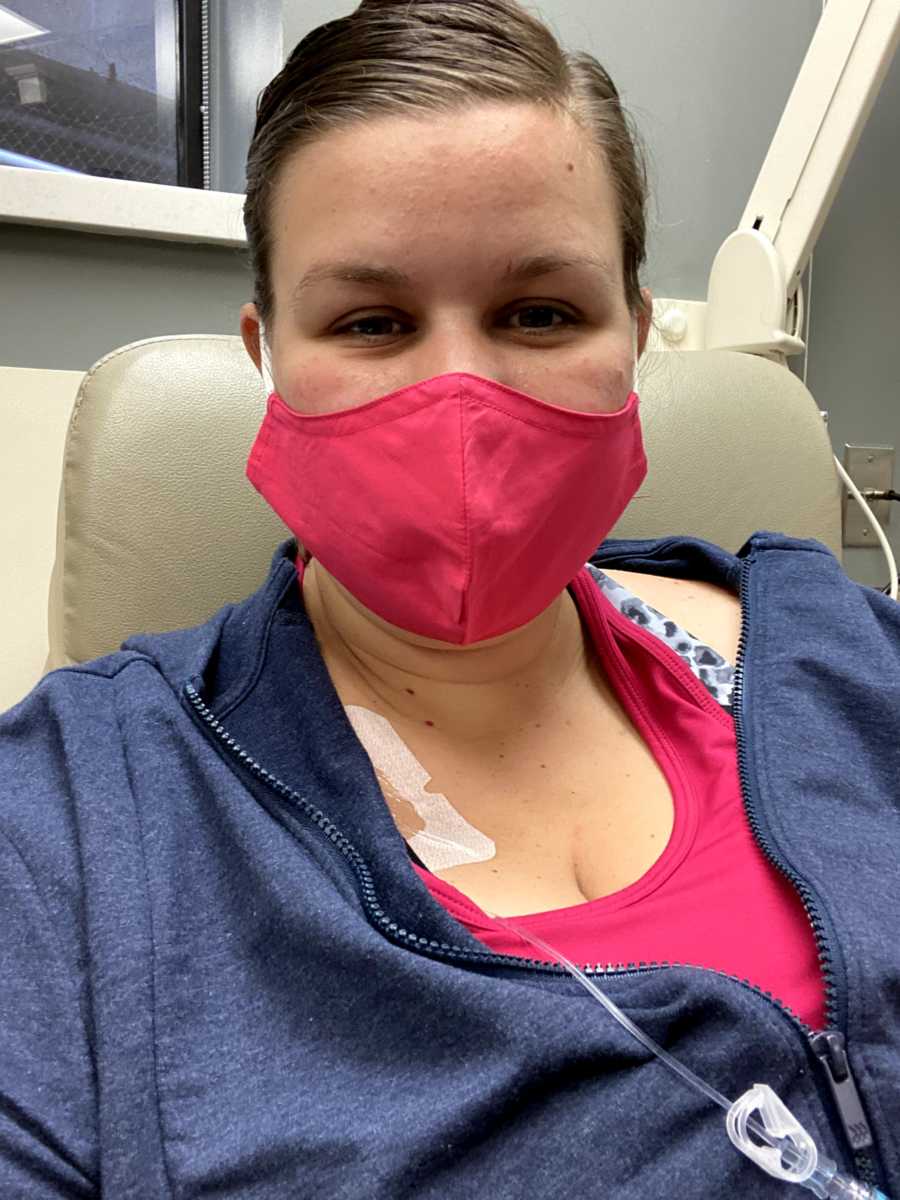 Cancer during a pandemic is hard. However, the support we received from our family, friends, and co-workers is beyond anything we ever expected. We immediately started to receive packages in the mail. Our family and friends knew I had to stop breastfeeding. We had offers for donor breastmilk and formula delivered to our house. My mother in law suggested I create an Amazon wish list. We received packages from that wish list every day. The school I work at started a meal train. They fed us every day for months. Our community found every single way to safely help us despite the pandemic.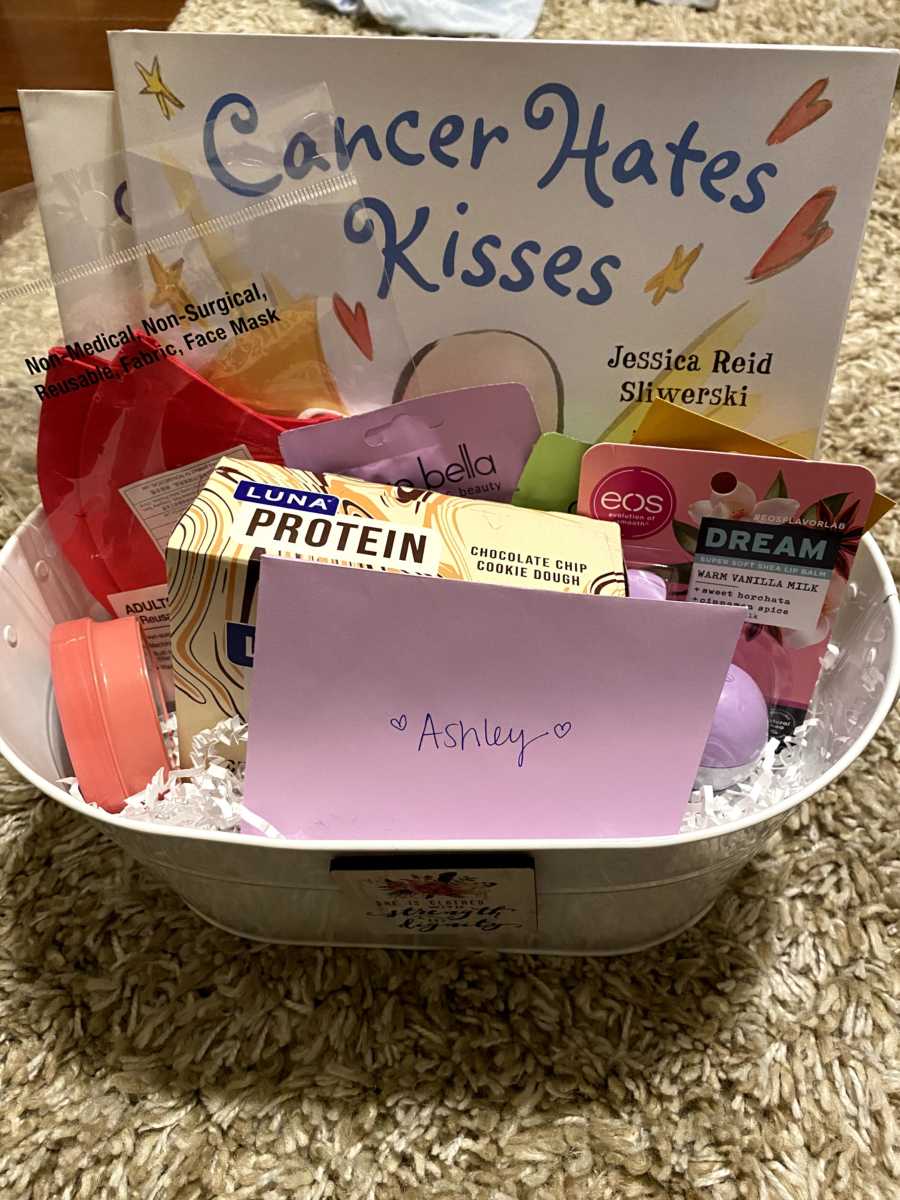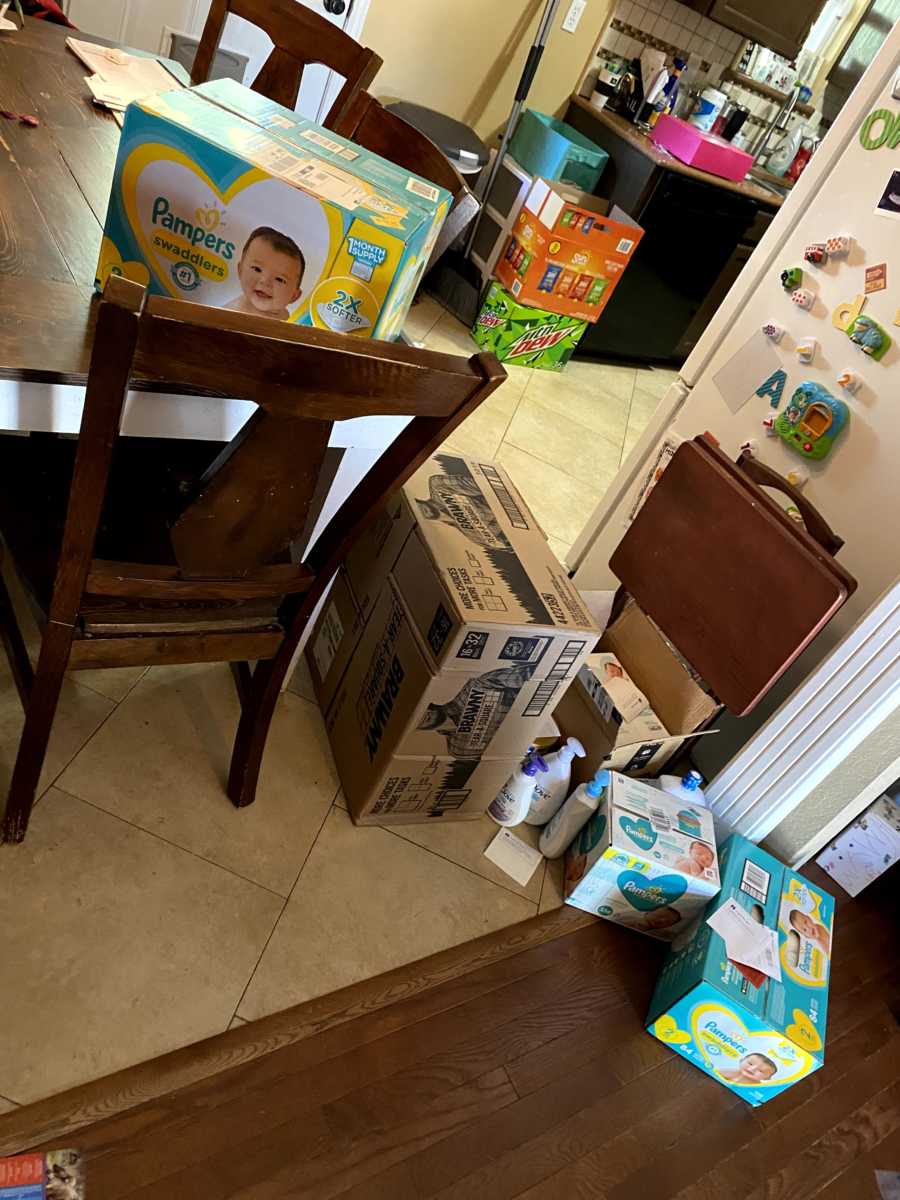 On July 1st, I started my first round of chemotherapy and immunotherapy. I had no idea what to expect. The only thing I was confident about was that I would lose my hair. I contacted my friend who did our newborn photos and asked if she was interested in taking photos of us when my husband shaved my head. She told us she would be honored to be there. She donated her time and talent.
July 16th was a beautiful day. My dad and a few of my closest friends came over while my husband shaved my head. Holly was there to document the day. My amazing husband shaved my head, and then I attempted to shave his head. My dad had to take over. Let's just say I do not have a future in the cosmetology field.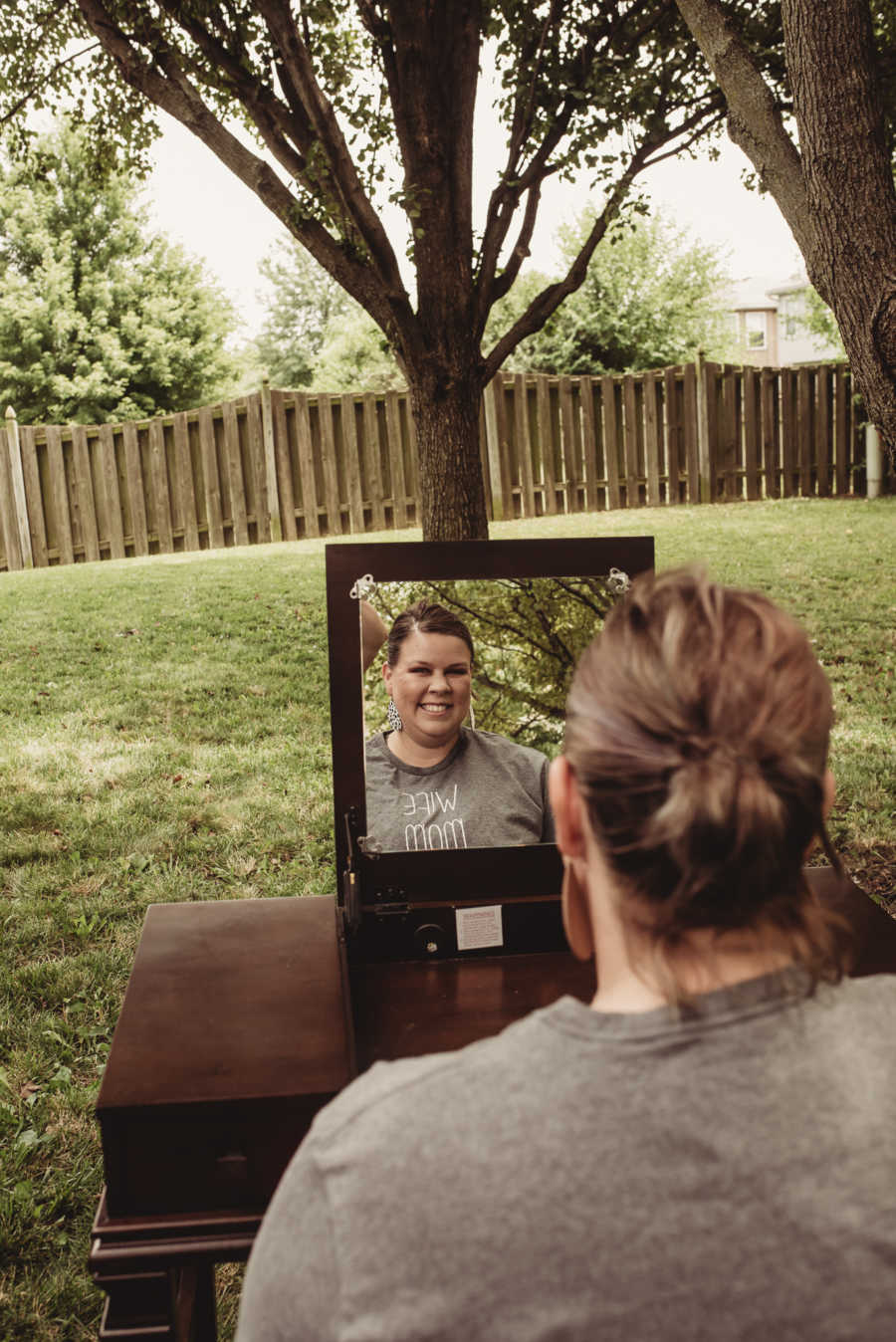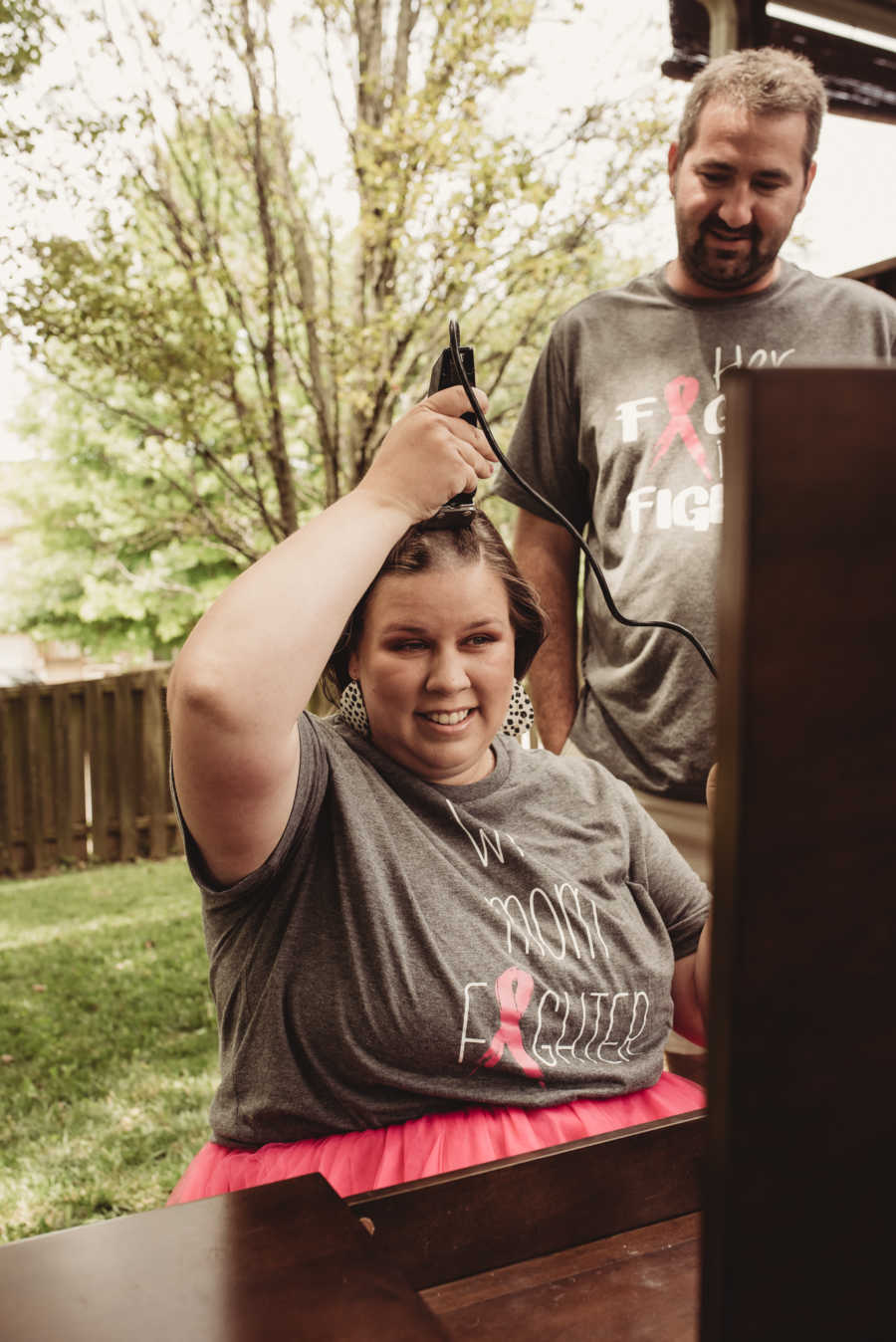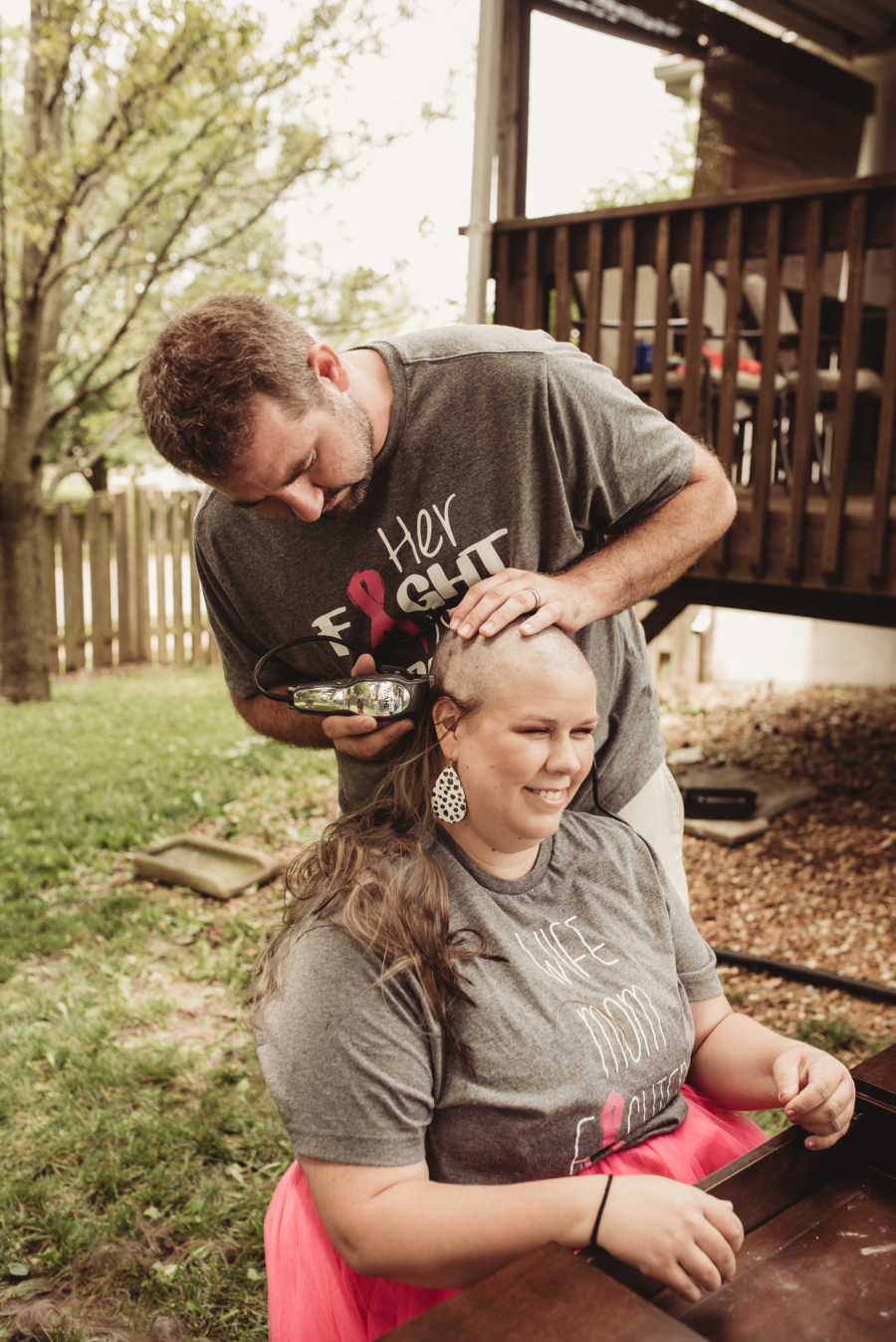 Before we started, Holly looked at me and said, 'It's okay if you cry. I am going to cry. But remember, cancer did not control this. You had control over the day, the time, and who was here. You have control of this.' These words gave me the strength to get through the day.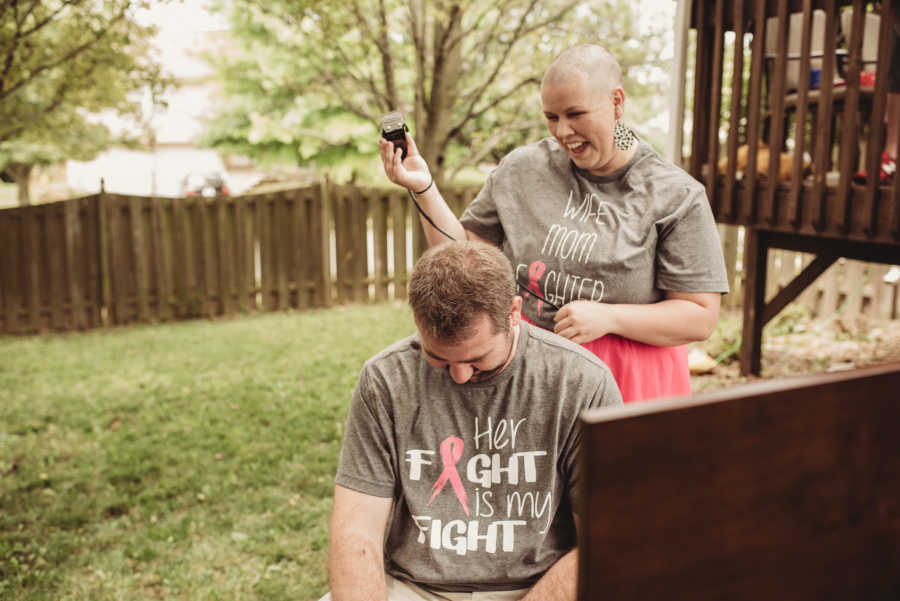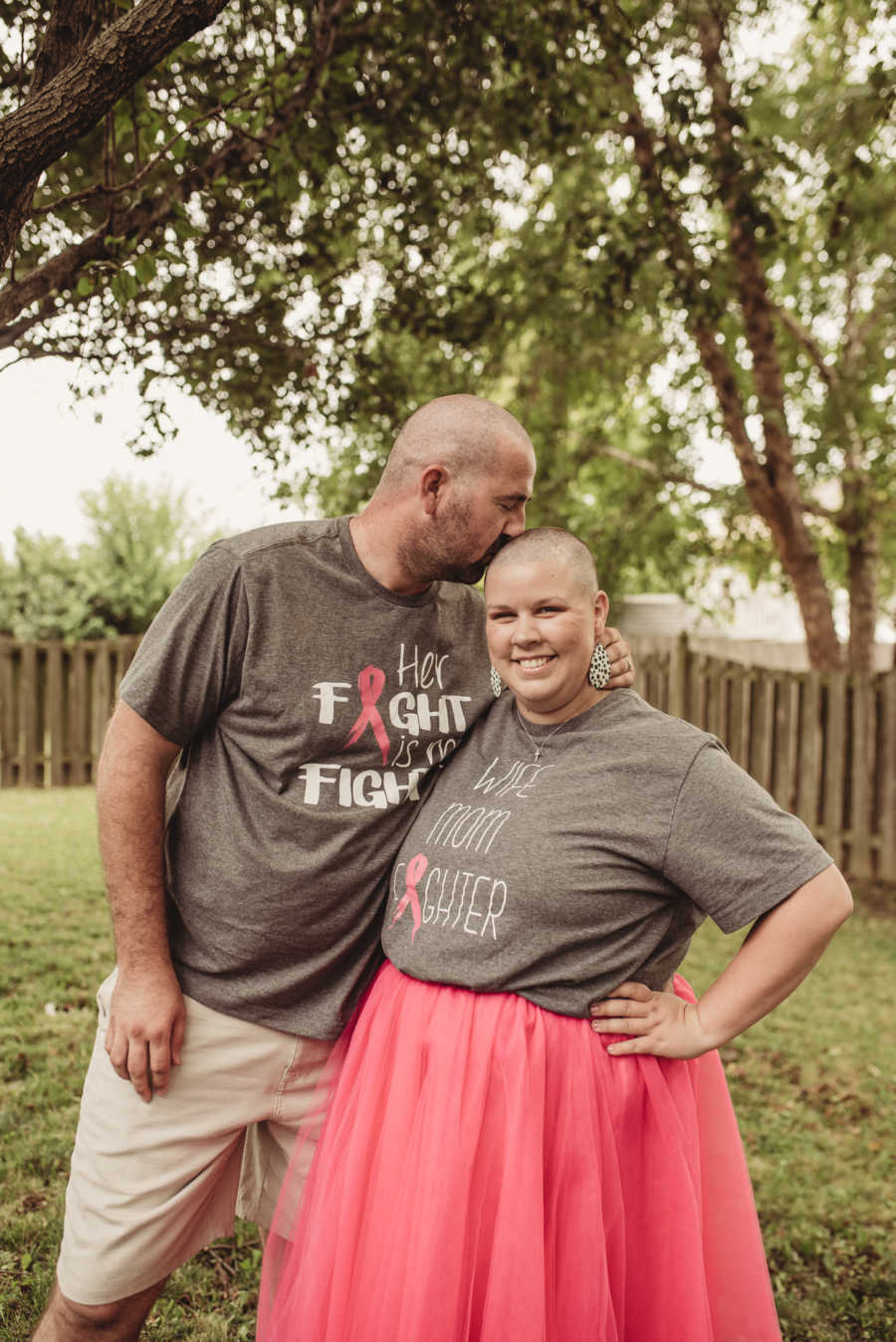 Our four-year-old son seemed nervous the entire time my husband was shaving my head. He stood on the deck and watched. In the end, he came to me and touched my bald head. It was the sweetest moment. The whole day was a true testament to the amazing and supportive people we are blessed to know.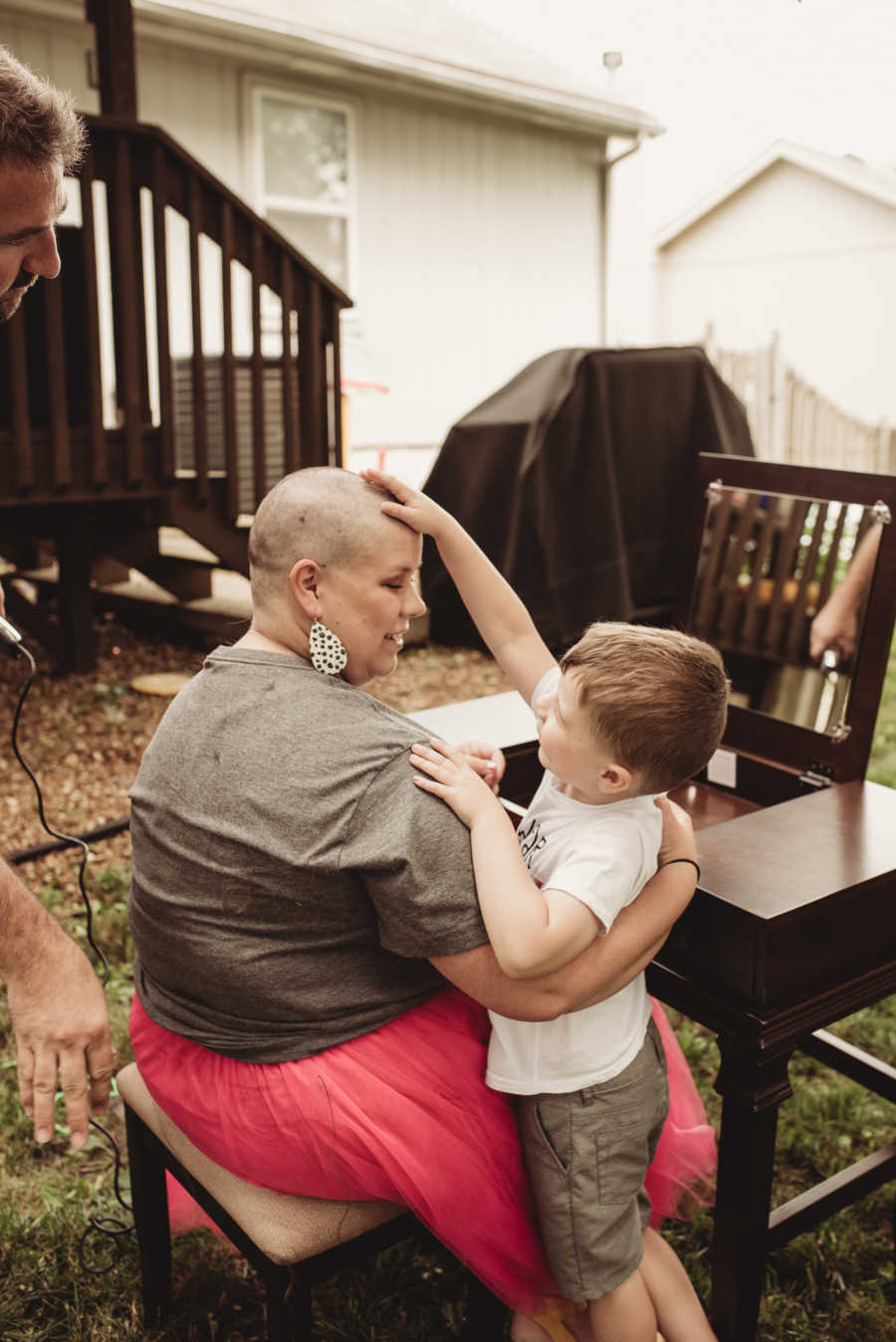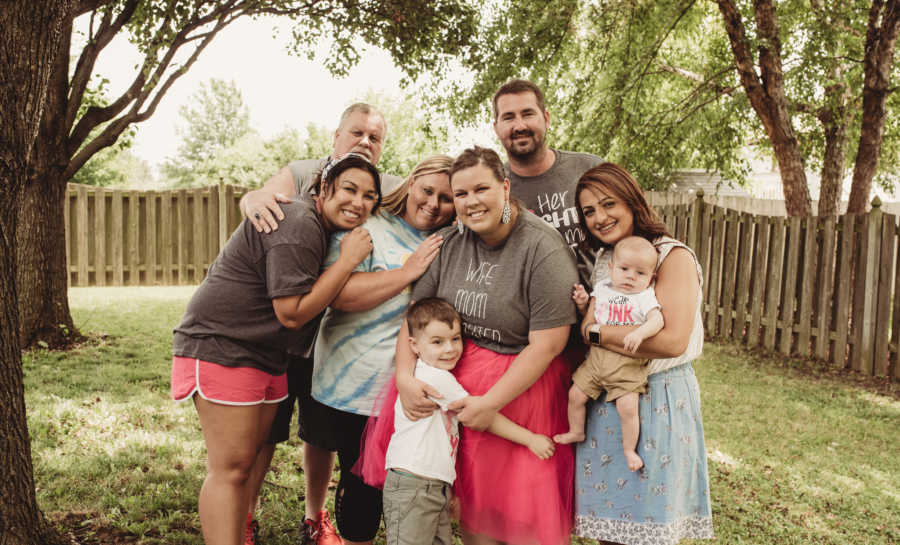 We have been honest with our four-year-old from the moment I found out it was cancer. We sat him down and I said, 'Mommy is really sick. The doctors are going to give me medicine that will make it seem like I am getting sicker, but I will actually be getting better.' We explained to him that I had a 'sick boobie.' One day, we woke up with no air on a very hot day. My husband called a technician to fix it. When the technician was finished, he said we owed $90. I told him we had a warranty, and we did not owe anything. He was looking at our account on his tablet when Luke walked up to him and said, 'My mommy has a sick boobie.' The technician looked confused. I was mortified. I explained that Luke meant that I had breast cancer. Luke said, 'Yeah, she has breast cancer!' The technician left shortly after and did not make us pay. Luke gave our family a good laugh and saved us $90!
Over the last few months, I have completed four rounds of chemotherapy and immunotherapy. I spent three weeks recovering between rounds. On infusion days, I spend close to five hours at the cancer center. Because of COVID-19, I have to go by myself. After I discovered I could sit by a ground-level window, my husband decided to come by for a window visit with my boys each time I go. These visits get me through the day and bring me so much joy.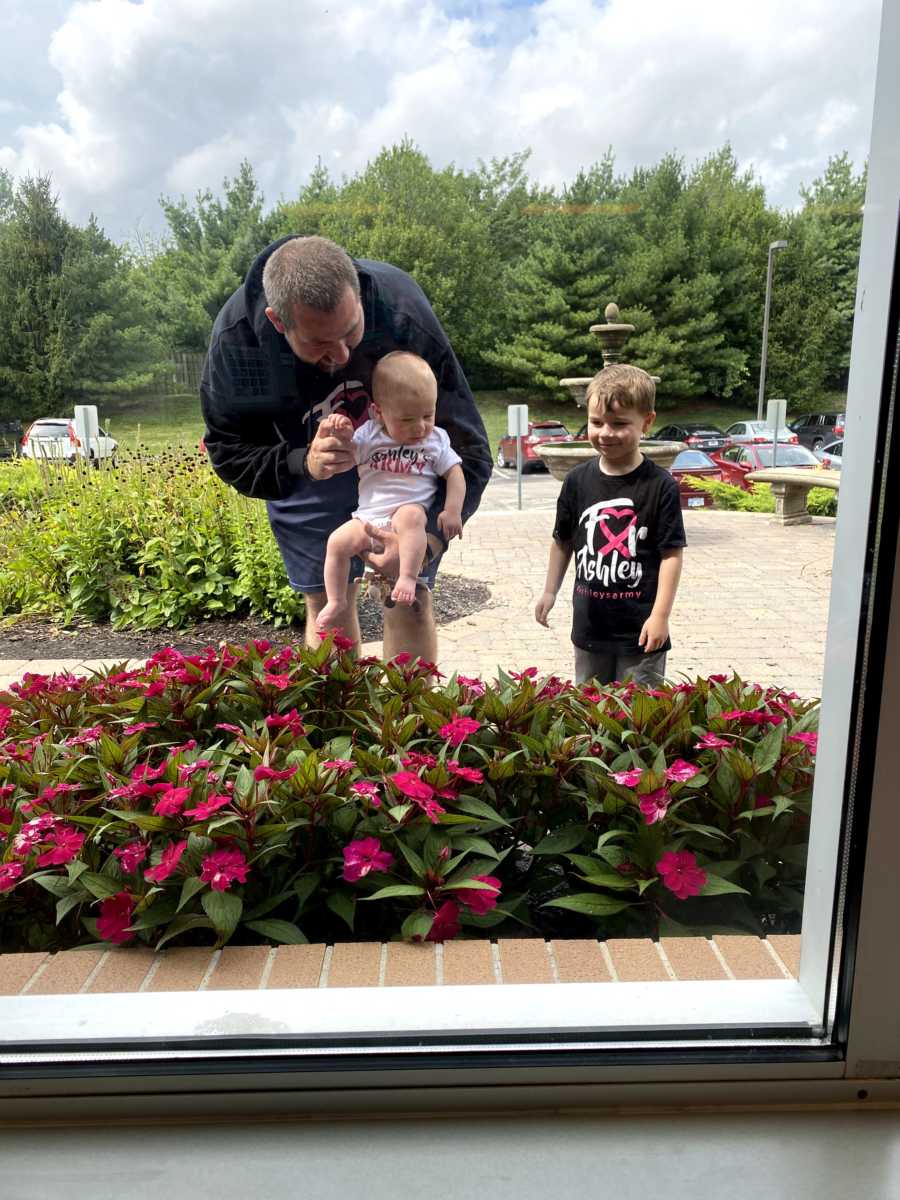 Cancer during a pandemic is the hardest thing I have ever done. But The generosity and kindness of our community, mixed with our hilarious four-year-old, make it so much easier to push through and stay positive."