"From the moment Stu and I met, I knew we would be together forever. Right after we said goodnight after our first date, we both knew we wouldn't be apart for long. We dated for 6 months before getting engaged and a year and half later, we got married. When you know, you know. Stuart and I were married on August 15, 2015. I always knew it, but never fully appreciated the beautiful life we lived together.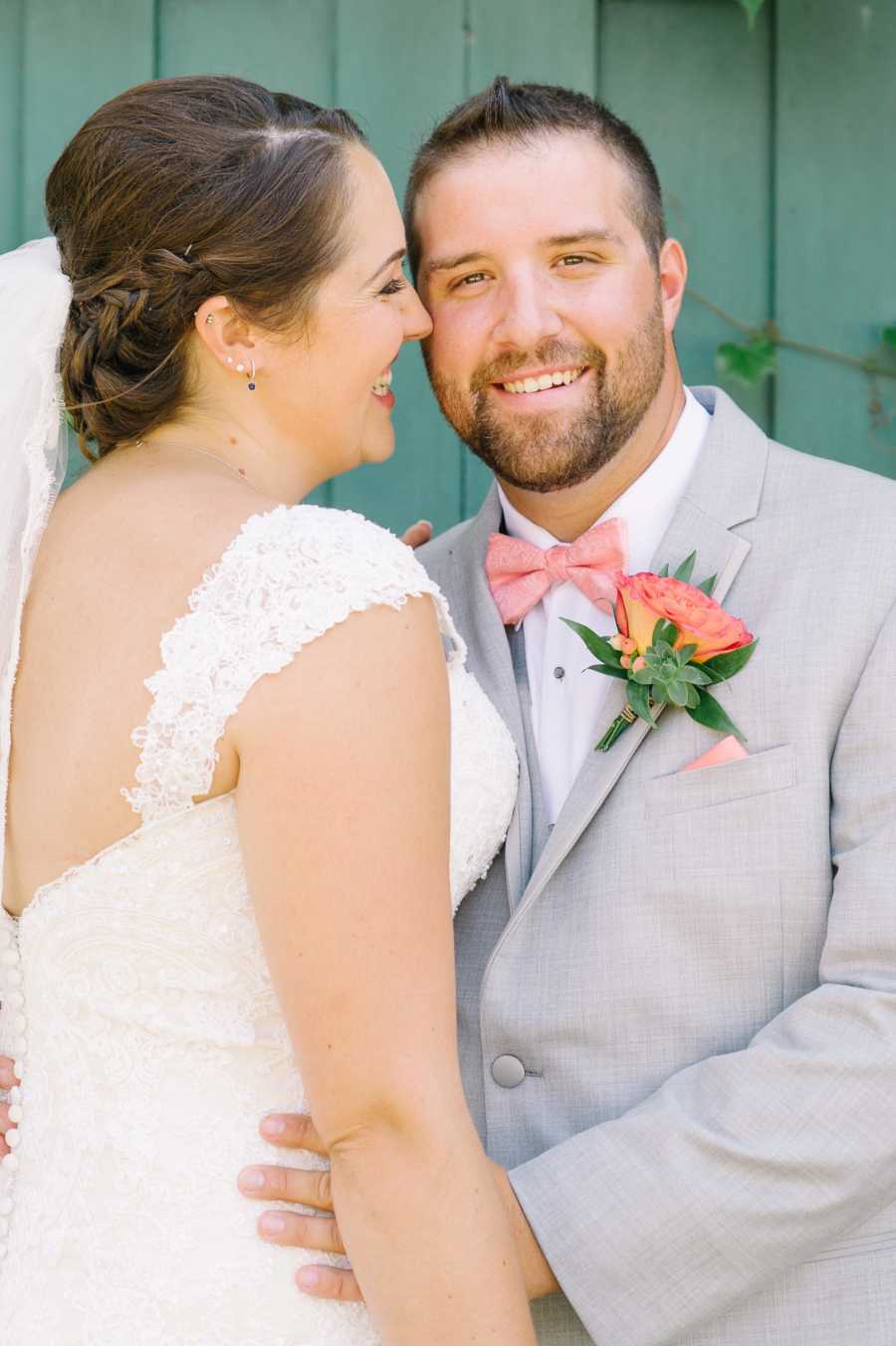 We always knew we wanted to start a family and on September 13, 2016 we welcomed our first son, Grayson John, who was the light of Stu's life. His son, his pride and joy – everything he did, he did for Grayson and I. He was truly the most amazing husband and father, working so hard for us to have the best life possible. Unfortunately, our forever was stolen from us and till death do us part came a lot sooner than it should have.
On Monday, November 13, 2017, my husband woke up early like he normally did for work, kissed me and headed out the door. Little did I know that at 5:45 a.m., 15 minutes before I even got out of bed that morning, he would be taken from us. Stuart was struck by an impaired driver while he was on his way to work as an electrician and was killed instantly at the age of 28.
I was home getting ready for work (I'm a Registered Nurse) and was busy getting my 14-month-old son ready for the day. My mother-in-law was in town staying with us to take care of him as my parents (my mom normally watched Grayson when I was at work) were out of the country at a conference. I headed to work, completely unaware my life had changed forever.
I sent my husband a text as I did every morning, telling him I was safe at work, asked if he was safe and told him I loved him – a text he would never read. Around 10:30 a.m. while at work, I received a frantic phone call from my mother-in-law telling me there was an emergency and I needed to come home right away. She wouldn't tell me what was going on and I could barely understand what she was saying, so I knew I needed to leave right then. I could hear my son screaming in the background, so I knew right away he was okay…it was right then I told a coworker I was sure something was wrong with my husband.
I got in my car to drive the 40 minutes home and used handsfree to call my mother-in-law back, demanding she tell me what was going on. She barely got out that the police had showed up at my door, there was an accident and Stu was gone. My world as I knew it ended right then. On the way home I called my mom, begging her to come home, my sister and some best friends, clearly shocked and sobbing. Many of them begged me to pull over and that they would come get me, but I just needed to get home to my son.
The rest of the day still feels surreal with friends and family showing up at my house and me having to tell them not only had Stu died, but I was also 6 weeks pregnant with our second child. I knew it was eventually going to get out in the media (I was right) and I didn't want them to find out on the news. It felt like an episode of Grey's Anatomy – this doesn't happen in real life – how am I a widow at 28?! How am I going to raise two under two on my own?! I didn't want to do any of this without my husband, but I wasn't given a choice.
If it weren't for my son or the miracle baby growing in my belly, I wouldn't be getting out of bed every day. Because of someone else's selfish decision to get behind the wheel impaired, mine and my kids' lives are forever changed. I can't grow old with the man I was supposed to spend forever with and my kids have to grow up without their amazing father. On July 20, 2018; without Stu by my side – I welcomed our second son, Coby Stuart – who is named for his daddy in heaven. Every day is hard, some are impossible. My grief will last forever. I push through one day, one hour, one minute at a time. Before kissing my husband goodbye for the last time, I promised him I would love our kids enough for the both of us and would always fight against impaired driving.
This is a picture of my husband holding our son Grayson on the day he was born. A picture he will not get to repeat. Because of someone else's selfish choice to get behind the wheel impaired, my husband has been robbed of the chance to ever meet his second baby.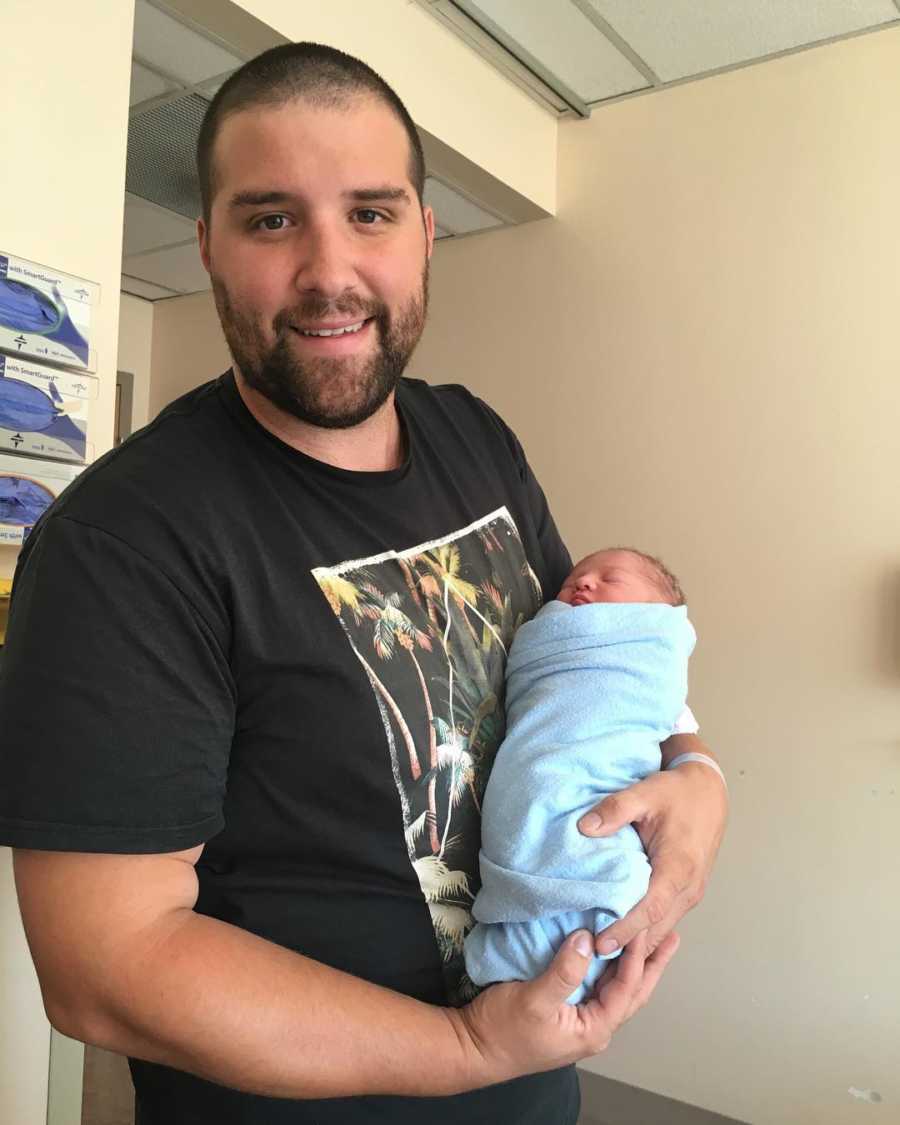 My children have had their father stolen from them and I no longer am able to grow old with the man of my dreams. My person. We will never get our picture taken together or get to enjoy any long weekends as a family of four. My son who was only 14 months old and the baby I was only 6 weeks pregnant with when their Daddy was killed, will not get to grow up knowing the man who loved them more than anything. So please, for the sake of every other family out there, find a safe way home! Please, if you spot or know of someone who is driving impaired (on land or on the water) call 9-1-1…you could save a life. Arrive Alive, Drive Sober. Even if our story just saves one life or one family from feeling the endless pain we are going through."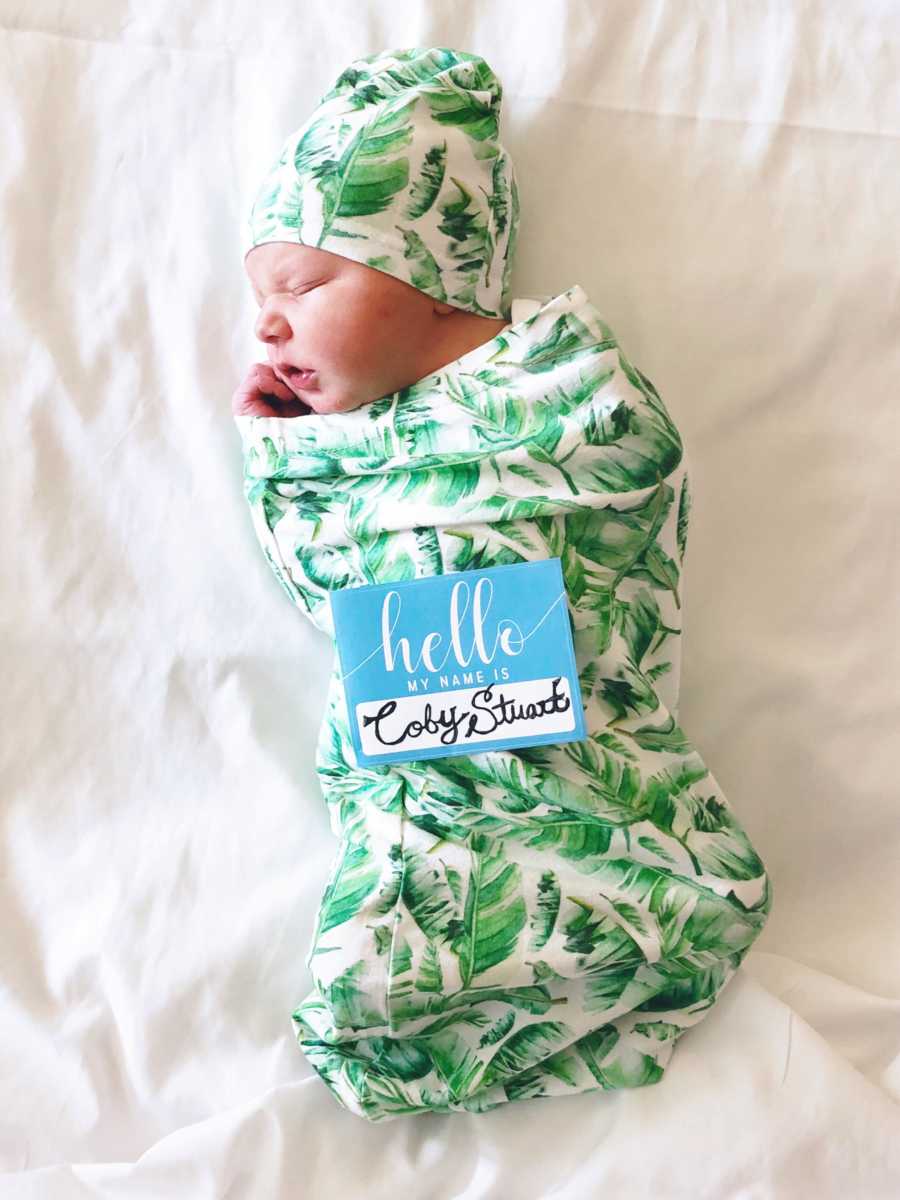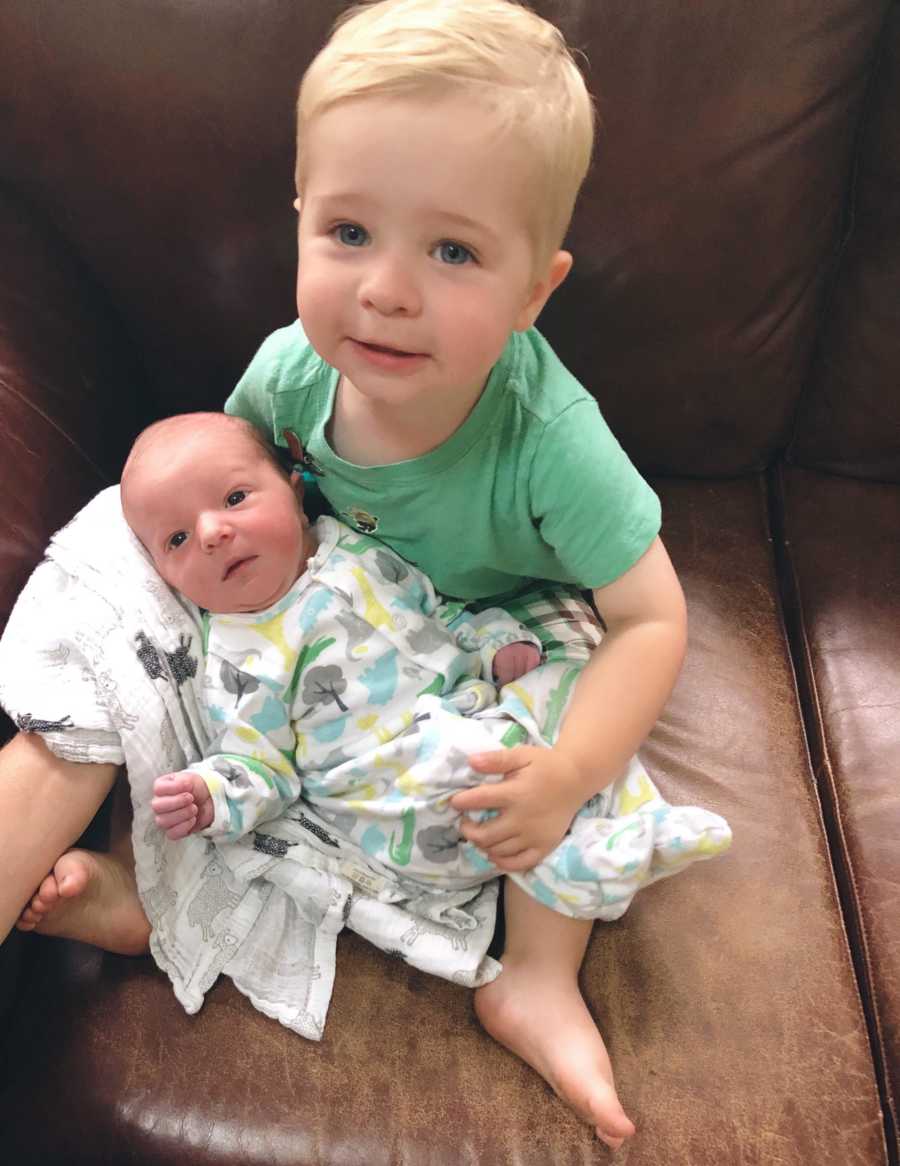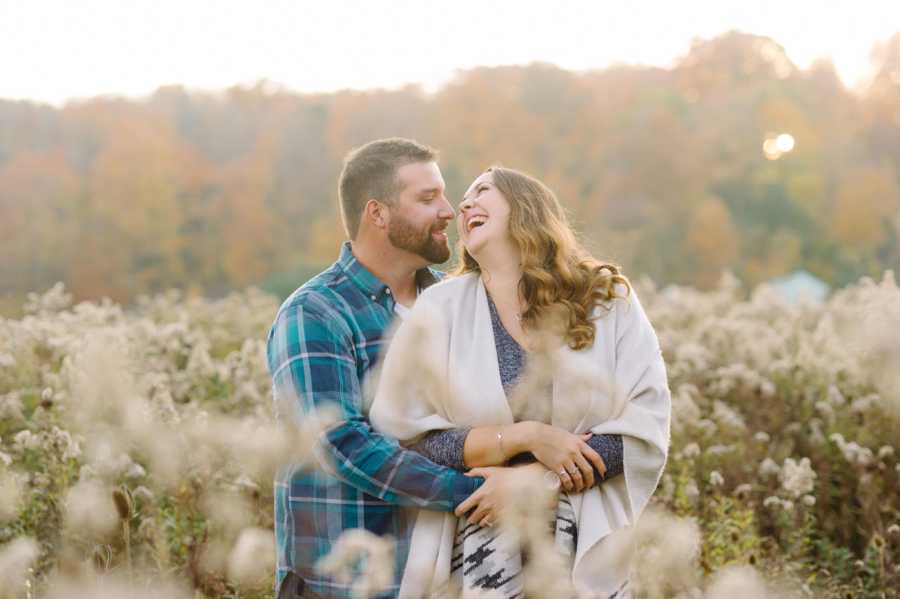 This story was submitted to Love What Matters by Justine Ellis, 29, of Beeton, ON, Canada.  Submit your story here, and be sure to subscribe to our best love stories here.
Read more touching stories like this:
'I was over-medicated, an emotionless zombie. I didn't know how to celebrate without him. This year, I FEEL.': Widow shares feelings on holidays while grieving, 'Finding a new normal is weird'
'I just got followed on Instagram by my high school sweetheart.' I always thought if we were meant to be, we'd come back to each other.': Widow reconnects with first love, 'Love found a way to win'
'Of course you're OK!' He's 36, the prime of his life! 'We don't need sirens.' Halfway there, the sirens turned on.': Widow shares grief journey, 'This won't define our family'
Please SHARE this story on Facebook to encourage others to cherish every moment and love what matters most.