This is a follow-up story to Shannon's ongoing grief journey. To read the full back story please click here.
"Recently it was Easter, the first holiday without Kinsley. It was a weird Easter, given the times we are in. Even with Kinsley, it wouldn't have looked or seemed like a normal Easter anyway. The kind of Easter where everyone gets dressed in their Sunday best, the kids doing their egg hunting, and spending the day visiting with family. Yeah, that wasn't the Easter we had and judging by Facebook, it looks like everyone made the best of the situation, including us.
Everyone kept texting and telling us they love us, they are thinking of us, and they know how hard Easter is going to be. I guess, going to bed Saturday evening, I expected to wake up feeling this unimaginable pain and I wasn't looking forward to it. I mean, haven't I suffered enough? How much more pain can I feel before I actually die from a broken heart? I didn't even want to wake up. If it were up to me, I would have just skipped Easter entirely but my mom instincts kicked in. I forced myself awake, got out of bed, put out the Easter baskets, set up the scavenger hunt, and took my coffee on my deck. The birds were chirping. It was a chilly morning, the dew had covered everything like a blanket, but I was cozy in my Sandvik hoodie and warmed by the steaming hot coffee, it was a moment of peace. A moment that I could get in tune with my feelings. I drank my coffee and cried, like every day since February 14th.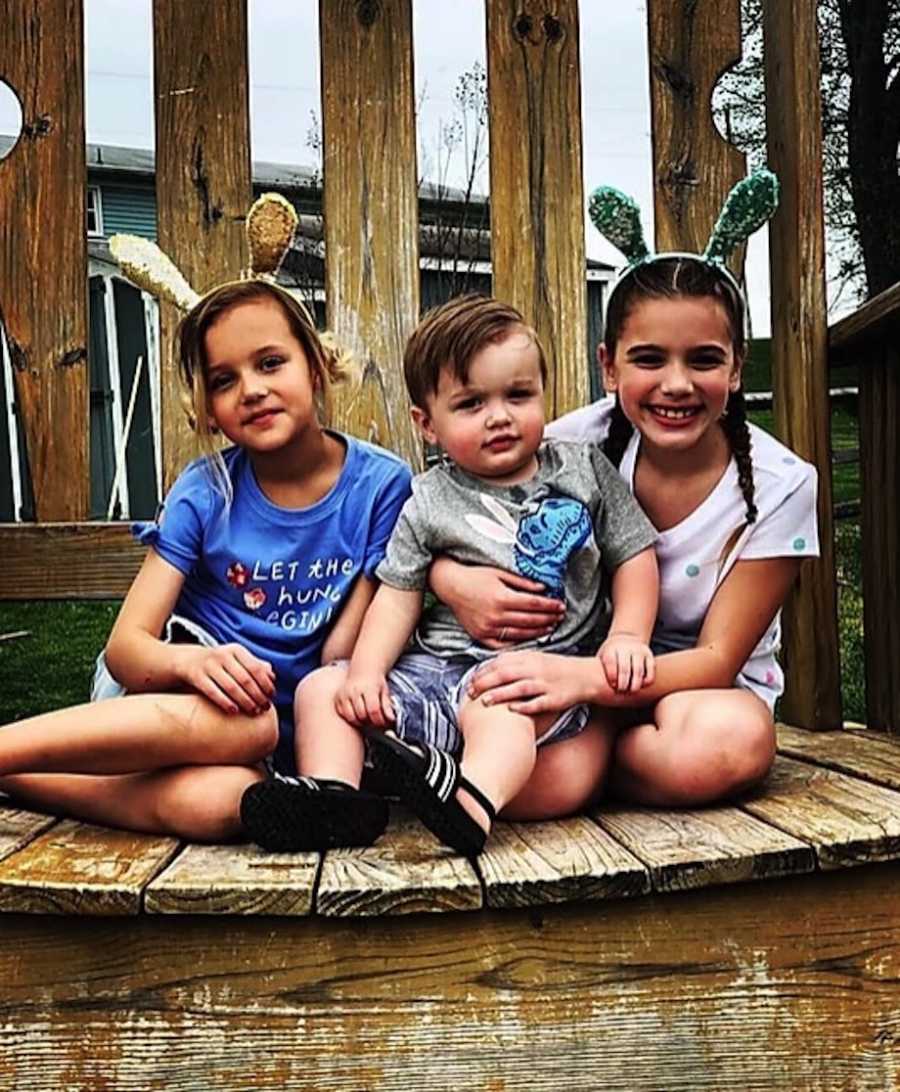 Like I've mentioned before, every day is a battle of emotions. I experience joy in my heart when I watch Ford come down to see his Easter basket or watching him do his egg hunt. He is at such a good age and everything is just so damn exciting for him. It's really awesome to watch and the girls working together to complete the scavenger hunt. Watching them have a lot of fun together makes me feel good too but that feeling of happiness is counter-acted with overwhelming, intense sorrow I feel for Kinsley, for Ford, for the girls, for us not having her here.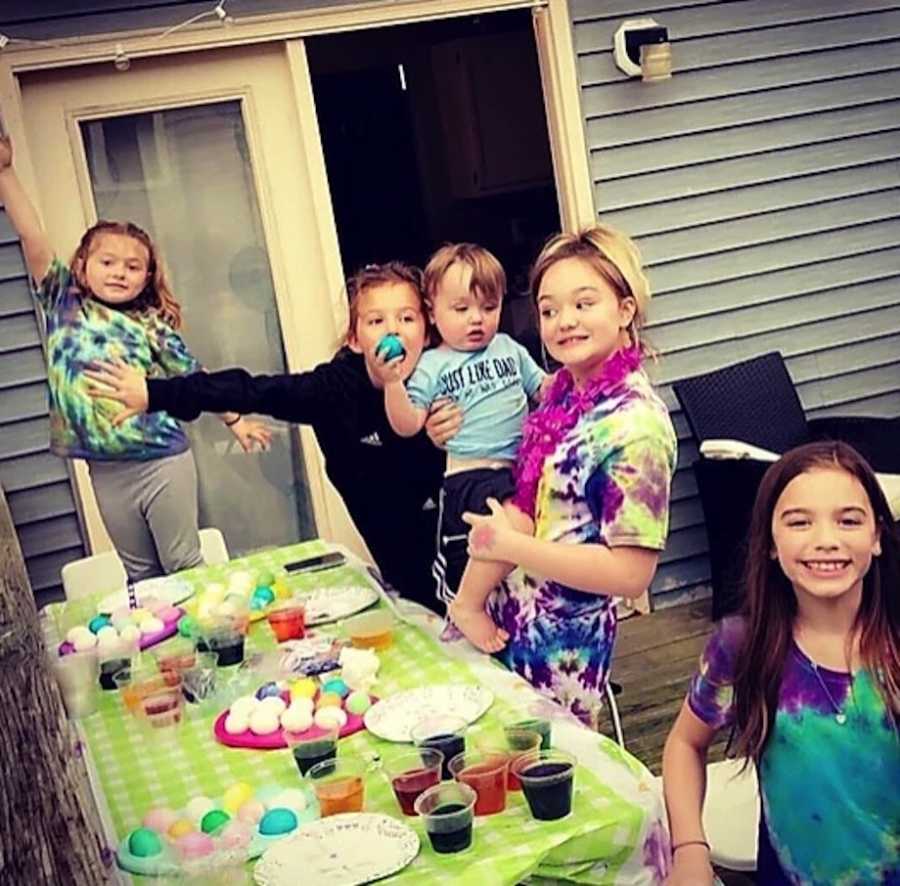 I got the kids dressed in a cute outfit and did the girls' hair. Ford looked just like a little man. My heart was breaking to see how grown all of them look. While I was curling Ava's hair, she said, 'Kinsley was so pretty, I wonder what her outfit would have looked like. I always loved the way she dressed!' My heart dropped in my stomach and I thought to myself 'me too.' For that second, I had to push back the wave of emotions flooding to the forefront of my mind.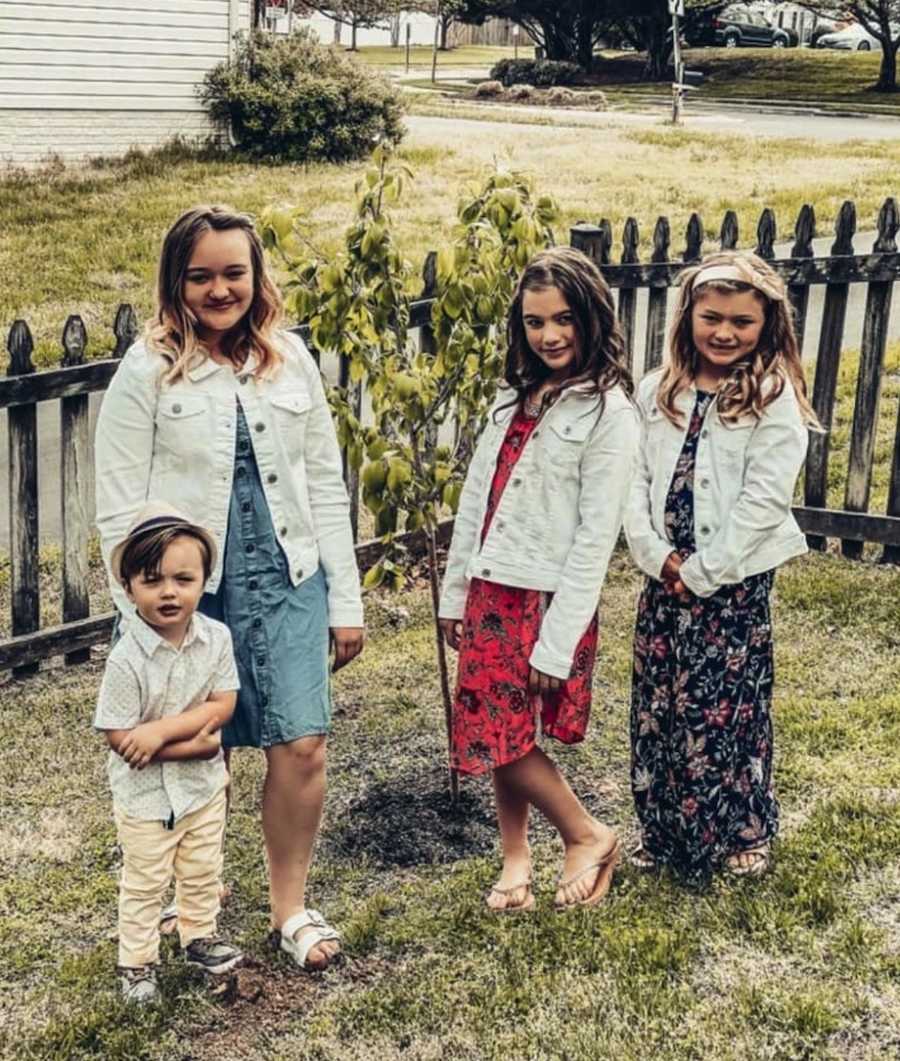 The day prior, we did a lot of yard work. A cherry blossom tree was donated in Kinsley's honor from a family at the school, so we planted it. I have found a lot of peace in gardening and yard work since Kinsley's death. My husband even built me a raised vegetable garden. Easter morning, I took the kids outside to Kinsley's tree to take their picture by it. The symbolism of this tree gives me hope, hope to know that it would grow each year, just like all the kids and just the way, Kinsley would have. I look forward to watching the tree grow and forever taking their picture by it even when the children are grown.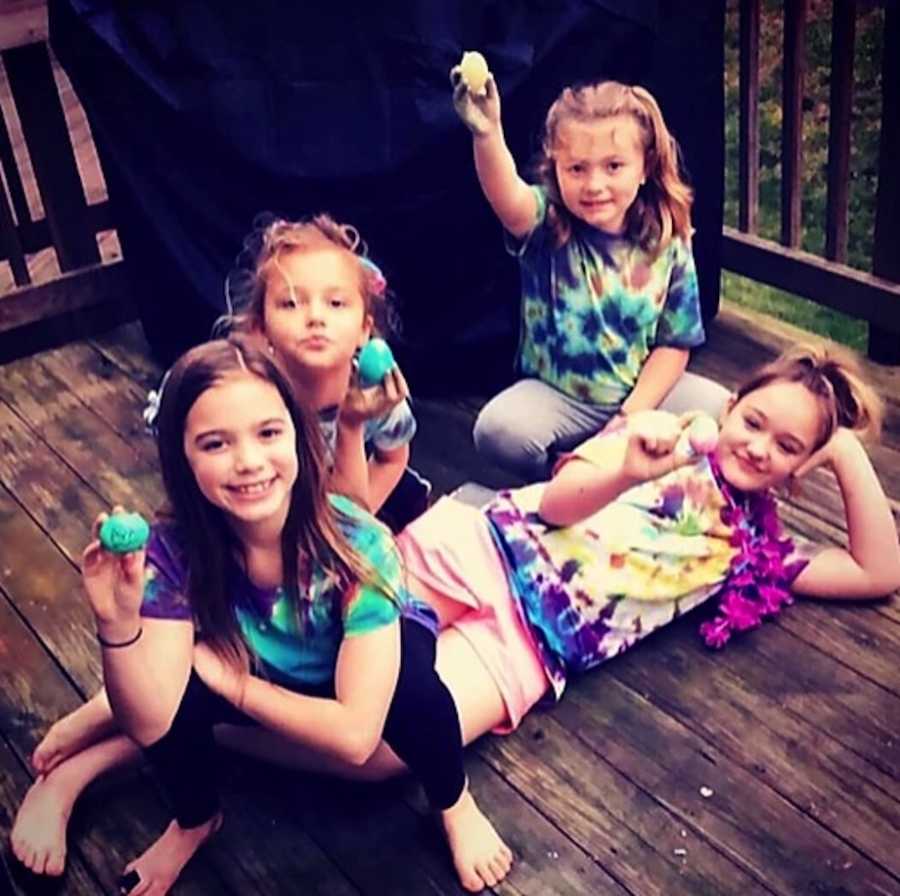 My husband and I, on the other hand, looked like we rolled right out of bed for the entire day. We both kept on our Kinsley Sandvik hoodie and couldn't bear to get in a picture. Our picture-perfect family really isn't picture-perfect anymore. I wanted nothing to do with getting dressed and putting on make-up, so I didn't. Throughout the day, both of us went to visit Kinsley separately. After Ava and Ry left for the day to spend the rest of Easter with their moms, I went to visit Kinsley. When Ava and Ry leave, there is an emptiness in the house. Their presence usually masks some of the stillness and deafening silence Kinsley's death has created in our home. I drove up to Kinsley's grave, blasted music, and sat by her. We talked for a bit and I told her how different every day is without her and how much I missed her. In the middle of drowning in my own tears, I look up and see gummy worms on her wreath. I giggled and thought to myself, Kinsley even now has a way of making me laugh.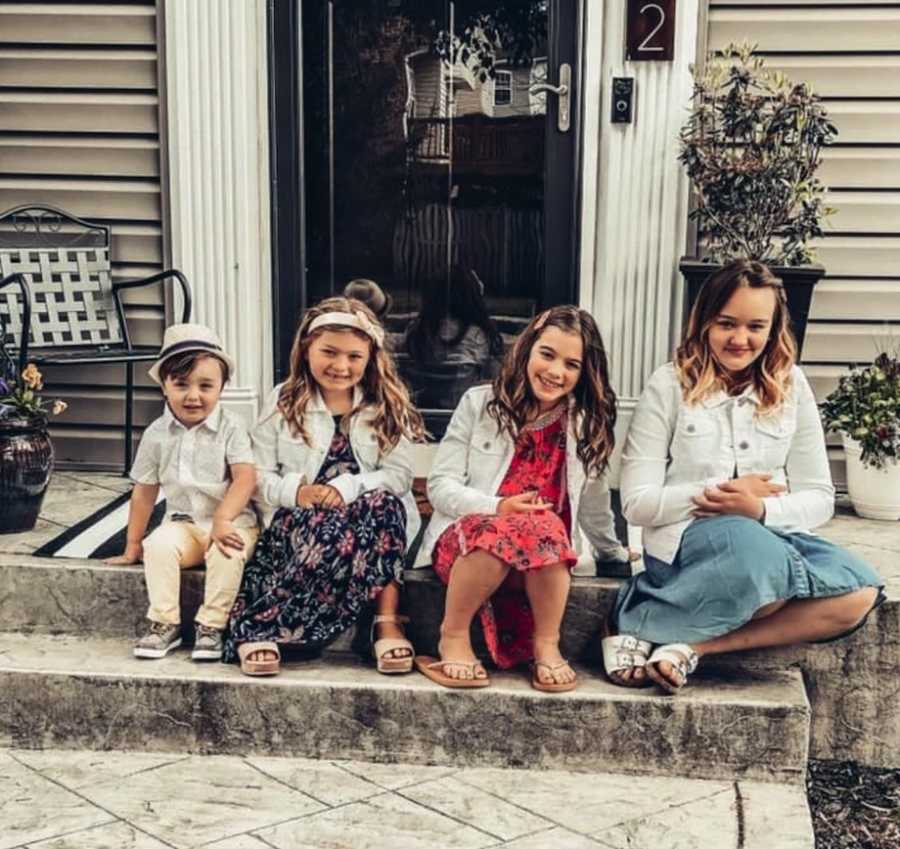 At the end of Easter day, I laid down and reflected on the day. I figured out a few things. First, that Easter, Christmas, Fourth of July, Memorial Day, and Halloween are just another day. What those days used to look like for our family won't ever look or feel that way again. We have two new traditions for those days: pictures by the tree and an extra stop to visit our Kinsley. The second thing is, I felt no different on Easter than I did on Tuesday. Waking up each day since February 14th, I have felt the exact same. Empty and lost. Yesterday was no different and she was missed just as much yesterday as she has been each day since she left us."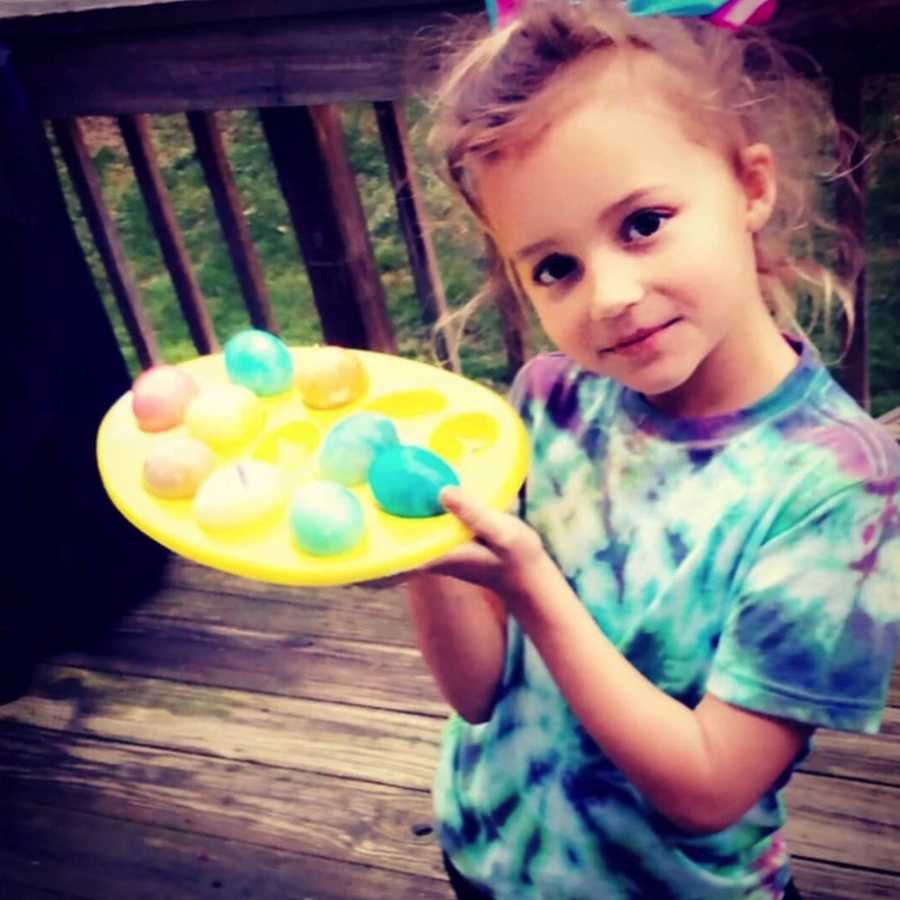 This story was submitted to Love What Matters by Shannon Sandvik. Follow her journey on her website here and Instagram here. Do you have a similar experience? We'd like to hear your important journey. Submit your own story here. Be sure to subscribe to our free email newsletter for our best stories, and YouTube for our best videos.
Read more stories from Shannon here: 
'Her eyes looked up at me in panic. 'Mommy, it's blood.' We were just in the ER and everything said she was fine. My stomach about hit the floor.': Family says goodbye to their 'forever Valentine' after battle with flu
'We were at dinner when I said, 'Hell, give me another drink. I may take up smoking too.' Kinsley was as healthy as a horse and in a week span, she was dead.': Mom loses daughter unexpectedly to flu
'She constantly pissed us off. Lord, did she stir up drama. Now, I'm pissed there will always be an empty seat. The family dynamic has been rocked.': Mom continues to make memories after daughter's passing, 'We are going to find something to smile about'
'Be grateful all of them are in one house alive and healthy, because mine aren't. The fighting used to annoy me. Now, I'm glad they're even here to fight.': Mom says 'they will remember what you do during this quarantine'
'We won't get to take fireball shots together when she turns 21. She'll never get to drive the red jeep with no doors that she wanted. We were robbed.': After losing daughter to flu, mom is reminded that 'love is permanent'
'Ms. Kinsley, we're gonna get you cleaned up now.' It was time to turn off her machine. My husband leaned in to hug them, tears streaming down his face.' Woman thanks nurses and doctors for their 'selflessness' during daughter's final moments
Do you know someone who could benefit from reading this? SHARE this story on Facebook with family and friends.