Disclaimer: This story mentions child loss and may be triggering to some.
This is a follow up to Taylor's original story, which you can find here.
"On August 22, 2018, my husband and I became parents for the first time to a 7lb 8oz, perfect baby boy, Finn Benton Pope. My husband loves to say that Finn was born with a comb over; he had the most perfect head of hair to add to the rest of his unworldly perfection. Unbeknownst to us, under that perfect head of hair, was a ticking time bomb waiting to erupt.
On July 23, 2019, 11 month old Finn woke screaming, and after our attempts to calm him, he went limp in my arms. After an ambulance ride, care flight, and a week long ICU stay, it was discovered that Finn had a brain aneurysm that ruptured. His perfect brain, under that perfect head of hair, had gone without blood for too long; leaving our perfect baby boy brain dead. Our hearts, our hopes, our lives were shattered. A world without Finn was no world for us.
The weeks following were a blur of shock and pain that could be felt in every fiber of our beings. We stayed in our bed, hoping and praying to drift away in our sleep, only to wake day after day to the nightmare once more. We were fortunate to have an entire community rally around us and keep us going by honoring Finn and his gift of life by hosting a huge softball tournament in our hometown. Following the tournament and just two months after Finn's passing, God delivered a blessing that would give us purpose again – an unexpected pregnancy. I hoped and prayed that this heaven-sent child would ignite life in us once more; a baby girl, whose name we knew immediately, Finley Blake.
The pregnancy was thankfully uneventful, but brought on new pain for me as I tried to wrestle with the agony of a life without Finn and the idea of a new life, that wasn't him. My husband was, and remains, the best dad I have ever seen, and in losing our baby boy, I nearly lost him too. He was understandably disconnected and less than excited at the idea of a new child. From our first doctor's appointment and learning Finley's due date of June 6th, I knew in my heart that Finley would arrive on her dad's birthday, June 2nd. I was hopeful that shared birthday would be just the beginning of a special connection between them.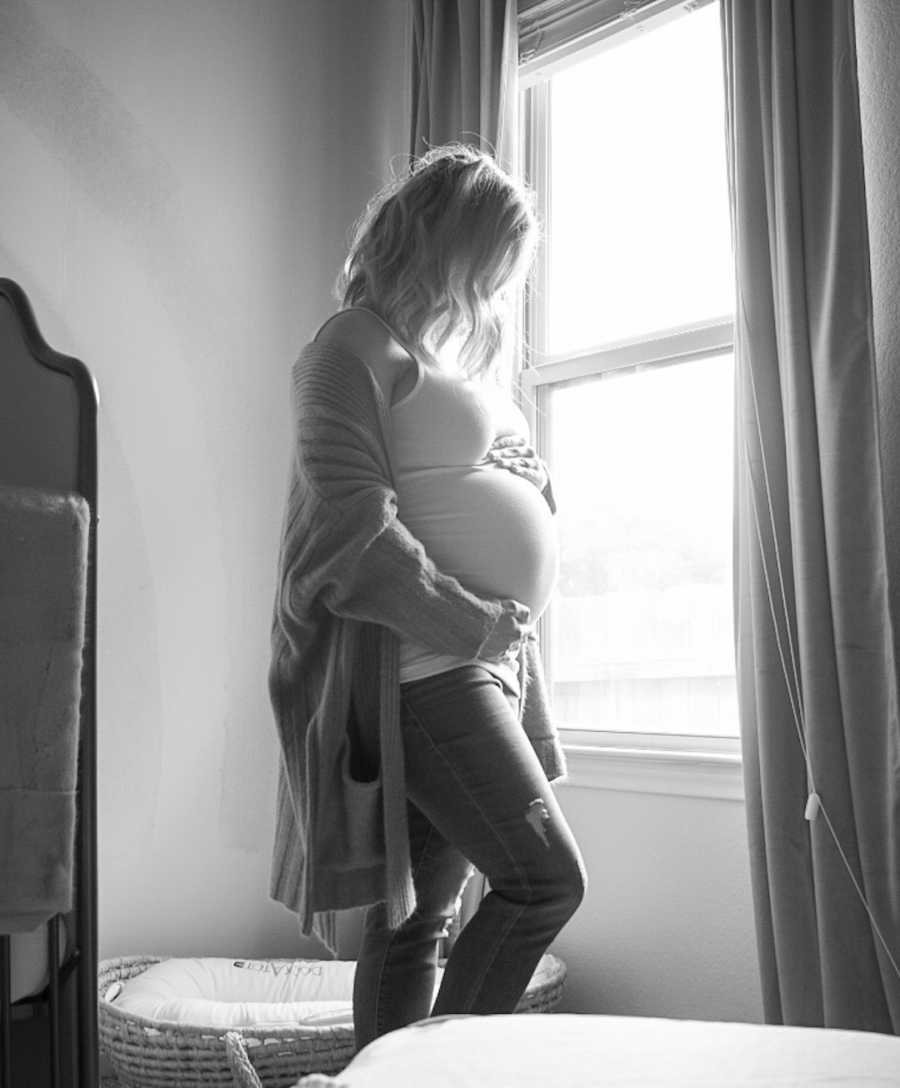 When we arrived at the hospital to begin our induction on June 2nd, the nurses were pleased to find I had already started laboring. Finley, induction or not, would be arriving that day. Our beautiful baby girl, who I coined our moon throughout the pregnancy, in hope that she would provide light in the darkness, was born at 9:42 p.m. on her dad's birthday. Her dad was tearful and triggered by the entire birth scene and remembering our Finn. It would be days before he connected with Finley. I, on the other hand, held her in my arms and felt alive once more. Her eyes, just like her brothers, looked up at me. She needed me, but God knows, I needed her so much more.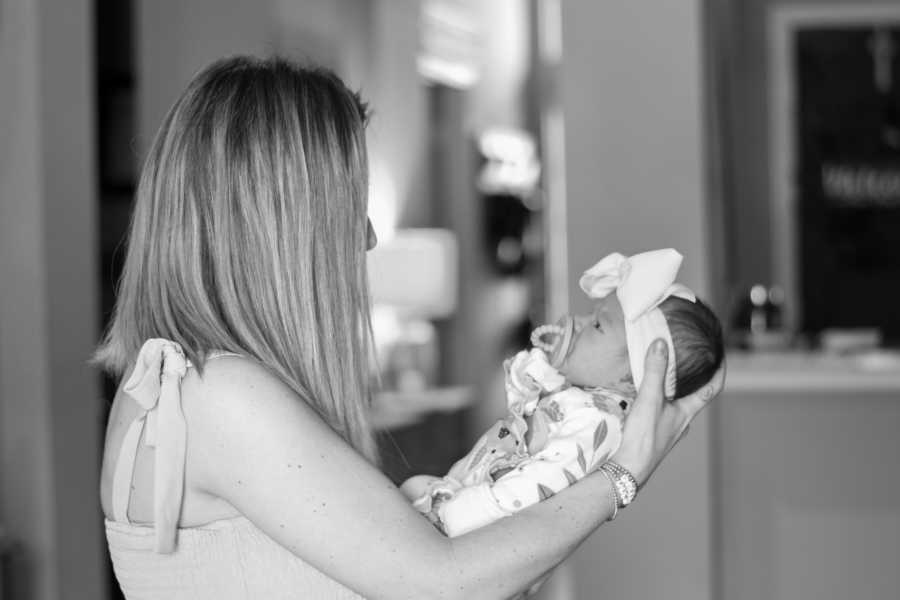 I didn't sleep. I couldn't sleep. 72 hours straight I watched her chest rise and fall, rise and fall, rise and fall. Nothing prepared me for the fears and intrusive thoughts that overwhelmed my mind and never stopped. We, despite genetic testing showing no ties to Finn's aneurysm, chose to have a CT scan done on Finley while we were still at the hospital. Some of the longest hours of my life. The nurses knew our story and were the support system I needed when I panicked after Finley was gone longer than expected. Thankfully, the CT scan showed a perfect brain, and we were given some peace of mind.
Throughout our entire journey since Finn died, my husband and I have had this seamless balance. When he is sad and breaking, I am able to be strong and stable. When I am broken and hurting, he talks me off the cliff. Finley's arrival proved this balance once more, as we traded places upon arriving home. He connected with our baby girl, and my heart began breaking all over again. Arriving home with Finley brought on all the pain of losing Finn. Feeling that love and holding a newborn in my arms was all a painful reminder of what we had lost, and I felt like I was losing Finn again. The most triggering of moments were the quiet ones when I would rock Finley in her chair as she slept on my chest. That was my Heaven on earth minus one perfect baby boy and huge piece of my heart. When you lose a child you don't just lose them in that moment, but in every moment that follows. Having another child meant reliving all those precious moments I had shared with the one that came before her.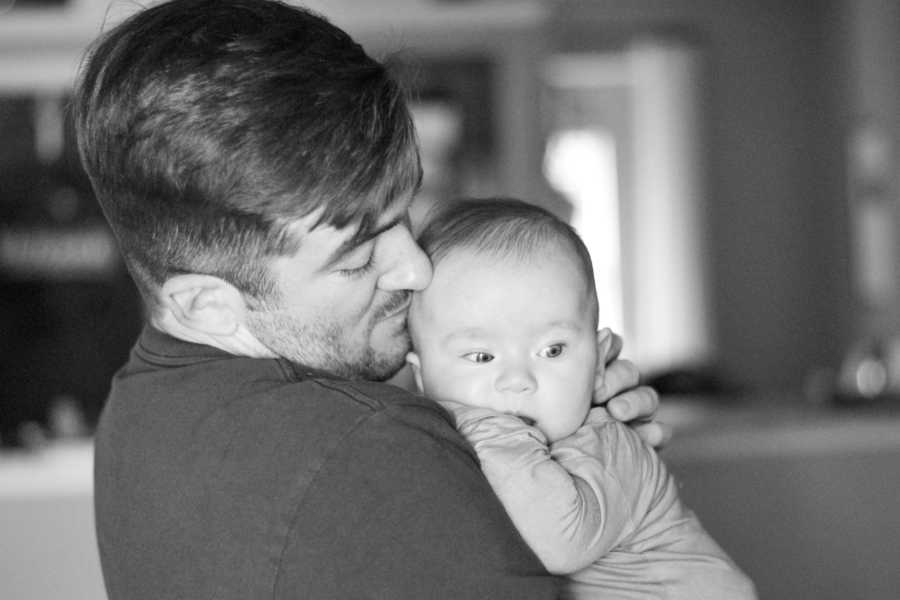 A pivotal moment for me, and one I will never forget, is when my husband came to my side during one of my breakdowns. As I held newborn Finley in my arms, he shared his heart, unprompted and said Finley had brought him joy and purpose again, and in that moment, I knew we would be okay.
When Finley was 6 months old, we moved back to our hometown and left the home we shared with Finn. This, although so difficult, was the best move for us to be able to move forward in our grief journey. Parenting after loss is difficult, so being closer to friends and family and their strong support has helped immensely. Moving from our home with Finn was hard, but it was more difficult to remain there where a look into his bedroom sent my heart racing as I remembered his lifeless body in my arms. The home we moved into had the perfect space for him; a sunroom for our sunshine, a space we devoted to him and his memory. Having that room and a plan to incorporate him helped ease the pain of moving.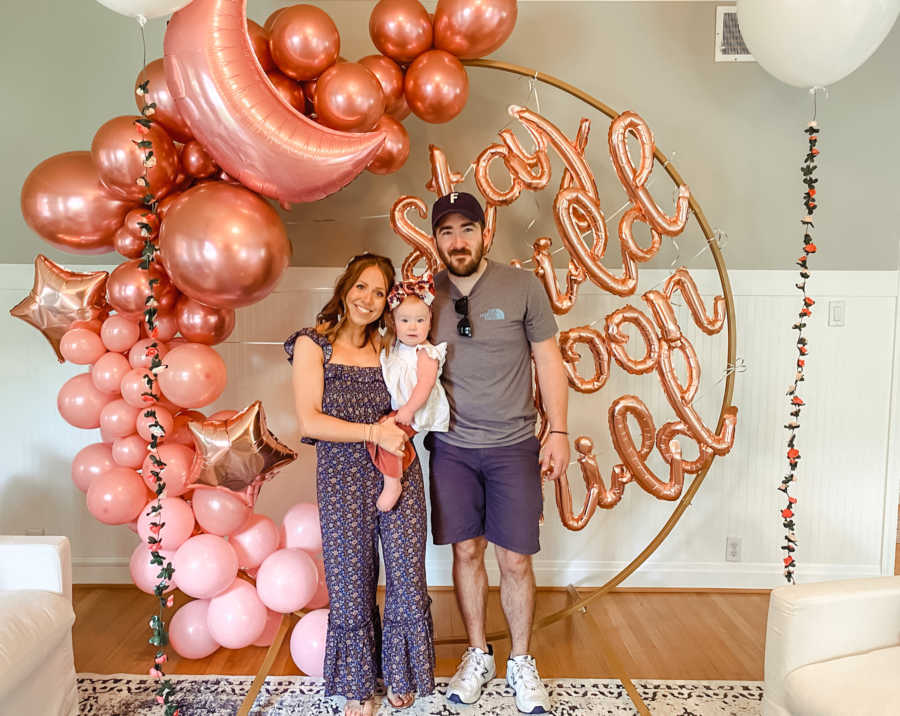 The next difficult milestone in our parenting after loss journey was Finley passing her brother's forever age and hitting new milestones like walking and talking. A friend and sister in child loss told me she felt the weight lift after that moment. I was disappointed to not have that same weight lifted, but it was a reminder that all grief journeys are their own. For me, the weight and constant fear lifted on the day of Finley's first birthday party. Days before Finn's aneurysm ruptured, I had sent invitations to his first birthday, a birthday party that would never happen. So the fear that I felt around planning a first birthday was all-encompassing. Once we arrived at that day, I could feel myself, for the first time, truly believe that we get to keep her; that she is here to stay. Her birthday party was easily one of the best days of my life. Maybe she could feel that lifted weight and the joy in my heart because she completely lit up, and my usually shy baby girl was basking in all of the attention.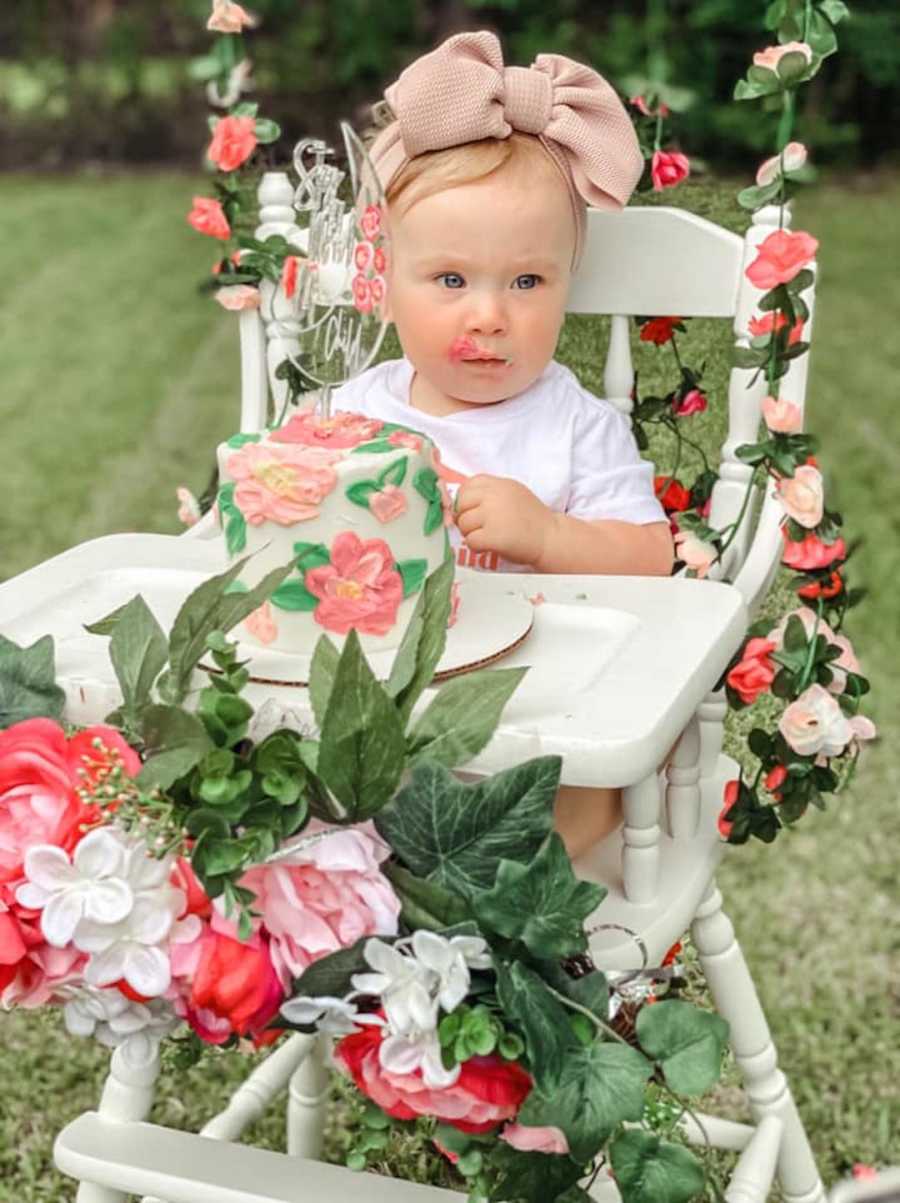 We just recently returned from our first family vacation with a child. A vacation I dreamed of taking Finn on; a trip to the beach. It was beautiful, but painful. But Finn always knows when we need him most and sends the most encouraging signs that even the biggest sceptic can't deny. During our last morning, I set up my tripod and took family pictures. When we took out Finn's picture, my husband pointed to a rainbow in the sky. I held up Finn's photo with the rainbow and snapped a picture. It wasn't until I later shared the picture on social media that so many pointed out the face, Finn's face, in the sky. And that was all I needed to see to know that we didn't go on our first family vacation without him, he was there; he's always there.
When we first lost Finn, I remember hearing somewhere that joy and pain could co-exist, and since then, I've been on a quest to see if that is possible. I'm happy to have arrived into the existence of those two emotions. They can, in fact, exist and most days, the joy outweighs the pain as Finley lights up areas of our hearts and lives that I was afraid would remain dim forever. Our moonchild, our hope, our rainbow. She is everything we needed. A demanding, firecracker of a baby girl whose spirit ignites us and gives us a reason to look forward, instead of just behind."
This story was submitted to Love What Matters by Taylor Pope from Hillsboro, TX. You can follow her journey on Instagram, TikTok, and her blog. Submit your own story here, and be sure to subscribe to our free email newsletter for our best stories, and YouTube for our best videos.
Read more stories like this here:
'I whispered to myself, 'It's going to be okay.' The silence in the room was deafening. I held my breath as the wand slid over my stomach.'
'Only 2 weeks after Rosie's due date, we discovered we were pregnant. I had to give myself permission to embrace my beautiful son, while holding Rosie's in my heart forever.': After loss of daughter, mom braves difficult rainbow baby pregnancy
'We need to dislodge the baby. It's stuck in the neck of your womb.' The gynecologist took me into a room. I felt physically sick.': Mom births miracle rainbow baby after miscarriage
'You alright, mama? It's a beautiful day!' He was right. We were about to meet our angel baby.': Mom welcomes rainbow baby on exact same day she birthed stillborn year prior, 'The most special sign I've ever received'
Provide beauty and strength for others. SHARE this story on Facebook with friends and family.