"My husband and I welcomed our first baby, Finn Benton Pope, on August 22, 2018. He weighed a perfect 7 pounds 8 ounces and was 20 inches long. I didn't grow up in a Christian household and had always struggled with where I stood with religion; however, as soon as Finn was placed in my arms, all prior questions of religion suddenly disappeared. One look at our baby and I was assured there was no explanation for his perfection other than God himself.
Austin and I embraced parenthood with everything we had, pouring all our hopes and dreams into our sweet baby boy. Dreams of being the mom yelling in the stands as Austin coached Finn in baseball. Dreams of many Christmases, birthdays, a wedding where Austin hoped he'd secure his place as Finn's best man. We poured our everything into giving him the best life. Nurturing him, loving him, cuddling him, teaching him, and soaking up every little nuance that made him our perfect baby boy.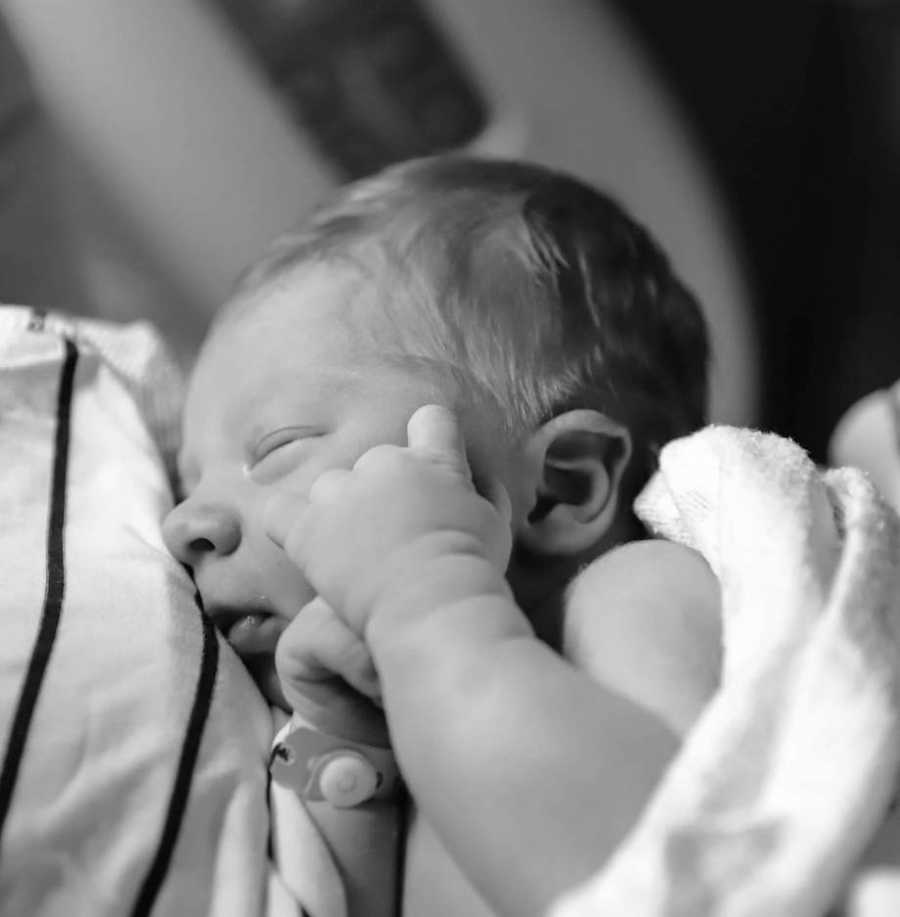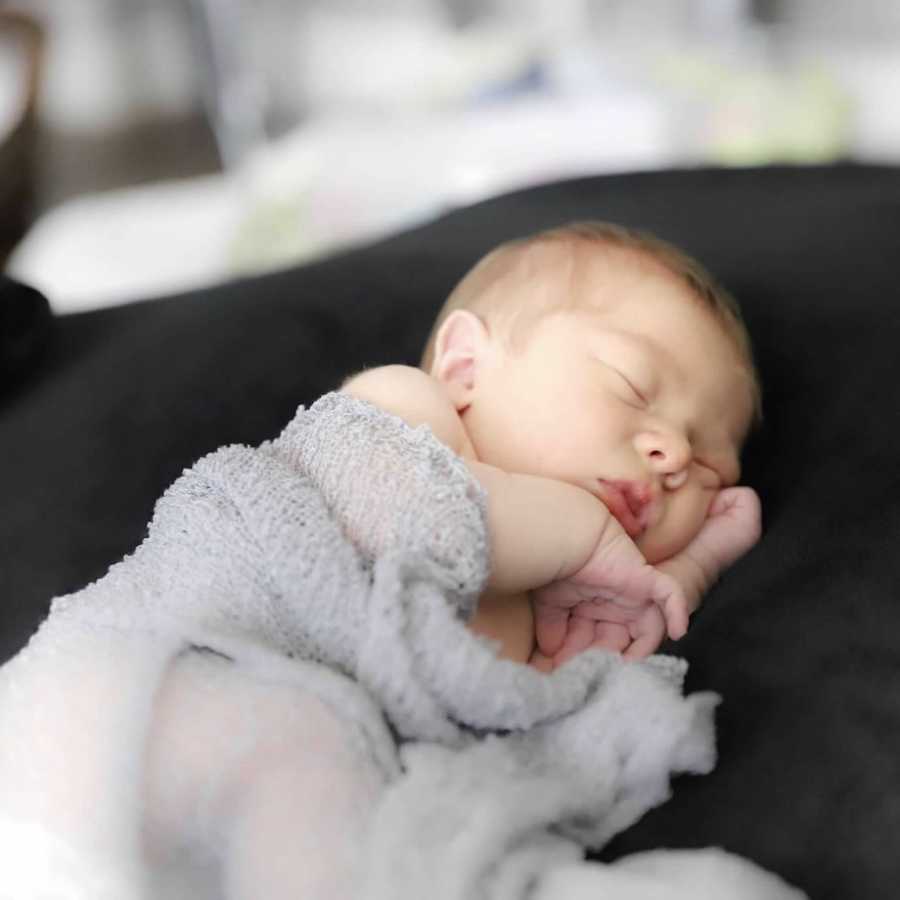 Finn made being a parent so easy. He was such a relaxed baby and rarely cried. He was constantly smiling and had the sweetest belly laugh. He enjoyed playing in the water and watching the family dog run wildly. He loved to eat and would rock and mumble excitedly when a food really appealed to his taste buds, especially watermelon. He had the sweetest, flick of the wrist wave and gave the absolute best cuddles, enjoying his daily naps in my arms. He enjoyed bathtime, our nightly routine of his bath a book, and a prayer before I'd kiss him goodnight and lovingly say, 'Sleep tight, Mama loves you. Goodnight.'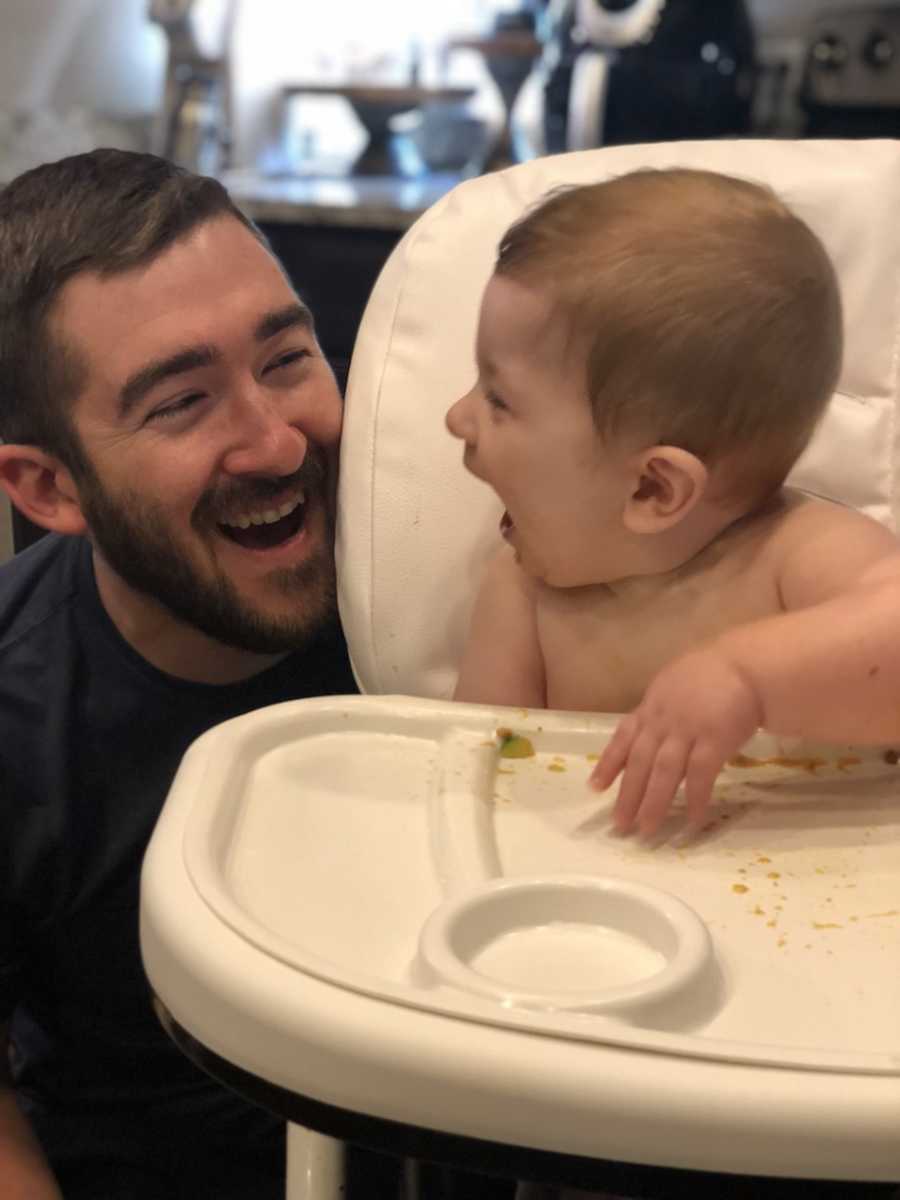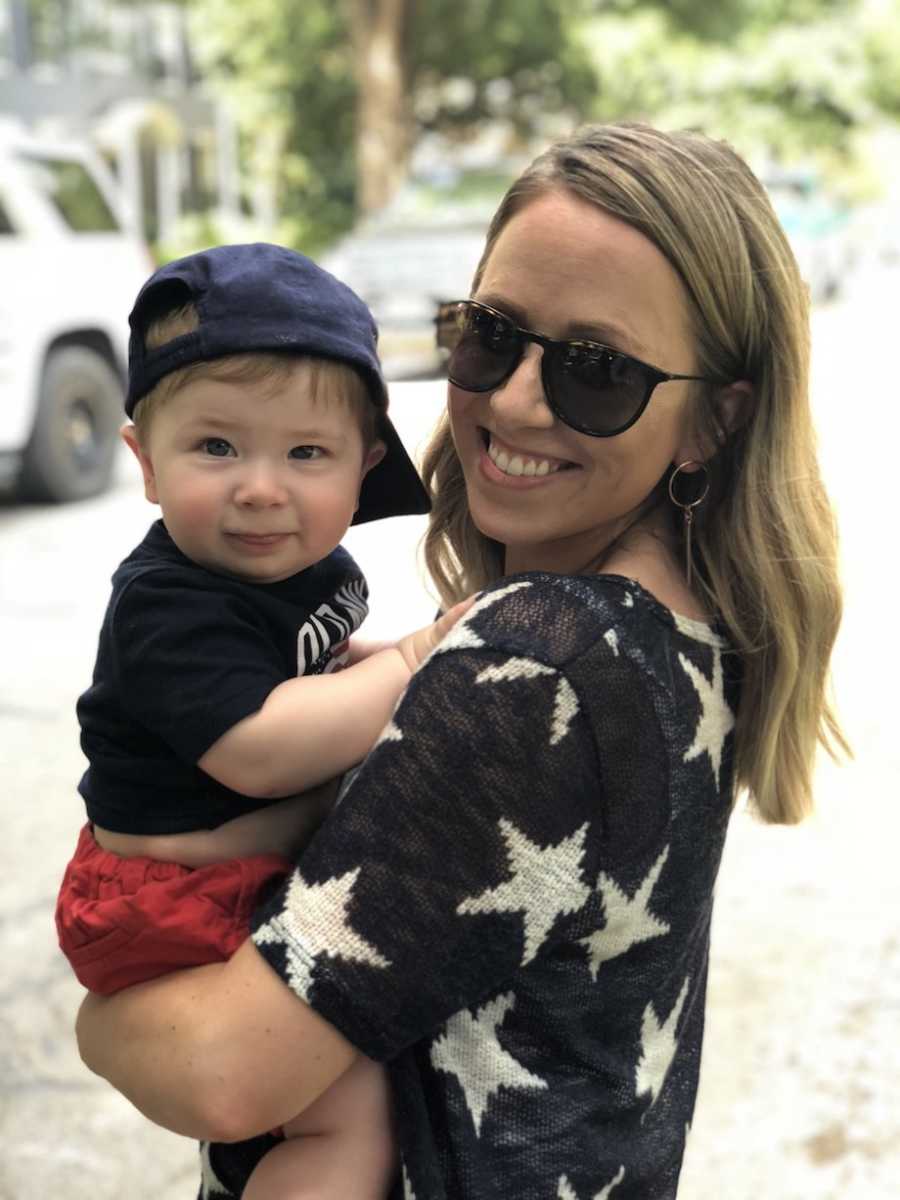 At the time of Finn's arrival, I was a devoted middle school teacher. After 12 weeks at home with Finn, I returned to the classroom. But after only a few months and difficulty pumping and balancing my love for my baby and the heavy workload of a teacher at a struggling school, I felt God tugging at my heart to stay home with my baby. With only 3 months left in the school year, I made the decision with the full support and encouragement of my husband, to resign from teaching and stay home full-time with Finn. I am so thankful God led me to this decision. I didn't know then that time I gained with Finn would have to carry me over for a lifetime. Being a stay at home mom became my everything, and I thrived learning how to create routines and fun activities for Finn. Finn was growing and learning so quickly and I was determined to raise him in the most loving, enriching environment. Finn was thriving. Along with meeting all developmental milestones, he had never even been sick. He was growing into quite the healthy chunk, thanks to his love for breastmilk and all other food.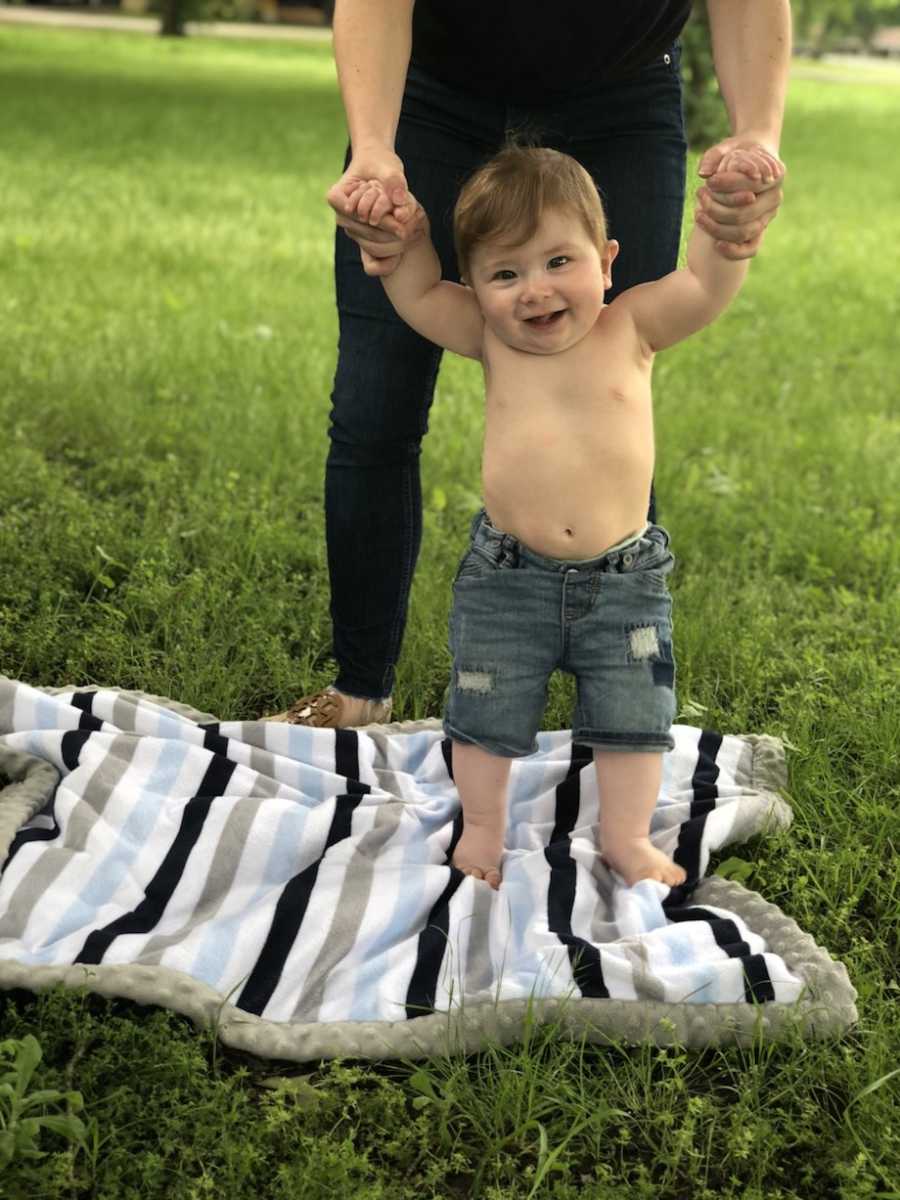 A day before Finn turned 11 months, I noticed Finn tugging at his ear and becoming cranky in the evening. I immediately suspected an ear infection. I scheduled an appointment with his pediatrician and 2 days later, Austin and I took Finn in for a check-up. An ear infection was quickly ruled out and after inspecting his mouth, the pediatrician discovered Finn was cutting five teeth. We all felt this was the very obvious explanation for his fussiness and ear tugging. We left the office after Finn waved goodbye to his pediatrician, and she declared him to be 'perfect.'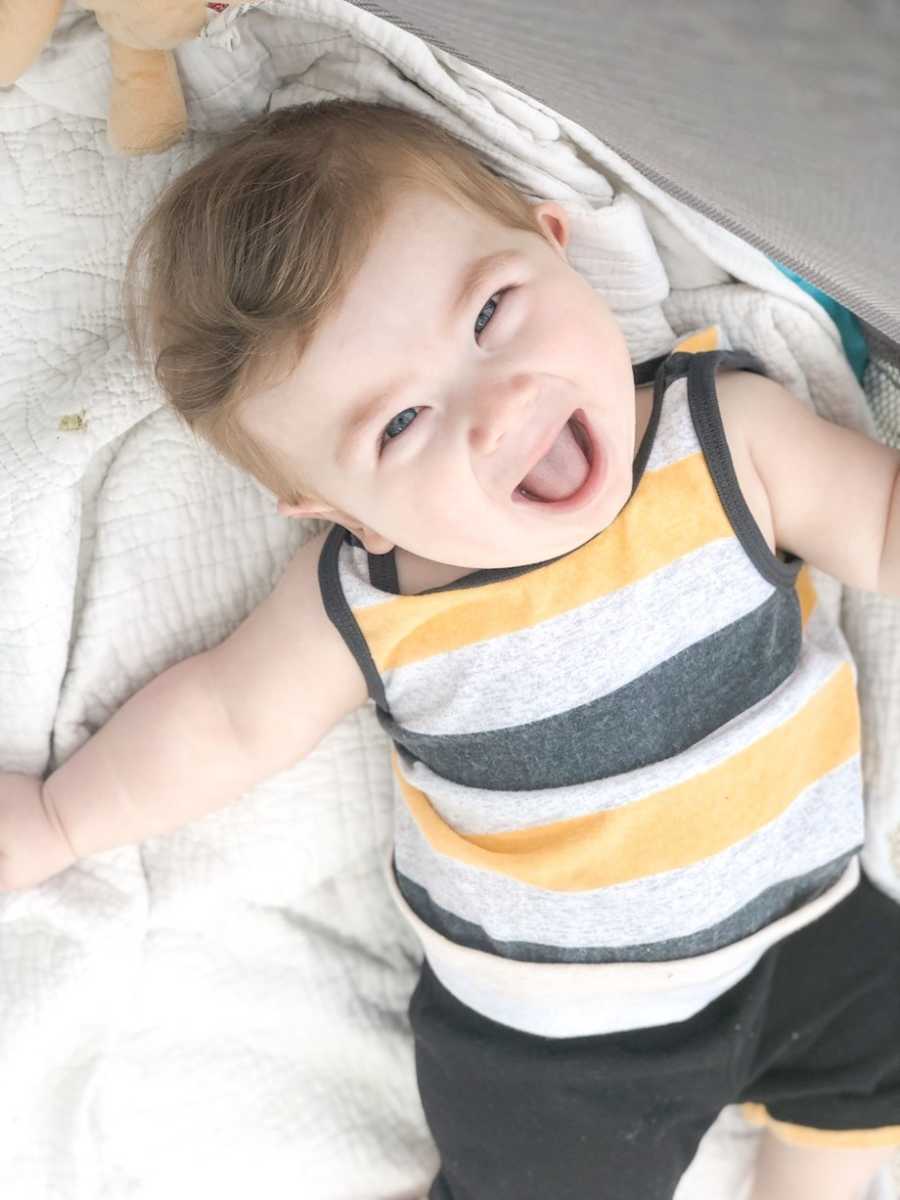 That evening, Finn became fussy again. He had missed his nap and with that and the five teeth cutting, I chalked it up to normal baby fussiness. I put him to bed as usual at 7 p.m. and in no time, he fell asleep. I wish I would have held him that night. I wish so badly we had those last cuddles together. Austin works a second shift job and gets home at 11:30 p.m. each night. Just as he was getting home that night, Finn woke up screaming. I passed Austin in the hall going into Finn's room as he was coming in the door. Finn waking up was not out of the ordinary. He still nursed so sometimes he would wake for a little snack. I nursed and rocked him and put him back to sleep. But minutes later, he was up screaming again. I asked Austin to go attempt to calm him down. I am so thankful Austin was home and was able to hold Finn and be there for both of us. God knew I couldn't handle what was about to transpire alone.
After a few minutes, I quickly realized Finn wasn't calming down and went to help Austin. I cuddled Finn close to me, sat in his rocker, and attempted to nurse him again. He became calm against me, and then suddenly, he was screaming again and attempting to crawl up my chest. I stood, paced, and bounced him in my arms, assuring him he was okay and Mama had him. It wasn't minutes later, he thrashed in my arms and became limp. I instructed Austin to turn on the light as something was very wrong. What we saw when the light was on was our perfect baby boy unconscious but still breathing in my arms. Austin immediately dialed 911. Finn threw up in my arms before the paramedics arrived, but I never put him down, I was frantic and in complete shock and just repeated over and over to Austin as I held Finn in desperation, 'What's wrong with my baby?' When the paramedics arrived, they wasted no time getting Finn on a stretcher and into the ambulance.
They allowed only one parent in the ambulance with Finn, and Austin didn't hesitate to allow me that opportunity. On the way to the hospital, they told me Finn was having seizures. I had heard of babies having seizures before and felt myself calm. I just knew my baby would be okay. Finn was rushed into a CT scan and minutes later, the doctor came and delivered the news that no parents want to hear – there was bleeding in Finn's brain. I hit the floor in total shock and disbelief. I immediately began replaying our day. What had I done wrong to cause this? Did he hit his head? Did I overlook something? A social worker and chaplain ushered us into a small waiting room while they intubated Finn and waited for care flight to arrive and take him to the nearest children's hospital.
Austin and I knew with the social worker and chaplain present, something was terribly wrong, and we pleaded with them for answers they didn't have. Once again, Austin allowed me to be with my baby and ride in the care flight. I can only imagine the desperation he had not being able to be with us during the 30-minute drive to the Children's Hospital. I didn't say a word in the helicopter. I bowed my head and prayed repeatedly the entire flight, begging God for my baby to be okay.
Once we arrived, doctors and nurses surrounded Finn. Austin and I searched their faces in need of hope, but their faces were empty and confused. After they relieved some of the pressure in Finn's brain by drilling into his perfect head and shaving his perfect head of hair, they were able to stabilize him and perform an MRI. Once the scan results were in, neurosurgeons filled the room as we waited for answers. It was then they told us Finn had suffered from a ruptured brain aneurysm, which didn't occur in children his age. They told us this occurring in Finn was 1 in 100 million chance. Surgery was scheduled for the next morning, but before Finn could make that surgery, his aneurysm re-ruptured. He was rushed to emergency surgery and as we said goodbye, my body shut down. I let out blood-curdling screams. Something in me knew that this was the end. I could feel it. I could feel my heart ripping from my chest as we said goodbye.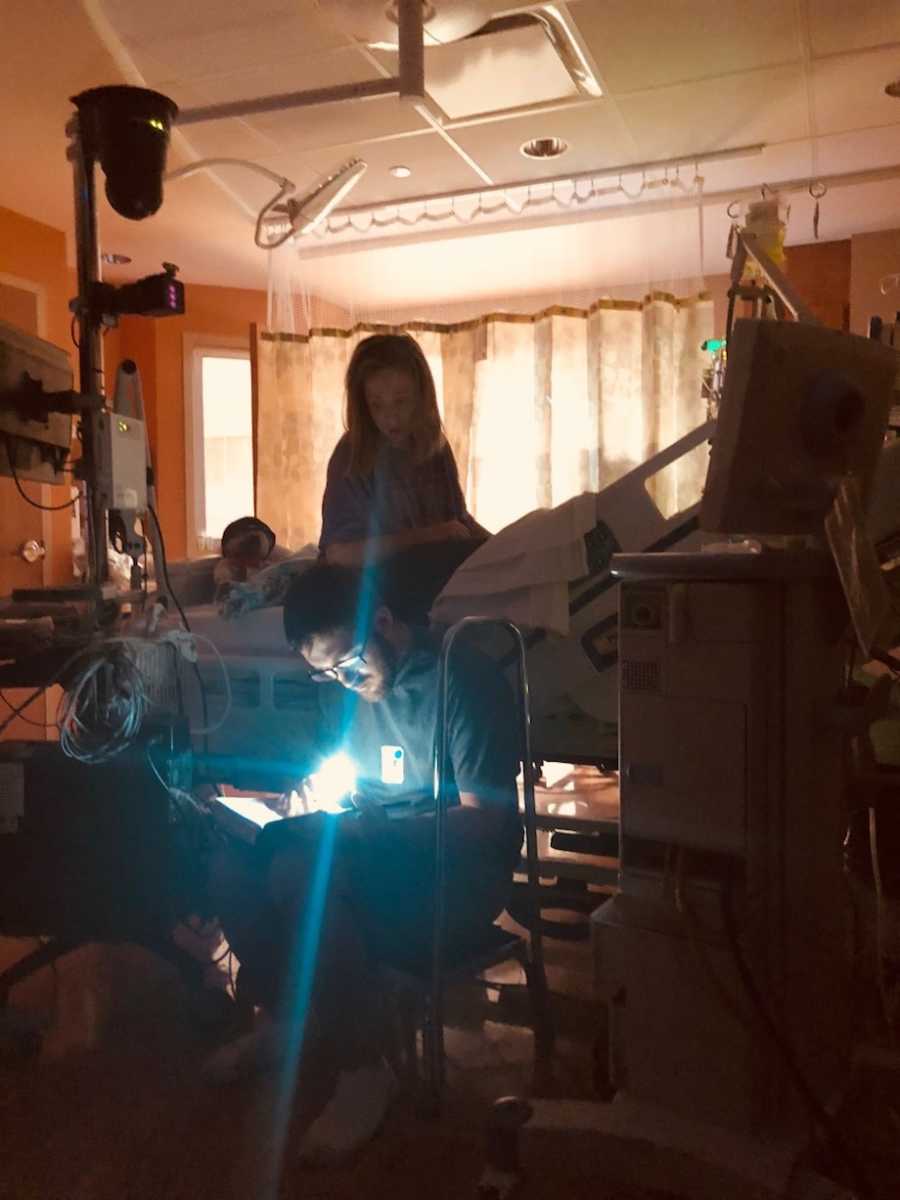 The waiting room was filled with 30 of Finn's biggest fans as we waited the excruciating amount of time for the surgeons to emerge with the news. We held prayer circles, called the chaplain, and urged friends and family near and far to pray for Finn. When the surgeons emerged, they delivered the news that crushed every bit of our souls – Finn's brain had minimal blood flow and he was likely brain dead. I ran out of the waiting room as they continued to explain the news to our family and hit the ground. I couldn't even cry. I just felt dead inside. Like every bit of life had been ripped from me in one instant. Austin followed and hit the ground in sobs. Nothing in the world can ever prepare you for those words. Finn was taken back to the main hospital, and we went to be by his side. I woke the next morning with hope. Finn was still here and breathing. We were no longer relying on the healing of a doctor, but the healing of our Almighty Father. We prayed over Finn, had every chaplain on every shift pray over Finn, and encouraged others to pray for Finn in a social media post that was shared thousands of times. We were not giving up on our boy.
A friend of a friend who had heard Finn's story came to visit late one evening and shared with us a story of her own mother being declared brain dead but walking out of the hospital 7 days later. She encouraged us that God needed 7 days, 7 days to heal our boy. We begged the doctors to allow us those 7 days to see if Finn would recover before performing the test that would declare him brain-dead. They were not eager to comply, but we stood firm. Shortly after this request on our fourth day by Finn's side, his condition worsened and he was rushed into another MRI scan. This scan gave us the news we had been dreading: Finn's brain was damaged beyond repair. We knew at this point we had to let him go home to be with Jesus.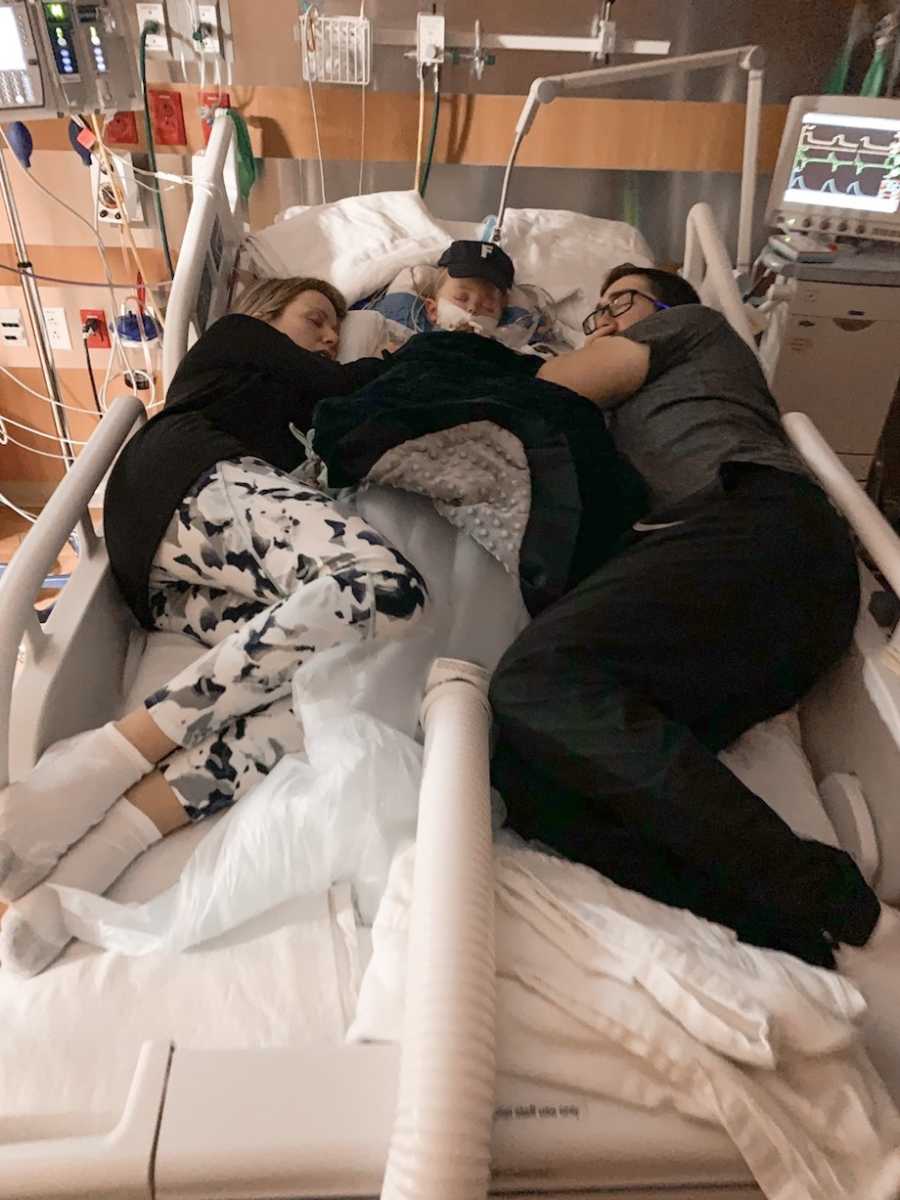 While lying in bed with Finn and Austin by Finn's side, we asked the doctors about organ donation. They explained the process would require a minimum of 3 days, 2 to declare he was brain dead, and 2 to find the best matches for his perfect organs. I looked at Austin and said, '7 days.' It occurred to me at that moment that the 7-day healing we had been praying for had been heard. It wasn't the miracle we so desperately wanted, but in 7 days, Finn would become a miracle to three other families by donating his organs and providing healing to three others, and that he did. His heart saved an 11- month-old baby girl, his liver saved an 11-month-old baby boy, and his kidneys saved a woman in her 40s. Finn was and will always be our miracle and our hero.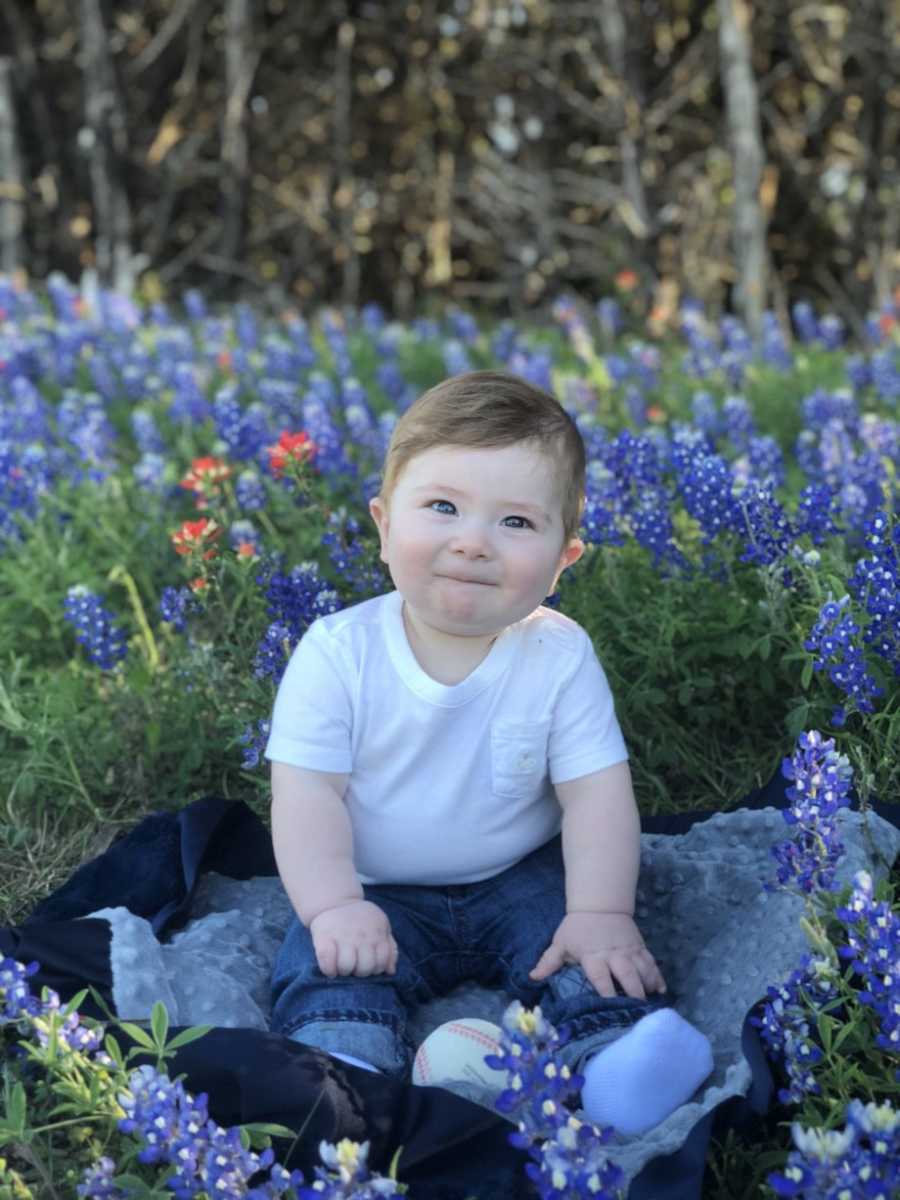 It's been nearly 10 months since we said our earthly goodbyes to the boy who made us parents and made us better people. In that time, we have received an abundance of love from people near and far. A friend set up a 'Finny Fund' that reached $24,000 in the first 24 hours and ultimately reached a staggering $42,000, relieving us of the financial burden of Finn's care and genetic testing. Friends and family and people we didn't even know helped to organize the first annual Finn the Hero Softball tournament that included 24 softball teams, live music, a raffle, concession stand, bounce houses, silent auction, cornhole tournament, and more love with over 500 attendees than I have ever felt in my entire life. Finn's organ donation encouraged roughly 30 people, that I know of, to sign up to become organ donors and his life, as I have heard from so many, has encouraged many to be more present with their own children. That day and every day that has followed the worst day of our lives has been proof of God's unfailing love for us. He has shown us through the love of others that Finn's life wasn't and will never be in vain. Finn's legacy is infinite.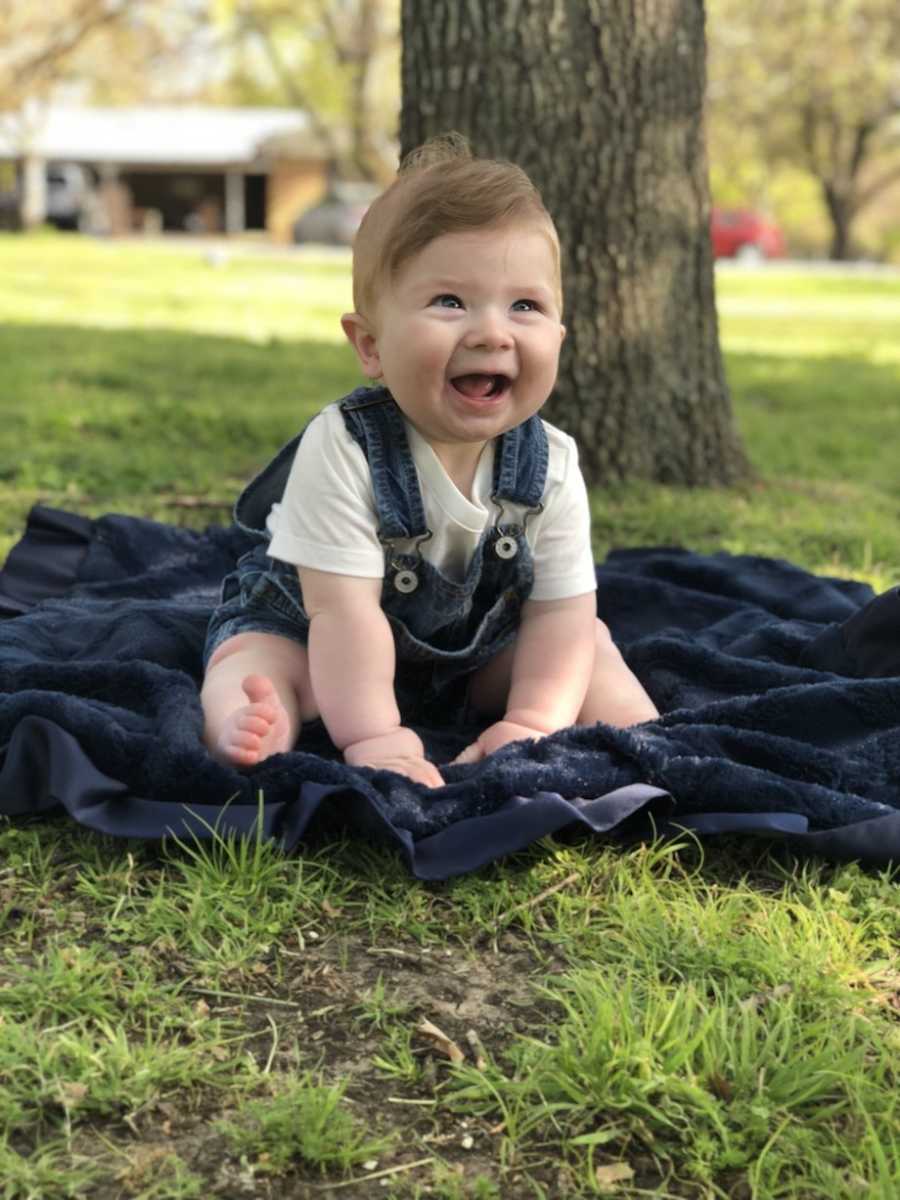 In our own personal lives, we have seen so much growth. Our relationships with God have grown immensely. Austin and I, along with Finn's uncle, were all baptized. Finn likes to save in threes. The three of us, along with Finn's aunt, all joined a local church where we have gained even more support from a wonderful church family, who all know the story of our sweet boy.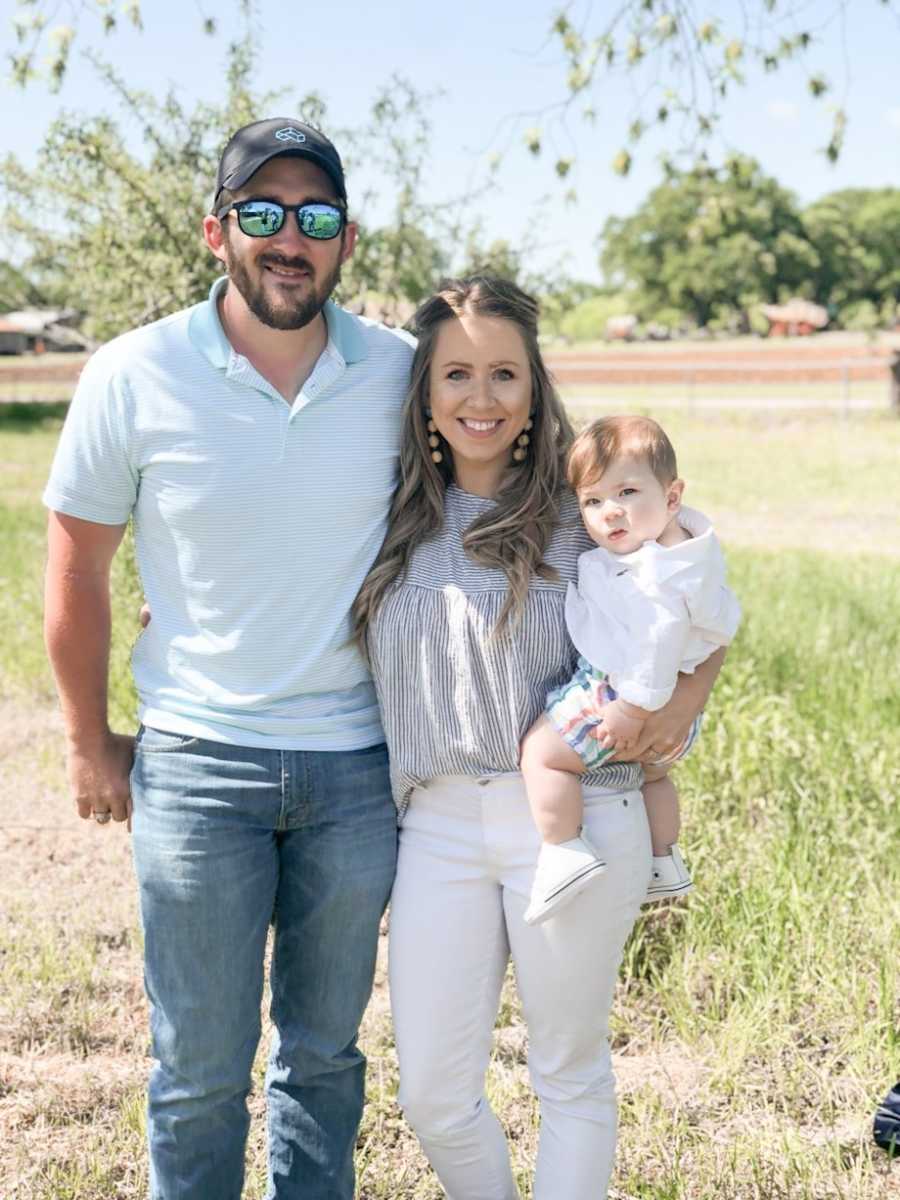 Soon after Finn went to heaven, I began desiring to have another baby. There is no replacing Finn, ever, but my hands ached to hold another precious gift from God. Austin was much more hesitant and let me know he needed at least 6 months. I gave up my desire to God, letting Him know that I understood He was ultimately in control, and I would trust in His timing. On September 25, 2019, only 2 months after losing Finn, we discovered we were pregnant. We knew this blessing was a gift from God and our Finn in heaven. We are now less than 3 weeks out from Finn's little sister's, Finley Blake's, arrival.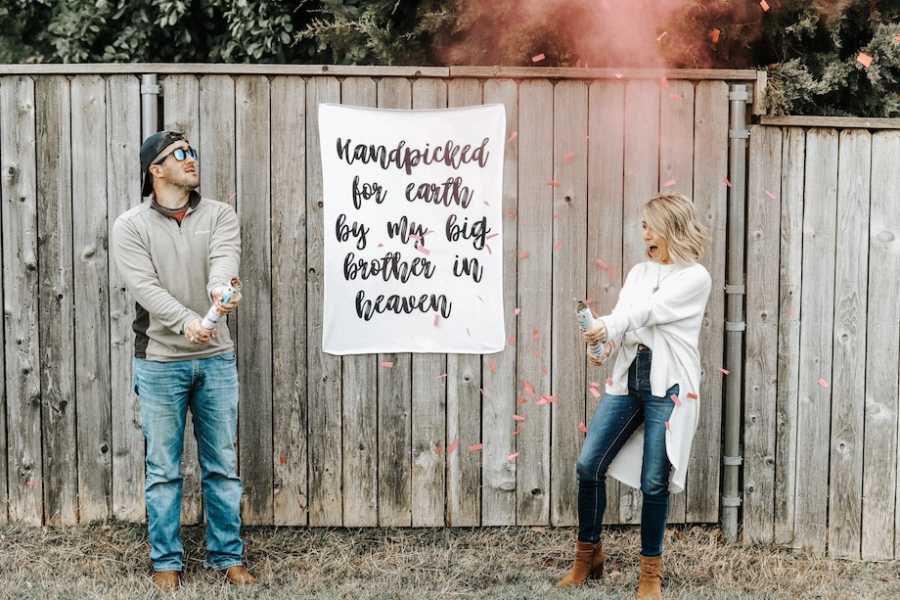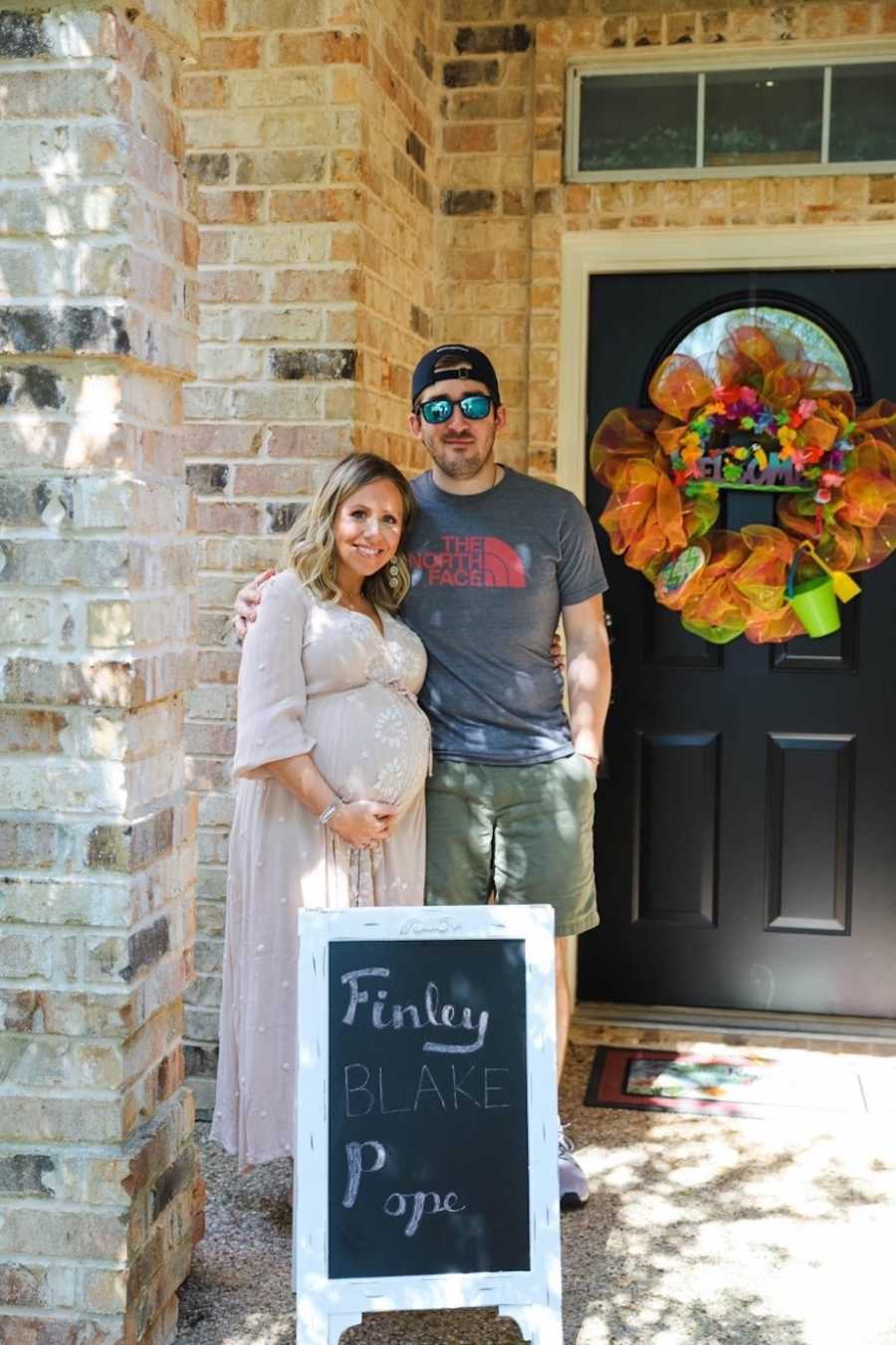 People often say, 'I don't know how you do it' or 'I wouldn't be able to go on without my child.' But here's the thing, we don't have a choice. Time moves forward no matter how badly you plead for the clock to stop, no matter how desperately you cling to the past hoping to find a way back. Moving forward is not a choice, but how you move forward is. I vowed to myself early on in our grief journey that I wouldn't let Finn's life be in vain and that, as I promised God a million times in my desperation at the hospital, I'd share Finn's story. I made this promise to God in hopes that he'd save my boy and this wouldn't be the story I'd share, but ultimately, He did save Finn. And because of Him, we live each day with the hope of being one day closer to our baby boy again.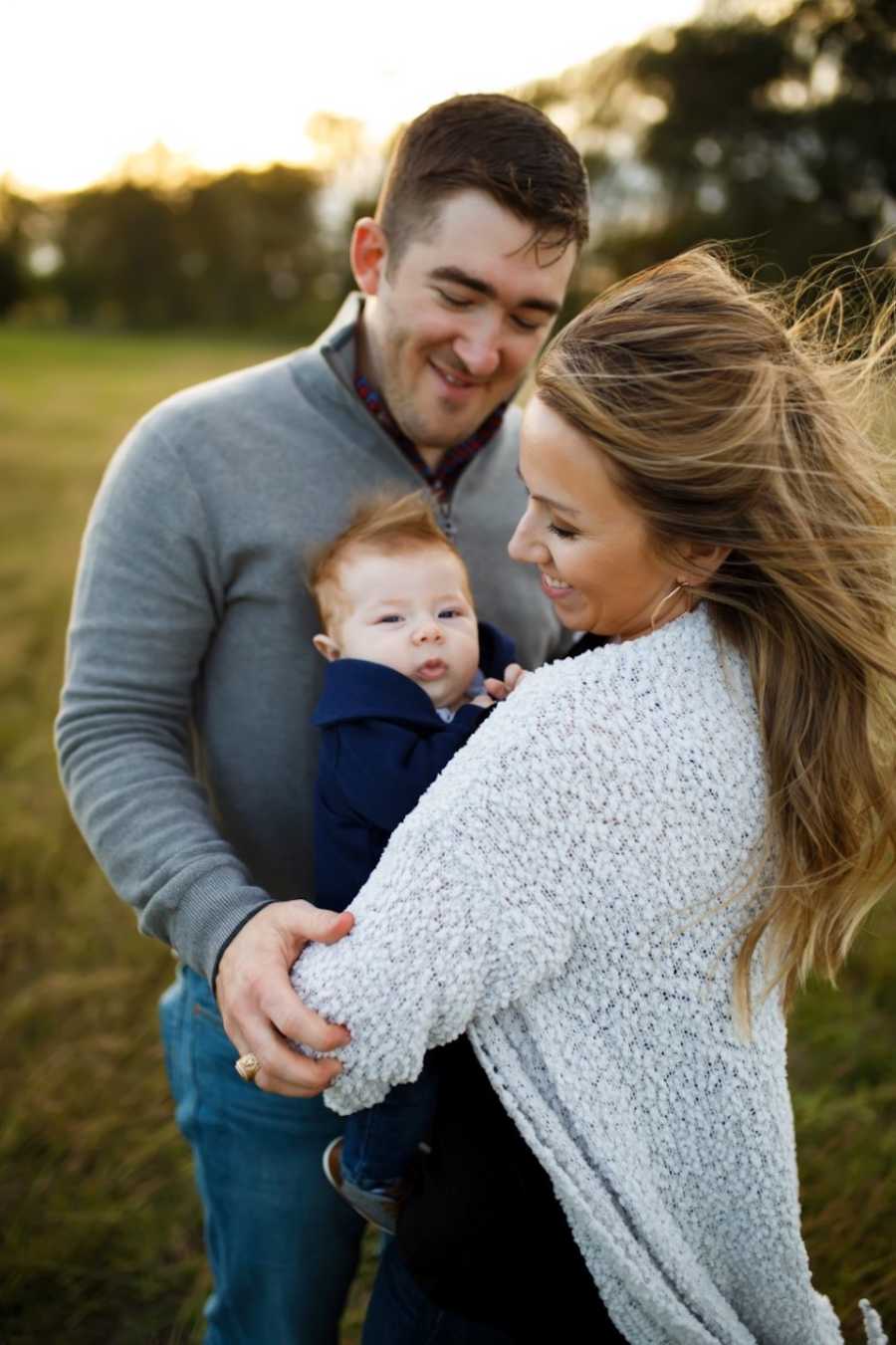 There is beauty to be found in the ashes. Some days it takes a heck of a lot more digging to find it, but it's there. It's in the memories. It's in the hope of heaven. It's in the lives Finn saved and the lives he changed. It's all of the 'because of Finns' that have occurred. Of course, we'd exchange all of those for more time with our perfect baby, but just like stopping time, that's not a choice we are given to make. We love and miss our boy with such intensity that it threatens to crush us, but we are determined to make him an inkling of as proud as he made us. We will do that by moving forward, but never on,glorifying God, loving Finn and his sibling(s), and setting our hearts and hopes on Heaven."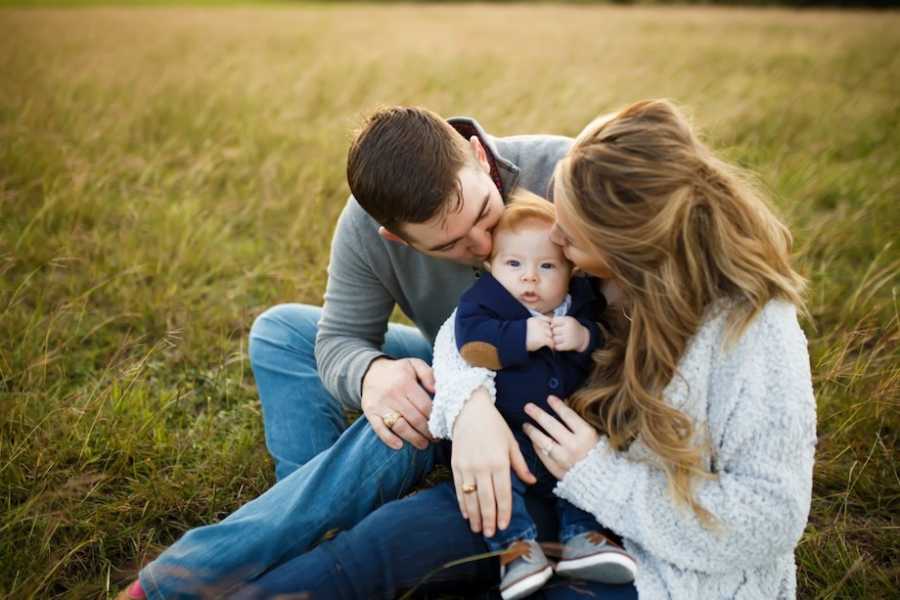 This story was submitted to Love What Matters by Taylor Pope from Waco, Texas. Watch Finn's Organ Donation Honor Walk video. Be sure to subscribe to our free email newsletter for our best stories.