"There have been two times in my life I have felt a shift. A time of before and a time of after. The first shift occurred right before Halloween in 2016. This is when my life bisected into a before and after. There was a time before I lost my baby, and there is forever a time after. Miscarriage changed me. How can it not? It's one of those things you hear about and you feel so sad for those who suffered through it…but you never think you'll be the one to suffer. With Michael, my oldest, we tried for a few months and were lucky to have a healthy pregnancy, which brought me a 7 pound, 6 ounce baby boy. When Michael was a little over one year old, we decided we wanted him to have a sibling. We started trying in August and that was it. I was pregnant.
We were so happy. The planning started. We had names picked out and ready to go. I waited for my first ultrasound before announcing my pregnancy to the world of Facebook. I was almost 10 weeks when I announced. I know it is earlier than typical, but at this point loss hadn't touched me. I already had one healthy pregnancy, I saw this baby's heartbeat, everything was okay. Until it wasn't okay. The nurse called me. She said the baby was measuring small and they'd like to have another ultrasound done with Maternal Fetal Medicine. I panicked. She assured me they just wanted to remeasure, it could have been a tech error—everything else looked completely fine, and the baby had a nice, strong heartbeat. I told my husband to just go to school, I'd go to the ultrasound myself. It was the second pregnancy, I didn't feel a need to have anyone there. Looking back, I was just naïve
My mom asked if she could come—she had a day off and would like to see the baby; of course, it was fine with me. I remember laying for the ultrasound in a black and white striped shirt with maternity jeans, because my belly had already started to grow (which I learned it would pop sooner and sooner each pregnancy). I can't tell you what my mom and I talked about as we watched the screen, but I can tell you when the ultrasound technician left, the first thing out of my mouth was, 'I didn't see the heartbeat.'
The physician came in next to do a scan. After introducing herself she held the probe (Is this what they're called?) to my belly and began scanning the baby. I remember asking, 'Why don't I see the heartbeat?'
At this point, she laid the probe down, covered my belly with the towel, and told me this is why she came in. I was 11 weeks along, and the baby had died at nine weeks, four days. The room went blurry. Everything was in slow motion. I'm thankful for my mom that day. I don't know how I would've made it home. I called my husband as soon as we left and told him what was happening. He was home when I got there. The next few days were a blur. I had to schedule a D&C to remove my baby. I cannot remember anything leading up to being in the hospital for my procedure—other than an old high school friend was my nurse and a paper I signed saying I agreed to my procedure had the word abortion on it.
I am pro-choice. But when I think of the term abortion, I never related it to a woman who wanted the baby. It gutted me. I wanted this baby more than anything. I didn't want to be in the hospital, with sterile surroundings, a team of nurses and my doctor. I wanted to be home, pregnant with my second child, while Michael ran around. The nurse told me to start counting as they began to put me under anesthesia—I remember crying as I counted. The next thing I knew I was in the recovery room, crying hysterically as my husband hugged me. I wanted to see the baby. Nothing made sense. One of my husband's professors sent me a journal as a gift. She shared she also suffered a miscarriage and found journaling to be healing. It was:
'November 9, 2016. I don't know where to start, I don't know what I really want to say. I'm trying so hard to keep a brave face and be my 'normal' self, but nothing feels normal. Nothing feels okay without you. I'm so sorry. I'm sorry I can't and couldn't protect you or fix it. I'm sorry I didn't know you had died. I failed. You are so desperately wanted here. I had so many visions of our future together. I dream of you almost every night—those are my favorite nights. The pain of losing you is overwhelming. My chest feels so heavy. I just want to hold you, watch you grow, see you and Michael play and fight and love one another. It kills me you never got the chance. This isn't getting any easier, I'm just getting better at concealing it. I'm not sure if that's right or not. I'm really not sure of much these days. I hope you know how much I love you, even if we never got to meet.
November 11, 2016. I can't believe it's been almost two weeks since I learned I lost you. It feels like yesterday. People tell me the feeling never changes. I've been trying to stay busy so I don't think about you so much—it doesn't help. I am always on the verge of crying. You mean so much to me; I just want you back. I feel weak. Where did it all go wrong? I'm sorry.
November 15, 2016. Things are okay when I'm not alone…the pain is more bearable. I'm not sure I want to try again. I don't want to seem like I'm replacing you. I could never replace you. I really want you to be here. Tonight feels hard. How did your heart stop? I wish more than anything I could bring you back. I really miss you. I'm sorry. I'm so sorry.'
That's the thing about miscarriage. One in four women will experience it, which would make it fairly common—but it was the loneliest time of my life. I felt like no one understood, even those who really did. I hated myself, deeply. My body felt so foreign to me. It's a twisted feeling when you hold resentment for your own self. One day, my resistance to other women's stories faded and I began to find their experiences comforting. To know I wasn't alone, my feelings were normal. This was my final journal entry:
'November 28, 2016. I just got home from my 4-week check-up. I can't believe it's been four weeks without you here with me. Most days I can push through and not get too upset…today's not one of them. I found out you're a girl…we named you Emme. Thanksgiving was hard, you're supposed to be safe and sound in my belly. This wasn't how things were supposed to be. I just really miss you. How do I let go? I so badly want to see your sweet face and watch you laugh with your brother—you would love him. I'm glad you aren't suffering. I'm sorry. I love you so much.'
Emme. It was a name we had agreed on very early. There was no way to move past her, there was just a way to move forward with her. I never was keen on meeting with a therapist. It just never seemed to help me when I was younger, so I decided on a different kind of therapy. A tattoo. Forget-me-not flowers weaved throughout my tattoo, as a sign she's always with me. I did find the tattoo to be very therapeutic. It gave me a sense of pride, in some weird way? Afterward, we decided to keep trying. We wanted a sibling for Michael. In January, I would receive a positive pregnancy test. I was scared and hopeful. That weekend, before I could even call my doctor to schedule an appointment, my period came. The pregnancy wasn't viable. They tested my HCG levels to make sure they were at zero—they were. I was sad, but more angry this time. Why was this happening?
February came, and 20 pregnancy tests later…no luck. March would repeat the same as February. April came and I had another positive test. I went in for blood work to confirm the pregnancy and my HCG levels were low—they told me the baby was probably not going to make it. It didn't. Numb I think is the word I would use at this point. Now it was May, and it was time to take the next steps and schedule with infertility, or start searching adoption agencies. We were researching both. My doctor told me not to try for a baby this month because they couldn't risk pregnancy for a procedure they were going to do. The procedure had to be done once my period came. This may be TMI, it probably is, but my husband and I had sex once that month. Literally, just once. And my period didn't come. I called and they had me come in for blood work. I was pregnant, but my numbers were even lower than the month before. I believe HCG should read a 25 for pregnancy, I was sitting at 19.
I was at the gym when I got the call it was probably not a viable pregnancy. So, to take my frustration out, I went and lifted as heavily as I possibly could. The following week, I went in for blood work to make sure my numbers went to zero. When I got home, my husband and I went for a walk with Michael, and then the doctor called me. My numbers didn't go to zero, they more than doubled. This pregnancy was staying. I would repeat this a little every week and then have an early ultrasound to confirm, yes, I was pregnant—with my rainbow baby.
I always felt scared, I always thought something could go wrong any minute. I cried after every ultrasound in fear of getting a call things were no longer okay. But they never did. I was pregnant with a healthy little boy, my sweet Bo. He is such a light in our family. I could not picture a world he is not in. He is so funny, and charming, and sensitive, observant, and definitely rough; he's everything good in the world wrapped up in one crazy, loving, little boy. He was, and always will be, my light."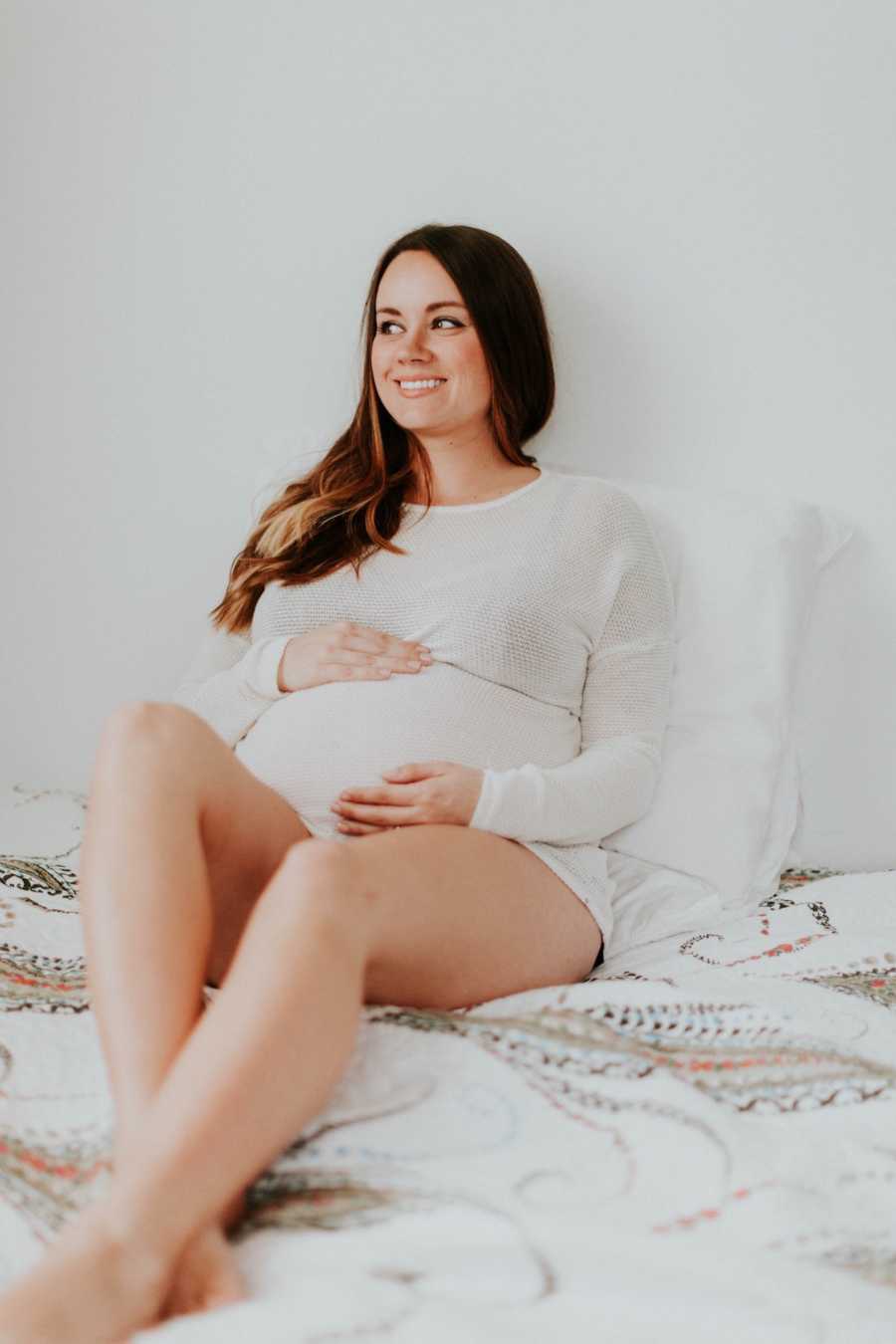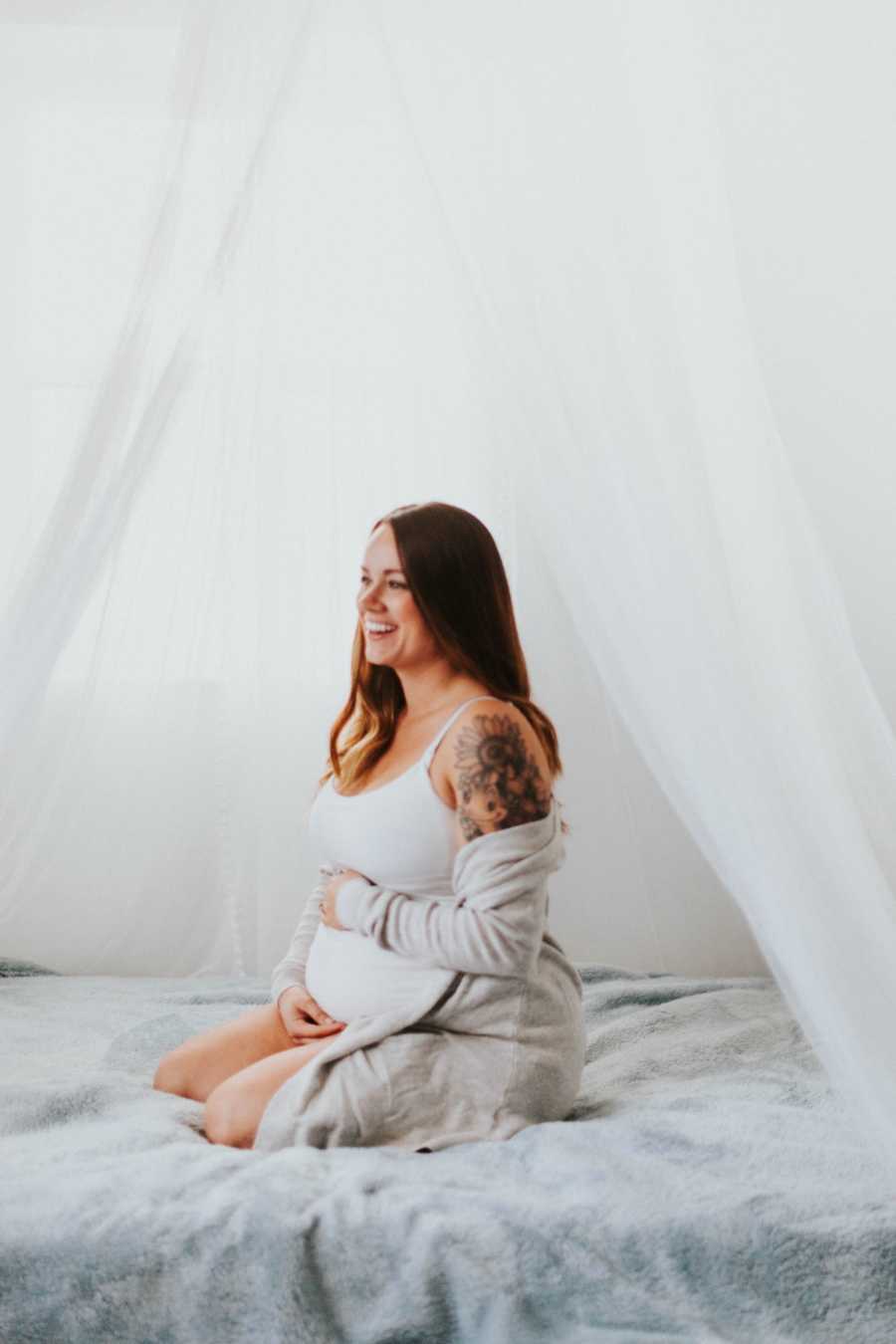 This story was submitted to Love What Matters by Madeline Reid. Submit your own story here, and be sure to subscribe to our free email newsletter for our best stories, and YouTube for our best videos.
Read more stories like this:
'I'll have you pregnant in no time!' I held my breath at the ultrasound. I'll never forget the panic in their eyes.': Mom births rainbow baby after losing son in utero, 'Never stop fighting'
'The room was awfully quiet. 'Are you SURE about the dates?' They abruptly sent me away. I couldn't function.': Woman celebrates double rainbow baby, 'If it didn't happen, we wouldn't have him'
'We need to dislodge the baby. It's stuck in the neck of your womb.' The gynecologist took me into a room. I felt physically sick.': Mom births miracle rainbow baby after miscarriage
Do you know someone struggling with infertility? Please SHARE this story on Facebook to help give them hope that miracles can and do happen.