"I met my husband through a mutual friend and we instantly clicked since we liked all of the same things. We were thrill seekers, loved family, and were devoted to work. We started dating in April of 2015. After several years, we talked about adding a child into our small family. I was 23 years old when I found out I was pregnant. I found out early at 3.5 weeks since we were actively trying for a while. Before I took the test, I just had a gut feeling to take one and when those two pink lines popped up, we were thrilled yet a little scared! It has always been a dream of mine to become a mother.
My husband and I were over the moon when we finally got that positive test! We soon started shopping for a baby. We did not care boy or girl, we were just excited. I had a feeling it was going to be a girl from the beginning. I was so excited to find out the gender and do a gender reveal. Our friends and family were very excited for us. It was a new chapter in our journey together.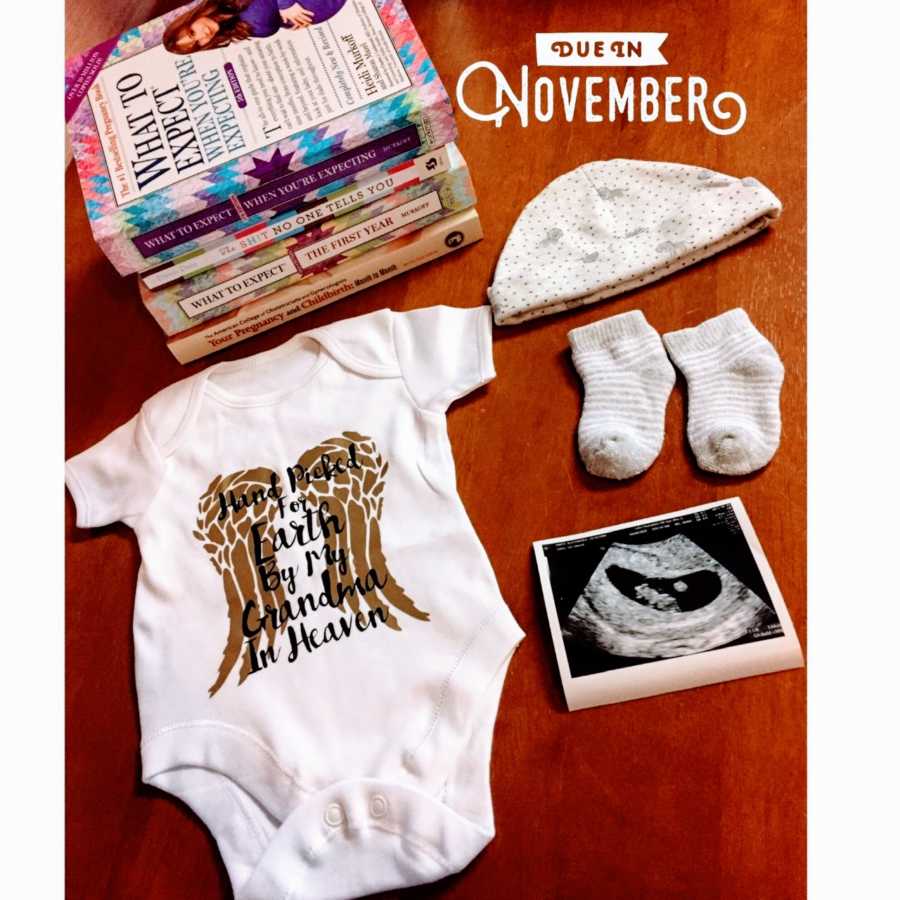 For the past four years, I worked a very high-paced job. I recently started working at a hospital as a clinical assistant doing full time over nights. My OBGYN told me not to worry about my work load since my body should be used to it. I loved my job and felt it was very rewarding helping the sick. Working full-time while pregnant was a little hard, but my goal was to work up until I delivered. I felt something was off since I felt like my belly was heavy, but after talking to some other moms, they claimed it was normal. I did not run it by my OB since I thought it was just another pregnancy thing. Other than that, my pregnancy was pretty much a breeze. I had no other issues until 20 weeks. That's when the problem unfolded at my anatomy scan.
On July 3, 2019, after my long 12-hour shift, I went in for my long awaited anatomy scan. I waited weeks for this day and I was so excited! I was a little tired but that didn't get me down. Once I got to the office I was placed in a room where I laid down on the cushioned table and my scan started. The tech checked my cervix first and was a little concerned at first, but she said she would get back to it. After she looked over all of the baby's anatomy and confirmed the gender (IT'S A GIRL!) she went back to my cervix. She kept checking and measuring and said my cervix was very short and she needed to talk to the OB.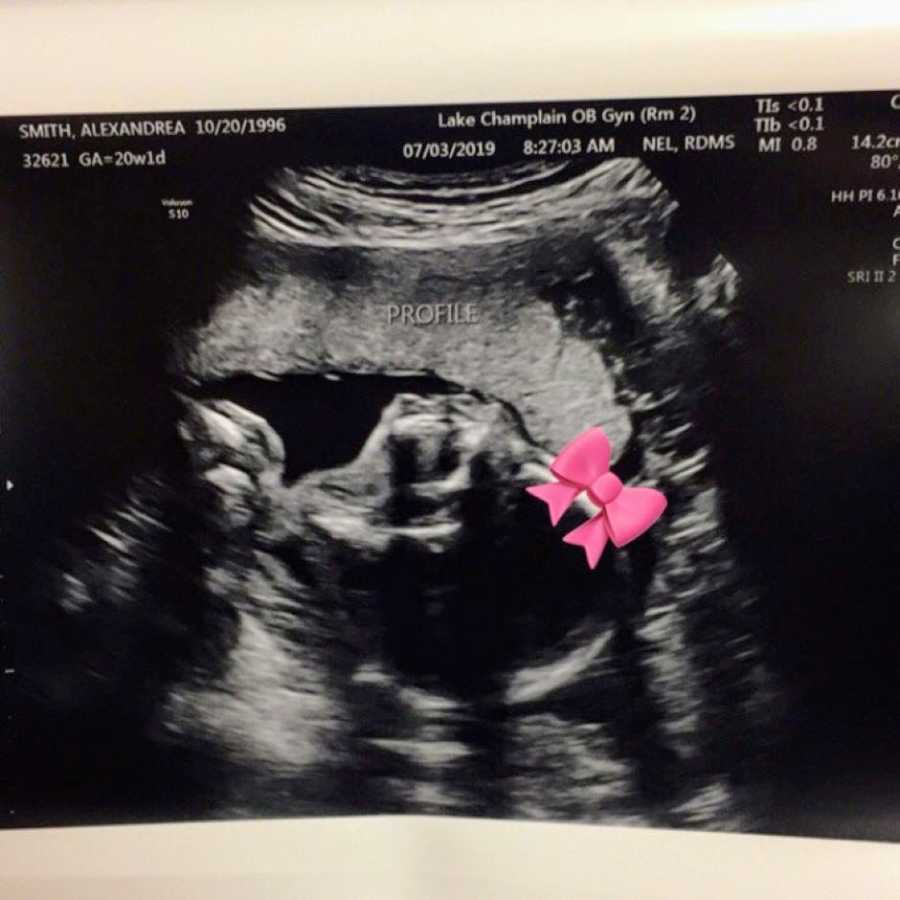 After about an hour of waiting, the OB told me I was going into labor and my cervix could not handle the pressure of the baby. She said it's uncommon, but assured me a cerclage would help keep her safe and keep me from going into preterm labor. I needed the cerclage to prevent my cervix from opening because that would mean I could possibly lose my baby if I went into labor.
After a long talk with my OBGYN, she suggested a cerclage. She explained it as good as she could. I didn't even know what a cerclage was before this, but it needed to be done – urgently. After, I sat out in my car and cried. I remember sobbing so hard and holding onto my belly and telling my daughter I was so sorry and please, please be okay. That half hour drive home felt like eternity. I could barley see since I was still sobbing, I just couldn't stop. My daughter was the only thing on my mind. All I could think of is how I didn't know this was happening. I felt so much guilt. But my daughter was what kept me going. I prayed for her safety. It was a long time since I've prayed, several years.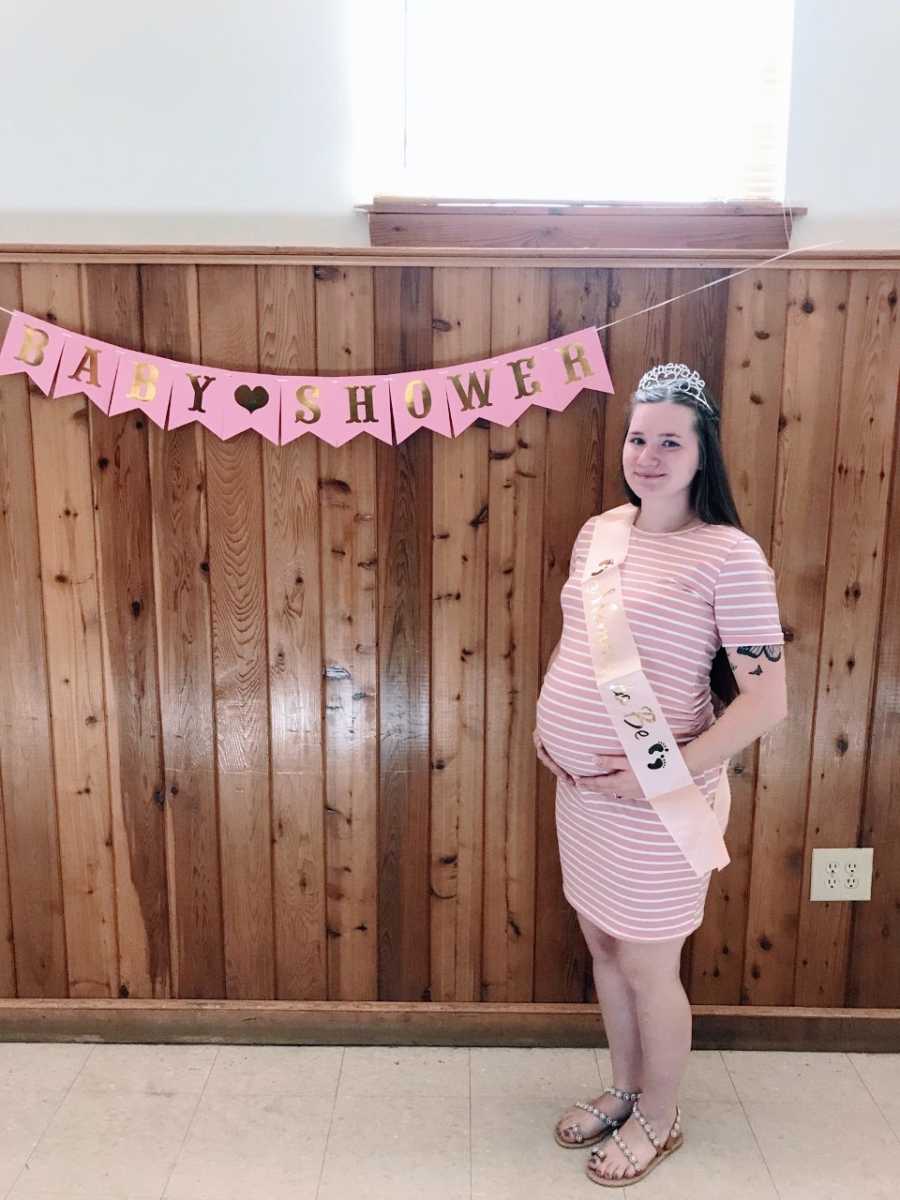 Afterwards, the OB called me back and told me I had to be NPO for the rest of the day. She also told me she scheduled me an appointment in the next state over to get another scan and cerclage done since the hospital closest to me was not equipped enough to do a cerclage. I was shocked and scared since I've never heard of such a procedure before. I just assumed my pregnancy was going to be 'normal.' I remember asking the OB on the phone, 'Can I do it tomorrow? I have to work tonight at 7!' She said kindly, 'Honey, no. Your body is getting ready to go into labor!'
All I could think of was possibly losing my little girl that I had hoped and dreamed of. After driving home, my mother-in-law left work in a rush and drove me to Vermont since I was in no place mentally to drive. The drive was over an hour and a half to get to Vermont Hospital. After we arrived, I waited patiently in the office until they called me in. They had to do another anatomy scan on me. The results were the same for my cervical length. My cervix was more than half as short as it was supposed to be.
They couldn't tell me what caused it, but of course I blamed myself. I thought it was all my fault. What if I lose my precious little girl? How could I handle it? So many thoughts raced in my head; I wished I could just shut them off. After the scan, they checked to see if I was dilated. Unfortunately, I was already 2cms dilated, which scared the tech and the OB. They originally just wanted me to do bed rest with progesterone suppositories, but soon they realized this wouldn't work. It was too late. The scariest thing was I never heard the terms cerclage or short cervix in my life! All they said was it could possibly be hereditary.
After my scan, I was admitted to the L&D unit. The staff was extremely supportive and helpful. They made my time there better. They all came in and explained who they were and what the plan was. After a few hours of prepping and discussing, I got a spinal to numb me. Then the surgery began. The surgery only lasted maybe 20 minutes, but in reality it felt so much longer. I remember seeing all of the staff in there, at least 15 people. I felt so cold in the operating room and it felt weird not to feel my legs. They were open on the table, held by two bars. I had a blood pressure cuff going off every few minutes and oxygen in my nose.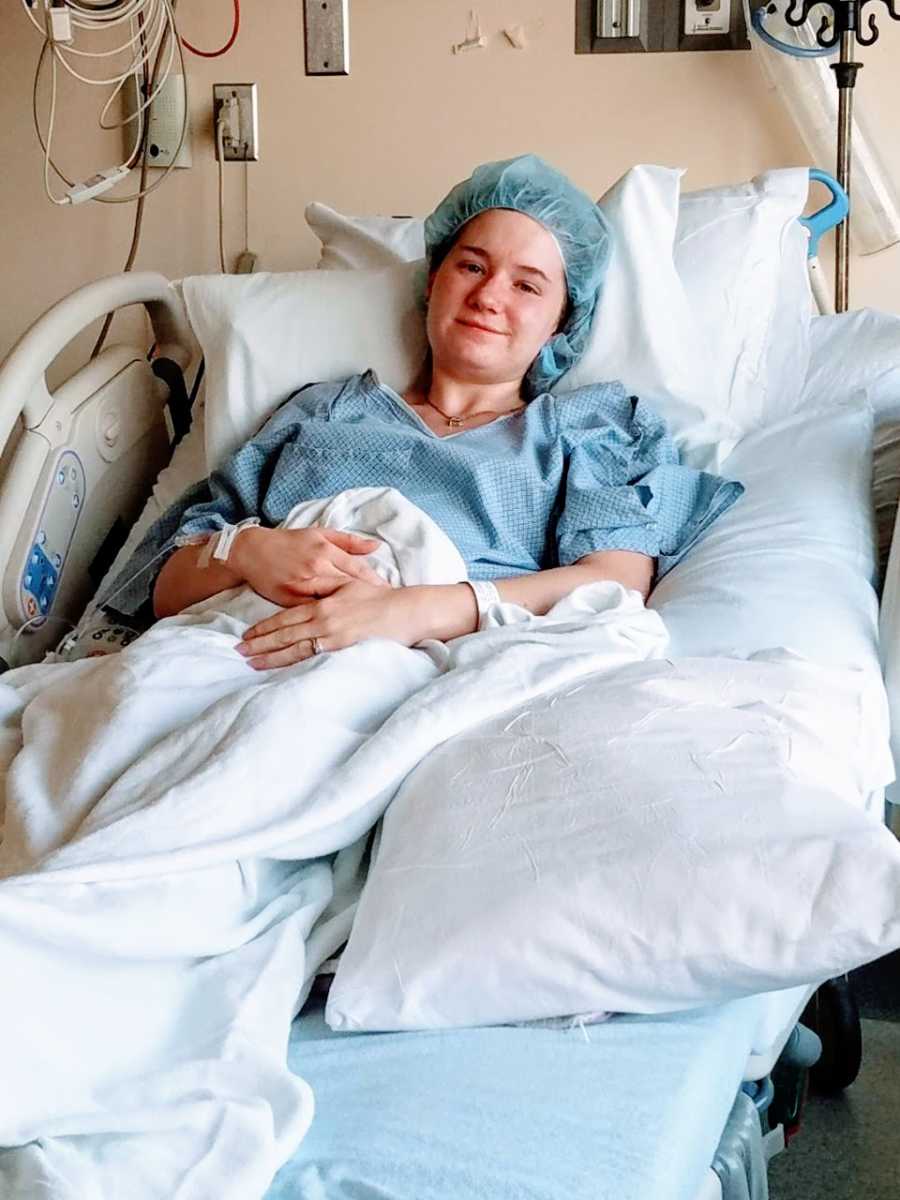 They wouldn't allow anyone in surgery with me, so I had to be strong and go through it alone. I thought about Kinsley the whole time. I kept thinking about her and how she was doing. I looked over and saw a tiny baby crib in there just in case; this will be a memory burned in my head forever. I was SO afraid something would go wrong. I mean, only less than 1% of women need a cerclage. Why me? Why my baby? I couldn't understand why a healthy young woman had to go through this? I was told my pregnancy would be fine. I didn't expect any of this. I was so afraid my job would fire me since I had just started. But thankfully they did not. After the procedure, they checked the baby with a fetal doppler and we heard her heart rate right away. That was such a relief. She was going to be fine after all. This surgery worked! Everything was going to be okay! I always had faith in the doctors. They knew what was best, after all.
A few hours after my surgery, some family came and visited me. I felt embarrassed about still being in the hospital gown, so I went to get up and change. But my legs felt like Jell-O and BAM, in seconds I collapsed to the ground. My poor brother was in the room and zoomed out to get the nurses. My room was soon filled with several doctors and nurses, asking me why I got up. I thought the spinal would have worn off by then. I sat there crying and apologizing and they helped me onto the bed. They checked and made sure my water didn't break since that could have been a possibility, but fortunately it did not. I felt like a burden. I felt like the worst patient to have. After a few more hours, I got the green light to head back home to New York. I was excited to get home to my dogs and to my own bed with my husband by my side.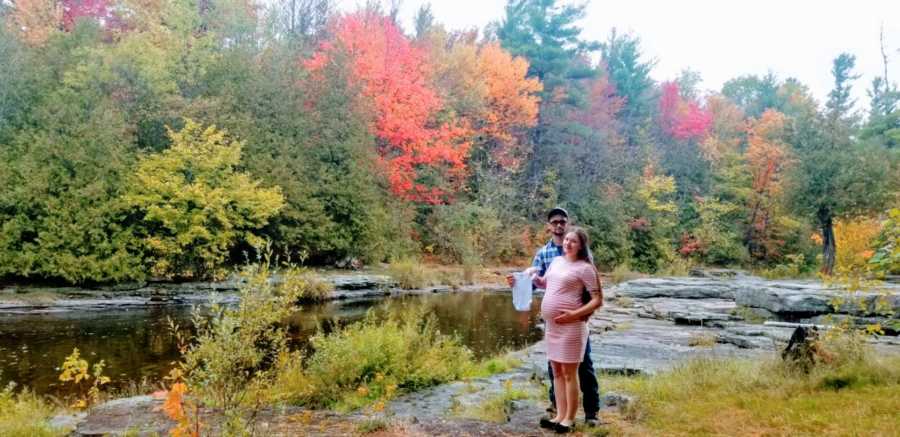 After the surgery, I was put on bed rest for the remainder of my pregnancy. I had to take progesterone suppositories nightly and was told to have 'absolutely no sex.' I took it easy the rest of my pregnancy and had only a 10lb weight limit. But all of it WORKED in the end! I ended up carrying until 39 weeks (they didn't think I would go past 27 weeks) and delivered my precious Kinsley Faith on November 13, 2019. She was perfectly healthy. I did, however, need a C-section since she ended up being breached. All of the doctors and nurses were so shocked I went until full term. I am forever grateful for the amazing doctors and nurses and all the nursing staff who took care of me in one of my darkest moments.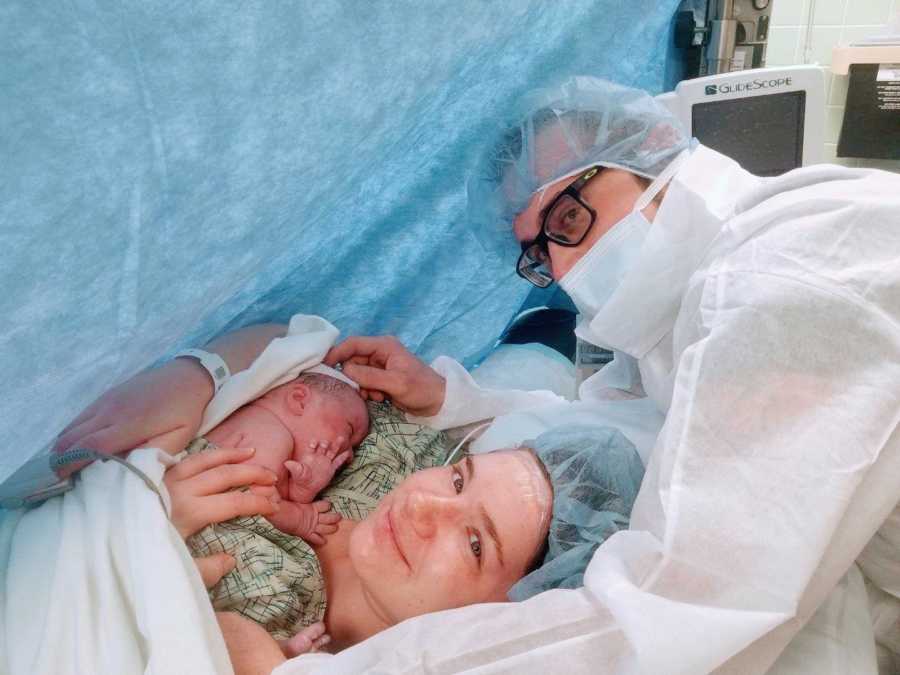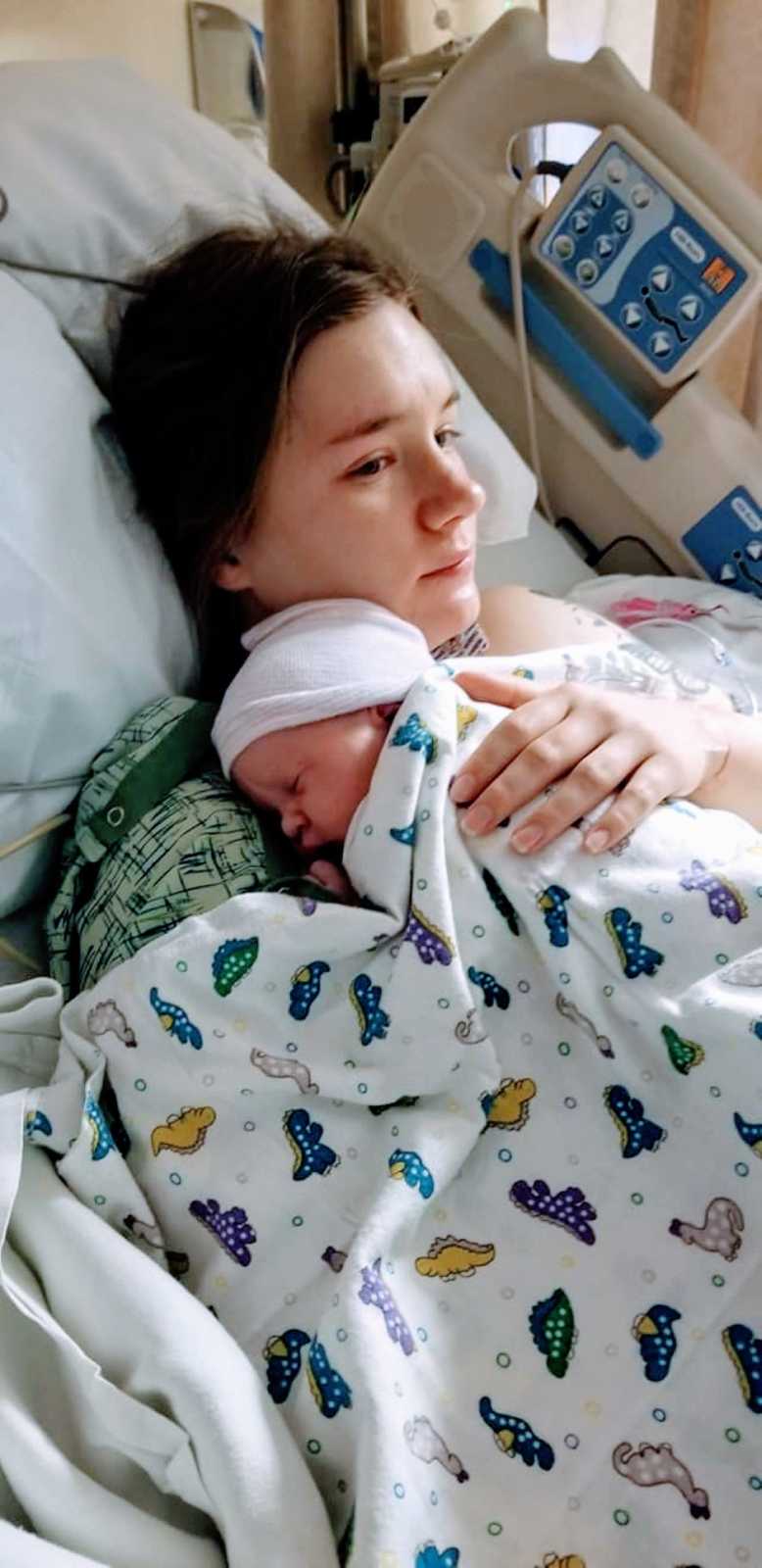 If you or anyone you know are experiencing a short cervix or needing a cerclage, don't worry – I was one of the 1% as well. It will all work out in the end. Cerclages are more than 80% successful and I am so blessed I was part of that 80%. Going from not knowing anything about cerclages to almost having it down pat, I am truly blessed that my daughter's life was saved from this procedure. Without it, who knows what would have happened. I don't want to know. At my postpartum appointment, I asked what the chances were of needing another cerclage and they told me I would definitely need one in the future. I was upset to hear the news, but grateful I would at least know what would be in store for me. I hope this story helps anyone understand more or help anyone who gets the news about their cervical issues.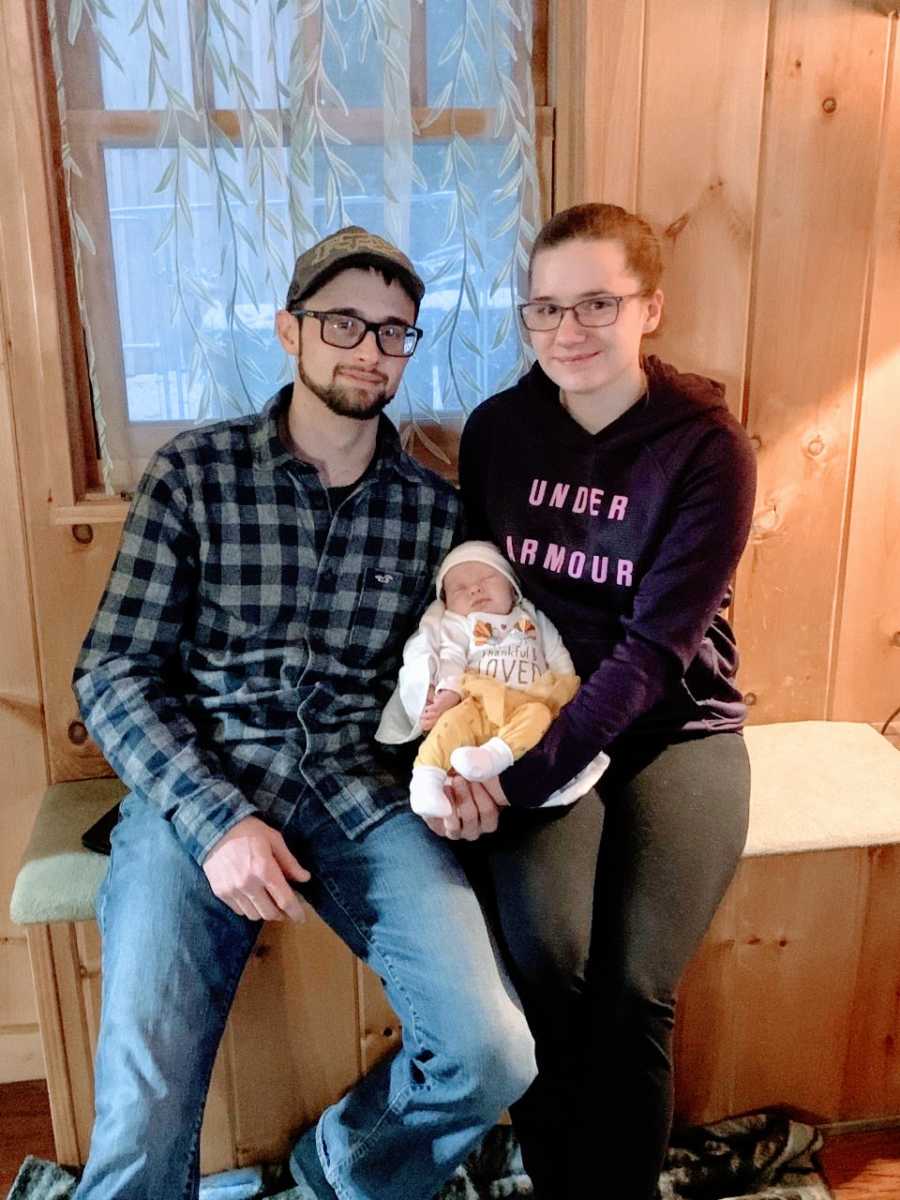 Today, Kinsley is a healthy and happy 1-1/2-year-old who loves to run and play. She has no medical issues and she is a big ball of energy and sass! She loves playing outside and loves to watch Cocomelon. She loves tractor rides with her daddy and spending time with me. Her best friends are our two dogs they get along perfectly and they love her to death. She is very loved and we are so grateful to have her in our lives."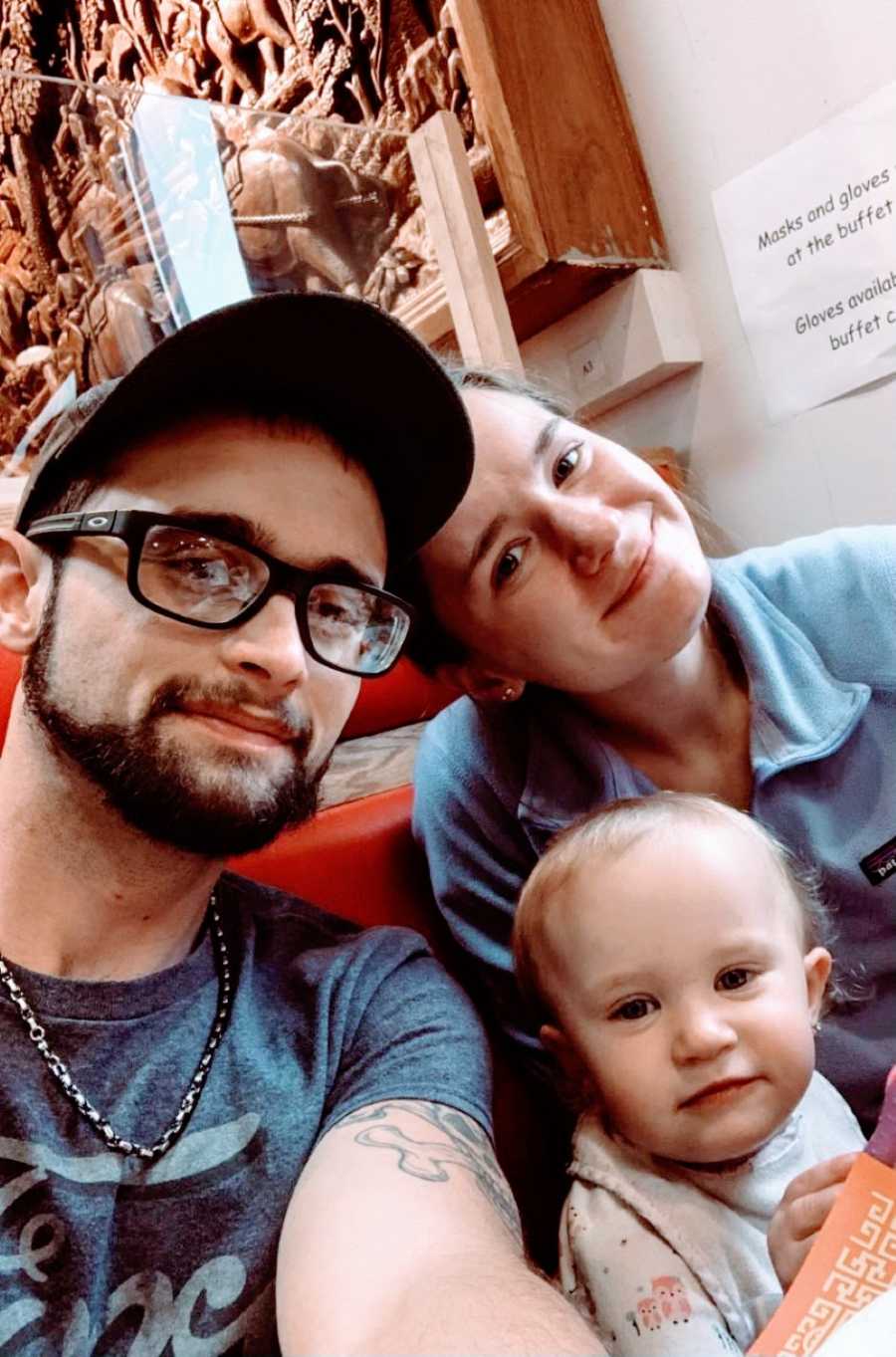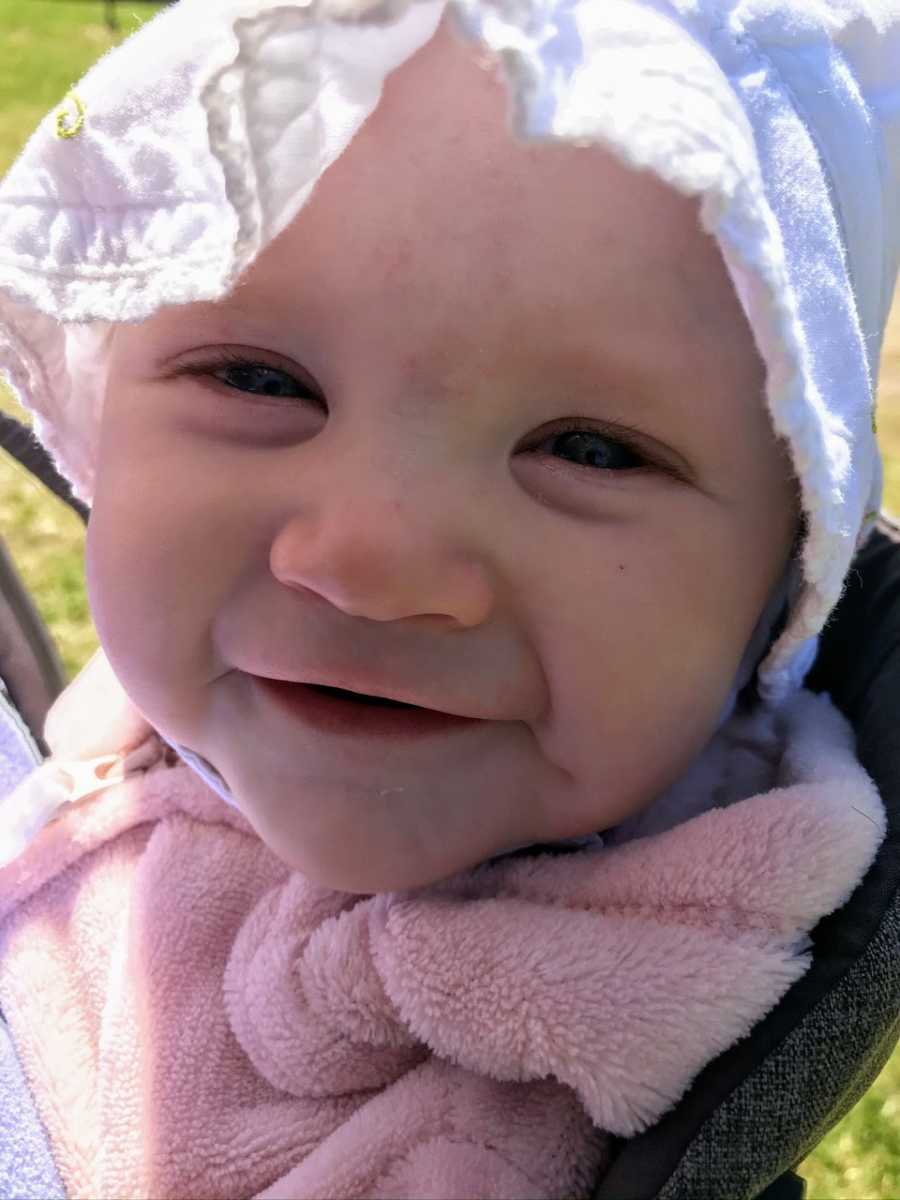 This story was submitted to Love What Matters by Allie Guerin of Mooers, NY. You can follow her journey on Instagram. Submit your own story here, and be sure to subscribe to our free email newsletter for our best stories.
Read more stories like this here:
'They gave me a shot in each leg. 'What if I lose her?' It seemed like seconds before the nurses returned with news.': Couple welcomes rainbow baby after ectopic pregnancy, 'I regained my belief in miracles'
'I rolled my eyes. 'You're the sickest patient on the whole Labor & Delivery floor.' I was dying right before their eyes.': Woman births miracle baby with limb difference after near-death molar pregnancy
'She put her tiny hand around my finger. We said our hellos, then we said our goodbyes. 'It's okay, mama. It's going to be okay.' It wasn't.': Woman terminates pregnancy after lethal Trisonomy 13 diagnosis, vows to to 'carry her with us for the rest of our lives'
'The sonographer whispered under her breath, 'Thank you, Jesus.' I looked up to her wiping her eyes. My 'dead baby' was alive.': Baby miraculously survives suspected miscarriage 
Provide hope for someone struggling. SHARE this beautiful story on Facebook with your friends and family.