"The five well-known stages of grief are denial, anger, bargaining, depression, and acceptance. Until recently, I didn't realize what I was feeling was grief, but now that I've made my way through all five, I thought I'd share in case helpful for anyone else…
I can remember hearing people say, 'This isn't a big deal' and 'I'm not taking it that seriously.'
I mean, yes, I agreed on the toilet paper ridiculousness. Milk, bread, cheese — sure. But toilet paper? I still don't get it.
But those first few weeks, I feel like we were all in denial. I know I was.
I thought, 'This is temporary, everything will go back to normal tomorrow.'
For me, it lasted about two weeks and only a week of homeschooling, since our school gave us the first week 'off.'
After the first week of filling out forms, taking photos, working on apps, and ignorantly believing I could create the school day in our home in a way that our autistic twins would find comfort and confidence in the routine that ended without warning.
And then the second stage hit: anger.
Granted, I had every right to be angry. I lost my nana, the matriarch in my family. But I found that I started blaming anyone for anything because, quite simply, I was really mad.
I was not alone. My four-year-olds were with me. They yelled and screamed and stomped their angry feet (calming tactic in this household). They were sick of doing the bear hunt or practicing the letter 'C.' And they started to take it out on each other.
At one point, not that I'm proud to admit it, I was even mad at their school. How could they think our autistic toddlers could actually get the services they need from home? (Clearly unfair of me to say, their administration is amazing, but I was mad and needed to stomp my angry feet.)
This lasted about a week for me. My practical self found it's way to bargaining and started to wish for any hope of summer school. I claimed if only this was happening to me ten years from now, when Zoom calls could work for our kids or if only I had arranged for services in the home to help the boys with OT and speech, then maybe we'd be able to provide a similar structure to what they're used to. Or if only I could set up an outdoor playground, complete with trampoline and a swing set, the boys would have everything they need to fill their days, which means they'll sleep at night.
I'm not going to lie, I did convince my wife to let us get the trampoline and it was worth every penny!
And a swing set is in her shop, freshly painted, ready to be assembled, thanks to an incredible human being who not only gave it to us for free but kept it in his garage all winter when we forgot to pick it up last fall. A SERIOUSLY incredible human being.
Then, last week… I hit the depression stage. I let my anxiety get the best of me. Every time I read a headline that said school was officially done for the semester and summer school wouldn't happen for our kids… and some areas were going to stay at the current status quo until August… I just got sad. Unbearably overwhelmed and sad. As it was raining, I gave our crew permission to quit school that week, saying if we got anything done at all, it would be too small a win to count. The drama got a hold of me (and my kids, mind you) where I started to feel like this was the end of all that was good and how on earth could we ever get through this?
Thank heavens this week I found acceptance.
It's like out of nowhere, it hit me. Snap out of it, Christina! Yes, we don't know exactly when this is going to end — but it will end. Yes, it may be almost a full 9 to 12 months of school the kids have missed, but they will go back to school. Yes, the really tragic loss in this country will continue on but eventually, it will stop.
If you find yourself in any of the other stages before acceptance, maybe this mindset will help you give yourself a little grace because whether or not you've physically lost something, you are experience grief. You are grieving what you thought your life would be right now, and the reality that a loss of that size has had an earthquake of an impact on your life. On what it was, what you thought it would currently be, and what it is to become.
Defining moments are happening around you, and if you are like me, stuck in any stage but acceptance, you might be missing them.
Moments I'm now paying attention to include:
Letting Jack need to hold my hand to fall asleep at night and only mine. As exhausted as I am, he's not going to want to do that forever. And as much as it's DRIVING ME BONKERS that he literally needs me all day, it's a humble reminder one day he won't need me, or even want me, and I'll wish to have back.
Mustering up the energy every time Luca locks eyes and excitedly begs, 'Two eyes, nose, sharp teeth,' waiting with such sweet anticipation for me to make a scary face, raise my hands up with pretend claws and say, 'It's a bear!' and chase after him for the 100th time that hour because he's fixated on 'The Bear Hunt.' I know it's because it's a world in which he and I understand each other, where I've gotten to his level and listened and validated what he needs, despite any communication barriers.
Having a toddler during quarantine has been such a unique blessing. Alex lights up my day every time she barges through a room, shifting her hips in excitement, without a care in the world. Her smile and giggle just melt your heart. As I watch her love her brothers with such unfiltered admiration, learning from them, and teaching them at the same time, it gives me much needed perspective. And the moments when I feel her learning from my wife and I, like how when she's really tired and just wants to be loved, or give love, she will let you hold/rock her, and will softly rub your back, almost like she knows you need it but with an equal encouragement asking you to rub hers in return.
My best advice, after making it through all five stages, is to just hang in there. You've got this. Look for the facts in the situation that will help ground you in reality. Just make it to acceptance, where you can remember that although this is hard, awful, sucks, and even unbearable at times, there's such incredible collateral beauty in all of it."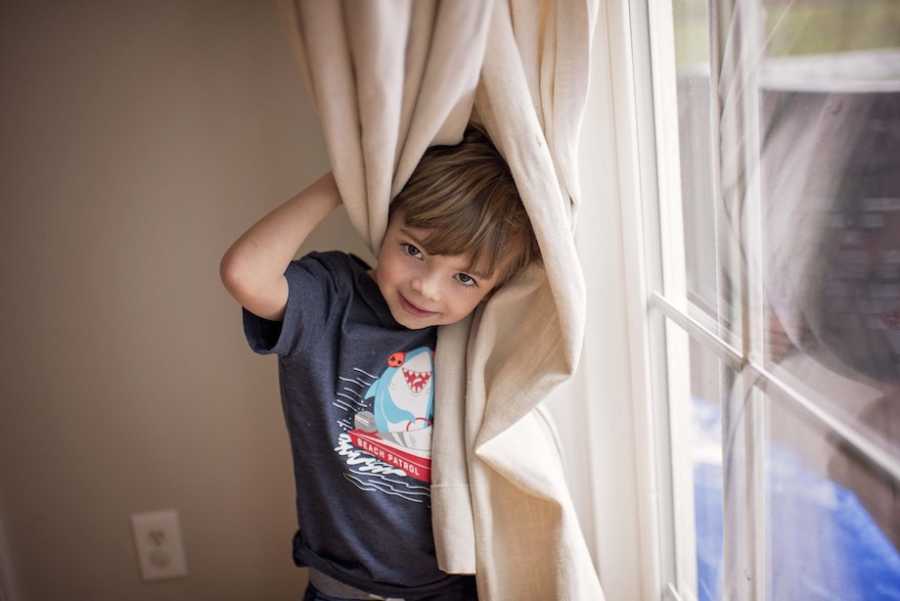 This story was submitted to Love What Matters by Christina Young. You can follow their journey on Instagram and their website. Do you have a similar experience? We'd like to hear your important journey. Submit your own story here. Be sure to subscribe to our free email newsletter for our best stories, and YouTube for our best videos.
Read more touching stories like this:
'What happens to my girl when society realizes it's not 'cute' anymore? How do I make people see the beauty I see?': Mom to daughter with autism urges us to challenge our idea of beauty
'I fell in love at 17 and had two boys. Then the doctor said, 'We believe Cale has autism, and I suspect your youngest does too.': Teen mom births 2 non-verbal, autistic sons, 'Love needs no words'
Do you know someone who could benefit from reading this? SHARE this story on Facebook with family and friends.