"There are a lot of items in my home that hold a story. I can look around my house and tell you where each item came from, who bought it, and how old my kids were when we attained it. Almost every item has a memory built into it. The sentimental value of one item can be bigger than others and sometimes when things break, it's not that hard to want to replace them. But then there's other items that seem impossible to let go of, even if they are broken.
There are some items that came from my own childhood, or that hold a very special nostalgic value because of my grandparents. The big brown chair in my living room came from my Grandpa on my mom's side. The big wooden rocking chair in my bedroom came from my Grandpa on my dad's side. The big white dresser in my bedroom was mine from my childhood. The little rocking chair that my kids play with was my mom's when she was a little girl. Not to mention all of the little knick-knacks here and there from loved ones as well.
These are the items that will probably stay with me for years and years. Maybe even some of them will be passed down to my own kids.
Then there are the items my kids have received as gifts from my parents. There are specific items that my mom has bought my kids that probably mean way more to me than they do my children. The big grey stuffed bunny with the floppy ears came from my mom for my second daughter when she was just a year old. The Bitty Baby's came from her during Christmas 2015 when my girls just became big sisters to a set of twin girls. The big wooden house outside also came from her this past summer because she knew they would love being able to play 'house' in their very own sized one.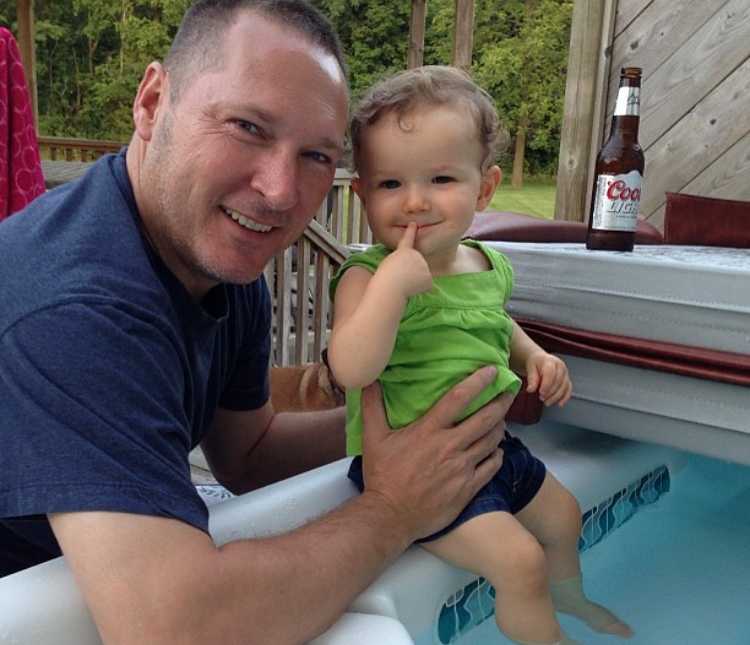 Then there are the items my dad bought my children. He died almost three years ago, when our four daughters were very young. Our oldest remembers him the best, while the other three don't have much of an attachment to him. Then there's me…the mom and his daughter…who has a huge attachment to the items he bought for them. It's almost as if these items are still a physical piece of him that I can keep. Getting rid of anything he had a hand in giving seems almost impossible. It's like little by little, the things he was a part of die slowly over the years and sometimes I don't want to aide in that disappearance.
The huge giraffe by Melissa and Doug came from my dad when my first daughter was born. The pink princess Power Wheels car was bought for my daughter when she turned 3 years old, just a few months before he passed away. The big plastic jungle gym in the backyard was bought for our girls one summer when our yard was too small to buy a big wooden one.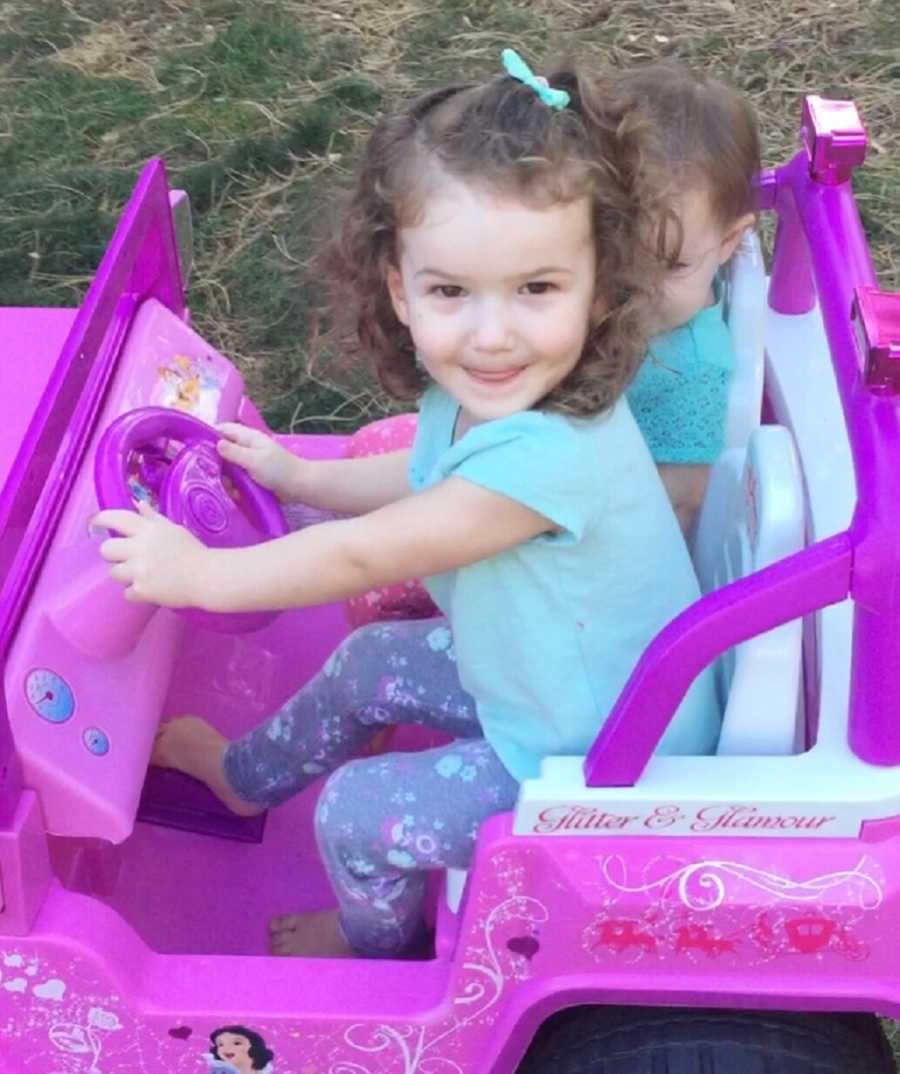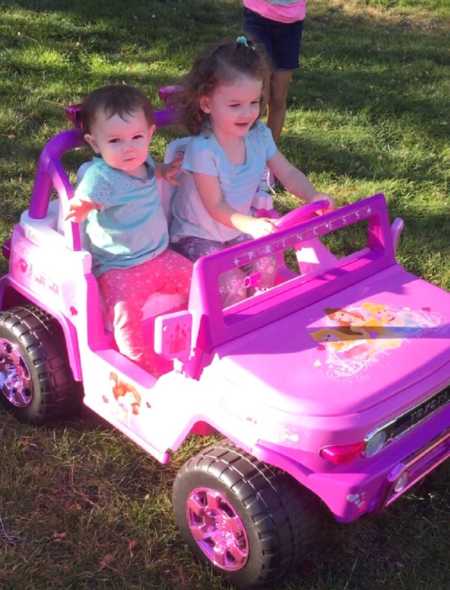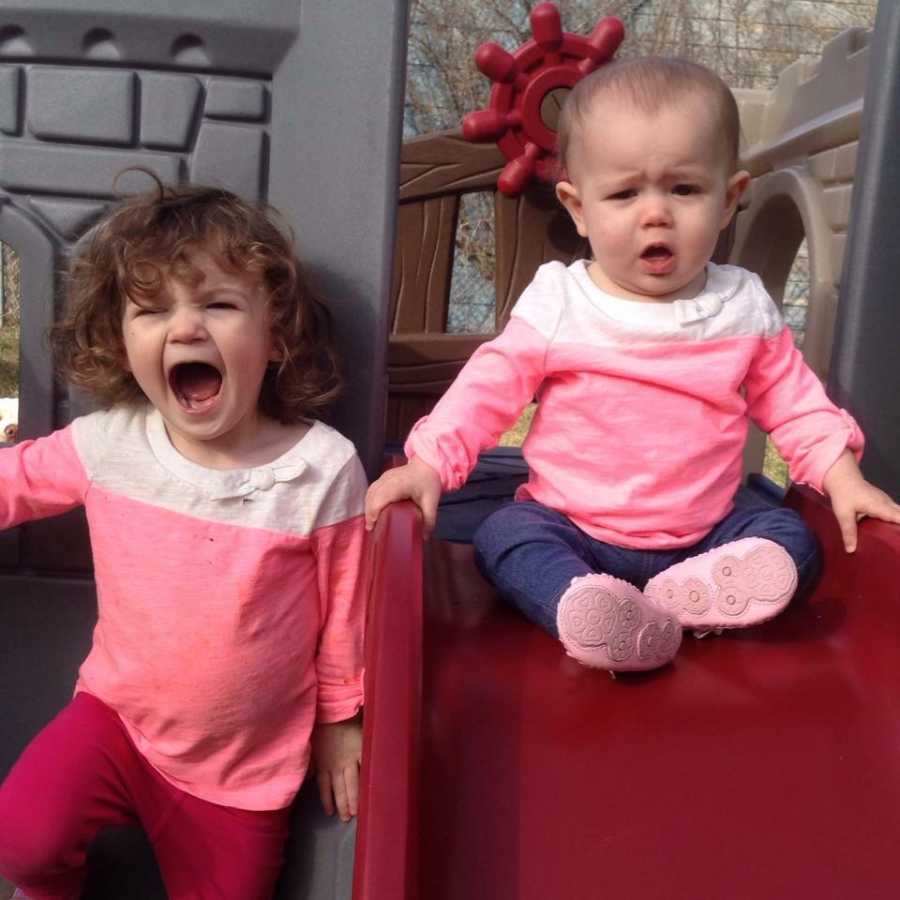 And now we are in the middle of packing up our home to move to a new one, much further away. It's time to start going through all of this stuff and decide what is worth keeping. Yet here I am, trying so hard to decipher whether or not I am keeping stuff for practical reasons, or if I'm keeping stuff because I cannot imagine letting go of it.
The little Princess jeep my dad bought has served my kids so well over the last 3 years we've had it. It taught almost all of them how to 'drive' and maneuver around things. Even the twins took their turn learning this past summer. The kids have definitely run that thing into the ground, so to speak. The engine barely works anymore. We've bought many new batteries for it, trying to keep it alive. But the poor thing barely runs!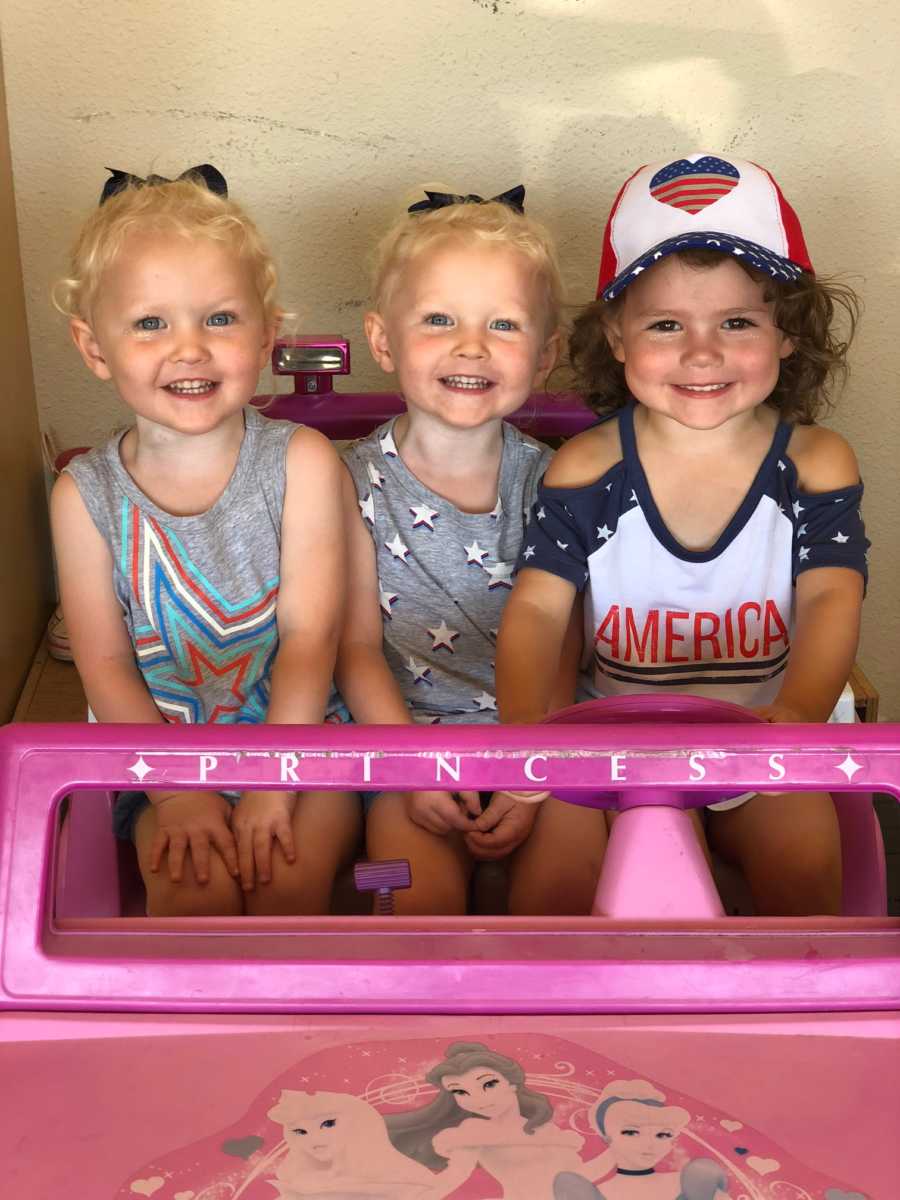 It's not worth anything to anyone else. We've only kept it as long as we have because the thought of getting rid of it seemed ridiculous. But I know it would be a good starting point for another little 3-year-old since it moves so slowly. It would definitely teach them how to drive like it taught my own kids. It's just that….would they love it as much as we have?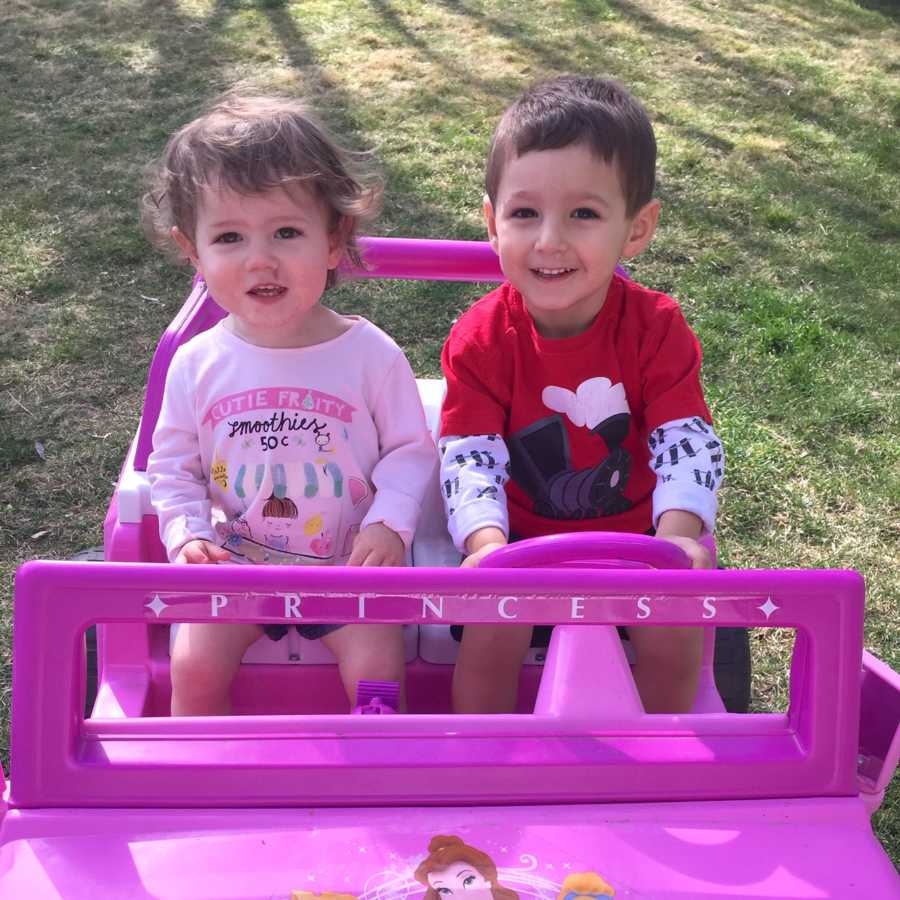 The plastic jungle gym my dad also bought was the first thing to give my kids the confidence to climb. It was the first slide most of them ever slid down. They used this slide to learn to slide backwards on their belly's and eventually head-first down it too. It taught them all to use their imagination and pretend they were pirates taking over the seas. They used to set it up to slide into their little blue pool for two summers in a row. This little plastic contraption has been so fun to play on for the last five years. Every time I look at it, I think about my dad.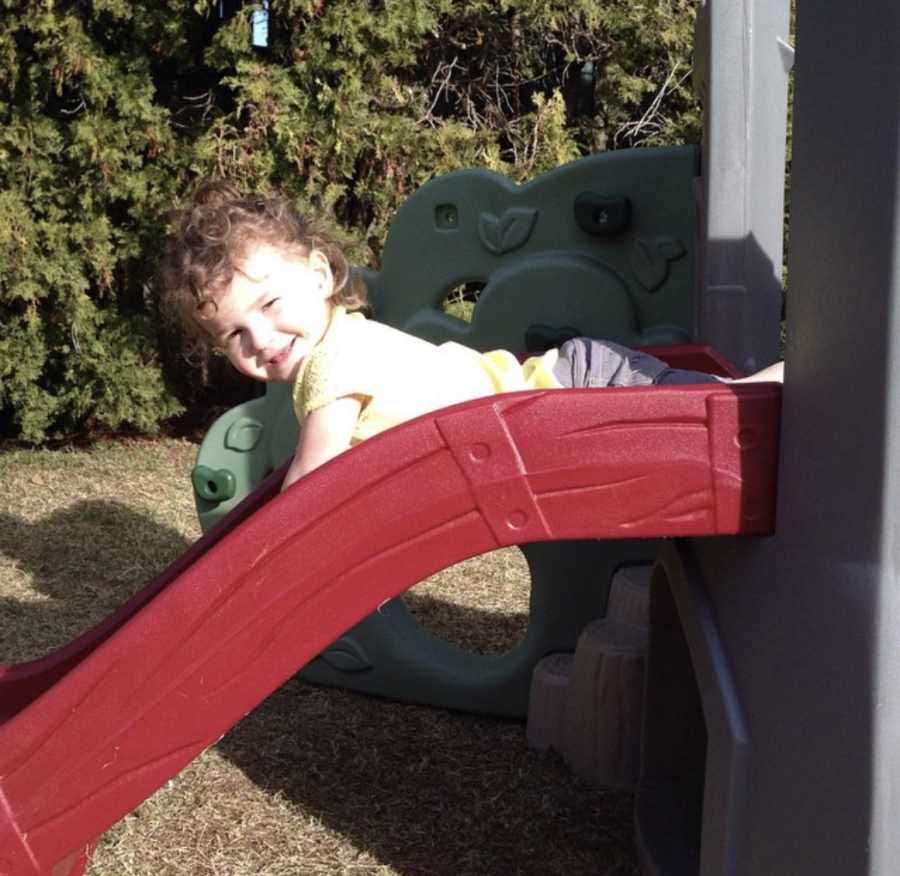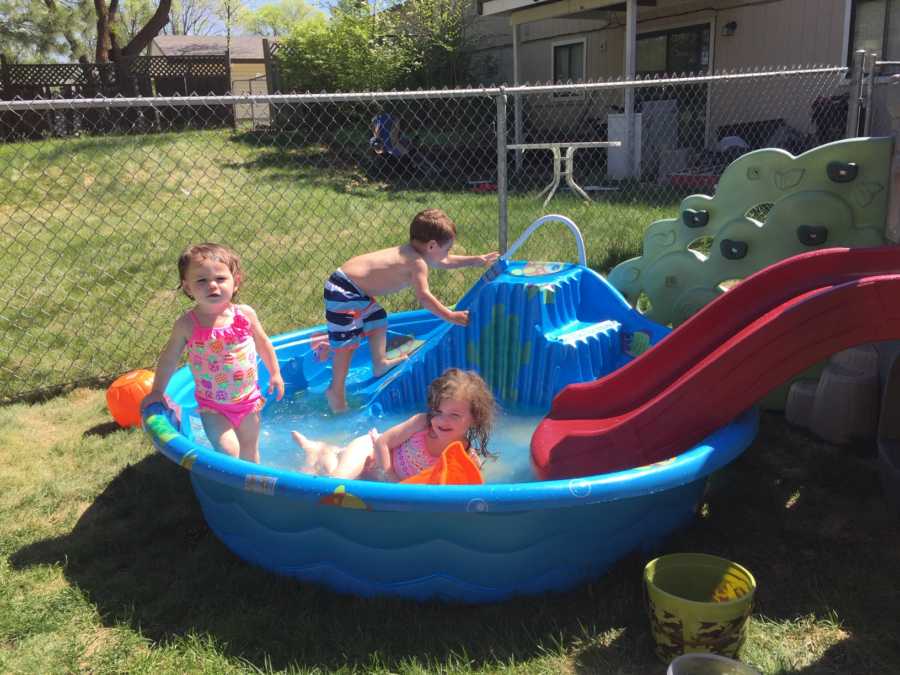 Yet here we are packing, and I can't tell if it's worth taking. It breaks down easily to move, but do my kids use it enough to keep it? With another little one on the way, it seems like it's more practical to keep it so they can grow up on it as well. Will I ever be ready to let go of this thing?
Maybe all of this sounds so silly to others. I guess sometimes the physical items that aided in the 'growing up' process of my kids are harder to let go of. Throw in a deceased parent who gifted said item and then the idea of letting it out of your possession seems unthinkable.
These items could be easily replaced with newer ones, but they hold a special memory to me. There are specific things I hold on to just because I know their story and I don't ever want to lose them. Sometimes 'stuff' is more than just a materialistic thing. Sometimes stuff can be sentimental in a way others may not understand. I try really hard to not be a 'pack rat' and to keep our lives as minimalistic as possible.
But there's things I will struggle to say goodbye to, and there's just things that I will never part with.
We are going to say goodbye to the Princess jeep. We will find a family who could use a fun toy like that one. One who will love it just as much as we have. I'm just not ready to part with that little red slide yet, so we will hang on to the jungle gym for a few years more.
My dad's spirit is so important for me to keep alive. I know he's looking down, smiling at this little family we've created. I believe he even had a hand in sending me our sixth baby. I still can find him in the silly mannerisms of my children if I look hard enough. They will never know him like I did, but we will always encourage his name and stories to be told, especially while we're playing with these special items hand-chosen by him for my family."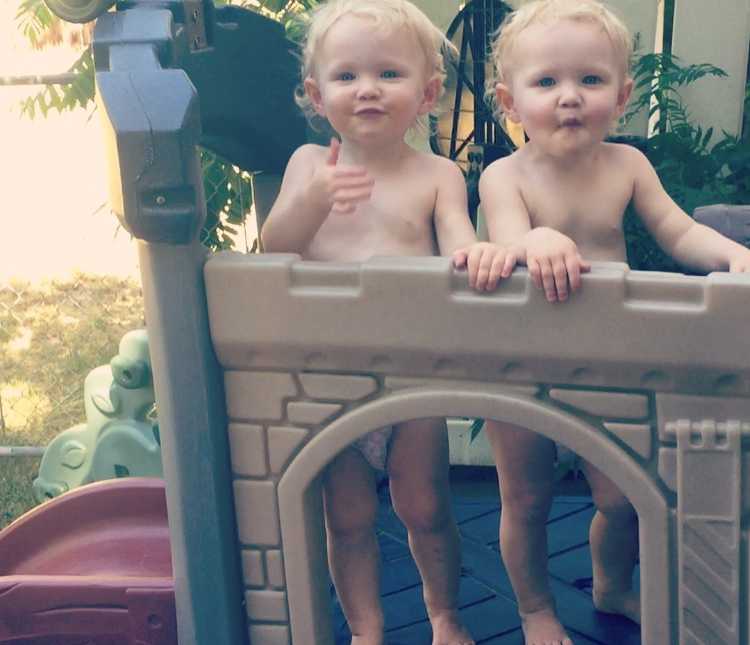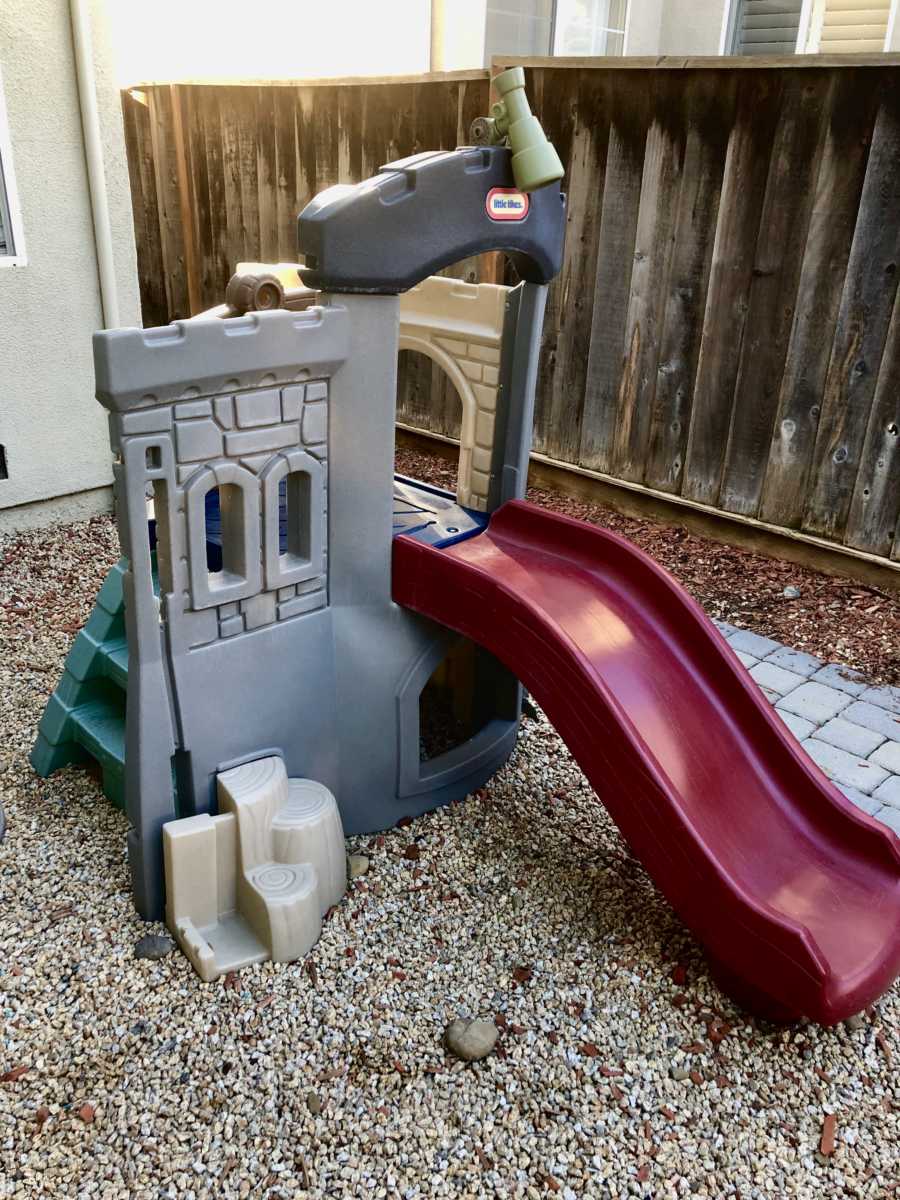 This story was submitted to Love What Matters by Molly Schultz of Tried and True Mama. Submit your own story here, and subscribe to our best stories in our free newsletter here.
Read more from Molly:
'It's okay Molz, you got this!' My DAD was in the delivery room when I birthed my first child.
'My daughter said, 'There's a light coming into the picture.' It wasn't just any light. This was a beam straight from HEAVEN itself.'
Provide beauty and strength for others. SHARE this story on Facebook with your friends and family.