"I stopped making New Year's resolutions when I could no longer fit another thigh master type item in my closet. I swear I tried it. I swear. But, since trying to squeeze five pounds of metal between my legs wasn't my cup of tea, it didn't last long. Neither did that shake weight thing or the gym membership or the diets or not swearing. No, I have not really been all that successful with New Year's resolutions, and I'm ok with that.
Because this year, I did a thing.
A great, big, huge, beautiful thing.
I put my wedding ring back on.
Before I confuse you too much, let me explain why I took it off in the first place.
About a year after my young husband died, I thought it was time to move forward in my life in many ways, and one of those ways included dating again. Maybe you think that's too quick. I don't know. I don't particularly care. But, when you lose somebody after a lengthy cancer battle, your mind is in a different place. People like me start grieving at diagnosis, not when they physically die. It's not to say that you give up hope, but you just gently prepare yourself in ways that are difficult to explain. And as much as I love my husband, he's not coming back, and I don't want to be alone forever. I enjoy being part of a couple. I enjoy companionship. I don't need to 'find myself.' I don't need to figure out who I am. I know who I am, and I also know I have a heart big enough to love again, in spite of the amount of loss I feel.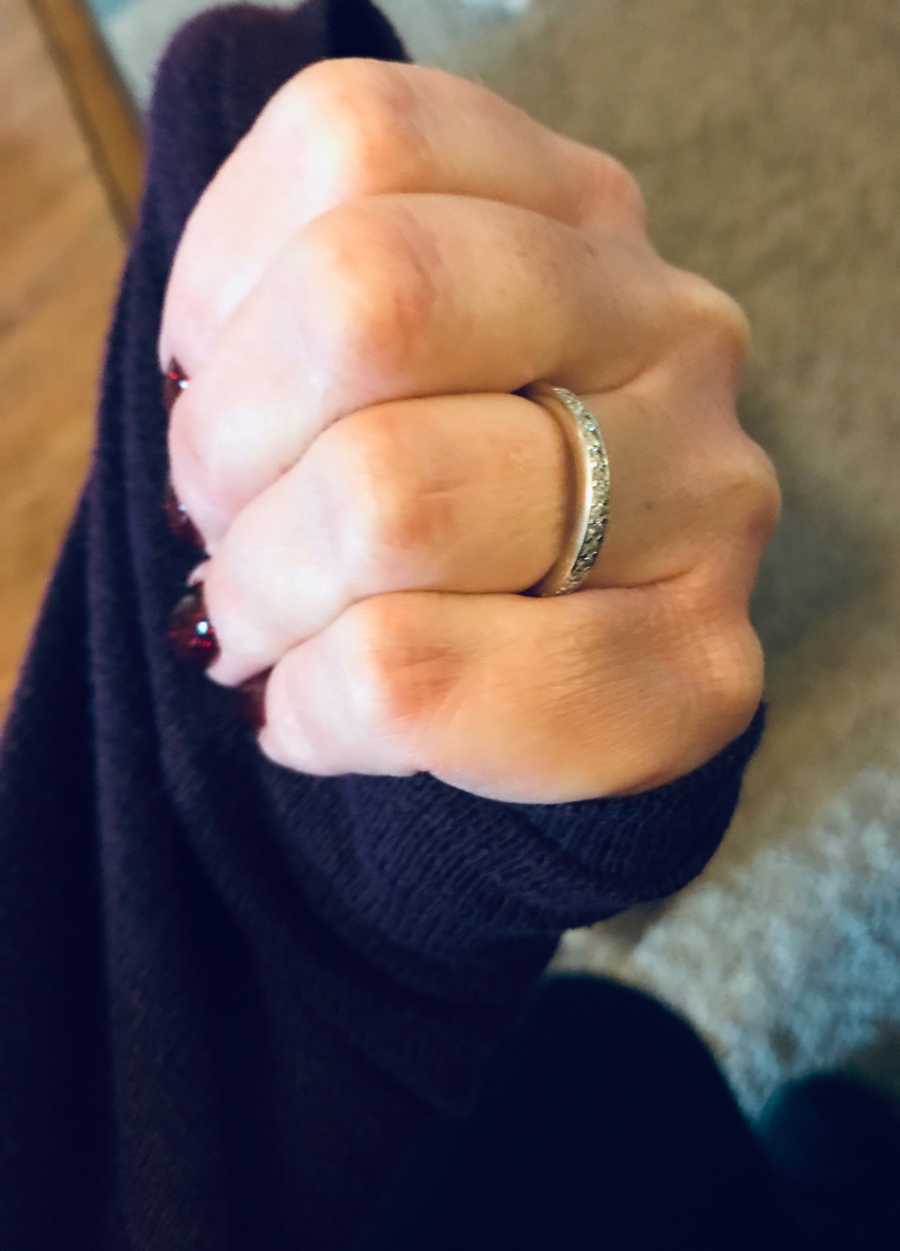 So, I did. I loved, and I loved hard. Without getting into specifics, it didn't work. It wasn't right. I learned that not everybody is going to be who you want them to be, and not everybody is going to have the same values and moral compass you do or that you're used to. I learned that you can love somebody a lot, and you can try everything you can to make it work, but if they don't put the effort in, too, it just won't work. We drug it out too long, and in the process, we both hurt each other in ways we probably didn't mean to, but we did, nonetheless.
And while I learned some valuable lessons about love, I also learned some valuable lessons about my worth. And how I want to be treated. I always knew I was married to one of the greatest men in the world. I always knew he was amazing. I always knew he was kind, compassionate, generous, hilarious, patient, tender, caring, sweet and considerate but was not a push over by any means. He was a man's man. He could fix anything. He could do anything. He was inventive. He was creative. He was just so good. He was so, so good. Anybody who met him really liked him. Nobody left him without laughing.  Nobody left him without wanting to be a better person. It's just who he was.
And that man – that incredible man – picked me. He could have picked any woman he wanted, but he picked me. This man who was so good saw something so good in me, that he chose me. I have five million faults. I am impatient. I am stubborn. I am hard headed. I am emotional. I am curious. I am overwhelmed. I am jaded. In lots of ways, I am broken. But he didn't care. He didn't care how shattered I might have been.  No. He paid no attention to that and he saw the rest of me. He saw the amount of love I have to give. He saw my creativity. He saw my humor. He saw my willingness to help. He saw my work ethic. He saw my ability to take care of him. He saw my heart. He saw my worth. He saw the real me. And he picked me. And he picked me for a lifetime. Not a lifetime of only good. Not a lifetime of empty promises. Not a lifetime of just magical moments. No, he picked me for all the rotten times, too.
And we made a commitment to love each other through it all, and we did, right down until the moment he took his last breath while I held his hand in mine. We fulfilled our vows. We loved each other for a lifetime. We honored our commitment until death took him, yet in so many ways now, we still are. I will always love him, no matter who I love next. I have learned how to love somebody alongside loving him. But, when that love is not returned, I have learned that I don't ever want to settle for somebody, ever again, who won't love me the way I deserve.
So, I put my wedding ring back on. I put it back on as a physical reminder of the kind of man I want to be with. The kind of man I want to invest my time in. The kind of man who is worthy of me, what I have to offer and who I am. I have made a resolution this year to myself that I will always remember my value, and I will not take this ring off again until I meet the man who recognizes my value and wants to love me completely – just like my husband did. I will no longer waste my time trying to convince somebody to pick me.
I know so many women struggling right now with this same thing, and I want you to hear me. It is hard to feel rejected. It is hard to feel heartbroken. It is hard to hurt. It is easy to keep running back to the person who hurt you, hoping they will heal you, even if it's for a short period of time. But it is no longer what I want to do, and I hope you will choose not to do it, either. I hope you will see how beautiful your soul is. I hope you will see how valuable you are. I hope you will see how happy you really can be. I hope you will see that someday, somebody is going to love you – faults and all. I hope you remember just who you are, and never question your worth again.  But above all, I hope that you pick you."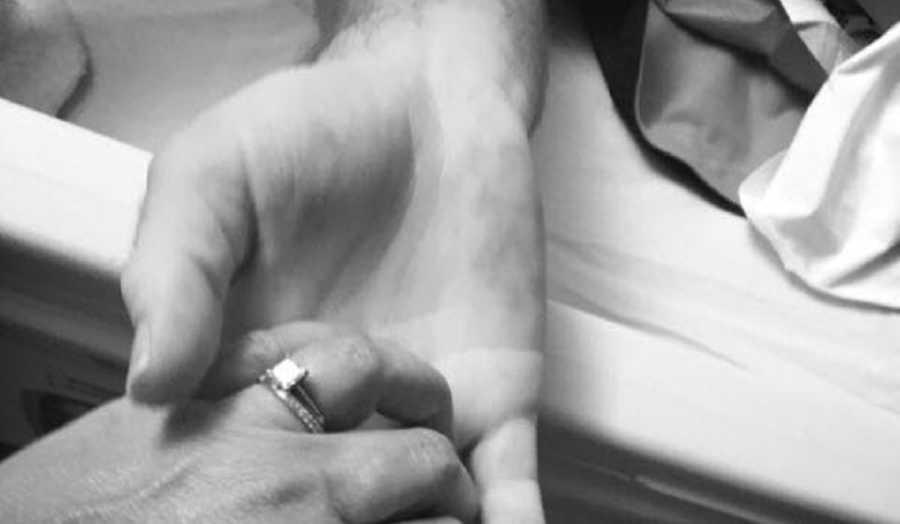 #iam149
This story was submitted to Love What Matters by Diana Register of Meridian, Idaho. Her books "Grief Life" and "My Kid Is an Asshole, and So Is My Dog" are now available in print and kindle. You can follow her work on her author Facebook page. 
Read more from Diana:
'Suddenly, everything changed. He became irritated with me. He snapped at me. Then he said something I never thought I would hear: 'I want you to leave.'
SHARE this story on Facebook to encourage others to cherish every moment and love what matters most.