"I'm a double, below-the-knee amputee, and I am also a mother of two four-legged little dogs. 9-year-old Casper, a mixed breed of Papillon and Pomeranian, and 12-year-old Lion, a Miniature Pinscher (he's a story of his own). I own my own business and work as a nail technician. I also study healthcare.
I was diagnosed with spina bifida, also called myelomeningocele (MMC) when I was born. MMC is a congenital developmental disorder with a lack of closure of the neural tube and vertebrae in the fetal stage. The hernia and nerve were damaged, leading to paralysis of the muscles, decreased sensitivity of the skin, and paralysis of the bladder and intestinal function. It is a very complex condition that requires interdisciplinary follow-ups, both medically and from habilitation. MMC is considered one of the most serious congenital malformations.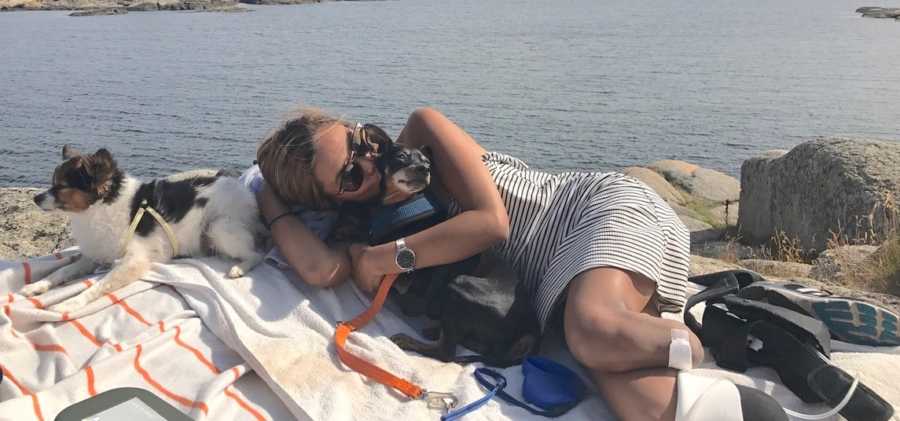 My first surgery, at only 3 months old, was in Thailand, my country of birth, which I often visit. Thanks to the efforts of my then-16-year-old mother, she had specialists at a hospital in Bangkok operate on me. The neurosurgeon was an elderly gentleman who was familiar with this rare disease, but for fear of permanent damage to mobility and paralysis of my nervous system, he was able to close half of the neural tube and vertebra.
I was about 4 when I flew to Norway for the first time with my mother and Norwegian father. Until I was 7, I thought I was asymptomatic for discomfort after the operation, but I had reduced sensitivity in the skin and muscles in my feet. No wonder I could run barefoot out in the snow without feeling cold. It was in 1992 or '93 when the complications really started to occur. I started to get open sores on my feet. It started mainly on the left big toe. There were many trips back and forth to the hospital. Thanks to good old Nintendo with Super Mario on screen and a little sister who accompanied me, it wasn't so boring to be in the hospital.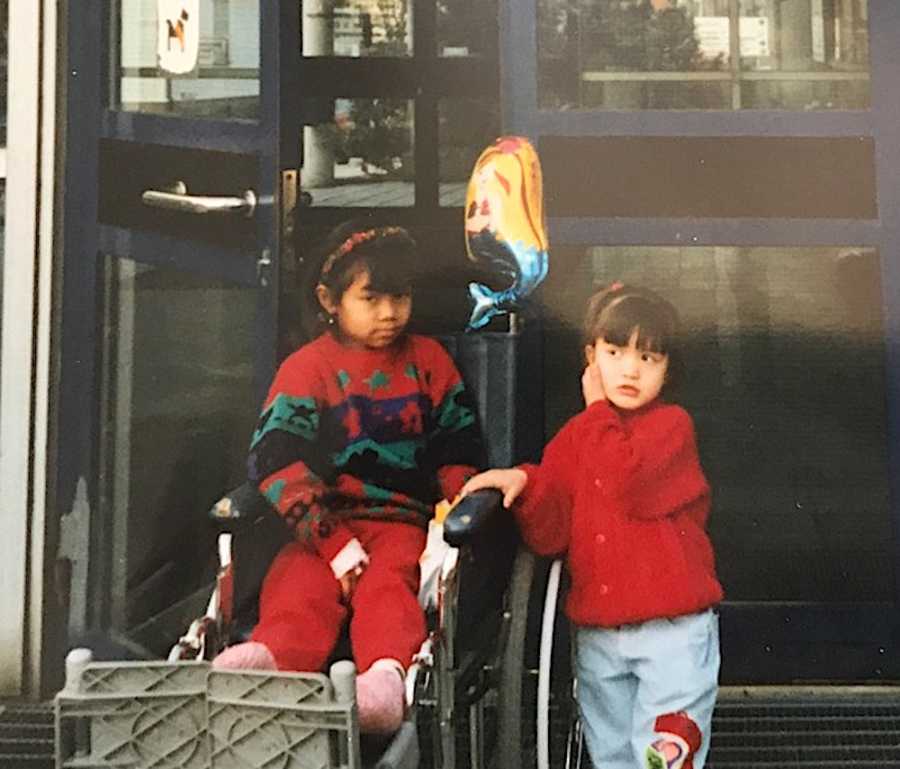 My second back operation was in Oslo when I was 10 years old. This was where the great doctors were. The doctor who operated on me was credited with the development of groundbreaking neurosurgical techniques for treating children born with MMC. If you think about how far technology has come, it was not the same then, but he helped make it better by developing technology that allowed a surgeon to close neural tubes and vertebrae in delicate areas of the nervous system that had previously been considered impossible.
I was laying in my hospital bed on my stomach, high on morphine for 10 days straight. I often had hallucinations with glimpses of large spiders that took me. During the habilitation, I sat in a wheelchair while I slowly but surely learned to walk again with limited mobility after an extensive back operation. There was a 50/50 chance of whether I managed to mobilize again or not. The odds were so minimal, but with good interdisciplinary follow-up at the hospital and specialists, I slowly got back on my feet. Much of my primary school time was spent at the children's hospital. Here, I had schooling, motor training such as walking, limping, and running exercises by analyzing the movement signals between the brain and the nervous system.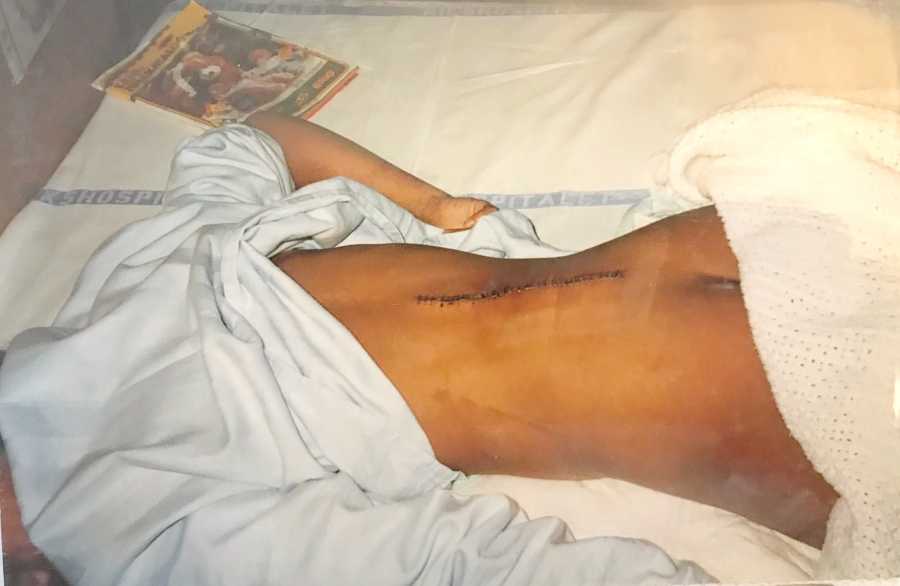 You're probably wondering, 'Okay, so what does this spinal cord have to do with her losing her legs?' Well, the spinal cord is the body's central nervous system. The brain is the command center for the body, and the spinal cord is the path for signals sent by the brain to the body and from the body to the brain. The two times they went in to close the neural tube and my vertebra, they cut these signals from the brain to the bone, which caused damage to the nerves and the signals that were to be sent to the rest of my body: the messages to tell my leg to grow, how I was going to grow, and how I was going to move or walk. It should help my legs to feel cold, heat, pain, and discomfort. These signals were no longer sent or received. Since these messages were cut off, my leg was no longer working.
And so began the leg problems, i.e. neuropathy, in the feet was my new diagnosis. Neuropathy means several of the peripheral nerves in the body, especially in the feet, do not function properly, namely because the sensory nerves carry signals of emotional impressions — pain, touch, pressure, temperature, and sense of joint. Almost all emotion was gone in my left leg, from the base of my feet to parts of the calf.
My childhood was turned upside down when a pressure sore opened on my big toe, which turned out to be chronic. This led to countless hospital visits and wound care treatments. I had a home nurse who changed the wound and put me in a green soap bath because I was too young to do this myself. When there was no hope of healing the wound, revisions and surgeries were performed to remove infections and the spread of them. Countless footbeds, orthoses, and specially-made shoes went with it. I called the orthoses my 'leg' because I could not walk without it for a while. When I went to bed, I took it off and when I got up again, I put it on. I hated it, but it was an attempt to relieve the foot of further pressure.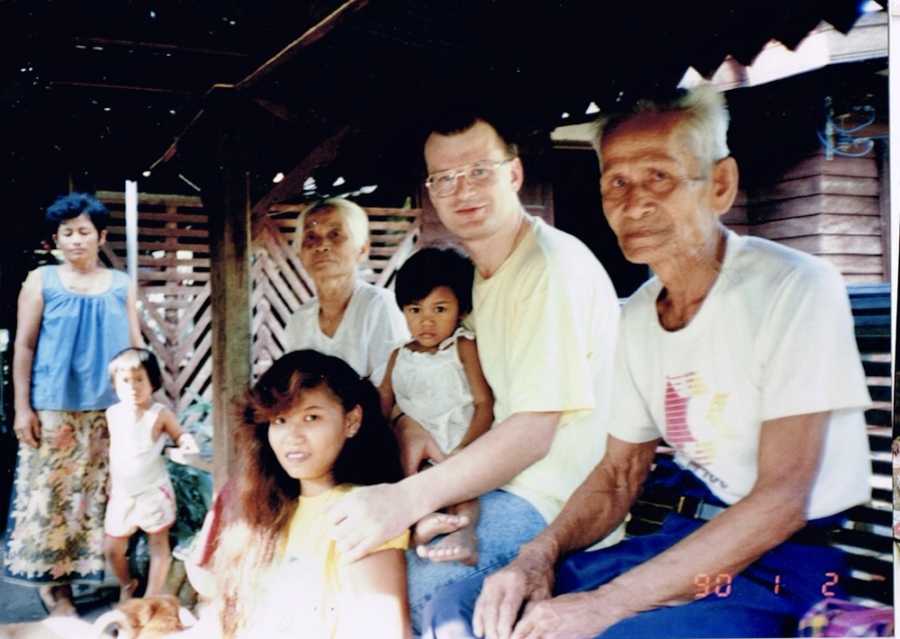 The solution was eventually to amputate the big toe, which we thought would solve the disease process, but with each operation, it got worse and worse as new wounds appeared on the other toes, and the disease, unfortunately, became long-lasting. Smaller feet, poor balance, and mobility made me go from walking to sitting in a wheelchair, to crutches, and then starting all the way back in the wheelchair after each operation.
I'm basically like a diabetic in the sense I don't get better without strong antibiotic regimens or with intravenous treatment in hospital, and open wounds had to be treated regularly. If a wound healed after surgery, a new one would appear, which would cause major infections. It never failed. Over time, my left foot would be half as short as my right foot after countless surgeries and amputations.
It was a relief not to be able to feel pain in my feet. Therefore, I never dreaded wound changes and was never afraid of hurting them. Not being able to feel pain or discomfort, cold or heat in my feet was actually just amazing. Of course, I felt a kind of pain anyway when it turned out to be something seriously wrong. Pain and discomfort such as severe cramps in the leg and groin were some of the symptoms. An unbearable pain for a normal person is not so bad for me.
For 7 years, I went to an orthopedic clinic at the hospital to receive treatment for my left foot. There was great hope they managed to make the wound heal. But I was told 4 years earlier, 'Unfortunately, there is no hope of making the wound heal in this way, without having to amputate both legs.' I was 18 when I got this tragic news. My first reaction to this was, 'Amputate my legs? Never in my entire life. I would rather continue to walk on my half-foot with the wounds I have, instead of having to amputate. Who wants a girl without legs? What about self-image? Self-confidence?' As a 23-year-old, it was bad enough as it was and blood poisoning… not happening to me.
In the meantime. I was often acutely hospitalized for 7 years due to infection lying on an orthopedic ward for several weeks with intravenous antibiotic treatment, and the problem only came back every time I was active (as in living a normal life) or strained my foot. I defied the doctor's advice to amputate and continued weekly visits to the clinic until my body said, 'Stop!' I got blood poisoned in 2010 at 23 years old.
The second time I had to amputate was in 2017 when I was 31 years old. This was a choice I made myself. I knew I had to take the right leg as well, but I was not ready when they took my first at that time. My reaction on my second attempt was, 'Just get it done! I'm tired and I want to heal.'
One day in February of 2010, my body said, 'Stop. It is enough now.' I thought I had the flu a few days before it all happened. Blood poisoning has the same symptoms, only more severe. The doctors had warned me, 'Blood poisoning can occur, and worst-case, cause death due to the chronic infection. This means 16 years on and off with immunosuppressive antibiotic treatments if you do not choose to amputate your left leg.' A whole new phase of my life started in February of 2010. The neuropathy had taken over my life after 8 years of wound care treatment, countless hospitalizations, and operations at the hospital. I have been battling this chronic disease for a total of 23 years, which eventually caused an infection in my bone structure and the rest of my body. 16 years of wounds on my left foot were over. It was broken, I was done.
Blood poisoning is a condition where an infection has caused a serious inflammatory condition in the blood and in many of the body's organs. Never in my 23 years of my life have I felt such unbearable pain in my body. Something was wrong, but I did not know what it was. I had severe fever attacks, frostbite, weakened general condition where I was bedridden and could barely get to the bathroom. I called the ambulance and had them drive me to the hospital. Normally, I would have driven myself to the emergency room, but that was impossible now. My body ached and being touched hurt. I was on the verge of blood poisoning and severely ill, caused by the infection in the wound. Unfortunately, I do not remember much, but it ended with an acute leg amputation a few days later.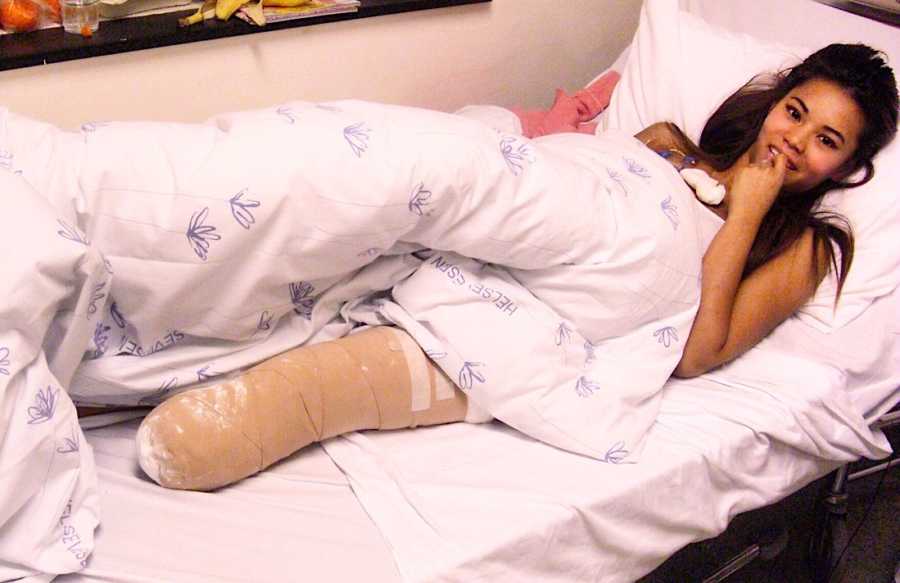 Dentures (prosthetics) are not something you find out you should have. You get it automatically in Norway. I remember I wanted prosthetics that looked like real legs so nobody could tell I was amputated, not those robot-like prosthetics. I knew I was in safe hands in the new life situation I was in. An orthopedic engineer I had already used helped me along the way.
The positive thing about the prosthetics was I could finally use nice shoes such as high heels, and I could get taller in height. The advantage of prosthetics is I do not have to freeze on my feet or break my legs. The disadvantage is the ability to not being flexible, and I can't use the ankle joints combined in workout routines or activities.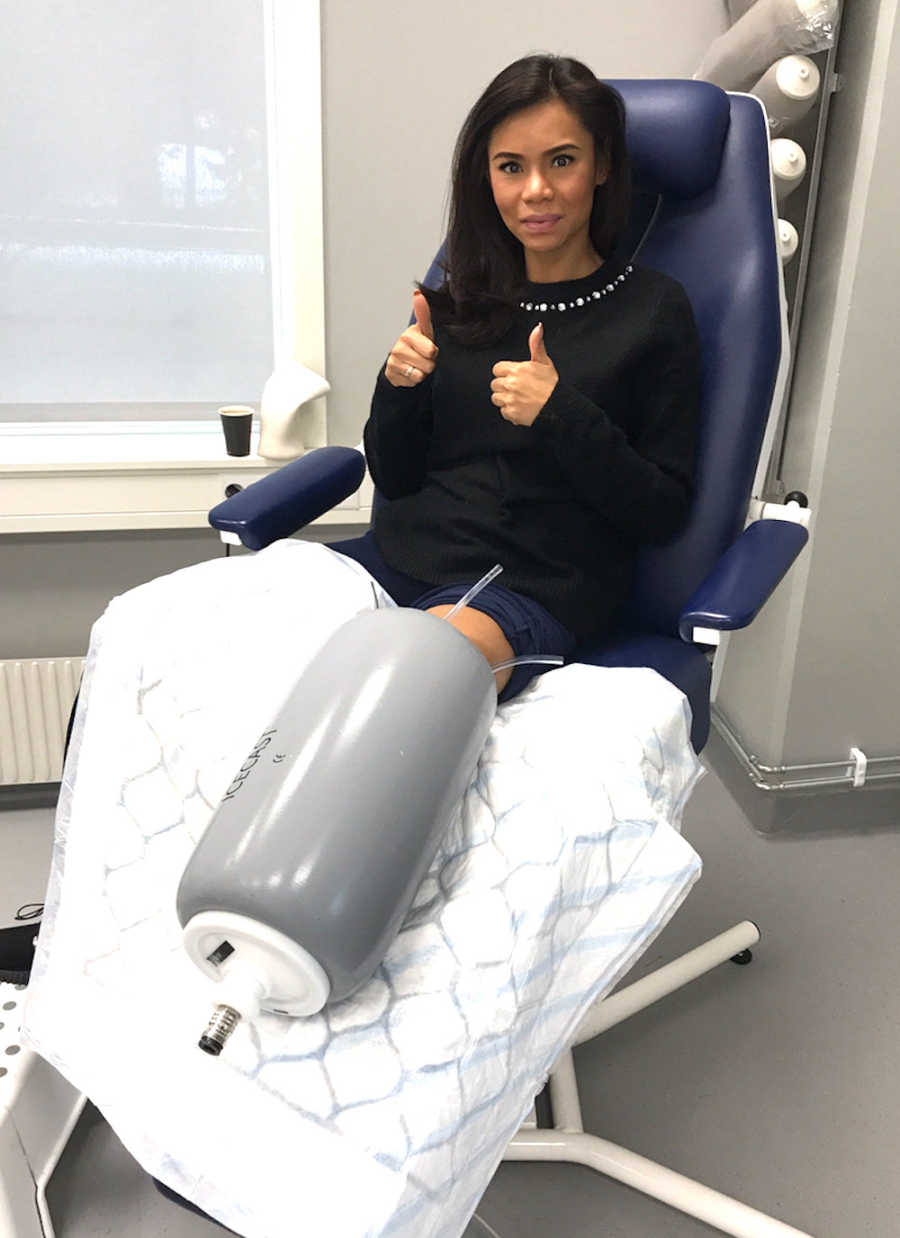 I use prosthetics that allow me to walk now. It may not be the nicest time, but they allow me to stand and walk. People stare and slang ignorant comments you could never imagine. I make the best of what I have been through in life, and I am proud of how hard I have worked to get to where I am today. This is how I became who I am today, and I would never have changed any of what I have been through for a normal life. I have learned throughout this process, one can either sit down to feel sorry for oneself, or one can swim through the river of sh*t to get to the other side and be proud of oneself for having gotten there.
The ones that make my head hang on are definitely family, boyfriend, and friends, who are clearly invaluable in such a process. You are at your most vulnerable phase of life with lots of thoughts flowing through your head while trying to get back on your feet. I'm lucky to have family, friends in the middle of all this, but what about those who have neither, especially family. This gives me a lump in my throat.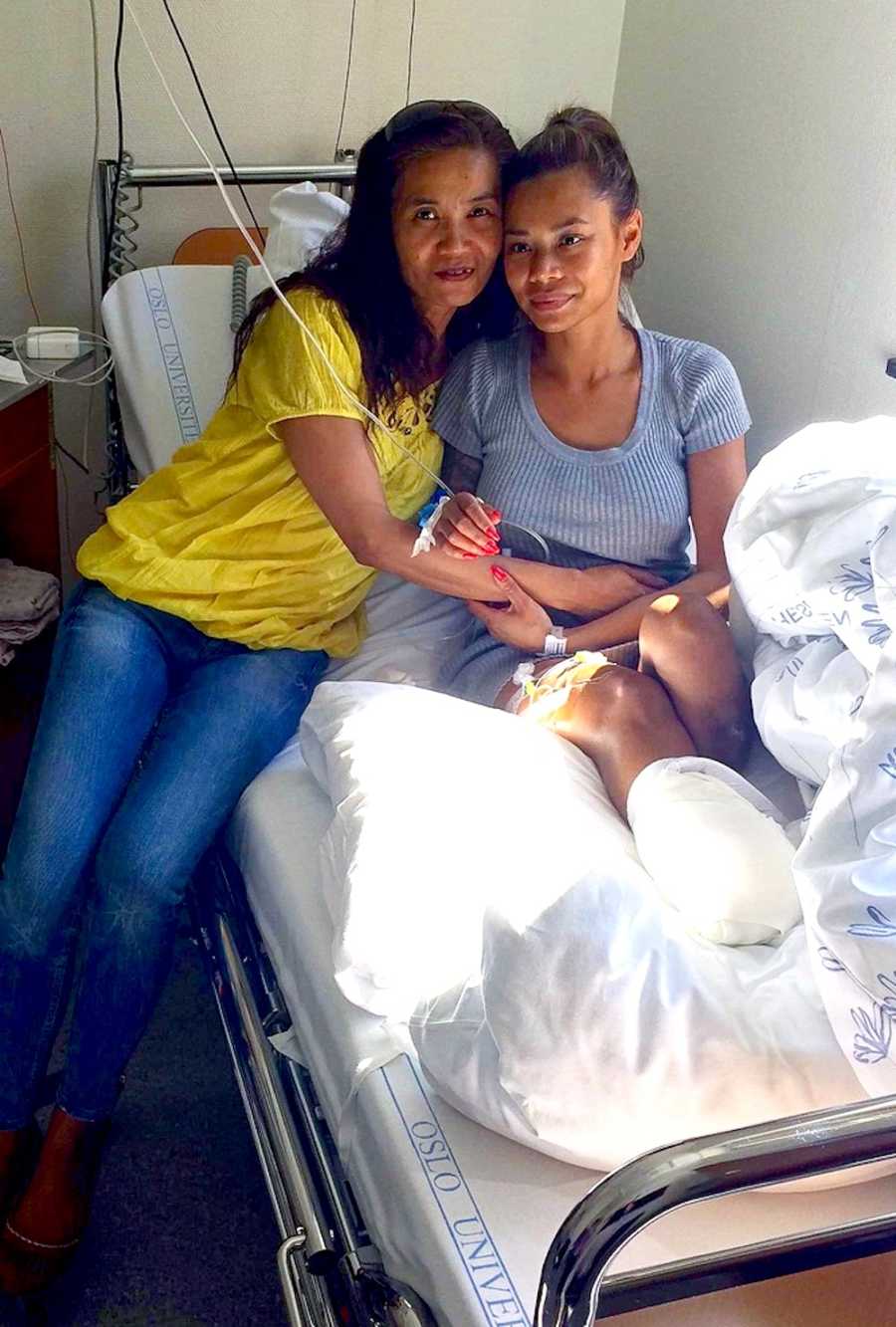 As I write this, there are many thoughts that roam me. I see life in a completely different way than what I have done before. 24 years of a course of illness, in and out of hospital walls, has definitely affected and shaped me to a great extent. I have seen and met people I would never otherwise have met on the street. There are people with the biggest hearts, the caring, the empathy, the understanding, the compassion, and the selfless thought for the condition of others despite their own. I'm so lucky to have met this warmth despite the cold world out there.
I've had a lot of thoughts about friends sometimes withdrawing in the situation I'm in, which I find a little sad. I'm still the same person you can sit down to have a coffee with, talk about the world's problems with, and everything else, even if the surroundings are different. It is important to me that you do not behave differently to me. I'm still me — even though my physical self has changed.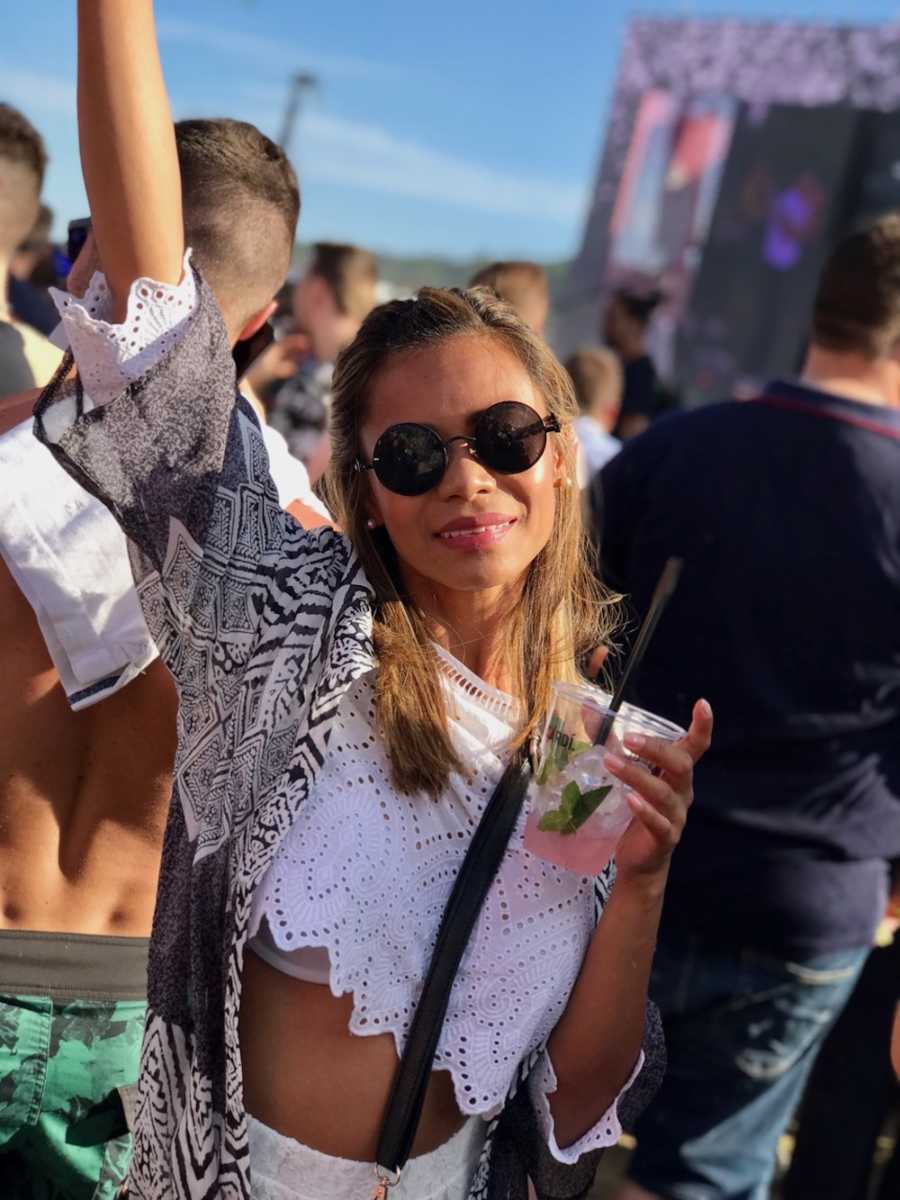 It's okay to have bad days no matter what situation you are in. Cry if you are in pain, sad, hurt, or you feel the need to cry. It eases the mind a little anyway, and you should not feel ashamed or stupid by showing emotion. My way of dealing with negative thoughts is to talk to other people. Hear about their day or their problems, maybe they come up with something nice, or their problems can be of benefit to you in that you can help based on your own experiences and experiences. Realize it is important not to isolate yourself when you are in pain or having a sh*tty day. Use your friends, family, and girlfriend or boyfriend — use them to talk out. Then you will see that a lot has already been done.
What I take with me further in life are all the people I meet. I have met people with the most incredible stories. Some due to suicide, but survived. Some due to traffic accidents and motorcycle accidents with screws in their body, and who had to amputate legs. Someone because of a diagnosis that made them paralyzed in their whole body or parts of the body, without knowing how it happened. Someone with burns. What these people had in common were lots of laughter, humor, joy, and care.
There is a sense of humor inside such a department one cannot take to outsiders because outsiders cannot understand. It is difficult to explain or put it into words. It is a very vulnerable, sad, and unreal place. At the same time, it is important not to put it into focus. Turning something unfortunate into something positive is an important element in the big picture.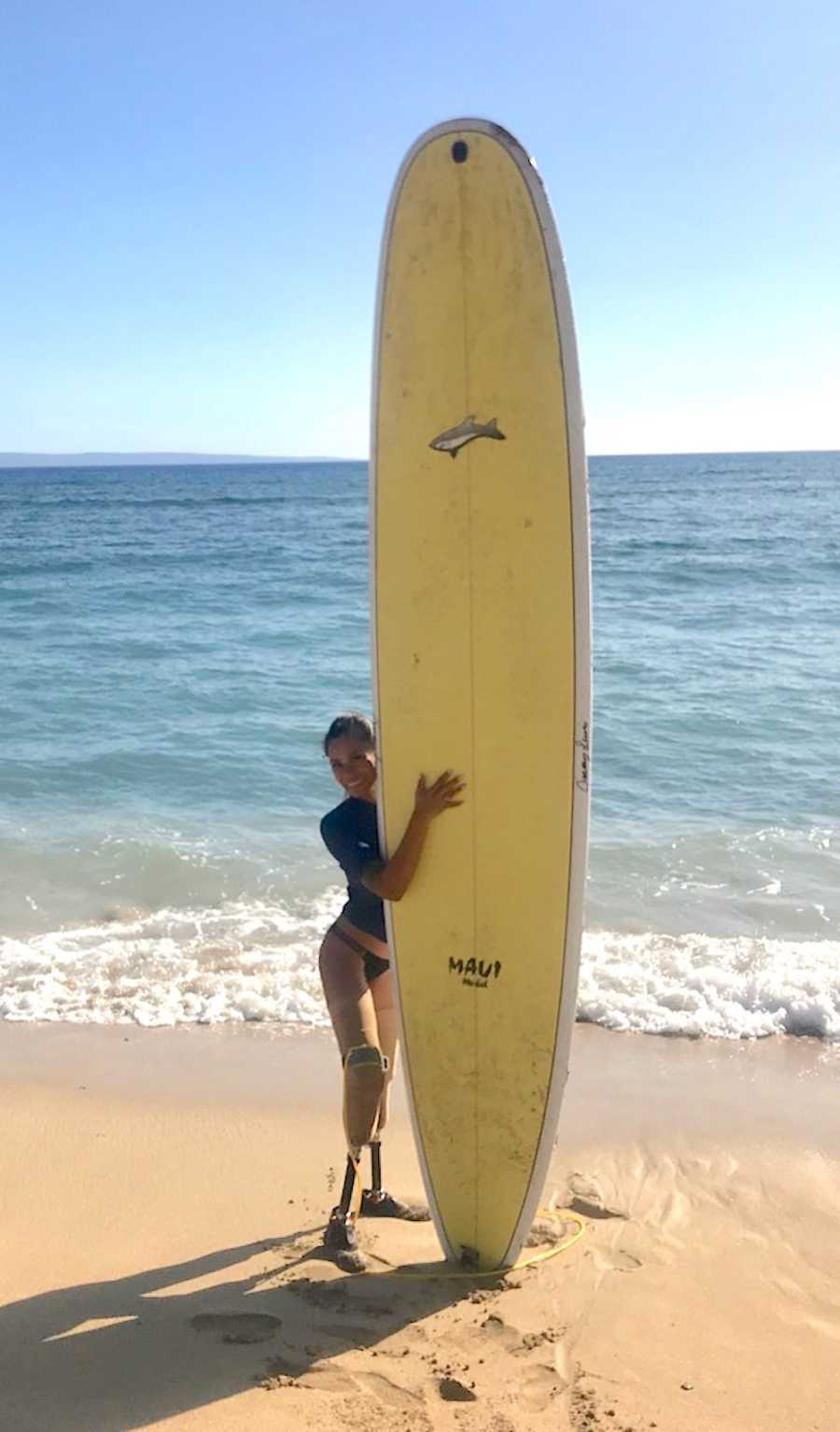 I have been through the acute phase of shock and the experience of unreality. Well, the unreality comes and goes, but I have understood it can come and go, and how to deal with it. At times, I can get strong and emotional reactions such as despair, anger, and crying. I know what helps me from collapsing is social support, and I think that can help more people in a traumatic event. Social support reduces the risk of having health problems after a traumatic event, and I speak from previous experience. I'm not in a dangerous situation now and I feel safe, even though my body is still affected by traumatic stress. Most of the time, you feel safer with other people. I am interested in orienting myself towards the world again, and although I will always remember the event as painful, it is not I think about it all the time anymore. I have come out of the event strengthened.
I often meet people, both young, adults, and older, and I must say I learn so much about myself from meeting people. Reflecting on my own life and that of others gives me an inner strength to cope with adversity, while at the same time putting it into perspective. People and their history are fascinating, and instead of judging and depressing each other, we should focus on lifting each other up. We all have something to learn from each other for better or worse. Life has no guarantees, and there are such small margins when an accident can happen, and it is important to appreciate what you already have instead of longing for something more."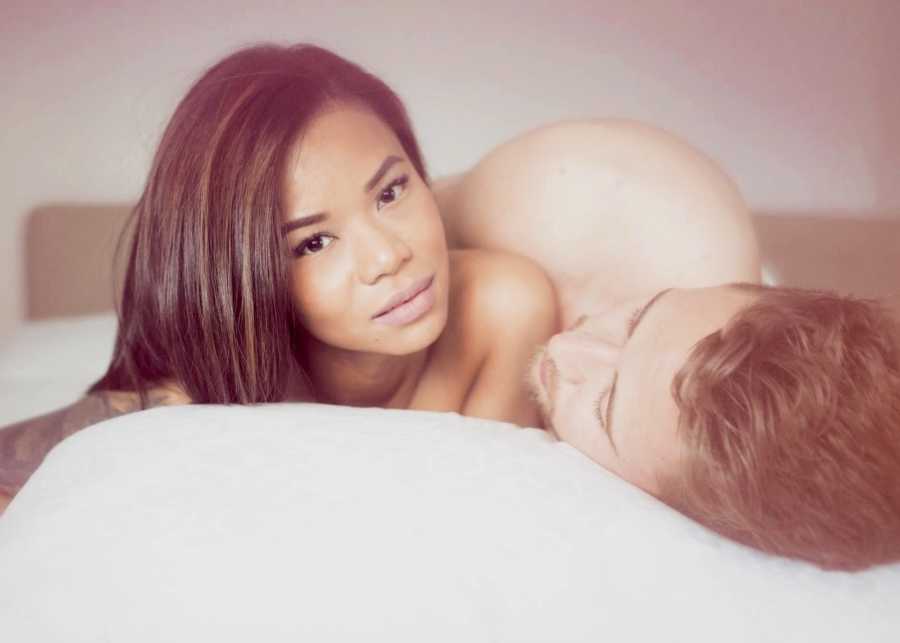 This story was submitted to Love What Matters by Celine Sapklin Halvorsrud. You can follow her journey on Instagram. Do you have a similar experience? We'd like to hear your important journey. Submit your own story here. Be sure to subscribe to our free email newsletter for our best stories, and YouTube for our best videos.
Read more amazing stories of amputees here:
'Jango bit down on Hunter's leg and violently shook him like a rag doll. He'd ask, 'Why would God let this happen?': After terrifying dog attack, boy learns to thrive with prosthesis
'My parents detonated a bomb inside our tiny, thatched roof hut. I was supposed to die that night.': Adopted bomb survivor now hopeful paralympic swimmer, 'I'm so thankful for the opportunities this life has given me'
'I was 11, hooked up to morphine. 'If I get rid of my leg, I never have to go through this again?' I had to make a decision.': 11-year-old with Osteogenic Sarcoma voluntarily amputates leg
'I would claim, 'Oh yeah, I hurt myself. I'm wearing a hard brace until it heals.' I never told my parents I wrote a suicide note.': Woman known as the 'girl with one arm' hides prosthetic for 2 years, finally realizes, 'they knew I was different, they didn't care'
SHARE this story on Facebook and Instagram to help celebrate unique and beautiful differences!