Trigger Warning: This story contains mention of miscarriage that may be triggering to some.
"Had someone told me, throughout my healthy pregnancy, life would radically and suddenly change for me just a few short months later, I probably wouldn't have believed them. Had someone told me we would receive earth-shattering news about what our future with our baby girl looked like, I might have laughed. Had someone mentioned the words 'Congenital Heart Defect,' I would have had to Google them to even understand that medical terminology. But as it would happen, I would become intimately knowledgeable about all of this, sooner rather than later.
After a couple of years of waiting and trying for a baby and a heart-wrenching miscarriage, my husband, Patrick, and I were elated to learn, in the spring of 2013, we were pregnant again and the baby was healthy and growing. Sitting in the ultrasound room during our many appointments, I soaked up each moment of watching that tiny human bouncing and kicking on the screen. The feeling was unlike any other. The knowledge I was growing a tiny being felt so huge and overwhelming in all the best ways. In the quiet evenings, Patrick and I would lay dreaming about the person she would become as we smiled over little kicks and jabs. Life was pure bliss.
Nine months came and went quickly, the nursery was meticulously organized, decked out in pale pinks and creams. The hospital bag was packed with every necessity. We had already named our baby girl Avalynn, and we eagerly anticipated her birth. January 7 arrived and the moment we had waited for all of our married lives. Our 8-pound, 5-ounce baby girl was born, pink and healthy, into a buzzing delivery room of nurses and family members. The energy was electric and I sobbed as they lay her warm body across my chest. I looked up at my husband and said, 'I did it! We did it!' The love was unlike anything I had ever experienced; an instant flood of pure, selfless love for a person I had only just met.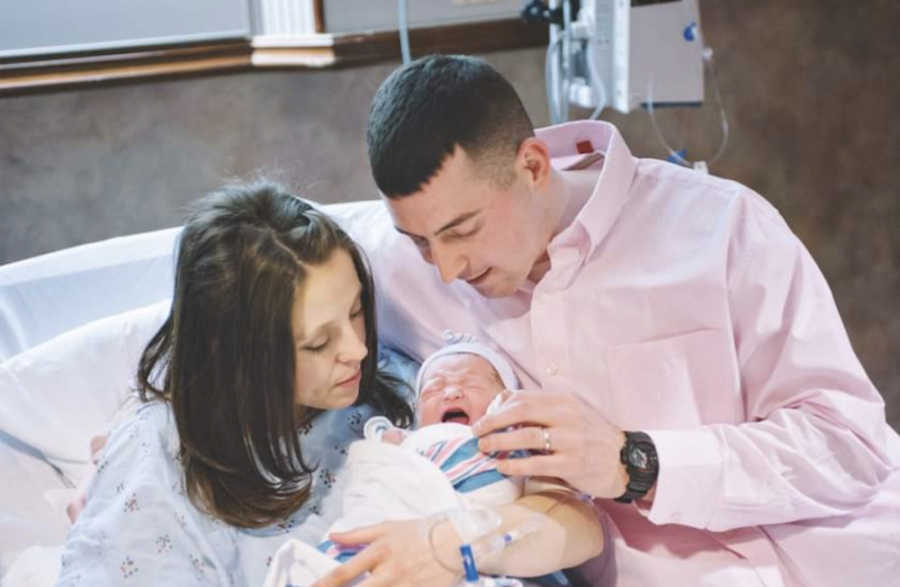 Like most mothers, the next several hours were spent in recovery and I was eventually moved with Avalynn to a mother/baby unit room. Nurses came and went, checking Ava and me intermittently. We rested when we could but for the most part, we excused our need for sleep and replaced it with hours of just staring at our perfect newborn daughter. When nurses came into our room late in the evening to take Ava to the nursery for standard state medical testing of hearing and pulse oximetry, I didn't question whether or not I would see my child right after. But much to my surprise, it would be several hours before I would hold and see my baby again. Things would quickly take a turn for the worse.
I remember looking at my phone and mentioning to Patrick it was past time for me to nurse Ava. I told him I was worried she would be too hungry. I called the nurse's station to ask for them to bring Ava back to eat. 'I'm sorry, Mrs. Kent. The testing is taking a little longer than normal. We will be in touch with you shortly.'
Naively, I didn't think to ask if everything was okay. I simply assumed. When another 30 minutes had passed, I called again. This time, a team of nurses came into our room. I knew instantly, by the solemn looks on their faces that Ava was not in testing.
The next several hours were a buzz of information and chaos. Terms like, 'congenital heart defect,' 'cyanotic,' 'pulse oxygen,' and 'heart surgery' swirled in the air. The post-natal fog of sleepiness certainly had messed with my ability to comprehend, but this was different. The fog I was experiencing had nothing to do with lack of sleep. I knew, without having even been told yet, life for my husband and I had just changed.
'Mr. and Mrs. Kent.' A doctor walked into the NICU where we stood over our baby girl. 'Avalynn has an extremely rare heart defect, Ebstein's Anomaly. It is severe. I'm not sure how it was missed. It is likely she will need heart surgery immediately.' I couldn't cry. I simply looked over at my tiny baby, with tubes and wires all over her little body, and wondered how this had happened to us. What would happen next?
While in the nursery, Avalynn's pulse oxygen levels had suddenly plummeted to dangerous lows. Quickly, the nursery staff transferred her over to the tiny NICU the small-town hospital had and began medical measures to save her life. The small room that housed the incubators was around the same size as the mother's unit room I had been resting in just minutes earlier.
Not only had this news just been poured out on us, but we found ourselves at the community hospital where we delivered her, feeling helpless. We had specifically chosen this hospital because Avalynn was so healthy. I loved the idea of an intimate delivery in a small-town hospital. The staff was so warm and friendly, the nurses all had motherly nature to them. However, we now regretted ever having gone with a small hospital. Life-flight of our infant to a university hospital over 2 hours from where we were was mentioned and I agonized over the idea of being separated from my very sick, baby girl.
In the upcoming days, I experienced so many intense emotions. I can only relate it to the grieving process. I didn't know much about Ava's condition, we were still learning, day by day. But as we would come to discover, Ebstein's Anomaly (EA) is a wide spectrum heart condition, mild to severe. Although there was some comfort in that, I also found myself grieving my daughter from the start. This was aggravated when it was finally confirmed Ava's particular case of Ebstein's was severe. If I'm honest with myself now, and I never would have breathed a word of it then, I was preparing myself for the worst. I was preparing for the death of my daughter.
There were moments when I would find myself, huddled on the shower floor, crying uncontrollably, begging God to heal my child. I was angry, sad, and scared. Life seemed bleak and I fell into a pit of despair, dreading each day and each new doctor's appointment. The days of dreaming of our future as parents now seemed so far away. What I once anticipated with excitement I now wished I could hide from.
I'll never forget, in the midst of it all, my father picked up on the severe depression I was in. I remember telling him, 'I can't celebrate. I can't be happy.' He simply told me, 'Yes, you will. You're going to bring that baby home and you're going to love on her and take pictures of her and you're going to enjoy these days.'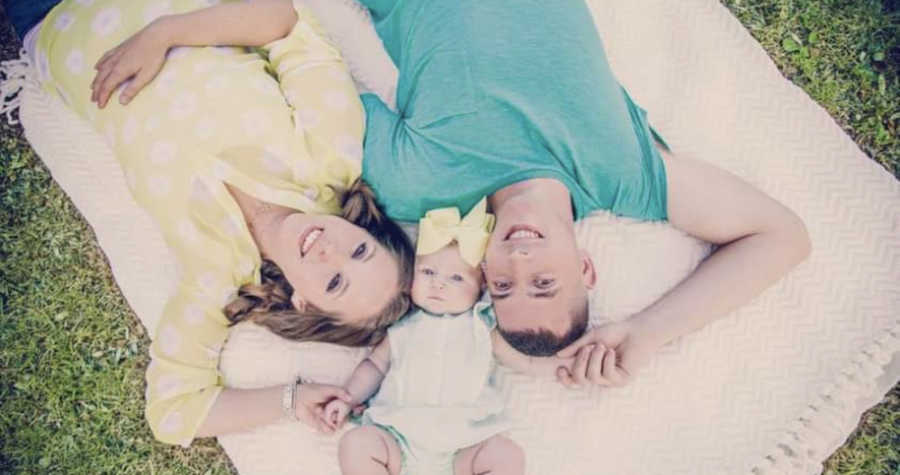 His words would come true and, much to our delight, Avalynn entered what many pediatric cardiologists refer to as 'The Honeymoon Phase,' for children with EA. This isn't a reality for many parents of children with EA, but we felt so fortunate and blessed to be able to push off her first open-heart surgery. So we relished in our sweet, baby girl, just like my father told me we would. We celebrated and we spoiled and we just soaked up each and every milestone. In the meantime, we began advocating for her and informing others about Congenital Heart Defects, about how they affect one in every 100 children, how there is no cure, and about the importance of pulse oximetry testing for early diagnosis.
As Ava neared her fourth year of life, Patrick and I began noticing some changes in her. They were very discreet and others didn't notice, but they became more and more evident to us. Ava's lips and tongue were slowly looking bluer, followed by her fingers. This became worse when she exerted any energy. She was much more tired, she had trouble keeping up with others her age. The little girl that always had an abundance of bounce seemed to be struggling more to keep up.
We weren't surprised when we learned it was time. Her cardiologist noted the decline in her pulse oxygen and gently warned us we were coming out of the honeymoon phase and Ava would need surgery within the next 6 months. I can't quite explain that feeling. Maybe we had been in denial? Maybe we had fallen for the idea we might be the miracle and Ava wouldn't need surgery? Either way, it felt like a punch to the stomach when we learned Ava would need this surgery, along with others throughout the remainder of her life.
In August of 2018, Patrick, Ava, and I flew to Rochester, Minnesota for her first open heart surgery at The Mayo Clinic. The week leading up to the operation was filled with pre-operative appointments but also with a lot of one-on-one time with family. We relied much on our faith, as we always had, in those moments. If it weren't for that, I'm not sure we could have survived what we would come to experience.
On August 9, Ava underwent an 8-hour operation. There are many moments that stick out to me about that day but perhaps the most prominent was walking alongside the hospital bed as the nurses and anesthesiologist wheeled her to the OR. My feet felt like cinder blocks and I kept looking to my husband, hoping to draw a little of the strength he seemed to have off of him. As I lay over Ava's sleepy body, just before they wheeled her in, I prayed over her, I begged God to bring her back out. I sang words from our favorite hymn, the one I still sing to her each night at bedtime. As I turned the corner, I was able to catch a glimpse of her surgeon and I tearfully asked him to take care of my Avalynn. He nodded reassuringly.
My husband and I ducked into a private room on our way back out to the waiting room. Before seeing the family waiting for us to return, we had to have a moment. Deep sobs crippled us as we tried to will ourselves together to face the hours ahead. They were the longest of our lives.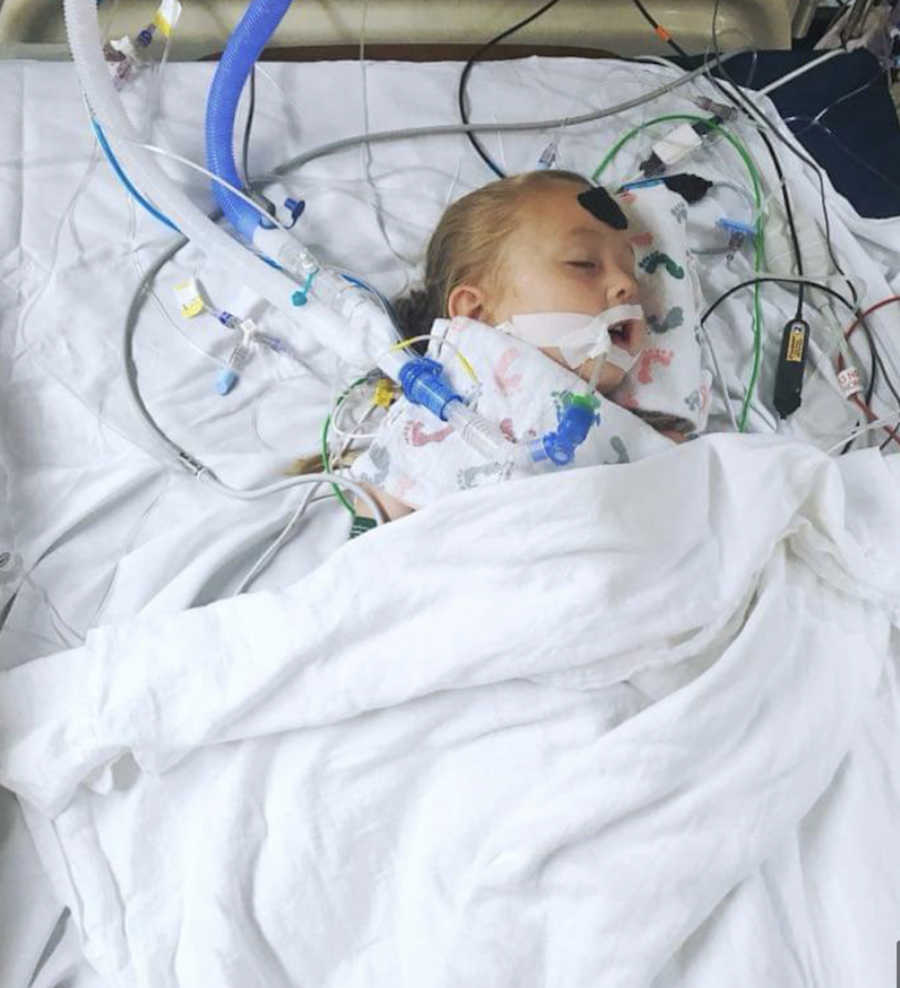 Ava came through surgery beautifully and we were so surprised to hear her renowned surgeon tell us her heart was in much worse shape. He suggested had we waited any longer, we could have been looking at a transplant instead of repair and as crushed as we were, we were so thankful for God's mercy and we had been placed in this surgeon's care.
Seeing Ava in the condition she was in will be a memory that will never leave me. Large tubing ran out of her mouth, her chest rose and fell robotically as a machine breathed for her. Wires ran out of every part of her. My sweet, life-filled, joyful baby girl was now so weak and vulnerable, holding onto life sheerly by sovereign grace and the skillful hands of nurses. She didn't understand. All of it was too much for a 4-year-old to grasp, but Patrick and I tried to reassure her often things would be better. We promised. Things would look up. 'Just keep pushing, baby. Just keep pushing.'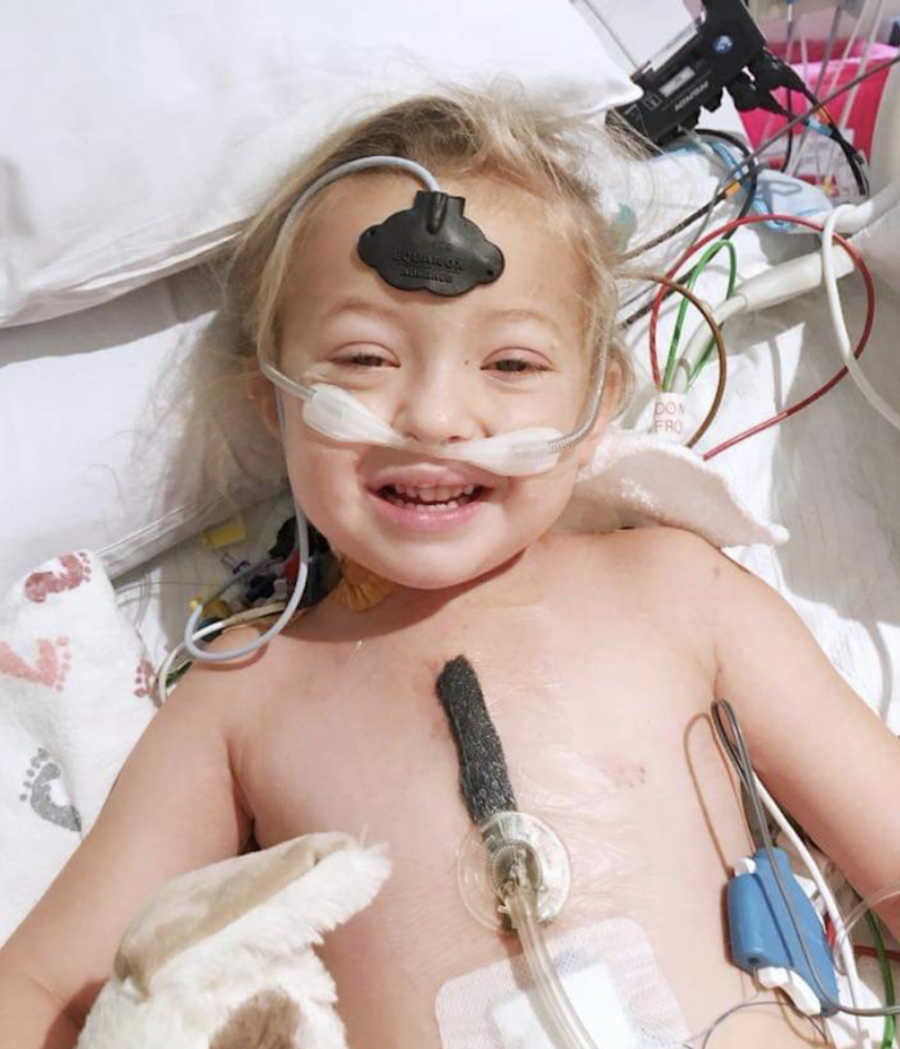 She spent 5 agonizing days in the ICU. We experienced many highs and lows, including excruciating line and tubing pulls, an infection-induced high fever, and the news she was having more difficulty than most coming off of her ventilator. Her pain was so evident, but what was worse than the physical pain was the depression she was experiencing. Anyone who knows Ava knows how vibrant and cheerful she is. She is life-giving. Yet, in those moments, even trying to muster a smile seemed too much. I felt helpless. I could do my best to help with physical pain but there was nothing we could do to help her through the mental agony she was experiencing and that was probably the hardest part of it all.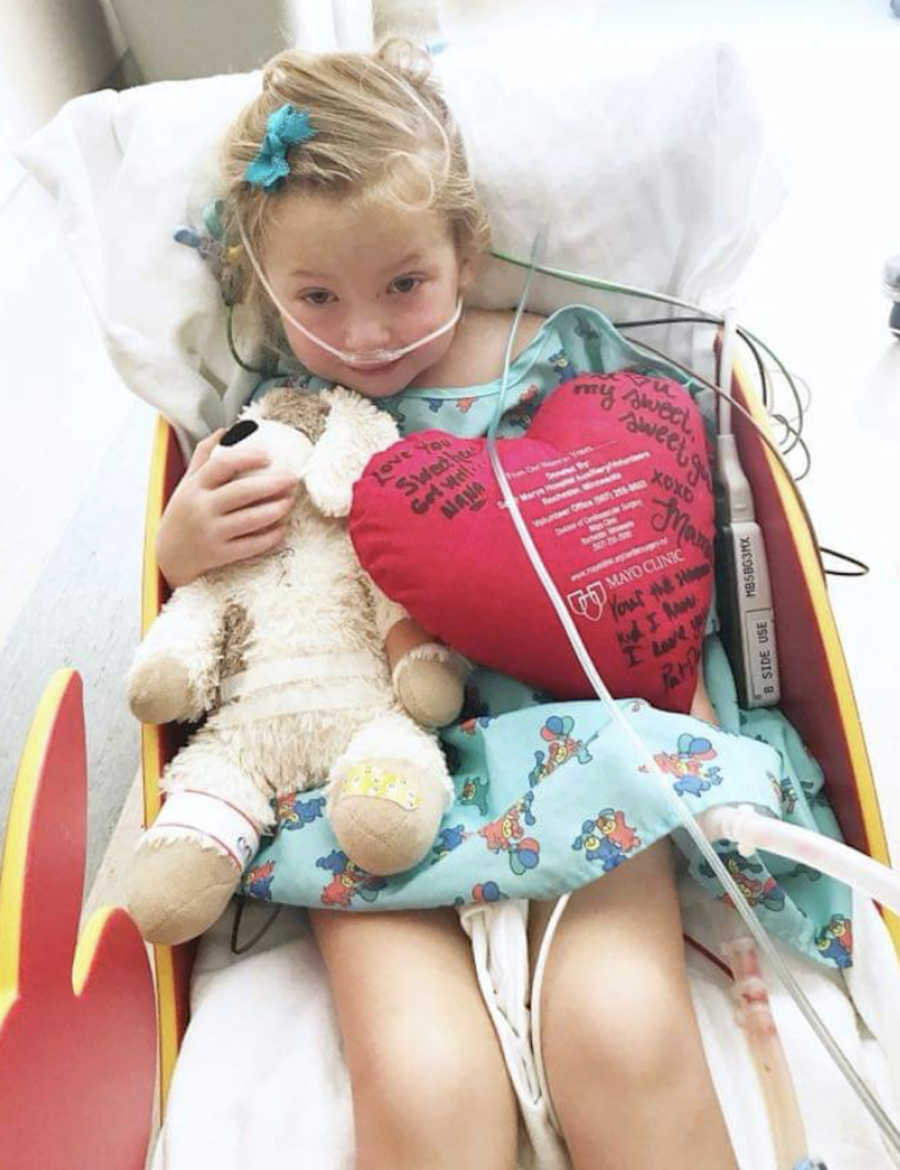 We made it through that week and the following days ahead, as we lingered in Minnesota for post-operative care. Avalynn met post-surgery milestones with ease and before we knew it, we were on a plane back to North Carolina. It would be several weeks before we had her back at 100%, but just seeing her free of lines and thriving was such a breath of fresh air.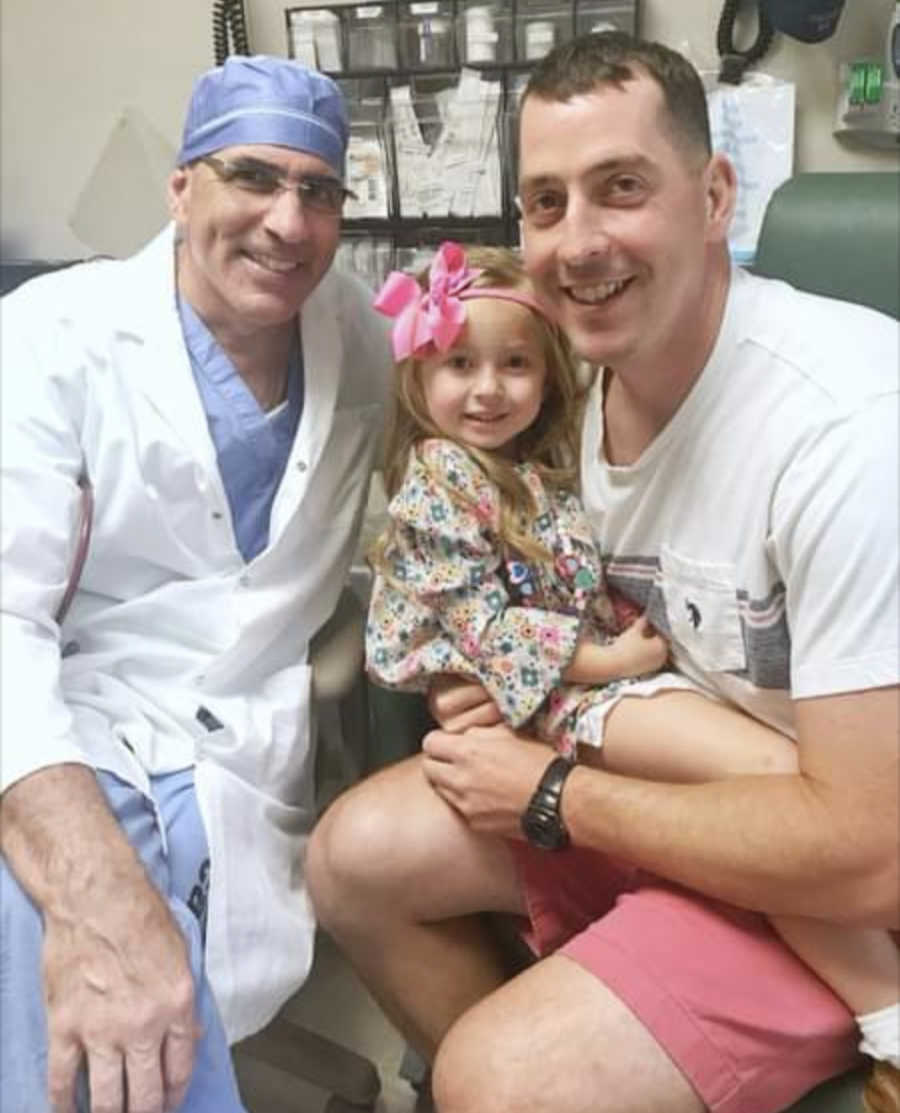 Since that time, it's been a couple of years of great health for Avalynn. With Ebstein's, however, we are constantly in what Patrick and I refer to as 'the waiting game.' Avalynn's heart will not ever be 'healthy,' and she will never be without a need for surgery or constant monitoring. That's the thing about CHDs. They are a rollercoaster of highs and lows.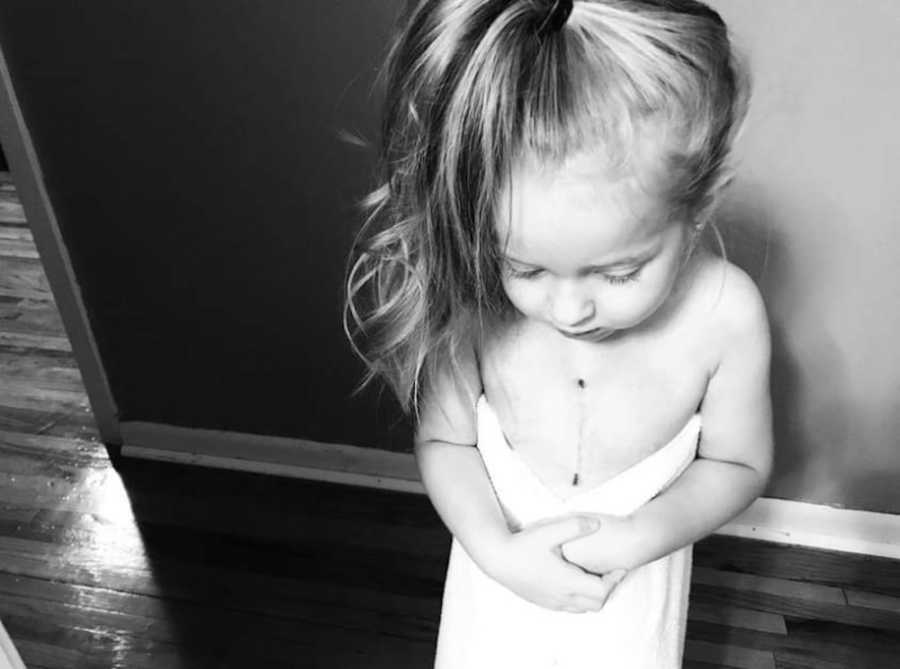 Through all of this, Ava has learned to be resilient. I can't count the number of times I've heard her say, or we've reminded her, 'I/you made it through heart surgery! You're a warrior! You can handle this!' Ava has an old soul. You can tell she has endured big things and she is just so full of life and joy, constantly. She is our little light. As for us, all of this has taught us life is precious and we shouldn't take anything for granted. While Ava's journey has not been easy, within our community, we've known too many parents who have lost their child to Ebstein's. We know the dark side of this and we do not take it lightly. Because of this, we try our hardest to soak in each and every moment with Avalynn and to focus on the healthy, good moments rather than dreading, constantly, the next procedure/surgery.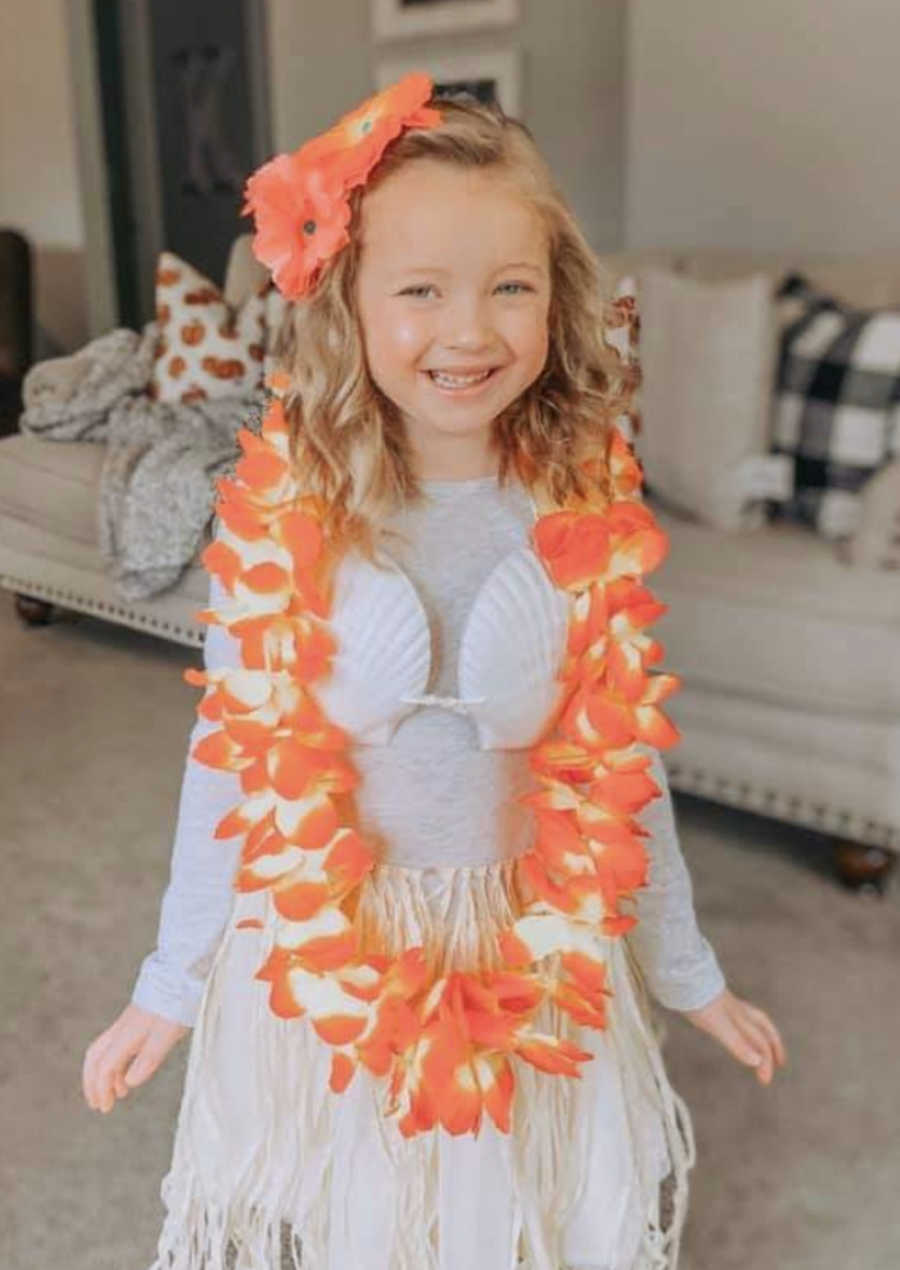 Avalynn is now a big sister to her little brother, Graham and she has filled that role so beautifully. She enjoys playing outside, riding her bike, crafting, reading, and our moments in homeschool together.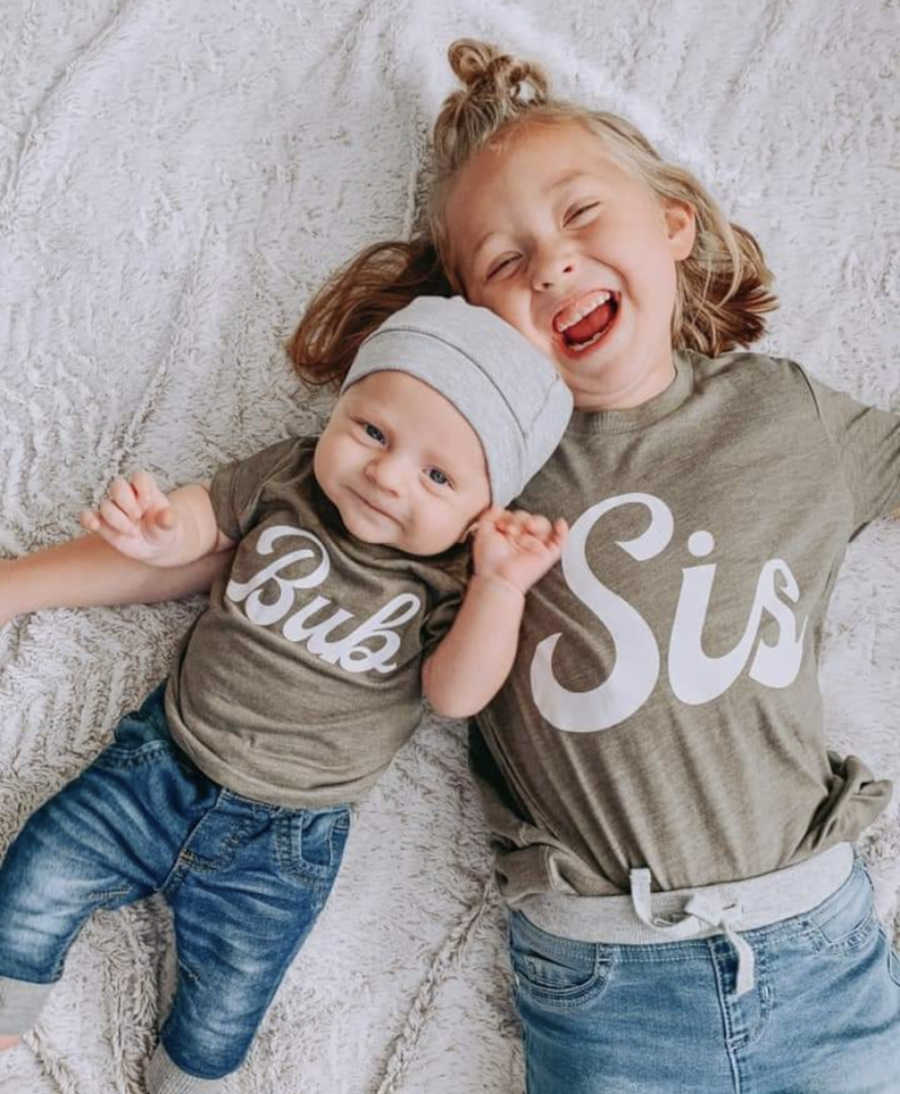 Avalynn has Ebstein's Anomaly but Ebstein's Anomaly does not define Avalynn. We are so grateful for God's provision and we trust Him as we come upon this next phase of her life and on all future interventions. We are so blessed to have our sweet heart warrior, Ava."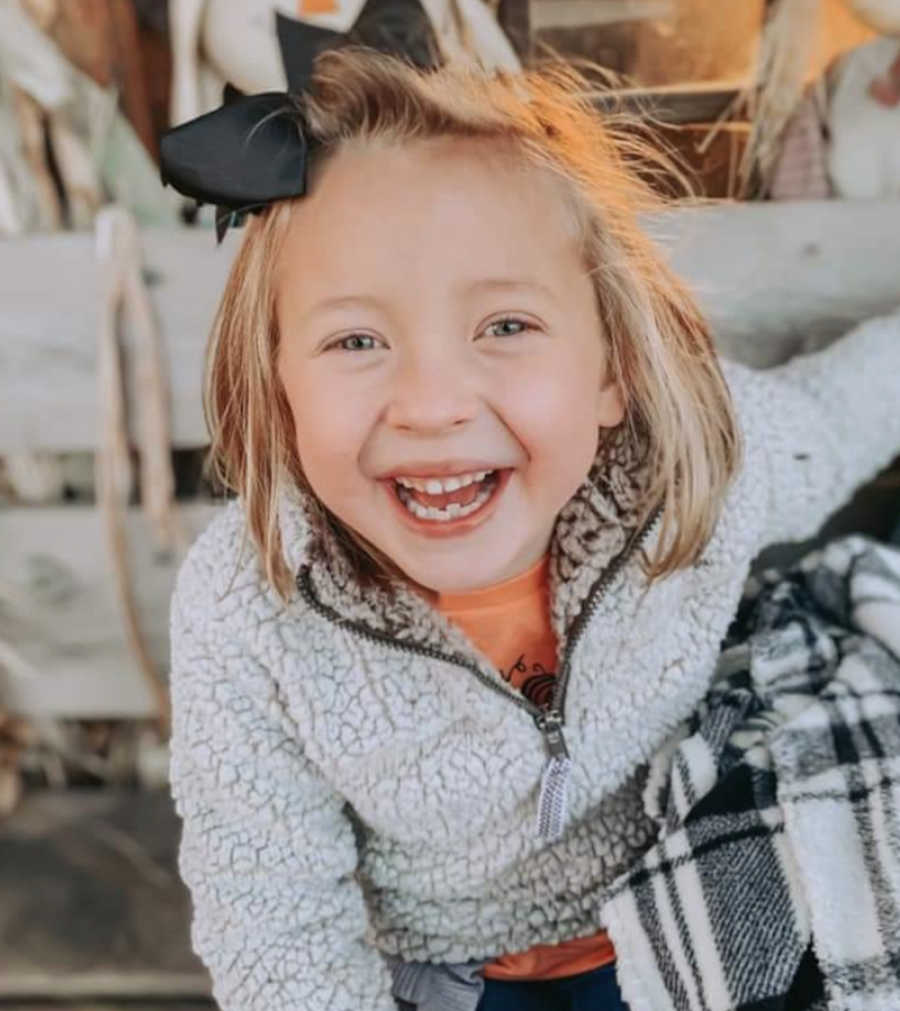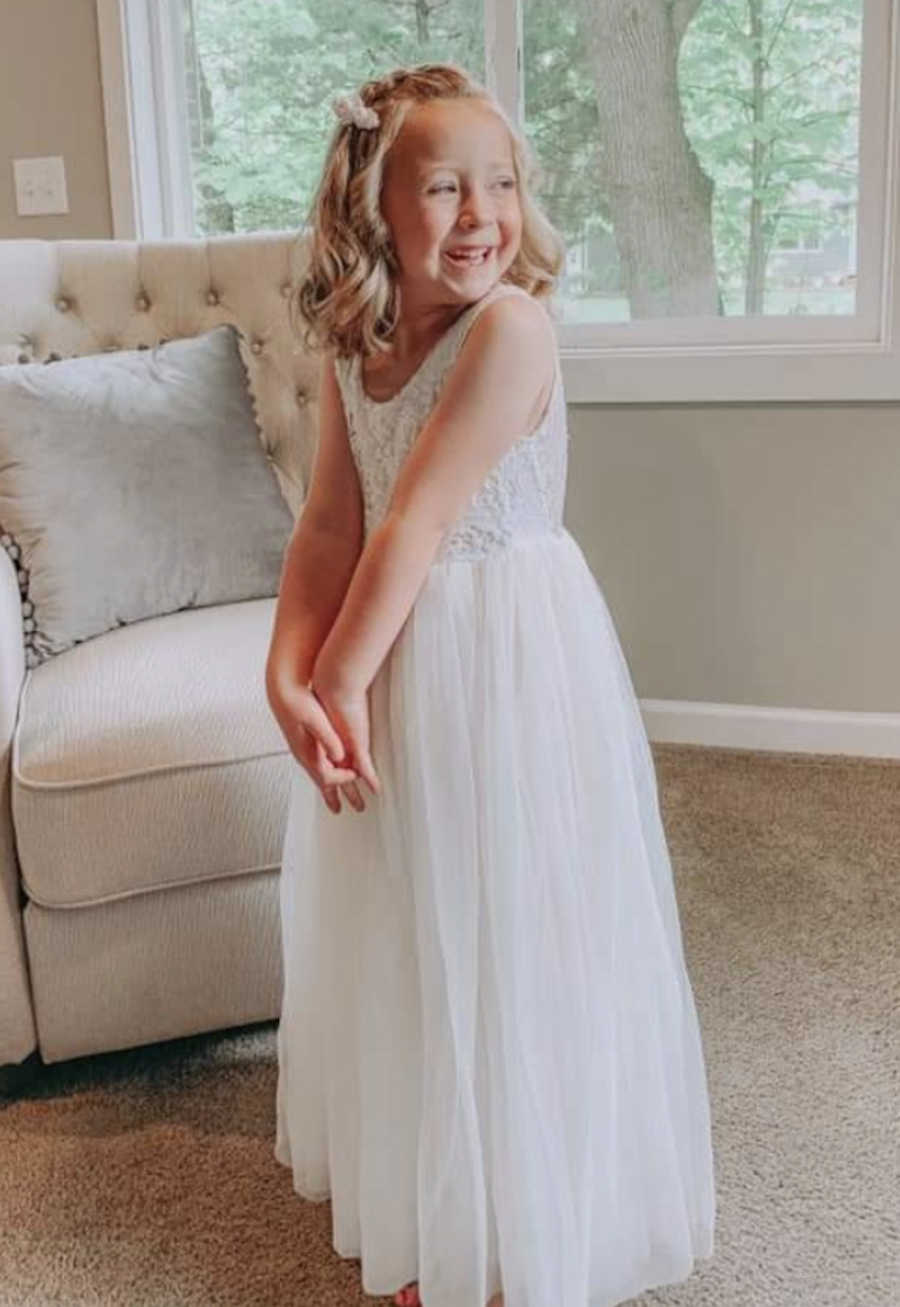 This story was submitted to Love What Matters by Erin Kent. You can follow their journey on Instagram and YouTube. Do you have a similar experience? We'd like to hear your important journey. Submit your own story here. Be sure to subscribe to our free email newsletter for our best stories, and YouTube for our best videos.
Read more inspiring stories about children with heart disease here:
'Mom, I can't keep being shocked into rhythm every week.' His heart was running out of fight. It was devastating.': Mom details son's heart transplant journey, 'We got our son back'
'Are you sure about having this baby?' He was as blue as a Smurf. I walked down the corridor, empty, without my baby.': Mom shares son's journey with congenital heart defect, 'It made me who I am'
'If it comes to a decision, choose our baby.' Tears streamed down her face. 'If this ruptures, it will kill your wife and baby.': Dad in awe after mom births miracle baby with Congenital Heart Disease
Provide beauty and strength for others. SHARE this story on Facebook and Instagram with your friends and family.