"When I was pregnant with my second baby, Aspen, the thought of having a child with Down syndrome honestly never crossed my mind. When I went in to do an ultrasound, I was shocked and confused when the doctor told me there were 'soft markers' for Trisomy 21. There were no congratulations. Instead, I was told what this 'meant for my child's future' and asked if I wanted to terminate my pregnancy. I remember leaving the doctor's office devastated. I sat in my car crying, mourning the child I thought I'd have. The grief and guilt I felt were unimaginable. It took my heart some time to heal, but after educating myself (the narrative is so wrong, friends), my only care in the world was my baby wouldn't be born with any health complications.
I didn't care he would have an extra chromosome. It was a tough season of motherhood. My toughest season yet. But the night he was born (exactly one month early), I remember seeing his face and feeling all the anxiety, worry, and grief just melt away. He was so beautiful. So perfect. He was in the NICU for 24 days following his birth, due to his lungs not being fully developed yet and some feeding issues. This was a difficult time as well, but very different emotions than I experienced while pregnant. I was so happy he was here and he was healthy. The fear of the unknown was gone at last. I spent everyday in his little hospital room. Drawing the curtains close to snuggle with him and watching the time tick by far too quickly.
Leaving the hospital everyday without my baby was soul-crushing. Heart breaking. I spent so many countless hours there wishing he could come home with me. Meet his brother. Any parent who has gone through having a baby in the NICU, I feel for you. My heart goes out to you. It's such a foreign experience. Leaving your helpless infant alone. I'd go back to the hospital every night just to sleep with him for a few hours. Then go back home and get his older brother ready for school before returning to the hospital again. The NICU nurses were wonderful. Kind and caring. This made it a bit easier to leave every day. But because Aspen had Down syndrome, I did notice some things that hurt my heart a bit. A little salt in the wound.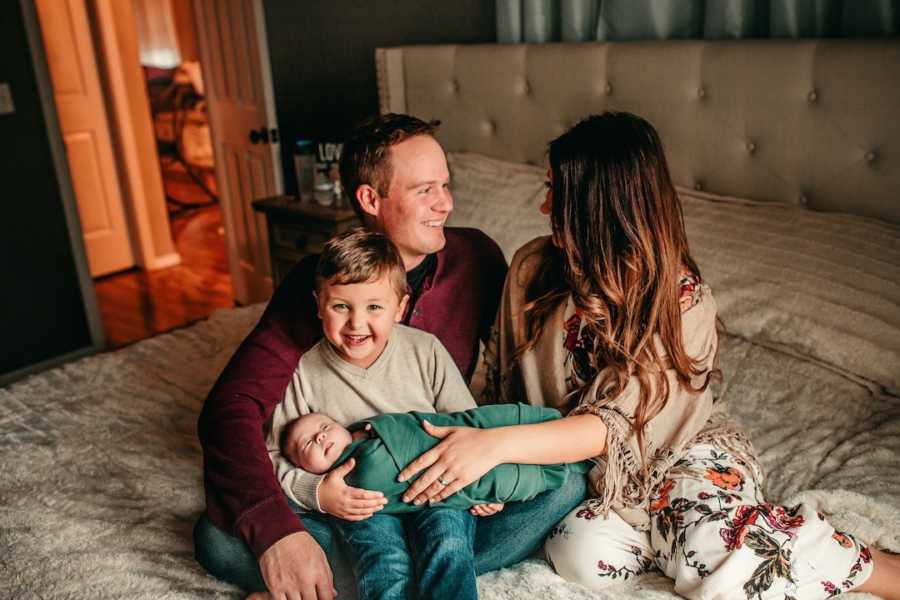 One of the doctors told me he most likely would be unable to breastfeed due to his low muscle tone, 'THEY don't have the muscles to get the right latch,' he said. I noticed whenever he spoke in regard to my son, he would use that word. 'They.' I didn't know if I was being overly sensitive given the situation, but I felt hurt. He was not a they. He is Aspen. He is his own person. Yes, he has Down syndrome, but just as every person is different, so is he. 'He may go home on oxygen due to weak lungs, but it's not ideal.' This was another thing I heard at our check-ins with the doctor. Little did they know the stubbornness I had. The love of a mother determined to get her baby home.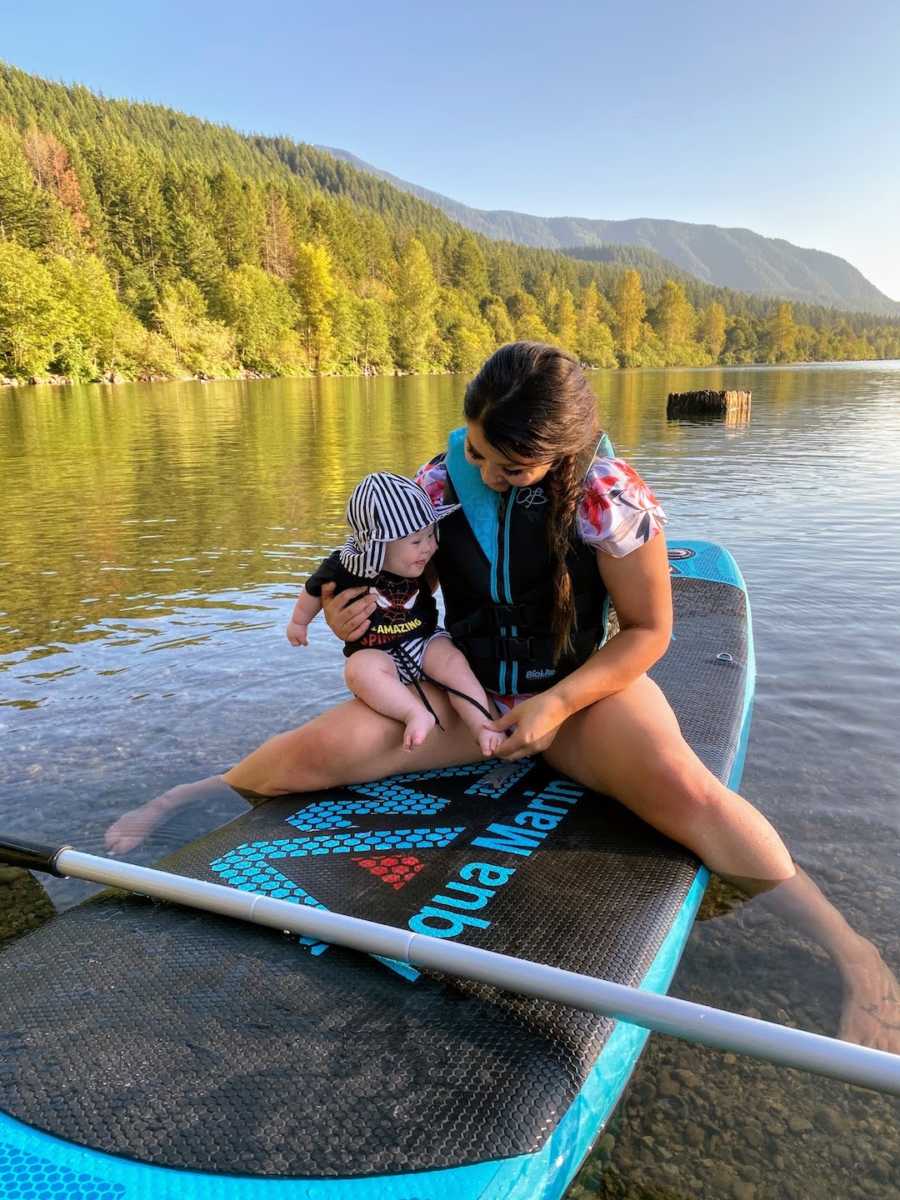 I tried to nurse him every feeding time I was there. Every time. I bought countless bottles just to find the one he liked so he would learn to eat without the NG-tube. I pumped every 3 hours so I wouldn't lose my supply. The nights we snuggled, I would remove his nasal cannula and watch his oxygen levels remain steady while he lay on my chest, listening to my breathing. When they removed his nasal cannula the third week we were there, they were surprised when his oxygen levels were great. I was not. I put in so much love and time and education into getting him home. It is hard to compare the feelings I had when I found out Aspen would have Trisomy 21 compared to the feelings I had when I couldn't take him home with me. You appreciate every little thing. A diaper change, breastfeeding, a bath you actually get to give your baby, buckling him in a car seat, snuggles, every little thing.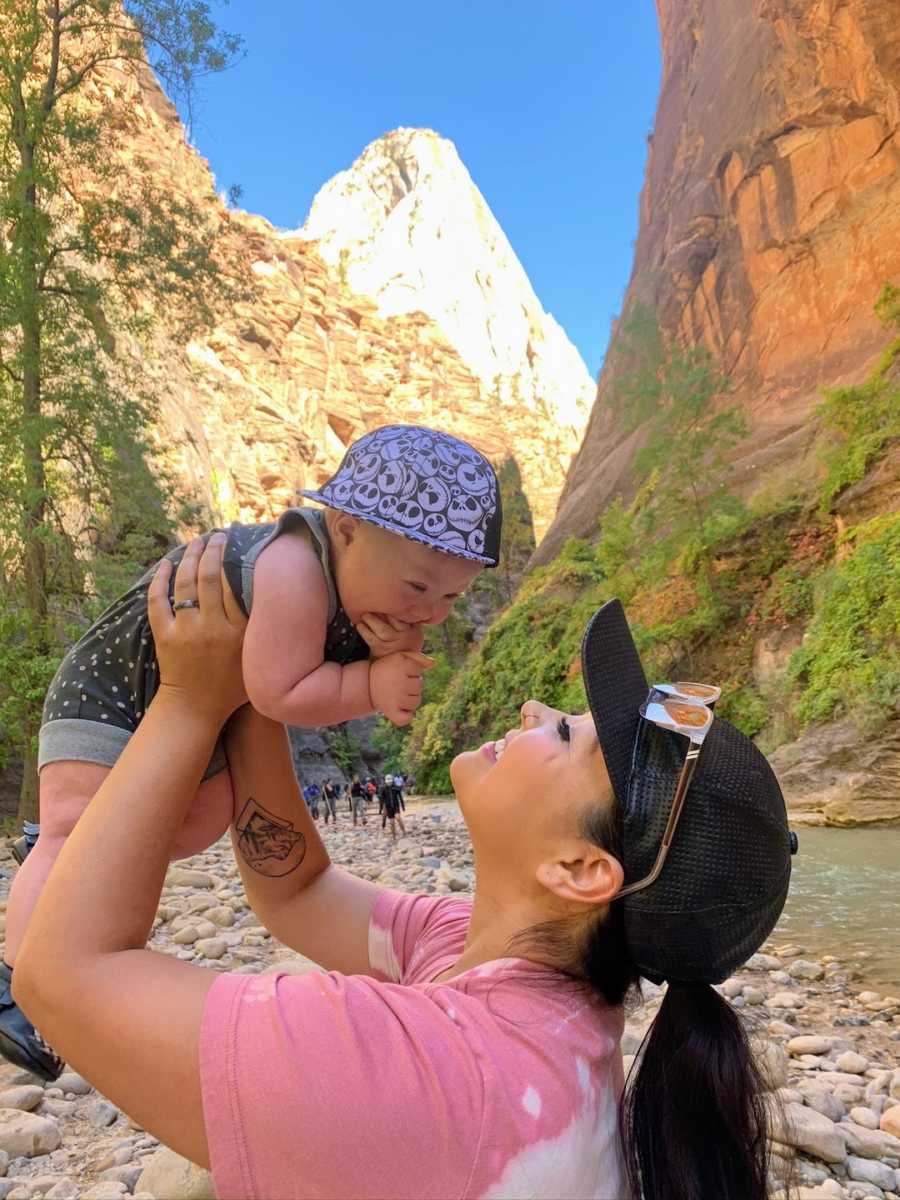 Now here we are today crushing milestones! He is babbling, eating everything in sight, crawling, he is standing on his own and is so determined to walk! I am proud to be Aspen's momma, to be able to get a glimpse of Heaven's magic. I wouldn't change one single chromosome. I only wish I could go back to the day I got the news and give myself a hug. Cry tears of joy instead of sadness. I spent so much time worrying. Worrying about the unknown. My hope is I can help educate others on life with a child who has Down syndrome so they can spend more time enjoying and less time worrying. Change the pamphlet. Aspen is more alike than he is different. 'Typical' babies sometimes end up in the NICU, 'typical' babies sometimes have heart issues, or lung issues, or take longer to crawl or to walk.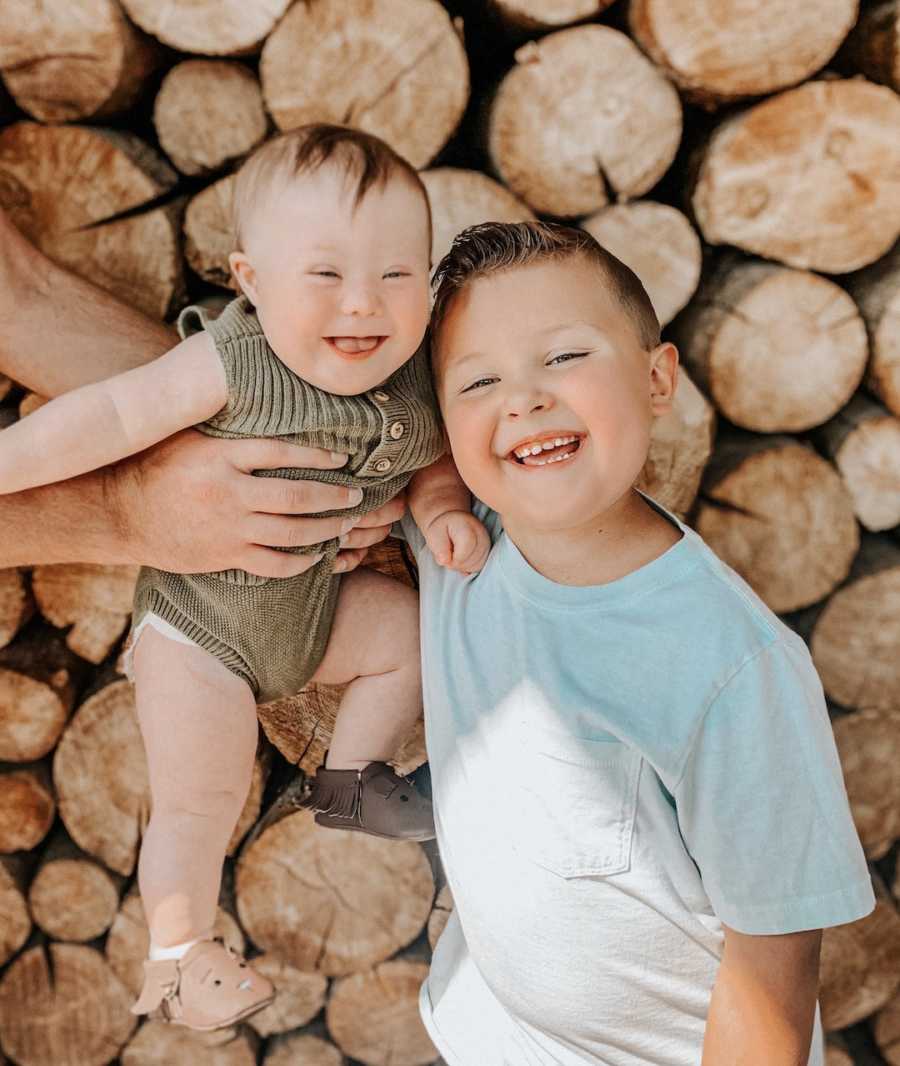 Why is it our children, because they have that extra chromosome, are treated differently by some health professionals because of these 'potential risks?' It all starts with education. Educate yourself. If you have just found out you are going to have a baby with Down syndrome, do not turn to Google. I urge you to type in #TheLuckyFew or #NothingDownAboutIt into Instagram and see your feed light up. Those are the real stories you should be seeing. Not the scare tactics. Not the information in the outdated pamphlet they hand you at the genetic counselor. Look at those sweet faces, message a mom, join a Down syndrome group, and get your questions answered there.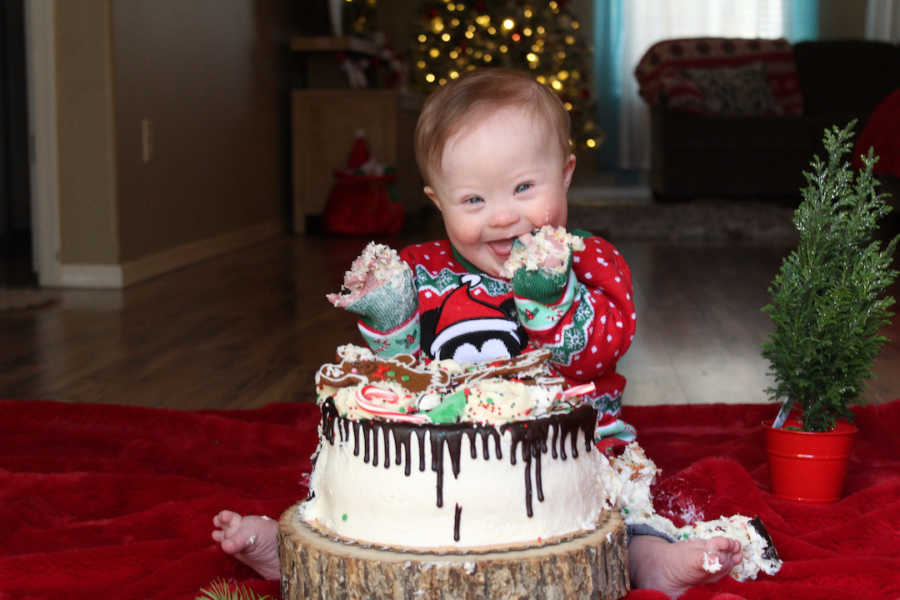 We have all been there. It's okay to go through all the emotions. Give yourself time to process, just know we are here for you. It will be an amazing journey, it may sometimes be filled with sadness or fear of the unknown, but just know you will get so much joy at the end of it. Aspen is the sweetest thing. His smile can brighten the darkest of days. He loves his big brother with all his heart, and their bond brings my momma heart so much happiness. He is determined, stubborn, strong, and I know he will move mountains one day. Motherhood is an amazing journey, and while I never quite expected for my journey to take me here, I am forever grateful it has. Aspen has brought me so much joy, he has given me perspective, and he has truly taught me to appreciate every little thing. That is why they call us The Lucky Few."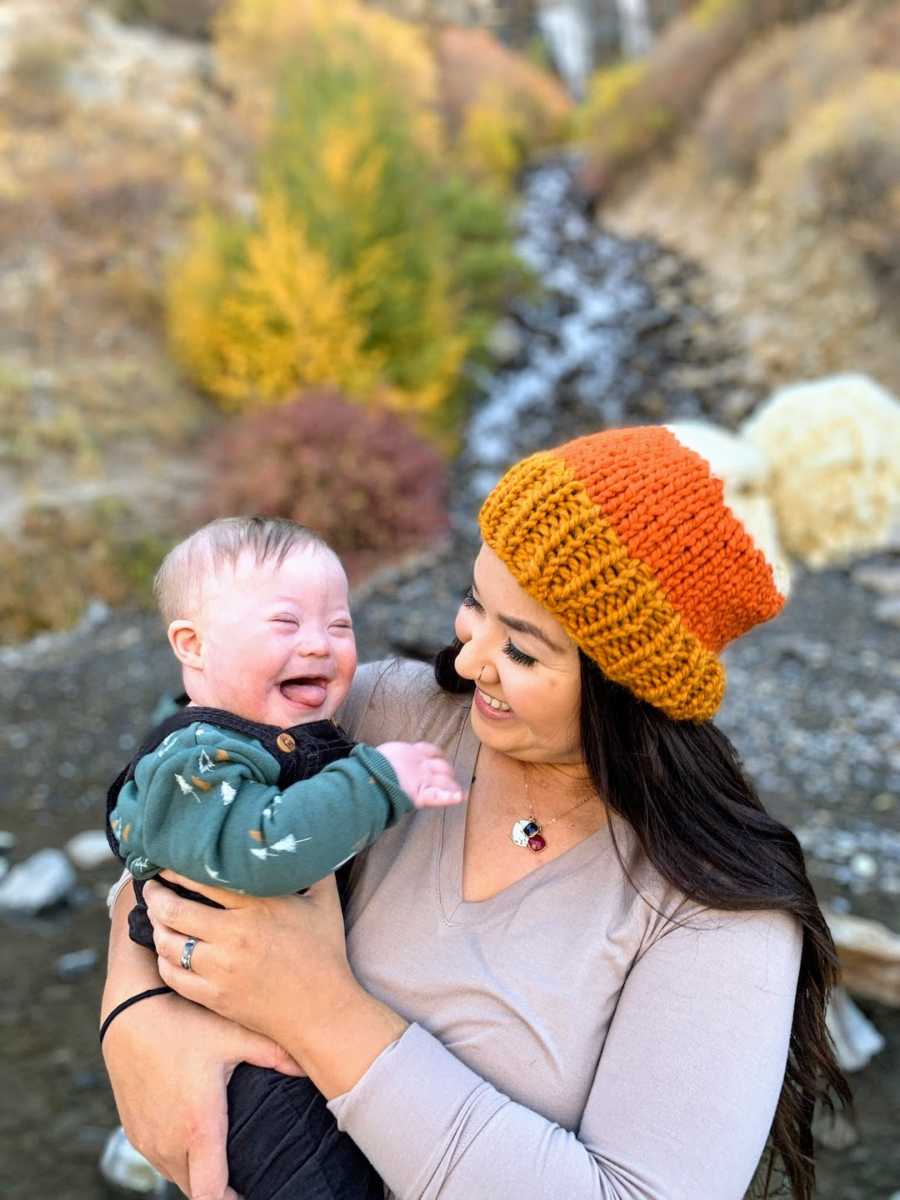 This story was submitted to Love What Matters by Tailynn Brost of Boise, Idaho. You can follow their journey on Instagram. Submit your own story here, and be sure to subscribe to our free email newsletter for our best stories, and YouTube for our best videos.
Read more stories like this:
'Are you going to keep her?' We never thought it would happen to us. I prayed for her to be 'normal.': Mom details Down syndrome acceptance journey, 'She's changed our lives'
'I'm sorry your child has Down syndrome.' Sorry is the last thing we feel. It's impossible to imagine life without her.': Teenager with Down syndrome becomes dancer, model, 'She's the best of us'
'There's a 92% chance.' I had NO IDEA if we could handle it. But when we saw his almond-shaped eyes, our hearts were stolen.': Mom births son with Down syndrome, 'We are truly blessed'
'Do you have any concerns?' The mood shifted. I half-expected her to say, 'I'm concerned he's too good looking!' The punchline never came.': Mom gives birth to baby with Down syndrome
Give other parents strength and courage who are continuing to learn about their children with Down syndrome. SHARE this story on Facebook.